12 Top-Rated Things to Do in Sevierville, TN
Sevierville, Tennessee is the smaller cousin to its neighbors, Gatlinburg and Pigeon Forge, but the center of royalty as hometown to Queen of Country Music, Dolly Parton. Dolly Rebecca Parton is the fourth-born of 12 children who started life in a one-bedroom Smoky Mountain cabin. After graduating from Sevier County High School, Dolly moved to Nashville to chase and capture her dreams. When you visit Sevierville, you can't help but follow in her footsteps. Your first step might be the bronze statue of Dolly in the town square.
Features such as Forbidden Caverns are part of Sevierville's natural heritage. So is getting up close and personal with wildlife at Smoky Mountain Deer Farm and Exotic Petting Zoo. It's something that early pioneers would have done–just like strolling across the Harrisburg Covered Bridge to fish for trout in the Little Pigeon River at the turn of the last century.
Sevierville is rooted in the great outdoors of the Smokies but embraces activities that appeal to city folk. Seek the latest fashions at Tanger Outlets off the Parkway. Pick up speed on a high wire at Adventure Park Ziplines, or accelerate around the go-kart track at Nascar SpeedPark. These are a few of the many activities on our list of things to do in Sevierville.
1. Visit Smoky Mountain Deer Farm and Exotic Petting Zoo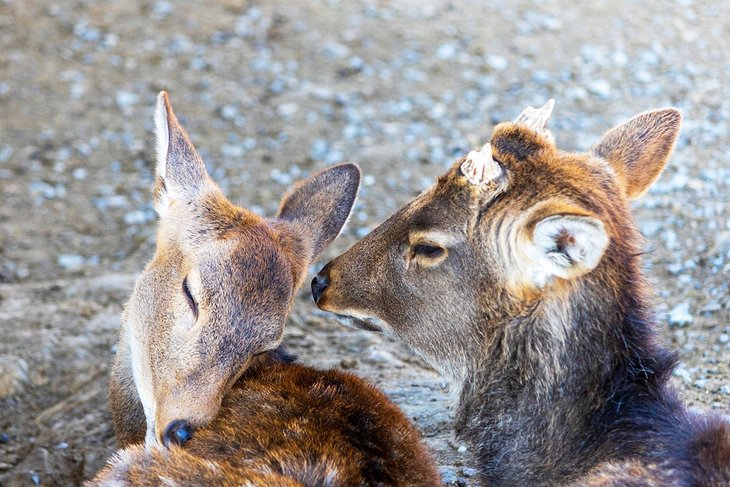 When you and your family are ready to escape the crowds and glitter of tourist attractions downtown, a drive into rural Sevierville is a satisfying way to pass the time. You'll get many votes in favor from the kids when you suggest visiting Smoky Mountain Deer Farm and Exotic Petting Zoo, 6.5 miles east of downtown.
Start keeping an eye out for animals as soon as you pass the first gate and tunnel into the lush valley on the 143-acre farm. After paying admission and stocking up on feed for your favorite four-legged critter, follow pathways that separate the paddocks of African pygmy goats, dromedary camels (the ones with one hump), kangaroos, and small herds of deer. With pony and horseback rides that you can arrange, this farm is more than a petting zoo.
As you quickly figure out, this petting zoo is not just for children. Adults eagerly join in the fun. Some couples learn that time with goats and Vietnamese potbellied pigs inspires romance that leads to wedding engagements!
Address: 478 Happy Hollow Lane, Sevierville, Tennessee
Official site: https://deerfarmzoo.com
2. Tour Forbidden Caverns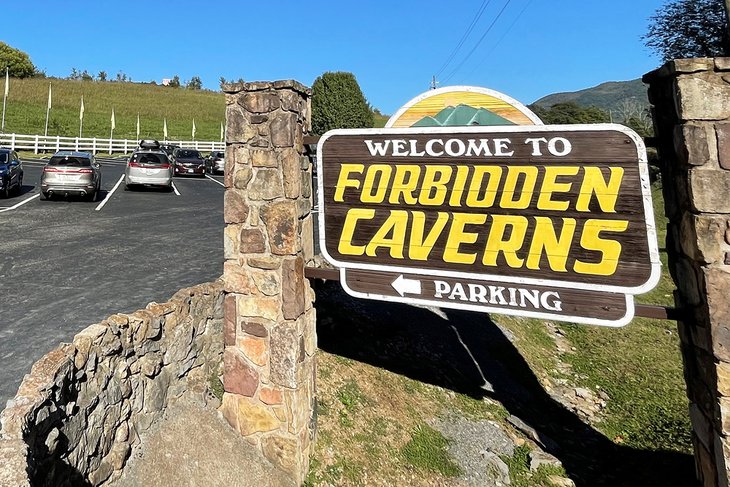 Forbidden Caverns is a naturally occurring underground complex that was used for thousands of years when Indigenous Eastern Woodland Indians mined the cave for materials to create hunting implements. Take the half-mile guided sightseeing walk to explore the first section of the cave. Colorful lighting helps to focus your gaze on the most spectacular formations and recessed areas. Allow time for the 55-minute tour.
The 13.5-mile drive to Forbidden Caverns takes you through rolling farm fields with the foothills of the Smoky Mountains as a scenic backdrop around each bend. On the country road to Forbidden Caverns, you pass picturesque Blowing Cave Mill.
Address: 455 Blowing Cave Road, Sevierville, Tennessee
3. Go Shopping at Tanger Outlets Sevierville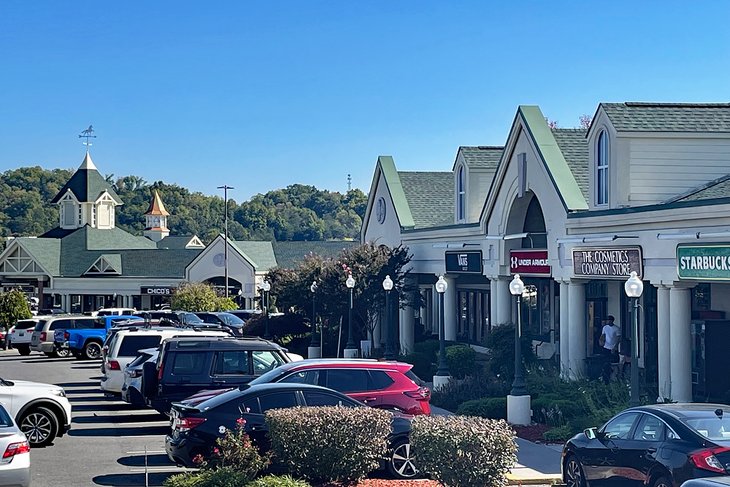 The 105 shops at Tanger Outlets Sevierville are in a central location that conveniently concentrates your favorite brands in one mall. Browse the racks at stores such as Polo Ralph Lauren, Coach, Nike, The North Face, Gap, Levi's, Victoria's Secret PINK, Adidas, and Michael Kors. You are likely to find the perfect designer item to satisfy your size and budget. If you plan to visit a number of stores or you're not sure where to go, shop in advance by consulting the map on the website.
Tanger Outlets Sevierville offers plenty of parking off the Parkway. Get to the mall early to avoid traffic, especially during summer and holiday shopping season. Staff at the Shoppers Services desk greet you upon arrival with a coupon savings book. These discounts help you maximize savings on apparel, shoes, accessories, and edible treats.
Address: 1645 Parkway Ste 960, Sevierville, Tennessee
Official site: https://www.tangeroutlet.com/sevierville
4. Visit RainForest Adventures Discovery Zoo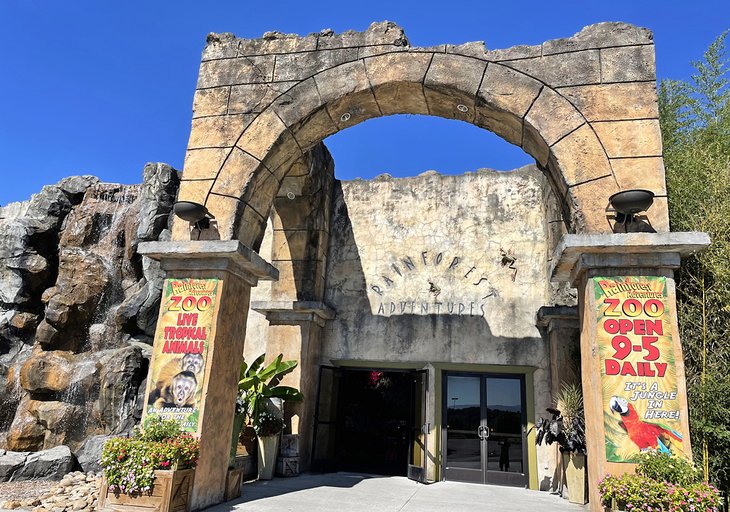 On the east side of Little Pigeon River, 3.5 miles south of downtown, RainForest Adventures Zoo delivers educational and interactive encounters with wildlife in intimate indoor and outdoor settings. Plan your visit during feeding times to enhance your enjoyment. Call in advance to ask about mealtimes or consult with staff about when they feed the birds, mammals, reptiles, and amphibians.
During your visit to RainForest Adventures Zoo, plan to see 130 species among 600 residents. Although these animals come from different areas of the planet, a rainforest habitat is what they share in common. In addition to viewing exhibits of wild animals, visitors delight in petting and feeding farm goats at the petting zoo.
The Amazon Traders gift shop sells colorful plush stuffies of your favorite critters that make wonderful gifts and souvenirs. Favor any crafts made by artisans of Kenya, Indonesia, and Ecuador, so your purchase supports conservation and sustainable practices.
Address: 109 Nascar Drive, Sevierville, Tennessee
Official site: https://www.rfadventures.com/
5. Walk the Foxfire Mountain Swinging Bridge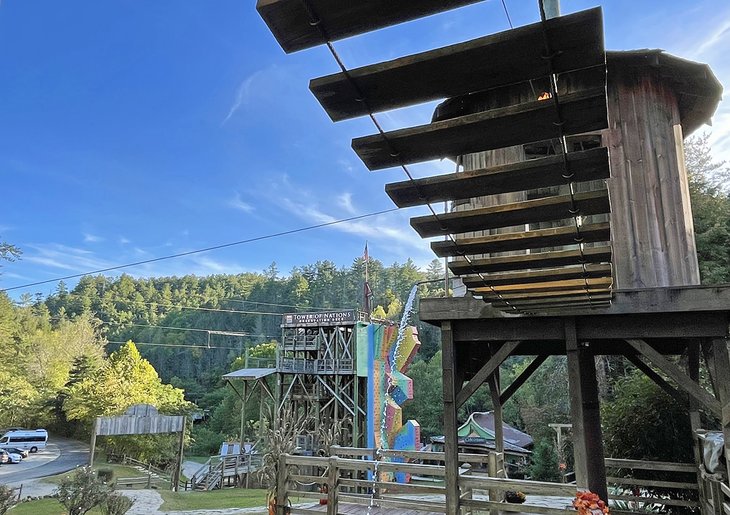 Go to Foxfire Mountain Adventure Park for a good time that's so much fun, you will feel exhilarated. Here's where you can ride some of the best ziplines around on 150 acres of hilly terrain in the Smoky Mountains. In addition to hosting one of the longest and fastest ziplines in the United States, visitors make their way here to cross the Foxfire Mountain swinging bridge.
Drive 13.5 miles from downtown to Foxfire Mountain to marvel at the swinging Bridge to Prosperity–the second longest of its kind in the country. This pedestrian crossing is 335 feet long and suspended 70 feet above Little Pigeon River. When you walk across the span, the swinging effect feels like gentle swaying in the mountain breeze. Many visitors tie a strip of ribbon on the bridge to convey a secret wish to the Top of Old Smoky and beyond.
Address: 3757 Thomas Lane, Sevierville, Tennessee
Official site: www.foxfiremountain.com
6. Get Your Selfie with the Dolly Parton Statue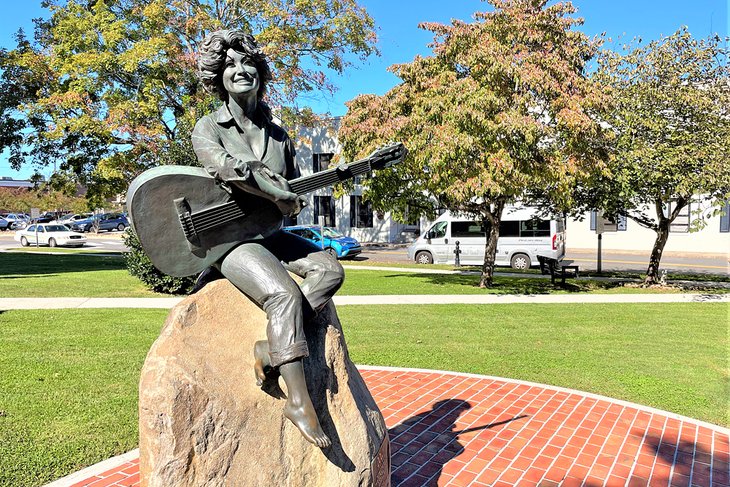 A visit to the Dolly Parton statue outside Sevier County Courthouse in downtown Sevierville is an important part of any pilgrimage made by Dolly fans. As Sevierville's most famous local personality, Dolly is celebrated for her progressive business and humanitarian initiatives, as well as being Country Music's first and reigning queen.
While taking a selfie with Dolly's bronze lookalike, you can learn more about her beginnings and victories in music. Dolly became a Hollywood star in the 1980s. She's one of America's leading entrepreneurs as the creator of Dollywood and other enterprises in Pigeon Forge. The formation of the "Imagination Library"–Dolly's project to improve literacy among children–is one of her flagship humanitarian ventures.
Address: 125 Court Avenue, Sevierville, Tennessee
7. Pose on the Harrisburg Covered Bridge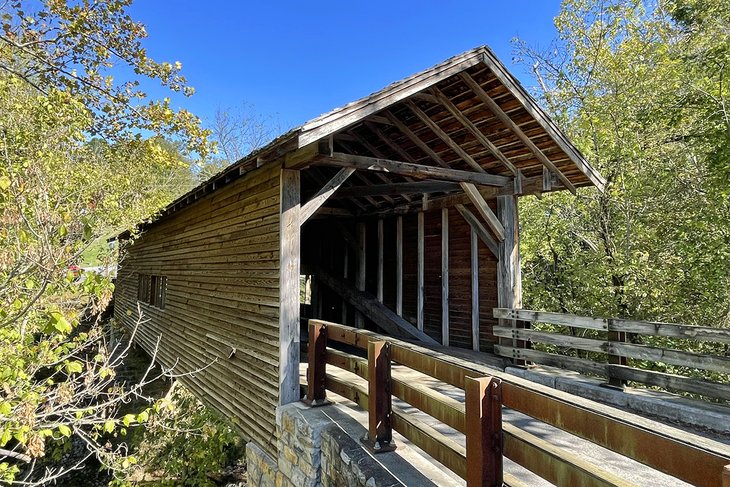 Drive five miles east of downtown to behold the simple elegance of the Harrisburg Covered Bridge. This historic wooden bridge–added to the U.S. National Register of Historic Places in 1975–was constructed in 1875 and spans Little Pigeon River. A treasured landmark by history buffs, the covered bridge is popular among photographers who like to fuse history, water, and seasonal colors into a striking composition.
Restored in 1972 and 2005, the Harrisburg Covered Bridge is 88 feet long and spans 64 feet. It's still in use today. There is limited parking, and visitors should safely yield to cars while taking selfies and framing their best shot.
Address: Access from E of Sevierville, off Hwy 441, Tennessee
8. Hug Corners at Nascar SpeedPark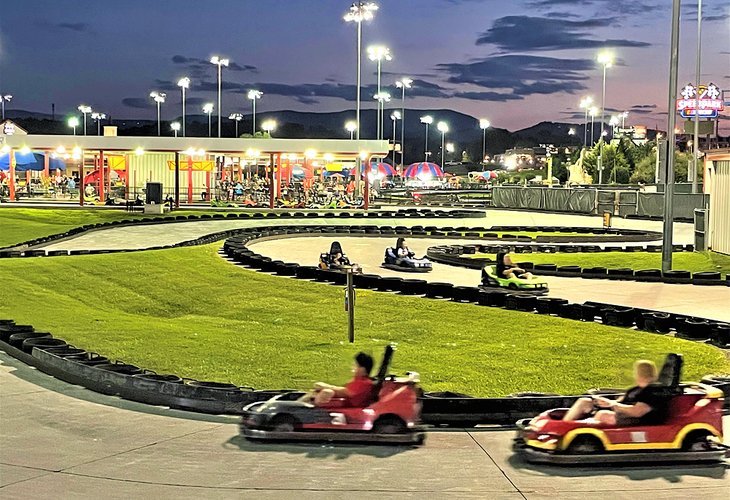 Nascar SpeedPark is best known for go-kart racing, although the park also gives you access to amusement rides, 36 holes of mini golf, a climbing wall, Spin Zone Bumper Cars, an arcade, and a VR (virtual reality) gaming experience. The park, conveniently located on Sevierville's Parkway, sells one- and seven-day passes to make sure that every day during your visit is a speedway day!
Go-karting is a favorite pastime for kids of all ages, and Nascar SpeedPark is a pint-sized version of the real world of stock car racing. Eight tracks await your turn behind the wheel. Tracks such as The Intimidator, The Competitor, Slidewayz, and Young Champions get the blood pumping. With four of the eight tracks featuring two-seat cars, you and your younger child have ample opportunities to drive shotgun. Try go-karting under the bright lights at night for a different adventure.
Kids can let someone else do the driving by hopping aboard one (or all 10) of Nascar SpeedPark's amusement rides. The SpeedDome Arcade features the most popular arcade games. The virtual reality experience in Hologate VR offers seven games. During your visit, stop by the Pitstop Grill to fuel up for more driving, riding, and playing.
Address: 1545 Parkway, Sevierville, Tennessee
Official site: https://www.nascarspeedpark.com/
9. Go Night Zipping at Adventure Park Ziplines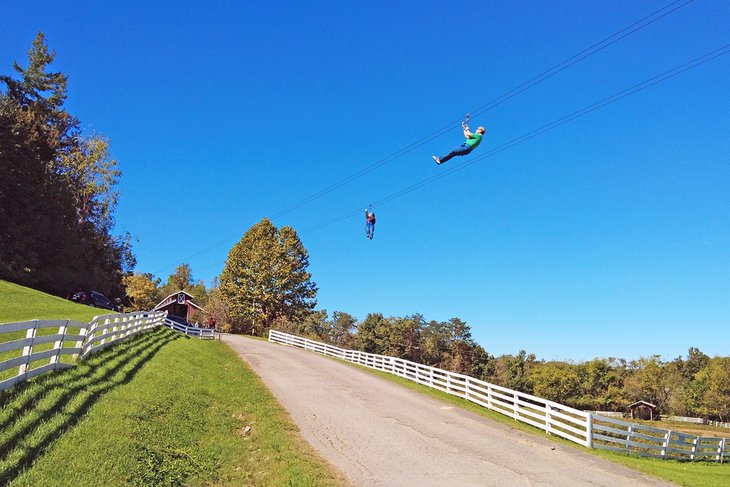 Centrally located Adventure Park at Five Oaks on the Sevierville-Pigeon Forge parkway is the place to visit to zipline and ride horses in a 70-acre urban nature setting. In addition to Smoky Mountain views, there are three zipline experiences to choose from: tandem runs, dual racing lines, and tours at night.
Adventure Park Ziplines offer a range of tours that package six or seven ziplines. With ziplines as long as 2,000 feet and speeds up to 50 miles per hour, you can look forward to sharing high-wire experiences with your friends or family. Some visitors come to Adventure Park at Five Oaks to ride trails on horseback. You can also purchase a combo ticket to go ziplining and trail riding.
Address: 1628 Parkway, Sevierville, Tennessee
Official site: www.adventureparkatfiveoaks.com
10. Play at Wilderness at the Smokies Waterpark Resort and Family Adventure Center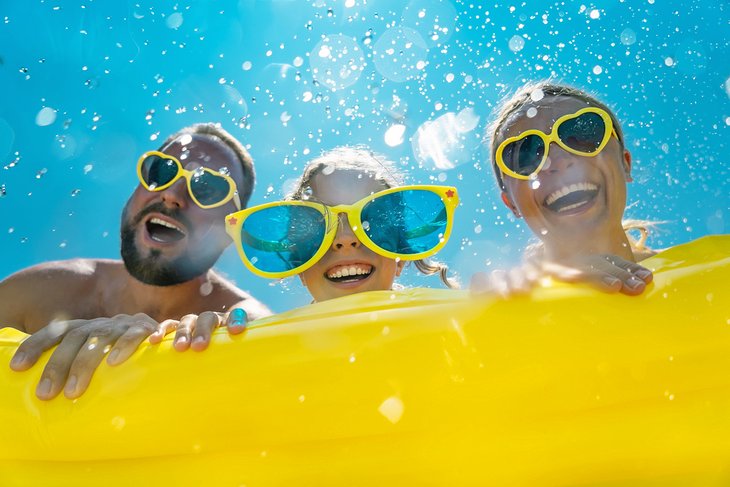 Wilderness at the Smokies Waterpark Resort and Family Adventure Center in north Sevierville is a sprawling indoor complex of fun activity for the whole family. Get your day pass and make a splash at three water parks for one admission price.
Wild Waterdome is the largest indoor water park in Tennessee, with 66,000 square feet of water adventures under a glass roof. This park features thrilling rides, wave pools, a surfing area, tubing corridors, and splash zones.
Lake Wilderness outdoor water park offers more opportunity to enjoy thrills and spills. With rides such as The Wall, Wild Vortex, and Cyclone Racer, this section of Wilderness at the Smokies Waterpark is sure to satisfy daredevils who enjoy an adrenaline rush.
Salamander Springs outdoor water park features long waterslides, multi-level splash areas, and an expansive kiddie pool.
Address: 1424 Old Knoxville Hwy, Sevierville, Tennessee
Official site: https://www.wildernessatthesmokies.com/
11. Get Wet at Soaky Mountain Waterpark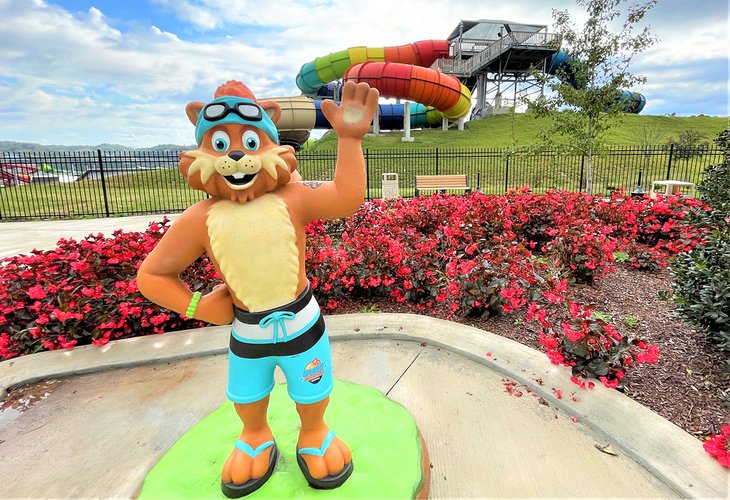 Soaky Mountain Waterpark is a colossal complex designed for fun playing in water–in short, getting soaked to the skin. With 19 rides in all, you are bound to find one or more that satisfy every age, ability, and passion for action.
Imagine tubing through tunnels at hair-raising speeds, with visual effects that make it feel like you're going even faster. This is what you experience while barreling down the new dueling water coaster, The Edge.
As for the other rides, don't say the names weren't a warning: Copperhead Clash, Timber Rattler's Rage, Black Bear Rapids, and Cottonmouth Coils. If you survive all that, head for the 35,000-square-foot wave pool that kicks up curls as high as six feet. Rides for young children are mini-versions of what older riders experience.
When ready for a timeout, head to the relaxing Coyote Spring pool and lounge area. Rent a cabana for the day to maximize your R and R time. The park has eight outlets to grab a snack or beverage.
Address: 175 Gists Creek Road, Sevierville, Tennessee
Official site: https://www.soakymountainwaterpark.com/
12. Relax and Recreate at Sevierville City Park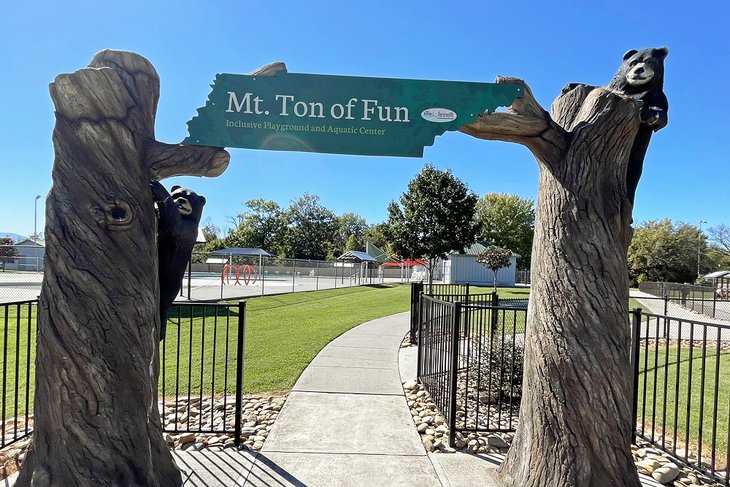 Sevierville boasts a 24-acre activities park along the banks of Little Pigeon River, where families and couples go to walk; picnic; play; swim; work out; and take part in organized sports such as tennis, basketball, baseball, and soccer. Mt. Ton of Fun is a popular children's playground for climbing, sliding, flexing, tunneling, and making music.
The Family Aquatic Center is a large outdoor multi-purpose pool facility. The schedule enables swimmers to do their lengths while families with kids cool off on the waterslides. The splash park next door is a hit all summer long.
The dog park is a popular place for canines to cavort while their human companions hang out. With fenced-in areas of groomed grass, plenty of shade and benches for sitting, Sevierville City Park is a welcoming place to be a pet owner.
Address: 1005 Park Road, Sevierville, Tennessee
Official site: https://www.seviervilletn.org/index.php/government/departments/parks-recreation.html
Map of Things to Do in Sevierville, TN
Sevierville, TN - Climate Chart
Average minimum and maximum temperatures for Sevierville, TN in °C
J
F
M
A
M
J
J
A
S
O
N
D

8

-4

11

-3

16

1

21

6

25

12

29

16

31

18

30

18

27

14

22

6

15

2

10

-3

PlanetWare.com
Average monthly precipitation totals for Sevierville, TN in mm.

98

91

110

93

119

101

103

80

81

62

85

95