17 Top-Rated Things to Do in Knoxville, TN
Tennessee's Southern hospitality comes to life in Knoxville, a city of almost 200,000 residents. Experience the city that attracted international attention as host to the 1982 World's Fair. Appreciate the scenic diversity, from the Great Smoky Mountains in the south to the headwaters of the mighty Tennessee River in the north.
The charming historic center of downtown is concentrated around the 19th-century buildings of Market Square and the lively scene on adjacent South Gay Street. This cosmopolitan hub of galleries, theater, and bistros attracts local trendsetters, university students, and visitors.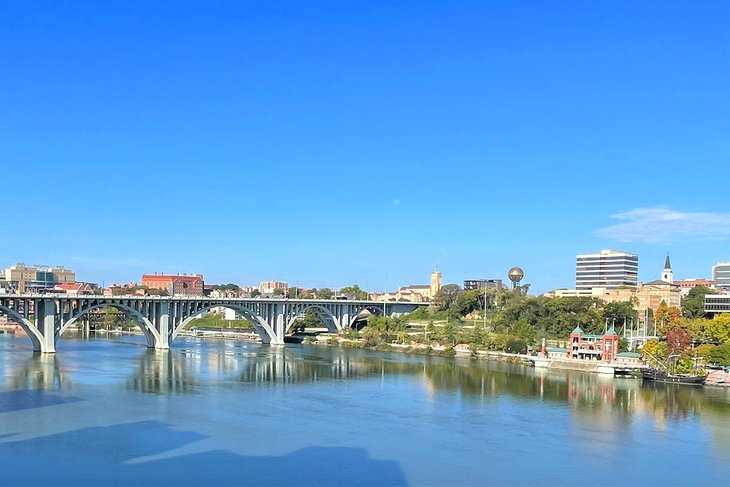 The 1,000-acre Urban Wilderness and recreational parks host plenty of things to do in Knoxville's outdoors. Beneath the 226-foot Sunsphere Tower, catch an afternoon summer concert on the Performance Lawn at the World's Fair Park. By evening, attend a performance in the opulent Tennessee Theatre.
Knoxville preserved its past to foster its future as a tourist destination. Discover its origins at the Museum of East Tennessee History or James White's Fort. Make your own history by hopping on board–the Star of Knoxville, a traditional paddle wheeler, or the Three Rivers Rambler, pulled by a turn-of-the-century steam locomotive. If you like to be active, bring along our list of things to do in Knoxville, Tennessee.
1. Enjoy Market Square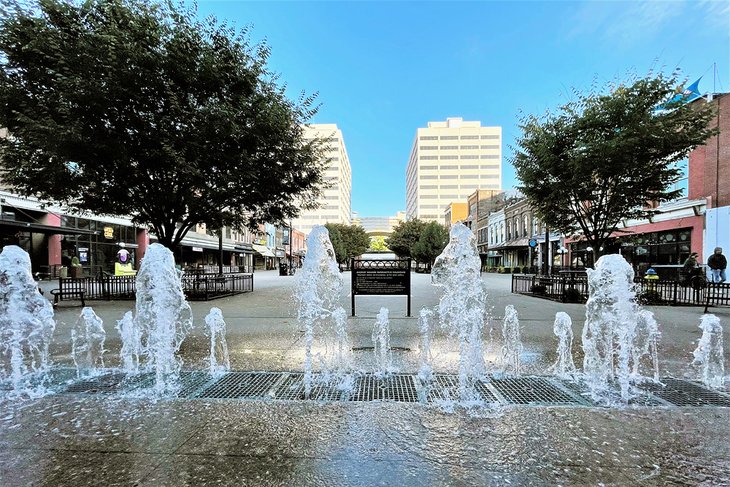 Market Square is the 13-acre epicenter of Knoxville history and culture. This is the place to visit to hang out, people watch, and grab a bite–just as it always has been. Market Square has been a gathering place and trading center since 1864. During the Saturday Farmers Market, there are open-air stalls for up to 130 vendors–an event not to be missed!
With staged public music events, art displays, and festivals, Market Square sizzles with energy. Kids feel welcome to play here, especially in the interactive fountain of water. Nearby Krutch Park is a treed art sanctuary with benches and sculptures that provides a peaceful oasis.
2. Connect with Nature at Ijams Nature Center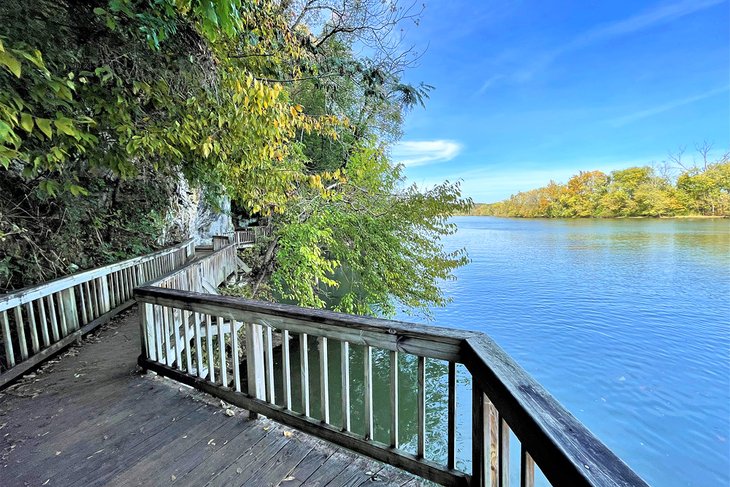 Before the turn of the century, Knoxville was known as Marble City for its 35 quarries of high-quality marble. Monuments and buildings in Washington, D.C. were constructed from Knoxville's pink marble. In 1968, Ijams Nature Center was established to reclaim quarry lands along the Tennessee River.
To promote recreation and natural history awareness, Ijams has 315 acres of parkland. It's one of the most popular places for locals and visitors to walk, cycle, picnic, paddle, and swim. Special events such as weddings are hosted here.
In addition to its scheduled programs, the nature center educates through live animal exhibits and displays. It also sells arts and crafts to support its non-profit operations and 10 miles of trails. Rent a bike to cycle more than 16 miles of paved and dirt pathways that connect with 50 miles of Urban Wilderness track.
3. Swing High at Navitat Canopy Adventures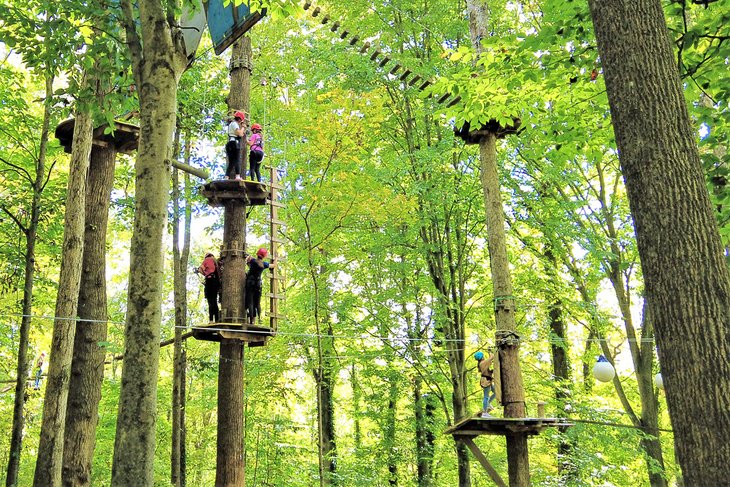 Navitat Knoxville is a forested zipline park at Ijams Nature Center. Enjoy interconnected ziplines, canopy walks, and swing bridges as a family or with a group of friends. Plan on 2.5 hours to complete the balancing challenges–walking across rolling barrels and wobbly bridges, climbing nets, and crawling through tunnels.
4. Catch a Show at Tennessee Theatre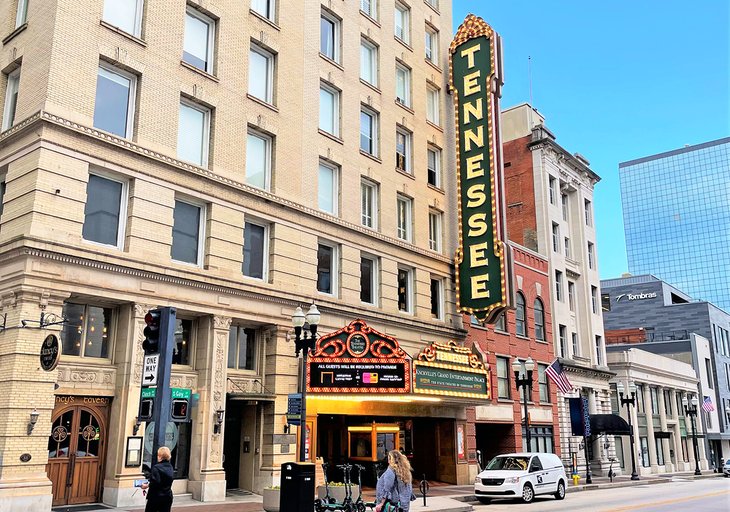 The Tennessee Theatre–one of the most sumptuous concert venues in the country–is the Official State Theatre of Tennessee. When opened in 1928 as a movie palace, it was considered the finest theater in the American South. A multimillion-dollar restoration in 2005 led to its rebirth as a concert and performance hall. It is listed on the National Register of Historic Places.
5. Visit Wildlife at Zoo Knoxville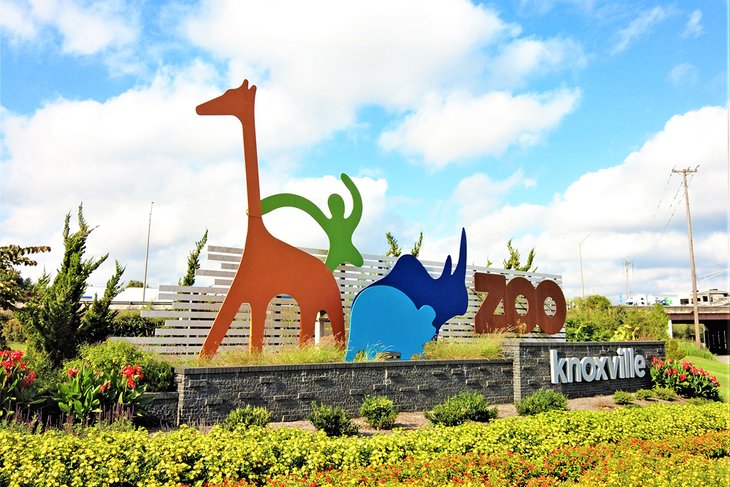 Zoo Knoxville is a leader in conservation with 800 species represented in its population. The first and second births of African elephants in the United States happened here. It also hosted the most births of red pandas in the country and other breeding victories for endangered mammals and reptiles.
6. Admire Creativity at Knoxville Museum of Art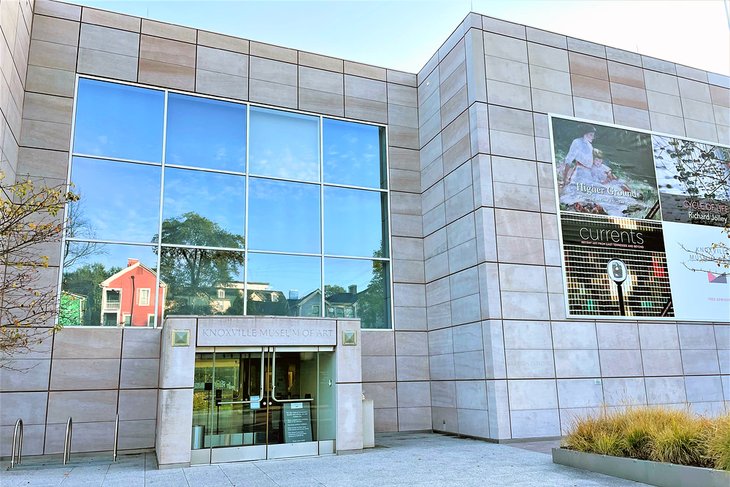 The Knoxville Museum of Art is centrally located and houses a collection of art that specializes in the creativity of East Tennessee. The permanent exhibit, Higher Ground, honors area artists through a significant archive of their work.
7. Catch a Game at Neyland Stadium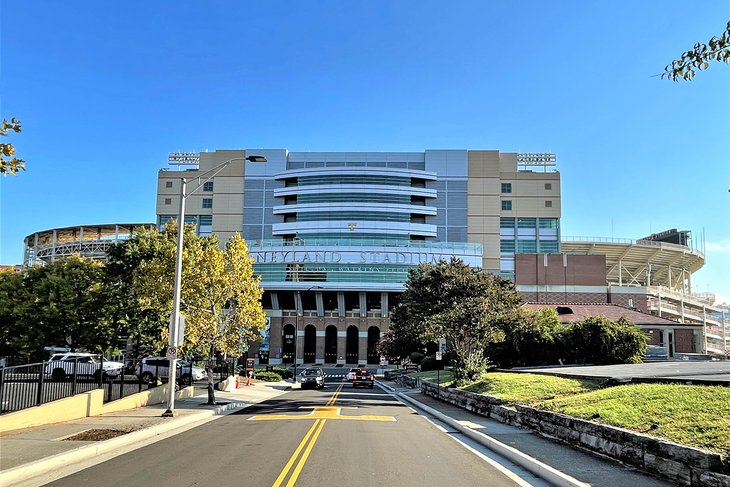 Neyland Stadium has been a fixture on Knoxville's waterfront for 100 years. Home to the Tennessee Volunteers football team, the stadium has hosted sporting and special events throughout its history. With seats for more than 100,000 fans, Neyland Stadium is the seventh largest stadium in the world. It is the site of exhibition games of the National Football League, as well as conventions.
8. Experience Sunsphere Tower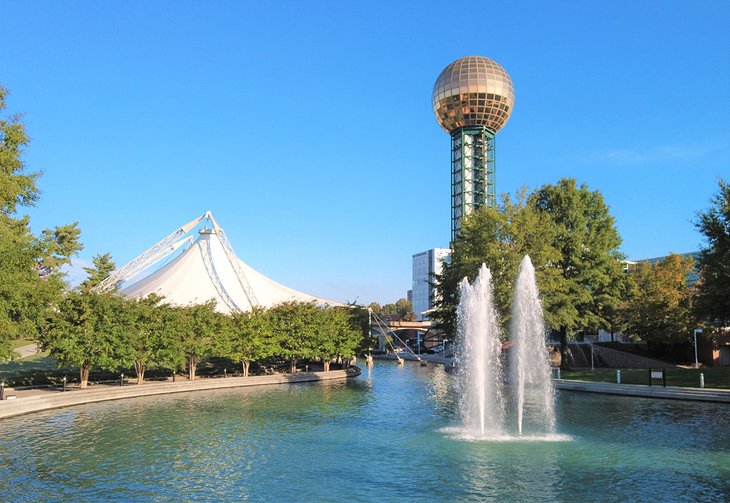 The Sunsphere Tower is an iconic symbol of Knoxville's illustrious past. It was the focal point of the World's Fair in 1982–the last to be held in the United States. Located downtown, the 75-foot gold geodesic dome sits atop a hexagonal tower. The structure is 266 feet tall.
9. Visit the Tennessee Historical Society and Museum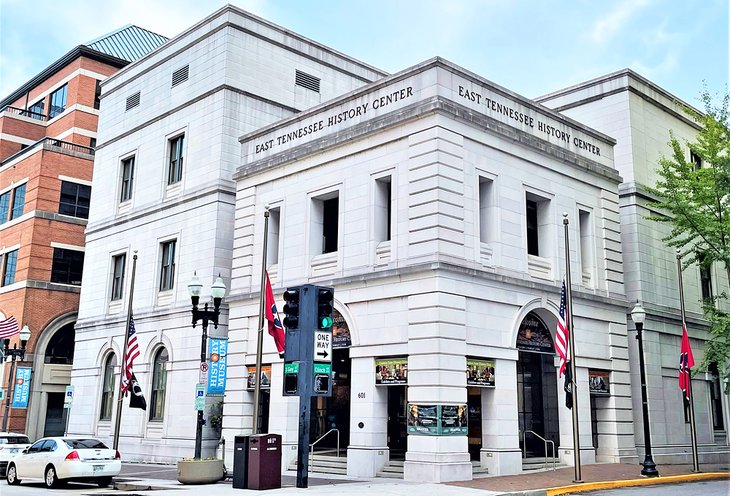 During your visit to the East Tennessee Historical Society and Museum, you'll learn about the origins of life and culture in the eastern region of the state. With a permanent collection of more than 13,000 items, the museum showcases interactive exhibits that bring history to life. "History HQ" is one such place for children. Here, they learn to weave baskets, knit quilts, and create a stop-motion film.
10. See a Game or Tour the University of Tennessee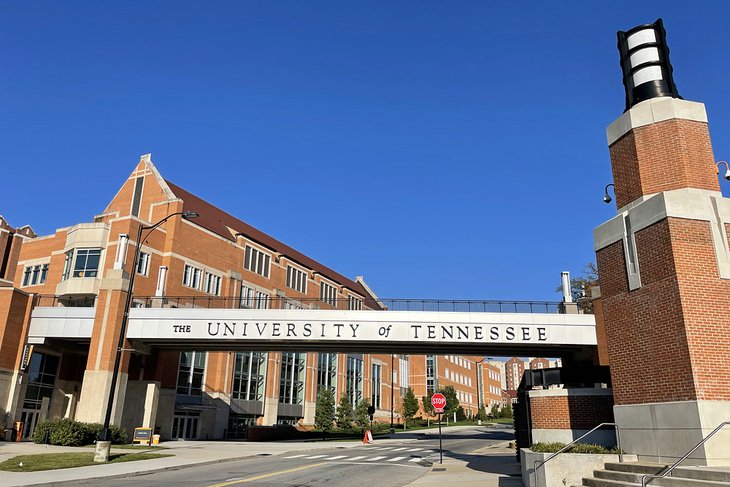 Within walking distance of downtown is the main campus of The University of Tennessee. Established more than 200 years ago on the banks of the Tennessee River, UT's physical size encompasses 910 acres and 294 buildings. The student community exceeds 30,000.
11. Hang Out at World's Fair Park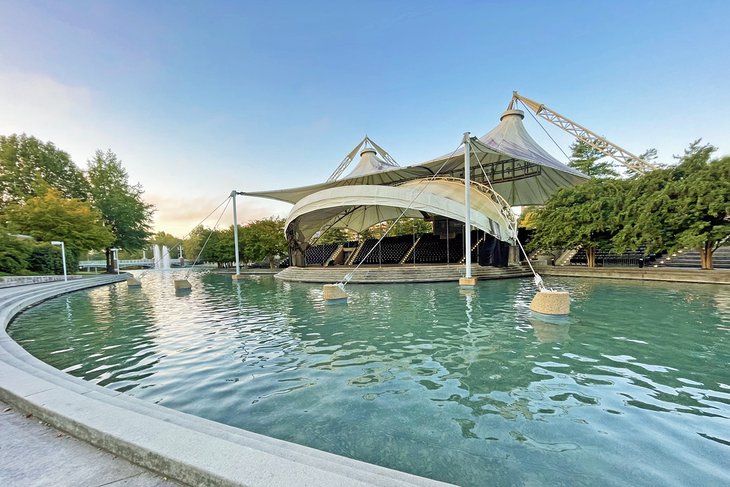 World's Fair Park was created when Knoxville hosted exhibits and international visitors in 1982. Beautifully landscaped walkways with rock and water features surround the Sunsphere Tower. Expansive lawns lined with trees provide a peaceful place to sit and relax or have a picnic.
12. Watch Birds at House Mountain State Natural Area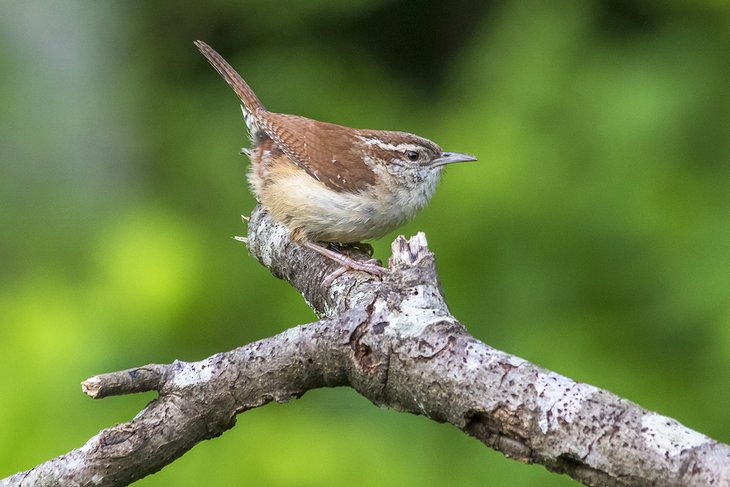 House Mountain State Natural Area, 16 miles northeast of downtown, provides perfect conditions for bird-watching. Hike the trail to the crest to experience its 527 protected acres, including the high ridge. The trail is moderate to difficult and is best hiked in dry conditions.
Wooded surroundings invite warblers and woodpeckers while clifftops attract raptors. You are likely to hear the sweet song of a Carolina wren. In addition to birding and appreciating the scenery, this natural area interests visitors who appreciate rocks and plants.
Seven Island State Birding Park is another popular place to visit that attracts birds. The 416-acre park is located 19 miles from Knoxville along the French Broad River.
13. See the Birthplace of Knoxville at James White's Fort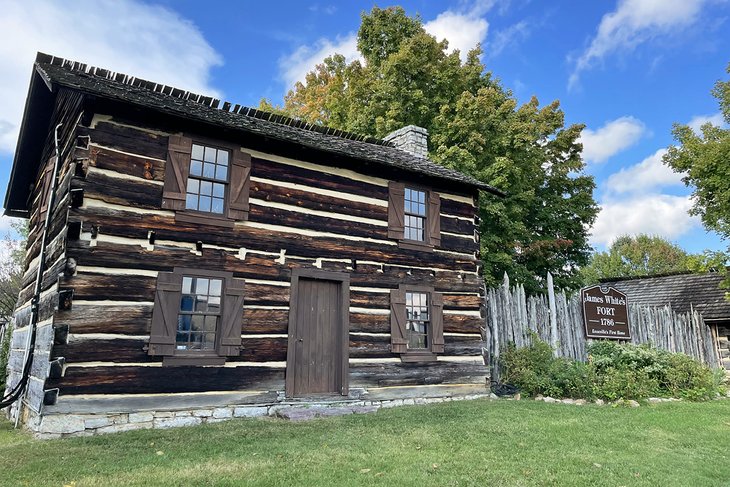 Since it was built in 1786, James White's Fort has blended into the landscape and merged with the daily life of Knoxville. With its well-preserved buildings and courtyard, James White's Fort features the original home of the founder of Knoxville. This is the spot where the city was born.
14. Inspire the Kids at Muse Knoxville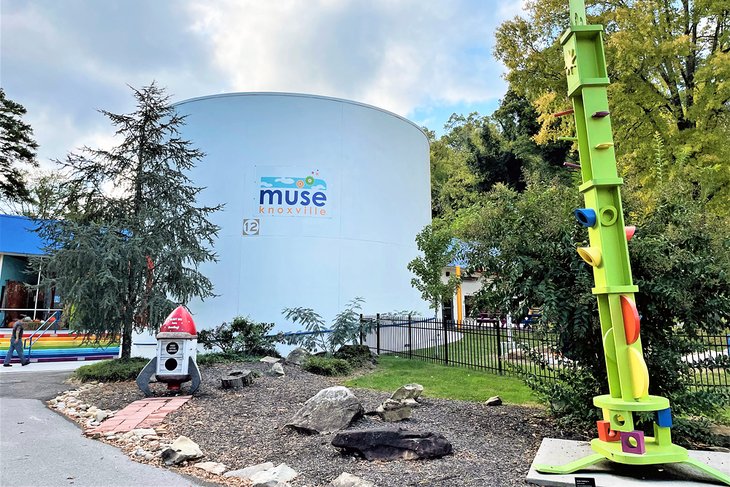 Muse Knoxville is tucked away near the exhibition grounds of Chilhowee Park and Knoxville Zoo. This discovery center inspires children to exercise their imagination and learn through experience. Kids build things, feel the sensation of playing with light, and climb aboard a mini spaceship.
15. Get Stoked at Knoxville Urban Wilderness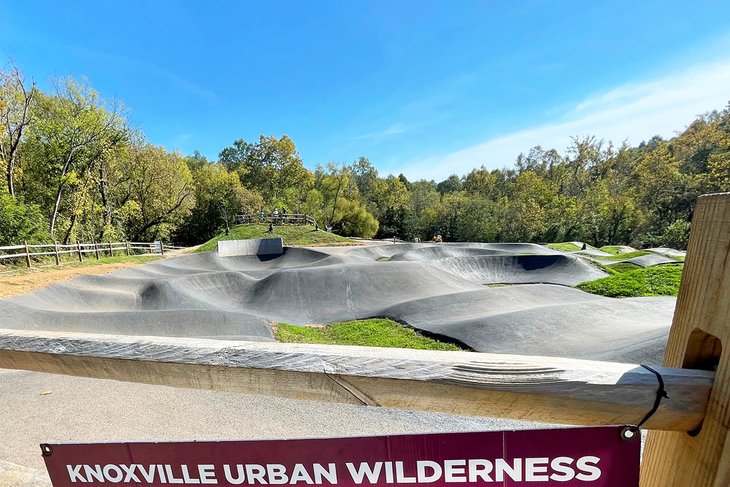 Knoxville Urban Wilderness is a mashup of city life and wild spaces that lets you exercise, learn an outdoor activity, and experience nature. This adventure oasis includes five city parks, 1,000 acres of green space, a cycling track, historic tourist attractions, children's playgrounds, waterways and nature centers, a zipline course, and rock-climbing area.
It's easy to hop on a trail in the interconnected system of 50 miles of track and pathways. Drop into one of the biking pump tracks at Baker Creek Play Forest. If you have the skills and gear, attempt the downhill bike track. It's rated "double black diamond" and that means steep!
16. Cruise on the Star of Knoxville Riverboat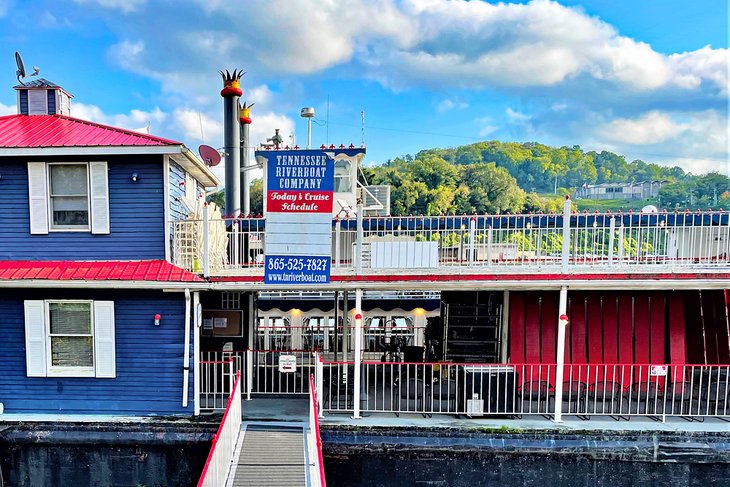 The Star of Knoxville is an authentic paddle wheeler that ferries passengers along the Tennessee River. Scheduled sailings introduce you to points of historical interest. You will have endless opportunities to photograph Knoxville and shoreline from the upper observation deck, while cruising the river.
17. Get on Board the Three Rivers Rambler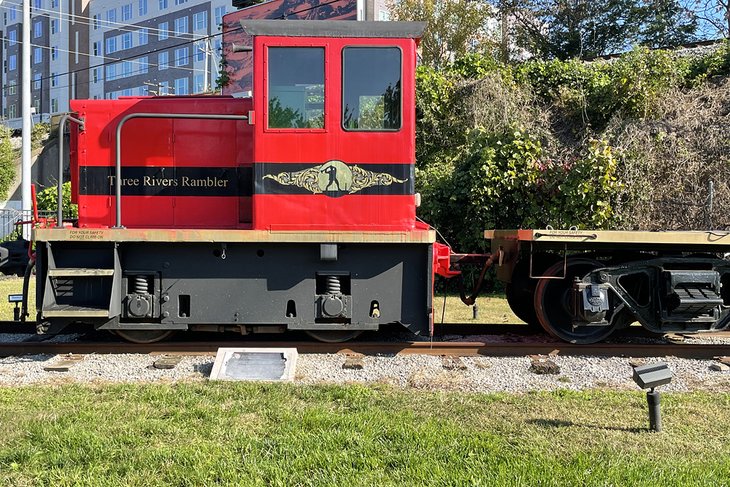 The Three Rivers Rambler tourist train is a novel way to see Knoxville while experiencing a historic mode of travel. Rolling down 11 miles of track, feel the excitement of being aboard a historic train pulled by a coal-fired steam engine locomotive.