12 Best Campgrounds near Gatlinburg, TN
The Great Smoky Mountains National Park draws millions of visitors each year, making it the most visited park in the United States. Most visitors to the park–and its closest gateway, Gatlinburg–seek opportunities to be active outside and soak up the benefits of being in nature. One of the most popular ways to satisfy these interests is camping. Campgrounds near Gatlinburg are plentiful and diverse. As you will discover, camping in this part of the world is like having a little piece of The Smokies all to yourself.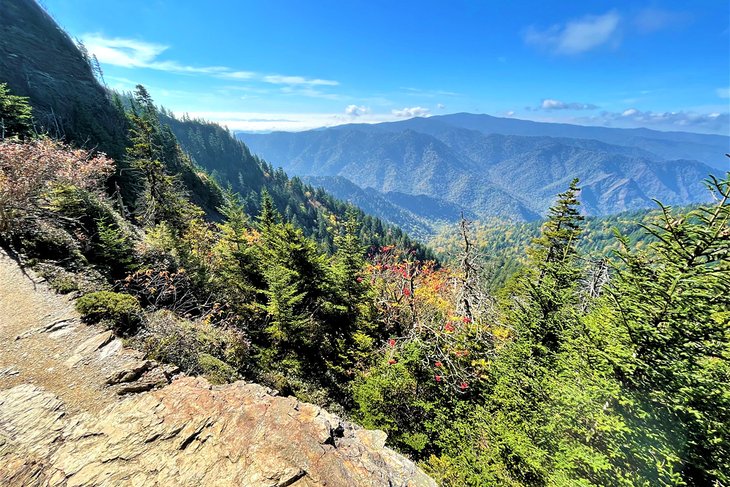 You might assume that you can waltz right into the park and set up camp wherever you want. Given their popularity and conservation values, all national parks restrict camping to designated camping areas. There are strict regulations, even when primitive camping in the backcountry, where there are no roads and services. Fortunately, there are four Great Smoky Mountains National Park campgrounds within an hour's drive of Gatlinburg. These campgrounds are perfect for campers who are self-contained or sleeping in a tent.
Private campgrounds near Gatlinburg offer a full range of facilities for campers who need most–if not all–services for recreational vehicles, including water, electricity, sewer, and sani-dump stations. Modern restrooms with flush toilets and hot showers are included. Some of these RV parks are veritable holiday resorts, with outdoor pools, clubhouses, stores, and other amenities that add entertainment and convenience to your stay.
When planning your camping adventure near Gatlinburg, one of the first things to do is reserve a campsite suitable for your needs. Given that Gatlinburg is on the doorstep to the Great Smoky Mountains, making an advance reservation is required to avoid disappointment. Find the best options with our list of the top campgrounds near Gatlinburg, Tennessee.
1. Elkmont Campground, Great Smoky Mountains National Park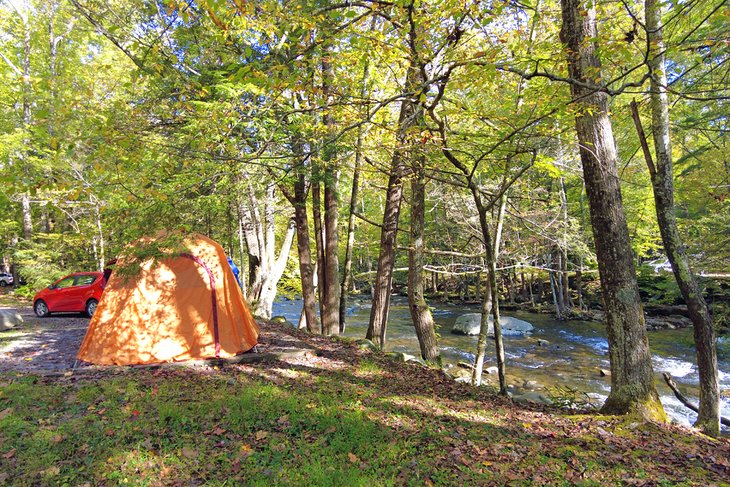 Elkmont Campground in Great Smoky Mountains National Park is eight miles west of Gatlinburg, making it the closest place to camp inside the park. With 200 tent and RV sites, and 20 walk-in tent sites, Elkmont is the largest campground in the park. Some sites are too sloped for RV camping, but nine sites are designed with wheelchairs in mind. All sites provide a picnic table, fire pit, and grill. The closest dump station for RVs is located across from Sugarlands Visitor Center.
Elkmont Campground has restrooms with flush toilets and a children's playground. A mini-store sells firewood and ice. Other than its idyllic location beside the Little River and an abundance of hiking trails, the campground is adjacent to Daisy Town, the restored Elkmont resort community from a century ago. You can amble through colorful summer cottages of yesteryear, and speak with park historians about the settlement.
2. Cosby Campground, Great Smoky Mountains National Park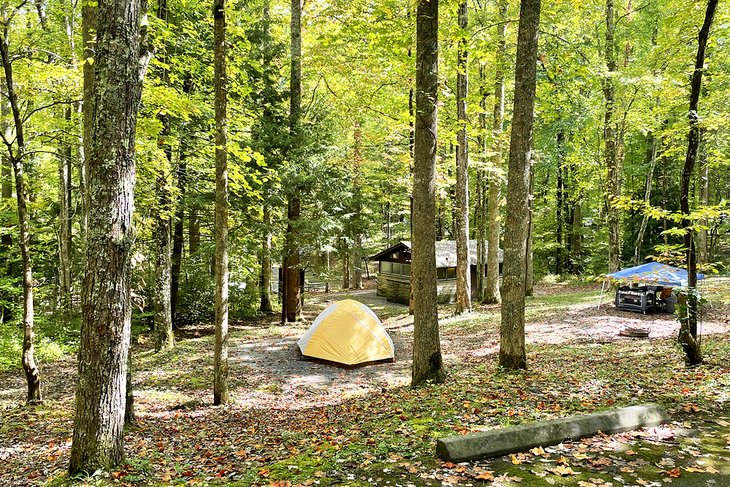 Cosby Campground is in a remote area of Great Smoky Mountains National Park, yet it's only a half hour away by car from Gatlinburg. It's a haven for tent campers who appreciate a wooded setting, although there are campsites for RVs. The campground has 164 campsites that must be reserved before your arrival. Each site provides a picnic table, fire ring, and grill. Campers have access to flush toilets, drinking water, and a dump station.
Expect tranquility in natural surroundings beside Cosby Creek. Nearby trails suit diverse physical abilities and interests, such as viewing wildlife. The Lower Gap Trail leads to the famous Appalachian Trail three miles away. Make sure to pack your fishing gear.
While Gatlinburg is 22 miles away, the small community of Cosby is only five miles down the road from your campsite. This is a good place to purchase convenience items, or order something yummy that's prepared by someone else.
3. Cades Cove Campground, Great Smoky Mountains National Park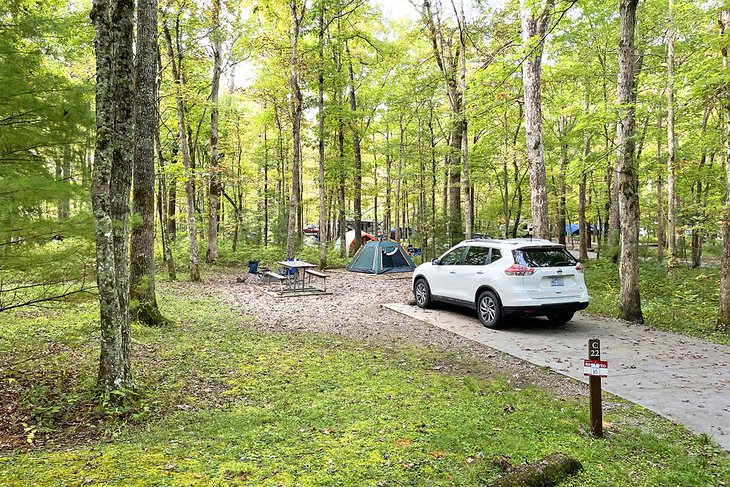 While visiting Gatlinburg, you are almost certain to schedule time to drive the 11-mile Cades Cove Loop Road–an auto trail that attracts two million visitors each year to Great Smoky Mountains National Park. For this reason, and other activities nearby, you might decide that Cades Cove Campground is the perfect spot for you to camp in the park.
Located 27 miles from Gatlinburg, the campground has 159 campsites that are available by reservation. Each site has a picnic table, fire ring, and grill. You also have access to drinking water, flush toilets, and a dump station. Ask at the Cades Cove Visitor Center about things to do such as wildlife viewing, hiking, and visiting historical places.
Cades Cove offers more amenities than other campgrounds in the park. Visit the general store that sells essentials and an assortment of apparel and gift items. You can rent a bike–a high-demand item on days when the Cades Cove Loop is only open to cyclists and walkers. Book a trail ride on horseback, or hop aboard a horse-drawn carriage or hayride from the stables near the campground.
4. Smokemont Campground, Great Smoky Mountains National Park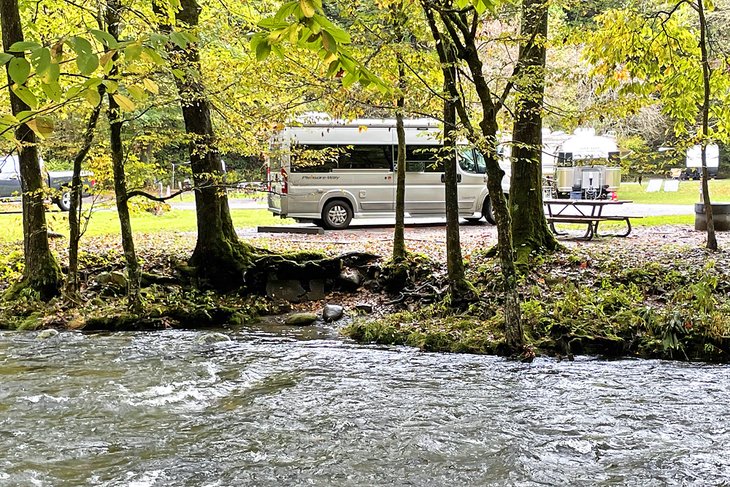 Smokemont Campground is 28 miles from Gatlinburg. It's located on the south side of Old Smoky of Great Smoky Mountains National Park in North Carolina. Nearby is the Oconaluftee Visitor Center for information on trails and hot spots for viewing wildlife, such as elk herds.
The campground has 142 reservable campsites on the banks of Bradley Fork River. Campsites are flat, and some sites are paved for RVs. In addition to a picnic table, fire ring, grill, and lantern post in each site, the campground has drinking water, restrooms with flush toilets, and a dump site.
5. Twin Creek RV Resort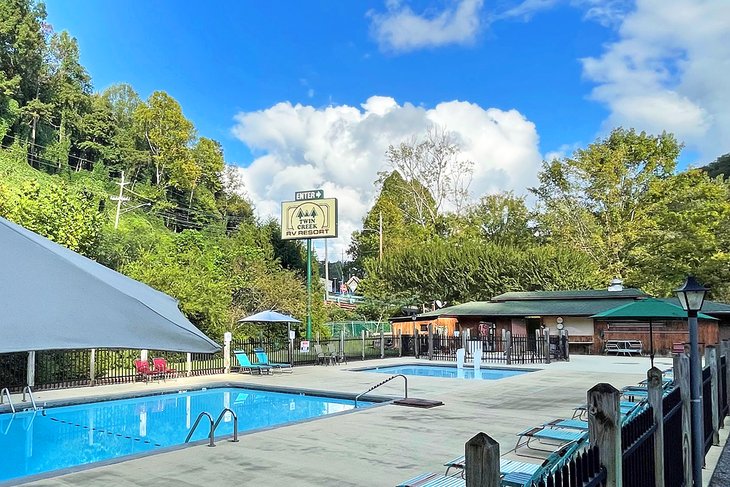 Within the town limits of Gatlinburg, Twin Creek RV Resort is the closest spot to park your large or small rig and take advantage of its location to nearby attractions. The Gatlinburg Trolley stops at Twin Creek, saving you the bother of driving downtown or into Great Smoky Mountains National Park. If you need a car, on-site car and jeep rentals are a convenient bonus to staying here.
Full-service hookups with 20, 30, or 50 amps; cable TV; and Wi-Fi are available. Sites are paved and offer concrete picnic pads, fire rings, and grills.
Resort amenities include a restroom with showers, a laundry, swimming pool, kiddie pool, Jacuzzi, children's playground, and a lush creekside environment. Expect a general store for essentials and camping supplies.
No tents are permitted. Check with staff about restrictions on pets before booking.
Location: Address: 1202 East Parkway, Gatlinburg, Tennessee
Official site: https://twincreekrvresort.com/
6. Camp LeConte Luxury Outdoor Resort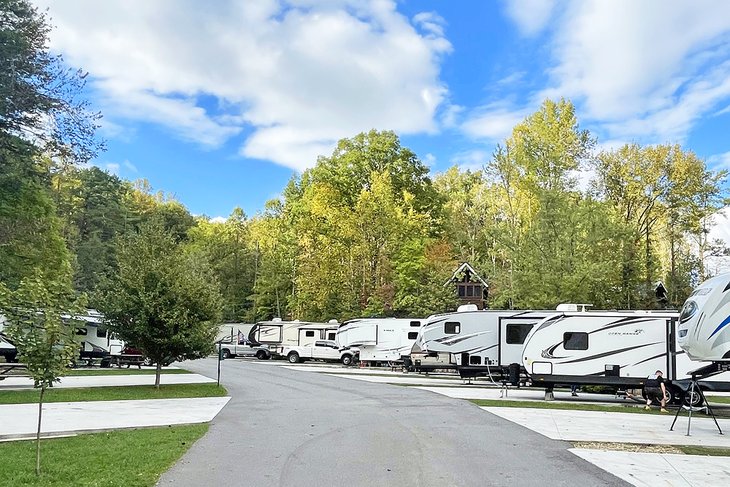 The finer things in camping life are assured at Camp LeConte Luxury Outdoor Resort. Set within the town limits of Gatlinburg, this campground is next to the modern complex that hosts the Rocky Top Sports World, Gatlinburg Public Library, and secondary school. In addition to 20 RV sites and five primitive tent sites, the resort rents accommodation in treehouses, European safari tents, and 1960s retro camp trailers.
All RV sites feature concrete pads and grassy areas. They come with full-service hookup (20, 30, and 50-amp service; water; and sewer), cable, Wi-Fi, picnic tables, and fire pits. In a shaded grass area for tents, sites include a tent pad, fire pit with a grill, and small picnic table.
The Pavilion houses a bathhouse, store, and access to the outdoor saltwater pool. A covered games gazebo includes table tennis. The Gatlinburg Trolley to downtown stops beside the Pavilion to whisk you away to downtown attractions.
Address: 1739 East Parkway, Gatlinburg, Tennessee
Official site: https://www.campleconte.com
7. Greenbrier Campground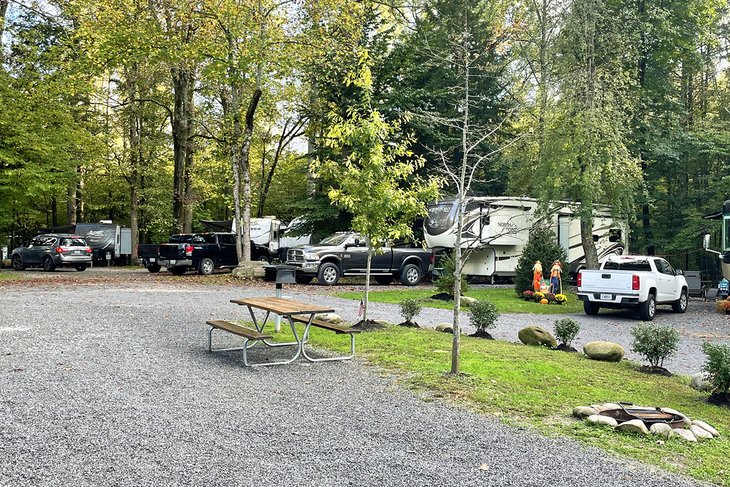 Greenbrier Campground is an island with a white-sand beach and swimming hole on the West Prong Little Pigeon River. Featuring open play fields and wooded meadows, this campground is six miles east of Gatlinburg. Access to Greenbrier trails in Great Smoky Mountains National Park is across East Parkway.
The campground has 120 full-service hookups with 30- and 50-amp service, water, septic, cable TV, and Wi-Fi. Campsite locations include riverfront and treed areas. Pull-through sites are available for big rigs. The grass tenting area in the center of the island includes nine sites with water and electric services. When weather permits, six primitive walk-in tenting sites are available on a separate small island. Greenbrier rents cabins and bell/tipi tents on riverside sites.
Each campsite has a picnic table and fire pit. To enhance your outdoor cooking experience, there are charcoal and propane grills. Campground amenities include bathhouses, laundry, a camp store, games room, outdoor billiards, children's playgrounds, and recreation equipment.
Address: 2353 East Parkway, Gatlinburg, Tennessee
Official site: https://www.smokymountaincamping.com/
8. Imagination Mountain Campground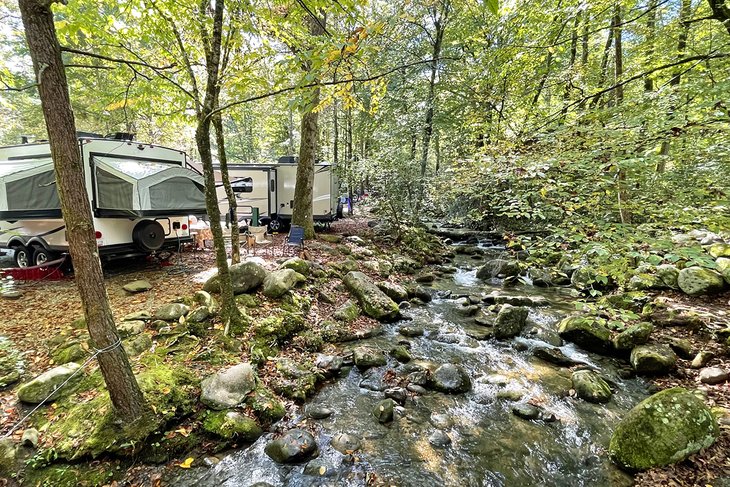 Imagination Mountain Campground inspires campers with a naturally scenic and magical place that backs onto Great Smoky Mountains National Park. The sound of water emanates from the creeks that flow through the campground. At night, suspended lights give the campground a feeling of fairyland.
The range of places to park your RV includes 27 full-service hookup sites and six electric and water sites with a dump station. In addition to eight sites to pitch your tent, you can rent yurts and cabins.
Amenities include restrooms and comfort stations, and access to Wi-Fi. Camping essentials are available in the store with a quaint ice-cream parlor, and propane filling station. The clubhouse, outdoor pool, mini golf course, and nightly movies in the outdoor theater provide entertainment options.
Address: 4946 Hooper Hwy, Cosby, Tennessee
Official site: https://www.imaginationmountaincamping.com/
9. Smoky Bear Campground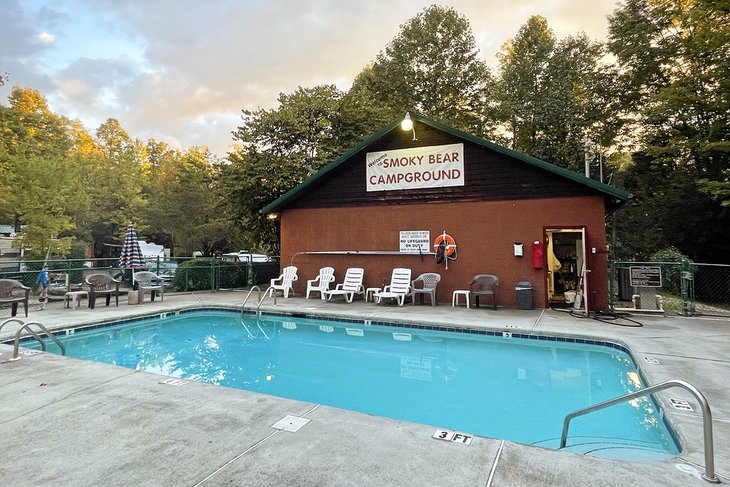 Smoky Bear Campground and Great Smoky Mountain National Park are a winning combination, especially when everything to do in Gatlinburg is only 13 miles away. Reserve far enough in advance, and you'll have your choice of 46 full-service hookup sites on shaded concrete pads with water, sewer, electric, cable TV, Wi-Fi, picnic tables, and fire rings. You can pitch a tent or rent a cabin.
The campground includes a wheelchair accessible bathhouse, a heated and air-conditioned clubhouse with a kitchen and seating for 70 campers, a swimming pool, hot tub, and children's playground. The store at Smoky Bear Campground supplies snack food, camping items for your RV, and gifts.
10. Smoky Mountain KOA Holiday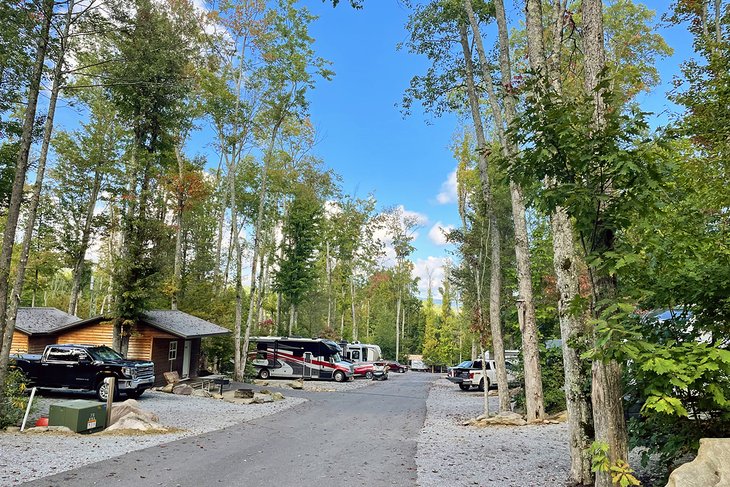 KOA campgrounds are known for their resort amenities and family-friendly atmosphere in locations throughout North America. The Smoky Mountain KOA Holiday campground–17 miles east of Gatlinburg–features 76 full-service hookup sites in the shadow of the northern slopes of Great Smoky Mountains National Park.
Spread over 16 acres of treed and open meadow, this campground is big-rig friendly, with paved streets and graveled RV lots. Expect to see a picnic table and fire pit at your private site when you arrive, with a hookup for cable TV, and Wi-Fi. There's a pool, children's playground, and small disc golf setup. For off-roading adventures, rent an ATV from the campground and hit the trails on a group tour.
11. Outdoor Resorts at Gatlinburg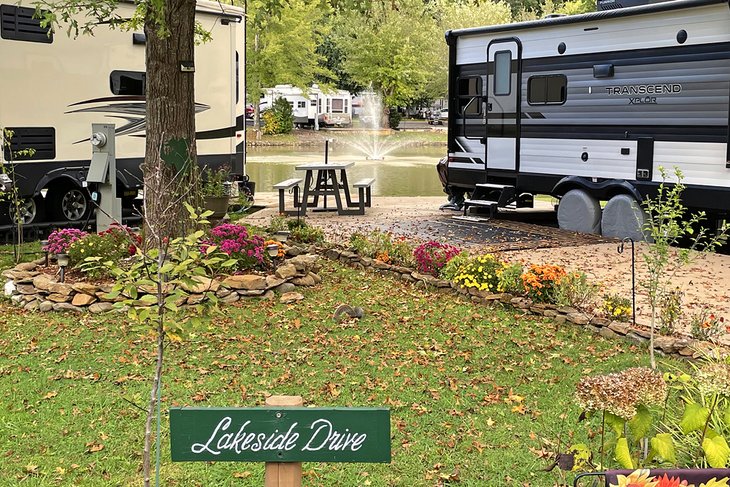 Behind its security gate, Outdoor Resorts at Gatlinburg is a vacation community of 400 RV sites along Webbs Creek. Every site is built on a landscaped concrete pad with a picnic table, and there are three bathhouses. Outdoor Resorts is located 13 miles east of Gatlinburg.
This campground features so many activities on-site, you might choose to hold off venturing beyond the fenced property. Enjoy a pool that's perfect for families, or choose the pool that is designed with the comforts of adults in mind. In the center of the resort is a lake with a fountain, stocked with fish. Picnic areas encourage visitors to enjoy the great outdoors.
For more active pursuits, make your best putt on the mini-golf greens, shoot hoops on the basketball courts, or play shuffleboard. Tennis and volleyball courts are available for competitive fun. There is a children's play area, and the recreation center includes a games room. A large laundry facility is shared by guests.
12. Adventure Bound Camping Resorts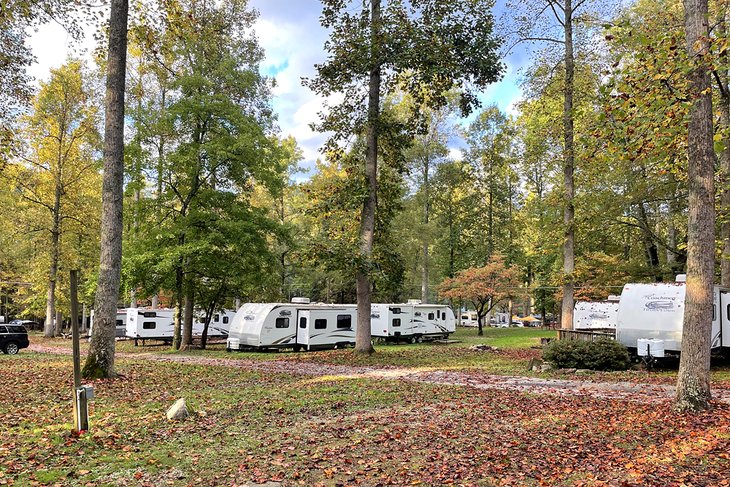 Adventure Bound Camping Resorts is family owned and operated, and this campground is dedicated to family fun. During festive seasons such as Halloween, the resort hosts a haunted house and trick or treat every night of October!
Park your rig or pitch a tent on almost 230 sites throughout the property, which features two creeks. Site amenities accommodate a range of camping needs, including full-service hookups or water and electric only. A general store, laundromat, dump station, and propane fill station are on the property.
The large pool is a big draw for kids of all ages, and the 500-foot alpine waterslide is extra incentive to get wet and start screaming. The activity center with arcade games is always bustling with kids. When you have energy for more entertainment, head to Gatlinburg 13.5 miles away.