11 Top-Rated Tourist Attractions in Gatlinburg and the Smoky Mountains
We may earn a commission from affiliate links ()
Although one of the smallest towns in Tennessee (its population is just a tad over 4,100), Gatlinburg is one of the state's busiest tourist destinations. The reason for this popularity? The fantastic Great Smoky Mountains National Park, the most visited national park in the US.
The park straddles two different states - North Carolina is just minutes away - and Gatlinburg seems to have the monopoly on the best scenic routes into the park. This fact is easy to figure out once you arrive - everywhere you look there are hotels and entertainment facilities vying for attention, making it the perfect place from which to launch your adventure into the area's spectacular wilderness.
And when you're done exploring the beautiful countryside, there's no shortage of fun things to do in the town itself. Popular mainstream tourist attractions include the likes of the excellent Ripley's Aquarium of the Smokies, while there's plenty of fun for the curious at some of the rather more obscure points of interest, such as the Salt & Pepper Shaker Museum, which boasts over 20,000 examples of shakers.
Find more fun places to visit with our list of the top attractions in Gatlinburg and the Smoky Mountains.
See also: Where to Stay in Gatlinburg
Note: Some businesses may be temporarily closed due to recent global health and safety issues.
1. Great Smoky Mountains National Park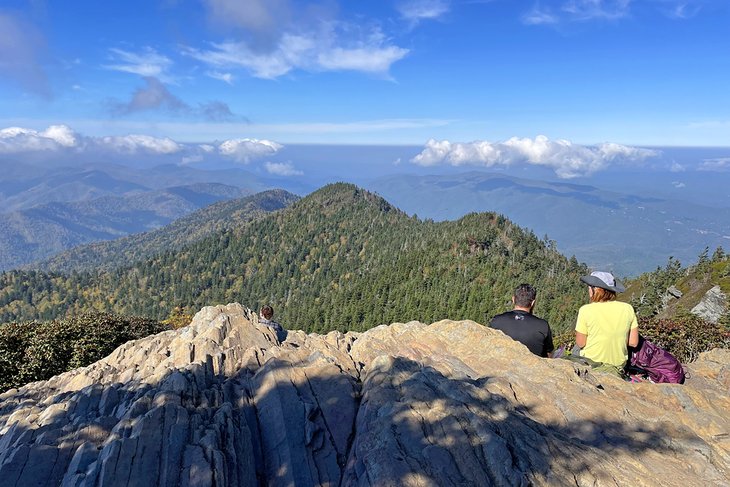 The Great Smoky Mountains National Park is a forested region with impressive mountains reaching more than 6,500 feet high. A central range of the Appalachians running east-west, the Smokies get their name from the mist that frequently rises out of the valleys like smoke signals.
The best time of year to visit the Smoky Mountains depends on your interests. Travelers come here to enjoy the mountains year-round: hikers and mountain bikers during spring, summer, and fall, and skiers in winter. All told, more than 900 miles of hiking trails crisscross the park. Many visitors also come for the fly-fishing, widely considered as some of the best in the country.
A number of excellent visitor centers offer guides and easy access to the most scenic areas. Numerous campsites are dotted around the park, along with cabin rental opportunities in and around this area of outstanding natural beauty.
One of the highlights is the park's flora. A mix of deciduous and conifer forests, it's also home to more than 1,400 species of flowering plants, including mountain magnolias, wild azaleas, mountain laurels, orchids, and rhododendrons.
Address: 107 Park Headquarters Road, Gatlinburg, Tennessee
Official site: www.nps.gov/grsm/index.htm
2. Clingmans Dome Observation Tower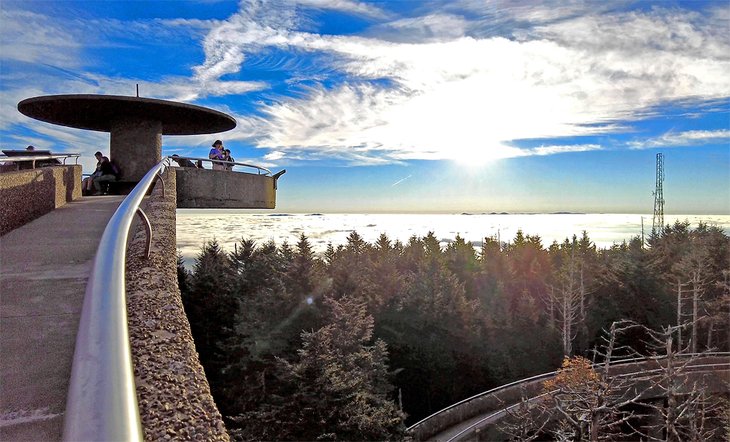 A delightful one-hour drive from downtown Gatlinburg, Clingmans Dome is, at 6,643 feet, the highest point in Tennessee and the Great Smoky Mountains National Park. And the drive is certainly well worth it. You'll be rewarded with wonderful views stretching as far as 100 miles on a clear day - views that are especially attractive at sunrise and sunset.
A highlight is the superb 45-foot-tall observation tower perched atop the mountain's summit and offering 360-degree views of the Smokies. Built in 1959, the views here, in fact, take in seven different US states, including Alabama, Georgia, Kentucky, North Carolina, South Carolina, Tennessee, and Virginia.
While the tower is open all year, be sure to keep an eye on the weather, as the road leading to it closes if things turn nasty. A variety of other trails branch off from the car park, which is just half-a-mile walk along a paved (yet steep) pathway to the observation tower.
Official site: www.nps.gov/places/clingmans-dome-observation-tower.htm
3. Ripley's Aquarium of the Smokies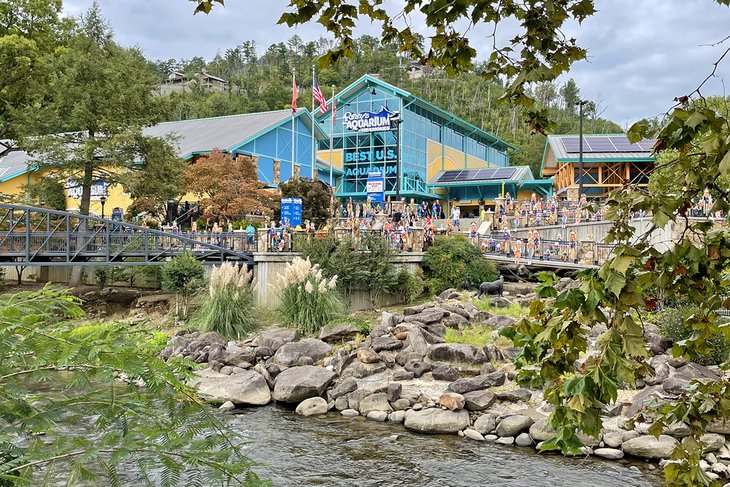 The best of a number of Ripley's attractions in Gatlinburg, Ripley's Aquarium of the Smokies features plenty of exotic marine life from around the world. Highlights include a submerged acrylic tunnel that allows visitors to see sharks and other ocean predators up close, and interactive exhibits, including the always popular "touch a ray bay."
For a truly memorable experience, consider signing up for one of the fun penguin experiences. These family-friendly adventures include having the chance to pet one of these amazing creatures, or even don your bathing suit and swim with the stingrays. There's even a fun glass-bottom boat ride through the attraction.
Other Ripley's attractions to keep restless teens occupied include Ripley's Believe It or Not! Odditorium Gatlinburg with its collection of unusual items such as shrunken heads, medieval instruments of torture, and a fun mirror maze.
Ripley's Moving Theater, meanwhile, is a fun cinematic experience that heightens the on-screen action with chairs that move. Other related attractions include the Guinness World Records museum, a highlight of which is Harry Houdini's water torture chamber, and the always fun Haunted Adventure.
Address: 88 River Road, Gatlinburg, Tennessee
Official site: www.ripleyaquariums.com/gatlinburg
4. The Sugarlands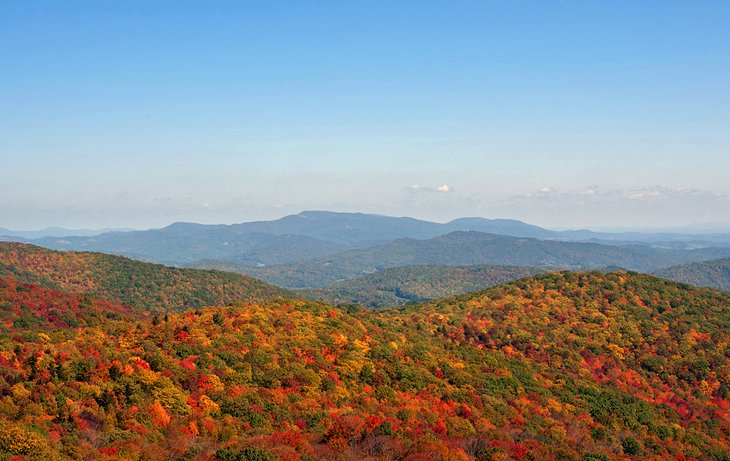 One of the prettiest parts of the Smoky Mountains, the Sugarlands is a valley named after the area's once dominant sugar maple trees and is extremely popular as a day trip destination from Gatlinburg. The area stretches from the aptly-named Roaring Fork in the east, all the way to the slopes of Sugarland Mountain in the west and is overlooked by the 5,000-foot Mount le Conte.
Sugarlands is particularly popular among hikers, with hiking being one of the top things to do around Gatlinburg in October when the leaves are changing color. One of the most popular hiking trails is the Old Sugarlands Trail, open to hikers and horse riders. A gentler trail leads from the Sugarlands Visitor Center and loops past the John Ownby Cabin, built in 1860. Not far away is Noah Ogle Place, a former homestead with an old barn, cabin, and mill.
Another popular (and short) hike that's great for kids heads off from the visitor center to the attractive 25-foot-tall Cataract Falls. While at the visitor center, check into their Ranger-led programs, natural history exhibits, and films about the park.
Address: 1420 Fighting Creek Gap Road, Gatlinburg, Tennessee
5. Downtown Gatlinburg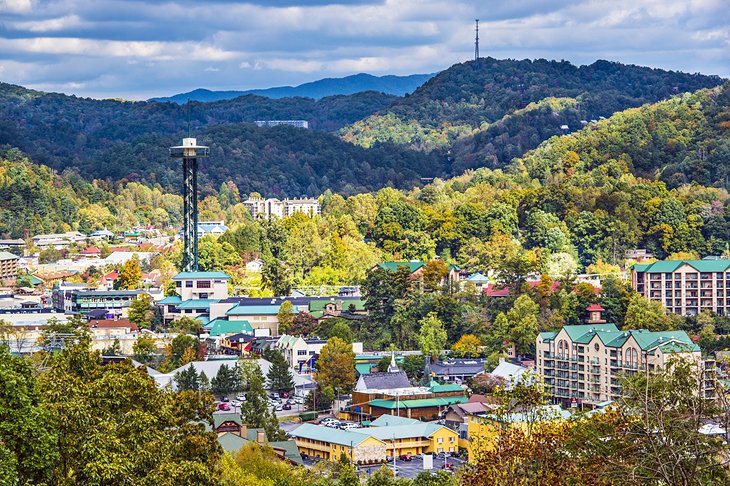 The gateway to the Great Smoky Mountains National Park, the always-busy town of Gatlinburg provides everything travelers need after a long day exploring the surrounding countryside. The main thoroughfare, Parkway, is where most of the action is, and is home to as many mom-and-pop stores and restaurants as it is to big-brand hotel and motel chains.
For those with younger travelers in tow, there's no better place to blow off some steam than at the numerous attractions here. These include everything from classic arcade-style amusements to theater shows and aquariums.
Of special note is the Gatlinburg Space Needle. This tall steel tower features a 400-foot-high observation deck with stunning views over the town and the surrounding hills.
Accommodation: Where to Stay in Gatlinburg
6. Cades Cove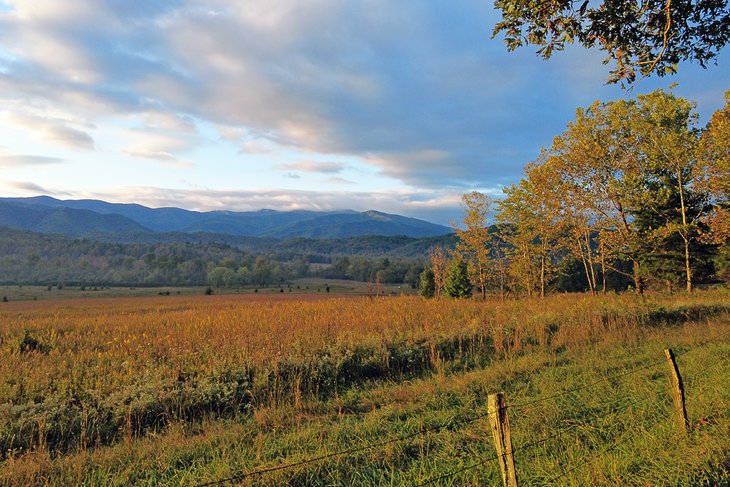 One of the remotest corners of the Great Smoky Mountains National Park, Cades Cove is also one of its most popular spots, attracting some two million visitors per year.
Once home to numerous settlers, the area draws tourists with its picturesque rural meadows, well-preserved pioneer homesteads, and incredible mountain views. It's also well-known for its waterfalls, the most popular of which are Abrams Falls and Laurel Falls.
It's also a favorite area for wildlife viewing, and even offers the chance to see larger beasts, such as deer and black bears.
It's a particularly pleasurable area to explore by car, and a very picturesque 11-mile, one-way tourist route - the Cades Cove Loop Road - has been established to add to the fun and remains one of the best free things to do in the area. Hiking is also popular here, especially along the trails leading to Abrams Falls. Camping and cabins are also available here.
7. Ober Gatlinburg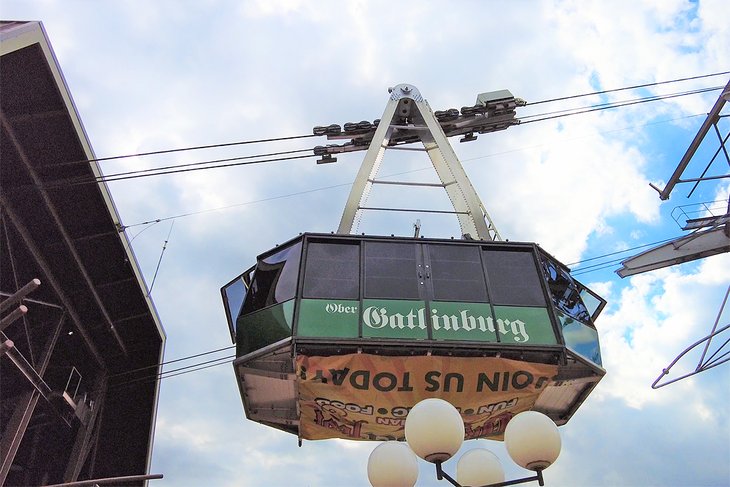 Ober Gatlinburg is a ski resort and amusement park offering year-round recreational activities. The complex includes a chairlift, indoor ice-skating, skiing, an alpine slide, mini golf, and Kiddie Land.
The Wildlife Encounter is a big draw, too, and features a habitat for native creatures such as black bears, river otters, and opossums.
Getting to Ober Gatlinburg is half the fun. Most visitors opt for the two-mile-long Aerial Tramway, which departs from downtown Gatlinburg and offers superb views along the way. The chairlift from Ober Gatlinburg includes a 30-minute ride to the summit with its scenic lookout.
Address: 1001 Parkway Suite 2, Gatlinburg, Tennessee
Official site: https://obergatlinburg.com
8. Anakeesta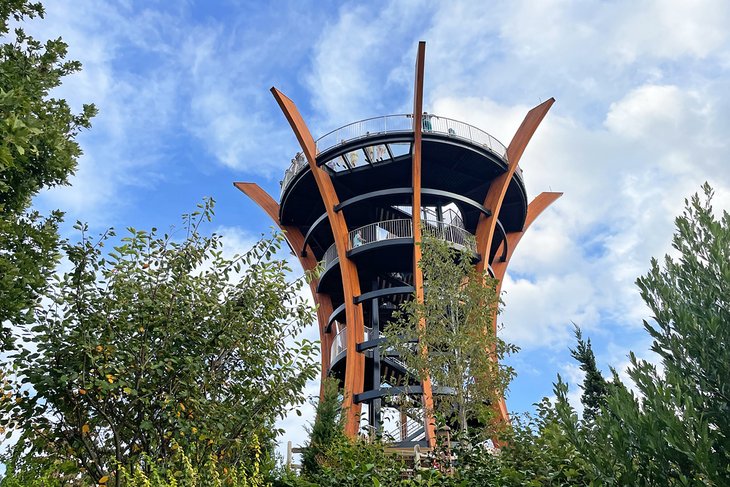 The newest of Gatlinburg's many attractions, Anakeesta might just also be one of the best adventure and nature theme parks in the state. It's named after the Cherokee word for "high ground" and the massive rock formations that make up the Smoky Mountains.
The fun begins with a cable car ride aboard the "Chondola" from the town up to the 600-foot summit of Anakeesta Mountain, where you'll find yourself dropped off in the heart of the park's 70-acre forest. Once here, you'll be able to enjoy fun activities, including a tree canopy walk suspended as high as 60 feet above ground, and side-by-side ziplines so you can race your friends and family. There's also a fun kids' treehouse playground, a gem mining station, as well as great dining at the Smokehouse BBQ.
A fun way to get back down the mountain is on the thrilling mountain coaster (think gravity-powered rollercoaster, and you control your speed). Worth mentioning, too, if you're seeking more ziplining fun is Zip Gatlinburg, and two additional mountain coaster experiences are available at Gatlinburg Mountain Coaster and Rowdy Bear Mountain Coaster.
Address: 576 Parkway, Gatlinburg, Tennessee
Official site: www.anakeesta.com
9. Gatlinburg Space Needle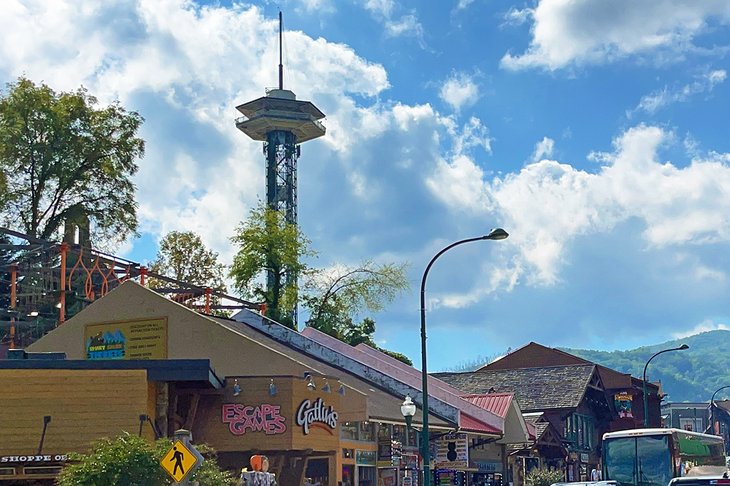 Although already mentioned as one of the main tourist attractions in the downtown area, there's enough to see and do at the 407-foot-tall Gatlinburg Space Needle to warrant giving it an extended mention here.
Once you've arrived - and you can't miss the structure, it's by far the tallest thing in town - board one of the two 20-person glass elevators for the swift ride to the tower's observation deck. Here, you'll experience stunning 360-degree views of Gatlinburg and the Smoky Mountains (be sure to claim your spot at one of the free viewfinders for a closer look).
There are also plenty of fascinating displays pointing out the features and highlights of the many things you can see. Afterwards, head down to the huge two-level Arcadia, a fun hangout, especially for those traveling with kids. Here, you'll find many classic arcade-style video- and fun-fair-style games, or you can catch a show at the on-site theater.
Address: 115 Historic Nature Trail, Gatlinburg, Tennessee
Official site: www.gatlinburgspaceneedle.com
10. The Hollywood Star Cars Museum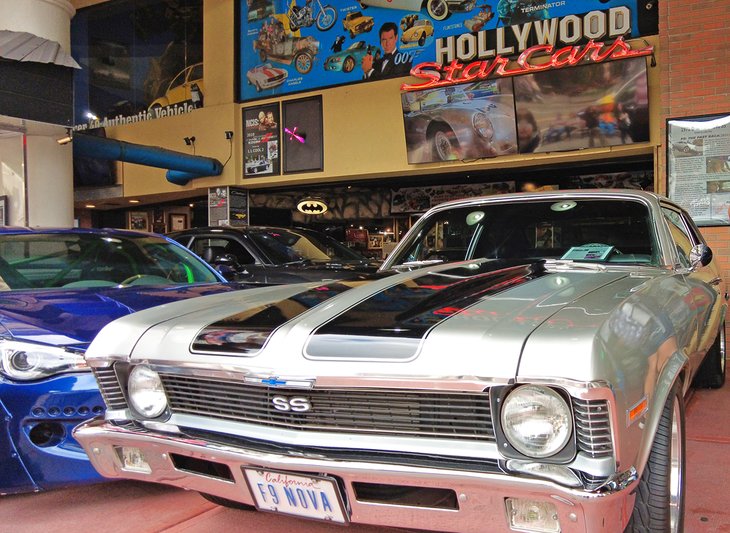 The Hollywood Star Cars Museum is a fun diversion for young and old alike when in Gatlinburg. Featuring more than 40 cars that were used in Hollywood movies, the collection includes vehicles from Gone in 60 Seconds, The Fast and the Furious, and Days of Thunder.
Other famous favorites include the original Batmobile from the 1960s TV show, Batman (as well as a Batmobile from 1992's Batman Returns), and Herbie from the Disney movie franchise of the same name.
Address: 914 Parkway, Gatlinburg, Tennessee
Official site: http://starcarstn.com
11. Gatlinburg Sky Lift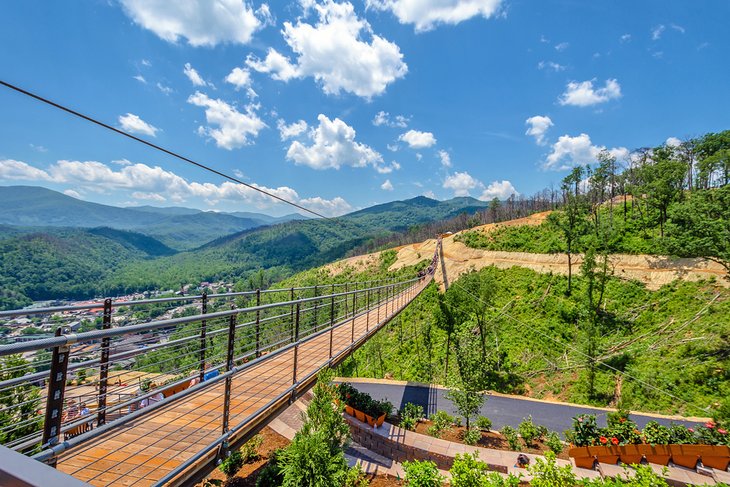 No trip to Gatlinburg is complete without jumping aboard one of the many chairlifts that head up into the Smokies. A popular option that departs from the downtown area is the completely refurbished Gatlinburg Sky Lift. This open-air chairlift makes short work of the 1,800-foot elevation of Crockett Mountain, offering superb views over the town and its picturesque setting along the way.
After unloading at the new Sky Deck platform at the summit of Crockett mountain, you're free to explore the many trails nearby, either making your way on foot back down to Gatlinburg or making the return journey on the Sky Lift. It's an especially pleasant journey after nightfall when the town and its Space Needle are lit up to dazzling effect.
Address: 765 Parkway, Gatlinburg, Tennessee
Official site: www.gatlinburgskylift.com
Where to Stay in Gatlinburg for Sightseeing
To help you find the perfect place to stay at a rate that works for you, we recommend these highly rated hotels in Gatlinburg, each with easy access to downtown attractions and the Great Smoky Mountains National Park:
Luxury Hotels: For those seeking a luxurious stay that's close to a variety of things to see and do in and around Gatlinburg, The Lodge at Buckberry

Creek

is an excellent choice. This luxury mountain retreat offers spacious accommodations with fireplaces and whirlpool tubs, relaxing in-room massages, and easy access to hiking trails.

Other great luxury options in the heart of the action are the Mountain Village

Inn

and Baskins Creek

Condominiums

, both particularly popular with larger groups and families for their well-appointed, modern, condo-style units (complete with kitchens).
Mid-Range Hotels: Good centrally located choices in the mid-range category include Courtyard

Gatlinburg

, which features well-appointed rooms plus great amenities, including a fun log-cabin-style restaurant, an outdoor pool, and a large hot tub.

Another mid-range option with a convenient location worth considering is the Hilton Garden Inn Gatlinburg

Downtown

, a three-star hotel near the main street, which features comfortable rooms, an indoor pool, a hot tub, and fire pit.
Budget Hotels: A great option for the budget conscious is the Quality Inn & Suites

Gatlinburg

, which offers comfortable rooms (hot breakfast included) and a good-sized seasonal outdoor pool.

Other budget options worthy of consideration include Clarion Pointe

Downtown

, a two-star hotel offering free Wi-Fi and breakfast, plus an outdoor pool (seasonal), and Econo Lodge Inn & Suites on the

River

, which offers a number of larger suites with kitchenettes (breakfast is included).
Tips and Tours: How to Make the Most of Your Visit to Gatlinburg and the Smoky Mountains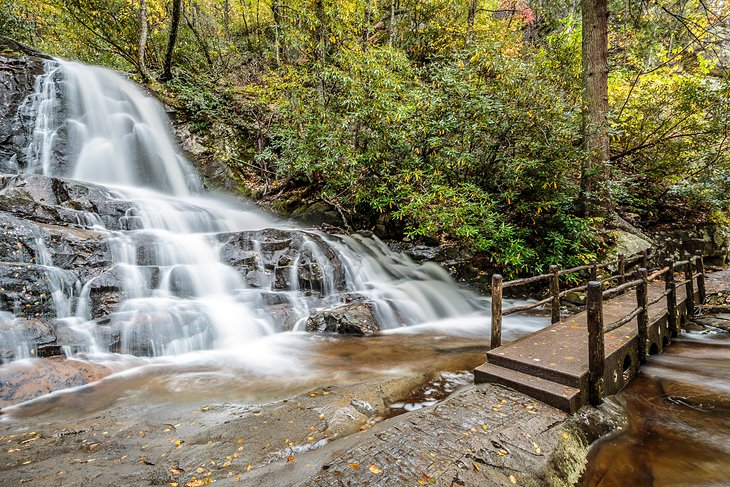 See the Waterfalls: The Smoky Mountains are home to more waterfalls than you could ever hope to see in a single visit. This is thanks to the extreme rainfall (an average of 85 inches a year) and the spectacularly steep mountains. A convenient way to see some of the most beautiful falls is an organized tour. A fun option is the Cascades and Creeks of the

Smokies

tour, a guided adventure that starts at the park's Greenbrier entrance for a three-hour hike, taking in some of the smaller, less visited, but no less beautiful falls. Along the way, you'll be introduced by your guide to notable local flora and fauna, too.
Sights of the Smokies: For those seeking a more immersive, day-long experience - and all under the watchful eye of a knowledgeable, dedicated guide - you may want to consider the Sights of the Smokies All Day

Tour

. Highlights of this eight-hour adventure include learning about the history of the region through visits to historic sites including the mill at Pigeon Forge, dating back to 1830, plus Wear Valley, which played an important role in the Civil War. Other stops include historic Townsend, followed by a drive along the scenic Foothills Parkway West. (The tour includes bus transportation, and an optional lunch is available as an upgrade.)
Hit the Road in Great Smokey Mountain National Park: Few regions of the US offer so much stunning scenery in a destination as easy to reach as the Great Smoky Mountains National Park. With three entrances, it's easy to plot a route through the park that will have you drive through the most scenic parts and still have you back at the hotel in plenty of time for a late lunch or dinner (better still, take a picnic - and take your time). Starting along the Newfound Gap Road, you'll find plenty of good excuses to stop, be it at the Sugarlands Visitor Center, or somewhere along the beautiful Greenbrier, a stretch of road that will lead you to some of the park's most beautiful wildflowers. Be sure to grab a park map.
More Related Articles on PlanetWare.com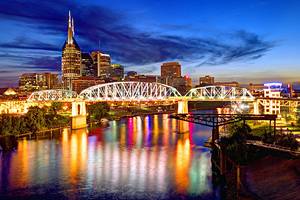 Tennessee's Musical Roots: The state of Tennessee offers no end of fun things to see and do. A must-visit for music fans is the state capital of Nashville, home to such landmarks as Music Row, widely considered to be the heart and soul of America's music industry. Other related attractions here include the Country Music Hall of Fame, The Grand Ole Opry, and the Ryman Auditorium, where so many great artists have performed through the decades.
Music fans will also want to include Memphis in their Tennessee itinerary. Here, you'll be able to visit the Graceland home of Elvis Presley, and enjoy countless museums dedicated to musical icons of blues to country and rock and roll, including the excellent Memphis Rock 'n' Soul Museum.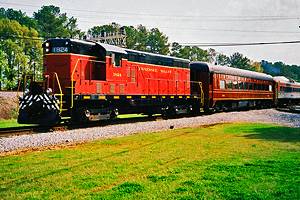 Chattanooga (Choo! Choo!): The delightful, small city of Chattanooga makes a great base from which to explore Tennessee. The city is famous for its connection to the railway, and visitors are always pleased to find the city's original 1909 railroad station intact (it's now a lovely hotel, including some old carriages for rooms). And thanks to a great preservation effort, it's possible to take a rail journey on a historic steam train run by the Tennessee Valley Railroad.