12 Top-Rated Attractions & Things to Do in Gatlinburg, TN
Arriving in Gatlinburg, you might wonder how a place so small could become so big. Gatlinburg is a popular tourist destination, and it's easy to figure out why. This town is the main point of entry to the most visited national park in the United States. Even with more than 12 million park visitors each year, the little town of Gatlinburg does everything possible to make you feel welcome.
Gatlinburg attracts many different types of tourists. If you like to shop and make the scene in a carnival-like atmosphere, get your kicks on the Gatlinburg Strip and ride the Space Needle for an eagle's view of the activity below.
Want more space with a broader perspective? Take a lift to Anakeesta, Ober Gatlinburg, or SkyLift Park and be dazzled by world-class theme parks way up in the sky. Move on up a little higher to the Top of Old Smoky on Clingmans Dome in Great Smoky Mountains National Park, and you might decide that there's no need for heaven to wait!
Gatlinburg is a perfect escape for romantic couples, families seeking things to do, and individuals needing gear and supplies to prolong mountain adventures. It might come as a surprise that you become a different type of visitor than when you first arrived. Choose from our list of attractions and things to do in Gatlinburg.
1. Great Smoky Mountains National Park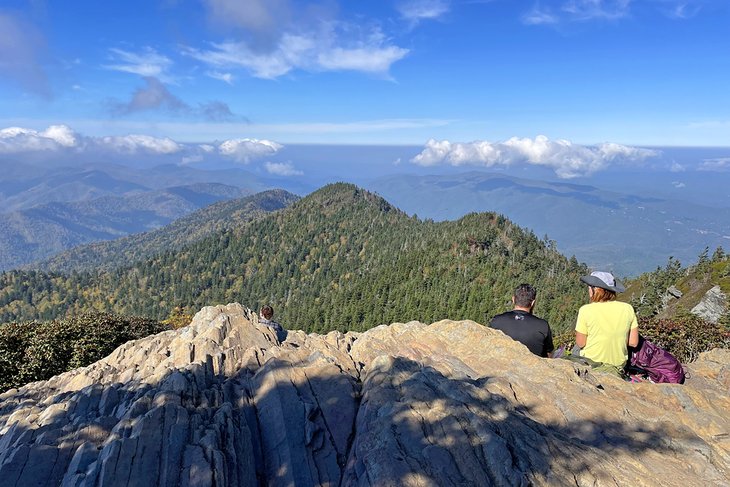 The Sugarlands Visitor Center of Great Smoky Mountains National Park is a creekside walk or shuttle bus ride away from Gatlinburg. This center and its attentive rangers will help you scout out all the things to do in Great Smoky Mountains National Park. If you are arriving from North Carolina, make a pitstop at the Oconoluftee Visitor Center, and watch for herds of elk who might be foraging.
With a map and directions, head out on a trail that is right for you. If driving is more your style, choose a scenic auto route. Some of the highest Smoky Mountain views are within an hour's drive of downtown.
Hiking on 900 miles of trails is the most popular activity in the park. Walk beside spring-fed creeks under the canopy of mixed deciduous and conifer trees. The park is home to more than 1,400 species of flowering plants, including mountain magnolias, wild azaleas, mountain laurels, orchids, and rhododendrons.
Wherever you go to set up camp, picnic, or fly fish, be sure to stop, look, and listen. These moments atop a mountain peak or beside a whitewater river will remain with you for the rest of your days.
Address: 107 Park Headquarters Road, Gatlinburg, Tennessee
Official site: https://www.nps.gov/grsm/index.htm
2. Clingmans Dome Observation Tower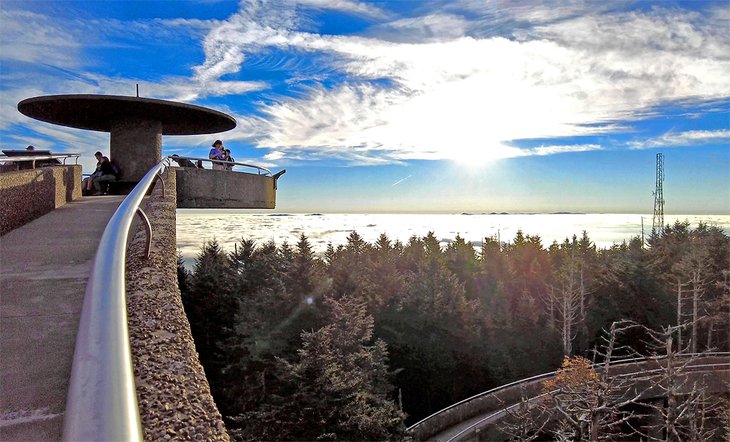 Clingmans Dome is the highest point in Tennessee and the Great Smoky Mountains National Park. At 6,643 feet, the Clingmans Dome Observation Tower is a one-hour ascent by car from downtown. Sunrise and sunset on clear days are the best times to see views that span 100 miles over the misty mountains.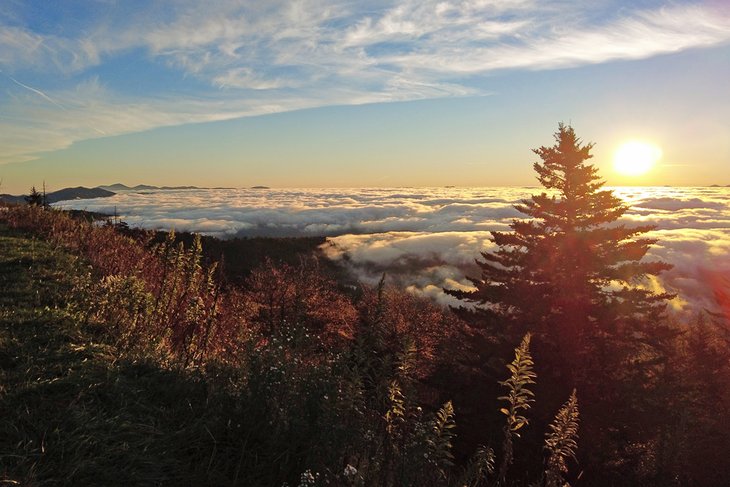 The observation tower rises 45 feet above Old Smoky to behold the panorama of Tennessee and neighboring Alabama, Georgia, Kentucky, North Carolina, South Carolina, and Virginia. Once you arrive at the Clingmans Dome parking lot, take the half-mile paved walkway to the base of the tower and follow the concrete ramp to the top. On the way up, you cross the world-renowned Appalachian Trail, which meanders all the way to Maine. Interpretation signs at the tower inform you about the peaks and towns below, including Gatlinburg.
Official site: https://www.nps.gov/grsm/planyourvisit/clingmansdome.htm
3. Drive the Cades Cove Loop Road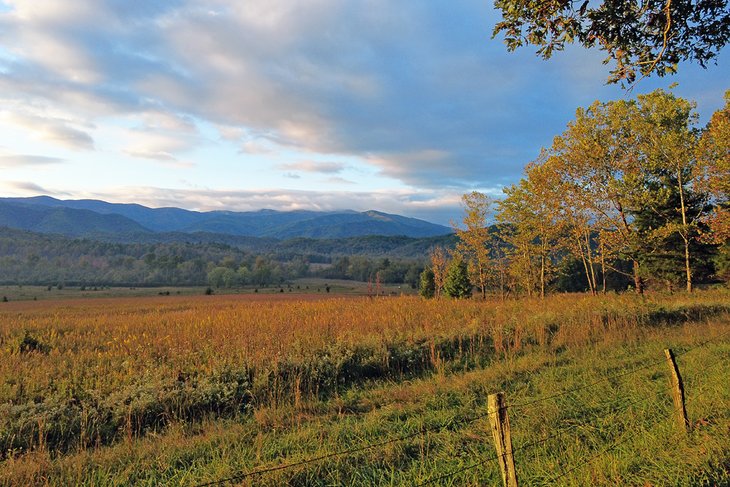 Head to Cades Cove Loop Road for a scenic drive or bicycle tour into the pastoral countryside of Great Smoky Mountains National Park. Depending on the slow-moving traffic and number of stops you make, it can take two to four hours to complete the 11-mile journey. With more than two million visitors each year, plan to arrive early in the morning. The lineup can stretch for many miles, especially during the season of autumn leaves.
Once home to a community of settlers, the area draws tourists with its picturesque rural meadows, pioneer homesteads, churches, and mountain views. It's well-known for a hike to Abrams Falls. In addition to grazing horses, you are likely to see browsing deer and black bears.
Official site: https://www.nps.gov/grsm/planyourvisit/cadescove.htm
4. Ripley's Aquarium of the Smokies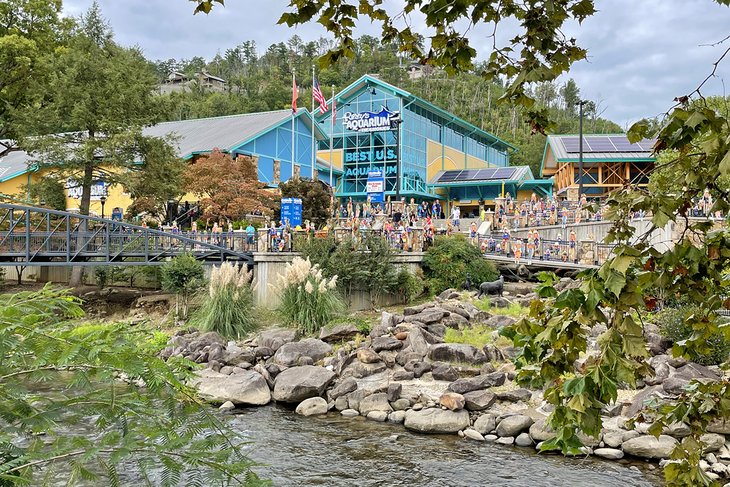 Ripley's Aquarium of the Smokies submerges you in a marine world where having fun is the focus of your underwater experience. Throughout your tour, you are surrounded by massive exhibits containing swimming creatures large and small. Ripley's Glass Bottom Boat Adventure presents sea life from a different perspective.
Many exhibits are interactive to enhance learning opportunities. This includes stepping into a see-through glass tunnel that provides a 360-degree view of sharks and other ocean predators swimming by. At the large shallow lagoon that is home to three species of stingrays, you can safely touch their backs as they swim close to the edge of the tank.
Visitors love to gather in the Penguin Playhouse for wildlife interactions. In the playhouse, go nose to beak with the curious residents of this penguin colony. Whether you connect with them above or below the water, it's a treat to gawk at each other!
Address: 88 River Road, Gatlinburg, Tennessee
Official site: www.ripleyaquariums.com/gatlinburg
5. Anakeesta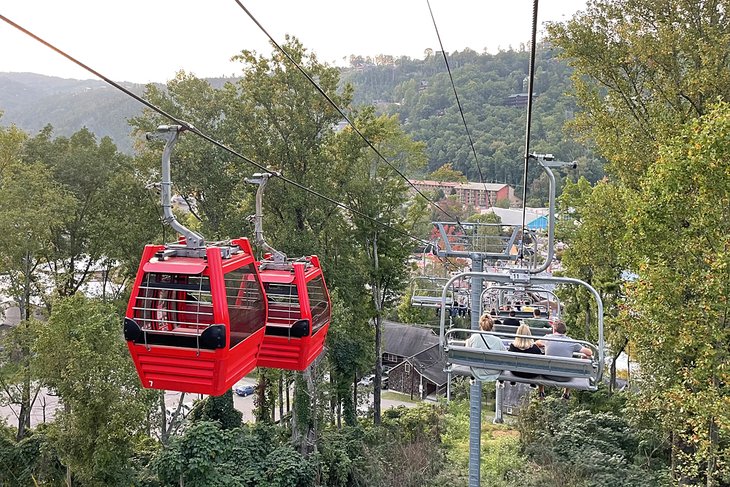 Anakeesta–the Cherokee word for "high ground"–is an award-winning theme park where you can spend a couple of hours or a whole day. Top attractions include the treetop skywalk and 880-foot skybridge hovering 50 feet above the 70-acre rainforest. Grab your partner and duke it out on the dueling zipline tour. Descend 1,600 feet on the Rail Runner Mountain Coaster.
Half the adventure is riding the Chondola to the 600-foot summit, where you disembark into a variety show of things to do. Throughout your visit, stop to admire the best view of the Smoky Mountains from downtown Gatlinburg. A cornucopia of nine food and drink outlets keeps you fueled for what's around the next bend.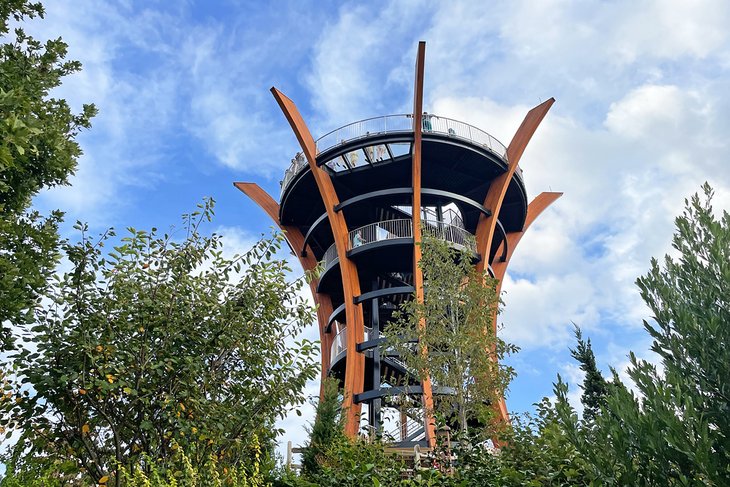 Take a few moments in the Memorial Forest Walk to view photographs and read testimonials of residents who survived the Gatlinburg fire storm in 2016. Wander through the lush botanical Vista Gardens before climbing the AnaVista Tower. The tower's commanding view of Mount Le Conte in the Smoky Mountains is one of the rewards for reaching the highest point above downtown.
Address: 576 Parkway, Gatlinburg, Tennessee
Official site: https://anakeesta.com/
6. Ober Gatlinburg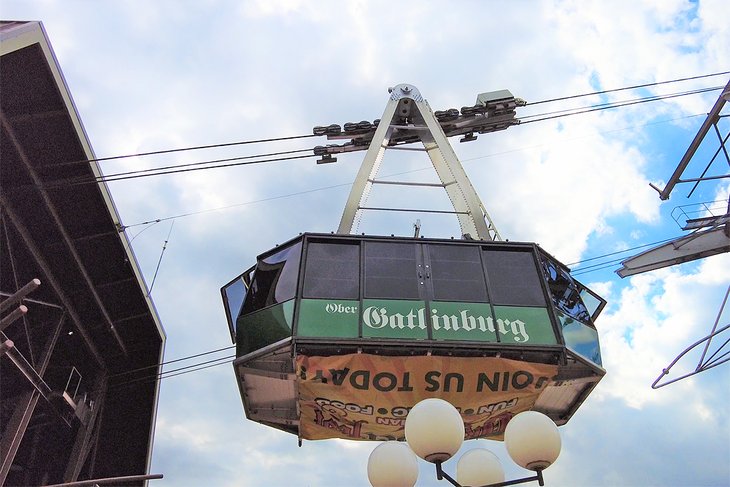 Ober Gatlinburg is a ski resort and amusement park offering year-round recreation. The complex features a 30-minute chairlift to a scenic lookout, indoor ice-skating rink, ski runs, an alpine slide, mini golf, and Kiddie Land. Instead of driving the steep and twisty road to the top, hop aboard the two-mile Aerial Tramway to Ober Gatlinburg from downtown Gatlinburg.
The Wildlife Encounter area at Ober Gatlinburg provides viewing opportunities of black bears, river otters, and bobcats within habitat enclosures. A short trail leads to alpine meadows, wildflowers, and lookouts from Mount Harrison. At speeds up to 25 miles per hour, the Ski Mountain Coaster plummets through a half-mile of tight turns and rollercoaster dips.
Ober Gatlinburg needs no enhancements but here they are: seven restaurants and a multilevel concourse featuring 15 stores.
Address: 1339 Ski Mountain Road, Gatlinburg, Tennessee
Official site: https://obergatlinburg.com/
7. Walk the Gatlinburg Strip and Ride the Space Needle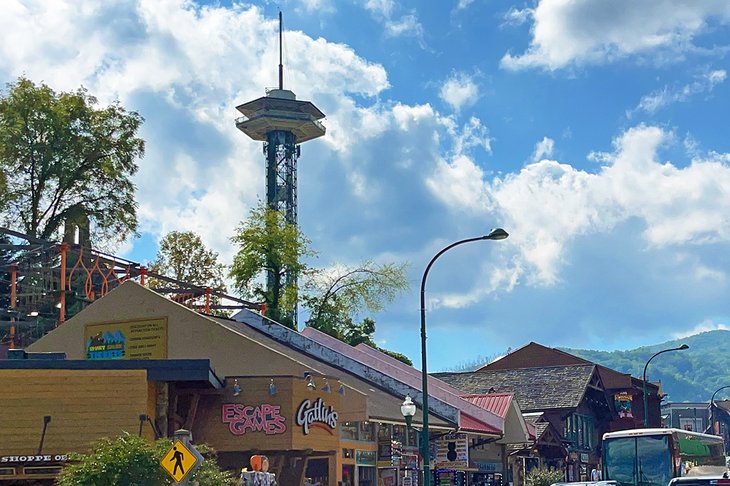 The Gatlinburg Strip is a mini version of the Las Vegas Strip that packs the mile-long corridor with amusements. In addition to places to stay, the strip is a crazy quilt of wax museums, escape games, arcades, axe-throwing competitions, craft demonstrations, candy workshops, carnival rides, and a gazillion stores in back alleyways. Every year, countless pizza slices and scoops of ice cream are consumed, and the upturned hats of music-making buskers are filled with dollar bills.
At any point along the strip, you'll spot the 407-foot Gatlinburg Space Needle piercing blue skies and starry nights. This is where the New Year's Eve Ball drops and the Pyrotechnics Show explodes. Two glass elevators lift visitors to the observation deck for unforgettable views.
8. Gatlinburg SkyLift and Skybridge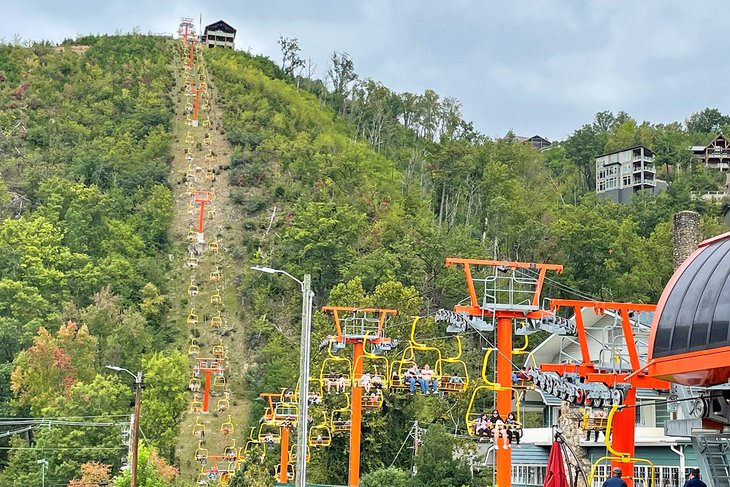 Skylift Park includes the most thrilling walk in Gatlinburg, the Skybridge. The renowned Skylift is an open-air chairlift that transports you from the Gatlinburg Strip to the park atop Crockett Mountain. Skylift Park includes feats of engineering that place you in the sky above the gorgeous landscape that surrounds Gatlinburg.
SkyTrail combines three types of footpaths into one. From the SkyDeck, a cantilevered boardwalk is suspended off a cliff. The boardwalk ends where two rope bridges start, creating a gateway to four viewing platforms of the Tulip Tower. From here, a path follows the ridge to SkyPark's jewel in the crown: SkyBridge.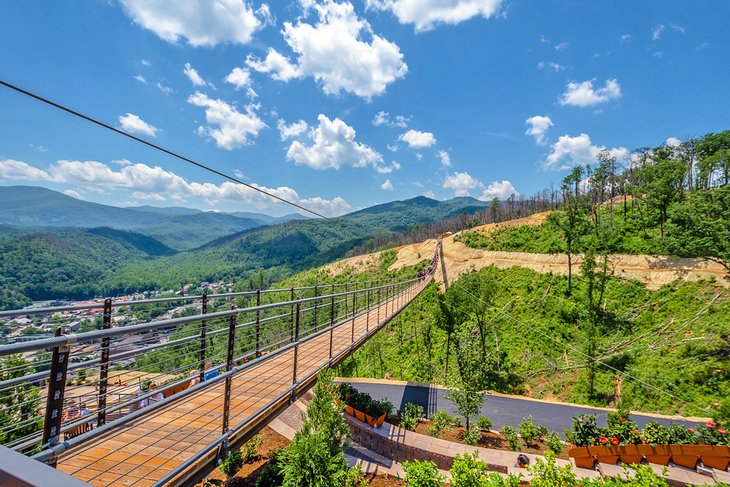 Vertigo-defying visitors step onto the SkyBridge to cross a 700-foot single span that is 500 feet above Gatlinburg. A 30-foot section of transparent glass in the middle of the bridge is all that separates you from the depths below. The bridge completes the loop that returns you to the SkyDeck.
Once you've caught your breath, re-fuel at the SkyCenter with its spectacular view of downtown and the Smoky Mountains beyond. Time your visit to celebrate the year-end Lights Over Gatlinburg event. Skylift staff string 60,000 bulbs to illuminate the park and create a 200-foot tunnel of light on the SkyBridge.
Address: 765 Parkway, Gatlinburg, Tennessee
Official site: https://www.gatlinburgskylift.com/
9. Roaring Fork Motor Nature Trail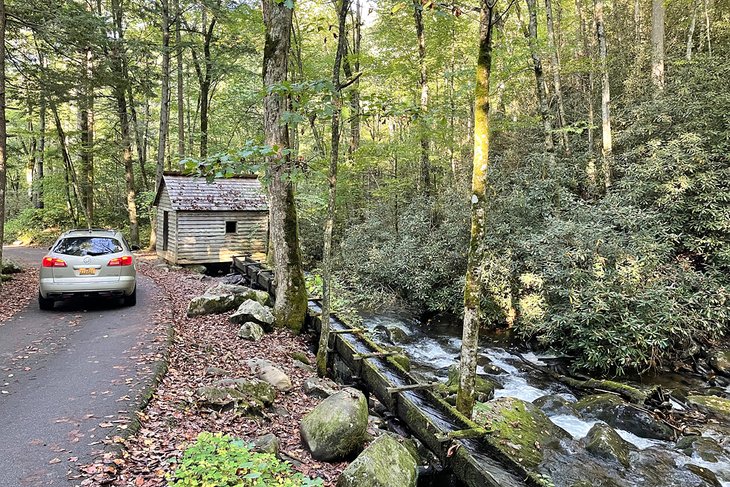 Follow Old Cherokee Road out of downtown Gatlinburg to reach the start of the one-way Roaring Fork Motor Nature Trail. This loop road is one of the most popular drives when visitors come to the Smoky Mountains. With trailheads and historical pitstops along the narrow windy road, plan to spend hours completing the 5.5-mile loop.
Before heading out on the trail, pick up a copy of a booklet to the park's motor trails. Information about turn-of-the-century pioneer cabins, small-scale farming, and grist mills provide an intriguing historical backdrop to the glorious waterfalls, creeks, and old-growth you'll see along the way. Two of the most popular waterfalls in the park are accessed by hiking trails from the Roaring Fork Motor Nature Trail: Rainbow Falls and Grotto Falls.
10. Visit the Great Smoky Arts and Craft Community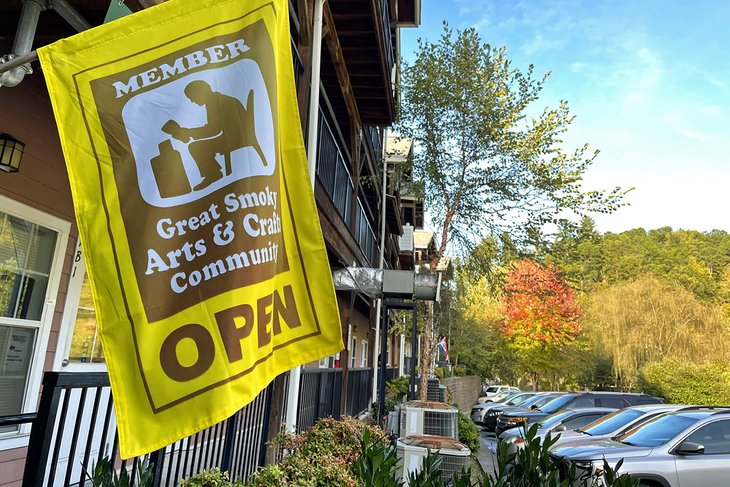 During your visit to Gatlinburg, you will notice many references to its community of artisans. The Great Smoky Arts and Crafts Community represents the largest collection of independent artists in North America.
In an eight-mile loop east of Gatlinburg, you can connect with artists in their workshops and galleries and inspect their creations. Browse more than 100 shops if you're looking for gifts. Hop aboard the Gatlinburg Trolley and follow the yellow route. It covers the eight-mile Glades and Buckhorn Road loop, with stops at places to eat.
Official site: https://greatsmokyartsandcrafts.com/
11. Book an Adventure at Nantahala Outdoor Center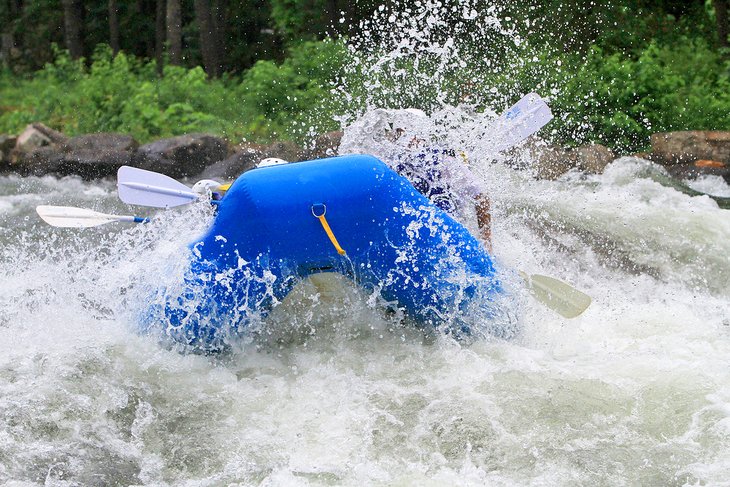 The 18,000-square-foot Nantahala Outdoor Center (NOC) is the largest and closest outfitter to the Great Smoky Mountains National Park at the south end of the Gatlinburg Strip. Before heading out for a hike, check trail conditions at the front door.
Dating back to 1972, NOC is a pioneer in white water rafting tours and wilderness skills training. Consult with its outdoor guides for professional advice about your next outdoor adventure. All guides are certified in rescue and wilderness survival. While visiting NOC, receive a discount when you book a river adventure on one of six celebrated white water routes in the Smokies.
Participate in on-site activities, such as scaling the inside 25-foot climbing wall. Get the kids balancing on the swinging rope bridge or crawling through the bear cave. Relax beside the fireplace before plotting your next move.
Address: 1138 Parkway, Gatlinburg, Tennessee
Official site: https://noc.com/retail-locations/noc-gatlinburg
12. Hollywood Star Cars Museum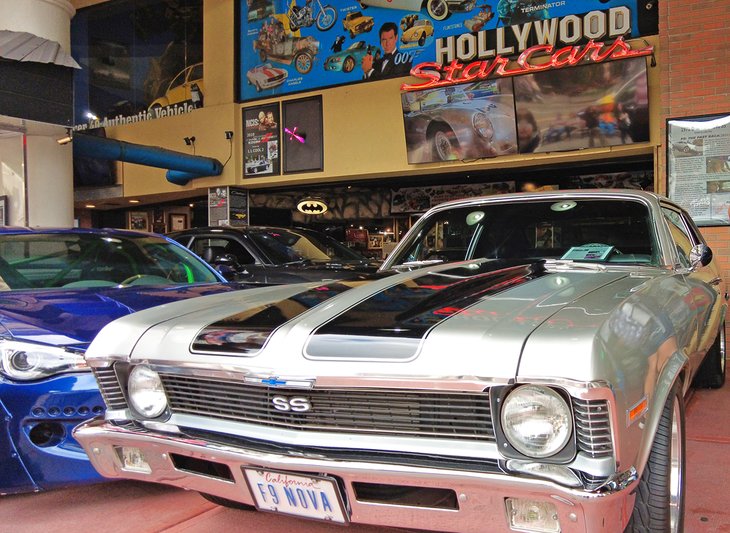 The Hollywood Star Cars Museum is a fun diversion for young and old walking the Gatlinburg Strip. Featuring more than 45 cars used in Hollywood movies, the collection includes vehicles from Gone in 60 Seconds, The Fast and the Furious, and Days of Thunder. Other famous favorites include the original Batmobile from the 1960s TV show, Batman (as well as a Batmobile from 1992's Batman Returns), and Herbie from the Disney movie franchise of the same name.
Vehicles on show were owned or driven by Michael Jackson; Elvis Presley; James Dean; and local legend, Dolly Parton. If you can't tour the whole museum, admire the fins and chrome from the sidewalk.
Address: 914 Parkway, Gatlinburg, Tennessee
Official site: https://www.starcarstn.com/
Tips and Tours: How to Make the Most of Your Visit to Gatlinburg and the Smoky Mountains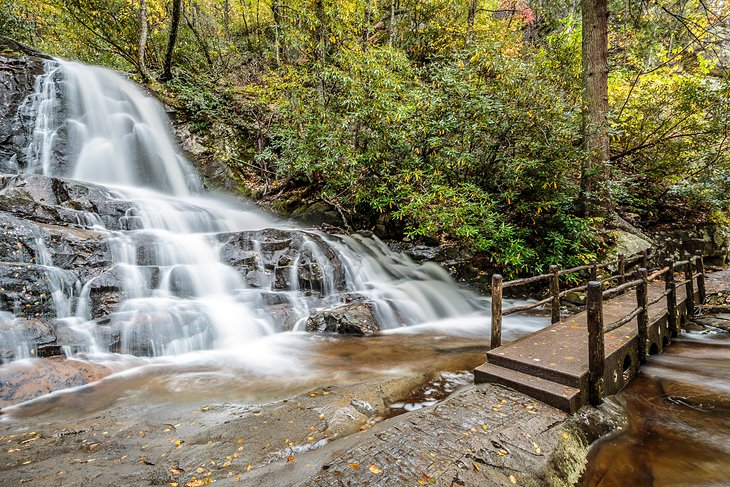 See the Waterfalls: The Smoky Mountains are home to more waterfalls than you could ever hope to see in a single visit. This is thanks to the extreme rainfall (an average of 85 inches a year) and the spectacularly steep mountains. A convenient way to see some of the most beautiful falls is an organized tour.
Sights of the Smokies: For those seeking a more immersive, day-long experience – and all under the watchful eye of a knowledgeable, dedicated guide – you may want to consider the Sights of the Smokies All Day Tour. Highlights of this eight-hour adventure include learning about the history of the region through visits to historic sites including the mill at Pigeon Forge, dating back to 1830, plus Wears Valley, which played an important role in the Civil War. Other stops include historic Townsend, followed by a drive along the scenic Foothills Parkway West. (The tour includes bus transportation, and an optional lunch is available as an upgrade.)
Hit the Road in Great Smoky Mountain National Park: Few regions of the US offer so much stunning scenery in a destination as easy to reach as Great Smoky Mountains National Park. With three entrances, it's easy to plot a route through the park that will have you drive through the most scenic parts, and still have you back at the hotel in plenty of time for a late lunch or dinner. Better still, take a picnic, and take your time. Starting along the Newfound Gap Road, you'll find plenty of good excuses to stop, be it at the Sugarlands Visitor Center or somewhere along the beautiful Greenbrier, a stretch of road that will lead you to some of the park's most beautiful wildflowers. Be sure to grab a park map.
Gatlinburg, TN - Climate Chart
Average minimum and maximum temperatures for Gatlinburg, TN in °C
J
F
M
A
M
J
J
A
S
O
N
D

9

-4

11

-3

16

1

21

4

24

9

28

14

29

17

29

16

26

12

21

6

16

1

11

-2

PlanetWare.com
Average monthly precipitation totals for Gatlinburg, TN in mm.

124

108

141

111

142

148

154

117

117

75

102

114
More Related Articles on PlanetWare.com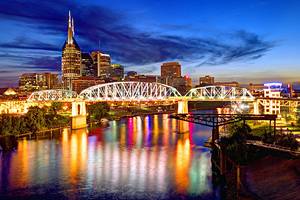 Tennessee's Musical Roots: The state of Tennessee offers no end of fun things to see and do. A must-visit for music fans is the state capital of Nashville, home to such landmarks as Music Row, widely considered to be the heart and soul of America's music industry. Other related attractions here include the Country Music Hall of Fame, The Grand Ole Opry, and the Ryman Auditorium, where so many great artists have performed through the decades.
Music fans will also want to include Memphis in their Tennessee itinerary. Here, you'll be able to visit the Graceland home of Elvis Presley, and enjoy countless museums dedicated to musical icons of blues to country and rock and roll, including the excellent Memphis Rock 'n' Soul Museum.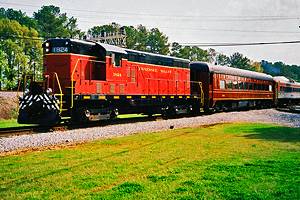 Chattanooga (Choo! Choo!): The delightful, small city of Chattanooga makes a great base from which to explore Tennessee. The city is famous for its connection to the railway, and visitors are always pleased to find the city's original 1909 railroad station intact (it's now a lovely hotel, including some old carriages for rooms). And thanks to a great preservation effort, it's possible to take a rail journey on a historic steam train run by the Tennessee Valley Railroad.