16 Top-Rated Attractions & Things to Do in Asheville
We may earn a commission from affiliate links ()
Asheville, in the far west of North Carolina, has a different pace from the state's bigger urban centers of Charlotte and Raleigh. Thanks to its proximity to the mountains, it is an ideal base for excursions on the Blue Ridge Parkway and into the Great Smoky Mountains. The city has become well known for its vibrant culinary scene and continuously thriving artistic community.
You won't be at a loss for things to do when visiting Asheville. The city is full of interesting attractions, the premier one being the Biltmore Estate, home of the Vanderbilts. Many points around the city have magnificent views of the mountains, including southeast of Asheville at Chimney Rock.
Find the best places to visit with our list of the top attractions in and around Asheville.
See also: Where to Stay in Asheville
1. Explore the Blue Ridge Parkway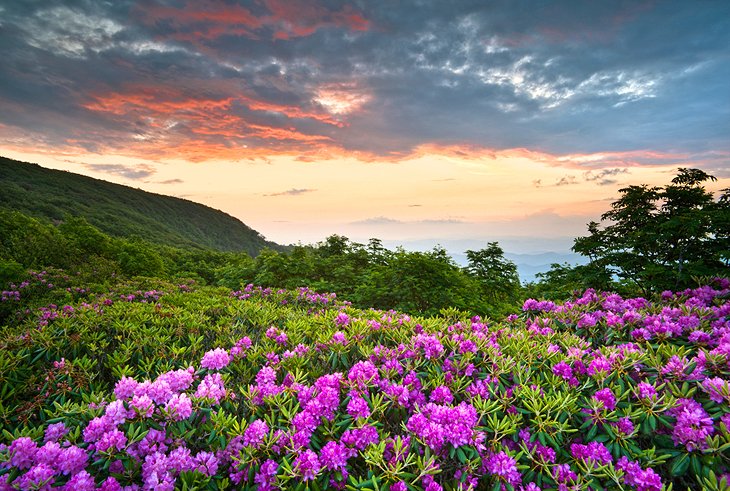 The Blue Ridge Parkway stretches 469 miles from Shenandoah National Park in Virginia to the Great Smoky Mountains in North Carolina. October, when the leaves are colorful and picturesque, is peak season for the parkway and one of the best times of year to visit the Great Smoky Mountains. But if you prefer smaller crowds, plan a trip in early to mid-summer to view the blooming rhododendrons, mountain laurel, and flaming azaleas.
You can enjoy the scenic vistas from the road and its many pull-offs, or consider taking a closer look by exploring the hiking trails that wander through the surrounding countryside and the Southern Appalachian mountains. The mountains around Asheville are also home to some of North Carolina's most beautiful waterfalls. If you are visiting in the heat of the summer, be sure to bring your bathing suit and water shoes to take a refreshing dip in the cool waters.
2. Tour Biltmore Estate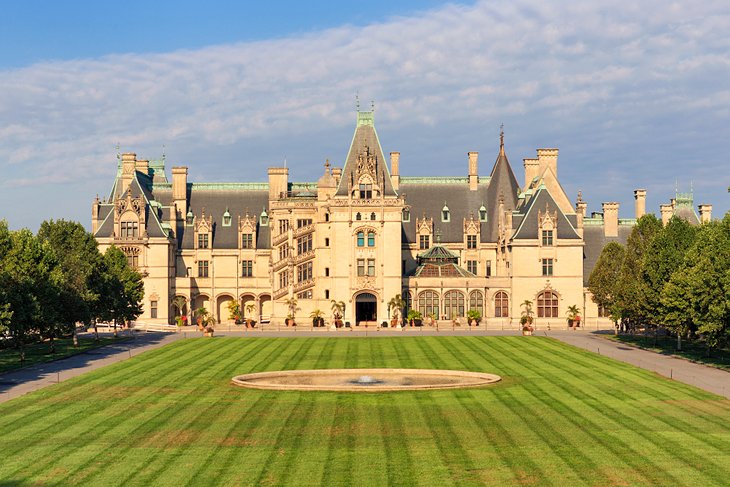 At the center of this 8,000-acre estate is Vanderbilt Mansion, the largest private home in the United States. The mansion alone encompasses four acres and features 250 rooms – 199 bedrooms and 43 bathrooms. In addition to admiring the artwork, antiques, and impressive architecture in the home, also leave time to stroll through the gardens and River Bend Farm.
Be sure to set aside plenty of time to fully explore the estate. For an additional charge, you can get a guided tour, which shows parts of the estate that are not open to the public, as well as a tour that highlights the estate's extensive sustainability efforts.
3. Wander through Downtown Asheville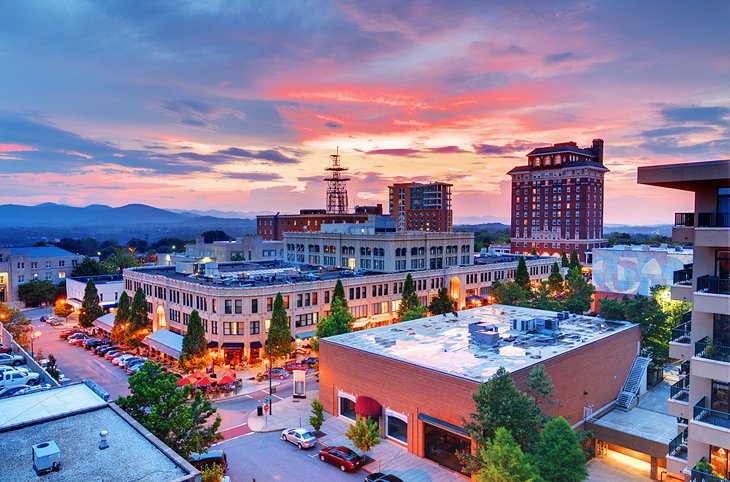 The funky, artsy, and eclectic downtown area of Asheville has a friendly, Bohemian vibe. Locally owned shops and boutiques line the streets, along with a tasty selection of restaurants and cafés. Street performers of all kinds, from mimes to musicians, frequently make appearances.
Feel free to join in the regular drum circles that take place at Pritchard Park every Friday night and spontaneously on other nights throughout the summer. If you don't want to participate, just stand around and enjoy the entertainment.
After dark, guests can catch an Asheville Community Theatre, Asheville Lyric Opera, or Asheville Symphony show. You can also explore the historic Urban Trail, a 1.7-mile walking-tour route, which is marked by a series of 30 stations that feature informational plaques and sculptures at various significant sites.
If you are looking for that special souvenir that captures the spirit of Asheville and the surrounding Blue Ridge mountains, be sure to stop in at The Grove Arcade. This wonderfully restored building dates from 1929 and is full of unique shops. In the evening, try and snag a spot on the patio of one of the many fine restaurants lining a full city block, and engage in some serious people watching.
4. Visit the Western North Carolina (WNC) Nature Center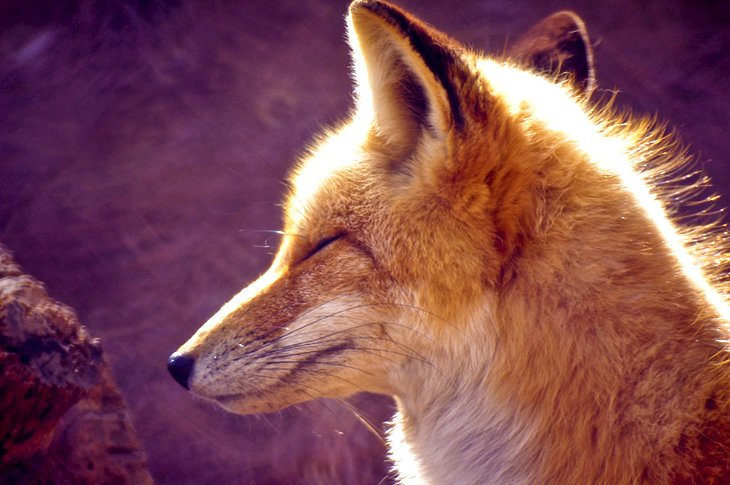 The Western North Carolina Nature Center is a 42-acre facility dedicated to educating the public about the area's varied animal life and natural habitats. Indoor exhibits include resident reptiles and amphibians; small mammals; and the World Underground exhibit, which explores what lies beneath.
The Nature Center is a fun family destination with a focus on natural play. Outdoor play areas offer all kinds of interesting and engaging natural things to do that will appeal to kids of all ages. Kids can also try their luck at finding that special rock at the gem and mining sluice for an additional fee. After exploring, take a rest and catch one of the many animal programs that let you get up close with snakes, turtles, and even otters.
5. Shop and Dine in the River Arts District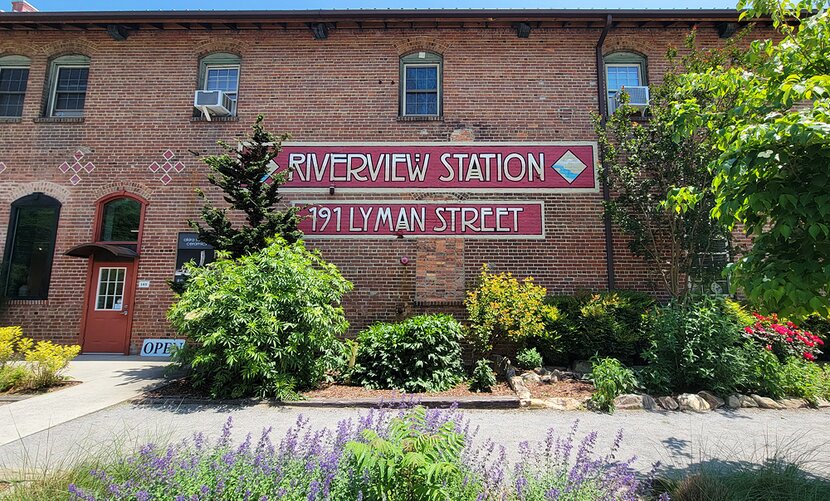 An up-and-coming district in Asheville is the River Arts District, known by its acronym "RAD." This eclectic area consists of 23 former industrial buildings by the French Broad River bounded by the railroad tracks. Inside the buildings are a treasure trove of artist studios, restaurants, and cafés. Walking around, touring studios, and grabbing a bite to eat are three of the best things to do in the RAD.
If you need a signature piece of art, this is the place to come. Innovative artisans from around the country descended on this area and have made it a hotbed of craftsmanship. Over 200 artists work in various mediums including, but not limited to, metal, pottery, paint, glass, and paper.
6. North Carolina Arboretum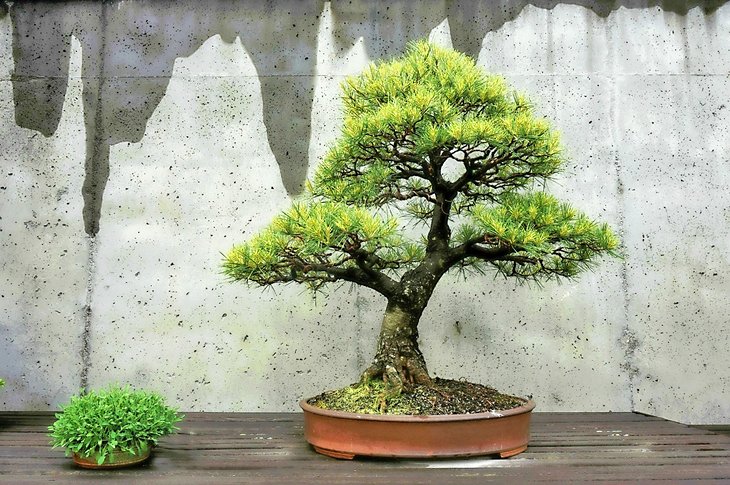 The North Carolina Arboretum features over 65 acres of cultivated gardens, which are home to a diverse range of plants. Highlights include the National Native Azalea Collection; the G-scale Rocky Cove Railroad model train; and the Bonsai Exhibition Garden, which houses up to 50 of these unique and fragile plants.
7. Botanical Gardens of Asheville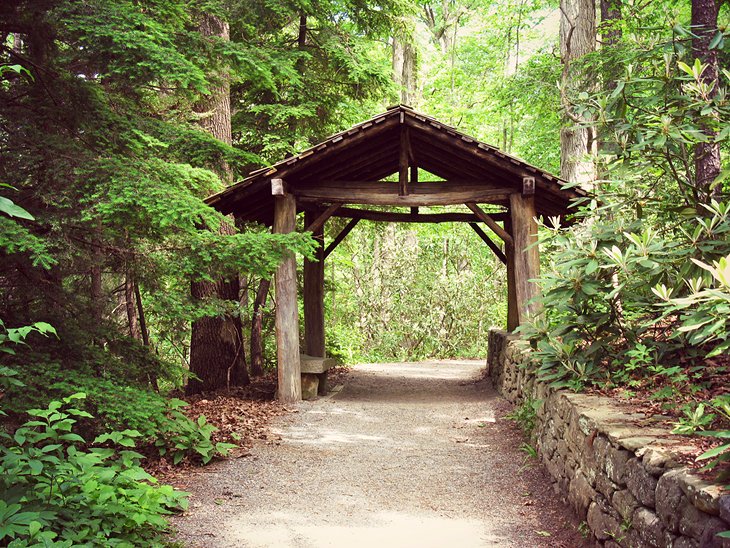 For another escape in the natural world, the Botanical Gardens of Asheville are a series of immaculately tended gardens bursting with color and scent. The horticultural displays focus on local flowering plants and trees, many of which are unique to the state.
The gardens are open year-round, but peak bloom seasons are generally during mid-April and mid-August. Families will want to stop at the visitor center to pick up Investigation Passports for the kids, a fun way to engage younger ones in learning about the plants they will see.
8. Pisgah National Forest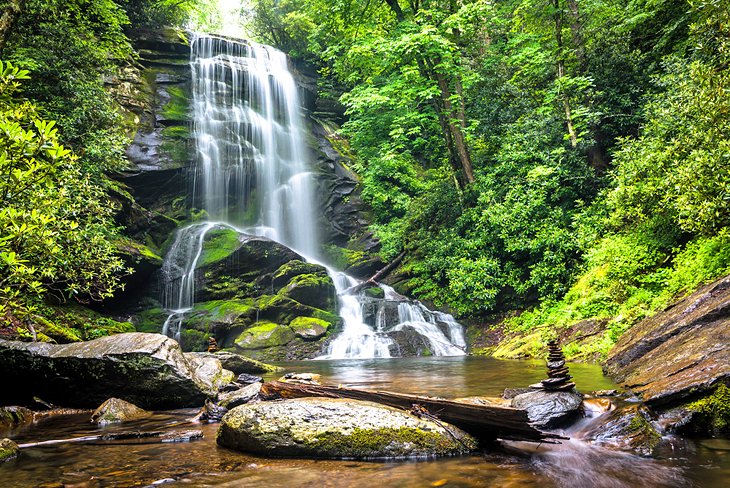 The Pisgah National Forest covers more than 500,000 acres and is one of the first designated national forests in the country. Within the park, there are multiple day-use areas that offer a variety of amenities and activities, including swimming, trails, and boat ramps.
Multiple camping areas are also found throughout the park. Visitors will find numerous geological landmarks including Table Rock, the Chimneys, and Linville Gorge, as well as the Forest Discovery Center located near the town of Brevard. Other highlights include guided nature hikes and seasonal interpretive programs and activities like horseback riding, fishing, hiking, bicycling, and rock climbing.
9. Blue Ridge National Heritage Area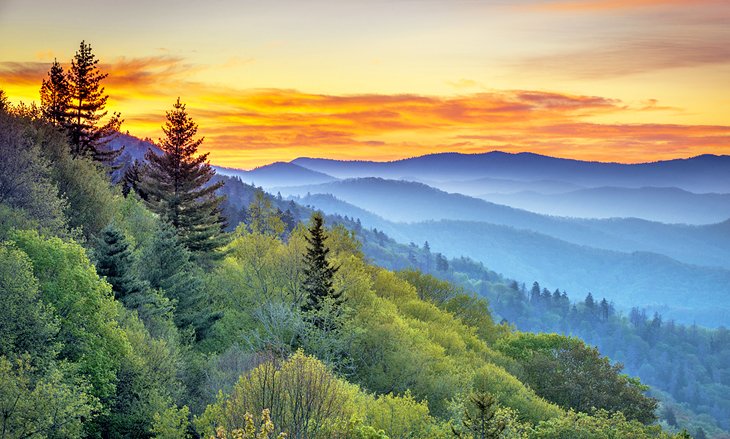 Expanding on the scenery of the Blue Ridge Parkway, the National Heritage Area includes the communities and scenic byways, which add to the area's cultural richness. In addition to scenic drives, hiking, bicycling, wildlife viewing, and other outdoor activities, the area has a myriad of things to do.
Within driving distance of Asheville, you'll find farmers markets, local festivals and events, theaters, and gemstone quarries. There are also several opportunities to learn more about the history and culture of the Cherokee and other natives who first occupied the land.
10. Smith-McDowell House Museum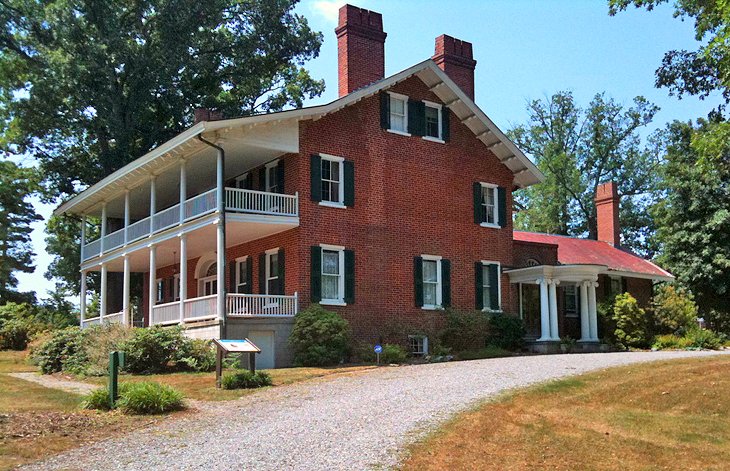 Listed on the National Register of Historic Places, the beautiful Smith-McDowell House Museum is Asheville's oldest surviving dwelling. The antebellum mansion currently functions as a history museum, restored with period furniture from the 19th century and decorative arts. The elegant brick building was once also the home for local mayors and a Civil War major.
11. Pack Place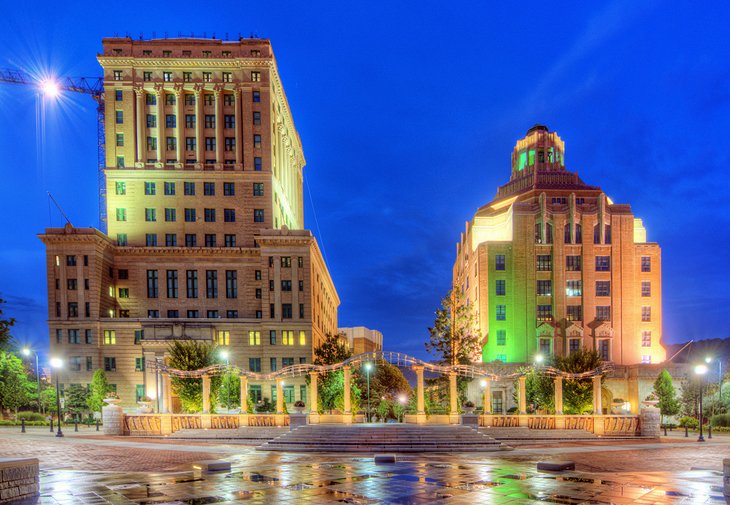 Pack Place Education and Arts Center in Asheville is home to a number of cultural institutions, namely the Asheville Museum of Art, the Colburn Earth Science Museum, Diana Wortham Theatre, and YMI Cultural Center. It is a center for Asheville's flourishing artistic and musical pursuits.
12. Craggy Gardens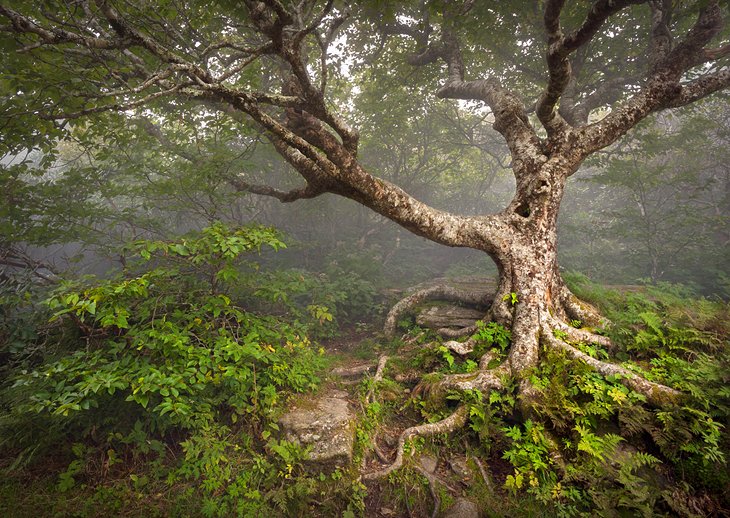 Being home to some 20 endangered or threatened varieties of flowers, Craggy Gardens is the perfect stop for anyone interested in rare plants. Check out (and photograph) the whimsical, wind-bent trees that grow on the mountain, and during June and July you will find purple rhododendrons in full bloom.
13. Ziplines and Hot Air Balloon Rides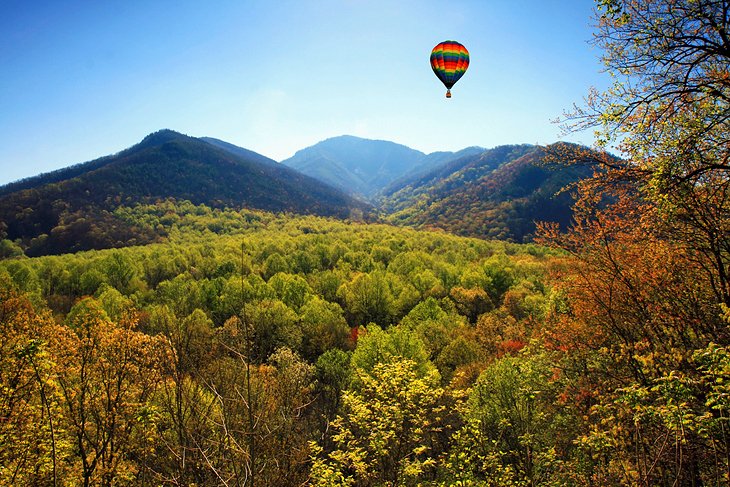 For a different perspective on the North Carolina landscape, why not get a bird's-eye view from the sky or the treetops? Quiet and serene, hot air balloon rides offer a unique way to see Asheville and the surrounding countryside from above.
There are multiple tour operators to choose from, and there are also several options for thrill-seekers who want to experience a zipline canopy tour. Autumn is a particularly popular time of year for both activities, when the forest canopy is ablaze with vibrant foliage. Make sure to take (and hold tightly onto) your camera.
14. Chimney Rock State Park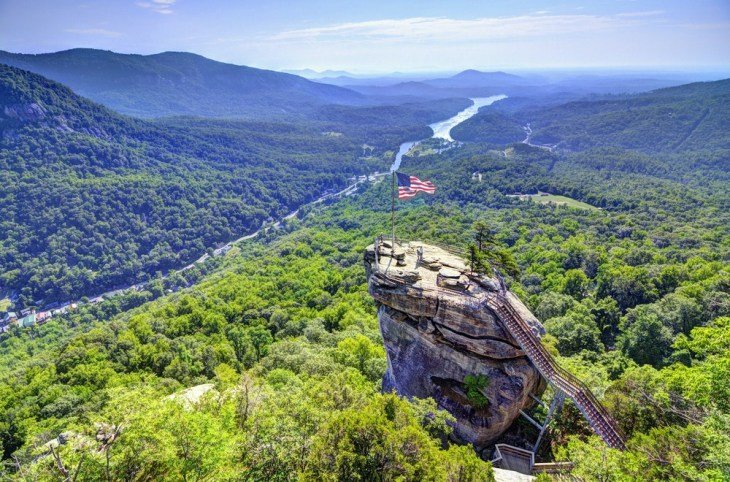 Twenty-five miles southeast of Asheville, Chimney Rock State Park features its landmark namesake: a 315-foot solid granite spire that rises over 2,280 feet. Don't worry, you don't need to climb to the top, visitors of all physical abilities can reach the top thanks to a 26-story elevator built inside the mountain.
Families will enjoy a variety of kid-friendly activities, including the educational Great Woodland Adventure Trail, the Animal Discovery Den, a kids' climbing tower, and scavenger hunts.
15. Asheville Pinball Museum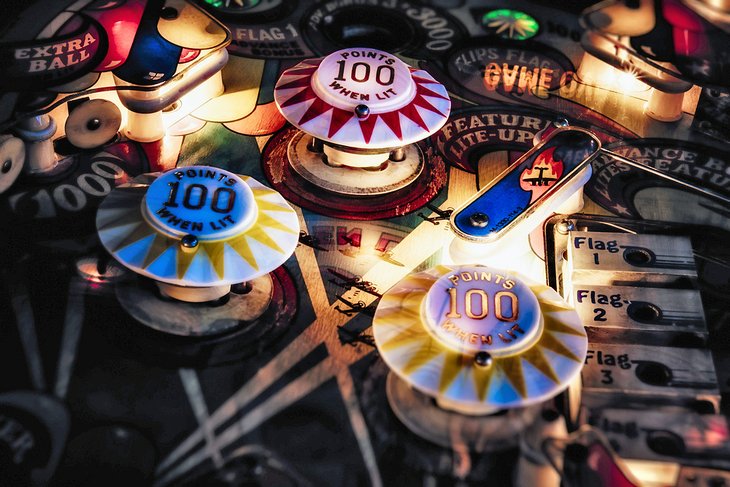 Located in downtown Asheville, the Pinball Museum allows you to not only see their 45 vintage pinball machines, but play them as well. This nostalgic museum allows free play on its machines, with a flat admission fee, and is a great way to regain your inner teenager.
16. Biltmore Village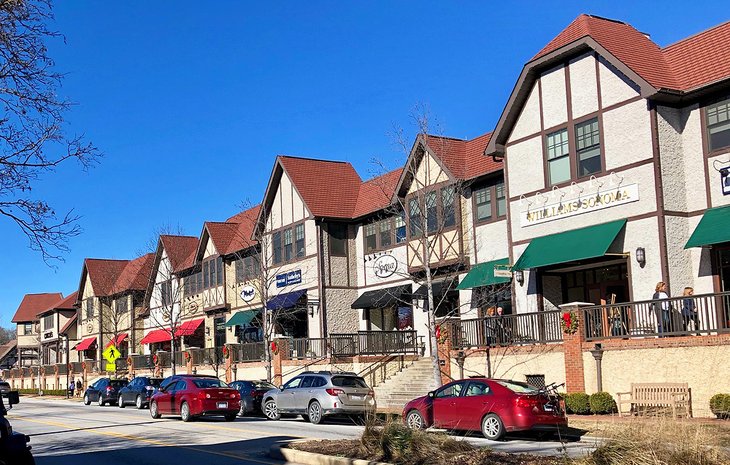 Biltmore Village was one of the country's first "company towns" – an entire community planned for the purpose of housing Biltmore Estate workers and their families. Designed to resemble an English village, it has become a top tourist destination for both its historic charm, European ambience, and shopping. You'll find everything from independent boutiques to major labels, as well as a wide variety of some of Asheville's best restaurants.
Where to Stay in Asheville for Sightseeing
Tips and Tours: How to Make the Most of Your Visit to Asheville
More Related Articles on PlanetWare.com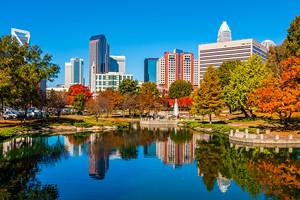 Nearby Places to Visit: This area of North Carolina is a treasure trove of quaint mountains towns and scenic drives. Other highlights in this region are the beautiful waterfalls. These are easily visited on day trips from Asheville. You can also work in some hiking if you have enough time. If you're visiting in winter, some of North Carolina's best ski resorts are not that far away and can make a nice side trip.