16 Top-Rated Tourist Attractions in Wilmington, NC
We may earn a commission from affiliate links ()
Not as well-known to tourists as its southern sister cities of Charleston and Savannah, Wilmington, North Carolina has its own historic district of fine antebellum homes and mercantile blocks. Here, and in the area around the city, you can visit historic plantations and homes, including Bellamy House, Burgwin-Wright House and Gardens, and Poplar Grove Plantation.
The city's most attention-grabbing attraction – it's hard to miss – is the immense Battleship North Carolina, a WWII-era warship that is open to tour. Wilmington's port, sheltered on Cape Fear River, gained prosperity by shipping petroleum and pulp products, and this coast played an important part in Civil War history. Today, however, Wilmington's Fort Fisher is better known for the beautiful white beaches of the state park that surrounds it.
While Wilmington is deeply rooted in American history – the evidence of which we can still see to this day – it is a decidedly modern city, with high-end hotels, restaurants, shopping, and activities that will please any 21st-century traveler. Though a quick turn down any corner can have you stepping back in time to the days before the Civil War.
Whether you're traveling with your whole family or looking for a romantic getaway for two, you'll find plenty of things to do in Wilmington. Downtown Wilmington has been revitalized, with a focus on the riverfront, which has become a center for dining, shopping, entertainment, and the arts.
For more ideas on places to visit, read our list of the top tourist attractions in Wilmington.
See also: Where to Stay in Wilmington
1. Tour Battleship North Carolina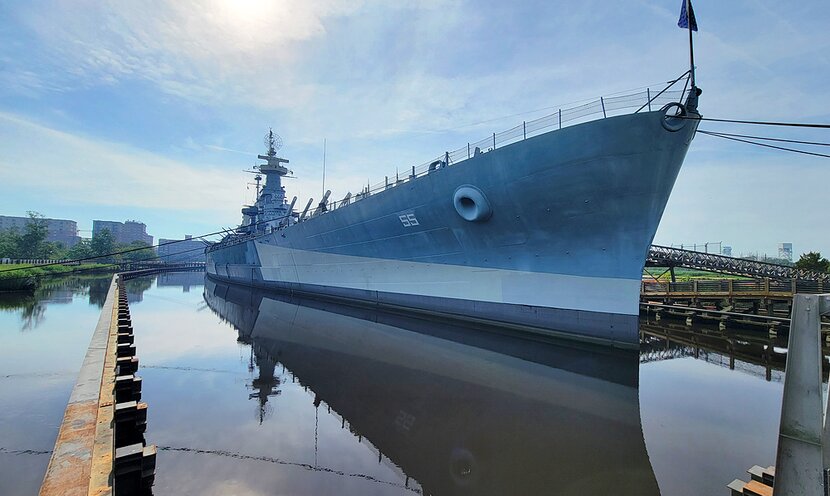 Commissioned on April 9, 1941, Battleship North Carolina was the first of 10 battleships to join the American fleet in World War II. During her service, the North Carolina carried 144 commissioned Navy officers, 2,195 enlisted men, and about 100 marines. Their stories and their lives on board the ship are much of the focus of the exhibits you'll see as you explore the nine levels of the ship, illustrated by photographs and artifacts, along with recorded oral histories.
One of the ship's attractions, especially for visiting children, is its accessibility. They can climb into the sailors' bunks, go into the massive engine room, plan strategies in the Combat Information Center, and take aim from behind the great guns (these include nine 16-inch, 45-caliber guns in three turrets and 20 five-inch, 38-caliber guns in 10 twin mounts).
2. Visit Airlie Gardens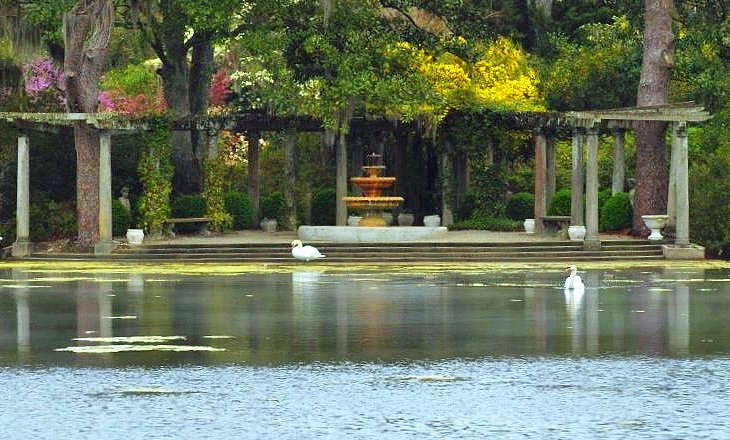 Visitors, and especially garden lovers, appreciate the beautiful scenery at these historical gardens that date back to 1886. The grounds are lush with azaleas, camellias, and the signature Airlie Oak, which is more than 400 years old.
3. Walk through the Historic District in Downtown Wilmington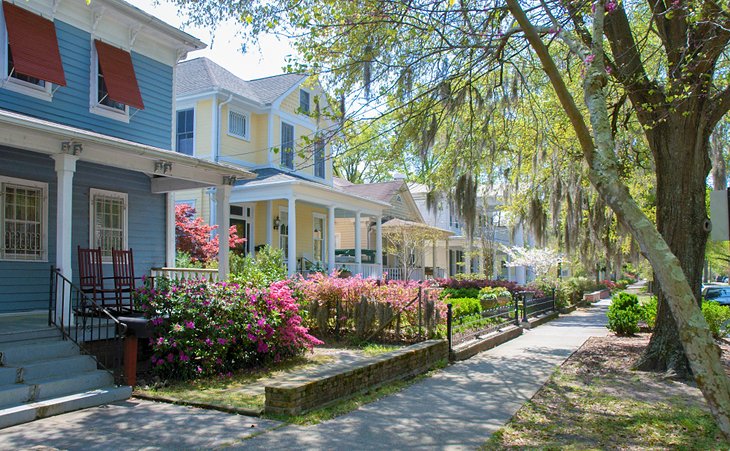 Downtown Wilmington is home to the state's largest National Register Historic District, which includes hundreds of 19th- and early 20th-century buildings. Along with historic homes are vintage mercantile blocks, where local restaurants serve up tasty seafood, and the shops stock everything from antiques to trendy fashions.
During the warmer months there are frequent events downtown, including gallery walks, live music, and festivals.
As well as attractions such as the Cape Fear Museum, the Children's Museum of Wilmington, and Battleship North Carolina just across the river, several streets are lined with beautiful old homes, many with their fascinating histories related on signs.
4. Stroll along the Riverwalk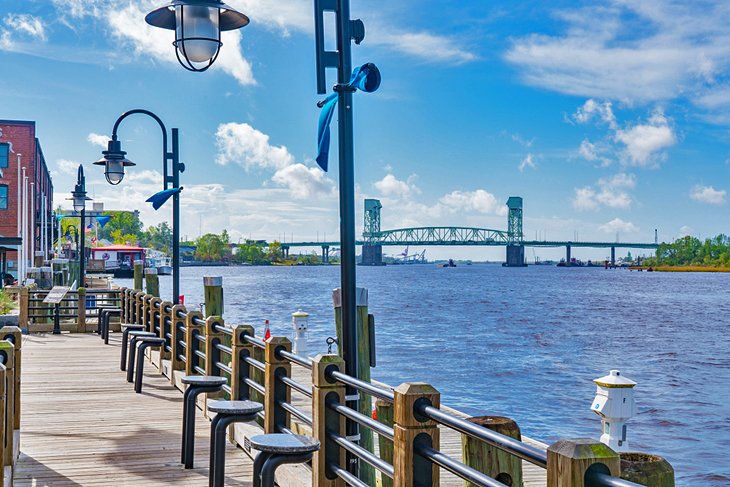 One of the favorite - and free - things to do in Wilmington is stroll along the Riverwalk that borders the Cape Fear River. This mile-long boardwalk offers river views as well as access to historic buildings, shopping, dining, and arts venues.
Along its route are the shops of the Cotton Exchange, launching places for boat tours of the river, public art works, cafes, shops, restaurants with riverside terraces, and benches for relaxing and enjoying the scenery. Events enliven the Riverwalk year-round, including the Saturday morning Farmers Market in the summer, the annual Riverfest, and performances by local musicians and entertainers.
The walkway runs for nearly two miles, stretching from Nunn Street to the Isabella Holmes Bridge. Tip: For one of the best views of the river, be sure to stop at Conlon Pier. If you like to fish, this is the only spot along the riverwalk where you can cast, as well.
5. Bellamy Mansion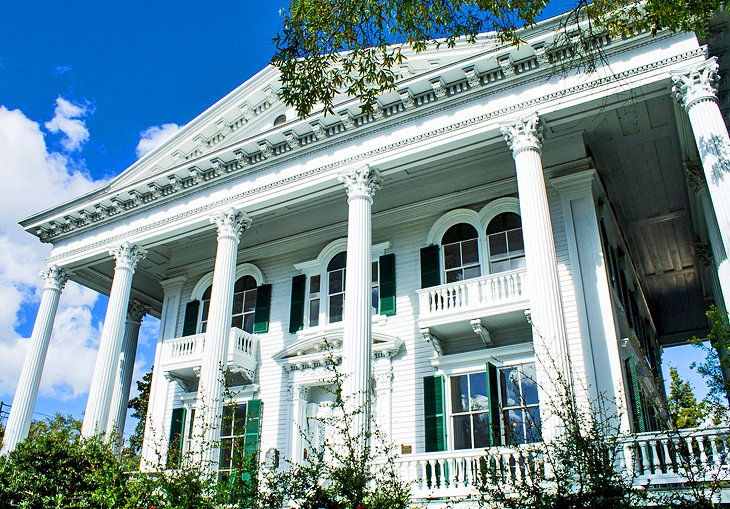 Bellamy Mansion, a pre-Civil War structure, is regarded as one of North Carolina's most spectacular historic antebellum homes. Slaves and free black artisans built the antebellum structure for physician, planter, and business leader John Dillard Bellamy, who lived here with his wife Eliza and their children. As you tour, their stories will unfold, along with those of their slaves, whose restored quarters are among the few to exist from urban households.
6. North Carolina Aquarium at Fort Fisher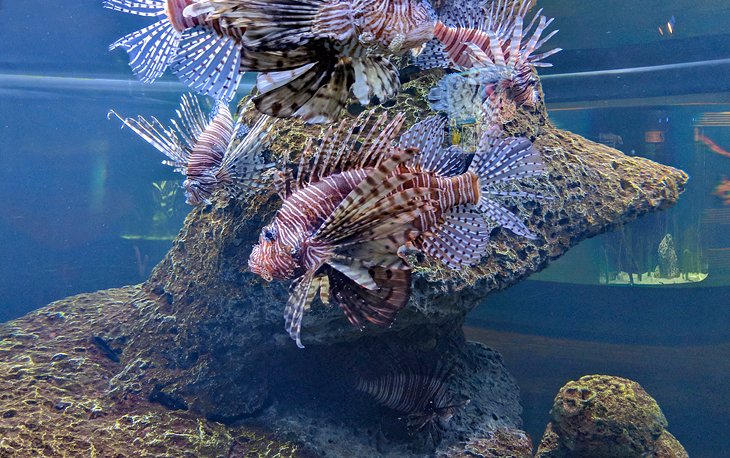 Although it is located about 20 miles outside Wilmington, the North Carolina Aquarium at Fort Fisher is well worth the trip. Especially popular with children and families, the aquarium gives visitors a chance to see and learn about aquatic species from the region and from around the world. Exhibits include freshwater and saltwater species, with a focus on the Cape Fear River and the changes in habitats as it reaches the sea.
The aquarium's residents include loggerhead sea turtles, stingrays, sharks, eels, jellyfish, a wide variety of fish, and even a bald eagle. There is also a touch-tank, where visitors can meet some of the ocean's more interesting critters, like horseshoe crabs and starfish, and an area dedicated to reptiles where you can meet Luna, a rare albino alligator.
7. Thalian Hall Center for the Performing Arts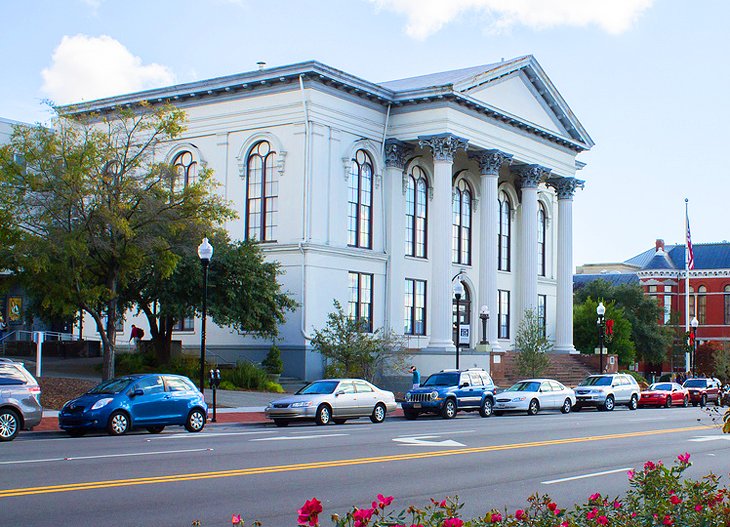 The historic Thalian Hall, constructed in 1858, has been in almost continuous use since first opening. Designed by one of the foremost theater architects of the day, John Montague Trimble, this is the only of his works still surviving. In the 19th and early 20th centuries, its stage hosted performances by celebrities that included Buffalo Bill Cody and John Philip Sousa, and in 1928 the Ziegfeld Follies.
8. New Hanover County Arboretum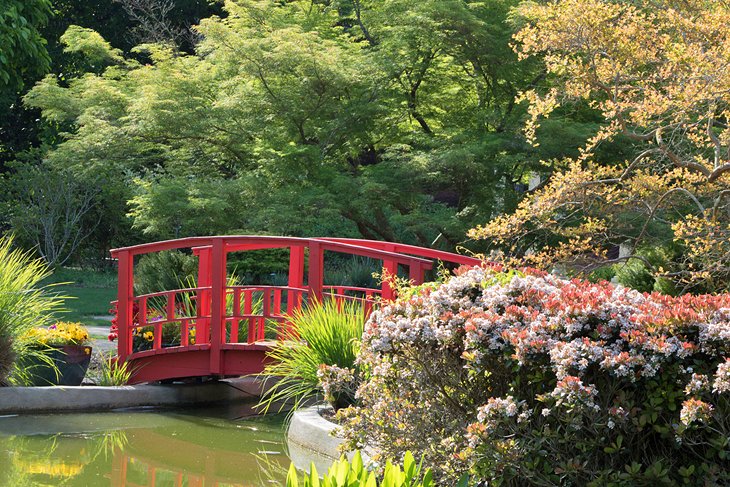 Another free thing to do in Wilmington, and a great favorite with children, is the arboretum operated by the local Cooperative Extension Service. Seven acres of land in the city center is devoted to growing plant species best suited to southeastern North Carolina and to demonstrating gardening techniques. A favorite is the Japanese Garden, with a koi pond, an arching bridge, and a tea house.
9. Cape Fear Museum of History and Science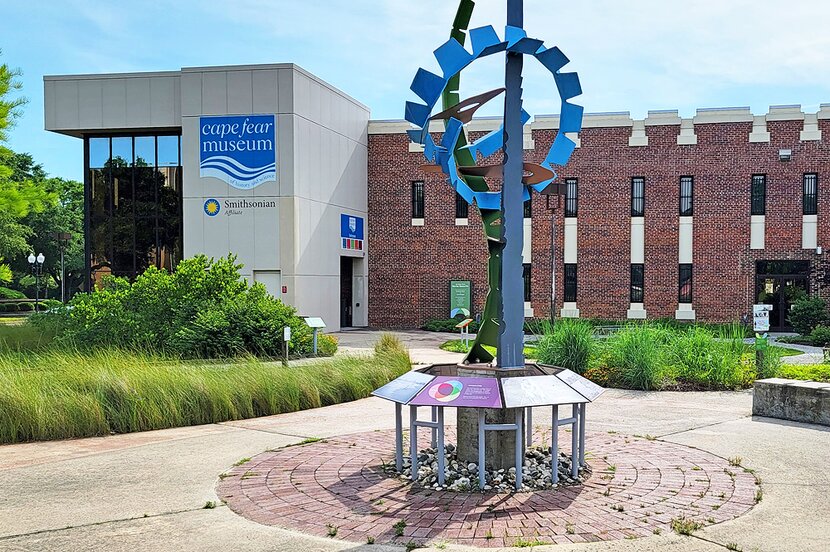 Founded to house collections of Confederate objects and mementos, the Cape Fear Museum has expanded over the years to hold more than 52,000 items relating to regional, national, and international history, as well as culture and science.
The museum has a special focus on the environment of the Lower Cape Fear, and the Michael Jordan Discovery Gallery brings that to children with creative, hands-on exhibits that allow kids to interact with nature by using their senses. Here, they can feed insects to carnivorous plants and crawl inside a beaver lodge.
10. Wilmington Railroad Museum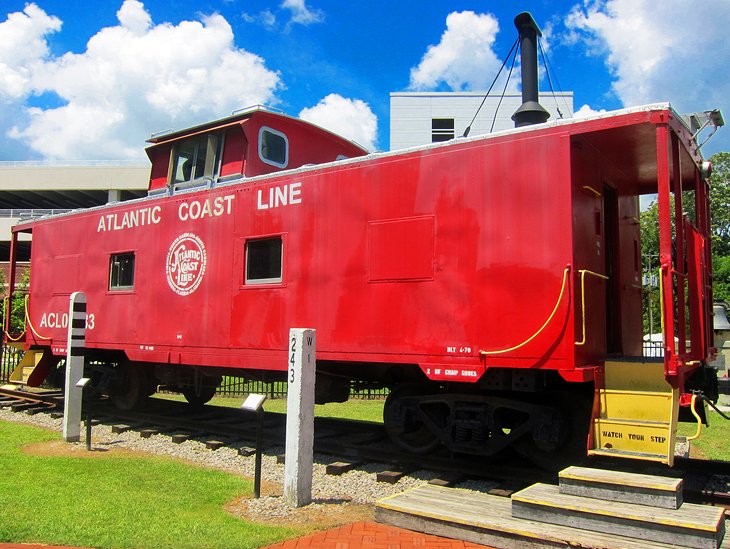 Preserving an industry vital to the city for well over a century, this museum features exhibits on the Wilmington & Weldon Railroad. At its height in the 1840s, the railroad was the world's longest continuous rail line, stretching 161 miles. At the end of the century, it merged with other east coast companies to create the Atlantic Coast Line Railroad.
11. Poplar Grove Plantation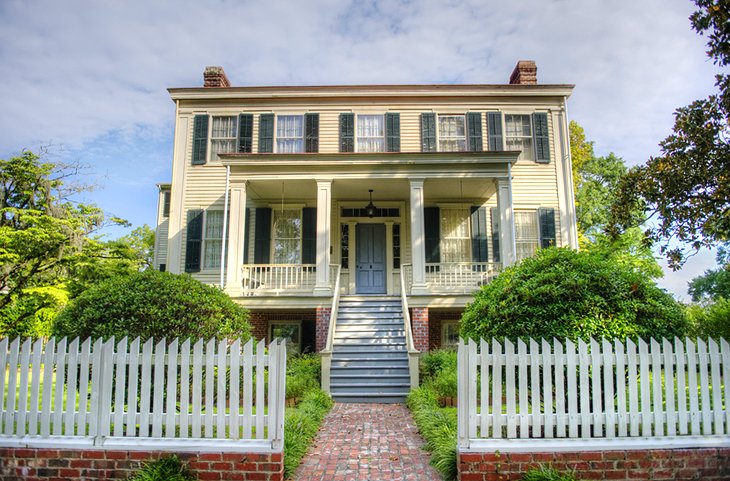 One of the oldest peanut plantations in North Carolina, Poplar Grove Plantation encompasses more than 15 acres and the house and outbuildings constructed for Joseph Mumford Foy in 1850. Exhibits explore the skilled construction and finish work of the three-story house by Foy family slaves, using pine, black walnut, and other materials available on the plantation.
12. Burgwin-Wright House and Gardens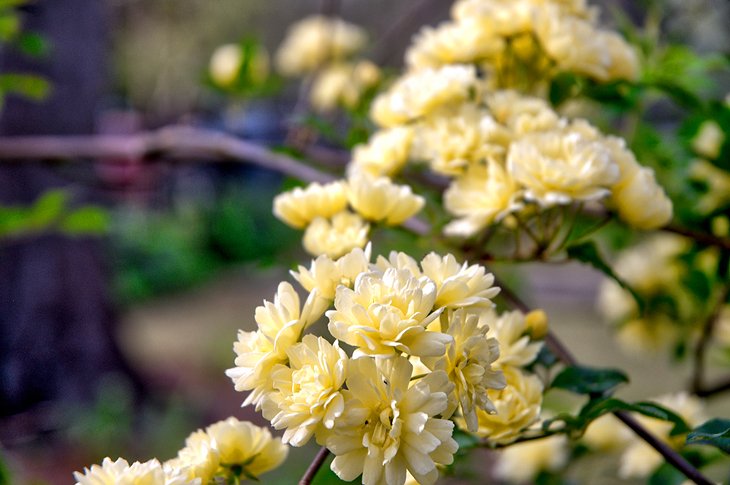 Only three local houses have survived since the colonial area, and the Burgwin-Wright House is the only one open for public tours. Built in 1770, the home features Georgian architecture, 18th- and 19th-century antiques and household goods, and a separate kitchen house furnished with period utensils. Guided tours are available, and the grounds can also be rented for private events.
13. Cameron Art Museum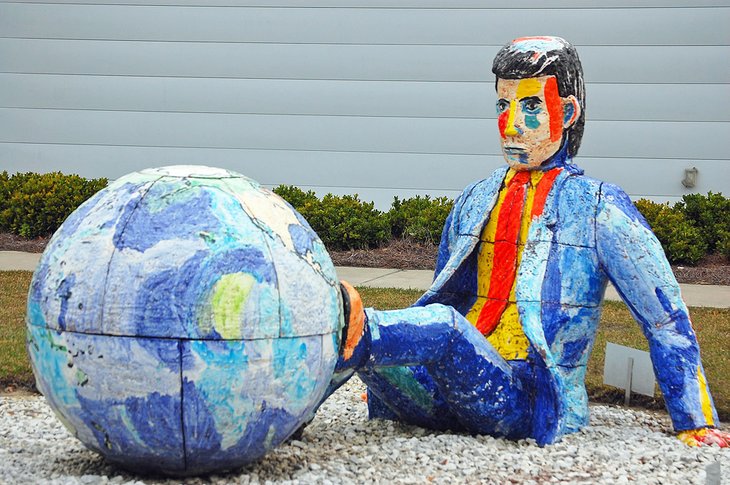 Selections from the museum's permanent collection of fine arts, decorative arts, and design by local, national, and international artists include a large number of works on paper by artists that include Mary Cassatt and Ando Hiroshige. Art from these collections is not on permanent display, but the works are presented in rotating themed exhibits. Collections are especially strong in works by North Carolina artists.
14. Cape Fear & Brunswick Islands Beaches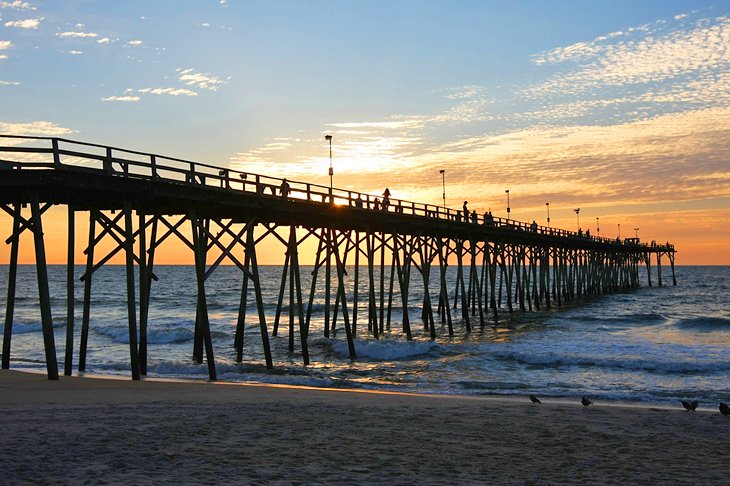 A total of 10 beaches border the coast and islands at the mouth of the Cape Fear River, only a few miles from Wilmington. The closest is Carolina Beach, a family-oriented beach town with one of the country's best boardwalks. At its southern border is Kure Beach, surrounded by water, with the river on one side and the Atlantic on the other, providing options for swimming, surfing, and kayaking. Kure Beach is especially known for its 700-foot-long fishing pier.
Directly south of that is the Fort Fisher State Recreation Area and Historic Site, with miles of beach and undeveloped shoreline. At the historic site, visitors can walk the remaining earthworks of Fort Fisher, one of the most important Confederate strongholds in the Civil War, on an interpretive walking trail.
15. Soak up the Sun at Wrightsville Beach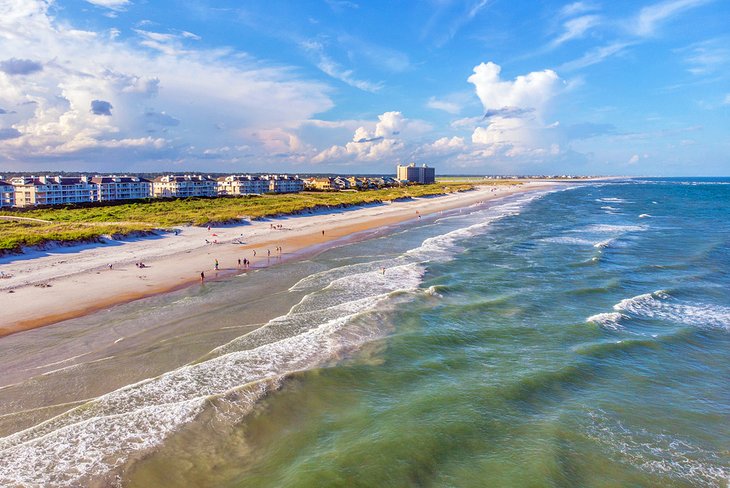 If you were wooed by Carolina and Kure beaches, you must make the short trip to Wrightsville Beach. This is one of the top-rated beaches in North Carolina, and is a haven for all types of waterfront activity, from stand up paddleboarding and surfing to kiteboarding and swimming.
For one of the best views of the North Carolina coast, hop aboard a sunset sail tour from Wrightsville Beach. The two-hour sunset sail takes guests aboard a 42-foot yacht for some epic views of the waterways and barrier islands. You may even be able to catch a glimpse of the wildlife that calls this stretch of coast home.
If you want to tack on a beach trip to your Wilmington getaway, take a look at the best Wilmington Beach hotels.
16. Children's Museum of Wilmington
Curated for children up to age 10, the Children's Museum of Wilmington offers opportunities to explore and learn about art, science, and culture through hands-on experiences. In the Ahoy Wilmington! section, kids can board a ship, dig for treasure, and explore a "sea cave."
Where to Stay in Wilmington for Sightseeing
The best place to stay in Wilmington is right downtown, where many of the attractions are clustered along the Cape Fear River, including the Battleship North Carolina and the Railway Museum. A couple of blocks back from the riverfront, in the Historic District, are charming old character buildings, great dining, and the Thalian Hall Center for the Performing Arts. Below are some highly rated hotels in convenient locations:
More Related Articles on PlanetWare.com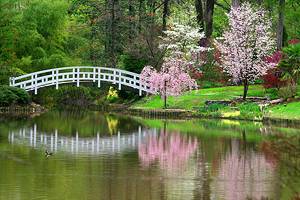 History and Natural Wonders: Wilmington is only one of several places worth visiting in North Carolina. The state capital of Raleigh is a good choice for those interested in history, with a number of historic buildings, as well as many African American Heritage Sites. Asheville and Hendersonville are located in the western part of the state and make good bases for touring the Blue Ridge Parkway. The state also has many options for romantic getaways that are perfect for a couple's weekend or honeymoon.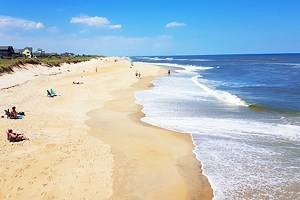 Family Fun in North Carolina: The vibrant city of Charlotte is filled with kid-friendly attractions like Discovery Place and the Paramount's Carowinds amusement park, as well as attractions that the whole family will love, like the Carolinas Aviation Museum. In summer, North Carolina's beaches are another popular family destination. In winter, many families head to the ski resorts in North Carolina and base themselves in the nearby mountain towns.