12 Top-Rated Things to Do in Athens, GA
Named by then Governor John Milledge in 1805 after the capital of Greece, Athens in northeast Georgia has certainly lived up to the reputation of its namesake as a center of academia and learning. The University of Georgia, the state's first chartered university, had already been established when Milledge named the city, its first graduates gaining their degrees the year prior, in 1804.
Visitors today find evidence of the university's influence everywhere. From its social, cultural, and economic life to its architecture and design (both the old and the new), the university has left its mark everywhere. And with some 37,000 students enrolling each year and setting up temporary homes in this city of just 125,000 souls, you'll not be able to avoid the youthful vibe that permeates the city's entertainment, dining, music, and arts scenes.
Athens is also known for its well-preserved antebellum architecture, a fact that has led to the city being the starting point for the Georgia Antebellum Trail, a delightful 100-mile route that winds its way to the equally attractive city of Macon. Newer but also of interest are the state-of-the-art museums, lush parks and gardens, and iconic sports arenas such as Sanford Stadium.
To help you get the most from your visit to this vibrant college town, be sure to read through our list of the top things to do in Athens, Georgia.
1. Visit the State Botanical Garden of Georgia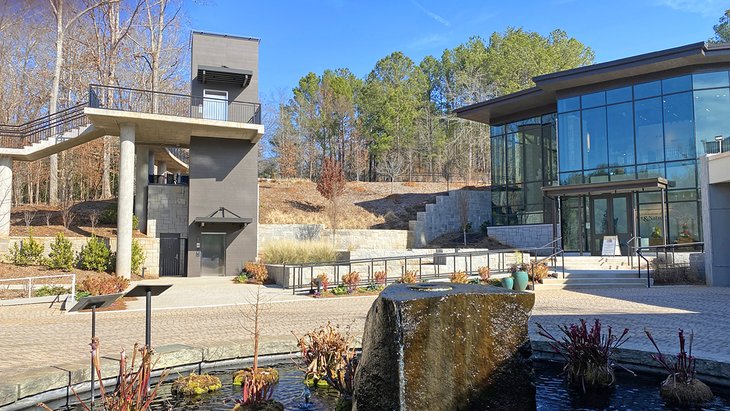 Spread across 313 acres, the State Botanical Garden of Georgia is a university-run attraction that offers visitors a great excuse to spend a few hours getting to know more about the region's native plant life. Highlights include an annual/perennial garden, the dahlia garden, and the must-see heritage garden, which feature plants that thrive in Georgia's humid subtropical climate.
Fruit-bearing species, including pear and apple trees, are also plentiful. So, too, are cash crops, including cotton, tobacco, and peanuts, all of which have played a significant role in the state's economy. There's also an international garden that includes herb and medicinal sections.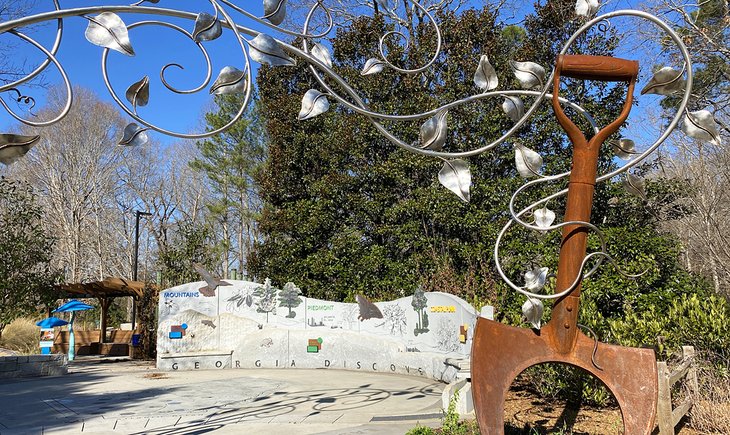 But don't limit your time here to just wandering the gardens. The attraction also features a five-mile network of nature trails, making it extremely easy to draw out your visit. Those traveling with kids will want to also include the fun 2.5-acre children's garden on their itinerary.
The best time to visit? While many species, of course, will flower in spring, the garden is open year-round and features a number of indoor activities and displays worth seeing.
Address 2450 S. Milledge Ave., Athens, Georgia
Official site: https://botgarden.uga.edu
2. Catch a Game and Take a Tour of Sanford Stadium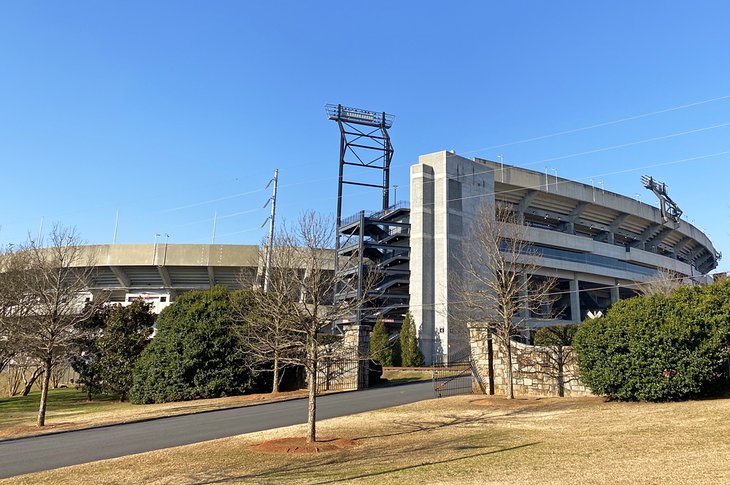 Dominating the University of Georgia grounds, Sanford Stadium has been the scene of exciting football action since it opened in 1929. Though now substantially larger and capable of holding crowds of just shy of 100,000 spectators, the 9th largest stadium in the US has managed to retain its college-town feel, especially on game days.
Whether you're a sports enthusiast or not, it's an impressive site and well worth exploring, even if all you do is circumnavigate its perimeter as part of a self-guided campus sightseeing tour. If you do get in for a game, or as part of an organized tour, you'll soon learn why the campus views have led to it being named the most beautiful on-campus stadium in the USA.
Also worth a look, the 10,000 seat Stegeman Coliseum is home to the university's gymnastics and basketball teams.
Address: 100 Sanford Drive, Athens, Georgia
Official site: https://georgiadogs.com
3. Take the Kids to Bear Hollow Zoo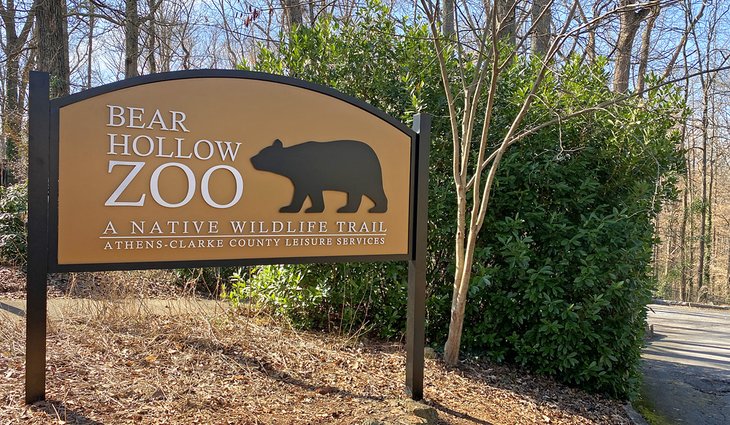 Undoubtedly one of the top free things to do in Athens for families, a visit to Bear Hollow Zoo is an enjoyable outing for all ages. Home to a variety of native animals unable to be returned to the wild, this small zoo features a series of elevated viewing platforms and walkways that allow you a bird's-eye view of the critters in its care.
Set within the expansive Memorial Park, a pleasant 72-acre green space with pleasant walking trails that's just a few minutes away from the botanical garden, the zoo allows kids to get a relatively up-close look at black bears, otters, bobcats, owls, and even alligators housed in as natural a setting as possible.
A self-guided tour map can be downloaded from the zoo's official website.
Address: Bear Hollow Wildlife Trail, 293 Gran Ellen Drive, Athens, Georgia
Official site: www.accgov.com/bearhollow
4. Explore Downtown Athens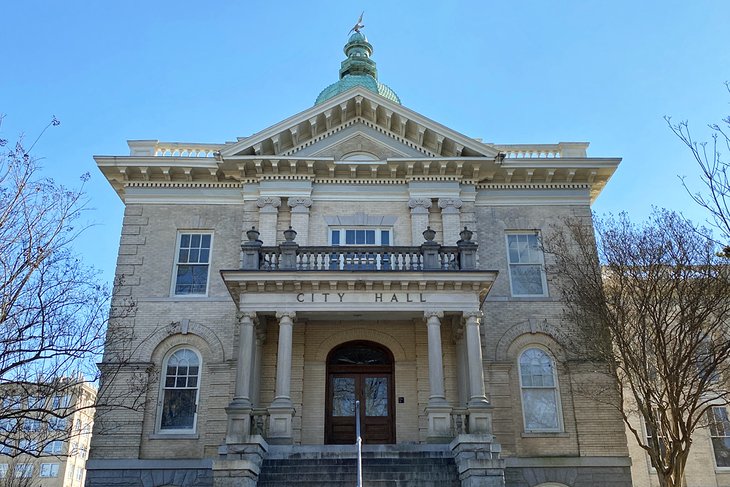 Bounded by the University of Georgia to the south, Dougherty Street to the north, and Pulaski and Foundry Streets to the west and east respectively, Downtown Athens is a great place to explore on foot and is chock-full of interesting things do. Here, you'll find some of the city's oldest homes, many of them classic examples of the antebellum style, along with historic old theaters, churches, and places of business.
It's also home to some of the oldest of the university's buildings, with the campus having grown exponentially southwards in the more than two centuries since it was established. Set out in an easy-to-follow grid pattern; you'll not easily get lost, especially if you keep the tall dome of the old City Hall in sight.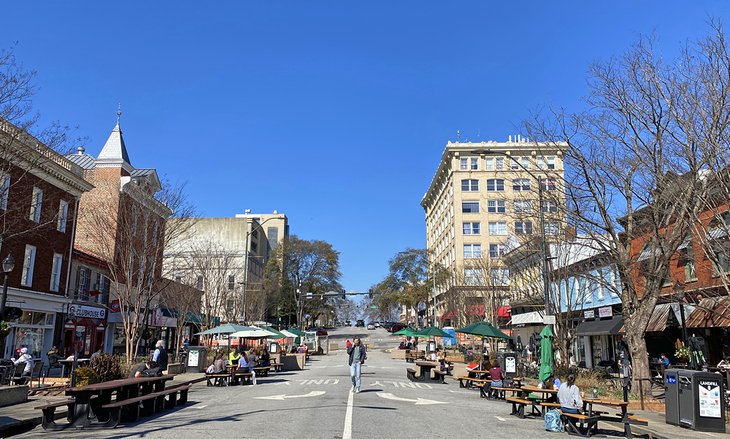 It's a vibrant and bustling area, particularly on weekends when students venture off campus. Shopping and dining opportunities are plentiful, with cafés and coffee shops, such as the excellent Zombie Coffee and Donuts offering a fancy take on an old favorite sweet treat. And for a great lunch or dinner, try the Porterhouse Grill's tasty buttermilk chicken, delicious at any time of day.
Official site: https://downtownathensga.org
5. Be Inspired at the Georgia Museum of Art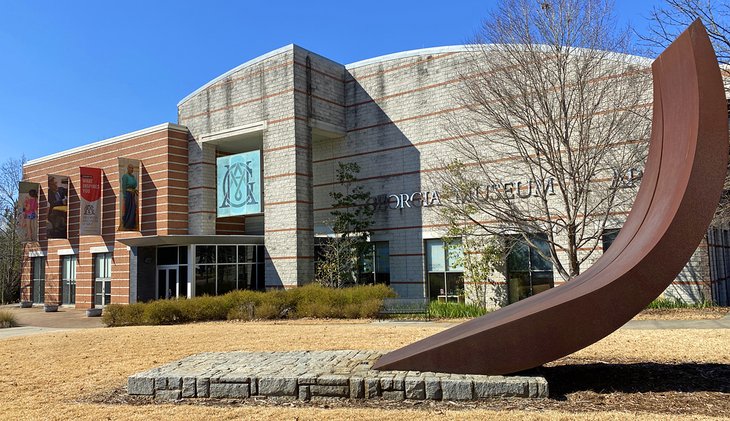 Located on the University of Georgia campus, the Georgia Museum of Art is a must visit, and yet another example of the very positive influence the university has had on this lovely city. Established in 1945, the museum is home to a sizable permanent collection that features over 18,000 artworks from a variety of disciplines.
Notable among its collection are works by American painters, decorative arts from the Southern states, as well as contributions from African American artists. There are also a number of interesting paintings in the Renaissance and Baroque periods.
Of special interest is the sculpture garden with its focus on the creations of women artists. While admission is free, advance timed ticketing is necessary, so plan accordingly. Guided tours are also available.
Address: 90 Carlton Street, Athens, Georgia
Official site: https://georgiamuseum.org
6. Take in a Concert at the Georgia Theatre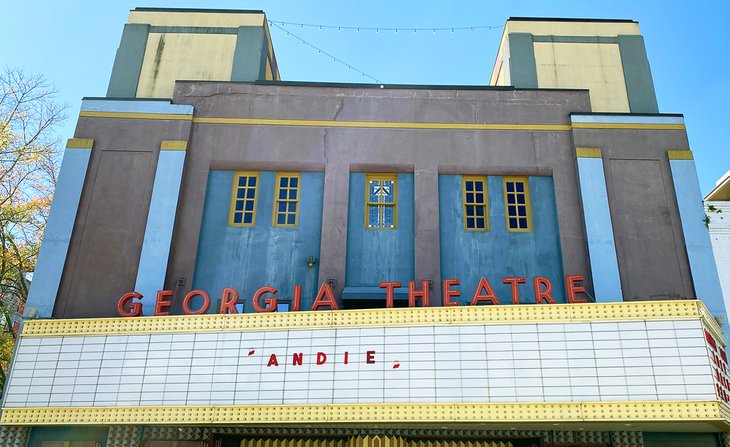 Since it opened in 1978, the Georgia Theatre has hosted some of the biggest names in American pop, rock, folk, and alternative music. Some of the best and brightest, such as the B-52s and REM, even got their start here in Athens before reaching the top of the charts. International recording stars like The Police also performed here.
The building itself dates back to the early 1900s, when it served as home to the university basketball team, later spending time as a record store, a Masonic lodge, and a furniture store before finding new life as a music venue.
Just one of a number of important musical landmarks in the city, the venue is included in a fun self-guided walk, the Athens Music History Walking Tour, that's well worth doing. Check out the venue's rooftop restaurant, too, for its great views over Downtown Athens.
Address: 215 N. Lumpkin Street, Athens, Georgia
Official site: www.georgiatheatre.com
7. Enjoy a Walking Tour of the University of Georgia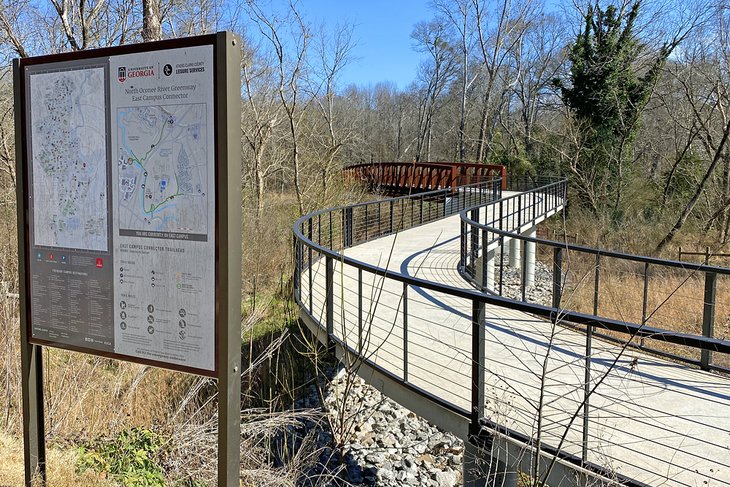 The University of Georgia grounds cover no less than 767 acres, much of which can be explored by visitors. Before tackling the university's impressive network of walking trails, however, pay a visit to their excellent Visitor Center on College Station Road. While it's a doable 40-minute walk from Downtown Athens, there's ample visitor parking on campus for those wanting to save their energy for the trails.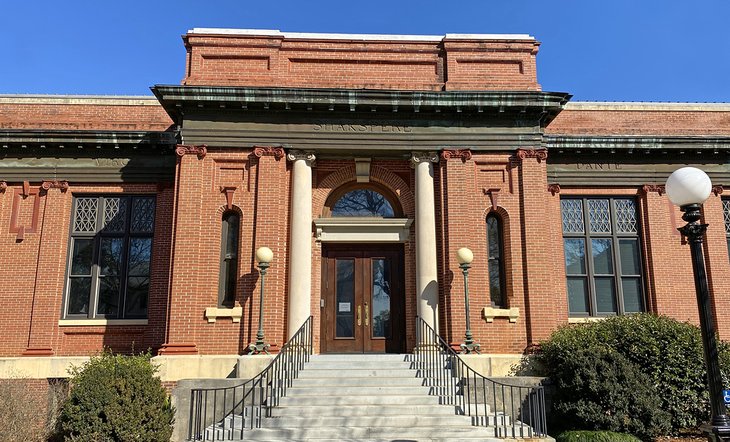 The visitor center offers plenty of detail regarding the university's history, with helpful staff and students on hand to answer questions and provide tips about the best places to visit on campus. Self-guided walking tours will take you past important campus landmarks, including Sanford Stadium, the interesting Trial Gardens, and the Georgia Museum of Natural History, among others.
Address: 405 College Station Road, Athens, Georgia
Official site: https://visit.uga.edu
8. See the Tree That Owns Itself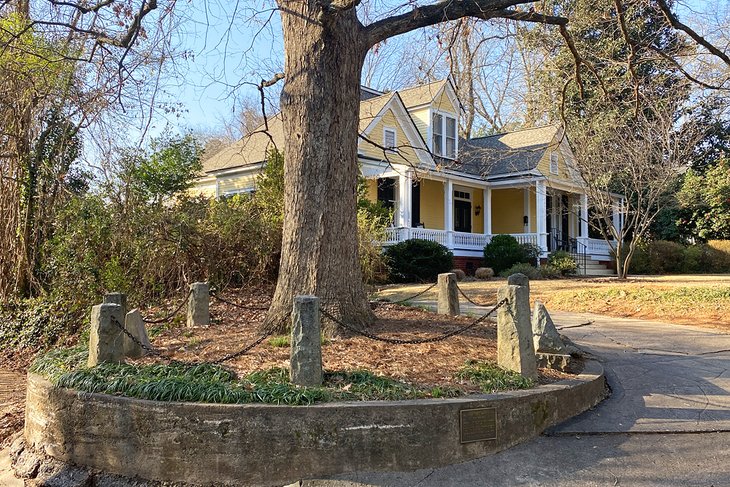 Located in a cobble-stoned neighborhood on the corner of Dearing and South Finley Streets stands one of the most unusual of Athens' many interesting tourist attractions: the Tree That Owns Itself. Legend has it that this tall white oak was granted ownership of itself and the eight-foot parcel of land on which its stands by its original owner in 1890.
While apparently this is the "son" of the original tree, planted after the original oak was blown over in 1942, the plaques at its base make for compelling reading. And sure enough, the legacy remains uncontested to this day, ensuring the site's preservation.
Address: 277 S Finley Street, Athens, Georgia
9. The Athens Double-Barreled Cannon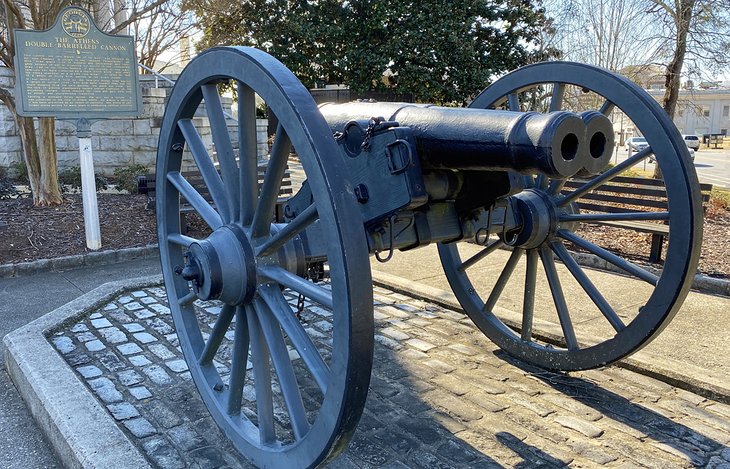 Another of the city's believe-it-or-not-style attractions, the Athens Double-Barreled Cannon is located off College Avenue in the downtown core. Designed and built in 1863 by a local entrepreneur hoping to win a contract from the Confederates for his invention, this interesting looking weapon never actually saw service.
After failing to impress during field tests (but apparently managing to kill a cow), the project was shelved, and the unique but unusable cannon given to the City of Athens for display purposes. You'll find it located outside City Hall, ominously pointing northward.
Address: 301 College Ave, Athens, Georgia
Official site: www.accgov.com/86/Double-Barreled-Cannon
10. Be Creative at Lyndon House Arts Center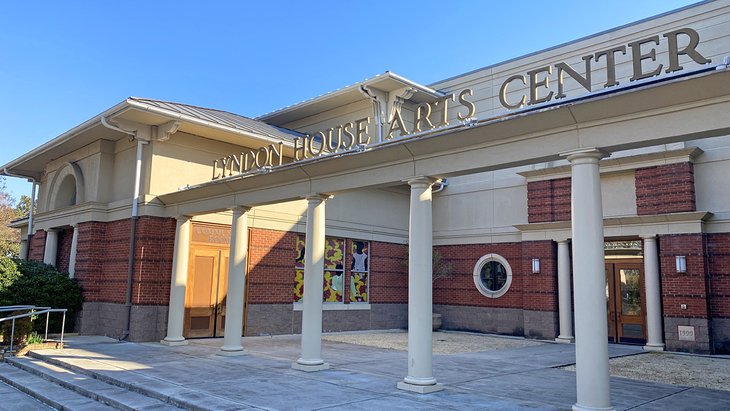 Although located just outside the city's downtown core and best reached by car, the Lyndon House Arts Center is well worth a visit. As well as featuring frequently changing exhibits of contemporary art, this large gallery offers workshops and learning opportunities in a variety of artistic endeavors. Of special interest to families is the children's wing, which features fun activities and programs for kids of all ages.
The building itself is set in a pleasant garden. The facility also hosts numerous events and festivals throughout the year. A gift shop is located on-site.
Be sure to allow time to visit the historic Ware-Lyndon House, an attractive Greek Revival style home dating from the 1840s.
Address: 211 Hoyt Street, Athens, Georgia
Official site: www.accgov.com/lyndonhouse
11. Visit the Historic TRR Cobb House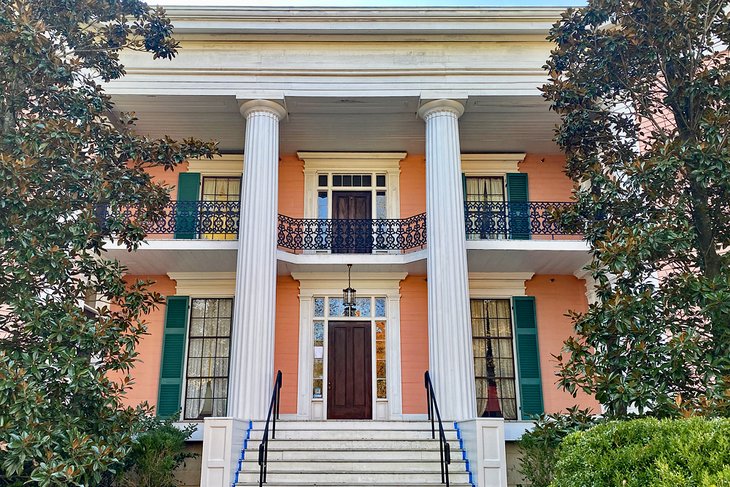 Built in 1842, TRR Cobb House is considered one of the best preserved and most unique homes to have survived Northeast Georgia's antebellum period.
Located on Prince Avenue and included on the USA's National Register of Historic Places, this unusual octagon house now serves as a museum focusing on the life of the former politician, a controversial figure who was a strong supporter of the Southern Nationalism movement that ultimately saw the formation of the Confederate States of America.
This perfectly preserved home offers a fascinating glimpse into this period of time in US history through a mix of authentic period furnishings, décor, and displays.
Address: 175 Hill Street, Athens, Georgia
Official site: www.trrcobbhouse.org
12. Explore Athens' Neighborhoods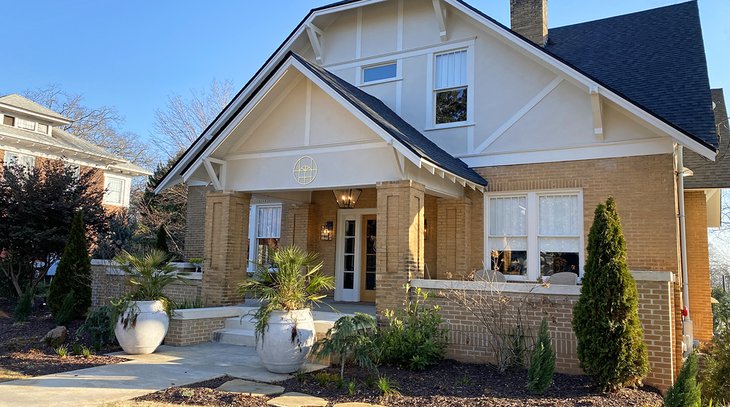 In addition to its attractive downtown area, Athens features a number of other interesting neighborhoods that are certainly worth exploring. Most are easy to get to from pretty much anywhere in the city and offer great excuses to get out and walk.
Normaltown, named after a former educational center, is a trendy spot frequented by students and creative types and offers an eclectic array of shopping and dining experiences. It's an easy 30 minutes' walk northwest of the downtown core.
Considered one of Athens' poshest neighborhoods, Five Points derives its name from the busy intersection of Milledge Avenue and Lumpkin Street. But don't let this fact put you off. Park the car and explore this neighborhood of leafy streets and large old mansions, many of them university frat houses.
The real draw here, though, are the chic boutique shops and restaurants that together make up a village-like community that's as popular with students as it is the locals. Great places to dine include The Expat and The Café on Lumpkin.
The Five Points area is also home to one of the best B&Bs in Georgia, the luxurious ATH|BNB, The Rushmore. This former frat house is literally steps away from the Five Points intersection and makes an excellent base from which to explore the vicinity, as well as the university and its many attractions, all just a short walk away.
Athens, GA - Climate Chart
Average minimum and maximum temperatures for Athens, GA in °C
J
F
M
A
M
J
J
A
S
O
N
D

11

1

14

2

18

6

23

9

27

14

31

18

32

21

31

21

28

17

23

11

17

6

12

2

PlanetWare.com
Average monthly precipitation totals for Athens, GA in mm.

119

112

127

85

98

100

112

96

90

88

94

94

Average monthly snowfall totals for Athens, GA in cm.

3

2

1

0

0

0

0

0

0

0

0

1
Average minimum and maximum temperatures for Athens, GA in °F
J
F
M
A
M
J
J
A
S
O
N
D

51

33

57

35

65

42

73

49

80

58

87

65

90

69

88

69

83

63

73

51

63

42

54

35

PlanetWare.com
Average monthly precipitation totals for Athens, GA in inches.

4.7

4.4

5.0

3.4

3.9

3.9

4.4

3.8

3.5

3.5

3.7

3.7

Average monthly snowfall totals for Athens, GA in inches.

1.2

0.8

0.4

0

0

0

0

0

0

0

0.1

0.2