11 Best Things to Do in Macon, GA
For a city with a population of just 150,000 residents, Macon certainly boasts plenty of things to do. Founded in 1823 on the west bank of the Ocmulgee River and nicknamed "Brick City" for its abundant use of locally made building materials, this Central Georgia city offers visitors everything from art galleries and museums to ancient burial grounds and perfectly preserved Victorian-era mansions to enjoy.
Macon is a fun place to explore on foot, with a vibrant, rejuvenated downtown core that features wide, tree-lined avenues with easy pedestrian access to some of the city's top attractions. Some of the best public parks in Georgia are found here, too, and offer opportunities for those of all abilities to get out and enjoy the scenery.
For die-hard hikers, the city is connected to other parts of the state via the 200-mile-long Ocmulgee River Water Trail. Add to this mix the many fun events and festivals held here each year, such as the popular International Cherry Blossom Festival, and there are plenty of reasons to spend your time outdoors.
Macon's revival has also provided a great excuse for locals to celebrate the city's cultural diversity. In addition to points of interest that commemorate the Civil Rights movement, you'll want to find time to explore attractions such as the Tubman Museum, which showcases art created by both local and country-wide African American artists.
To find out more about the best places to visit in this exciting Central Georgia city, read through our list of the top things to do in Macon, GA.
1. Explore Downtown Macon on Foot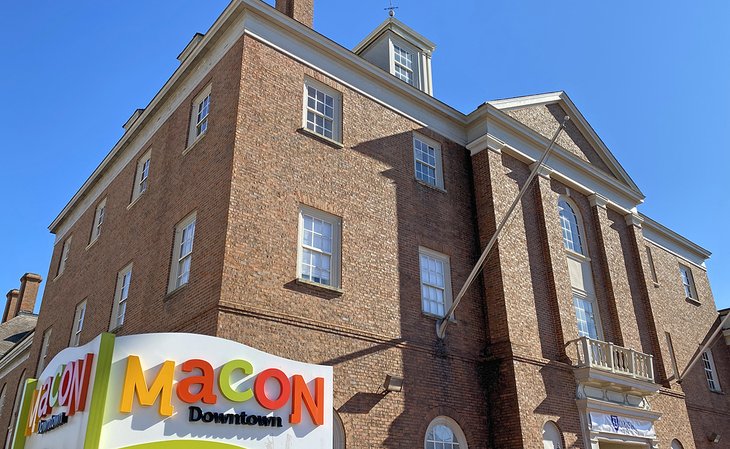 Macon is an immensely walkable city. This is especially true of the Downtown Macon area. This relatively large district encompasses the city's newer financial center, many of its top tourist attractions, as well as the old downtown core with its well-preserved examples of historic architecture.
In fact, the abundance of historic buildings here has led to the entirety of Downtown Macon being included on the National Register of Historic Sites, ensuring its preservation for future generations. While many of the most interesting buildings date from the 19th century and reflect the South's adoption of Victorian and Greek Revival architectural styles, structures from the 1940s, 50s, and 60s, such as the former department stores, have found new purpose and now house everything from restaurants and hip cafés to chic fashion boutiques.
Downtown Macron is also used as the setting for many of the city's most important events and celebrations. Visit in winter, and you can enjoy Thanksgiving and Christmas parades, while in the warmer months, it's all about the spring and summer blossoms and the city's rich musical heritage.
Sunday's are a great time to visit the downtown area. Not only is it quiet, you'll see families dressed in their Sunday best heading to and from the many churches here. You'll also see them enjoying another popular weekend pastime, too: Sunday brunch. Great brunch experiences with a Southern twist can be enjoyed at establishments such as Parish on Cherry, Dovetail, and Lazy Susan, to name but a few.
2. Ocmulgee Mounds National Historical Park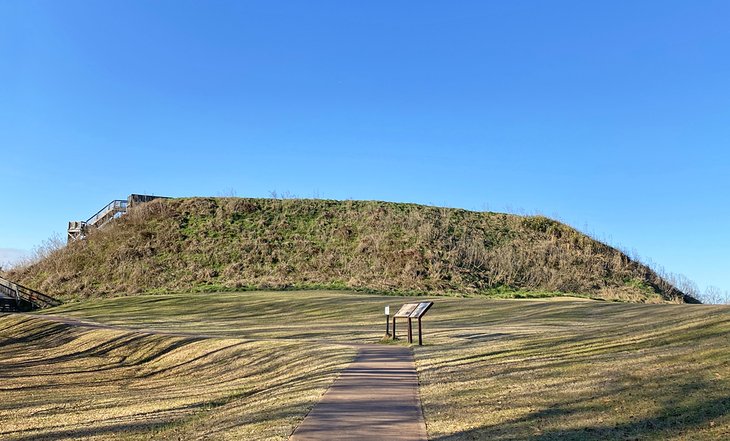 Although you'll want to drive from Downtown Macon to Ocmulgee Mounds National Historical Park, once there you'll have plenty of opportunity to get out and walk. Covering an area of over 900 acres, this beautiful park features over eight miles of walking trails to explore.
It's so big, in fact, that you may choose to limit your walking to more manageable one-mile sections, making use of the ample parking near each of the park's main attractions. Start your sightseeing at the Art Deco-style visitor center. Built in 1936, its fascinating displays tell the story of the seven ancient burial mounds located within the park, along with the Indigenous people who lived here for more than 17,000 years.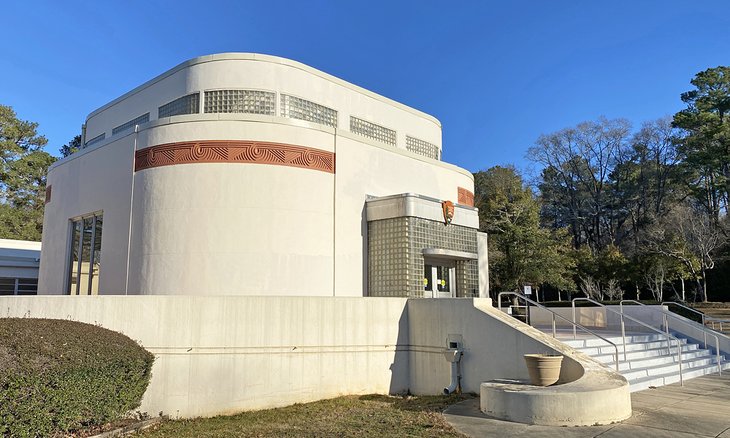 In addition to artifacts found during what was the largest ever archaeological dig in the USA, a short accompanying film sheds even more light on the site's historical significance. While a reconstructed ceremonial earth lodge is located just a short walk from the visitor center, the main cluster of mounds, including the huge Great Temple Mound, are a half-mile walk away.
While you can view the mounds from their base, their true scale can best be appreciated by climbing the wooden staircase leading to the top. From here, you'll also be rewarded with excellent panoramic views over Macon.
However you choose to explore the Ocmulgee Mounds, take your time. It's extremely peaceful, and numerous park benches have been strategically placed to help you prolong the experience.
Address: 1207 Emery Hwy, Macon, Georgia
Official site: www.nps.gov/ocmu/index.htm
3. Tour the Historic Johnston—Felton—Hay House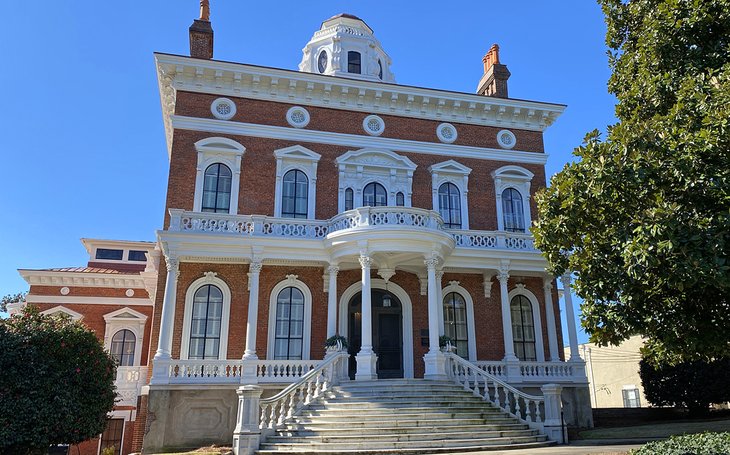 One of Georgia's most important period homes, the Johnston-Felton-Hay House can easily be walked to from Downtown Macon. Built in 1859 and boasting 24 rooms, this 18,000-square-foot mansion, built in Renaissance Revival style by Italian craftsmen, is so grand, it's been dubbed the "Palace of the South."
Capped by a stunning three-story cupola, it featured numerous innovations for the time, including an intercom system, hot and cold running water, central heating, an elevator, and ventilation. Interior highlights include the home's original stained-glass windows, original furniture, as well as a sizable collection of period porcelain and paintings.
Hour-long guided tours are available Wednesday to Sunday, and an on-site gift shop offers related souvenirs. Be sure to explore the grounds, too, which feature a number of original plants dating from the time the house was built.
Once you're done at Hay House, take a few minutes to walk up the hill across the road to the Walter F. George School of Law. This impressive red-brick building is famous for Jefferson Davis having visited after the Civil War. From Coleman Hill Park across the road, you can take a seat and enjoy the spectacular views over Macon.
Address: 934 Georgia Avenue, Macon, Georgia
Official site: www.hayhousemacon.org
4. The Allman Brothers Band Museum at The Big House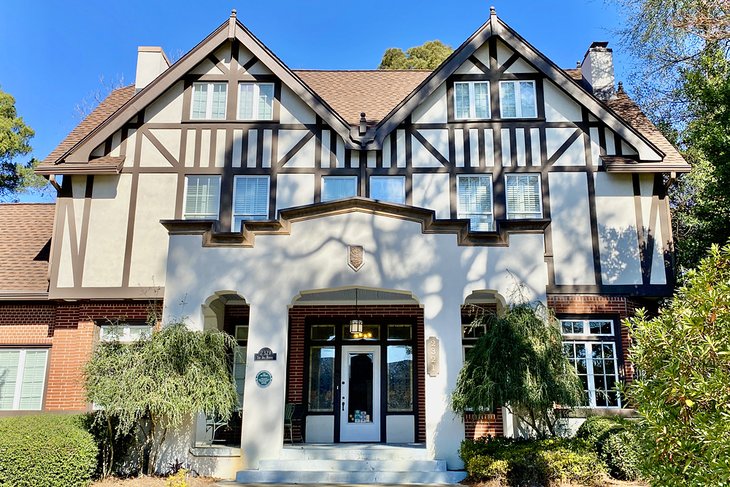 Macon is justifiably proud of its rich musical heritage. Perhaps the best known of the many talented Macon residents who followed their music-making destiny was the Allman Brothers Band. After forming in 1969, the Allman Brothers put Macon and Southern rock on the music map.
The band's legacy is celebrated at Big House on Vineville Avenue, home to Allman Brothers Band Museum. The band, along with sundry family members, roadies, and friends, encamped here from 1970 to 1973, making it the base where they rehearsed and composed some of their best-known hit tunes.
Today, the museum houses numerous fascinating interactive exhibits relating to the band's career, along with memorabilia. A gift shop is located on-site, and acts inspired by the band regularly perform on the property's stage.
Address: 2321 Vineville Avenue, Macon, Georgia
Official site: https://thebighousemuseum.com
5. Take a Stroll through Amerson River Park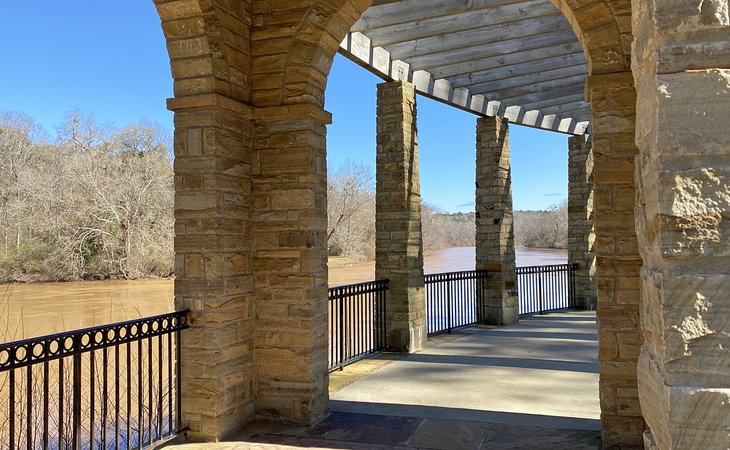 Set on 180 acres overlooking a dramatic bend in the Ocmulgee River, Amerson River Park is another of Macron's impressive array of green spaces that should be visited. A seven-mile-long network of paved pathways crisscross the park, winding through a mix of wetland, mature forests, and meadows, all of them framed by the river.
Elegant stone pavilions are strategically placed around the park offering shade and shelter, with one designated as an overlook with mesmerizing views of the river. All these areas are easily accessible for strollers and wheelchairs. There's also a children's' playground for the youngsters to blow off some steam.
It's a popular place to visit for adventure seekers, too. A kayak/canoe launch is provided, and in summer months, the river flows gently enough that tubers can be seen floating slowly downstream as they enjoy a truly authentic "lazy river" experience.
The park also marks the start of the Ocmulgee River Water Trail, a scenic route that follows the river all the way to Hazlehurst some 200 miles to the east.
Address: 2551 Pierce Drive N., Macon, Georgia
Official site: www.maconga.org/listings/amerson-river-park/4262/
6. Learn about African American Culture at the Tubman Museum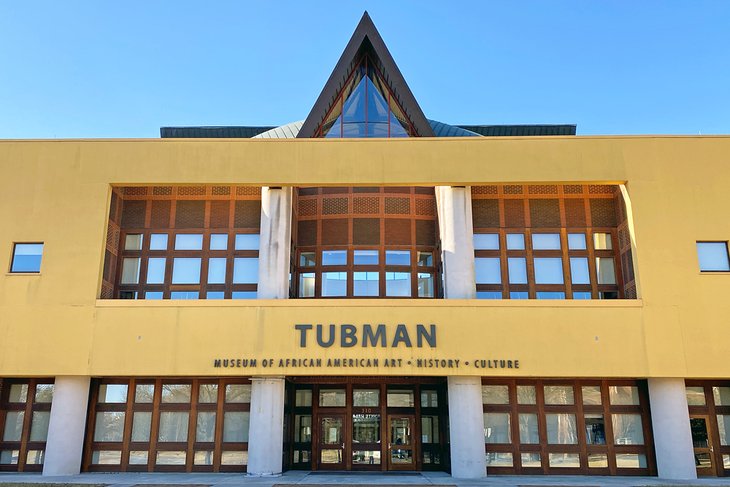 The Tubman Museum, widely regarded as one of the country's most important repositories of African American cultural artifacts, artworks, and related information, is a must-visit when in Macon. Since it opened in 1985, the museum has educated and informed countless visitors about African American history and culture.
Through its permanent and temporary exhibits, the museum describes the African American experience, with a special emphasis on art and music, including soul and R&B. Included are performers with connections to Macon including Little Richard, James Brown, and Otis Redding.
Expect to spend at least a couple of hours exploring the exhibits at Tubman Museum.
Address: 310 Cherry Street, Macon, Georgia
Official site: www.tubmanmuseum.com
7. Visit the Garden of Graves: Rose Hill Cemetery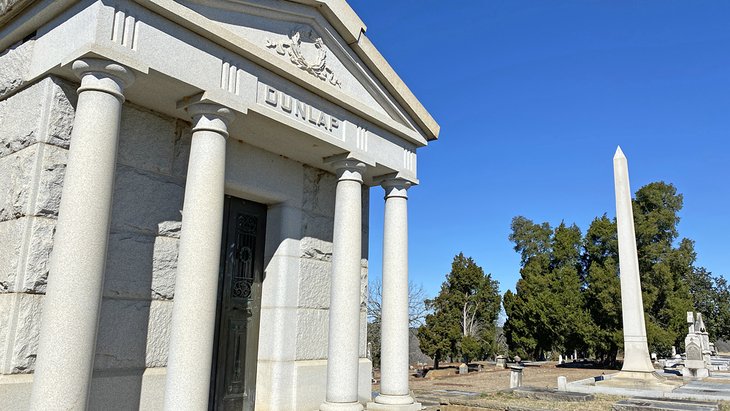 Known as the "Garden of Graves" for its beautiful grounds, Rose Hill Cemetery makes for an excellent walkabout in Macon. Set on 50 acres near the Ocmulgee River, this park-like cemetery opened in 1840 and is the final resting place of many prominent Macon citizens, including Gregg and Duane Allman of the Allman Brothers Band.
Named after its horticulturalist designer Simri Rose, the cemetery is divided into sections based on the religion and background of those interred here. Take a wander, and you'll find the burial sites of some 600 Confederate soldiers and an unknown number of slaves located just steps away from the more ornate burial plots of the city's once prominent families.
It's a fascinating place to explore, and though it features numerous inclines, the pathways are, for the most part, paved. Details of self-guided walking tours are available from the cemetery website, along with dates and details about the twice-yearly Rose Hill Ramble, a fun 1.5-hour guided tour of the site.
Address: 1071 Riverside Drive, Macon, Georgia
Official site: www.rosehillcemetery.org
8. Museum of Arts and Sciences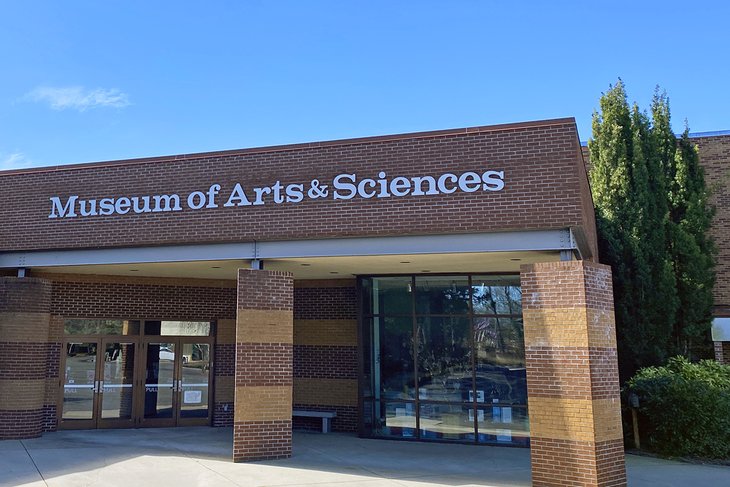 Macon's Museum of Arts and Sciences (MAS) opened in 1956 and features four galleries used to host temporary exhibits related to a variety of disciplines, from fine arts to technology, and all stops in between.
For younger visitors, the museum's Discovery House is a must-visit. Chock-full of interactive displays and exhibits, it also features a mini zoo with live animals, a nature trail, and a planetarium. Workshops and age-appropriate learning programs are also available.
An on-site store sells souvenirs and gifts, while new additions on the grounds include an amphitheater, a bat cave, and walking trails.
Address: 4182 Forsyth Road, Macon, Georgia
Official site: www.masmacon.org
9. Take in a Show at the Grand Opera House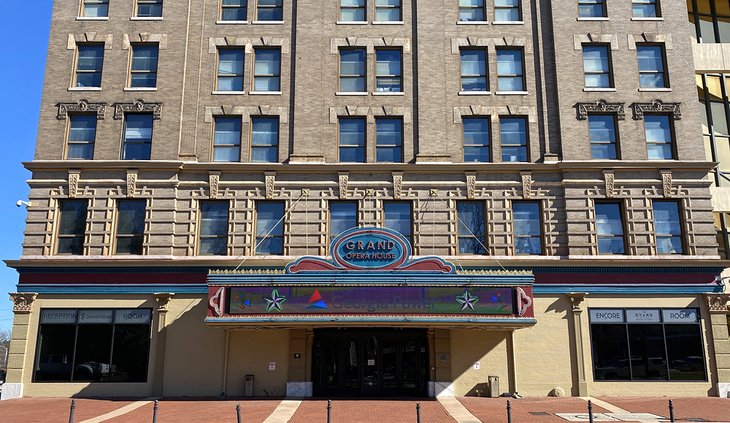 Built as the Academy of Music in 1884, the aptly named Grand Opera House can still boast about having one of the largest stages in the American South. It's so large a stage, in fact, that live horses, complete with chariots, were used in a 1908 production of Ben Hur.
In the decades since, some of America's biggest stars and performers have graced the stage, including Charlie Chaplin, Harry Houdini, Bob Hope, Ray Charles, and, of course, local heroes the Allman Brothers Band. These days, the theater is best known for its annual Christmas performance of The Nutcracker and for being a regular stop for touring Broadway shows.
Address: 651 Mulberry Street, Macon, Georgia
Official site: www.thegrandmacon.com
10. Get Your Game on at the Georgia Sports Hall of Fame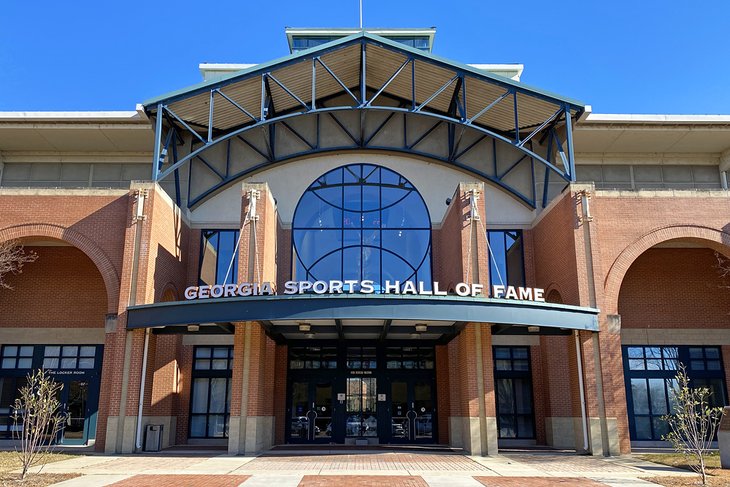 A visit to the Georgia Sports Hall of Fame, the largest attraction of its type in the USA, is time well spent when in Macon. Although it covers an impressive 43,000 square feet of displays and exhibits, it's easily navigable, with your area of preference being easy to find.
Want to know more about car racing? Then head straight for the NASCAR simulators. Want to learn about local athletes and their achievements? Make your way to the Great Moments in Georgia Sports History section.
Other highlights include sections dedicated to high school and college sports, Olympic and Paralympic athletes, as well as baseball, basketball, and football. Guided tours are also available.
Address: 301 Cherry Street, Macon, Georgia
Official site: www.georgiasportshalloffame.com
11. Visit Macon During the International Cherry Blossom Festival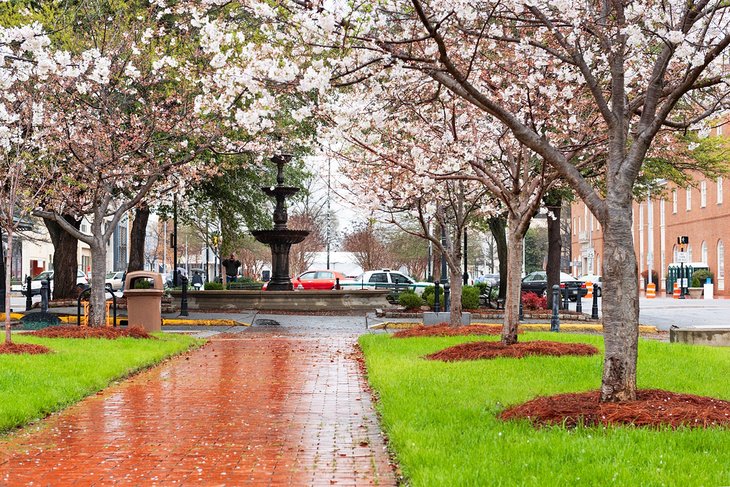 If you're planning on visiting Macon in springtime, try to time your stay to coincide with the city's popular International Cherry Blossom Festival. Held each year since 1982, this fun festival celebrates the city's claim to being the world's cherry blossom capital – a claim that's backed up by the city's approximately 350,000 Yoshino Cherry Trees.
Held each March to coincide with the colorful display these trees put on when blossoming, the festival's hub in Carolyn Crayton Park is the scene of numerous concerts, fairground attractions, food and drink experiences, as well as numerous other fun activities for the whole family.
Location: Carolyn Crayton Park, Downtown Macon, Georgia
Official site: https://cherryblossom.com
Macon, GA - Climate Chart
Average minimum and maximum temperatures for Macon, GA in °C
J
F
M
A
M
J
J
A
S
O
N
D

14

1

16

3

21

7

24

10

28

15

32

19

33

22

33

21

29

18

25

11

20

6

15

2

PlanetWare.com
Average monthly precipitation totals for Macon, GA in mm.

127

116

125

80

76

90

110

96

83

60

82

100

Average monthly snowfall totals for Macon, GA in cm.

1

2

0

0

0

0

0

0

0

0

0

0
Average minimum and maximum temperatures for Macon, GA in °F
J
F
M
A
M
J
J
A
S
O
N
D

57

34

61

37

69

44

76

50

83

59

90

67

92

71

91

70

85

64

77

51

68

43

59

36

PlanetWare.com
Average monthly precipitation totals for Macon, GA in inches.

5.0

4.6

4.9

3.1

3.0

3.5

4.3

3.8

3.3

2.4

3.2

3.9

Average monthly snowfall totals for Macon, GA in inches.

0.3

0.8

0

0

0

0

0

0

0

0

0

0