14 Best Places to Visit in Georgia
The Peach State, as Georgia's affectionately known, is home to some of the best places to visit in the South. From its larger cities, like Atlanta, Columbus, and Augusta, to its many picturesque small towns, there's no end of fun travel experiences to include on your Georgia travel itinerary.
Whether you're visiting for a day trip from out of state or are here for a weekend getaway, there are so many destinations worthy of a visit that it can be a little difficult figuring out where to start.
One surefire way of making the most of your time in Georgia is to use one of the top destinations featured in our list below as a base from which to explore. Atlanta is certainly a good choice for tackling the North Georgia Mountains, while Savannah is perfect for those wanting to explore the Georgia coastal area. And those wanting to explore central Georgia would do well to visit Athens or Macon, both of which are featured on our list.
To help you plan your visit to the Peach State, here's our list of the best places to visit in Georgia.
1. Savannah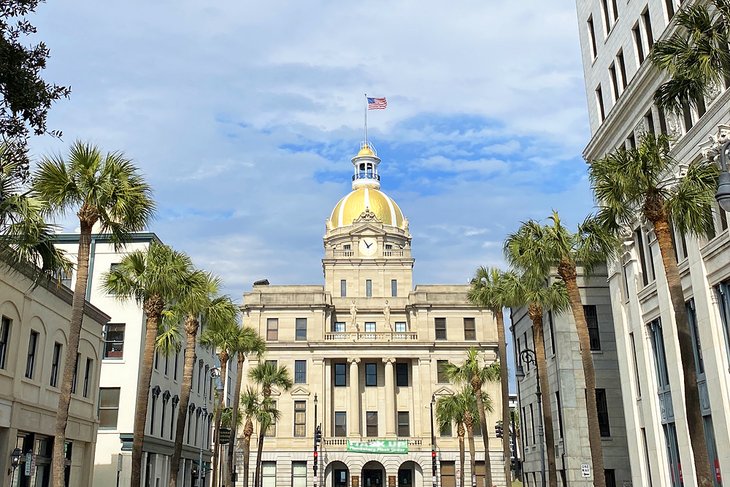 Located on Georgia's east coast, where the Savannah River spills into the Atlantic, the city of Savannah offers plenty of fun things to do for visitors. If it's your first time visiting what's widely regarded as one of the prettiest cities in the South if not the USA, you'll want to start your adventure at the riverfront.
The area was already impressive before the recent opening of the Plant Riverside District, which has nearly doubled the footprint of the River Street historic area. Here, you'll find everything from charming Savannah resorts and hotels in exquisitely preserved old warehouses to boutique shops and galleries and a wide variety of restaurants in which to enjoy great Southern dishes.
Once you're finished exploring the riverfront, head a few blocks south to the Savannah Historic District, the biggest National Historic Landmark District in the US. Here, you'll easily spend a few hours exploring more than 20 blocks chock-full of preserved churches, fascinating museums and art galleries, and those famous Savannah city squares.
And a word to the wise: while you can get this city covered in a day, try to allow more time if you can, as there's just so much to see here. But if you are pressed for time, consider purchasing the handy Savannah Hop-on Hop-off Trolley Tour, which takes in most of the city's top tourist attractions, at least from the outside.
2. Atlanta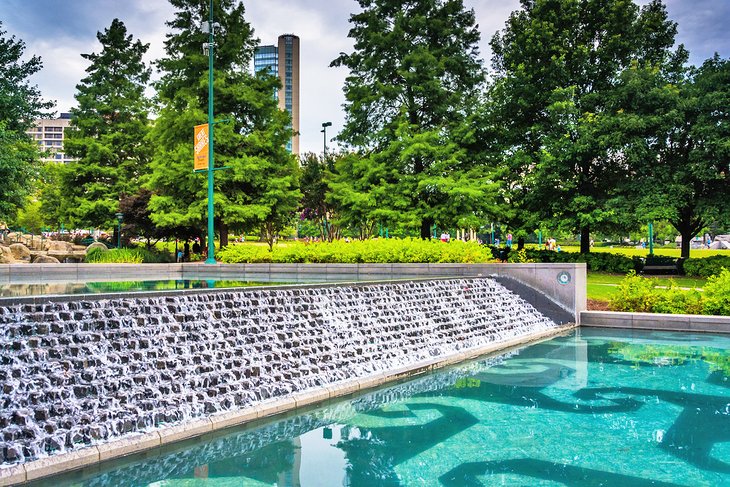 Georgia's capital city, Atlanta is a perfect destination for those who enjoy world-class attractions. And it's a big city. With a population of nearly 500,000, locals and visitors alike have a vast array of places to visit and points of interest to explore.
A good place to start is Pemberton Place. This 20-acre site is an easy 20-minute stroll from downtown Atlanta and features a number of top attractions in one handy location. Here, you'll find the must-visit Georgia Aquarium, home to one of the world's largest tanks; the World of Coca Cola; and the National Center for Civil and Human Rights.
Directly opposite this important urban hub is Centennial Olympic Park. Site of Atlanta's Summer Olympic Games in 1996, this 22-acre public park is also fun to wander. Highlights include enjoying the spectacle of the park's dancing fountain, the Fountain of Rings. Watching this colorful display of water spouts synchronized to music is definitely one of the top things to do in Atlanta at night. Also fun at night is riding the SkyView Ferris wheel, a 20-story ride that offers superb views over the city.
Atlanta is also famous as the home town of Martin Luther King Jr., who grew up here. You'll want to visit the Center for Nonviolent Social Change, dedicated to his memory and work for the civil rights movement.
Another influential figure with a presence here is US President Jimmy Carter. The Carter Center is not only set in an extremely attractive garden-like setting, it pays tribute to the former president's tenure in office.
3. Blue Ridge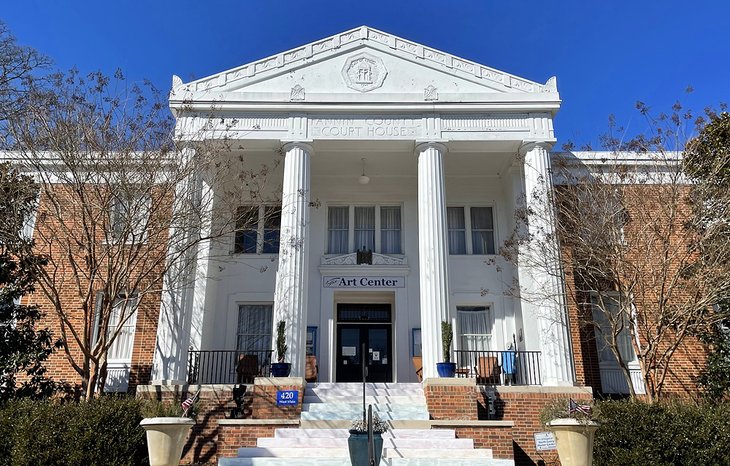 Those wanting to get a taste of life in the beautiful Georgia Mountains couldn't do much better than pay a visit to the community of Blue Ridge. Named for its location in the foothills of the Blue Ridge Mountains, this small town has proven to be a big draw for day trippers, vacationers, and a large seasonal population, all here for the same reasons: the stunning scenery and mountain country living.
Whether you're here for a few hours or a few days, one of the best ways to enjoy the scenery is aboard the Blue Ridge Scenic Railway. More than 800,000 passengers descend upon the town each year to partake in the views from its carriages as they travel along 26 miles of track. If you're riding in early spring or late fall, both good times to see the surrounding countryside, opt for the enclosed cabin upgrade for additional comfort.
The railway's station is located in the heart of the town, between West and East Main Streets, so be sure to allow time to explore the downtown core before or after your trip.
Blue Ridge is also considered a great place for a romantic weekend getaway in Georgia. If that sounds like you, you couldn't do much better than booking a night or two at the historic Blue Ridge Inn. Built for the railway's founder in the 1800s, this charming bed and breakfast features classy rooms just a stroll away from the downtown area.
Read More: Top-Rated Things to Do in Blue Ridge, GA
4. Tybee Island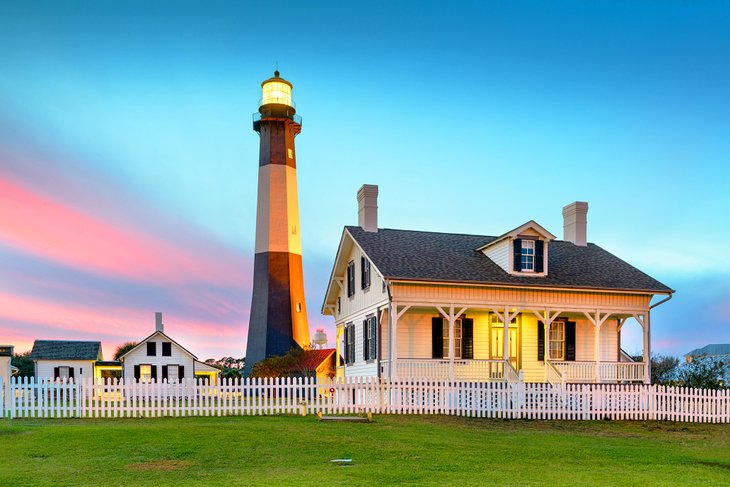 Less than 30 minutes' drive from the historic center of Savannah, Tybee Island is one of the best places to visit in Georgia for those seeking an ocean-side day trip, weekend getaway, or even a longer vacation at a family-friendly resort. Tucked away in the state's northeastern corner, Tybee Island boasts over three miles of clean, sandy beaches with shallow water that are perfect for younger kids.
Adding to the list of fun things to do on Tybee Island are wildlife-spotting trips to the nearby marshes, and dolphin watching cruises guaranteed to thrill all ages. Other popular outdoor activities include kayaking and paddleboarding, as well as surfing, swimming, and fishing.
Notable attractions on Tybee Island include Cockspur Island Lighthouse and old Fort Screven. For great views over the area, make the climb to the top of the Tybee Island Light Station and Museum.
Accommodation: Best Resorts on Tybee Island
5. Athens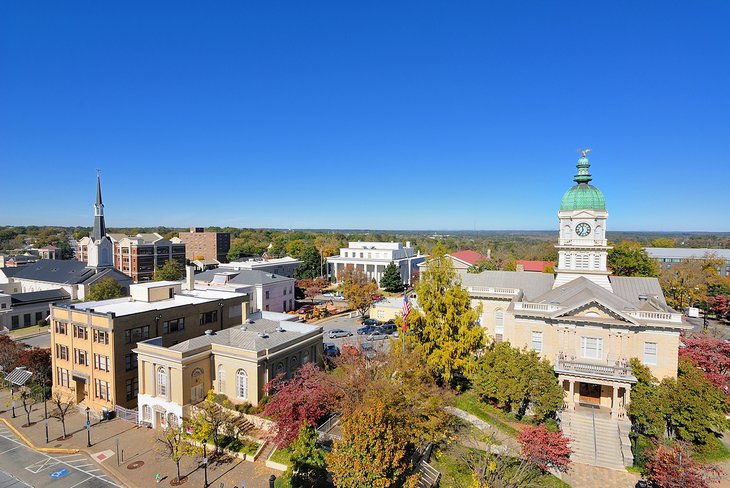 Home to the state's university, Athens is definitely one of the best places to visit in Georgia for its cultural activities. Many of the top cultural attractions here are associated with the university, including the Georgia Museum of Art and the Georgia Museum of Natural History.
These and other attractions, such as Sanford Stadium, can be explored as part of a great walking tour of the university. You can actually start your self-guided sightseeing tour from the University of Georgia Visitor Center, taking in the campus sights and even walking along a series of nature trails.
If you're not done walking, head to Downtown Athens. While a 40-minute walk, you'll have a chance to see the first buildings erected when the university was founded in the early 1800s. The downtown area is also where you'll find the city's best shopping, dining, and entertainment options, as well as numerous surviving examples of classic Antebellum architecture.
Read More: Top-Rated Things to Do in Athens, GA
6. Jekyll Island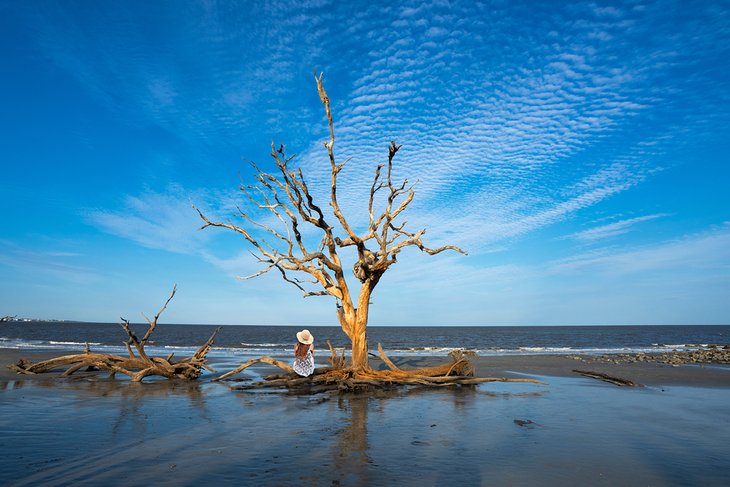 Jekyll Island, in the southeastern corner of the state, is another coastal destination that's well worth including on your list of places to visit in Georgia. It's an especially popular spot for water sports enthusiasts, especially kayakers.
If that sounds like you, head for 4-H Tidelands Nature Center. Located next door to Summer Waves water park, which is also fun to visit, this popular attraction offers a variety of fun kayak tours suitable for all levels of experience. The Sea Turtle Center, which focuses on rescuing and rehabilitating turtles and other marine species, is also well worth a visit.
Stretching along some 10 miles of coastline, the seven excellent Jekyll Island beaches are also a big draw. The most popular spots are Driftwood Beach; Glory Beach; and for birders, St. Andrew's Beach Park.
7. Columbus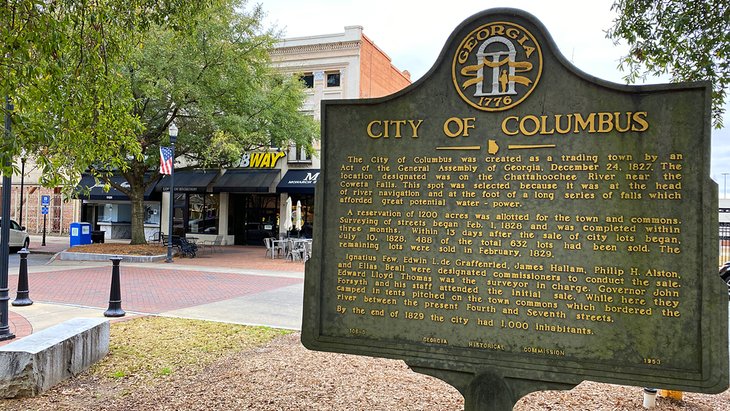 Located two-hour's drive south of Atlanta, the city of Columbus possesses what must be one of the most impressive riverfronts in Georgia. It starts at the Columbus Riverfront Industrial Historic District to the north of the downtown core and connects with the National Infantry Museum and Soldier Center at Fort Benning to the south. Walking or biking this 15-mile paved Chattahoochee RiverWalk route is certainly a memorable experience.
The Chattahoochee River is quite rugged in places, adding to the scenic splendor, and can also be enjoyed by kayakers and rafters. If you don't have your own kayak or raft, fret not. Rentals are available from RushSouth Whitewater Park and White Water Adventure, both located just steps away from the river. Options are available for all levels of experience, as well as for gentler tubing experiences.
It's also easy to get to the downtown area from the river walk. Referred to by the trendy name of Uptown Columbus, it's here you'll enjoy great shopping and dining experiences, along with entertainment options at historic Springer Opera House and the RiverCenter for the Performing Arts.
Read More: Top-Rated Things to Do in Columbus, GA
8. Macon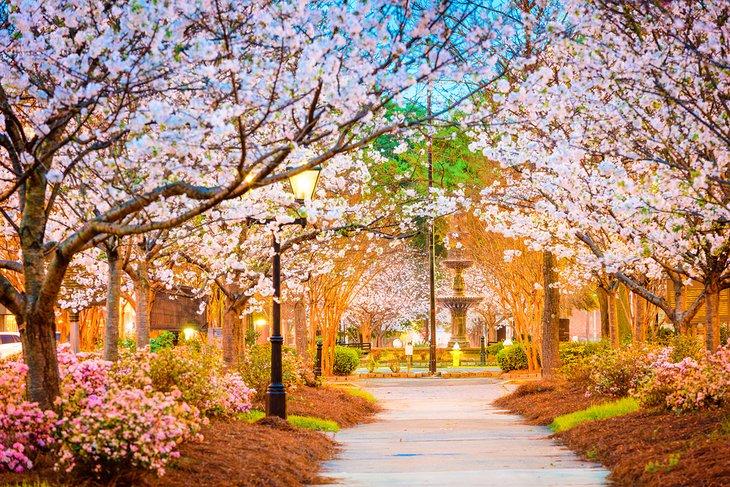 Come springtime, Macon features one of the most colorful displays of blossoms in the South. Located in central Georgia, Macon is home to well over 350,000 cherry trees, which erupt with spectacular displays of color each March.
This incredible sight is celebrated with the International Cherry Blossom Festival, held in mid-March in the city's downtown area. While much of the action centers on Carolyn Crayton Park, including live music, food trucks, and numerous vendors, it's easy to walk to the downtown core just a 15-minute stroll away to enjoy even more activities. It's certainly a pretty spot, and features so many examples of heritage buildings that the entire downtown is on the National Register of Historic Sites.
Whatever time of year you visit, you'll want to experience some of the city's other top things to do. Highlights include Tubman Museum, with its displays of artworks by African American artists, and Ocmulgee Mounds National Historical Park. The park is the site of ancient burial grounds, and offers plenty of great walking trails.
9. Helen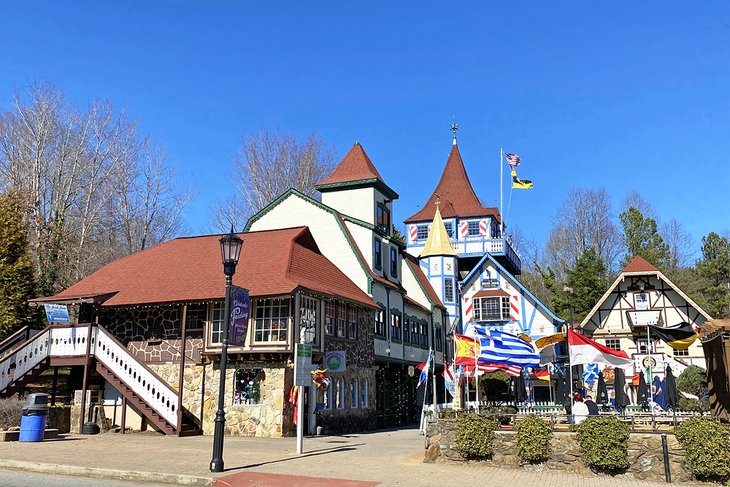 The small town of Helen is where Georgia residents travel when the urge to see a little bit of Europe strikes. Although established in 1913, the town, facing lean times, completely reinvented itself a few decades later, literally transforming itself into a unique Bavarian-themed village.
It turned out to be a savvy move. Today, Helen is one of the most popular places to visit in Georgia for fun day trips and weekend getaways, drawing especially large crowds for its Oktoberfest and Christmas celebrations.
Much of the action focuses on the downtown core, known as the "Alpine Village." Here, you'll be able to sample Bavarian sweet treats and chocolate at the Hansel & Gretel Candy Kitchen and authentic German food at restaurants like Bodensee, and buy traditional European made goods from the many souvenir shops.
Nature lovers also enjoy a visit to Helen. Highlights for outdoor enthusiasts include Anna Ruby Falls, a unique double waterfall fed by two creeks that's just 15 minutes away. It's part of the vast Chattahoochee-Oconee National Forest, a major destination in Georgia for hikers.
Read More: Top-Rated Things to Do in Helen, GA
10. Chattahoochee River National Recreation Area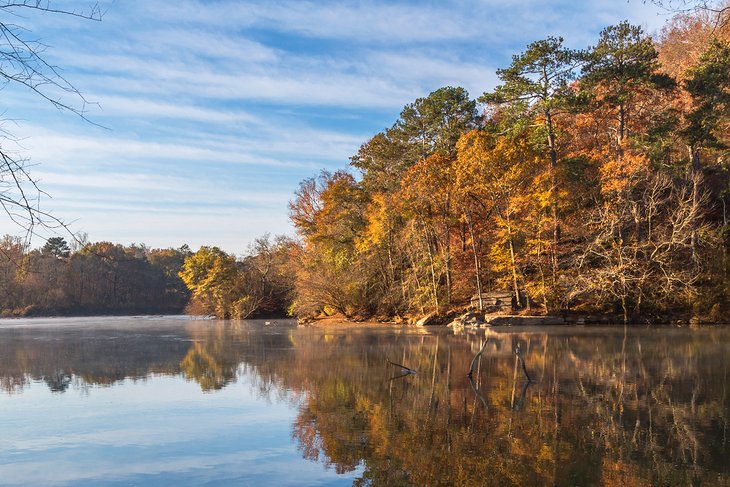 Since its foundation in 1978, the Chattahoochee River National Recreation Area has become one of the most-visited riverside nature preserves in Georgia. Following the Chattahoochee River for 48 miles from Atlanta to Lake Sidney Lanier, this important recreational area is as popular with casual outdoor enthusiasts as it is hardcore adventurers.
Popular activities include everything from kayaking to paddleboarding and tubing during the warmer months (rentals are available on-site), to year-round hiking and wildlife spotting opportunities. Fishing is also popular, with the river featuring no less than 23 different species of game fish plus abundant trout stocks, providing year-round excitement for those with a license.
For those who prefer a gentler experience, a three-mile section of trail in Cochran Shoals offers a level trail that's a gentle walk and is wheelchair accessible.
Address: 1978 Island Ford Pkwy, Sandy Springs, Georgia
Official site: www.nps.gov/chat/index.htm
11. Augusta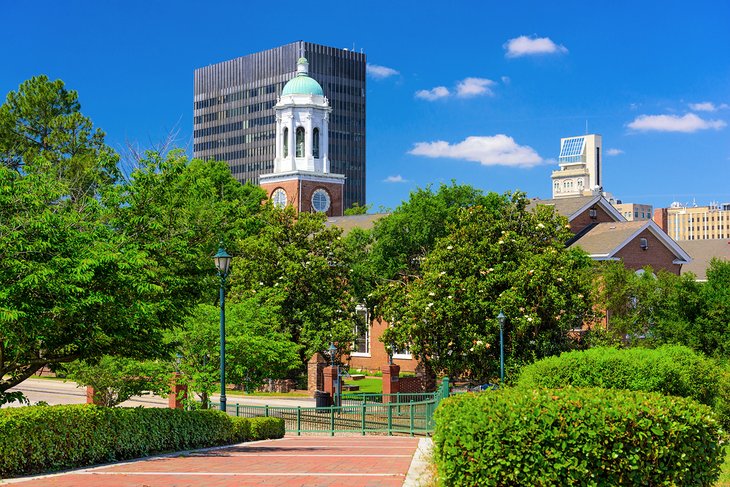 Its strategic location as the westernmost port on the Savannah River gave the city of Augusta an incredible boost after its founding in 1736. Its rise to prominence as a major industrial and transportation hub was later cemented with the creation of the Augusta Canal. Built to allow navigation past unnavigable portions of the river, it also served as an important source of water and energy for the city.
Today, the canal can be explored along the fun Augusta Canal Trail. This seven-mile-long trail follows the canal's old towpath, as well as sections of the Savannah River. Cruises are available with admission to the Augusta Canal Discovery Center, set in a former mill. You can also enjoy displays relating to the canal's construction, along with original machinery.
Other things to do in Augusta include walking the city's Riverwalk path, enjoying a kayak or rafting adventure at Savannah Rapids Visitor Center, or visiting during the Masters at Augusta National Golf Club.
12. St. Simons Island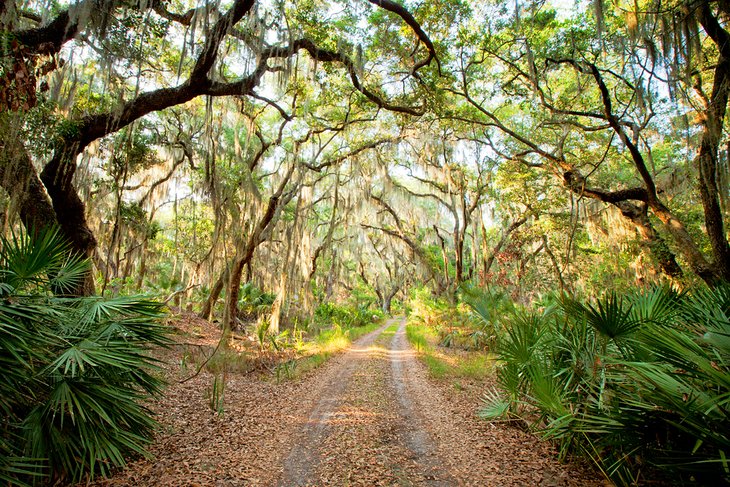 Located just a short distance from Jekyll Island and only an hours' drive from Jacksonville, Florida, St. Simons Island is a fun place to visit for those looking for an east coast Georgia escape.
Many of the best things to do in St. Simons Island involve outdoor fun, including ocean kayaking and deep-sea fishing. Gentler outdoor activities include sunbathing and beach walks; sightseeing at the historic St. Simons Island Lighthouse Museum, which dates from 1872; and golf.
Another must-visit is the Georgia Sea Turtle Center. Not only is this wildlife attraction a good cause, as it rescues and later releases numerous turtles, it also offers fun hands-on activities that teach young and old alike about their care, their natural environment, and the need for conservation.
13. Ellijay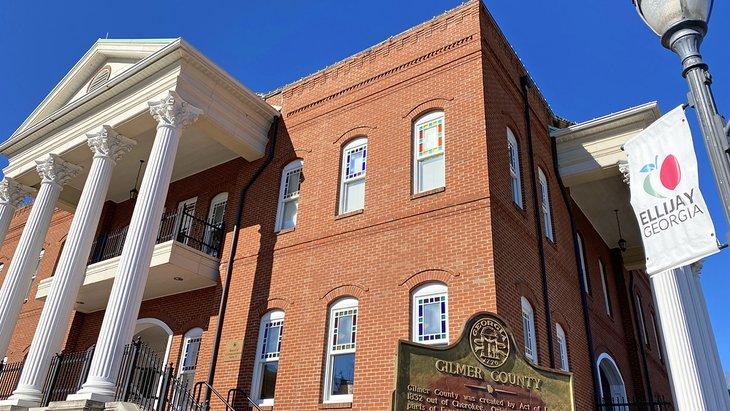 For those wanting to see more of northwestern Georgia, the attractive small town of Ellijay could be just the ticket. A 90-minute drive north of Atlanta, Ellijay has earned a reputation as the "Apple Capital of Georgia," a title it celebrates each and every year with the Georgia Apple Festival.
Held each October over two weekends, the festival attracts upwards of 20,000 visitors a day to the Ellijay Lions Club Fairgrounds to sample the region's bountiful apple harvest. Plenty of fun things to do can also be enjoyed at the 11 commercial orchards located in Ellijay, from apple picking to picnics and farm tours. More than 300 vendors also turn up, selling everything from arts and crafts to unique food and drink products.
But don't think you should only visit Ellijay in the fall. Its pleasant main street is a year-round shopping destination, and the town is home to worthwhile attractions and things to do, including historic homes, art galleries, and a civil war museum.
14. Tallulah Gorge State Park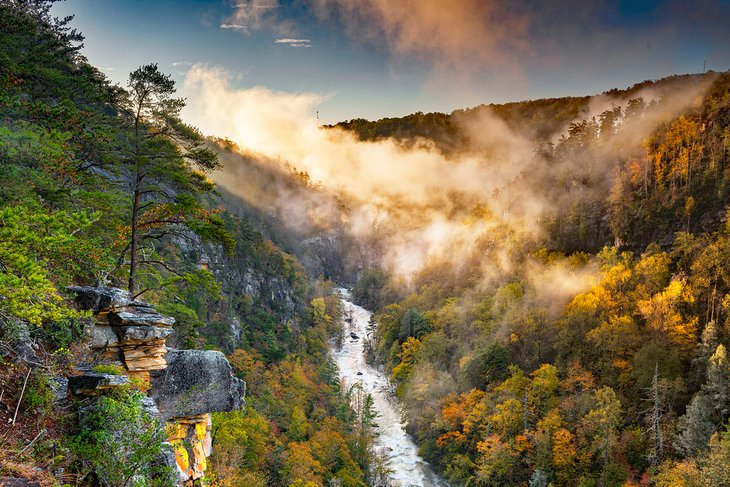 Undoubtedly one of the most picturesque places to visit in Georgia, Tallulah Gorge State Park is a must-visit for those who appreciate stunning vistas and waterfalls — and stunning vistas of waterfalls.
Located in northeastern Georgia, the gorge was so popular a tourist spot by the late 19th century that a town was established to handle the needs of these first sightseers. In addition to the views over the gorge from the viewing platforms and suspension bridges, the spectacular waterfalls are among the most impressive in a region well-known for its beautiful falls.
You can get up close to what are in fact two waterfalls, plunging some 1,000 feet, that share the same pool at their base through a network of surprisingly easy trails. There are, of course, a variety of fun activities for hardcore sports enthusiasts, including white water rafting and kayaking through the rapids along the gorge.
Map of Places to Visit in Georgia