10 Best Cities in Georgia
The eighth largest US state by population, Georgia has a wide array of cities worth visiting for those who enjoy urban travel experiences. From large metropolitan centers with world-class infrastructures to small municipal centers that serve sparsely populated counties, Georgia's more than 575 cities together house 60 percent of the state's total population.
While it's likely not possible to get them all on your Georgia travel itinerary, there are many that are worth the effort of a visit. Which ones you choose to visit depends entirely upon your personal preferences and travel habits.
For example, those interested in learning more about civil rights and US politics will want to visit Atlanta, as the state capital is home to a number of important tourist attractions related to Martin Luther King Jr., as well as former President Jimmy Carter.
Sports fans are spoiled for choice, with Georgia's cities boasting superb sports facilities and stadiums. Music and theater fans are also well served, with state-of-the-art venues and historic opera houses alike regularly hosting the best-known national and international stars and Broadway shows.
To help you discover new and exciting urban travel destinations in the USA, be sure to read through our list of the best cities in Georgia.
1. Atlanta: The City of Trees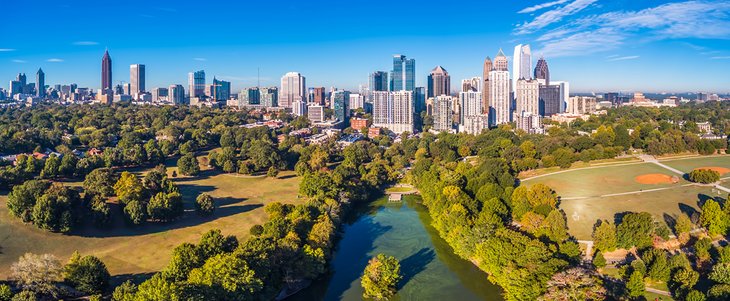 Like most US cities, Atlanta has a number of nicknames that seem to perfectly reflect the state capital's most significant characteristics. Recently adopted nicknames include "Hotlanta," a nod to its rising importance as a place to have fun, and "Empire City of the South," for its increasing importance as a city where business gets done.
But perhaps the most accurate nickname is "The City of Trees." Atlanta's impressive tree canopy has been a defining characteristic of the city since its foundation in 1847. It was initially referred to as the "City in a Forest," and today, some 50 percent of the city is covered by trees, one of the largest densities of tree canopies anywhere in the world.
Little surprise, then, that Atlanta's parks and green spaces are plentiful – and shady. The biggest, Westside Park, consists of 280 acres crisscrossed by walking and biking trails, as well as water features such as the Bellwood Quarry Reservoir. The city's second largest, Chastain Park, is in the posh Buckhead neighborhood, covering an area of 268 acres. It's fun to wander or even enjoy a horseback ride here.
Other fun attractions and things to do in Atlanta include seeing exotic marine life at the Georgia Aquarium, exploring the World of Coca Cola, and wandering through the Atlanta Botanical Garden, to name but a few.
2. Savannah: Hostess City of the South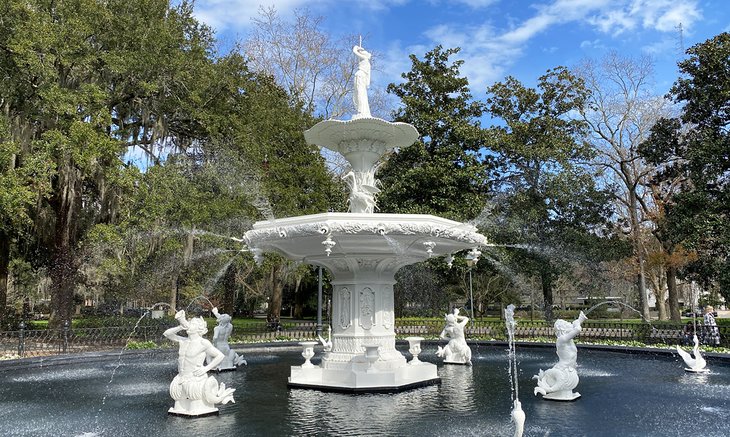 It's for good reason that the beautiful city of Savannah is known as the "Hostess City of the South." Located at the top of the state, a short distance from the Atlantic Ocean and South Carolina, Savannah's legendary hospitality, found everywhere from its eateries to its attractions, is just one of the many reasons visitors flock here year-round.
And the city's just so pretty, especially around its well-preserved historic district. Stretching south for blocks from the Savannah River are repurposed old cotton warehouses now serving as luxury hotels, such as the chic River Street Inn; elegant historic mansions and townhomes; majestic churches; and those iconic city squares and parks with their monuments and lush, moss-covered vegetation.
It's an especially nice city to explore on foot. Ample affordable covered parking is available in the downtown core, just steps from the main attractions. And the city's easy-to-follow grid layout means you can't really get lost, no matter how much you let yourself be led by curiosity.
A great way to get your bearings is to hop aboard one of the fun horse-pulled carriages for a tour of the historic district. Alternatively, the city's excellent Hop-on Hop-off Trolley Tours will help provide a useful overview of the places you want to walk to and visit later on.
Accommodation: Top-Rated Resorts in Savannah
3. Athens: The Classic City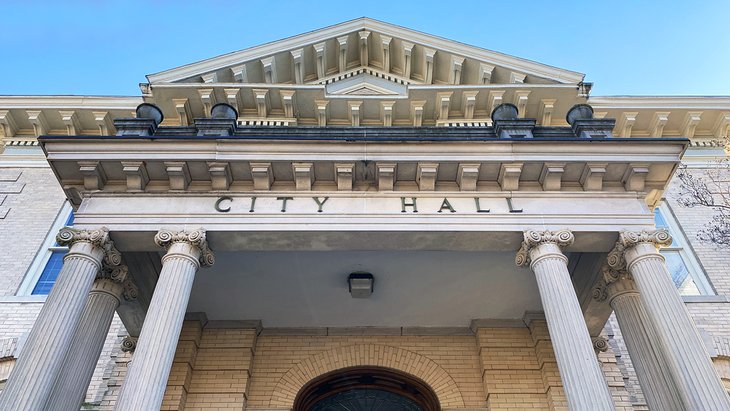 It's for good reason that Athens, Georgia, is known as "The Classic City." It was named after the capital of Greece, and the intention when it was founded in 1805 was to create a city that would become the state's center of learning. It has indeed become that.
Evidence of the city's role as home of the University of Georgia is everywhere in Athens, from stunning historic architecture to world-class cultural amenities, and from the bustling downtown district to the youthful exuberance of the students that quite literally seem to be everywhere. And that's a good thing, lending an energetic vibe to the city that spills over to its entertainment and creative life.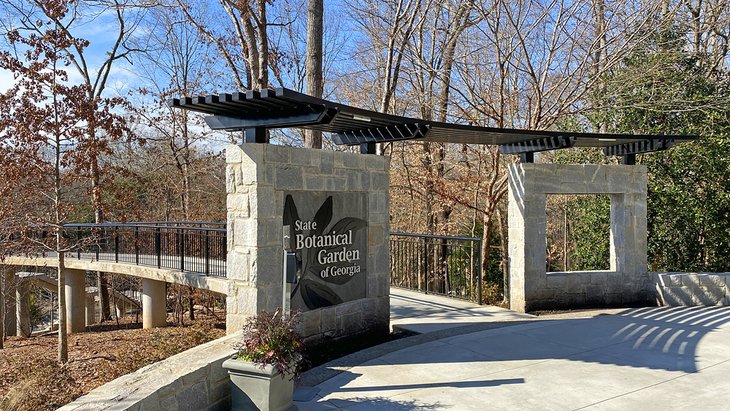 Like many of the best cities in Georgia, Athens is immensely walkable. Park yourself (and your car) at a great neighborhood bed and breakfast or hotel, and you can easily get to most of the city's top things to see and do.
The university, too, is immensely walkable, with numerous paved trails around campus, as well as a number of great nature trails. It's also quite possible to walk from the original university buildings on the edge of downtown Athens to the best shopping and dining experiences on offer.
4. Awesome Alpharetta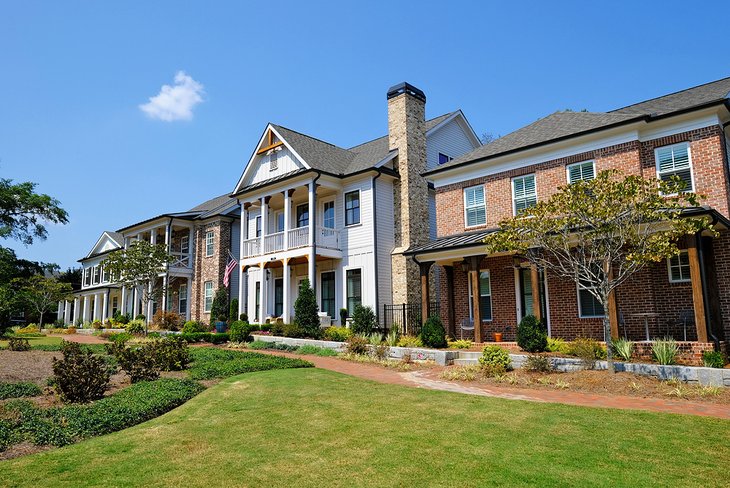 Named after a fictional native girl from an old song, the city of Alpharetta on the northern outskirts of Atlanta is frequently ranked not only one of the best places to live in Georgia, but in the whole of the USA. In addition to offering residents a top-quality lifestyle, it also holds a great deal of appeal for visitors, too.
Alpharetta is a great and easy day trip destination from Atlanta. Just a 30-minute drive from Georgia's capital, it's also perfectly positioned for those wanting to head a little farther north into the North Georgia Mountains, with journey times to Ellijay, the "Apple Capital of Georgia" and Blue Ridge being just 60- and 90-minutes away, respectively. Both are well worth a visit, too.
Downtown Alpharetta is the place to explore. Here, you'll find everything from pleasant green spaces and arboretums to art galleries, boutique shops, and plenty of reputable restaurants. For more ideas of fun things to do in Alpharetta, pop into the Downtown Alpharetta Welcome Center for tips and a handy walking tour map.
5. Marvelous Marietta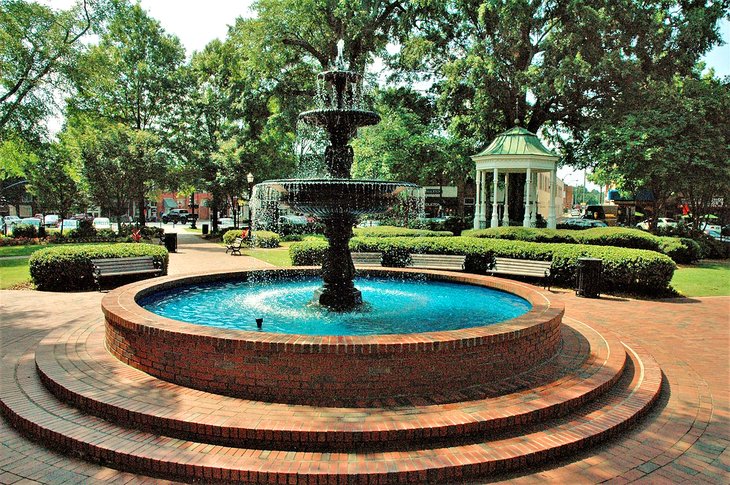 Founded in 1834, Marietta is another satellite city of Atlanta that's well worth visiting. Plenty of the city's original structures managed to survive the ravishes of the Civil War, and today form a charming backdrop to a visit.
Highlights include exploring the downtown core, where you'll find a number of attractions worth visiting. Topping your list should be the Marietta Museum of History, housed in an old cotton warehouse from the 1840s. You'll learn more about the city's founding through interesting exhibits and displays of artifacts.
Another must-visit here is the Gone with the Wind Museum. Located in historic Brumby Hall, a former home built in 1851, its fascinating collection includes memorabilia and information relating to both the film and the bestselling book. You'll also want to pop into the city's old railway station, which now houses a welcome center.
6. Suwanee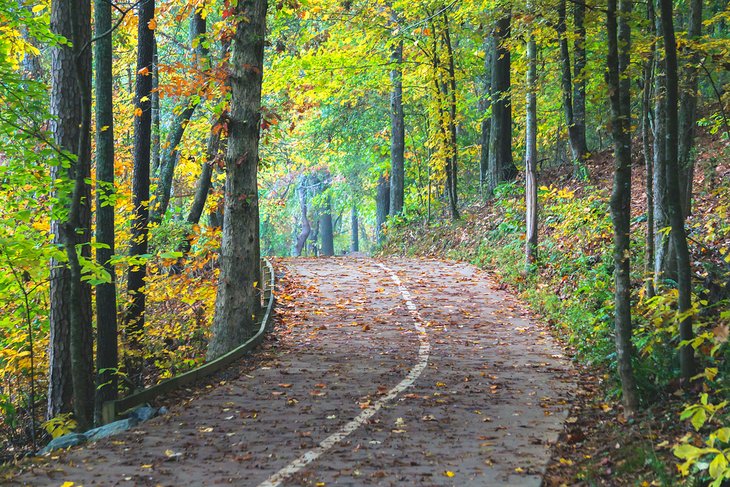 Only an hour northeast of Atlanta, the city of Suwanee is frequently lauded as one of the best places to live, work, and play in the USA. Its location at the foothills of the Georgia Mountains, which ultimately become the Appalachian Mountains, in the northern most part of the state, makes it an ideal destination for those wanting to get a flavor of country living yet with an urban twist.
Fall is an especially nice time to visit. One of the best places to witness this spectacle is George Pierce Park. Covering just over 300 acres, this popular green space features over 3.5 miles of trails, some of it paved and mobile-friendly. Bring a picnic or make use of the park's barbecue grills.
Another lovely walk can be enjoyed by following the Suwanee Greenway Trail. This four-mile-long trail winds its way through a protected wetlands area and a forest and offers plenty of opportunities for wildlife spotting. Town Center Park is also worth a visit, and is a 10-acre tract with a mile-long, tree-lined walking trail.
7. Roswell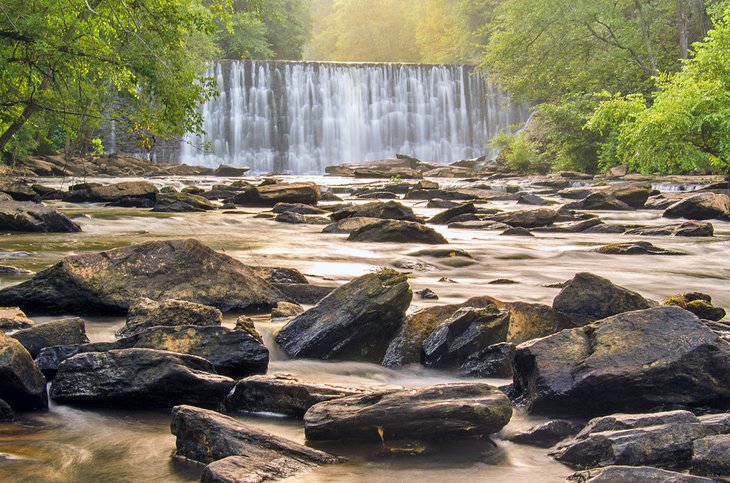 Set on the northern banks of the Chattahoochee River between Atlanta and Alpharetta, Roswell is Georgia's ninth largest city and features one of the state's largest historic districts. The city's riverside setting makes it extremely photo-worthy, with much of the nine mile stretch of the Chattahoochee accessible to the public.
In addition to walking the riverside trails and Riverwalk, adventurous outdoor fans will want to try their hand on the water. In addition to kayaks and rafting, the gentler pursuit of tubing, where you simply let the current take you down river, is also popular. The 127-acre Nantahala Outdoor Center is where most of these adventures begin and is also a good spot for nature lovers to explore.
Other fun things to do in Roswell include ziplining, hiking the Vickery Creek trail to the old Roswell mills and covered bridge, as well as a scenic waterfall.
8. Macon: The Heart of Georgia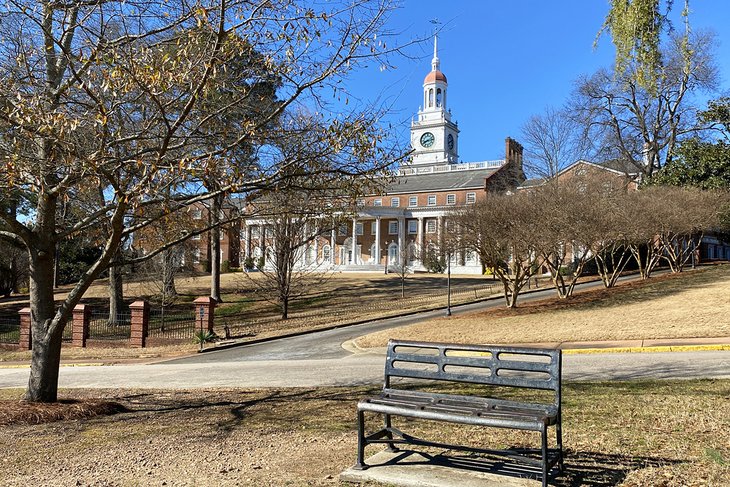 Nicknamed "The Heart of Georgia," as much for its central location as for its warm, friendly populace, the city of Macon is undoubtedly one of the best places to visit in the South. Also known as "Brick City" for its many well-preserved red-brick buildings, Macon was established in 1823 and offers plenty of excuses for travelers to linger awhile.
Downtown Macon is a great place to begin exploring this vibrant city. Highlights include taking a self-guided sightseeing tour of the business district, with its fine old commercial buildings, many now housing elegant boutiques and galleries displaying the creative talents of local artisans. Wander a little further afield, and you'll come across many fine old homes, including the famous Big House on Vineville Avenue, famous for being the former home of the Allman Brothers band.
The city's also famous for its more than 350,000 Yoshino cherry trees. Macon is enveloped in a sea of color each spring, when these beautiful trees are in bloom, culminating in the popular International Cherry Blossom Festival, which draws large crowds each and every year to celebrate the arrival of warmer weather.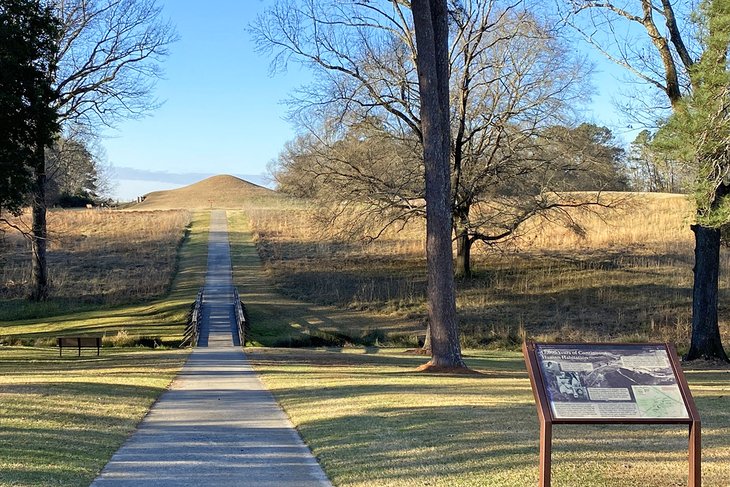 If you've got the stamina and the time, consider using Macon as the jumping-off point for the 200-mile trek along the Ocmulgee River Water Trail. A good walk can also be accomplished around the Ocmulgee Mounds National Historical Park. Set around a series of ancient burial mounds, the park features exhibits relating to the more than 17,000 years the Macon area is known to have been inhabited.
9. Columbus: The Fountain City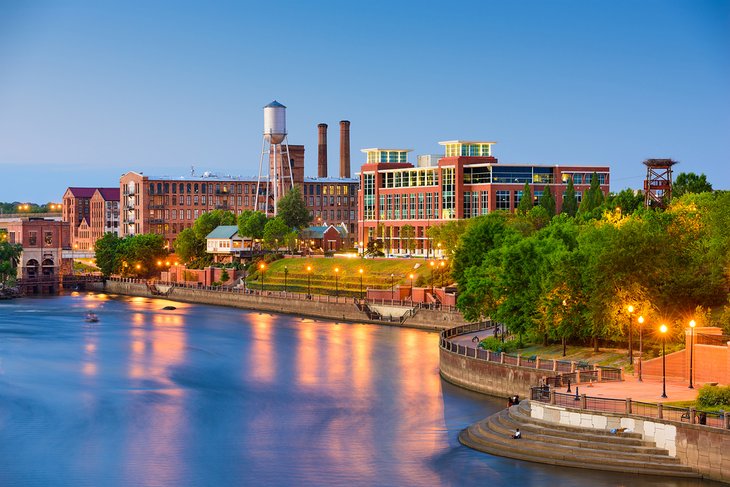 Columbus is another important city in Georgia that boasts an idyllic river setting. In this case, though, it's a 15-mile stretch of paved pathways that form the superb Chattahoochee Riverwalk, all of it easy to walk and scenic.
Along the way, you'll pass many old warehouses, mills, and former utilities buildings, some of them, like City Mills, given new life as hotels. Another, set in a former factory, is now the Banks Food Hall. Uptown Columbus, the city's downtown heart, is also accessible from the Riverwalk and is fun to explore.
Outdoor enthusiasts are also well catered to along the Riverwalk. Not only can the trail be biked its entire length, it also provides access at various points to the Chattahoochee River, one of Georgia's most popular white water rafting and kayaking destinations. A good source of fun is RushSouth Whitewater Park, which offers a variety of river action options to suit all abilities. Nearby, one of the state's longest ziplines actually crosses the river and deposits riders in South Carolina.
Read More: Top-Rated Things to Do in Columbus, GA
10. Augusta: Georgia's Garden City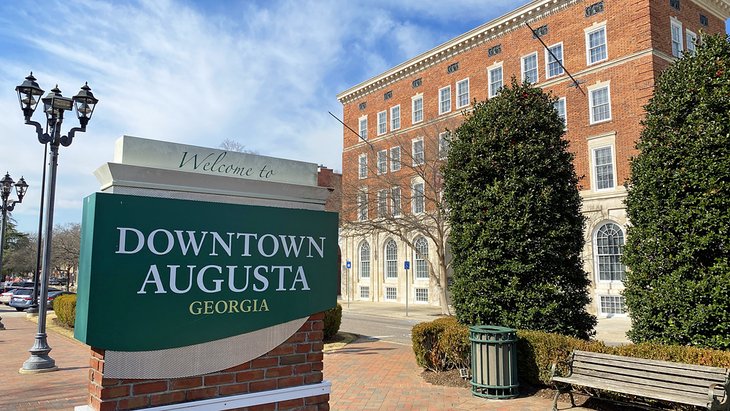 The third largest city in Georgia, Augusta's position at the head of the navigable portion of the Savannah River ensured it was of great importance as a port and industrial center. It was the opening of the Augusta Canal in 1845 that cemented the city's position and, more than 150 years later, the canal has become one of the city's most important attractions.
Located a short distance from the city's downtown core, the Augusta Canal Discovery Center brings this history alive with its period buildings and machinery, as well as interesting displays showing the canal's impact. A highlight of a visit is the chance to enjoy a cruise along a portion of the canal.
The Augusta Riverwalk is another must-visit attraction. Located along the downtown stretch of the Savannah River, the Riverwalk is a magnet for visitors and locals alike, with playgrounds, picnic areas, and an amphitheater being a big draw for families and couples seeking a romantic weekend getaway in Georgia.
Augusta is, of course, also home to The Masters. Held at Augusta National, this premier golf event attracts many thousands of sports enthusiasts to Augusta each April.
Read More: Top-Rated Things to Do in Augusta, GA
Map of Cities in Georgia