10 Top-Rated Things to Do in Columbus, GA
Situated on the Chattahoochee River just 100 miles southwest of Atlanta and just a stone's throw from Alabama, the attractive red-brick city of Columbus is fast-becoming one of the best places to visit in Southern USA.
Established in 1828 and the site of the Civil War's last battle, this dynamic city of nearly 200,000 people offers no end of fun things to do. Those seeking a romantic getaway or even a family weekend break can choose from a variety of unique experiences, from enjoying a shopping trip or dinner in the downtown area, known as Uptown Columbus, to exploring an array of world-class museums and attractions.
And while the city's beautifully landscaped riverfront area is great for a stroll, it's also a big draw for adventure seekers. Some of the most exciting white water adventures in Georgia tackle the Chattahoochee's Columbus rapids, with a number of businesses curating exciting rafting experiences, suitable for beginners and serious rafters alike.
Columbus is also ranked one of the most bicycle-friendly cities in the USA. In addition to biking along the pedestrian-shared pathways that follow the course of Chattahoochee, numerous mountain biking opportunities await at nearby locations such as Flat Rock Park, just a few miles outside the city.
However you choose to spend your time here, be sure to refer often to our list of the top things to do in Columbus, Georgia.
1. Take a Stroll or Ride a Bike along the Chattahoochee RiverWalk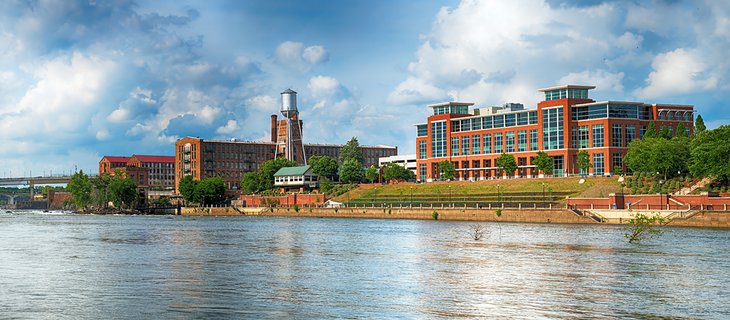 Stretching for 15 miles along the river after which it's named, the Chattahoochee RiverWalk opened in 1992 and should definitely be at the top of your Columbus travel itinerary. Impeccably landscaped and maintained, this brick, concrete, and asphalt pathway features gentle curves and a few slopes but is generally easy to navigate. The starting point is at River Road and Baltzell Avenue.
As popular with pedestrians as it is with cyclists, the RiverWalk and its attractions can be accessed from a variety of locations along its route. This allows visitors to pop in and out of the city's vibrant downtown core for a bite to eat or refreshments, later picking up where they left off or jumping straight into another part pf the trail.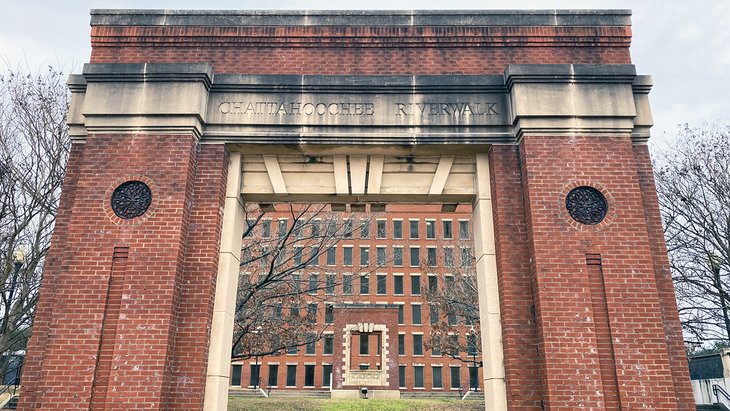 One of the most scenic spots passes by a collection of old warehouses, mills, and plants that served the city's old river port and are a reminder of the city's former importance as a major trade destination. Many of these well-preserved red-brick buildings have found new life as hotels, such as the boutique-style City Mills Hotel, and Banks Food Hall, a collection of eateries in a repurposed former factory.
Other attractions you'll find along the way include Columbus State University's Riverside Theatre Complex, and RushSouth Whitewater Park, one of the longest such courses in the USA. The RiverWalk is also the focal point of a variety of fun festivals, events, and concerts.
2. National Infantry Museum and Soldier Center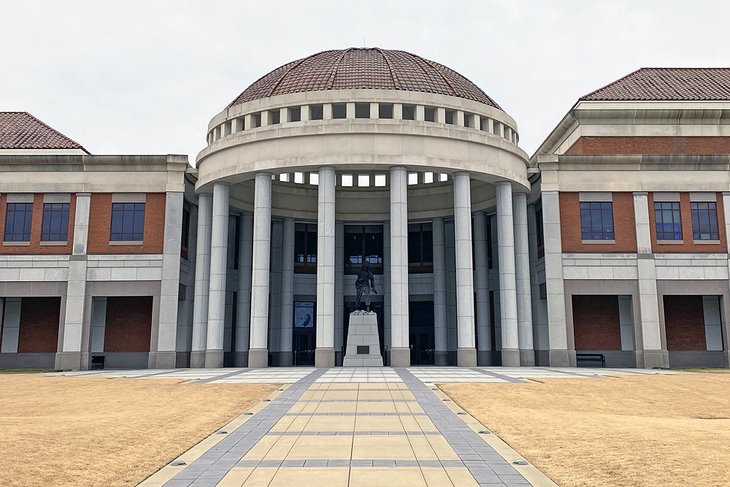 While you could certainly walk the Chattahoochee RiverWalk all the way to the National Infantry Museum and Soldier Center on the southern outskirts of Columbus, you'd have to allow at least half a day to get there and back. The same trip by bike, however, is only about 30 minutes, so you could "double up" and cross two great tourist attractions off your must-see list at once. Getting there by car takes only 10 minutes, and there's ample free parking.
However you choose to get here, a visit to this spectacular museum is one of the top free things to do in Columbus and is certainly time well spent. Located on the edge of Fort Benning, the world's fifth largest army base, this huge 190,000-square-foot museum opened in June 2009 and requires at least two or three hours to visit, depending on just how much you want to see.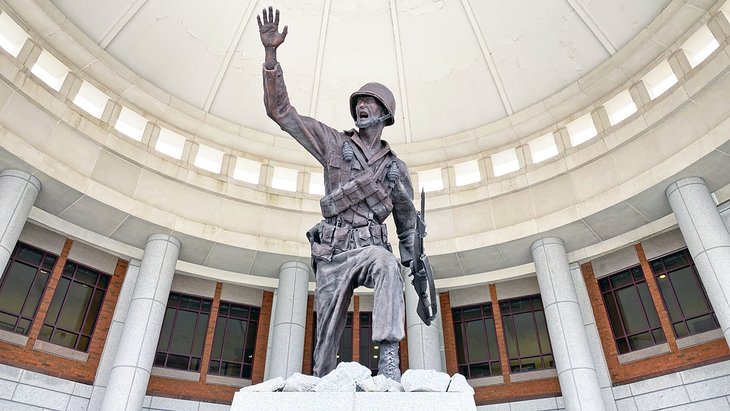 Spread across multiple spacious themed galleries, exhibits and displays cover everything from the foundation of the United States Army to WWII, the Vietnam war, and the experiences of modern-day soldiers and officers. Highlights include impressive collections of uniforms and weapons, a giant screen theater, and thrilling combat simulators.
Be sure to also explore some of the other attractions located on the 155-acre grounds. These include original WWII-era buildings from Fort Benning, such as General Patton's camp headquarters, a parade ground and stadium, as well as a heritage walk. A gift shop and restaurant are also located on the premises. Guided tours are available.
Address: 1775 Legacy Way, Columbus, Georgia
Official site: https://nationalinfantrymuseum.org
3. Step Back in Time at the National Civil War Naval Museum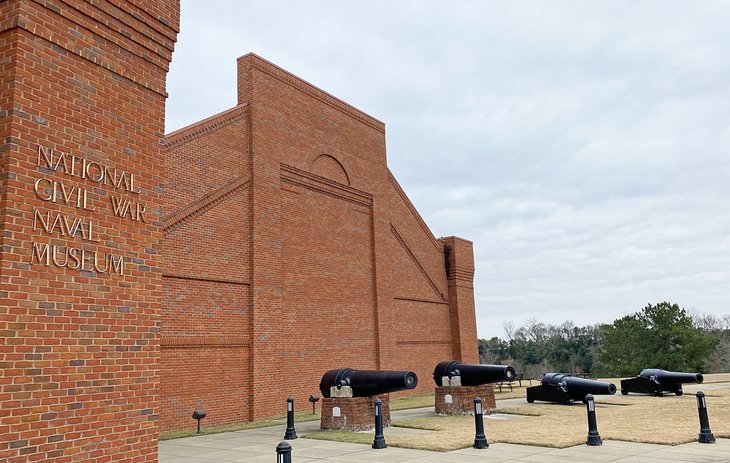 With a focus on an earlier time in the USA's military history, the National Civil War Naval Museum is a little closer to Columbus city center and can also be reached directly from the Chattahoochee RiverWalk. Set in a pleasant park-like location, the museum opened in 1962 and focuses on the navies on both sides of the conflict. It also houses a large collection of uniforms, weapons, and memorabilia.
The most impressive sights, however, are the remains of two vessels that served in the Confederate States Navy: the Muscogee and Chattahoochee. While both are impressively preserved, the 180-foot-long hull of the Muscogee offers the best picture of what Confederate firepower would have been like.
Other features of note are the museum's "battle experience theater," a simulator offering an immersive taste of Civil War naval conflict, and a large collection of naval cannons. A variety of guided tours are available, along with workshops and lectures. The annual River Blast Festival held each March is a great time to visit, and features Civil War re-enactments, music, food trucks, and the firing of some of the museum's cannons.
Address: 1002 Victory Drive, Columbus, Georgia
Official site: www.portcolumbus.org
4. Learn about Georgia's Rich Cultural History at The Columbus Museum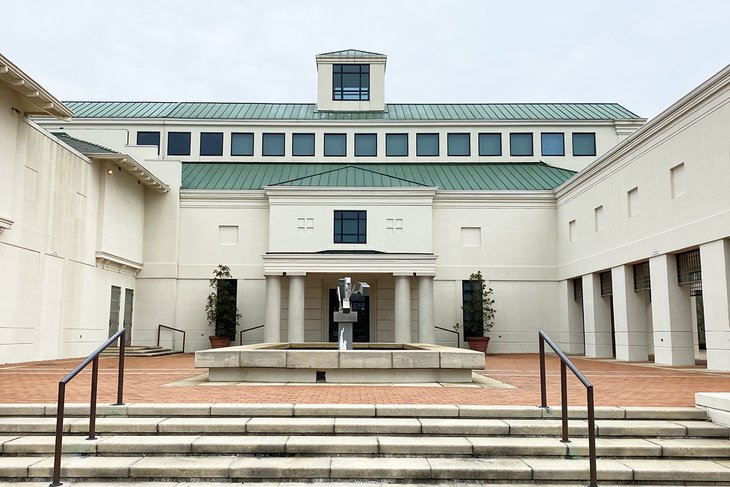 Since its establishment in 1953, The Columbus Museum has risen in stature to its present-day position as one of the leading cultural centers in Georgia. The second largest such attraction in the state, the museum features numerous interesting exhibits related to human history, as well as American art, with a special emphasis on the Chattahoochee River Valley region.
Highlights include a vast collection of more than 140,000 artifacts of historical significance, ranging from furniture, weapons, and clothing, along with a large decorative arts collection. The museum's fine art collection is also considerable and includes examples from a variety of disciplines, such as watercolor and oil paintings, sculpture, and photography. In addition to its permanent collection, the museum also hosts regular visiting exhibits.
Educational programs and workshops are also offered for adults and children, with the latter having their own dedicated interactive gallery. Afterwards, spend time sightseeing around the museum's Bradley Olmsted Garden, with its nature trails and outbuildings dating from the 1920s.
Guided tours are available, and a museum shop sells related gifts and souvenirs.
Address: 1251 Wynnton Road, Columbus, Georgia
Official site: https://columbusmuseum.com
5. Explore the Universe at the Coca-Cola Space Science Center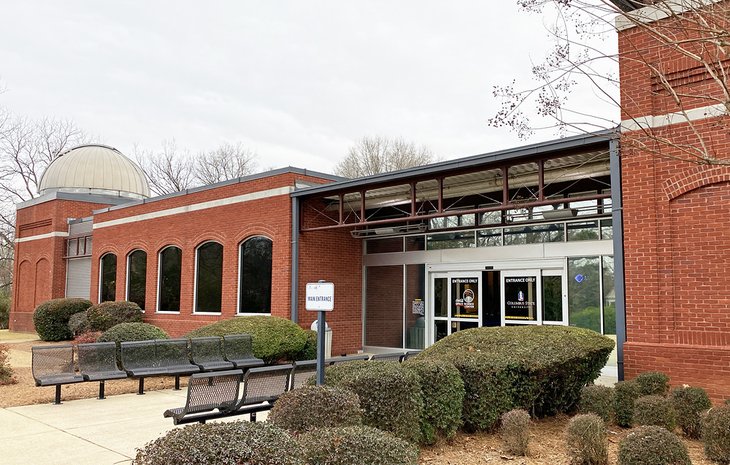 Located just steps away from the Columbus Riverwalk area, the Coca-Cola Space Science Center is an ideal spot for families looking to entertain the kids. There are plenty of fun things for younger kids and teens alike to explore, from space-themed simulators to stargazing in the facility's observatory.
The Omnisphere Theater, the center's state-of-the-art planetarium, is a must-visit, especially during its frequent "Music Under the Dome" concert events. Combining live music with video projections that cover the interior of the dome, it's an unforgettable experience for all ages.
The center's large collection of artifacts includes examples from NASA's space shuttle program, as well as exhibits detailing the history of the Apollo moon landings. A gift shop is also located on the premises.
Address: 701 Front Ave., Columbus, Georgia
Official site: www.ccssc.org
6. Columbus Botanical Garden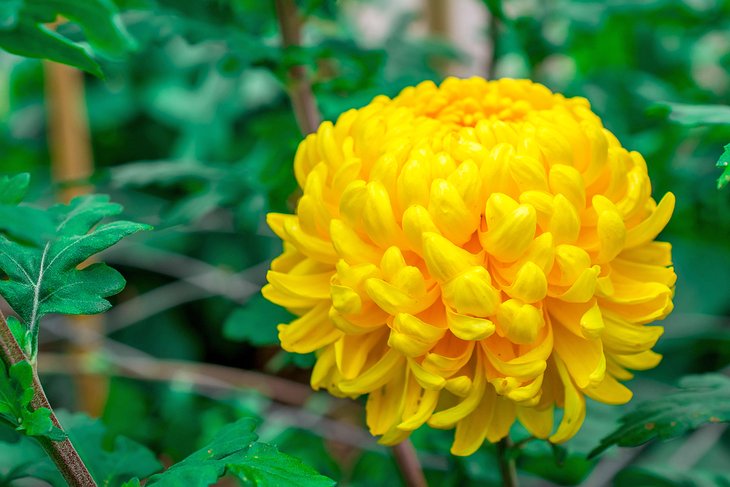 Established in 1999, the Columbus Botanical Garden makes for a fun diversion. It's spread across 36 acres just 15 minutes' drive from downtown. Expect to easily spend a few hours exploring the attraction if you plan on seeing everything.
It's a delightful place to wander at any time of year and features a large forest tract of pine and hardwood trees that provides plenty of shelter during the summer months, and a splash of green in the cooler months. The easy-to-follow trail network also leads through the display gardens and a historic farmhouse dating from the late 19th century. Tours of the building are available.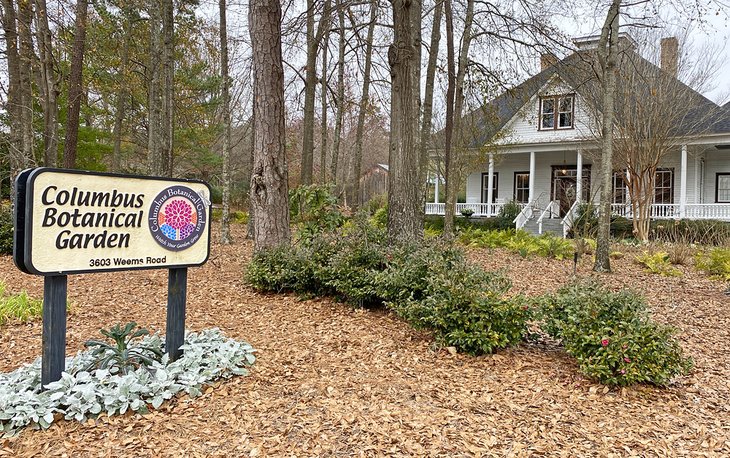 While much of the flora here blossoms and blooms in spring and summer, winter isn't without its stars, with bright pink camellia plants showing their stuff from January to March. Birders will enjoy a visit at pretty much any time of year, and a feeding program ensures there's always something feathery to watch out for.
Traveling with kids? The garden offers children's programs, workshops, and summer camps. While entry is free, donation boxes are provided for those interested in helping out.
Address: 3603 Weems Road, Columbus, Georgia
Official site: https://columbusbotanicalgarden.org
7. RiverCenter for the Performing Arts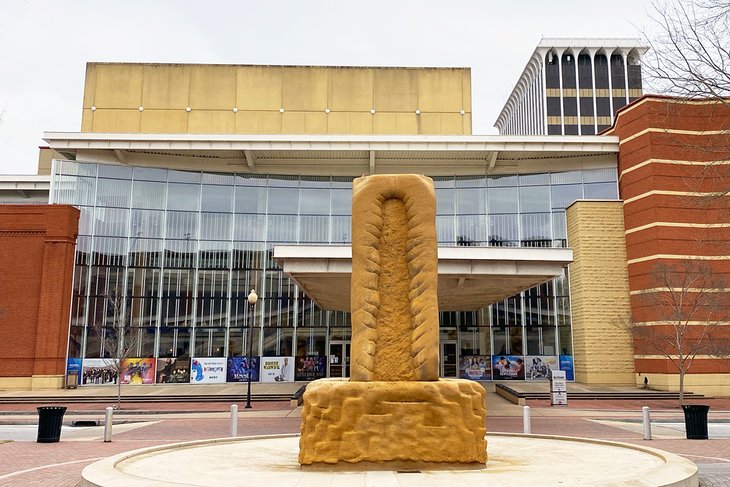 Since it opened in 2002, the RiverCenter for the Performing Arts has hosted an eclectic mix of cultural events, concerts, and theatrical performances. And it's a big place. Encompassing 240,000 square feet, the venue includes a concert hall and stage capable of hosting everything from rock bands to full orchestras and operas. There's also a three-level theater.
For a unique experience, plan to attend a show that includes the venue's million dollar concert organ. Featuring three tiers of pipes, it's used for dedicated organ recitals, choir performances, and to accompany the occasional classic movie. Other features of note include an outdoor concert hall and rehearsal rooms,
Address: 900 Broadway, Columbus, Georgia
Official site: https://rivercenter.org
8. Travel Back in Time at Historic Westville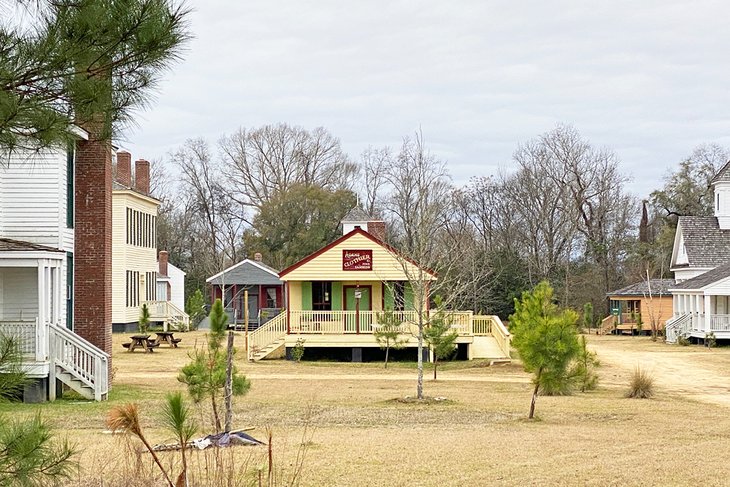 Ever wondered what life was like in Georgia in the early 1800s? Historic Westville, an attraction located near the National Infantry Museum and Soldier Center also accessible by bike along the Chattahoochee RiverWalk, has done an excellent job of answering that very question.
Featuring around 20 authentic antebellum buildings set resembling a period village, Westville is a living history museum that through costumed guides, re-enactments, and immersive experiences offers visitors a genuine taste of life in the Chattahoochee Valley in the 19th century. Many of the buildings are originals, brought to Westville from various locations around the region.
As you wander the village streets and peek into the buildings, you'll see costumed characters portraying life as it was at the time. Workshops are used by blacksmiths and woodworkers, store shelves are stocked, and dress- and shoemakers ply their trades as the "townsfolk" make themselves available for you to ask questions. It's certainly a fun experience and provides a unique insight into the past.
Address: 3557 S Lumpkin Road, Columbus, Georgia
Official site: https://westville.org
9. Hit the Rapids for a White Water Adventure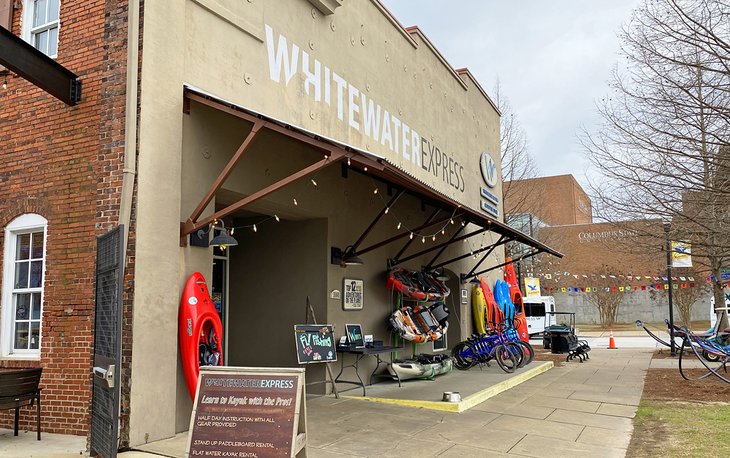 Thanks to the fast-flowing Chattahoochee River, Columbus has become one of the top places to visit in the southern states for those seeking a thrilling white water rafting experience.
One of the best ways to experience the rapids is to join one of the guided rafting trips provided by Whitewater Express. With an easy to find location on the Chattahoochee Riverwalk, Whitewater Express offers fun experiences for newbies, as well as seasoned rafters.
Beginners can opt for the "Classic" trip, which tackles some of the Chattahoochee River's gentler rapids and is suitable for families. You'll begin your adventure at Ambush Rapid and enjoy a gentle ride before tackling the rougher Pemberton Falls. Serious rafters will want to try the "Challenge" trip, featuring aggressive surfing and the infamous Cutbait rapid.
Similar experiences are offered by RushSouth Whitewater Park, also based on the RiverWalk. Boasting one of the longest white water courses in the US, RushSouth also offers guided kayak tours and classes, stand up paddleboarding, and laid-back lazy river excursions. A fun zipline experience takes you right across the river and into Alabama.
Address: 1000 Bay Ave, Columbus, Georgia
Official site: https://chattahoochee.whitewaterexpress.com
10. See a Broadway Show at Springer Opera House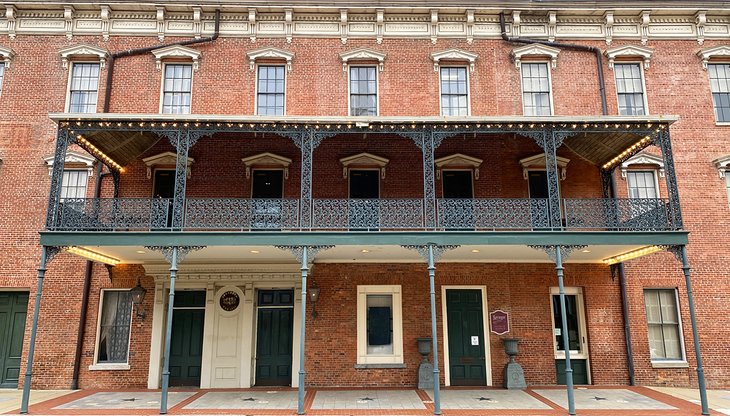 Built in 1871, the Springer Opera House has the distinction of being Georgia's official State Theatre. This distinction was granted by former President and Georgia Governor Jimmy Carter in 1992.
The list of those who have graced its two stages is certainly impressive, with notable alumni including author Oscar Wilde. These days the Springer, as it's affectionately known, hosts everything from modern plays to classic musicals and Broadway productions on its main stage, while the McClure Theatre features a variety of smaller productions and a popular children's theater.
Address: 103 E 10th Street, Columbus, Georgia
Official site: www.springeroperahouse.org
Columbus, GA - Climate Chart
Average minimum and maximum temperatures for Columbus, GA in °C
J
F
M
A
M
J
J
A
S
O
N
D

14

3

17

4

21

8

25

11

28

16

32

21

33

22

33

22

30

19

25

13

20

8

15

4

PlanetWare.com
Average monthly precipitation totals for Columbus, GA in mm.

121

114

146

98

92

89

128

96

78

59

101

112

Average monthly snowfall totals for Columbus, GA in cm.

1

1

0

0

0

0

0

0

0

0

0

0
Average minimum and maximum temperatures for Columbus, GA in °F
J
F
M
A
M
J
J
A
S
O
N
D

57

37

62

39

69

46

77

52

83

61

90

69

92

72

91

71

86

66

77

55

68

46

59

39

PlanetWare.com
Average monthly precipitation totals for Columbus, GA in inches.

4.8

4.5

5.8

3.8

3.6

3.5

5.0

3.8

3.1

2.3

4.0

4.4

Average monthly snowfall totals for Columbus, GA in inches.

0.2

0.5

0

0

0

0

0

0

0

0

0

0