12 Top-Rated Weekend Getaways in Georgia
The state of Georgia is a great destination for a weekend getaway, and the first stop is usually the bustling, energetic city of Atlanta. Having a world-class airport allows for easy access, enabling visitors to take advantage of the Peach State's attractions.
Add to this a temperate climate, coupled with unparalleled Southern hospitality, as well as spectacular scenery that ranges from a Little Grand Canyon to the secluded beaches of the Golden Isles, and you can bet this state will suit every visitor's travel style. Whether you are looking for a romantic escape or a fun adventure, Georgia has it.
There's still a lot of Gone with the Wind-style antebellum architecture preserved throughout the state, too. In fact, no less than 47 state parks and over 400 Civil War sites keep sports enthusiasts and history buffs busy. That mysterious Spanish moss dangles from the trees in the state's many parks, sparking visitors to want to hum the refrain from Georgia on My Mind as they build fantastic memories of this enchanting destination.
Learn more about the best places to visit in the state with our list of the top weekend getaways in Georgia.
1. Georgia's State Capital: Atlanta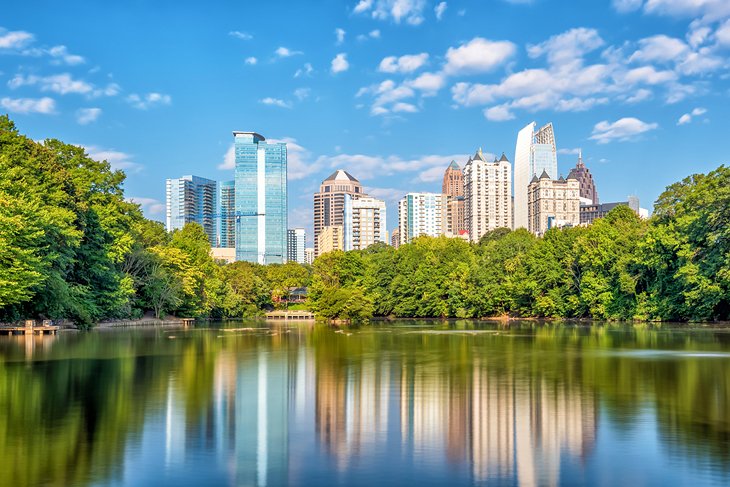 While it's impossible to see everything Atlanta has to offer in a single weekend, many of the top attractions in this popular tourist destination are located close enough to one another that you can certainly knock a few off your "must-see" list with a single visit.
City planners were on the ball when they designed the area near and around Centennial Park. On the same day, you can visit the Georgia Aquarium, one of the largest aquariums in the world; enjoy a picnic lunch in Centennial Park; then attend a concert or sporting event later in the day, all within a short walk from one another.
In addition, the Center for Civil and Human Rights is here, too, and is located adjacent to the World of Coca-Cola. In fact, Atlanta has done a great job of wrapping history, politics, business, and sports all in a very appealing location and package for visitors.
Elsewhere, Dr. Martin Luther King's contribution to the world of Civil Rights is honored at the center named after him. The Atlanta Beltline is a biker/walker's dream, and the exquisite Botanical Garden is dotted with Chihuly sculptures and is a must-see for green thumbs. Atlanta also boasts a superb foodie scene featuring some of the best dishes and restaurants to be found in the US South.
Accommodation: 12 Top-Rated Resorts in Atlanta, GA
2. Historic Savannah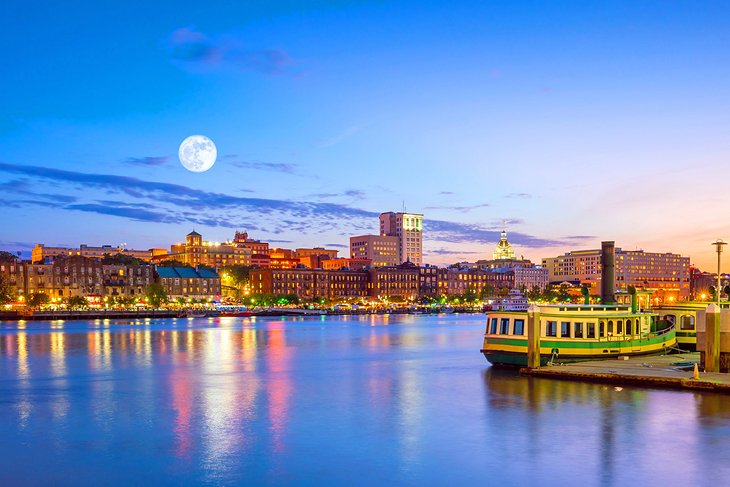 Ahhhh, Savannah! Known as Georgia's first city, romantic Savannah is steeped in rich Southern history. Majestic trees dripping with Spanish moss surround stately century-old homes located in the city's remarkably well-preserved Historic District. This charming city is perfect for walking, and its symmetrical grid layout and well-preserved architecture have led to its entire downtown core being given National Historic Landmark status.
As you spend time exploring the elegant parks along Bull Street, look out for the Mercer Williams House Museum. This Italianate marvel was the home of the Girl Scouts founder Juliette Gordon Low and will look familiar from its starring role in the movie, Midnight in the Garden of Good and Evil.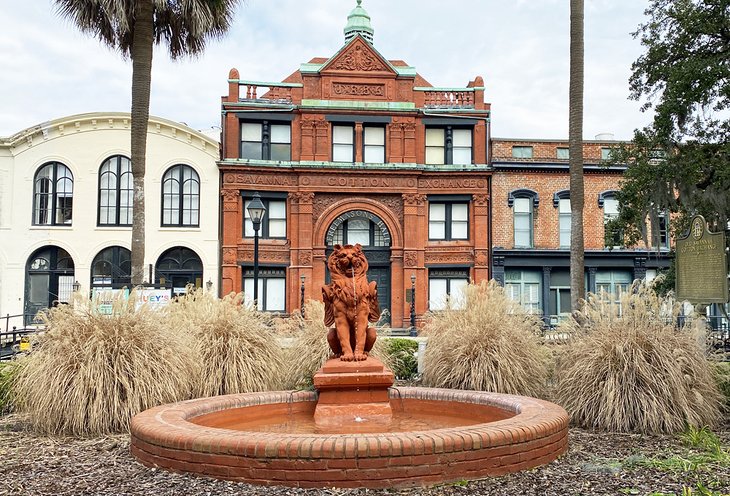 Take a stroll from Savannah's magnificent River Street district along Bull Street to Forsyth Park. It'll only take you 30 minutes and that includes stopping to admire the charming public squares you'll pass along the way. Once in Forsyth Park, spend time wandering beneath a canopy of Spanish moss as you admire its famous fountain.
Author's Tip: If you're wanting to get out of the city in order to spend a little time on the beach, jump in the car and head to Tybee Island. here you can soak up the sun and the sand a mere half hour from downtown Savannah. You can even prolong your beach experience a little with a stay at a Tybee Island resort. Also worth a visit, magnificent Hilton Head Island in South Carolina is just an hour's drive from Savannah and boasts some of the best beaches on the East Coast.
Accommodation: Top-Rated Resorts in Savannah
3. Stone Mountain Park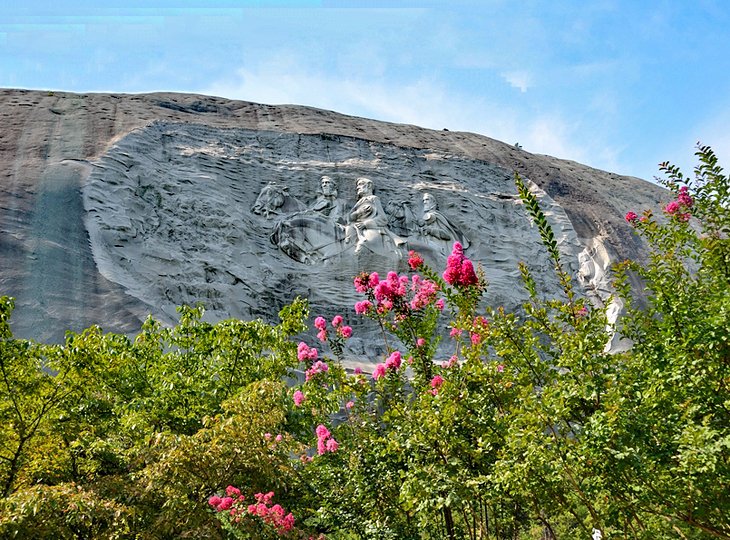 Stone Mountain Park is home to one of Georgia's top tourist attractions, and its location just 30 minutes west of Atlanta makes it a great quick getaway from the city. Over four million visitors come through Stone Mountain Park each year to see this isolated sculpted mountain, the massive "stone" making for a striking monument around which the park is based.
While nature plays a large role in the attraction, there are plenty of additional offerings more along the lines of a theme park. Enjoy miniature golf, a dinosaur-themed playground, and an evening laser show.
Festivals are scheduled throughout the year at Stone Mountain Park, so check the calendar to make sure your dates overlap with one that fits your travel style. For a total change of pace, the Historic Square gives tourists a taste of antebellum life before the Civil War.
The Stone Mountain Manor is a bed-and-breakfast charmer located at the edge of the park. Play golf, take in some pool time, and even bring along your pet. Breakfast is included, as is Wi-Fi and parking.
Address: 1000 Robert E Lee Blvd, Stone Mountain, GA
4. Sea Island Resort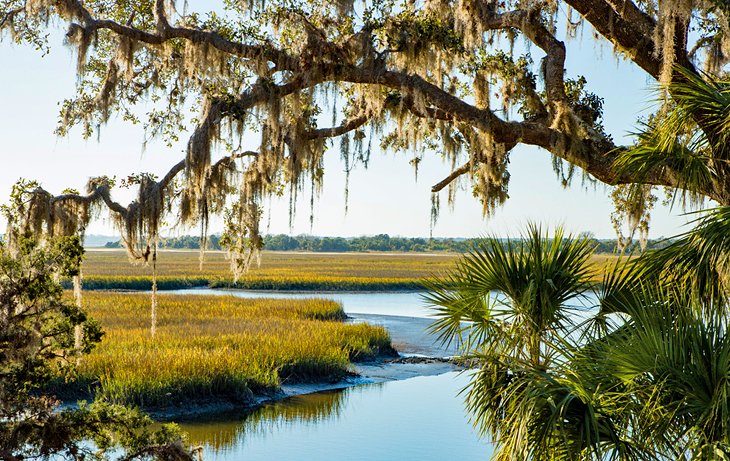 The privately owned Sea Island, an isolated resort property, is located on the Atlantic coast in Southern Georgia and feels like it's a million miles away. Just crossing the bridge starts the vacation engine roaring as you drive past tall oak trees dripping with moss.
The Cloister at Sea Island is a splurge-worthy luxury resort. With every type of accommodation available, from private cottages to hotel-style rooms, the superlative amenities and hospitality draw families and guests from around the world. Head to the pristine beach or play a round of golf alongside the ocean at one of the resort's three courses.
After a busy day, you can unwind at one of the pools or take part in the many activities on the island like sport shooting, biking, tennis, horseback riding, and more. Shopping here is more of a one-of-a-kind experience, and when you've had enough, come back to taste the flavors of Sea Island at one of the many restaurants located within the property.
Official Site: https://www.seaisland.com/
Address: 100 Cloister Dr, Sea Island, GA
5. Jekyll Island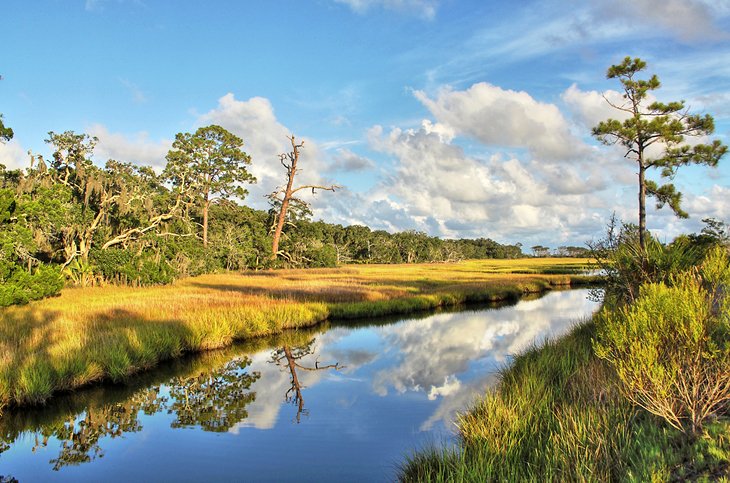 Jekyll Island is a favorite of many visitors heading to Georgia. This coastal haven is a place where people travel to convene with nature and get a taste of laid-back island life. From Driftwood Beach to the Oceanfront Promenade, there are so many unique places to visit on the island that you'll be tempted to stay longer than a day.
To get a taste of what the island has to offer, try a leisurely kayak tour at the 4-H Tidelands Nature Center. Everything needed for your water adventures is provided, from lifejackets to kayaks and canoes.
Learn more about the native wildlife at the Georgia Sea Turtle Center where they rehabilitate sea turtles and help other coastal wildlife species recover from negative human interactions. You can also take one of the many historical tours to learn more about this area's rich culture.
Like it so much you want to make an overnight stay of your getaway? Then book a night or two at Jekyll Island Club Resort, a historic property, updated now for modern travelers. The original hunting lodge was the playground of the Rockefellers and Vanderbilts.
6. Athens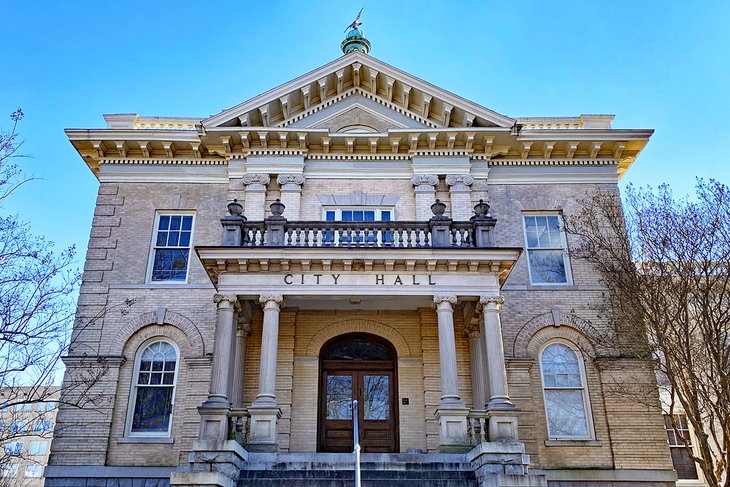 Athens has all the charm of a southern town and is only a little over an hour away from the much bigger and always bustling city of Atlanta. With a vibrant music scene that birthed such big names as REM and The B-52's, as well as its everywhere-present student culture, this small Georgian city has everything the hip traveler would need for a quick trip.
Head to the Georgia Museum of Art to enjoy works from local and international artists or take a stroll through The State Botanical Gardens of Georgia. The Victorian-era downtown and its enclave of trendy shops, restaurants, and vibrant entertainment venues keep visitors entertained.
Author's Tip: For a truly romantic getaway in Athens, consider booking a stay at the wonderful ATH|BNB, The Rushmore. Located in the city's posh Five Points area, this former manor home and frat house offers contactless luxury accommodations with a great breakfast.
Read More: Top-Rated Things to Do in Athens, GA
7. Blue Ridge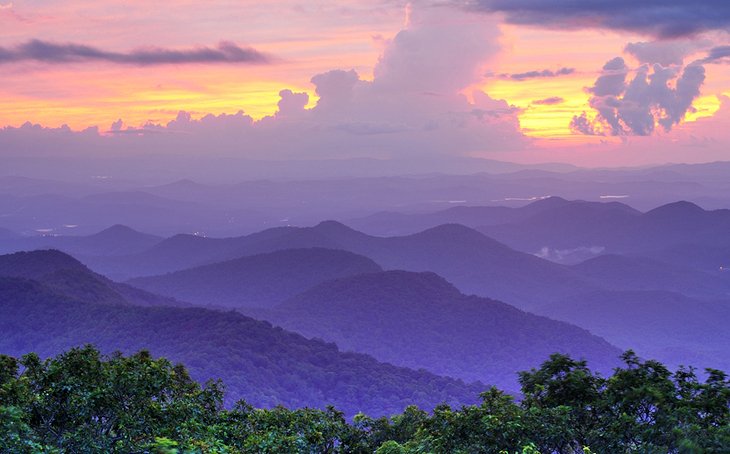 Nestled in the Georgia mountains but only 90 minutes from Atlanta, Blue Ridge offers a little something for everyone. Whether you are looking for adventure in the higher elevations or a laid-back weekend getaway, you will find it in this beautiful area. For the adventurous, try the Zipline Canopy Tours through a beautiful 165-acre tract of land in the mountains.
For a more leisurely tour, take a ride on the Blue Ridge Scenic Railway. Traveling a 26-mile stretch of heritage railroad, this four-hour train journey departs its downtown Blue Ridge Depot and passes some beautiful scenery as it makes its way to Copperhill in Tennessee.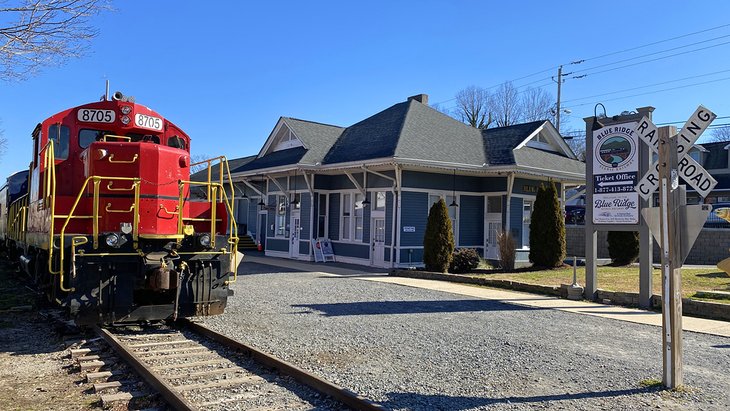 Strolling the downtown area with many shops and restaurants is an excellent way to feel the flavor of this artsy and creative environment. If you are lucky enough to be visiting in October, stop by the popular Georgia Apple Festival and enjoy the good food, music, vendors, and an impressive antique car show.
Just across the street from the Railway Depot is Blue Ridge Inn Bed & Breakfast. Housed in a restored, historic three-story Victorian home built in the 1890s, this classic B&B is within walking distance of several great eateries, including the excellent Black Sheep Restaurant, as well as the town's many antique and decor shops. The inn offers spacious rooms and suites with 12-foot ceilings and private baths, and some have their own private lounges.
While both the B&B and restaurant are open year-round, if you're visiting in the winter many of the town's attractions, including the scenic railway, will be closed, so plan accordingly.
Read More: Top-Rated Things to Do in Augusta, GA
8. Augusta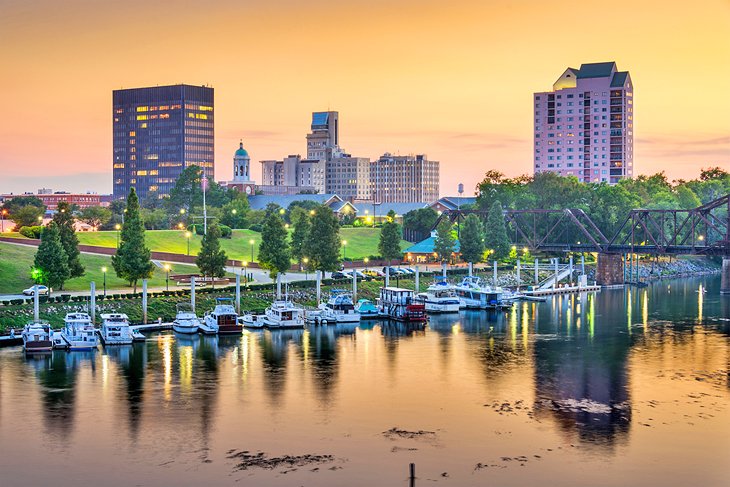 Augusta is so much more than just its famous golf course. Situated on the Savannah River and just across the water from South Carolina, this bustling big city feels more like a small town. As a matter of fact, you can easily make a fun adventure of exploring the downtown core. You can take a boat tour along the Augusta Canal, a historic Trolley Tour, or hop aboard the Black History Trolley Tour.
Be sure to also allocate time to stroll along the Riverwalk, which follows the Savannah River for 3.5 miles. There are plenty of places to stop for a picnic or simply to enjoy the spectacular river views.
While you are here, consider a paddleboard tour of Betty's Branch with Cole Watkins Tours or a bike ride through the Forks Area Trail System, a loop of 34 miles of wooded trails. For something a little less adventurous, the many galleries and shops offer plenty to see in the downtown area.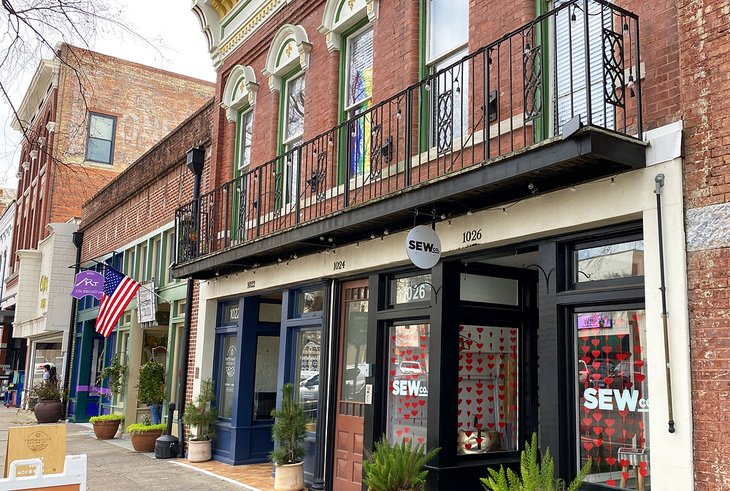 The modern and updated Hyatt House Augusta Downtown is conveniently located just two blocks from the Riverwalk and about a 10-minute walk from the Augusta Museum of History. The hotel offers on-site parking, free breakfast, a pool, and a rooftop terrace, as well as room service from the on-site restaurant.
Read More: Top-Rated Things to Do in Augusta, GA
9. A Taste of Bavaria in Helen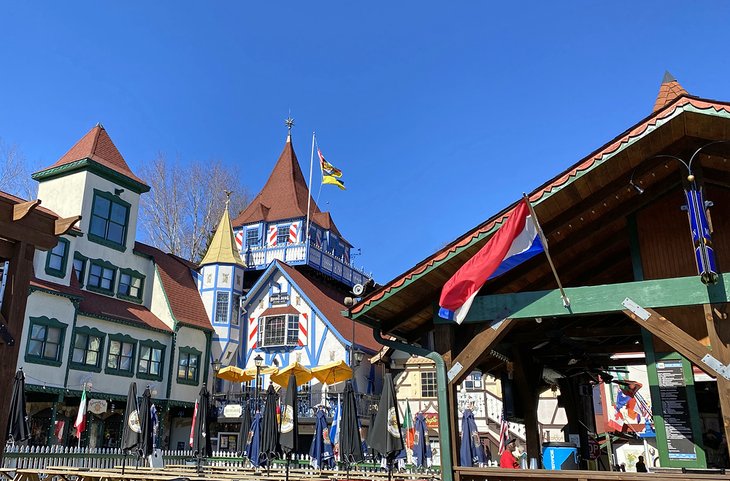 Lederhosen in Georgia? Perhaps one of the most unique getaways in the Peach State is the town of Helen. This Bavarian-themed town is filled with unique homes and shops reflecting Alpine culture, and yet it just so happens to be located in the middle of the Georgia Mountains on the Chattahoochee River. Upon the first glimpse, you'd swear you were in Germany.
Make sure you're hungry, as schnitzel, pretzels, and sausages are favorite dishes here. Shop in one of the unique stores that have locally produced arts and crafts, or visit one of their museums, such as the Folk Pottery Museum of Northeast Georgia. Be sure to check the calendar, as there are many festivals throughout the year. The location is prime, and it's easy to find plenty of activities indoors and out.
The Valhalla Resort Hotel is the perfect place for a luxurious getaway in Helen. Located on the grounds of the Innsbruck Golf Club, this pet-friendly all-suite hotel has elegant décor that captures the romantic ambiance of a European castle, with an on-site sauna and spa, a restaurant, and a rooftop terrace. Although it is located just outside of town, a free shuttle is provided for all guests.
The Castle Inn is another good option for a weekend getaway in Helen. Centrally located in the downtown core, this 3-star hotel is set overlooking the Chattahoochee River and the central "village" with its shops and eateries. Rooms are uniquely themed to resemble a medieval castle, and guests have direct access to the main street and on-site parking.
Read more: Top-Rated Things to Do in Helen, GA
10. Tybee Island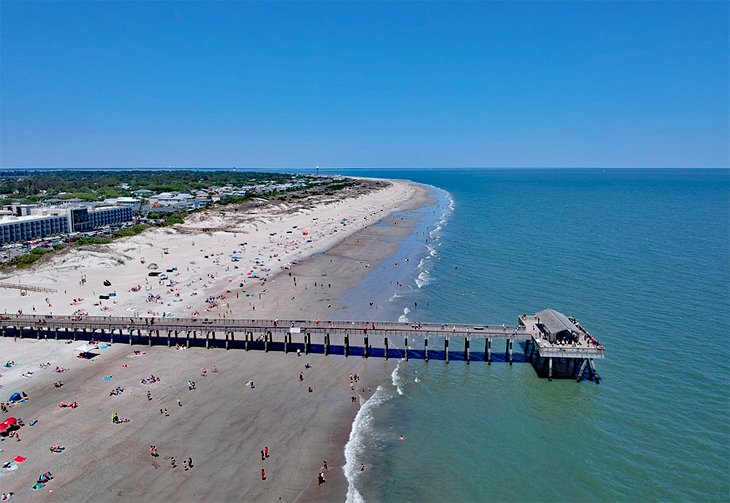 For those who want a quiet beach vacation with access to shops, entertainment venues, dining, and more, Tybee Island is for you. Only 18 miles away from the historic city of Savannah, this well-known beach town has tons of charm. You can rest and recharge on this relaxing island. Eat your fill of fresh, local seafood and work off the calories with biking, paddleboarding, kayaking, and more.
The option of visiting nearby Savannah at night for dining at one of its world-class restaurants or for its vibrant entertainment options is only 20 minutes away. This barrier island is complete with a still functioning lighthouse, an active pier, and remnants of a 19th-century fort.
Located next to the Tybee Island Marine Science Center, the Hotel Tybee offers beautiful ocean views, and the Tybee Pier and Pavilion is just a short walk from the hotel.
Accommodation: Best Resorts on Tybee Island
11. Columbus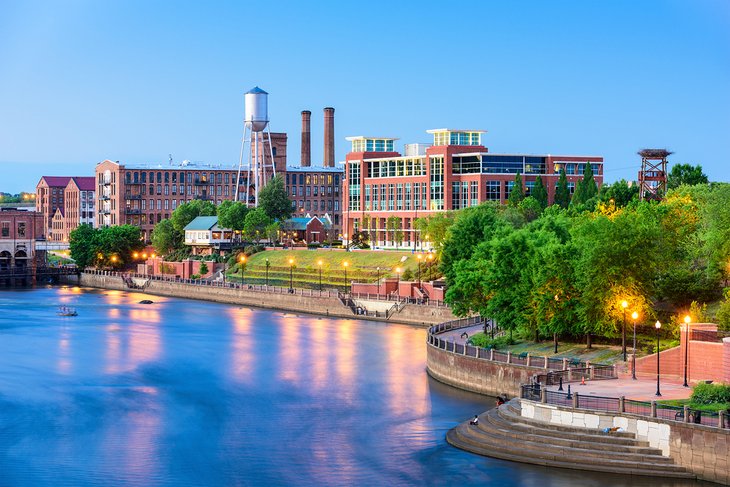 Two hours south of Atalanta on the Chattahoochee River, the city of Columbus has much to offer weekend visitors. Start your exploration at the city's Chattahoochee RiverWalk. You can pick up this paved, level pedestrian and cycle route at a number of spots along its 15-mile length, including from the city's vibrant downtown area.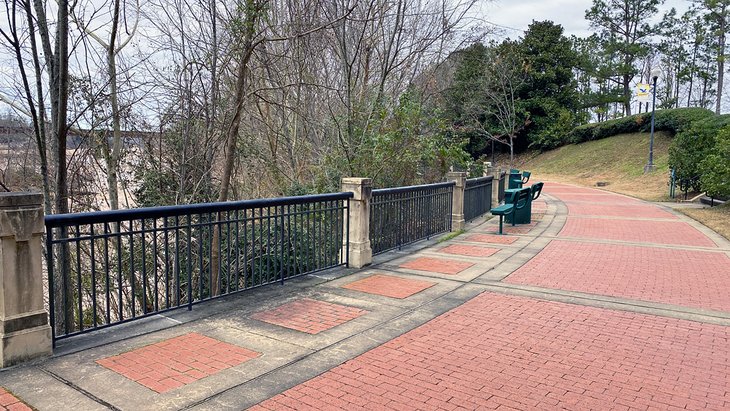 Along the way, you'll find many pleasant places to stop and admire the river views, grab a bite to eat, or even participate in exciting adventures like ziplining and white water rafting. Uptown Columbus, as the downtown area has been rebranded, is equally nice to explore, with plenty of shopping opportunities, restaurants, and cafés.
The RiverWalk is also where you'll find the city's newest boutique hotel. Set in a century-old former flour mill, the attractive red-brick City Mills Hotel has been carefully renovated, with many aspects of the building's former role still very much in evidence. It also possesses a delightful patio overlooking the river.
Read More: Top-Rated Things to Do in Columbus, GA
12. Macon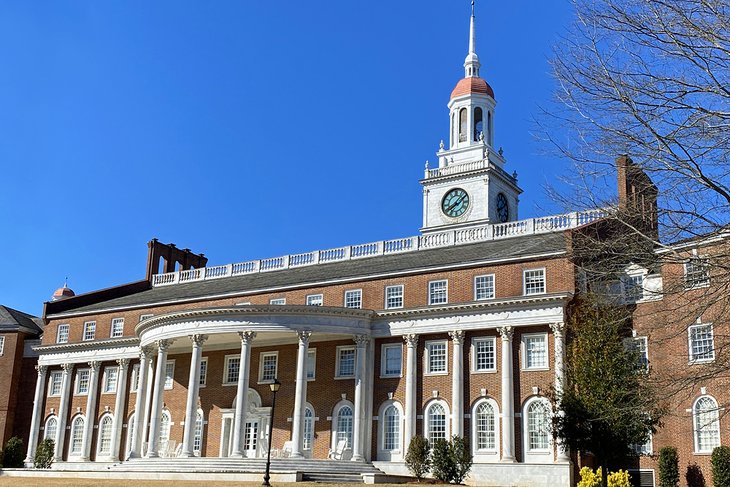 You'll find the city of Macon (it rhymes with "bacon") on the west bank of the Ocmulgee River bang-smack in the middle of Georgia. Although a relatively small city with a population of around 150,000, it can certainly keep you busy.
Highlights of your stay will no doubt include exploring Macon's bustling downtown district. Here, you'll find everything from art galleries and design shops to fashion boutiques, as well as a large number of eateries to sample. The city also offers many fine examples of well-preserved Victorian-era architecture, much of it built from the locally made red bricks that gave Macon its nickname of "Brick City."
Best time to visit? Spring is a great time to plan your Macon, Georgia getaway. Hosted in the downtown area each March, the city's International Cherry Blossom Festival draws crowds from across the state and beyond to witness the spectacle of some 350,000 cherry trees in bloom.
Read More: Best Things to Do in Macon, GA
Map of Weekend Getaways in Georgia