12 Top-Rated Things to Do in Valdosta, GA
Pay a visit to Valdosta in the spring, and you won't have to ask how this attractive small city in Georgia earned its nickname of "Azalea City." Come March, the city is blanketed by a canopy of color as these beautiful bushes blossom, their bright pink petals (plus shades of yellow and orange) brightening every corner of the city.
The city has been celebrating this colorful display each year with its annual Azalea Festival, an event that draws visitors from across Georgia to witness the display of blossoms and to sample that warm Georgian hospitality the South is so famous for.
Not that you have to visit in spring to have fun in Valdosta. This popular year-round Georgia travel destination features plenty of great places to visit whatever the season. From the city's rich cultural heritage to its world-class entertainment, leisure, and dining opportunities, this university city offers no end of fun things to do, whatever your preferences.
To find out more about the many tourist attractions in Georgia's Azalea City, read through our list of the top things to do in Valdosta, Georgia.
1. Wander around Downtown Valdosta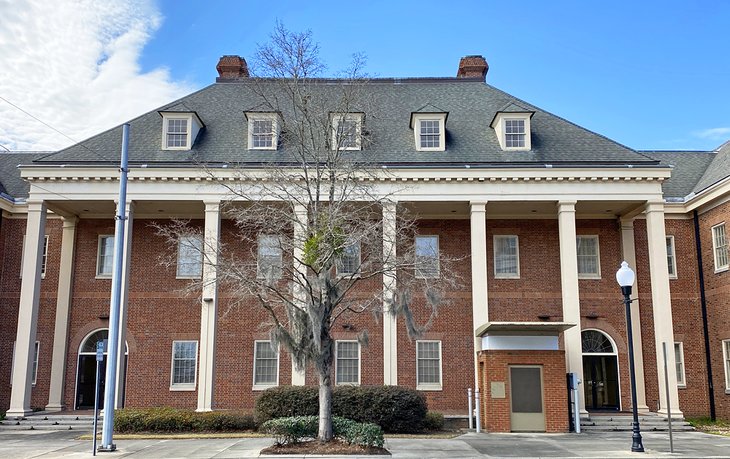 Although only incorporated in 1860 – first as a town, later as a city – Valdosta can lay claim to having a large number of historically significant buildings, many of them dating from the post-Civil War era around 1872. By far the greatest concentration of these can be found in Downtown Valdosta, a vibrant pedestrian-friendly hub that to this day retains its position as the city's most important shopping, dining, and entertainment district.
Parking is free and plentiful in municipal lots connected to the 26-block stretch that makes up Downtown Valdosta by pedestrians-only lanes. The result is a pleasant, uncrowded area that's easy to explore on foot. It's also full of surprises, with boutique shops and galleries, great cafés and restaurants, and well-preserved buildings in abundance.
Among the downtown core's most interesting architectural landmarks are the majestic Lowndes County Courthouse, set on a square in the city center, the old Post Office, and a number of attractive churches. You'll also spot the Dosta Playhouse, a superb and picture-perfect Art Deco theater and former cinema that stands on North Ashley Street.
In need of refreshment after all that walking? Pop into GŪD Coffee Company a few blocks away on North Patterson Street for a great avocado toast and cappuccino.
2. Take a Drive to Grand Bay Wildlife Management Area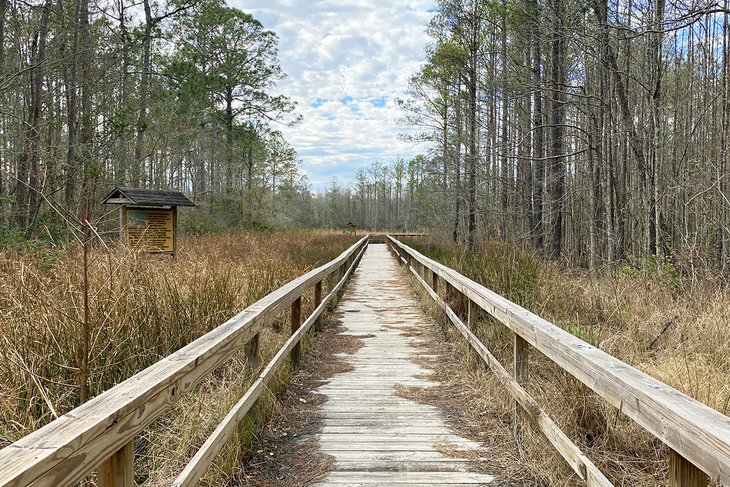 Just 15 minutes away by car, Grand Bay Wildlife Management Area makes for a fun nature excursion for all ages. Covering a vast 13,000-acre swamp to the northeast of the city, this educational wildlife area features a variety of easy-to-traverse trails and boardwalks that offer plenty of opportunity to get up close to the park's abundant flora and fauna.
As well as boardwalks over the wetland areas of the park, all of them stroller and wheelchair accessible, a variety of trails head directly into the park's over 3,000 acres of hardwood and pine forests. Ample free parking is provided in the main lot adjacent to the Grand Bay Wetland Education Center, where you'll also find restrooms and picnic facilities.
Fun outdoor activities include canoeing and kayaking (you'll have to bring your own), as well as lake fishing and wildlife viewing. A word of caution: the park is located down a long and unpaved road off the main highway, so drive slowly to avoid the potholes and bumps.
Address: 4649 Knight Academy Road #4641, Valdosta, Georgia
Official site: https://georgiawildlife.com/grand-bay-wma
3. See Georgia's Most Beautiful Mansion: The Crescent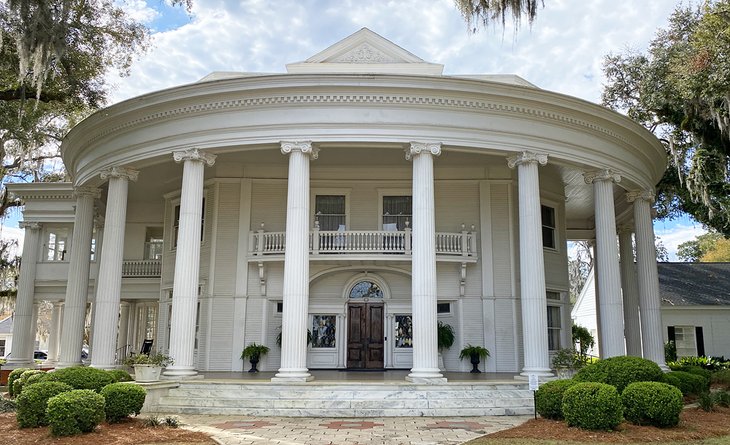 After getting your fill of Valdosta's historic downtown area, head up North Patterson Street for a peek at what's been described as one of the most beautiful 19th-century homes in all of Georgia: The Crescent.
Just a 10-minute stroll due north of the city center, this beautiful mansion was built in 1898 for former U.S. Senator William Stanley West. Later derelict and only barely avoiding demolition, it ended up in the caring hands of The Garden Center of Valdosta. The building's exterior is simply stunning, and is instantly recognizable for its 13 massive columns, one for each of the original founding colonies.
Self-guided tours are available and include not only a chance to see the building's well-preserved interior with its ornate reception hall, but also its extensive gardens. Other notable features are its small chapel and the octagon-shaped schoolhouse. Parking is located on-site and is free.
Address: 904 N Patterson Street, Valdosta, Georgia
4. Have a Thrilling Time at Wild Adventures Theme Park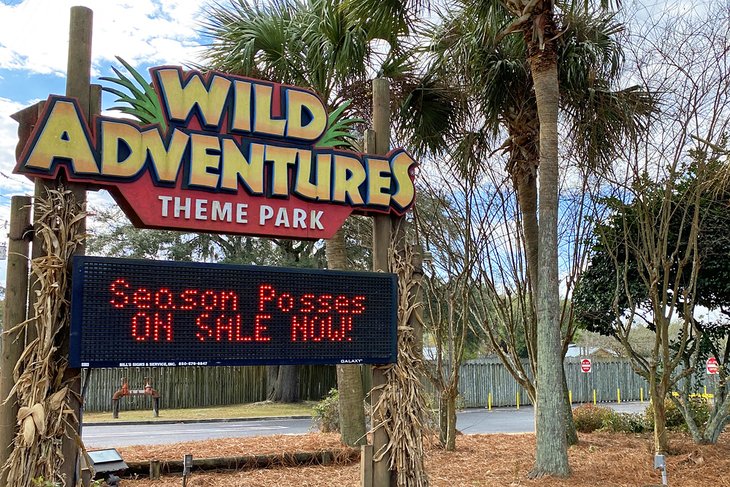 Located just five miles from Downtown Valadosta in Clyattville, Wild Adventures Theme Park offers young and old alike a perfect opportunity to let off some steam. This sprawling attraction covers no less than 170 acres of fun, featuring everything from thrilling roller coasters and waterslides to a zoo area with a variety of exotic animals.
First opened in 1996 as a petting zoo, Wild Adventures has grown exponentially over the years, with new rides and things to do being added frequently to up the fun quotient. Today, six roller coasters and numerous other rides can be enjoyed here, along with a popular water park, and Discovery Outpost, a section designated for younger children.
Those wanting to make a day of it can make the most of the on-site concession stands offering light meals, snacks, and refreshments.
Address: 3766 Old Clyattville Road, Valdosta, Georgia
Official site: www.wildadventures.com
5. Lowndes County Courthouse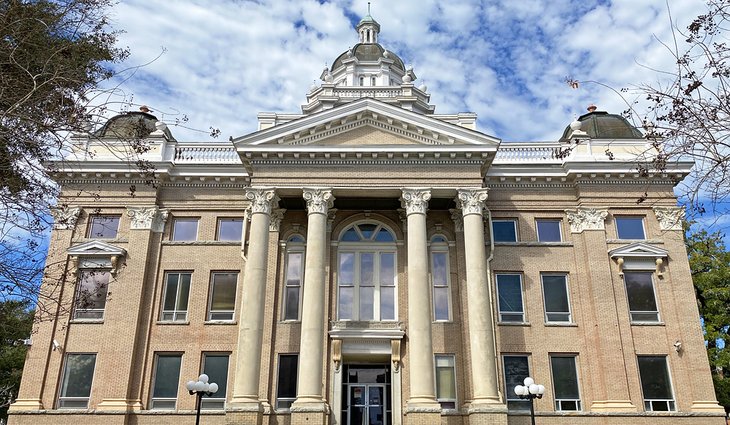 Widely considered one of the most attractive administrative buildings in South Georgia, if not the whole state, the Lowndes County Courthouse dominates the public square in the heart of Valdosta.
This grand three-story building was constructed in 1905 and boasts a beautiful Neoclassical façade with an elaborate portico, four tall Corinthian columns, a large central dome (along with four smaller corner domes on each corner of the building), and elegant double staircases leading up to its main entrance.
The courthouse's central location has led to its being used as a backdrop for numerous events in Valdosta, with everything from free concerts to cook-offs being held on its lawns in warmer weather.
A number of interesting monuments can also be seen on the grounds, including one commemorating those lost during the Civil War and a memorial marking the events of 9/11.
Address: 100 South Oak Street, Valdosta Georgia
6. Take a Tour of Valdosta State University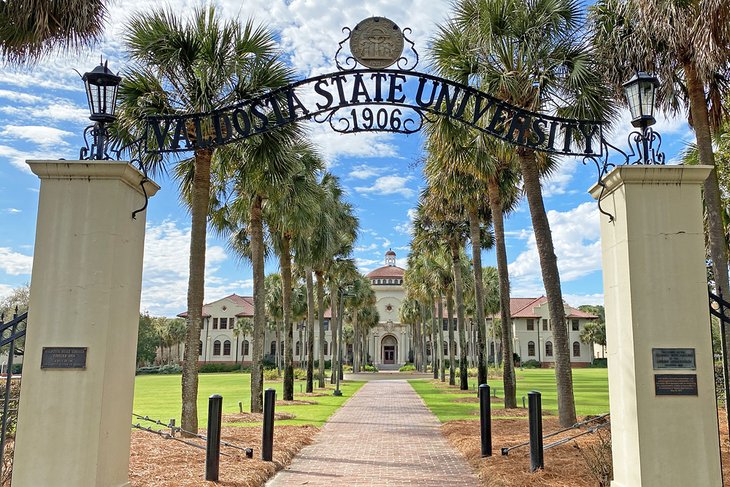 With its roots dating back to the turn of the 20th century, Valdosta State University (aka VSU, or Valdosta State) is a must-do when visiting the area. It's a delightful park-like campus to explore on foot, boasting numerous green spaces and impressive academic buildings, some of which date from the time of the university's founding in 1906.
A great way to explore the campus is via an organized tour. These guided tours are free and bookable online and include a presentation from a staff member followed by a walking tour of the main campus. A dedicated parking area is available for those taking a tour.
For those wanting to venture out themselves, a good bet is to follow the university's walking trail system. One of the best options is the Whitehead Camellia Trail. This unique campus trail is named after the 1,100-plus camellias that line the over half-mile route. Established in 1944, it's a delightful walk, especially when the long-blooming camellias are at their peak between fall and spring.
Another option is to follow the VSU Scenic Route, a map of which is available from the university's website. This nearly 1.5-mile-long fitness loop takes in many of the best features of the university and can be completed at a leisurely pace. You'll also want to include the campus's outdoor art collection on your walk. This growing collection features six fascinating and extremely photogenic works.
Address: 1413 N. Patterson Street, Valdosta, Georgia
Official site: www.valdosta.edu/admissions/undergraduate/visit-vsu/
7. Join in the Fun During Valdosta's Annual Azalea Festival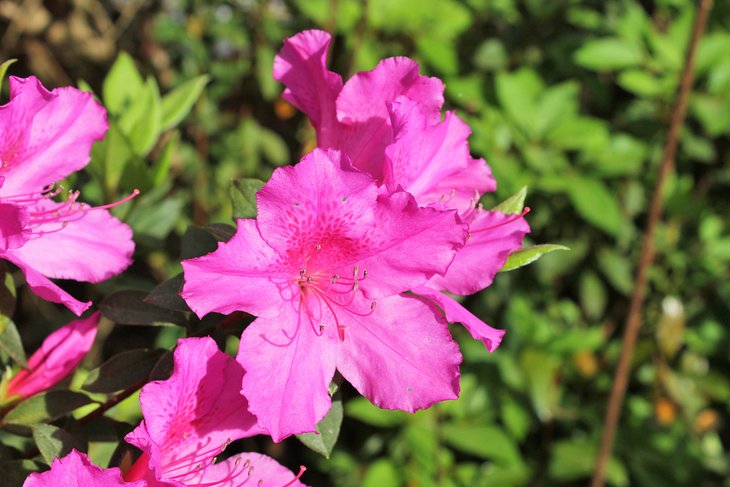 Valdosta takes its reputation as Georgia's "Azalea City" extremely seriously. What started as a celebration of the numerous azaleas planted around the town by an enthusiast beginning in 1925 has grown into a two-day celebration not just of the colorful flowering bush, but of the city's rich and diverse culture.
Now in its 20th year, Valdosta's Annual Azalea Festival ranks as one of the top social and cultural events in Georgia, marking the end of winter and the onset of spring in mid-March. Fun events include a two-day arts and craft show, a five-kilometer running race, six stages featuring live music, and plenty of fun. All told, the event attracts over 200 vendors from across the state, who set up shop in designated areas of the city's many parks.
Other highlights include the KidZone featuring a variety of inflatable attractions, a petting zoo, and a climbing wall, as well as birds of prey demonstrations, pet shows, and classic cars and motorbikes.
Official site: www.azaleafestival.com
8. Take in a Show at Dosta Playhouse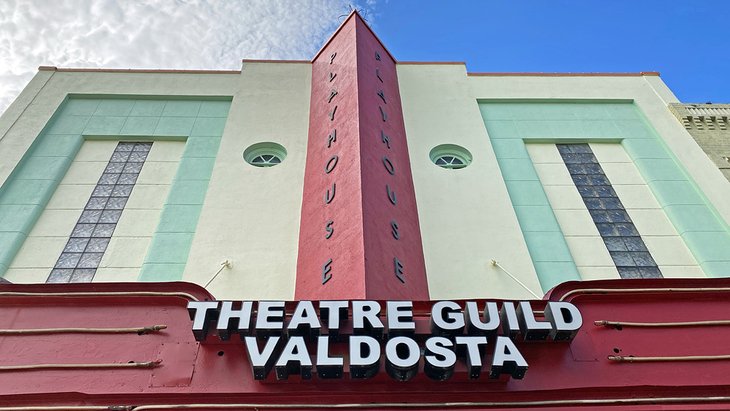 Located on North Ashley Street in Downtown Valdosta, the Dosta Playhouse is pretty hard to miss. Not only does this beautifully restored Art Deco building stand a little taller than its neighbors, it's also beautifully decorated. Boasting a bright red central pillar flanked by green borders, glass bricks, and porthole windows, it was designed with a nod to the classic cars and cruise ships of the era.
Lovely to look at and extremely photogenic, it was built in 1941 originally as a single-screen movie theater. Fully restored in the 1990s after years of neglect, the Dosta Playhouse is now home to Theatre Guild Valdosta (TGV), a community theater group that stages six productions a year: four for adults, along with two children's productions.
Address: 122 N Ashley Street, Valdosta, Georgia
Official site: www.theatreguildvaldosta.com/index.html
9. Annette Howell Turner Center for the Arts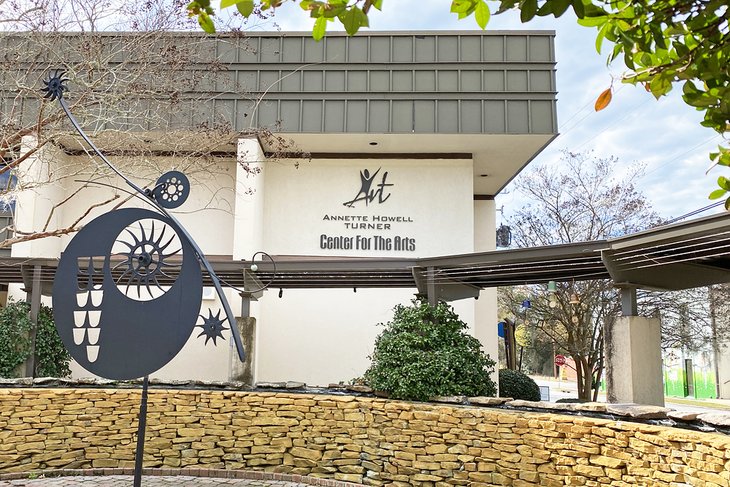 A visit to the Annette Howell Turner Center for the Arts is time well spent for those interested in art. It was established in 1903 and features a mix of permanent and temporary displays in its seven bright galleries; some 30 unique exhibits are hosted here each year.
Among the center's permanent collections are 600 works focusing on East African art, as well as a collection of some 30 or so examples of antique European Fine Porcelain. The building is also used for functions and a variety of events, and also features a gift shop where you can purchase creations by local artisans.
A variety of fun workshops and programs are on offer, including culinary arts. Free guided tours are available upon request.
Address: 527 N Patterson Street, Valdosta, Georgia
Official site: https://turnercenter.org
10. Barber-Pittman House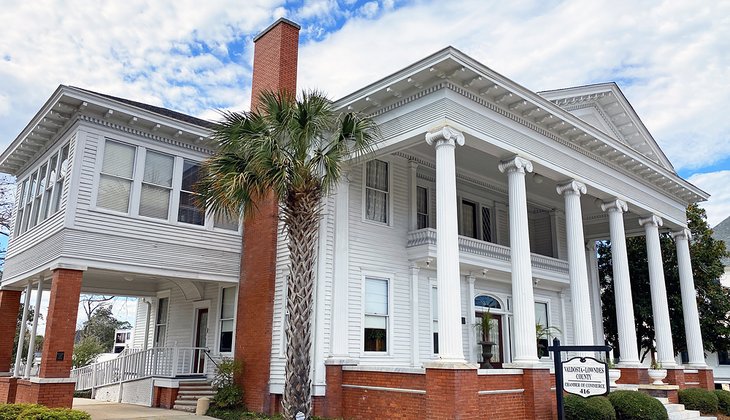 Constructed in 1915, the Barber-Pittman House was designed by local architect Lloyd Barton Greer, and has been carefully preserved. Now home to the city's Chamber of Commerce, it was built for one of the first bottlers of Coca Cola, and reflects the wealth and opulence attained by the early adopters of the brand's huge marketing power.
Later bequeathed to the city by the same family, the building now stands as a fine example of Southern Nee-classicism so popular among the upper echelons of society at the time. The building is open for public tours on weekdays and is definitely worth a visit (admission is free).
Address: 416 N Ashley Street, Valdosta, Georgia
Official site: www.valdostachamber.com/the-barber-house.html
11. Visit the VSU Fine Arts Gallery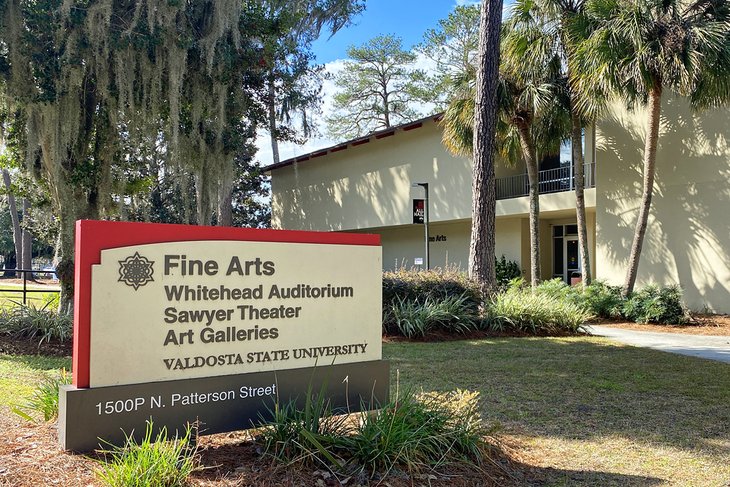 Located on the VSU campus, the Fine Arts Gallery offers visitors a chance to enjoy a variety of artwork. The facility's newly renovated exhibition space places special emphasis on the work of local artists, as well as students and faculty.
Disciplines on display include painting, drawing, photography, and sculpture. Be sure to also visit the Dedo Maranville Fine Arts Gallery, as well as the Martha G. Smart Gallery, both located in the same building. Admission to all galleries is free.
Address: 1500 N Patterson Street, Valdosta, Georgia
Official site: www.valdosta.edu/colleges/arts/art/vsu-fine-arts-gallery.php
12. Lowndes County Historical Society and Museum
Located within the former Carnegie Library of Valdosta, a heritage building dating from 1914, the Lowndes County Historical Society and Museum was established in 1967 and offers a fascinating record of the city's rich history.
On display are collections relating to the city's history, as well as artifacts and clothing from once prominent city families that provide an insight into life in the late 1800s and early 1900s. The museum's military collections are also worth seeing, and items and displays dating from the Civil War to the modern era.
Address: 305 W Central Ave, Valdosta, Georgia
Official site: http://valdostamuseum.com
Valdosta, GA - Climate Chart
Average minimum and maximum temperatures for Valdosta, GA in °C
J
F
M
A
M
J
J
A
S
O
N
D

17

3

19

5

23

8

26

11

30

16

33

19

33

21

33

21

31

18

27

12

22

8

18

4

PlanetWare.com
Average monthly precipitation totals for Valdosta, GA in mm.

147

114

135

92

80

125

160

133

104

79

82

97