10 Top-Rated Things to Do in Tallahassee, FL
Florida's state capital is a relatively small inland city with much to offer first-time visitors. Home to Florida State University (Go, Seminoles!) and Florida A&M, the town has a youthful vibe.
Leafy and green with towering trees, the city never seems to be too busy, too crowded, or too much of anything. It's a relaxed place to visit with lots to see and do whether you find yourself here on business or pleasure.
Take a bit of time to explore the city. History is on full display right downtown around the capitol buildings, while a thriving arts and culture scene is emerging at the Railroad Square Art District. Just north of the city, nature puts on a colorful show at the Alfred B. Maclay Gardens State Park.
Plan your sightseeing with our list of the top things to do in Tallahassee.
1. Tallahassee Automobile Museum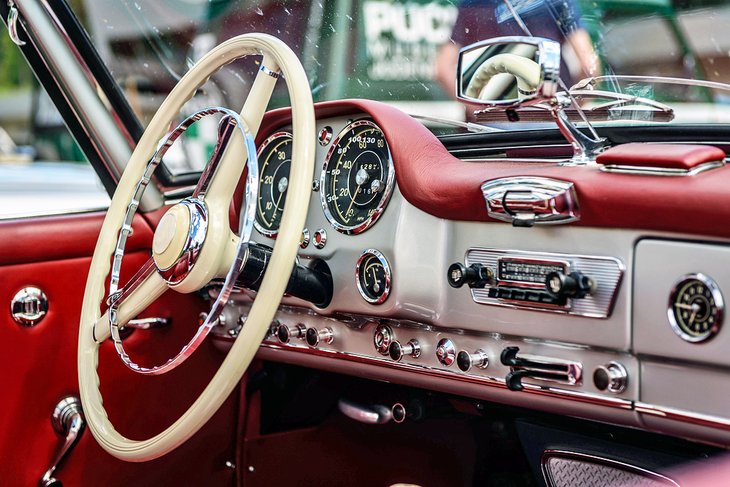 Located in the far northeastern area of the city, the Tallahassee Automobile Museum is one of the city's top tourist attractions. Home to more than 160 rare and historic cars, this local landmark has been drawing in visitors since 1996, when DeVoe Moore started with just 15 vehicles.
On display are some of the more unique vehicles ever made, including a special section on the vehicles used by Batman. In this area, you'll find two Batmobiles: one was used in the blockbuster movie Batman Returns and the other in Batman Forever. The museum also has replicas of other modes of transport from the original television series. In addition to cars be sure to see the Bat-Boat and the Duck Vehicle used by the evil Penguin.
Those that aren't obsessed with vehicles will also find other interesting things to see at the Tallahassee Automobile Museum. Other collections on display include boats, boat motors, Case knives, fishing lures, adding machines, and the list goes on. With this incredible assortment, some folks might say that DeVoe Moore may have a collecting habit second to none!
Address: 6800 Mahan Drive, Tallahassee, Florida
Official site: https://tacm.com/
2. Florida State University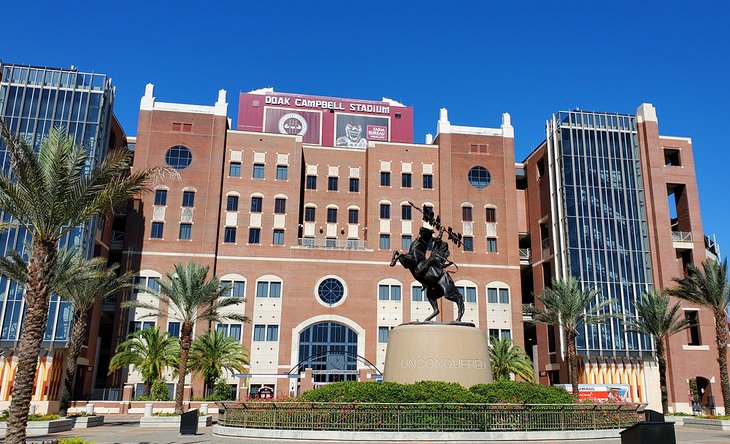 Florida State University or, as it's known locally and statewide, FSU is almost its own city within Tallahassee. Home to over 32,000 students, the campus sprawls to the north of downtown and contains several notable buildings, including the enormous Doak Campbell Stadium. The city and campus pretty much come to a standstill when the Seminoles are playing, and the roar from the nearly 80,000 spectators can be deafening.
A visit to the campus should start at the Visitor Information Center, located in the stadium. It's from here that guided tours of the grounds begin. Prebook your tour online a few days out from your intended visit, or if you'd rather do it on your own terms, grab a campus map and wander around.
Official site: https://www.fsu.edu/
3. Alfred B. Maclay Gardens State Park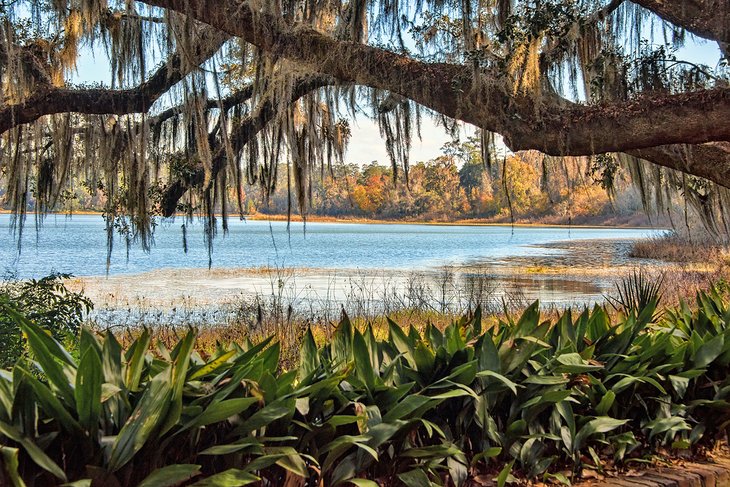 Located north of Tallahassee on the former estate of Alfred B. and Louise Maclay, this state park is a must-see for gardeners. An incredible display of azaleas, camellias, dogwoods, and magnolias are artfully arranged throughout the park. Each spring, they burst into a kaleidoscope of colors.
However, the park is not all about flowers. It's also an ideal place to visit to go walking, biking, or horseback riding. Winding their way throughout the park are five miles of trails that all users share equally; in the Overstreet section, three miles are reserved exclusively for bicycles. No need to worry if you don't have your own wheels, rentals are available.
Alfred B. Maclay Gardens State Park is also an ideal place to get out on the water. You can rent a kayak, or bring your own, and paddle around Lake Hall. The lake is also a largemouth bass hot spot, with bream and bluegill rounding out the denizens of the deep. Don't forget to pack your swimsuit as well. The park has a sandy swimming area, and a dip in the cool fresh water is the best way to beat the Florida heat.
It's not all about being active here. The park is chock-full of history. Swing by the visitor center to learn more about the park's namesake, Alfred B. Maclay. In the spring, the original 1909 home, perfectly preserved with period pieces and décor, is available for tours.
4. Florida Historic Capitol Museum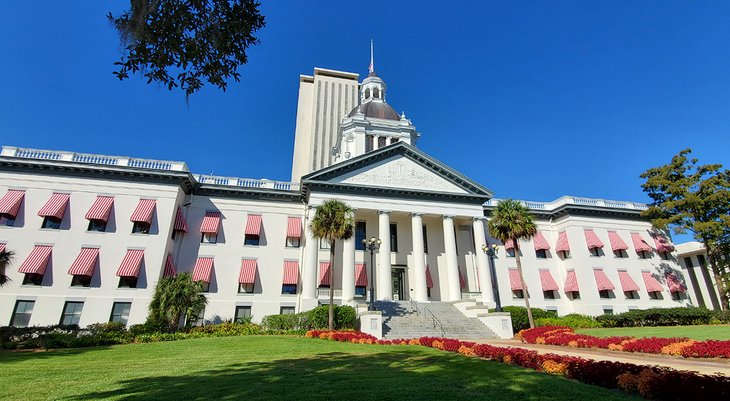 The Florida Historic Capitol Museum is easily identified by its trademark white- and red-striped awnings, providing welcome shade from the hot Florida sun. The museum is housed in the former state capitol building first built in 1845 (and expanded over the years). The history and architecture of the building is almost as interesting as the displays inside.
The stunning rotunda area, with its stained-glass ceiling, takes you back to an earlier time when horse and buggies were more common at the front entrance than automobiles. The museum displays are focused on the political history of the state, from its founding right through to today. Wander through the 21 rooms of exhibits consisting of photographs and audio and visual displays along with memorabilia. The Florida Historical Capitol Museum has over 250 items in its permanent collection.
In addition to the exhibits, several important rooms have been restored to their 1902 glory. These include the key elements of a functioning democracy and include the Governor's office and chambers, the Supreme Court, Senate, and House of Representatives.
An interesting side note is that in the late 1970s this classic building, listed on the National Register of Historical Places, was slated for demolition to make room for surrounding elements of the New Capitol Building (now seen in behind). A concerted effort by the local citizenry stopped what would have been a major travesty.
Admission to the museum is free; however, donations are always appreciated.
Official site: http://www.flhistoriccapitol.gov/
5. New Capitol Building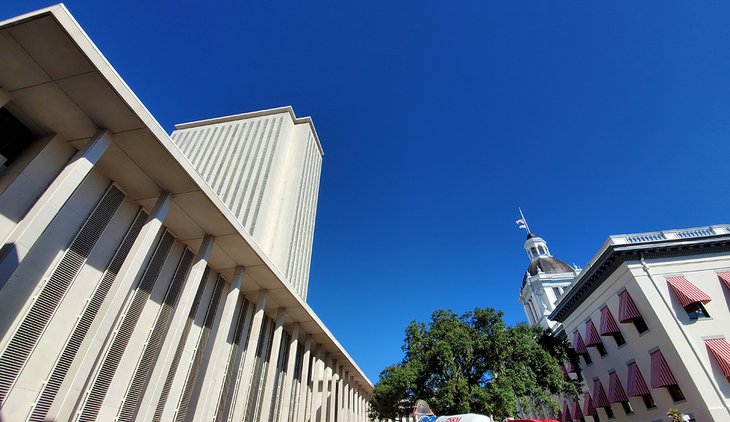 Although the New Capitol Building may not have much curb appeal, set your architectural prejudices aside and head inside, and you'll be pleasantly surprised at what you'll find.
Pass through security and head up to the 22nd floor, where you'll find the free observation floor. Up here, windows on all sides provide uninterrupted views out over Tallahassee. Some notable things to look for are the Florida State University campus to the north and Cascades Park to the south. At one end of the observation floor is a gallery that features the work of Florida artists.
The business of government takes place here, so you'll find the Florida House of Representatives and the Florida Senate, both of which have public viewing galleries. A beautiful mural by the acclaimed artist Renee Faure showcases people from Florida's history. Additional murals by James Rosenquist are on the plaza level.
If you need help planning out the rest of your Florida trip, the helpful folks at Visit Florida are on the main level and have maps, brochures, and an in-depth knowledge of the city and state. In the basement is a cafeteria serving good Southern-style comfort food.
6. Tallahassee Museum
The Tallahassee Museum is not your typical museum. With ziplines, nature trails, and animal exhibits, it's almost a cross between an adventure park, zoo, and traditional museum. This wide assortment of things to do makes it an ideal destination for the whole family. No matter where you or your gang's interests lie, the Tallahassee Museum has something for everyone.
Those interested in animals will want to take the elevated boardwalks past 18 different animals that range from bears right through to snakes and even Florida panthers. History buffs will find the 19th-century buildings worthwhile places to wander through, including a church, schoolhouse, caboose, and a plantation home.
If you have an adventurous spirit or have always wanted to try ziplining, buy a ticket to one of the three courses on offer. Set high in the trees, the courses consist of platforms, obstacles, and ziplines. Depending on the course you select, you'll be up in the trees for up to three hours, so plan accordingly.
Families with small children should swing by the Big Bend Farm. Here, friendly farm animals including cows, mules, chickens, pigs, sheep, and goats are going about their daily lives in a recreated farm from the late 19th century.
Official site: https://tallahasseemuseum.org/
7. Mission San Luis de Apalachee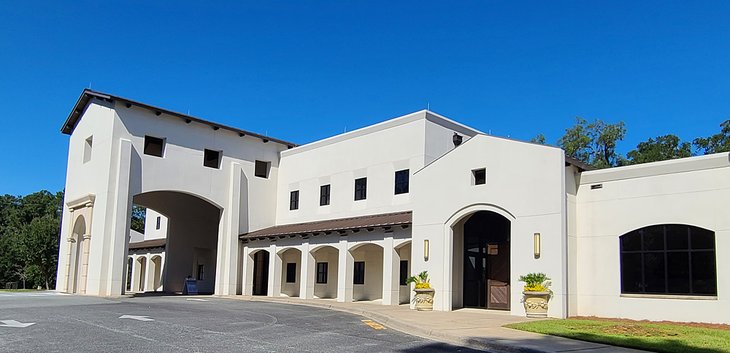 The Mission San Luis de Apalachee is an ideal family outing when visiting Tallahassee. The lush grounds contain a recreated mission dating from the 17th century. The buildings, including a church, council house, blacksmiths, and a fort are replicas of what used to be on this site so many years ago.
Each building is open to the public, and visitors are encouraged to wander in and experience each place in the manner of those who lived here before. Costumed interpreters go about their daily life and are more than happy to interact with you and answer any questions you may have. The main exhibit gallery contains priceless artifacts, topographical displays, and Roman Catholic devotional objects.
Note the mission is closed on Monday.
Address: 2100 West Tennessee Street, Tallahassee, Florida
Official site: https://www.missionsanluis.org/
8. Museum of Florida History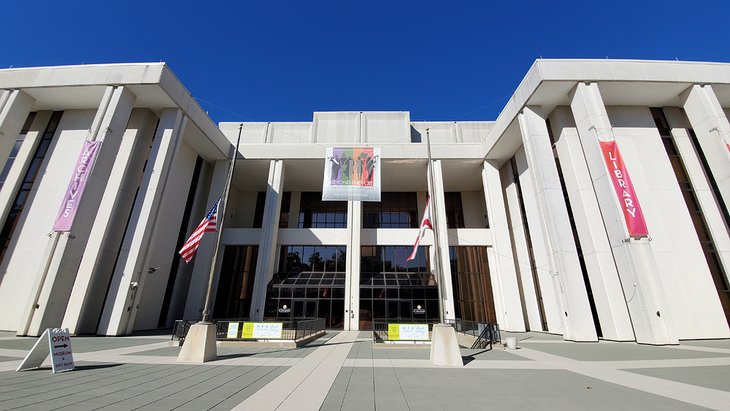 A destination for learning for the local residents and visitors to Tallahassee since 1977, the Museum of Florida History is a must-see for those wanting to broaden their knowledge of the Sunshine State. Over 55,000 visitors come through the doors each year, looking to educate themselves and their children.
Spread out over 27,000 square feet, the museum has three permanent exhibits: Forever Changed: La Florida 1513-1821, Florida in the Civil War, and World War II. In addition to the permanent exhibits, the Florida History Museum hosts a regular roster of traveling exhibitions as part of the TREX program.
After you've toured the attractions located at the Capitol Complex area, a visit to the museum, located just north, is easily accomplished. Count on a five-minute downhill walk. Admission is free, with donations appreciated.
Address: 500 South Bronough Street, Tallahassee, Florida
Official site: https://museumoffloridahistory.com/
9. Cascades Park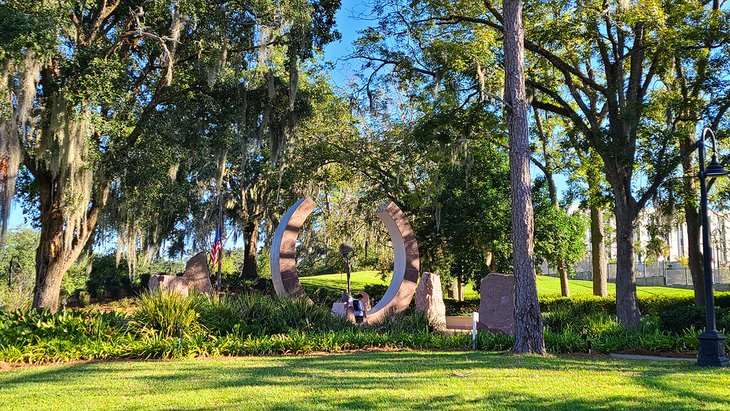 A short distance south of downtown is the delightful Cascades Park. Once a brownfields site of an old gasification plant, today the park is an oasis of green that has become one of Tallahassee's top things to do.
Curving pathways, suitable for wheelchairs, follow the contours of the park, from Smokey Hollow Pond through to Boca Chuba Pond, passing by vibrant gardens and under towering trees draped with Spanish moss. Benches are strategically placed in sunny and shady spots that may encourage you to linger with a cup of coffee or a bagged lunch. A truly beautiful Korean War Memorial, located midway through the park, is well worth a stop.
Throughout the year, concerts take place at the Capital City Amphitheater located at the western end of the park, be sure check the website to see what's planned, perhaps an interesting concert will coincide with your visit.
10. Railroad Square Art District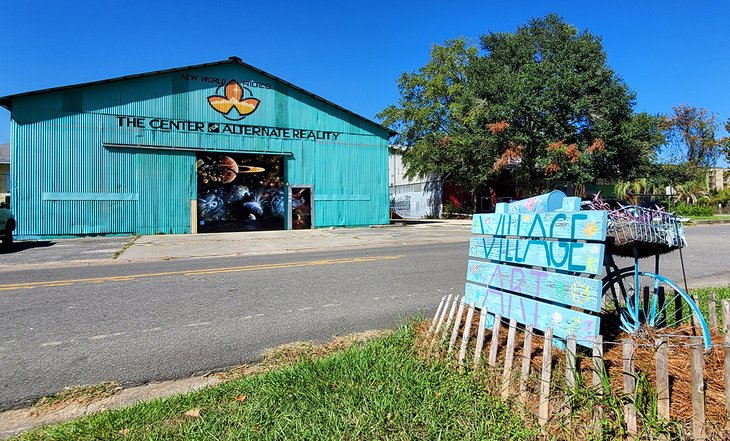 Set off on its own in a newly gentrified area of town, the Railroad Square Art District is a place to park the car and wander around. In this eclectic area, you'll never quite know what you'll find, whether it's a unique piece for your home or an outlandish piece of clothing.
Originally the home of the Dominion Lumber Company, many of the buildings dating from the 1940s are still standing and in use today by various artists, restaurants, and shops. The Railroad Square Art District is a good place to visit on the weekend to engage in a bit of shopping and then grab a bite to eat and a cold beverage on a shady outdoor patio.
Even if you don't end up buying anything, the area is great for photography – colorful murals have been painted on many of the buildings.
Map of Things to Do in Tallahassee, FL
Tallahassee, FL - Climate Chart
Average minimum and maximum temperatures for Tallahassee, FL in °C
J
F
M
A
M
J
J
A
S
O
N
D

18

4

19

6

23

9

27

12

31

17

33

21

33

23

33

23

32

21

27

14

23

9

19

6

PlanetWare.com
Average monthly precipitation totals for Tallahassee, FL in mm.

136

118

164

91

126

176

204

179

127

83

98

104