7 Best Beaches in Seaside, FL
The beaches in Seaside and nearby are some of the most beautiful in Florida. Impossibly white sand pulls you and your beach towel towards the seashore with a heady mix of beauty and a promise of tranquility.
Just up from the main beach is one of Florida's most unique small towns, Seaside. This place has a look all its own. Designed from the ground up in the New Urbanist style of architecture, the city is hard to describe unless you've seen it. And chances are, you may have already seen it. The town and its 300 or so homes provided the backdrop to The Truman Show, starring Jim Carey. It makes a perfect backdrop to a wonderful day at the beach.
However, don't be lulled into just visiting this one beach, explore the six others on our list of best beaches near Seaside.
1. Seaside Beach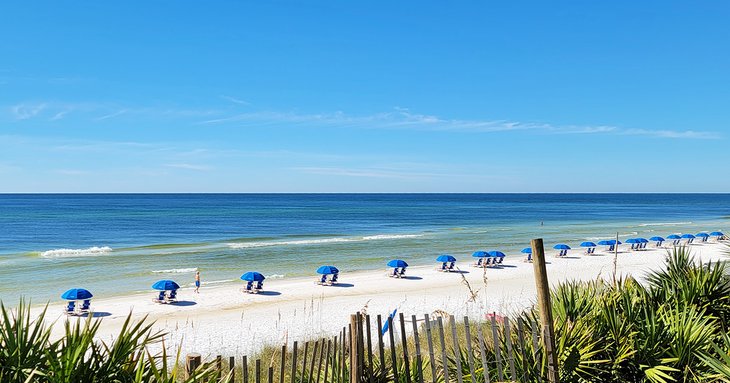 As with everything in Seaside, this beach almost seems too perfect to be real. Your first view of Seaside Beach will likely be from the pergola above the beach. As you stand here, gaze up and down the beach and mentally put a check mark on the patch of sand where you want to lay out your towel and umbrella.
Step down the stairs to the beach, and you may feel like you've won the lottery. All you'll see is a long stretch of sand, hardly anyone about, and just the sound of the waves washing ashore to lull you into a contemplative state. If your stomach interrupts your Zen-like existence, it's easy to pop up into town. Mere steps from the beach access are restaurants with patios, and across the street are an eclectic assortment of Airstream trailers posing as food trucks.
The beach is rarely crowded. This is because of a policy of only allowing residents, guests staying at hotels or rental homes, and paying day trip visitors. If two of you want to access the beach as guests, break out your wallet. You'll need to pay for a mandatory beach chair and umbrella rental, and the costs are steep: count on nearly $100 dollars including tax and an automatically added 10 percent tip. Every additional chair is about $40; if you have a group of 12, count on nearly $600.
2. Grayton Beach State Park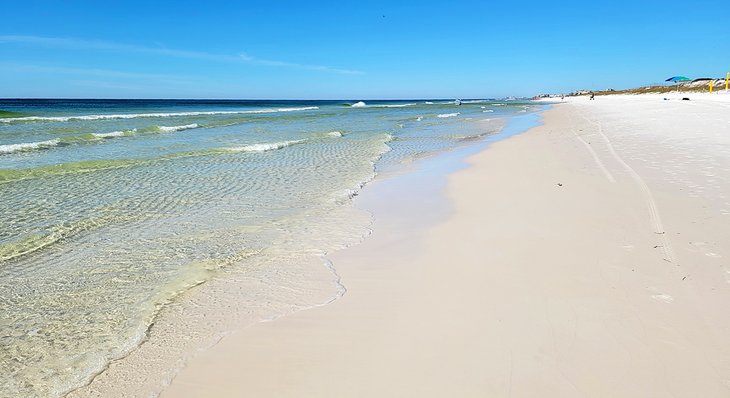 If you are looking for a beach that is substantially more affordable, just take a short drive east to one of the Florida Panhandle's best state parks. Grayton Beach State Park has over 2,200 acres of wide-open space, including a spectacular stretch of sand backed by nothing except rolling sand dunes.
The sugar-white sand is soft and stays cool even on the hottest of Florida days, making the stroll to the water's edge a delight instead of a hot-footed race. Once you reach the water's edge, you may not want to leave the emerald green waters that are so warm, clear, and spectacularly beautiful.
This wonderland of sand and surf extends for a mile within the park boundary, but should you wish to walk to the east, you'll end up on the main Seaside beach before long. A smile will likely be on your face as you will have paid only your $5.00 park fee to stroll the same beach as others have shelled out nearly $100 for.
If you really want to have a cheap beach holiday in Seaside, Florida, book a campsite at the park. You'll find 59 sites, all with electricity and water (some with sewer), just back from the beach near the shoreline of Western Lake. The park also has 30 two-bedroom cabins, complete with kitchens, heating and cooling, a bathroom, and even a gas fireplace, for rent should you prefer a more substantial roof over your head.
Official site: https://www.floridastateparks.org/graytonbeach
3. Santa Clara Beach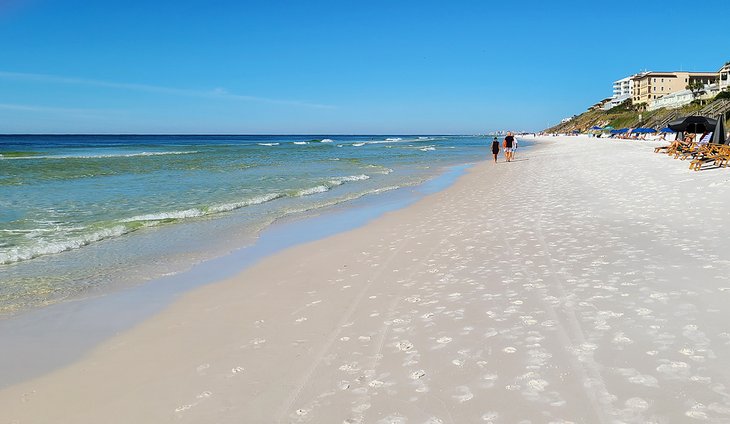 Santa Clara Beach is one of the first free public access points you reach as you travel east from Seaside. This delightful beach is a continuation of the main Seaside Beach and is rarely crowded. A long ribbon of white sand extends as far as the eye can see east and west.
Santa Clara Beach is not only a wonderful place for a day in the sun and surf, but also a good choice for those who love beach walking. Head east or west, and you'll be treated with relatively flat sand backed by small bluffs with impressive homes situated on top.
Santa Clara Beach is an ideal spot for families. The waves are generally small, and with lifeguards on duty, you can rest assured your smallest ones or weaker swimmers are being well watched. The only downside of Santa Clara Beach might be the long zigzag access down the embankment to the sand. Be prepared for a bit of a walk both up and down.
The South Walton Region has done a wonderful job of creating an excellent access point. Parking for around 25 cars plus golf carts along with bike racks make spending a day at the beach easy. The access point also has well-maintained restrooms and drinking water.
4. Inlet Beach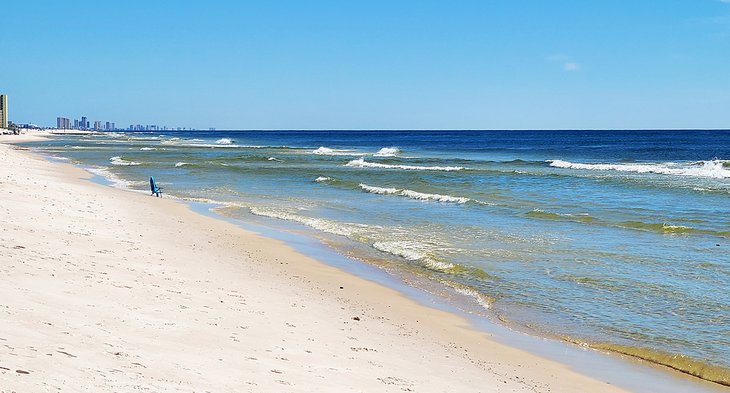 A perfect combination of easy access, good facilities, and ample free parking for nearly 120 cars make Inlet Beach one of the best places to have that perfect Florida day in the sun. Located about a 20-minute drive down scenic Highway 30A east from Seaside, it's easy to find.
Three access points take you to the beach; however, the main one located at the end of South Orange Street is the one with the most facilities, including restrooms, showers, and drinking water. Take one of the long, but flat dune crossovers through the scrubby trees and emerge at a wide-open beach area with fantastic views out over the Gulf of Mexico.
As you face the ocean, to your left is Camp Helen State Park and to your right, an uninterrupted stretch of beach running all the way to Destin, 33 miles away.
Inlet Beach, while being one of the best natural beaches along this shoreline, is also a hot spot for snorkeling and diving. Just offshore is an artificial reef that attracts all kinds of fish, dolphins, and even turtles. The reef is located 970 feet from shore; just look for the large yellow pylons at the beach fringe, and go straight in from there.
A very pleasant beach walk is back west towards the private and exclusive Rosemary Beach.
Lifeguards are on duty, and beach chairs and umbrellas are available for rent.
5. Blue Mountain Beach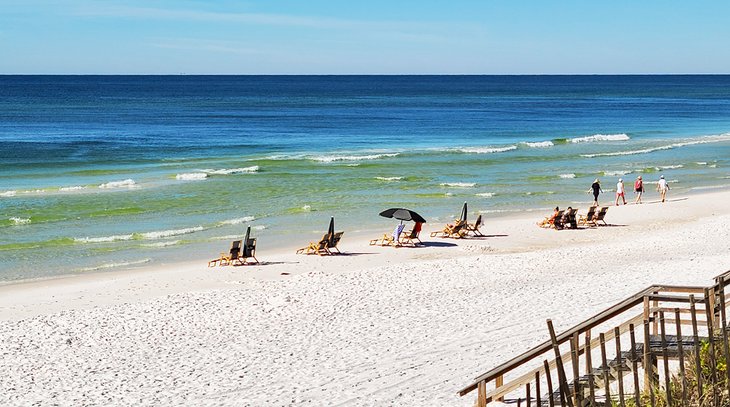 One of the more unique beaches near Seaside is Blue Mountain Beach. Although Florida has few high points of land, let alone any backing beaches, Blue Mountain Beach takes the title locally with a rise of 65 (some say 64) feet.
Although it may not seem that high, the views from the bluff above the beach to the limitless horizons above the Gulf of Mexico are quite impressive. Mountain discussions aside, the beach here is well worth a visit for its clear waters and relatively low number of visitors.
Descend the long boardwalk and stairs to the beach, and you'll be greeted by a pleasant stretch of sand and the crystalline waters of the Gulf of Mexico. Set up your beach chair and umbrella and then hit the water. Wade in as far as you like knowing that the lifeguards on duty are keeping a close watch on what you are up to.
Should you work up a hunger from all your beach activities, or just feel like a treat, make the long trek back up to the top and head to the Blue Mountain Beach Creamery for a diet-busting jumbo ice cream in your favorite flavor.
The main access point has parking (cars and golf carts), restrooms, showers, bike racks, and drinking water.
6. Camp Helen State Park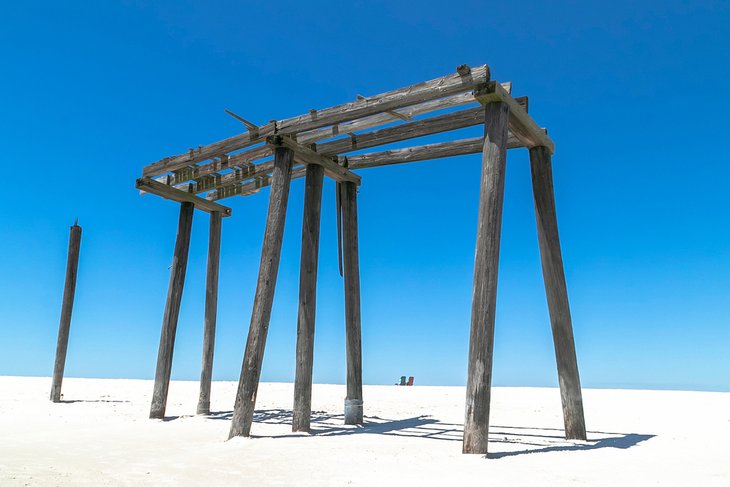 For a completely different beach experience that mixes a bit of history along with lots of nature, head to Camp Helen State Park. Pay your modest entry fee and discover a place where nature is slowly taking over. A former company resort for 42 years, the 180 acres of land was purchased by the State of Florida in 1996, and it opened as a public park 11 years later.
Camp Helen has a wonderful and wild beach that sees relatively few visitors due to the walk required to access it. However, those that make the effort to get out to the beach are rewarded with wide-open spaces and unique beach features like small streams running through the sand. The remnants of the former pier still stand and are always a popular photo spot.
The beach at Camp Helen is one of the best places near Seaside for beachcombing. A combination of currents, tides, and a lack of beachcombers prowling the sandy shoreline make for excellent finds. Birders take note: this park is one of the best places to spot bald eagles, kingfishers, and two varieties of plovers, among many other migrating species.
After your day at the beach, take a bit of time to explore the rest of the park, where you'll find historical buildings, some of which the State of Florida is in the process of restoring.
Official site: https://www.floridastateparks.org/parks-and-trails/camp-helen-state-park
7. Topsail Hill Preserve State Park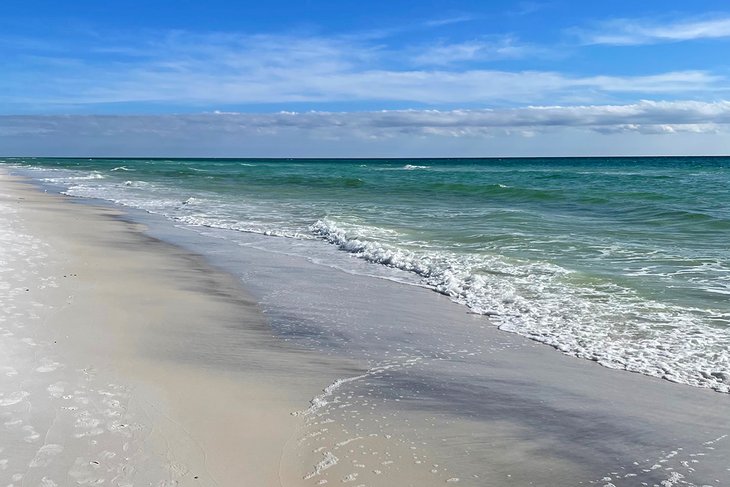 Another popular natural beach destination to the west of Seaside is Topsail Hill Preserve State Park. Here, you'll find an amazing 3.2-mile beach within the park boundary that also sees few visitors. The only downside, or upside depending on your point of view, is that you'll need to walk, bike, or ride the free beach tram for roughly one mile to the beach. This additional undertaking plus a modest fee to enter the park tends to dissuade many day trippers.
However, if you don't mind making the effort and paying the entrance fee, you will be more than rewarded with a gorgeous stretch of beach practically all to yourself. The relative lack of people allows the animals to emerge; dolphin sightings are frequent. You may also be treated to a rare sight: deer strolling up and down the beach. On occasion, the deer living in the old-growth forest back from the beach emerge and search among the dunes for tasty treats.
If you love to beachcomb, hunt for shells, or just simply walk on the beach, Topsail Hill Preserve beach is the place to come. The practically deserted stretch of beach is rarely picked over, so there's a good chance you'll find a seaborne treasure or two.
Official site: https://www.floridastateparks.org/parks-and-trails/topsail-hill-preserve-state-park