6 Best Beaches in Pensacola, FL
Miles upon miles of blindingly white beaches lapped by crystal-clear waters greet you on your Pensacola beach vacation. Head to the beach to feel the warm sea breeze on your skin blowing gently off the Gulf, and feel your stress melt away in the hot Florida sun.
Perhaps the greatest difficulty you'll face when heading to the beach in Pensacola is choosing which one to visit. Looking for a scene with lots of people? Head to Casino Beach. Interested in solitude? Drive a bit to one of the deserted stretches near Fort Pickens. Traveling with a four-legged friend? Head east or west to one of the most spectacular beaches your pet will have ever seen.
The best part about the beaches? Perhaps it's the fact that many of the best beaches near Pensacola are in the Gulf Islands National Seashore, the largest stretch of federally protected seashore in the US. This ensures they will remain intact for future generations to enjoy. A fee is charged to enter the park, but it's good for seven days and will also get you into Fort Pickens, Perdido Key, Okaloosa, and Santa Rosa areas.
Getting around is easy. Many of the beaches have extensive free parking, and the city also runs a free trolley service, allowing you to park the car instead of driving. No matter what beach you end up visiting, you'll likely be treated to the displays of the US Navy Blue Angels from nearby Forest Sherman Field practicing their aerobatic tricks in the sky above you.
Find what you're looking for with our list of the best beaches in Pensacola.
Related: Top-Rated Things to Do in Pensacola
1. Pensacola Beach (Casino Beach)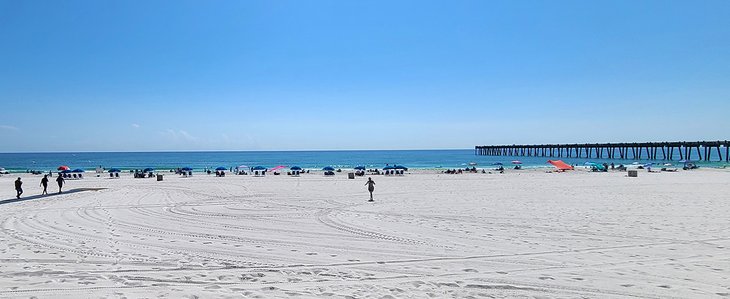 Casino Beach, also known as Pensacola Beach, is where you'll likely find yourself at some point during your trip. It's the first beach you come to after crossing the long bridge from the mainland. Parking, which can sometimes be a hassle and expensive, is plentiful and free here, so finding a spot is rarely an issue.
The beach is wide and long — you won't have to worry about finding your perfect patch of sand. Once you are all set up, head to the crystal-clear ocean for a dip in the shallow, warm water. If you are traveling with young ones or you aren't a strong swimmer, rest assured the lifeguards on duty in one of the 10 towers will keep an eye on what's going on.
Lay out on your towel, or lounge in your chair under an umbrella. Don't worry if you don't have your own beach gear — beach vendors have a seemingly inexhaustible supply of chairs and umbrellas ready and waiting for you.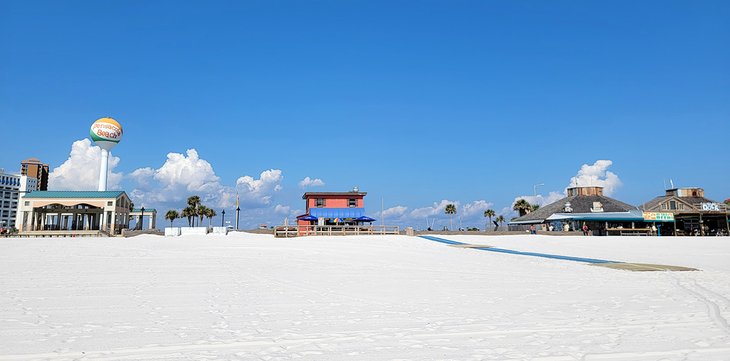 If you start to work up an appetite from all your beach lounging, you are in luck. Just back from the beach are an assortment of restaurants and takeout places. If those places aren't to your liking, just walk back across the parking lot to the Pensacola Beach Boardwalk where you'll find even more options, including the popular Flounders Chowder House.
Be sure to take some time for a stroll up and down the water's edge, eventually ending up at the Pensacola Beach Gulf Pier. A walk out to the end of the 1,470-foot beach will give you panoramic views out over the Gulf of Mexico and back towards the beach.
2. Fort Pickens Beach (Langdon Beach)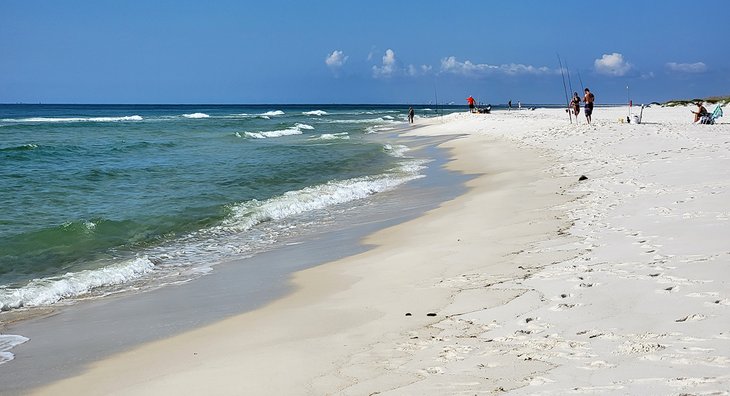 If Casino Beach is too much of a scene for you, or you also enjoy setting up a surf fishing rod as part of your beach day, Langdon Beach is probably the place to decamp to. This beach is wide, and stretches uninterrupted for miles and miles along the Gulf of Mexico.
This beach is all about solitude. You'll probably come across a few people right at the access point, but stroll a bit east or west, and you will be away from everyone. The only company you'll have out here are small wading birds, crabs scuttling along the beach, and perhaps a large heron willing to help you fish — for handouts, of course!
The sand is sugar soft, and the water clear and warm. Swimming is easy here — the water is shallow, with small sandbars just beneath the water, typical of most Gulf Beaches. Back from the beach are restrooms, picnic tables, and showers. The beach is located in the Gulf Islands National Seashore, so a national park admission fee is charged.
A long beach walk will ensure you solve all the world's problems — at least in your mind.
3. Perdido Beach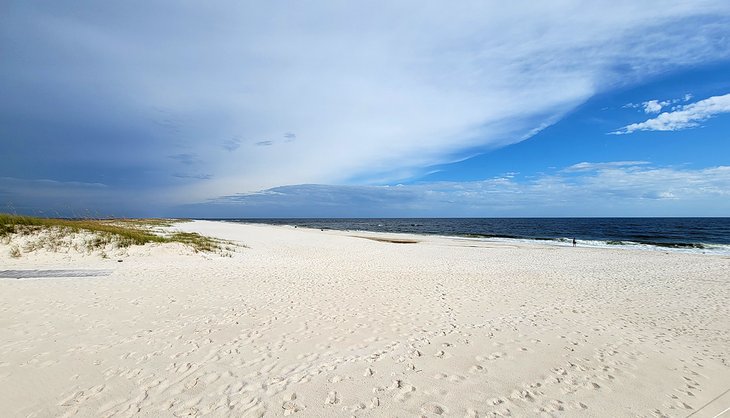 Perdido Key is a short drive to the west of Pensacola and is home to an amazing array of beautiful beaches. This area is a mix of high-rise hotel, resort, and condo complexes, backed on either side by miles of undeveloped beaches. The hotel area fronts a spectacular stretch of beach, which is ideal if you have booked a beach vacation here. Just step out of your resort, and you are all set for your day in the sand and surf.
The accommodation area is relatively small in relation to the size of land mass area of Perdido Key. Much of the remaining space is taken up by the Gulf Island National Seashore and Perdido Key State Park. It's here that you'll find access to wonderful stretches of beach, especially at Johnson Beach. Part of the Gulf Islands National Seashore, Johnson Beach runs for roughly six miles to the site of now vanished Fort McRee. For a long and peaceful walk, consider the beach stroll there and back.
If you are less enthusiastic about a 12-mile walk in the sun, heat, and Florida humidity, park at the beach pavilions and make the short stroll to the waterfront. The beach here is rarely busy, and you'll be able to settle into the latest bestseller without fear of interruption. Back from the beach are restrooms, extensive sheltered picnic tables, and showers. The park has no other services, so be sure to bring all your chairs, umbrellas, and other beach paraphernalia with you.
Another great beach, if it is open, is nearby Perdido Key State Park. The access point on the Gulf side was closed due to extensive damage resulting from Hurricane Sally in September 2020.
4. Pensacola Dog-Friendly Beaches (East and West Dog Parks)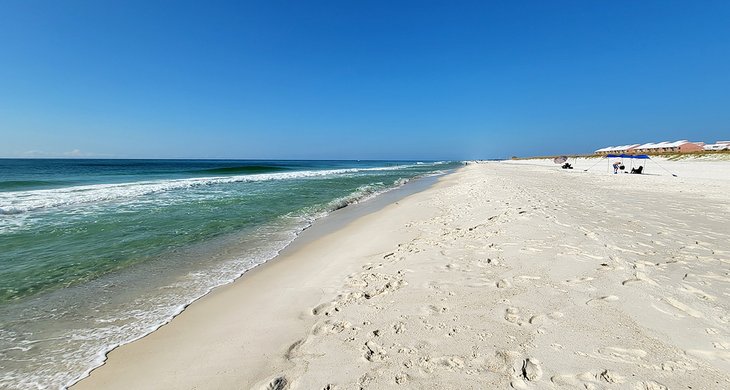 In Pensacola, bringing your dog to the beach does not mean you have to compromise on the quality of the beach. In fact, Pensacola may have two of the most scenic dog beaches in the entire United States, although dogs are required to be on a leash at all times.
The Pensacola Dog Beach West is conveniently located 2.3 miles from Casino Beach and near most of the accommodation along the road to Fort Pickens. Here, a long boardwalk takes you and your best friend up and over the dunes to an ocean playground second to none. You'll be greeted by white quartzite sands that Fido may find especially interesting considering that it squeaks when he or she walks on it.
The area for dogs is clearly posted, and you'll always find a crowd of four-legged folks willing to participate in the ritual sniffing, along with a game or two of chase. The warm water at the beach is shallow, making it ideal for owner and pet to take a refreshing dip, perhaps followed by a roll in the sand (by one of you, of course).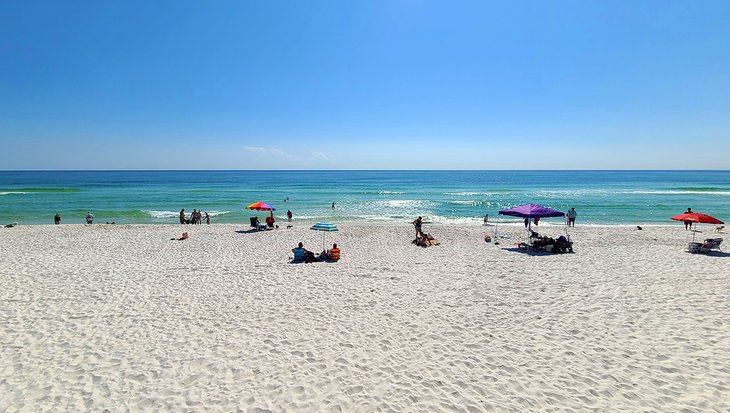 At the Pensacola Dog Beach East, located 4.5 miles east of Casino Beach, a different kind of beach is on offer. Here, you'll find a much larger stretch of sand in width and depth allowing for you to set up and find a comfortable spot for you and your best bud. Owing to its location, this beach is less busy than East Dog Beach, although you'll almost always find someone here with their four-legged friend. The water, like West Dog Beach, is warm and shallow, making it perfect for swimming and wading.
Both beaches are marked with signs along the highway. For a detailed map, consult the Escambia County website.
5. Opal Beach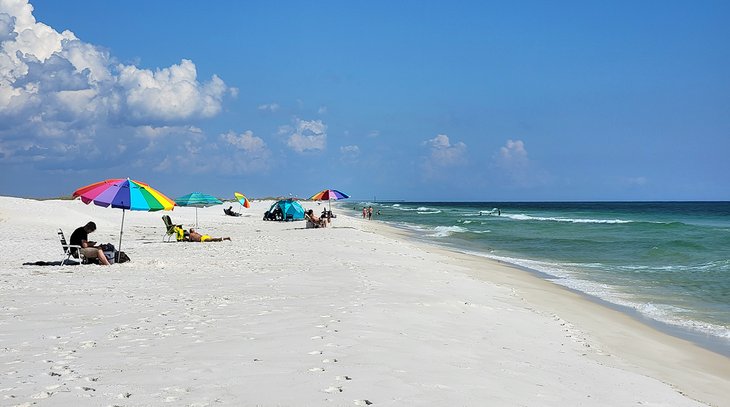 Opal Beach is most likely a Panhandle beach you've never heard of, and if the locals had their way, it might remain that way. This pristine stretch of sand runs for eight miles and is located a short walk off scenic Highway 399 running to Navarre from Pensacola.
Sugar-soft, white powder sand and incredibly clear waters lapped by small waves will greet you and most likely stop you dead in your tracks as you soak it all in. Owing to the beach's relative obscurity, few people visit. Your beach company will likely be a local from Pensacola or Fort Walton Beach.
The beach is an ideal place for a contemplative walk, just head east or west, and almost instantly you'll be by yourself with just the sound of the surf and the occasional seagull to keep you company. If you've been waiting to dive into the latest paperback instead, set up your beach chair and umbrella and enjoy a bit of escapism.
Owing to the relative isolation of the beach, the fishing can be quite good here. Bring your rod and gear and try your luck. Catches might include pompano, flounder, and red drum among others, depending what's in season and the time of year.
The beach has four access points: 32A, 33A, 36A, and the main area. The best place to visit is the main Pavilion area. It's well equipped with restrooms, change areas, showers, and a large parking lot suitable for RVs. As the park is part of the Gulf National Seashore, a fee is charged to enter.
6. Quietwater Beach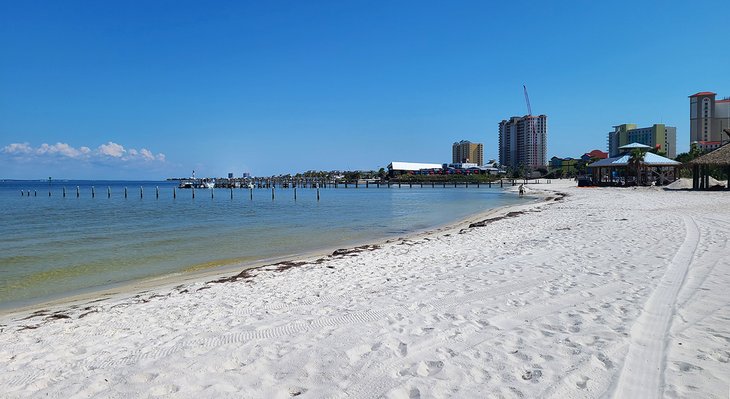 Not everyone likes big waves and cool water. Fortunately for those folks, the appropriately named Quietwater Beach exists. Tucked in behind the Pensacola Boardwalk area, this wonderful hidden gem of a beach is perfect for families with small children and those who like to wade in bathtub-warm water.
Quietwater Beach faces inland to the protected side of Santa Rosa Island, and as a result has no waves, except for the odd boat wake rolling ashore. The beach is remarkably flat and is rarely crowded, most people don't even know it exists. In fact, the beach runs all the way from the area behind Flounder's restaurant right through to James P. Morgan Memorial Park and Botanical Gardens.
Just back from the beach are a wide assortment of restaurants and entertainment venues, mere steps from the water. If you feel like you need a cold drink or a bite to eat, no need to worry about packing up your beach gear, you'll be able to keep an eye on it from your beachside table.
Pensacola, FL - Climate Chart
Average minimum and maximum temperatures for Pensacola, FL in °C
J
F
M
A
M
J
J
A
S
O
N
D

16

6

18

7

21

11

24

14

28

19

32

22

33

24

32

23

31

21

26

16

21

11

17

7

PlanetWare.com
Average monthly precipitation totals for Pensacola, FL in mm.

136

119

163

99

112

162

204

174

146

105

113

101