11 Top-Rated Tourist Attractions & Things to Do in Pensacola
In its popular culture, its inspiration, and even its cuisine, Pensacola has closer ties to the Deep South than to the rest of Florida. They still love shrimp 'n grits, perhaps the most classic of Southern foods. And Pensacola is even in a different time zone than the rest of Florida. Sitting in the northwest of the state, in the Panhandle, Pensacola is actually much closer in distance to Birmingham and Atlanta than it is to Miami.
Pensacola also has the distinction of existing under five different flags. The Spanish established the first European settlement in America when they landed here in 1559. The French arrived in 1719. Then the British came in 1763 and were chased away by the returning Spanish after the American Revolution. In 1821, Pensacola became part of the United States and was incorporated back into the Union after the American Civil War.
Today, Pensacola is a relatively small city, but has built up a solid reputation as one of the best places to visit in Florida for those seeking fun things to do for the whole family. Among its many attractions for tourists are professional performing arts companies, including a popular symphony orchestra, a ballet, and an opera.
For those seeking family fun, the area has ziplining, water sports on Pensacola Bay, and water parks, as well as numerous engaging museums and, of course, plenty of beautiful beaches.
Plan your sightseeing with our list of the top things to do in Pensacola.
Note: Some businesses may be temporarily closed due to recent global health and safety issues.
1. National Naval Aviation Museum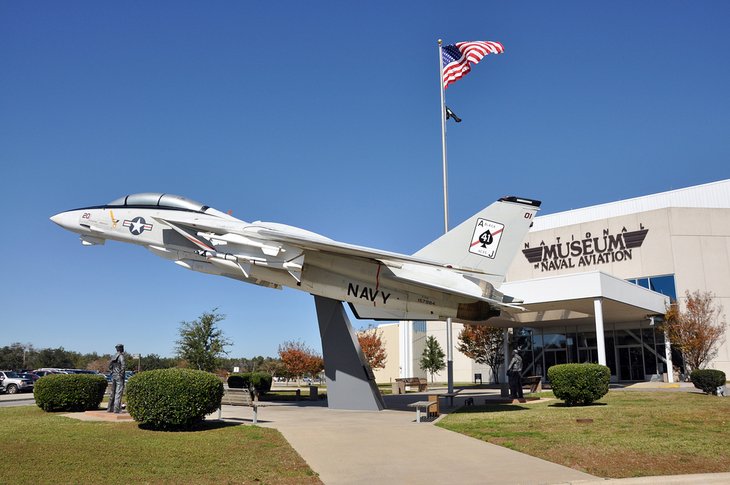 At the National Naval Aviation Museum in Pensacola, the sky is - literally - the limit. These planes, and the young pilots who flew them, helped shape history with their roles in two World Wars. Some 150 classic combat aircraft are on display here, lovingly restored and cared for and once again in mint condition.
Many of these incredible machines are the only examples of their kind still in existence, including the first plane to land at the South Pole, and one that flew in the epic Battle of Midway during WWII. At this museum, the sights, sounds, smells, and sensations of combat come alive, along with the daring exploits of the pilots who flew them.
But this museum is not just about the aircraft. It's also about the people who designed them, built them, repaired them, tested them, and flew them into combat. You'll also get a walk back through time, with countless uniforms, tools, machines, maps, newspaper headlines, communications equipment, training, and other memorabilia from that era.
There are also exciting flight simulators to try, and a café and museum shop are also located on-site.
Address: 1878 S Blue Angel Pkwy, Pensacola, Florida
Official site: www.navalaviationmuseum.org/
2. Step Back in Time at Historic Pensacola Village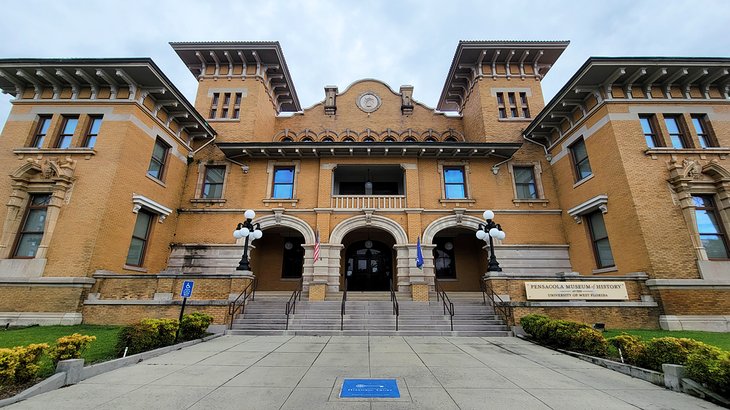 Historic Pensacola Village (also known as the Seville Historic District) consists of 28 beautifully restored buildings, four museums, and the chance to walk in the footsteps of the pioneers. In fact, there are so many interesting things to do for the whole family at this historical complex that you could easily spend the best part of a day here!
The T.T. Wentworth Jr. Museum takes you on a wild ride through the cast of characters and countries that have made Pensacola what it is today.
The Children's Museum makes history come alive - interactively - for the younger set. At the Museum of Commerce, you can walk along an 1890s street and step inside a trolley car.
The Museum of Industry depicts this city's transformation from a tiny wilderness outpost to a manufacturing and transportation center. Voices of Pensacola depicts the multicultural mix that helped this city become what it is today. Old Christ Church is listed on the National Register of Historic Places.
Best of all, your ticket to all these attractions entitles you to come back for free any time within seven days. Guided tours are also available.
Address: 120 Church Street, Pensacola, Florida
Official site: www.historicPensacola.org
3. Catch a Memorable Performance at the Saenger Theatre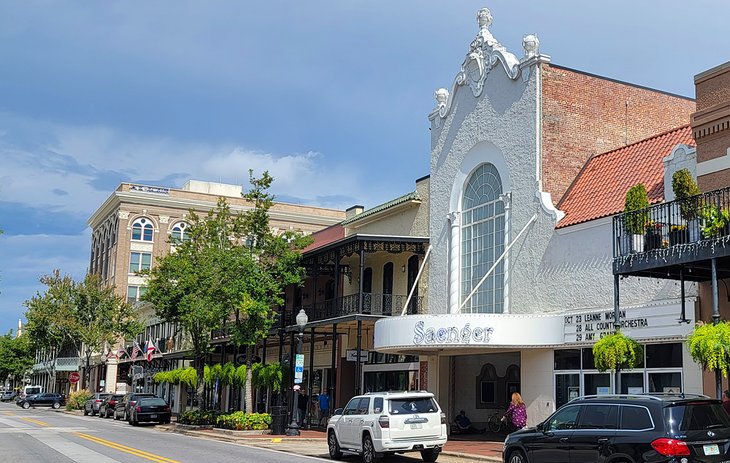 For a night in the Roaring Twenties, catch one of the singing, musical, orchestral, lecture, or theatrical performances at what locals call "The Grand Dame of Palafox Street." The Saenger Theatre was built in 1925, in the midst of the opulence and excess that preceded the Great Depression, and featured many of the world's greatest stars.
Fifty years later, after being used for years as a movie theater and in a state of neglect, the Saenger closed down. It later underwent extensive renovation and expansion and re-opened with the same glorious ambience that it had in the old days.
Today, it again hosts world-famous performers. You can see them in one of America's cultural gems, and just outside the door, Palafox Street has some wonderful shops.
Address: 118 South Palafox Place, Pensacola, Florida
Official site: www.pensacolasaenger.com
4. Pensacola Lighthouse and Maritime Museum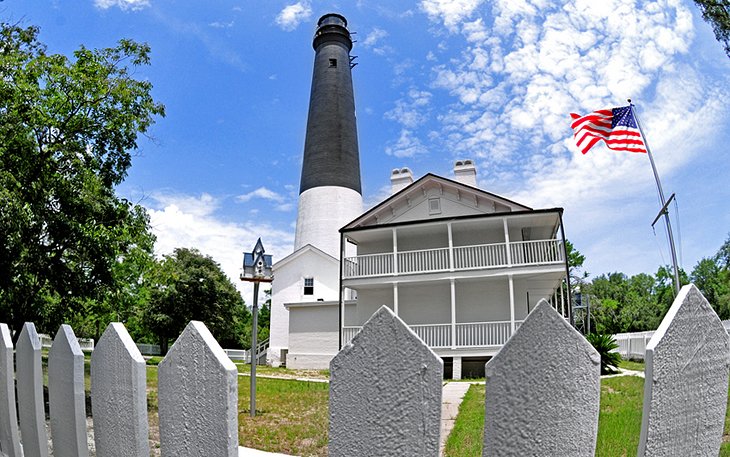 While Spanish explorers like Ponce de Leon and Hernando de Soto arrived here 500 years ago, they never experienced the stunning views from the top of the Pensacola Lighthouse that visitors can today. The beacon from this historic tower has been lighting the way for mariners since 1859. There are 177 steps to the top, but it's a worthwhile workout.
When you reach the top, you might be able to see one of Pensacola's most thrilling sights: the famous Blue Angels from the adjacent Pensacola Naval Air Station performing their incredible maneuvers.
According to local legend, the lighthouse has been haunted by ghosts for many years, and there's even a fun ghost tour on which you may see a few of these mysterious residents yourself.
Be sure to also spend time exploring the adjacent Maritime Museum, with its fascinating displays related to the US Coast Guard and the history of illumination.
Address: 2081 Radford Boulevard, Pensacola, Florida
Official site: www.pensacolalighthouse.org
5. Explore Historic Fort Barrancas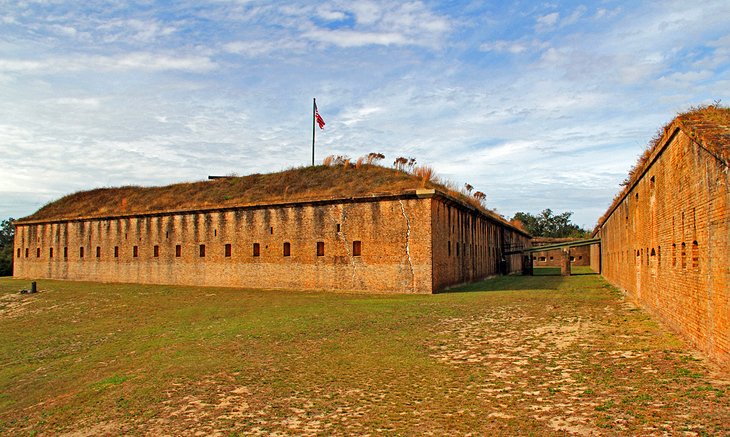 Its setting is not only historic, but also stunningly beautiful. Fort Barrancas, completed in 1844, lies on the Gulf Islands National Seashore, and is one of three forts built to protect the Pensacola naval base in the 1800s. The others are the Spanish Battery and the Advanced Redoubt Grounds, and all are open for your exploration.
When you walk on the hiking trails that meander around the fort, you'll be following in the footsteps of the soldiers who were garrisoned here. You'll see camouflaged artillery bunkers, underground passageways, brick-fortified cannon placements, food storage areas, ammunition depots, soldiers' quarters, and more.
And you'll have one pleasure probably never afforded the soldiers who were stationed here: you'll be able to enjoy a picnic on the tranquil, lush grounds.
Address: 3182 Taylor Road, Pensacola, Florida
Official site: www.nps.gov
6. Pensacola Museum of Art
Formerly a jail, the Pensacola Museum of Art is now a place of beauty, light, and learning. Built in the Spanish Revival style in 1906, the building also served as home to the city courthouse, police department, and shore patrol. Times change, of course, and it became the Art Museum in 1954.
Now, instead of vertical bars, police uniforms, and the clanking of chains, it's filled with masterpieces by the likes of Andy Warhol, Pablo Picasso, Salvador Dali, Thomas Hart Benton, and Louis Comfort Tiffany. There are also impressive collections of glass art and African art.
For those wanting to learn more about art, lectures as well as art classes are held frequently.
Address: 407 South Jefferson Street, Pensacola, Florida
Official site: www.pensacolamuseum.org
7. Gulf Islands National Seashore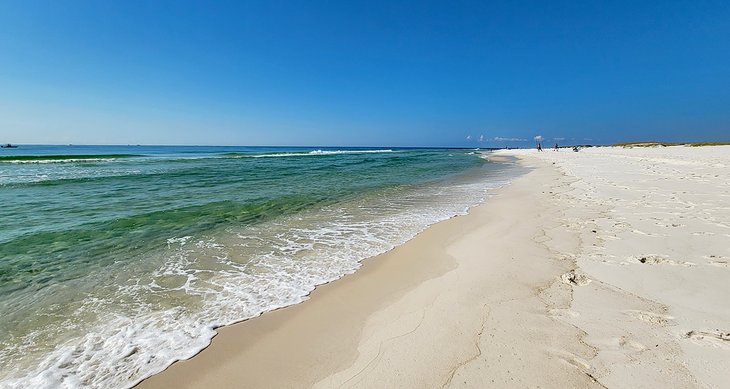 Imagine beautiful - and empty - beaches stretching for 160 miles from the Florida Panhandle into Alabama and Mississippi. Imagine the calls of seabirds, the soothing sounds made by the wash of blue-green water onto beaches of fine white sand, and the caress of tropical breezes on your face. Imagine a place where all the cares and stresses of the outside world melt away, and where you can revel in the simple joys of life again.
Well, it can all be experienced at Gulf Islands National Seashore. Along this strip of peaceful pleasures are trails and uncrowded campgrounds, kayak spots (and rentals), historic forts where the past is still present, and plenty of wildlife you'll not see anywhere else. Once here, it's the kind of place you'll find hard to leave.
If you have time, be sure to check out one or more of the nature reserves nearby, too, which include beautiful Perdido Key State Park, a barrier island just a few miles away from Pensacola.
Address: 1801 Gulf Breeze Parkway, Gulf Breeze, Florida
Official site: www.nps.gov/guis/index.htm
8. Answer the Call of the Wild at Adventures Unlimited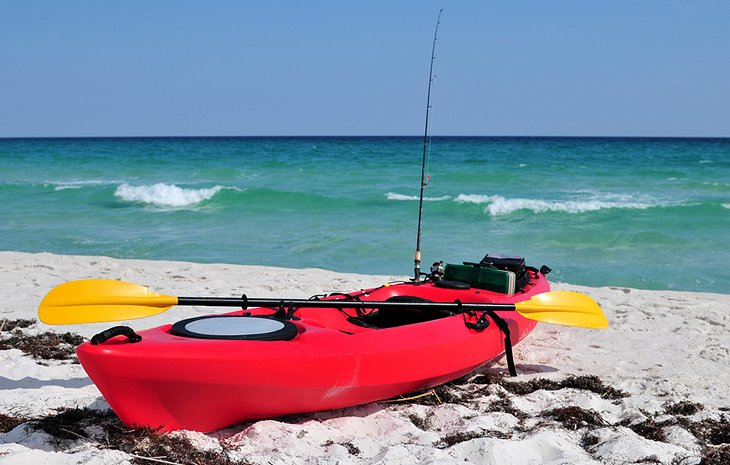 If the adventurer in you - or the kayaker, zipliner, canoeist, camper, or hiker, for that matter - is itching to get outside, then this is the place to go. Adventures Unlimited can also take you on afternoon forays or on guided overnight river trips. In fact, they even have a resort where you can lodge in authentic old log cabins or in a wooden schoolhouse that's been turned into an inn.
Or, you can really make out like the old-timers did and camp out in the woods. The kids can enjoy scavenger hunts along beautiful nature trails, and adults will enjoy the wildlife and colorful birds that make their homes here.
You can zipline over five different streams on the Soaring Stream experience, or enjoy seven different zipline sensations on Taste of the Tours. This is Panhandle nature at its finest, with a large dose of adrenaline, too.
Address: 8974 Tomahawk Landing Road, Milton, Florida
Official site: www.adventuresunlimited.com
9. Fast Eddies Fun Center
Fresh air, family fun, and Fast Eddie's - it's a combination that makes for a great day out. Here, you and the kids can whiz around your choice of four different go-kart tracks, each geared to different ages and skill sets. You can play mini-golf at a beautifully landscaped and tricky tropical-themed course, or even bat some baseballs in the batting cages.
The arcade has a great collection of old classics and new games that will test adults as well as kids. Over at Water Wars, tagged as "The Ultimate Water Balloon Game," you'll get splashed, sprayed, and soaked. And if you're feeling peckish after all this excitement, the snack stand has all the great American favorites.
Address: 505 W. Michigan Ave, Pensacola, Florida
Official site: www.fasteddiesfuncenter.com
10. Engage Young Minds at the Pensacola MESS Hall
At the Pensacola MESS Hall, science isn't taught like it is in school; here, it's fun. This fun-packed science museum is interactive with a capital "I." MESS stands for Math, Engineering, Science, and Stuff, and your kids are the ones actually performing the experiments, trying new ones, and searching for solutions to various science-related scenarios.
There are no planned outcomes to the experiments, only the ones kids discover. Children are given MESS kits, designed to help them develop a solution to a specific problem in the area they've chosen. When they solve the first one, they can move on to the next. A gift shop selling science and learning related materials is located on-site.
Address: 116 N. Tarragona Street, Pensacola, Florida
Official site: www.pensacolamesshall.org
11. Catch a Ball Game at Blue Wahoos Stadium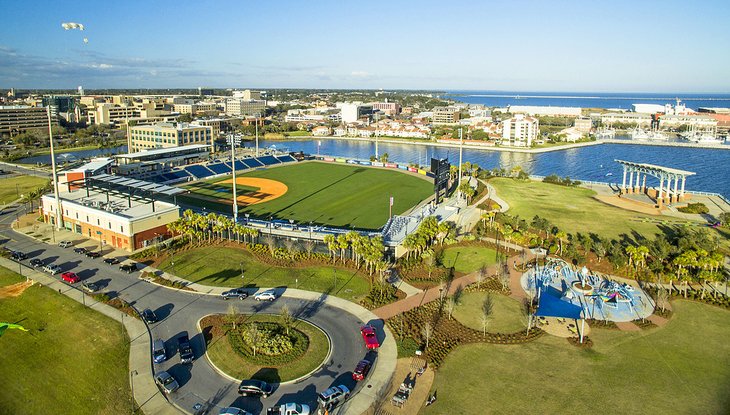 Minor League Baseball is Major League fun at the recently-built Blue Wahoos Stadium in Pensacola. This ballpark is the home of the Pensacola Blue Wahoos, who play in the Southern League and are a minor-league affiliate of the Cincinnati Reds.
Ballgames here are just plain fun. Crazy contests, unusual prizes, sing-alongs, great food, and the big Blue Wahoo mascot (a tropical fish in local waters) are just some of the attractions.
You'll also find an atmosphere of relaxed informality that you don't usually find at Major League games, and, oh yes, some pretty good baseball. There are actually a good number of baseball fans who prefer Minor League Baseball to the majors, and an evening at this ballpark may show you why. Guaranteed fun for the whole family!
Address: 351 W. Cedar Street, Pensacola, Florida
Official site: www.milb.com/pensacola/team/about
Where to Stay in Pensacola
There's a good selection of accommodation options when it comes to choosing somewhere to stay in Pensacola. Whether you're looking for a luxury resort, a mid-priced hotel, or a budget motel, you'll find somewhere suitable on this list of the top-rated resorts in Pensacola.