14 Best Trip Ideas for Seniors
We may earn a commission from affiliate links ()
There's something extra special about traveling as a retiree. In addition to being able to wander the globe for weeks at a time, there's no work- or kid-related stress hanging around as you dust off your bucket-list. Also, depending on your age and abilities, there are a slew of fun trip ideas for senior citizens.
First, you need to decide what type of holiday you're looking for. Would you like to enjoy a laid-back European river cruise, an exciting white water rafting trip, or perhaps a multigenerational holiday with your whole family?
From hiking in Sedona to riding horses at a dude ranch in Wyoming to ogling the scenery on a train through Alaska, you're sure to find a senior vacation that's perfect for you. And we promise, once you start traveling, you won't want to stop.
Plan your next getaway with our list of the top trip ideas for seniors.
1. Gawk at the Scenery in Alaska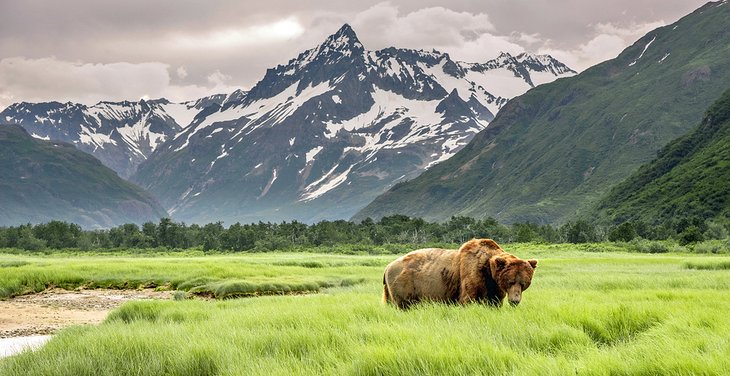 Alaska's beauty is hard to beat, which is why it holds a top spot on many bucket lists. Crashing waterfalls, glacial lakes, craggy mountains, northern lights–the list of natural attributes is impressive, and seemingly endless.
At over 663,000 square miles, Alaska is America's largest state and arguably the most gorgeous. Before you panic, thinking, "how can I see it all in one trip," you'll want to temper your expectations. Unless you're planning to stay for months, you won't be seeing it all, and even then, you'll only scratch the surface of Alaska's vast wilderness.
Book a guided tour or cruise and start your journey in a big city like Anchorage or Juneau. You can do a little sightseeing and visit their best museums and galleries before setting off to see Alaska's natural attractions.
Worried you won't be able to keep up with an active itinerary? Don't! There are many ways to enjoy the spectacular Alaskan scenery without having to be overly adventurous. In fact, Alaska is a perfect vacation destination for senior citizens of all ages and abilities.
If you're hoping to climb mountains, kayak with whales, or backpack through the backcountry, you're in luck. And if you'd rather sit back, relax, and view the astounding scenery from the inside of a train, car, or boat, you'll find options a plenty. Senior vacation packages cover a range of interests.
Whatever you do, don't miss a trip to Denali National Park. The third-largest state park, you'll have six million acres of picturesque landscape to explore, including North America's highest mountain, Mount McKinley (a.k.a. Denali) and the Sled Dog Kennels.
You can reach the park via the Alaska Denali Star, one of the best train trips in the US, which leaves from Anchorage and boasts a glass-dome roof to better appreciate the view.
The best time to visit Alaska is between mid-June and mid-August, unless you're planning to see the Northern Lights, which are at their most magnificent between mid-August and mid-April. So keep that in mind when booking.
Accommodation: Top-Rated Resorts in Alaska
2. Go on Safari in South Africa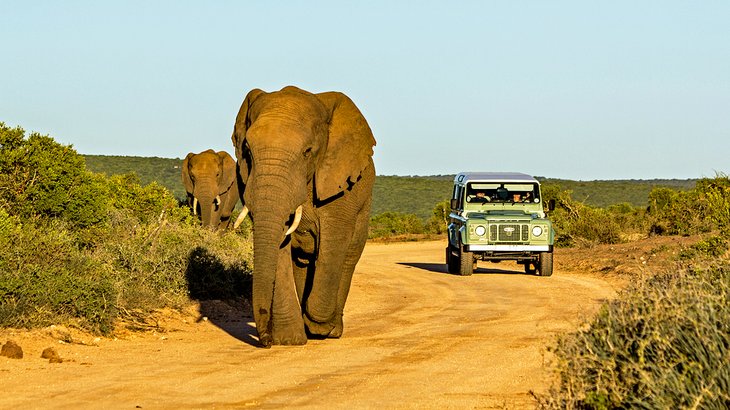 It's no secret that heading out on an African safari is a bucket list vacation. In addition to spectacular scenery, tourists can rest assured they'll return home with phenomenal photos of some, if not all, of the region's "big five" (lions, elephants, leopards, buffalo, and rhinos).
Worried a trip of this kind will be too much for you at this stage of life? Don't! Joining a safari is one of the best things to do for senior citizens in South Africa. These memorable tours are mainly conducted in a 4X4 vehicle, which means there's little to no walking involved; a plus for those with mobility concerns.
Kruger National Park is one of the best game reserves in Africa. The largest and oldest national park in South Africa, this famed reserve is the main stop on many senior vacation packages. Many accessible luxury safari lodges lie outside the borders of the park, offering guests a relaxing and comfortable spot to rest between excursions.
While here, be sure to visit South Africa's other top attractions, like Lion's Head in Cape Town, Table Mountain, and the vast and impressive Kgalagadi (Kalahari) Transfrontier Park.
3. Relax in the Caribbean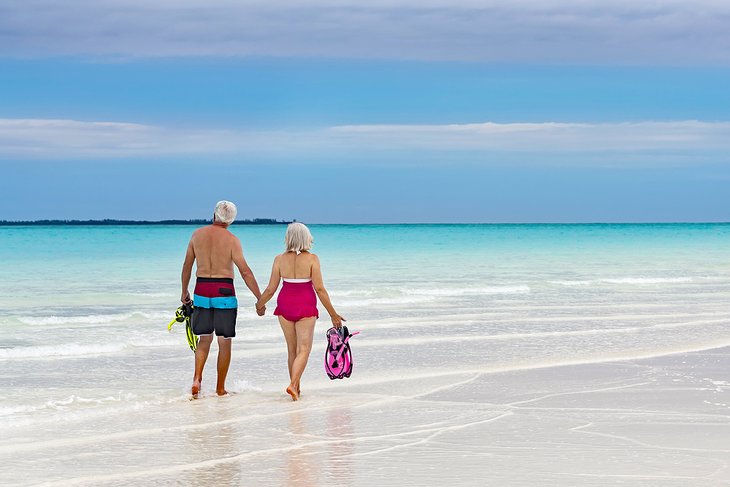 There's little that's as relaxing as lounging on a beautiful beach in the Caribbean. A few hours spent gazing at crystalline turquoise water while digging your toes in soft golden sand is enough to cure what ails you. Add the healing qualities of a warm swim on your joints and you'll never want to leave this tropical paradise.
Boasting thousands of islands, all as stunning as the next, the Caribbean is filled with glamorous places to visit, perfect for a senior vacation. If you're hoping for a spectacular senior trip, we'd suggest visiting the Caribbean's most popular islands.
Aruba, Antigua, Barbados, Bermuda, Curaçao, Grand Cayman, St. Lucia, St. Maarten, and St. Thomas are primed for welcoming senior vacationers, and they boast plenty of activities and amenities ideal for those who are enjoying life in their prime years.
Whether you choose to snorkel the coral reefs, hike through the tropical forest, take in the tourist sites and attractions in Bermuda, or enjoy water served in a fresh coconut on the beach, you'll find something fun to do on your Caribbean holiday.
Before you book, consider choosing a luxury all-inclusive Caribbean resort. In addition to plush accommodations, your stay will include meals, beverages, and activities, which means there's no stress to worry about when the final bill arrives.
You'll also want to consider the time of year you want to travel. The best time to visit the Caribbean for weather is between December and April. If you're looking for a deal, the cheapest time to go to the Caribbean is during its low season, from May through August.
4. Eat Your Way through Tuscany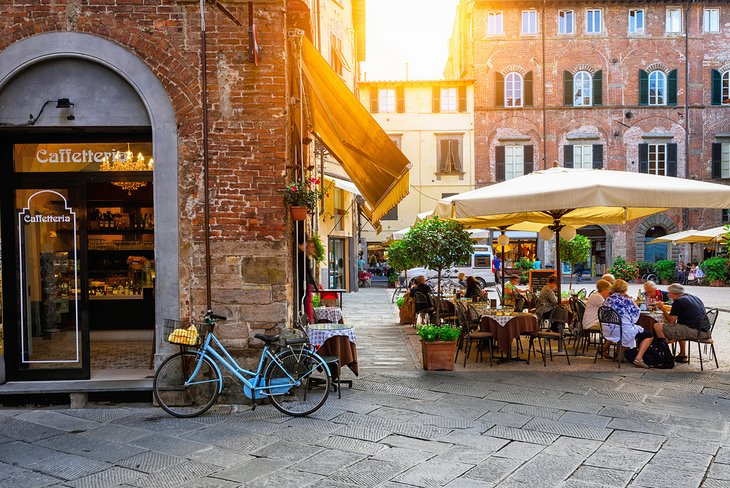 It's hard to find a more romantic destination than Tuscany. Ancient architecture, cobblestone streets, winding laneways, and some of the world's best restaurants lie within the borders of this elysian region. Be sure to come hungry, because your taste buds are in for a treat at every meal.
Tourists can spend their days exploring Tuscany's top attractions, like the Leaning Tower in Pisa, Siena's Cathedral of Santa Maria Assunta, or Lucca's stone walls, and there are enough museums to keep visitors busy for days.
When you're not sightseeing, eat! It's one of the best things to do in Florence.
Florence is Tuscany's renowned capital, most famous for its seemingly endless attractions, like the Uffizi Gallery, Palazzo Vecchio, and Neptune Fountain, which lie in the splendid Piazza della Signoria. The Ponte Vecchio Bridge and Cathedral of Santa Maria del Fiore with its impressive Duomo are points of interest you won't want to miss.
No need to worry about getting lost. There are plenty of senior tours and senior vacation packages designed for retirees who don't want to futz around with maps and taxis. Their cheerful guides will lead you around the city, pointing out the most interesting tourist sites.
Tuscany is also well known for its beautiful accommodations. In addition to some very impressive hotels in Florence (we see you, Four Seasons Hotel Firenze), this resplendent region is home to a slew of luxe resorts, charming villas, and plush hotels.
5. Ride a Train in the Canadian Rockies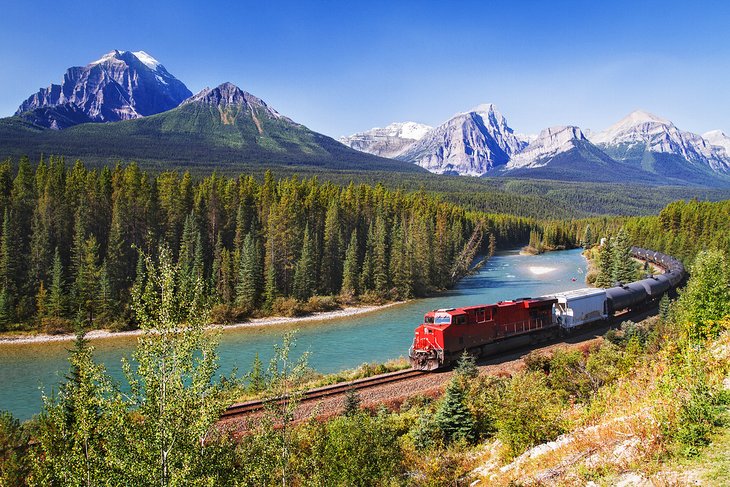 No matter which way you see them–by car, bus, plane, train, or foot–the Canadian Rockies are breathtaking. Stretching through two of Canada's provinces, British Columbia and Alberta, these magnificent peaks surround deep, sparkling lakes, thick forests, jagged bluffs, and vast plains. Don't worry if your heart rate increases and your breathing stops when you set eyes on them, that's a normal reaction.
For retirees, the best way to see the Rockies is by train. And the plushest way to travel is by the Rocky Mountaineer. Yes, the price is about as steep as the mountains themselves, but you'll be riding in luxury, pampered by not only the unsurpassable view that rushes past your window, but also by the top-notch service and comfy seats offered on board. Nights are spent in hotels, and you'll exit the train to take advantage of fun tours and guided visits to local tourist attractions.
Depending on which journey you choose, you could be chugga-chugga-choo-chooing your way through one of Canada's best national parks. Jasper National Park zips past the lakes in the Shuswap region just past Kamloops, or you can whiz your way to Banff National Park. Most tours start in Vancouver and end in Banff or vice versa.
Not up for parting with that much cash? Try creating your own journey with a combination of trips on Via Rail and a rental car. Or, book a senior vacation package so you can let someone else do the planning.
If you're feeling adventurous and want to travel in winter, book a room at one of Canada's best ski resorts. The Fairmont Chateau Lake Louise resort is set in the center of the Rockies, making it an ideal destination for senior travelers looking to relax in luxury after a day spent on the slopes.
6. Explore America's National Parks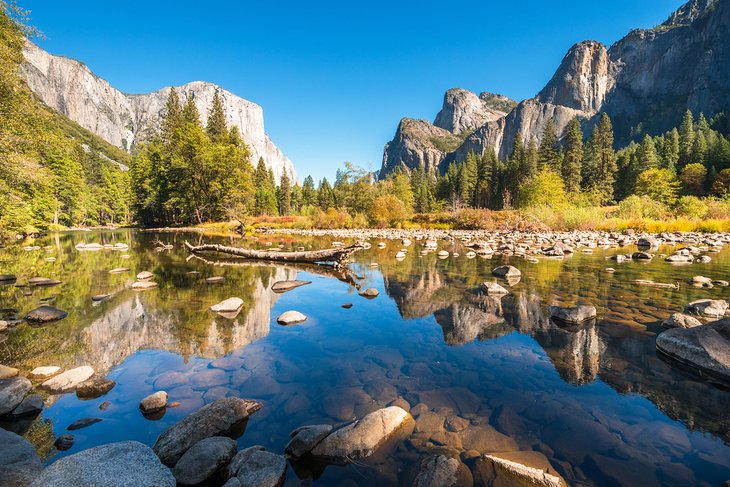 Sometimes, it's nice not to have to worry about a passport while you're on vacation. If you live in the U.S., why not roam near home and visit one of America's best national parks? It will help keep your budget in check and allow you to explore parts of your country that you've yet to visit.
There are so many fabulous National Parks to choose from that we can't list them all. So, below are a few of our favorite spots for a senior vacation. Depending on where you live or intend to travel, you won't be at a loss for beauty. Whether you want to go hiking, birding, biking, or rafting, you'll find a park to meet your needs.
Grand Canyon National Park
Arizona's Grand Canyon National Park is unmissable and filled with enough hiking trails to keep senior citizens happily occupied for hours or even days. Park your car and ride the park's shuttle from lookout to lookout. One of the best-known national parks and a top natural wonder of the world, you'll want to set aside at least a full day to enjoy this popular destination.
Those who'd prefer to save their legs for hiking in other destinations can hop on the Grand Canyon Railway Adventure Tour, where they can hear folklore and other historic tales from animated staff. The train departs from Williams but you can find connections from Flagstaff or Sedona.
At Grand Canyon Depot, guests can choose to hop on a narrated coach tour of the park. Included is a Wild West shootout show and live western music to transport you back in time. While you're there, book a stay at one of the best Hotels at the Grand Canyon.
Yosemite National Park
The best time to visit Yosemite National Park in California is between Memorial Day and Labor Day. You'll encounter a ton of other tourists at this time, but the weather will be ideal for exploring the park's most iconic attractions, like El Capitan, Half Dome, and Yosemite Falls.
The many hiking trails at Yosemite vary in difficulty, with many easy-to-moderate routes that are perfect for senior travelers. Stay at one of Yosemite's best campgrounds if you're up for camping.
Acadia National Park
Head to Acadia National Park for a rugged and beautiful senior vacation. Packed with fun and accessible hikes and other exciting things to do, this is one of the best tourist attractions in Maine for good reason. Senior citizens will love the Island Explorer buses, which connect tourists with the park's many attractions. Park Loop Road is the most scenic of the park's passages.
While you're there, be sure to schedule time to explore nearby Bar Harbor. Found on Maine's Mount Desert Island, this adorable town is a perfect mix of historic homes and a bustling metropolis come summer.
7. Take a River Cruise in Europe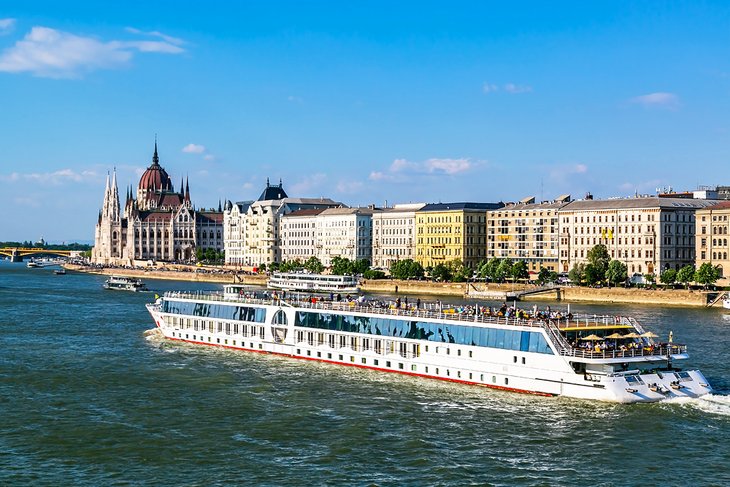 It's easy to see why taking a European river cruise is a popular senior trip idea. These picturesque cruises are a slow, calm, and easy way to see what is often the city's best side. Coastal castles, waterfronts peppered with colorful buildings, and bustling harbors can all be appreciated from the comfort of the deck.
If you want to be more adventurous, that's easy, too. Hop off the boat and involve yourself in some of the local activities, walk around the various cities or villages, and go sightseeing with the ship's organized tours. If you'd rather stay put and enjoy the boat's amenities, that's fine, too.
Unlike giant cruise boats, the vessels used for river cruises are smaller and more manageable. They often hold about 200 people or less. The staterooms are often just as nice as those found on larger ships, and offer balconies or floor-to-ceiling windows. The ships feature restaurants, indoor and outdoor lounge areas, and some come equipped with a pool.
Senior tourists can choose three- to four-day journeys to test the waters (get it?) or opt for a longer, grander tour that lasts as long as 15 days.
Depending which company and route you choose, you could travel along the Rhine from Amsterdam until you hit the Main River in Miltenberg, and mosey along the Danube through Vienna to Budapest.
A trip along the Duouro to explore Portugal is another must for European wanderers.
The adult-only Viking River Cruises is one of the best companies for senior vacations in Europe and beyond.
8. Drive the Pacific Coast Highway in California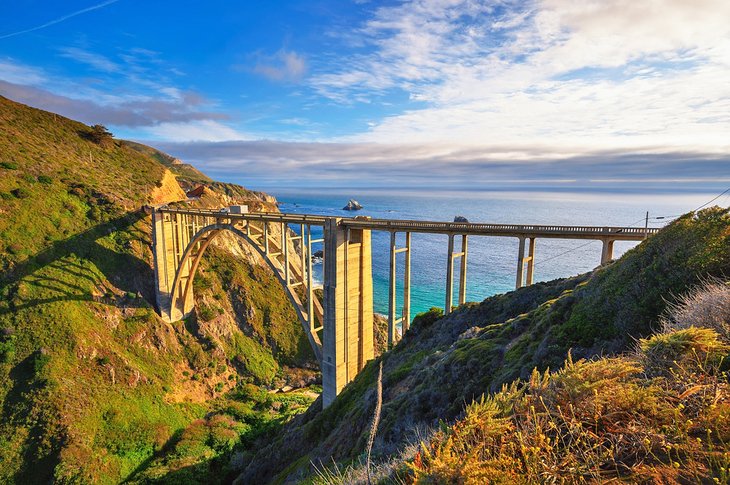 There's nothing like a road trip to make you appreciate being retired. You can drive as quickly or as slowly as you'd like (within the speed limits, of course), stop where and when you want, and spend the night in luxe California resorts or quaint B&Bs along the route. The world, or in this case the road, is your proverbial oyster!
When that road trip is on the streets of California, you're in for a vacation you won't forget. Driving the Pacific Coast Highway (also known as California State Road 1) is one of the best West Coast road trips due to its jaw-droppingly gorgeous scenery. Mountains meet the sea on this incredible road, and you'll be more than happy you took the time to drive it.
You'll want to plan on a minimum of six days if you're hoping to drive from San Francisco to San Diego, an almost 600-mile trek. While the total drive will take anywhere from 11 to 12 hours, it's the amazing stops and scenic overlooks that will add days to your journey.
Before you rev your engine, make time to do some sightseeing in San Francisco. You can't miss the Golden Gate Bridge, but other stellar attractions like Alcatraz Island and Fisherman's Wharf deserve attention, too.
Popular stops along the route include Big Sur's top attraction, Bixby Bridge, the beaches of Santa Barbara, Monterey's top points of interest, and the tourist hot spots of Los Angeles.
San Diego is a great place to enjoy some well-deserved down time at one of the city's pristine beaches before settling in at a comfy hotel.
If you're not comfortable driving, book a tour. The Monterey, Carmel and 17-mile drive is a full-day tour from San Francisco that shows travelers the sights of Monterey and Carmel by the Sea while leaving the driving to a professional.
9. Enjoy an Airboat Ride in Florida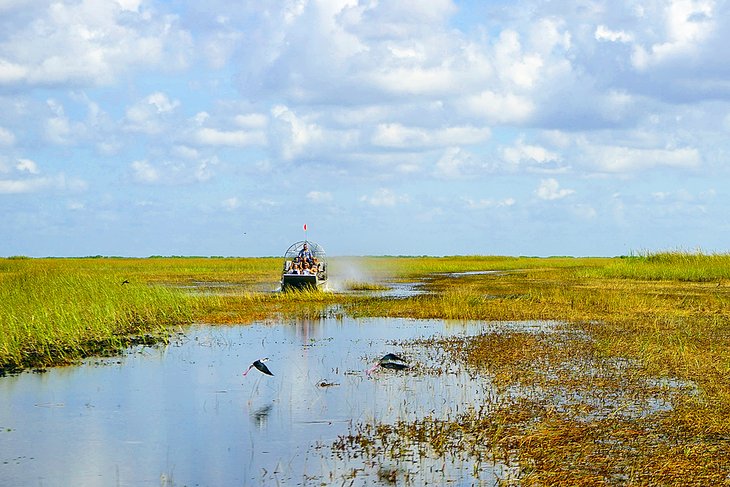 It's no surprise that Florida is a haven for senior citizens. Known as the Sunshine State, its ideal temperature is the number-one reason retirees flock here when winter hits at home. Who wants to shovel snow when they could lounge on one of the soft, white-sand Florida beaches that make this state so irresistible?
Florida offers a large variety of fun places to visit, which means there really is something for everyone. From the bustling beach scene in Miami to the theme parks and attractions of Orlando to the funky vibe of Key West to the golf courses scattered throughout the state, you'll never be bored.
Another bonus of visiting this sunny state; Florida is an ideal place to visit for a skip-gen trip–the grandkids can join in the fun no matter where you choose to stay.
While you're there, be sure to book an airboat tour of the Everglades National Park. Skirting across the river grass at high speed on your way to spot gators, snakes, panthers, and wood storks is exhilarating. This is definitely one of the most thrilling things to do in Florida.
Accommodation: Top Resorts in Florida
10. Soak Up the Southern Charm of Savannah, Georgia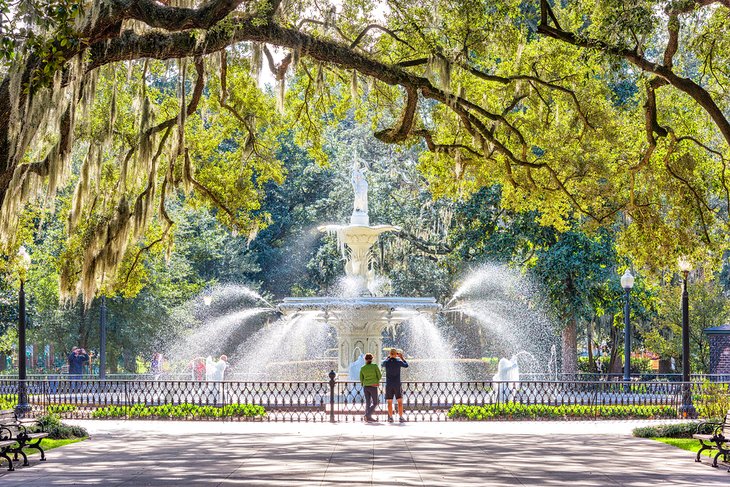 Savannah is dripping with appeal. Lined with giant oak trees whose moss-draped branches flow elegantly in the breeze, and highlighted by grand mansions that harken back to simpler times, this romantic small city oozes Southern charm.
Senior visitors to Savannah are presented with a slew of options when it comes to touring this pretty city. From dolphin cruises to private bus tours to trolley rides to personal golf cart cruisers, you can do as much or as little walking as you'd like to see Savannah's top attractions.
When you've finished visiting points of interest like the Savannah Historic District, Bonaventure Cemetery, and Forsyth Park, you can reward yourself with some of that down-home Southern cooking you've heard so much about. Then, soak up some history in a horse-drawn carriage, ogling the antebellum architecture that makes this wonderful city so unique.
Accommodation: Top-Rated Resorts in Savannah, GA
11. Ride a Horse at a Dude Ranch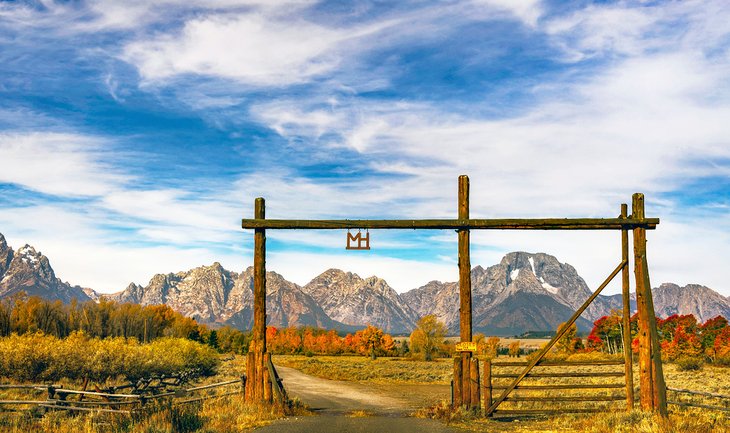 There are so many fun things to do on a dude ranch that you won't need to leave the property. Popular destinations for multigenerational holidays, these senior-friendly destinations offer an ideal place to bring the whole family.
Dude ranches are chock full of activities for travelers of all ages and abilities. From petting zoos to cattle drives to white water rafting to horseback riding to bird ranching, you won't be at a loss for ways to stay entertained. Plus, you can finally unleash your inner cowboy or cowgirl.
Many dude ranches are found in the central U.S. States like Wyoming, Montana, and Colorado, but you'll also find a variety of top ranches in California.
The Vista Verde Guest Ranch in Colorado is both luxurious and idyllic. A working cattle ranch, guests stay in private log cabins and have access to activities like fly fishing, rock climbing and cooking lessons. No wonder it is deemed one of the best all-inclusive resorts in the U.S.
12. Visit the Museums in Santa Fe, New Mexico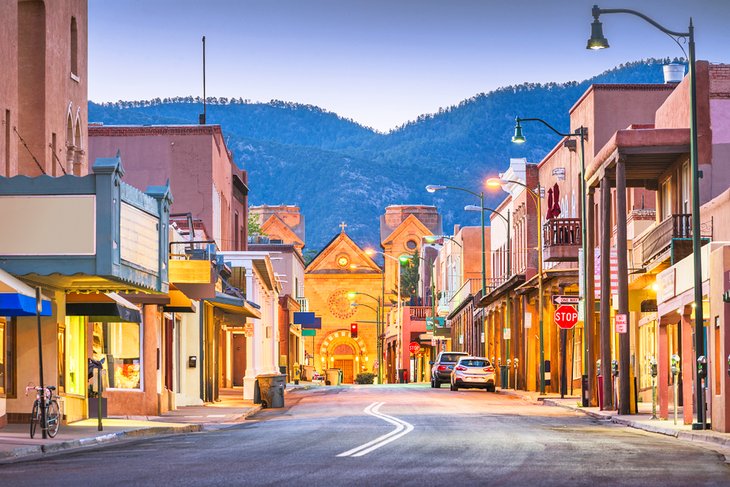 Santa Fe is a hot spot for senior vacations due to its warm climate and picturesque scenery–the historic adobe buildings are unforgettable. Like Florida, Santa Fe is adept at catering to retirees. It boasts a bevy of attractions perfect for those who don't want to take things at too fast a pace.
The walkable Canyon Road plays host to more than 100 art galleries and studios, as well as crafts stores and multiple restaurants and cafés. It's eclectic, exciting, and easy to wander around.
The Museum of New Mexico Complex is home to four museums, so you can soak up the history in one easy locale. Told you the city was easy to get around.
Those who want to be more active can take advantage of Santa Fe's prime location as the highest state capital. Its position at the base of the Sangre de Cristo mountains make it an ideal spot for outdoor endeavors like hiking, biking, golfing, or skiing (if you visit during winter).
Accommodation: Top-Rated Resorts near Santa Fe, NM
13. Get Outside at Sedona, Arizona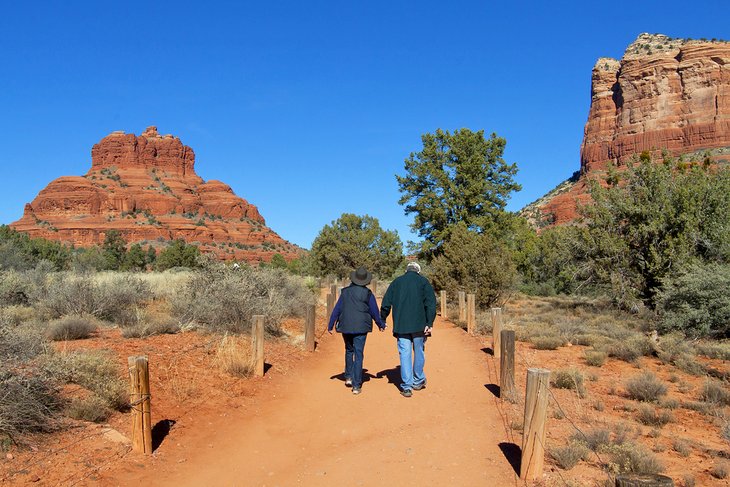 There's a lot to love in Sedona, Arizona, especially if you're traveling as a senior citizen. First, there's the scenery. Otherworldly red rock formations rise from the rugged terrain, changing color as the light dances upon them throughout the day. Second, there's the ideal climate–mild and wonderful.
Hiking is one of the best things to do in Sedona. Don't worry if you're not up for a hard-core hike, there are plenty of easy trails, including the 2.4-mile, partially shaded route that traverses Fay Canyon. More adventurous seniors can try out Sedona's mountain biking trails.
If you're itching to take photos of Cathedral Rock, rest assured that you can get great shots from Red Rock Crossing Park. You can climb to the saddle if you're willing and able, but there's no need if you're just hoping to gaze at its magnificence up close.
A drive along the Red Rock Scenic Byway is another great way to view the area's most stunning sites, including Bell Rock, without having to spend hours (or possibly days) hiking.
Practice some retail therapy and grab a bite to eat in Uptown Sedona. This is where you'll find the city's best galleries, shops, and restaurants. Golf is another popular activity for retirees, so pack clubs if you're hoping to play a game or two.
Accommodation: Best Resorts in Sedona, AZ
14. Explore the Ruins at Machu Picchu, Peru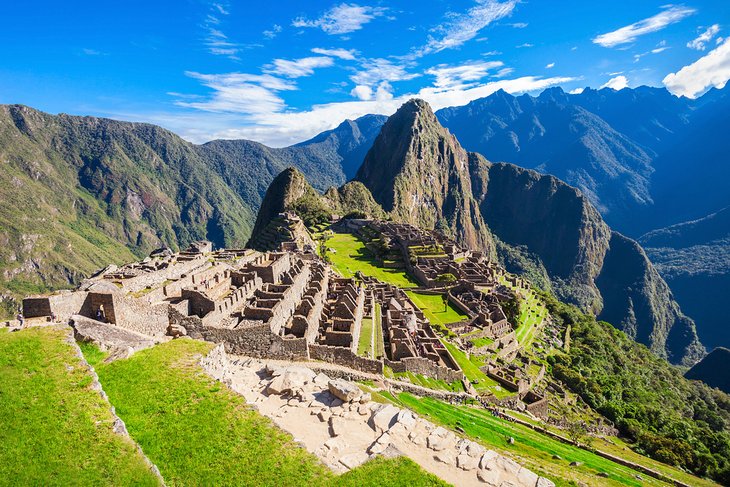 We bet if you close your eyes, you can picture Machu Picchu. As one of the most famous tourist attractions in Peru, Machu Picchu is one of the top World Heritage sites and one of the most recognizable places to visit in the world.
This magical Inca City features a dramatic setting that is impossible to forget. Set high above the Urubamba River, the famed ruins are surrounded by lush, mist-shrouded mountains and boast steep, terraced steps that climb the side of the mountain that are flanked by the remains of ancient buildings. It is impossible to view this spectacular site without gasping in awe and taking a gazillion photographs.
While some tourists choose to reach Machu Picchu by a days-long adventure involving a hike from Cusco and multiple campsites, the best way for retirees to enjoy the journey is by train. A bus can take travelers the rest of the way from the train station, so there's little hiking to endure compared to other routes.
If you're feeling adventurous but don't think a multi-day hike is your thing, there's also a one-day Inca Trail Hike, which takes about six hours, and takes you to the Sun Gate at Machu Picchu. Be sure to book a reservation in advance (as many as four months before your trip) to ensure you can gain entry to the site. You can do so on the Peruvian Ministry of Culture's website.
A word of warning: since tourists to Machu Picchu must travel through Cusco, which sits over 11,000 feet above sea level, seniors should first check with their doctor to be sure it is safe for them to visit at such a high altitude.