20 Best Small Towns in Florida
We may earn a commission from affiliate links ()
Florida's charming small towns offer a glimpse into the state's true character and are a great choice for a quiet and hassle-free vacation.
Many of the best small towns in Florida are lined by pristine sandy beaches or offer nearby championship golf courses. They're also wonderful destinations to discover interesting boutiques and galleries.
These adorable spots, found spread across the entire state, are a haven for snowbirds and entice year-round visitors to wander their historic streets, soak up the old-world charm, and kick back in a mom and pop restaurant.
To find out more about what they have to offer, read our list of the top small towns in Florida.
1. Anna Maria Island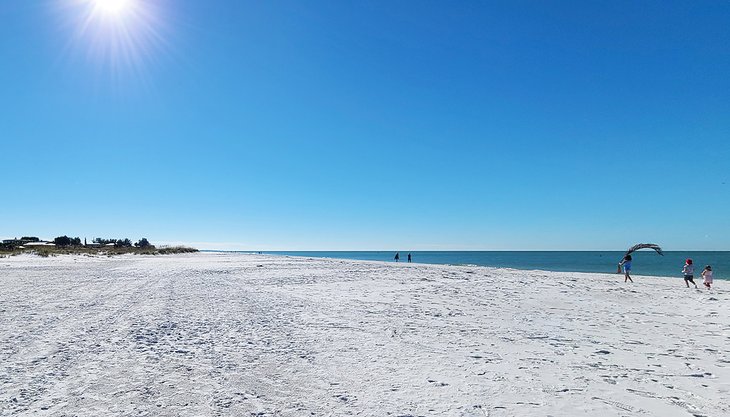 If you are looking for a perfect stretch of white, sandy shore, Anna Maria Island is the perfect choice for your small town getaway in Florida. Located between the Gulf of Mexico and the mainland, this seven-mile strip of a barrier island is home to one of the best beaches in Florida. The shores here are white-sand beaches and a sanctuary for bird lovers.
2. Vero Beach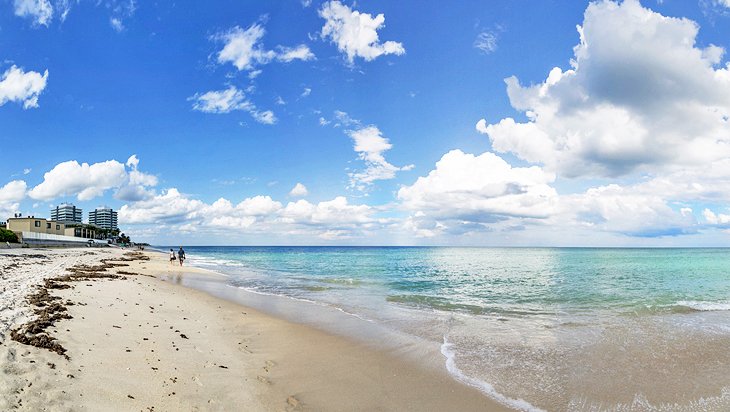 Tucked along The Treasure Coast is a barrier island, which in years past has been labeled "The Best Small Town in Florida." Town planners have been very restrictive about zoning and building heights, allowing Vero Beach to grow in a way that still maintains its lovely charm. One can walk for miles along the coastline and not see another soul. How rare is that in Florida!
The reefs just offshore were notorious for claiming ships carrying valuables, thus the Treasure Coast name. The resulting shipwrecks have left their mark, and this is a favorite spot for divers and those searching for treasure with metal detectors. There is even a newly sunk shipwreck, the S.S. Breconshire right offshore from the iconic Ocean Grill.
Visitors can kayak and paddleboard the short distance for some snorkeling. Additional things to do in Vero Beach include McKee Jungle Garden and Lion Country Safari. Restaurants in the Vero have had a bit of a renaissance, with an influx of farm-to-table plates incorporating artisan ingredients.
3. Venice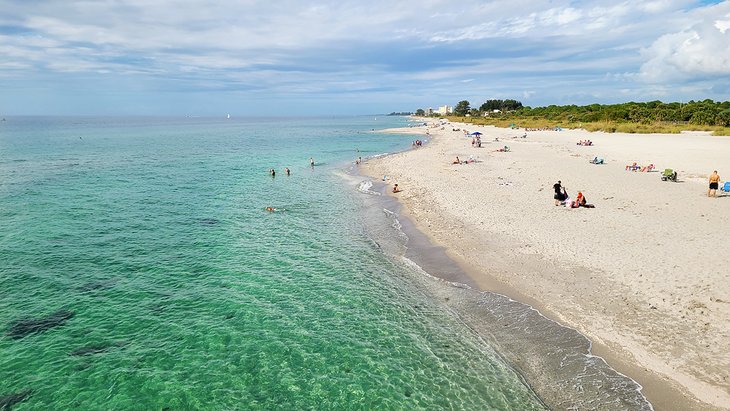 A trip to Venice, Florida on the scenic Gulf coast won't soon be forgotten. Known for being the Shark Tooth Capital of the World, Venice is filled with a rich and colorful history, as well as lots of fun finds on the sand – bring a bucket!
Fun fact: Venice was once the winter home to The Ringling Bros. and Barnum & Bailey Circus and its Clown College. While you're not likely to see many clowns wandering around town, present day entertainment includes the number one community theater in the US, The Venice Theater. Save time to check out a show if you can.
In addition to the arts and culture, Venice also boasts many other things to do, including world-class golfing, water sports, and beautiful beaches. Venice Beach is not only a great place to sunbathe, but you can also search for fossils and shark teeth. Caspersen Beach is especially known for successful fossil finds.
4. Safety Harbor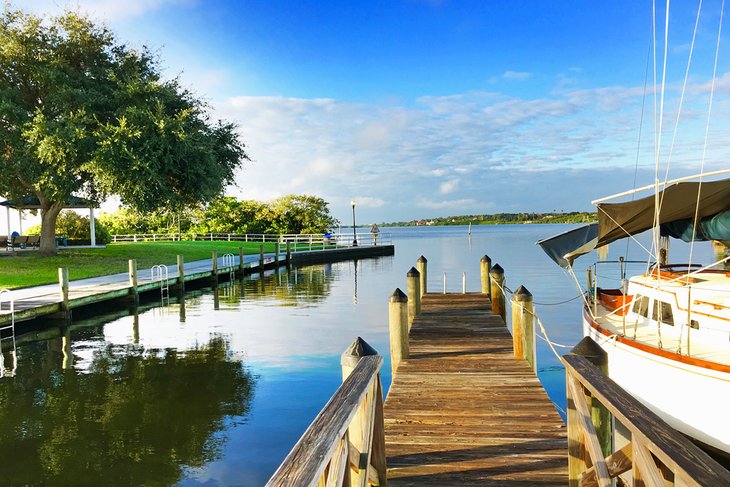 Located close to Tampa, Safety Harbor is full of small-town charm while still being close to anything you might need from a larger city. As its name implies, this is a safe and lovely spot to spend a few days or more. The Safety Harbor Resort and Spa is one of the best attractions in town. This is the spot to be for travelers looking to enjoy its healing waters, as well as the abundance of additional activities on offer. Nearby beaches are another big draw as are the many first-class restaurants on Main Street.
Outdoor lovers should add a visit to Philippe Park to their list for a beautiful walk along the harbor. You can also watch the pleasure boats heading to and from the ocean. Fisherfolk can cast a line at the Safety Harbor Marina and Fishing Pier. A walk around the historic district offers further exploration, and make sure to stop and see the ancient Live Oak at Baranoff Park, rumored to be between 300 and 500 years old.
5. Apalachicola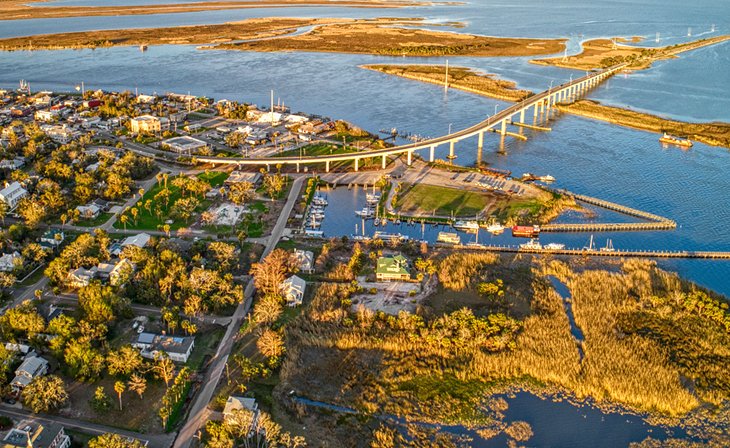 "Quaint" is often used to describe the fishing village of Apalachicola, located in Florida's panhandle. Plopped serenely on the emerald waters of the Gulf of Mexico, this small town has a well-deserved reputation for delicious seafood.
The Gulf's warm, calm waves (in comparison to the East coast's dramatic Atlantic Ocean) ensure pleasurable water sports for all visitors, including families, along unspoiled beaches. The National Forest and Tate's Hell State Forest are both filled with hiking trails for the outdoor explorer.
6. Captiva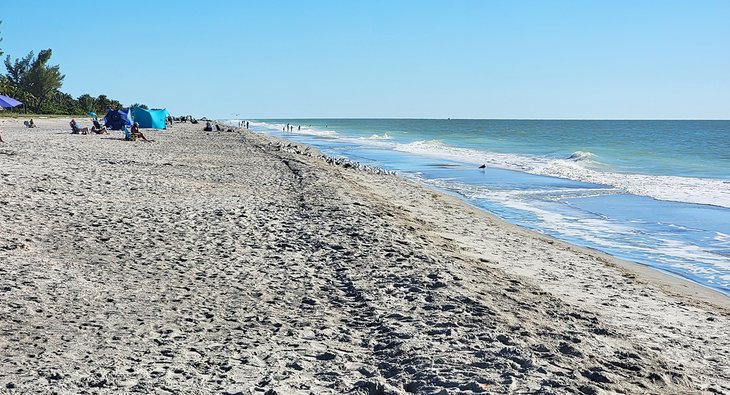 Everyone who visits loves Captiva Island. Located on the southwest coast, it has a gorgeous and Instagram-worthy topography. Think cottages draped with bougainvillea and picturesque sunsets at the end of the day.
Don't be surprised when you see visitors walking for miles in a hunched over position. They are looking for shells, one of the area's main attractions. You'll want to bring a bucket to this locale, too.
In addition to the scores of shelling opportunities, Captiva offers lovely beaches and more of Florida's tasty seafood. Biking, birding, sailing, and the usual offering of water sports are other things to do in Captiva.
The best option for visitors is to stay at one of the resorts on Captiva, where you won't have to worry about driving or parking in order to hang out on a beach.
7. Crystal River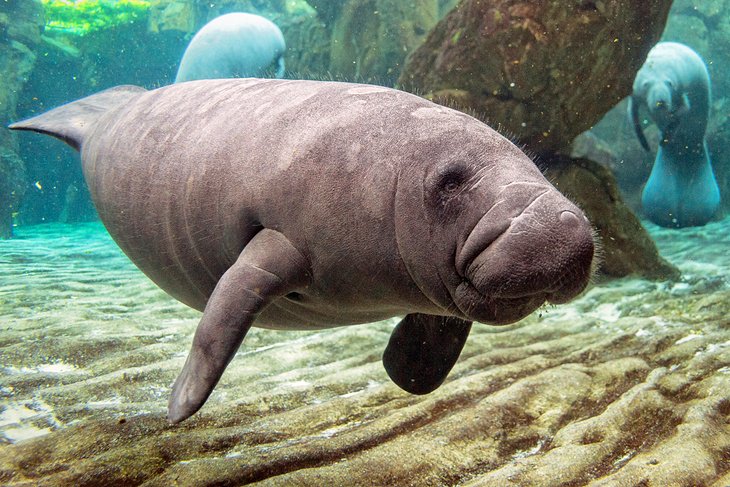 Ever wanted to swim with a manatee? Now's your chance! Head to Crystal River, home to one of the best springs in Florida, and a haven for nature lovers and manatee aficionados. Its crystal-clear waters are ideal for sightings of the famous sea cows, and the constant temperature of 72 degrees Fahrenheit, combined with visibility often reaching 200 feet, ensures an enjoyable snorkeling experience.
These gentle giants seek the warm water of the state's purest spring-fed water system when temperatures drop in the Gulf of Mexico. Turtles and schools of fish are also frequent visitors, but be sure to follow regulations about keeping your distance.
8. Pompano Beach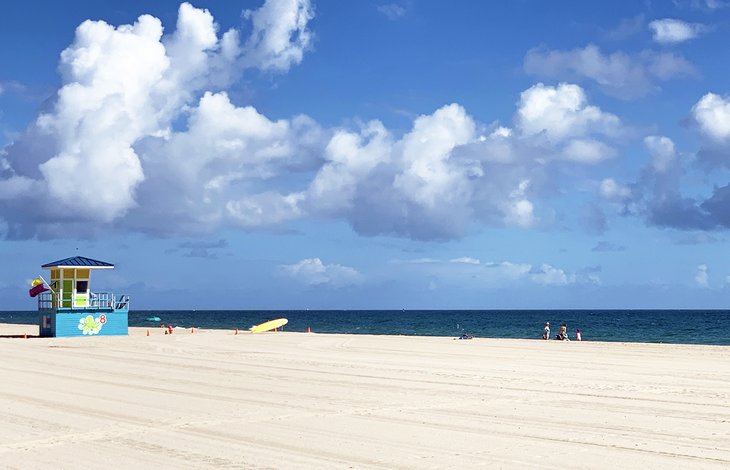 Pompano Beach is a small-town gem located on the east coast of Florida, 35 miles north of Miami. Dubbed the "heart of the Gold Coast," it's easy to see how this gorgeous town won its reputation.
Visitors come for the sun but stay for the remarkable (and high-class) atmosphere. Beautiful Pompano Beach is the real draw, its vast golden sand stretching serenely to the rough waves of the Atlantic. A long wooden pier, the Fisher Family Pier, takes visitors on a tour above the waves and offers ample opportunities for anglers to reel in a big catch.
9. Jupiter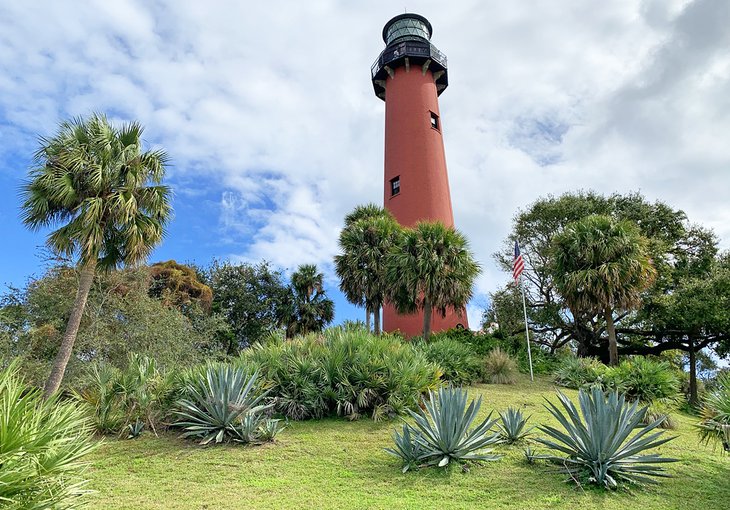 If you're a fan of living large, the small town of Jupiter will help you do so. The glitzy home of some of the world's best athletes (we're talking the likes of Tiger Woods and Michael Jordan), Jupiter offers a whole lotta glam to its visitors.
Ogle the lavish beachfront mansions of nearby Jupiter Island, climb to the top of the adorable Jupiter Lighthouse for unsurpassable views, and visit the animals at the Busch Wildlife Sanctuary.
Traveling with kids? Don't miss a visit to Dubois Park. This protected inlet offers kids a safe and adorable place to swim with a playground and facilities on-site.
10. Dunedin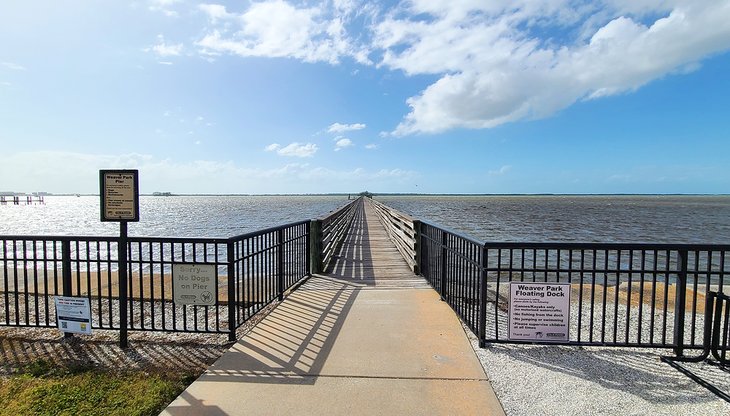 Nature calls in the Gulf Coast town of Dunedin just south of Palm Harbor. Across the causeway, Honeymoon Island State Park is one of the most visited parks in the state, with an abundance of ospreys calling it home.
Visitors spend the majority of their vacation time lounging on beaches near Dunedin and exploring over three miles of marked trails making their way through virgin slash pine forests. Two additional parks provide more opportunity for things to do in Dunedin, including outdoor hiking and bicycling.
Baseball fans will love witnessing the Toronto Blue Jays spring training sessions at TD Ballpark as well as attending the Dunedin Blue Jays' games throughout the year.
11. Sebring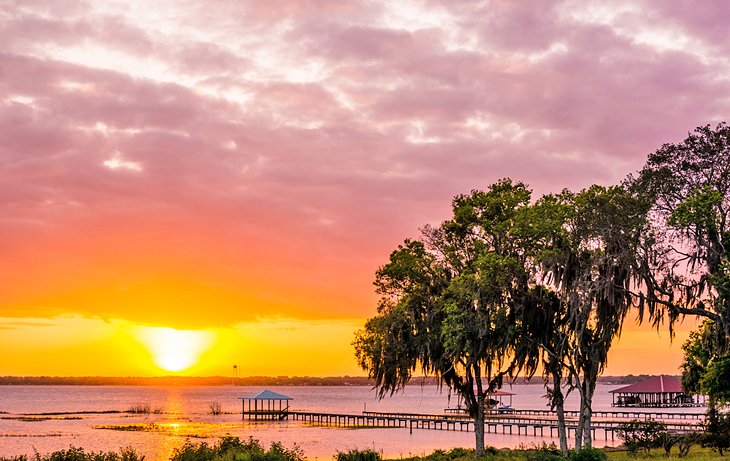 Home to the Sebring International Raceway, this small town in the center of Florida is not only a great pit stop for race fans, but for anyone craving some outdoor adventure. If you aren't here during race weekend, you can still check out the massive automotive facility.
Those who crave the outdoors will want to explore the picturesque Highlands Hammock State Park and take a hike or leisurely walk. Lakes are the focus of water activity with sports aplenty.
12. Winter Park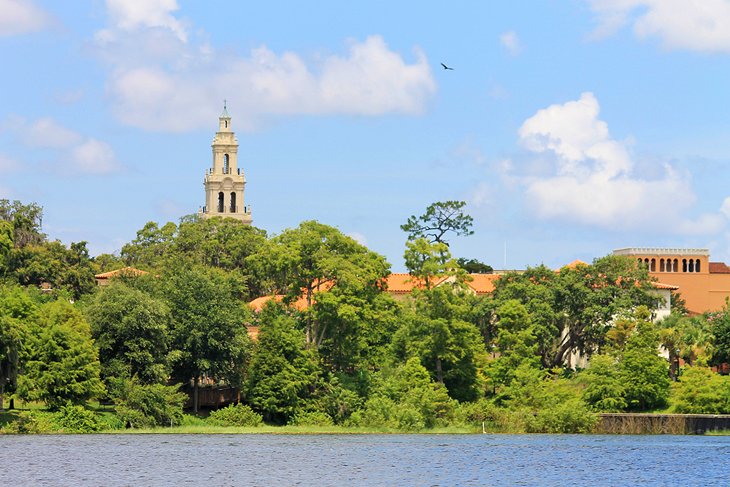 In an area known for theme parks, this resort community north of Orlando is so much more than the busy metropolitan area it encompasses. Close to Orlando and Kissimmee, Winter Park is the perfect place to take in a show, visit museums, or play a round of golf. It's also a popular spot for northerners to escape the winter.
The city is known for its arts and culture, as well as Rollins College, and your first stop should be a visit to the main street, which houses many shops, art galleries, and museums. The impressive Charles Hosmer Morse Museum is a showplace for American art, as well as housing an impressive collection of Tiffany stained glass.
Visitors will find the Albin Polasek Museum and Sculpture Garden scenically overlooking Lake Osceola. Over 200 works by the Czech-born American artist are on display. Check the calendar for one of the many cultural events hosted on the property.
Throughout the year, Winter Park and its more than 70 green spaces hosts community events, as well as offering a shady respite from the notoriously hot Florida sun.
13. Fernandina Beach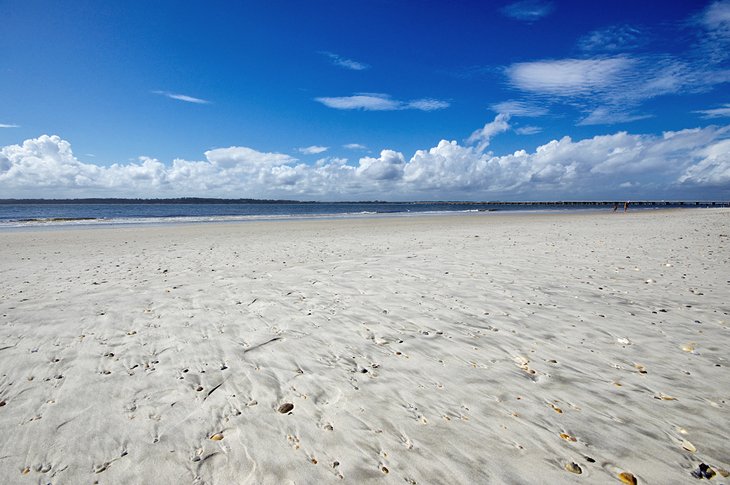 The northernmost city on Florida's Atlantic Coast and located on Amelia Island, Fernandina Beach is known for its amazing golf and its reputation as being one of Florida's favorite island destinations. While here, stay in one of the upscale resorts and spas to get in some rest, relaxation, and pampering.
Although there are many things to do downtown, like shopping and dining, the biggest draw to this area is the 13 miles of pristine beaches, where you can fish, sunbathe, or take part in a variety of water sports. The beaches are so lovely, you'll just have to dig your toes into their soft, white sand. Check out Fish Amelia for an experience like no other.
14. Islamorada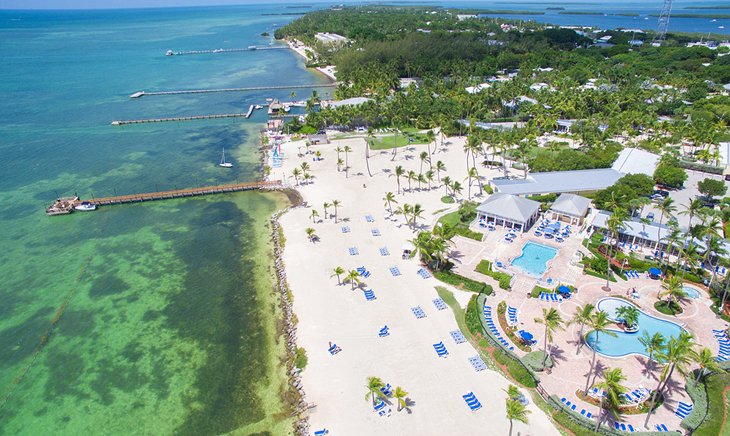 Known as the Sportfishing Capital of the World, Islamorada encompasses five islands and offers some of the best water sports in Florida. A visit to Islamorada isn't complete without a fishing adventure, so be sure to reserve your spot on a local charter before you arrive. If fishing isn't on your agenda, you can have a dolphin encounter at The Theater of the Sea.
For visitors who would rather stay on dry land, visit the St. Mary's Submarine Museum or the History of Diving Museum. Alternatively, take a trip to the Indian Key Historic State Park, where you can view the remains of an 1830s shipwreck.
15. Coconut Creek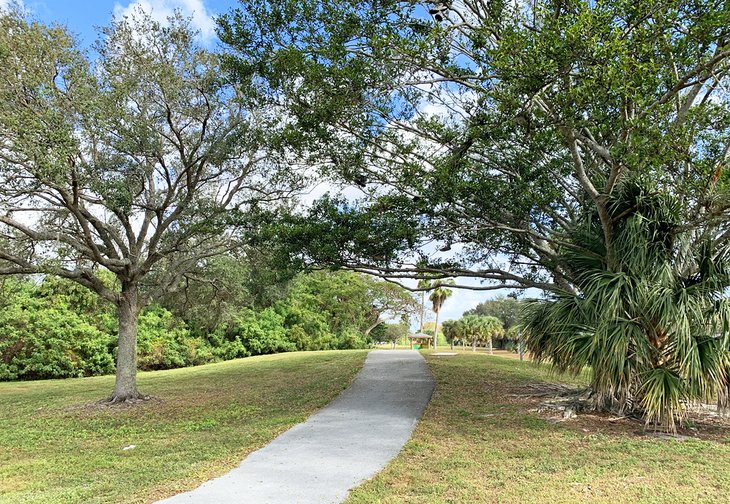 An adorable, upscale small town greets visitors to Florida's Coconut Creek. So tiny it could almost be considered an enclave, this pretty place lies just outside the borders of Pompano Beach.
Coconut Creek's main attractions are huge draws for both tourists and locals alike. Butterfly World takes the number one spot. The first butterfly house in the United States, this serene sanctuary is home to thousands of butterflies that dart through lush aviaries.
Tradewinds Park plays host to Butterfly World, as well as a slew of activities, including steam trains, horseback riding, frisbee golf, playgrounds, and soccer fields.
The 44-acre Hillsboro Pineland Natural Area is a perfect place to become one with nature. Walk the winding trails through slash pine, palm, and cypress forests.
16. Coral Springs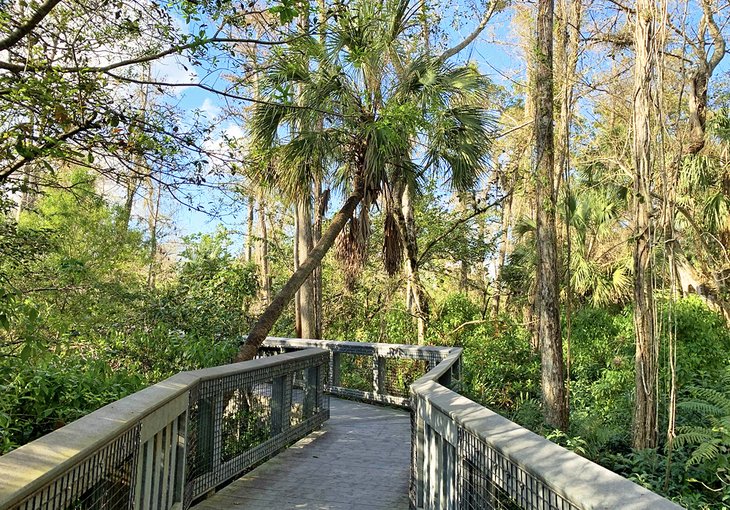 Coral Springs is a family-friendly spot you'll be happy to visit. Located nearly 20 miles northwest of Fort Lauderdale, it boasts a bevy of natural areas and a thriving arts center. You'll also find plenty of active things to do in Coral Springs, like swimming, tennis, baseball, volleyball, soccer, and golf.
Orchid Park is a little known gem almost hidden beside (and across from) the giant Cypress Park, which is home to the area's biggest sports fields – this is where you'll find people playing all those sports we mentioned earlier.
The Tall Cypress Natural Area is a wonderful spot to unwind and become more in tune with nature. It boasts more than 66 acres of luscious forest featuring everything from pine flatwoods to cypress basin swamp. Keep your eyes peeled for Florida's most awesome inhabitants: great horned owls, egrets, and if you're especially quiet, lizards and turtles.
17. Mount Dora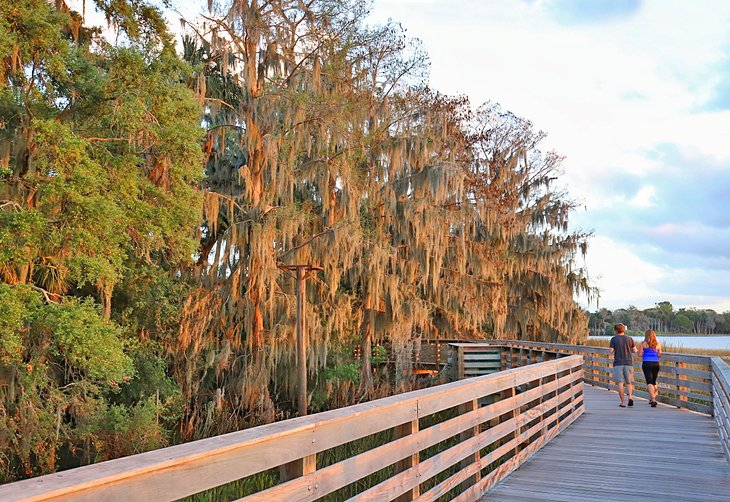 It's hard to imagine the peaceful shores of Lake Dora are just a quick hour away from the hustle and bustle of Orlando. Festivals, antiquing, and a quaint lakefront town await in Mount Dora. Check for the dates of the ever popular seafood, blueberry, and arts festivals. The undisturbed historic village attracts visitors who are looking for an authentic atmosphere.
Unique to the area is the lighthouse, guiding boaters after dusk, and the only one on a Florida lake. Tours to see more of the area are available by Segway; pontoon boat; kayak; and CatBoat, a small two-person watercraft made for exploring. Nicknamed the Bass Capital of the World, it's a sure bet you'll find this a popular stop for fishermen.
18. Matlacha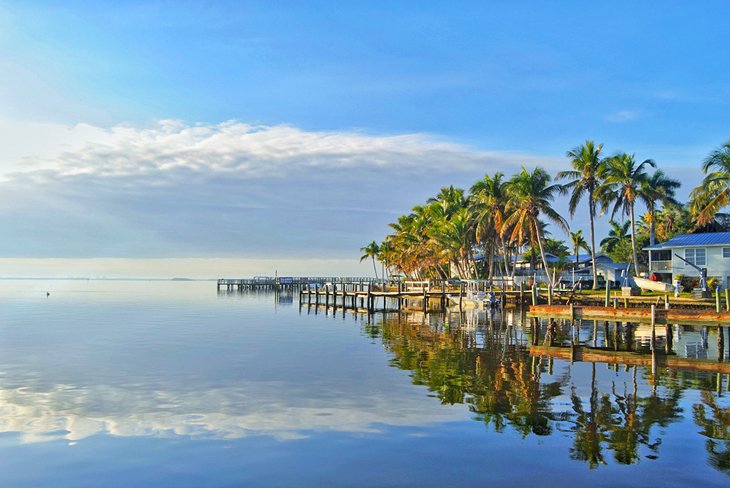 Looking for an Old Florida feel captured so beautifully by the Highwaymen outsider artists of the 50s? Matlacha might just be the spot to transport you. The combination of bohemian artists and traditional fishermen makes for an eccentric hidden gem.
Pine Island is made up of five communities, and Matlacha is one, with traditional Florida cottages, interesting art galleries, and a vibe that can be difficult to find with all the expansion that's taken place in the Sunshine State. Plenty of the usual water activities await: kayaking, stand up paddleboarding (SUP), swimming, and dolphin spotting.
This colorful spot is a funky postcard of a destination just a hop, skip, and a jump from the beaches of Sanibel and Captiva on Florida's southwest coast.
19. Seaside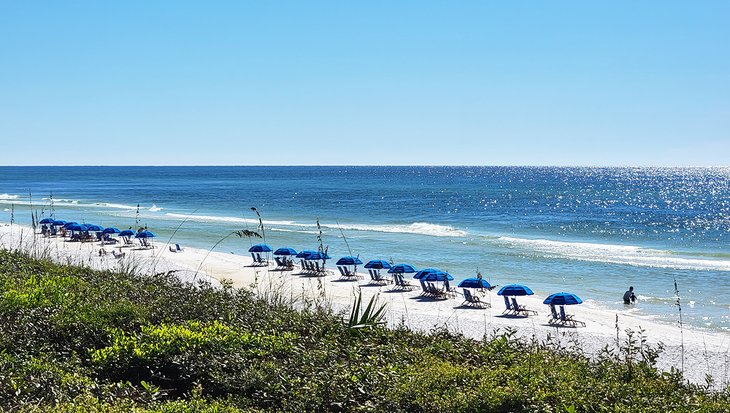 One of Florida's more unusual small towns, Seaside is unique in many ways. Built relatively recently from the ground up, the town has strict architectural guidelines that ensure all homes, streets, and retail establishments all follow the same playbook. This ensures this tidy town has an appearance of New Urbanism and is something to see if you've not experienced it before.
You may also feel like you've been here before, that's because the town was used exclusively as the filming set for The Truman Show movie starring Jim Carrey.
Seaside, owing to its development guidelines, is a wonderful place to walk. Streets have leafy sidewalks, and the town center is almost car-free. Wander up and down the streets, around the main amphitheater area, explore the attractions in Seaside, and grab a bite at one of the repurposed Airstream travel trailers serving an assortment of tasty fare.
20. Pensacola Beach
Home to some of the most spectacular beaches in the Panhandle region, the small town of Pensacola Beach should be on every beach lover's itinerary. Watching the emerald green waters lap softly at blindingly white sand will certainly lull you into a deep sense of relaxation and contemplation.
All that staring might cause you to work up an appetite. Fortunately, Pensacola Beach has a good assortment of restaurants serving up fresh Florida seafood right at the water's edge.
Accommodation options range across all budgets, with condos for rent along with some very fine oceanfront resorts. Stroll along the beach and check out the scene, and for even better views, take a walk out onto Casino Pier in the heart of downtown.
More Related Articles on PlanetWare.com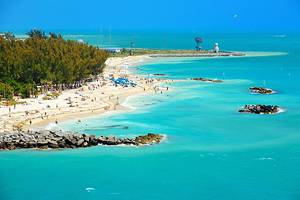 The Florida Keys: Island life also offers small town charm and laid-back living. For ideas on what to see and where to go, have a read through our article on attractions and places to visit in the Florida Keys. At the end of the road, Key West can be a nice place to base yourself with many good hotel choices.