12 Top-Rated Attractions & Things to Do in Islamorada, FL
There are few places in the United States that are as spectacular and unique as the Florida Keys. Boasting a small-town island vibe, this strip of atolls is just a few hours away from the mainland, and only 90 minutes' drive from some of the top attractions in Miami.
Yet despite this proximity, in reality, it feels like another world here. This is especially true in Islamorada itself, one of the most interesting places to visit in the Keys. Encompassing five islands – Table Key, Lower Matecumbe Key, Upper Matecumbe Key, Windley Key, and Plantation Key – Islamorada is the halfway point from the mainland to Key West. Less than a two-hour drive down the Overseas Highway, one of the most scenic drives tourists will find in the country, Islamorada has something for every traveler, especially those that love the water.
Islamorada is justifiably known as the sport fishing capital of the world, hosting the world's largest fishing fleet (there are more fishing boats per square mile here than in any other part of the planet). And even if fishing isn't your cup of tea, there are still plenty of other fun activities and attractions centered around the deep blue sea.
Take note: When driving from Miami to Key West, most directions and many addresses make use of mile markers. These handy reference points can be found along the side of the highway, and provide an accurate means of knowing your exact location. If you've booked particular experiences such as a dolphin swim that requires your being there at a set time, allow additional time to get there, as Keys' traffic can be heavy at times (especially on weekends and holidays).
From water sports to history, Islamorada is filled with attractions that highlight the area's unique culture and history. Plan your sightseeing with our list of the top attractions and fun things to do in Islamorada, Florida.
1. Learn about the Marine Life of the Florida Keys at Theater of The Sea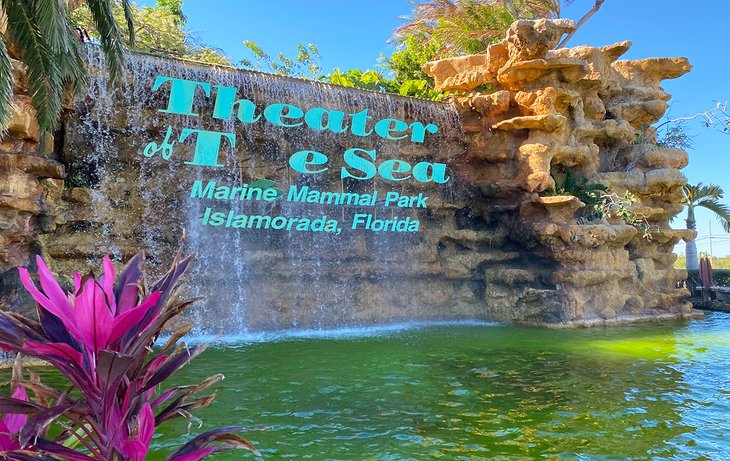 Theater of the Sea is a must-stop attraction on your Islamorada vacation. This family-friendly attraction is full of fascinating interactive exhibits and experiences, from swimming with dolphins to meeting endangered sea turtles, and even getting up close to sharks.
The Sea Turtle Experience allows visitors to interact with these magnificent creatures, but in a responsible way. Although the dolphin and sea turtle experiences may seem a bit pricey, they come with admission to the Theater of the Sea's other programs. These include the Dolphin, Sea Lion, and Parrot Shows; Fish and Reptile Tours; Bottomless Boat Rides; and the Nature Tour and Lagoon-side Beach. But it's well worth the cost.
For even more adventure, you can book one of their four-hour experiences. The best part of the Theater of the Sea is that proceeds go towards their animal enrichment program. To ensure you get in (as well as to receive a discount off ticket prices), book your admission online as far in advance of your visit as possible.
Address: 84721 Overseas Hwy, Islamorada, Florida
Official site: https://theaterofthesea.com/
2. Explore the History of Diving Museum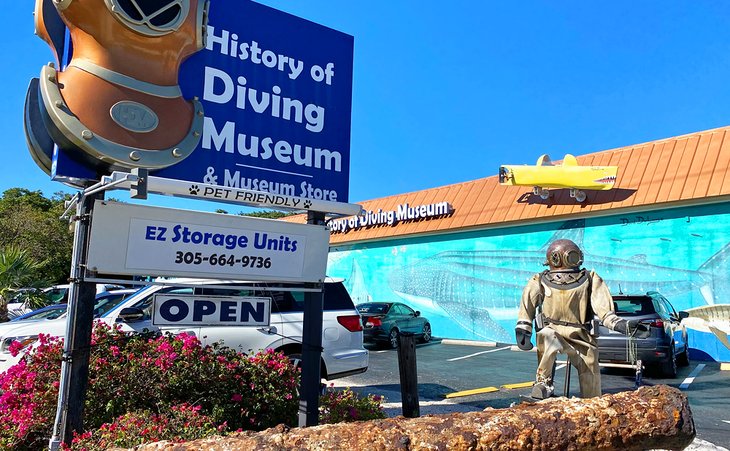 For those who love the sport of diving, the History of Diving Museum is a must-see. This museum, which has been in existence since 2005, tells the story of undersea adventures throughout the century, as well as diving as it relates to the Florida Keys.
It took over 40 years to put together this expansive collection, one of the world's largest, which includes everything from diving helmets to armored suits, as well as photographs, books, and other memorabilia. If you are lucky enough to be here on the third Wednesday of the month, you can enjoy Immerse Yourself!, a free presentation given by experts from all aspects of the diving culture.
The museum is open daily, with the exception of Christmas, New Years Day, and Thanksgiving.
Address: 82990 Overseas Hwy, Islamorada, Florida
Official site: www.divingmuseum.org/
3. Stop in at the Florida Keys History and Discovery Center
The Florida Keys History and Discovery Center is a world-class museum where you can learn about the history of the Florida Keys and their native sea life.
The Discovery Center appeals to adults and kids alike with exhibits, a movie theater, and research library all found within the 7,500-square-foot facility. You can learn about everything related to the Keys, from past to present, including pineapple farming and the over-sea railroad.
The center, which has been open for six years, is located on the property of the Islander Resort and is accessible from Wednesday through Sunday.
Address: 82100 Overseas Hwy, Islamorada, Florida
Official site: www.keysdiscovery.com/
4. Discover a Hidden Sandbar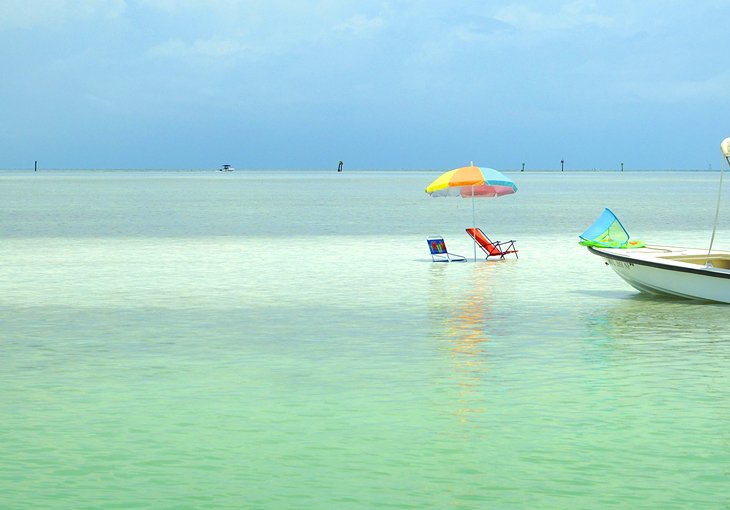 Islamorada and the adjacent area of White Harbor Channel are among the few places where you can truly get your Robinson Caruso on. Your own private island waits for you to discover it at low tide.
Sandbars poke their heads above water and rise just enough to allow visitors to come ashore and explore until the tide returns. Check the tide schedule, pack a picnic and beach umbrella, rent a boat or kayak, and explore the Atlantic.
Just be mindful of the shifting sands and timing of your escape. This is one place from which you don't want to send an S.O.S.
5. Visit the Morada Way Arts and Cultural District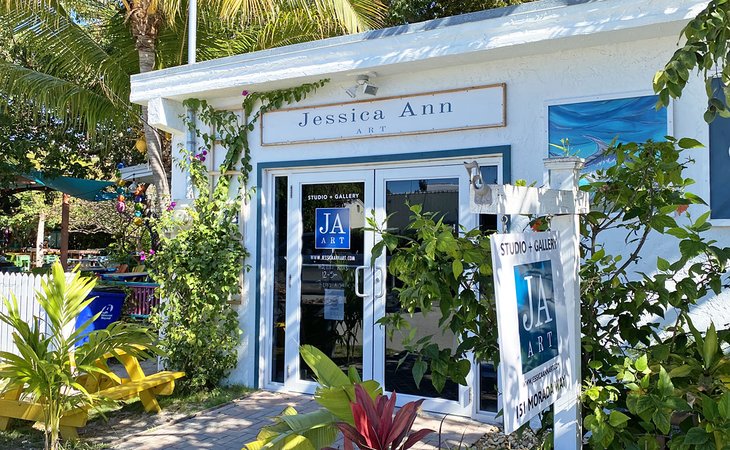 In a place known for its beautiful, rugged beaches, finding evidence of "Main Street America" might come as a bit of a surprise. While the islands in the Keys make up many different communities, they tend to lack a traditional city center like so many towns on the mainland. The Morada Way Arts and Cultural District, however, is the exception to the rule.
This funky six-block corridor is the only traditional small town "main street" to be found between Miami to Key West, and is a delight to explore. At this charming area filled with galleries, restaurants, shops, and art studios, you can easily spend a few hours getting lost among the artists' creations and handicrafts of local artisans, not to mention pick up a few unique pieces for your home along the way. It's also home to many festivals and community events, such as the annual Seafood Fest, as well as sidewalk sales and art fairs.
While here, visitors can make a stop at the Green Turtle Inn, an iconic B&B with a good restaurant open for breakfast, lunch, and dinner (go for the fish chowder!). The Hurricane Monument is also close by and is a powerful reminder of the strength of Mother Nature and the toll she has taken on this area over the years.
Be sure to take part in the monthly Art Walk. Held every third Thursday of the month, this fun event pays homage to emerging artists, musicians, chefs, and local retailers that make up the fabric of this vibrant community.
Address: 151 Morada Way, Islamorada, Florida
Official site: https://moradaway.org
6. Enjoy Eco Tours and Kayaking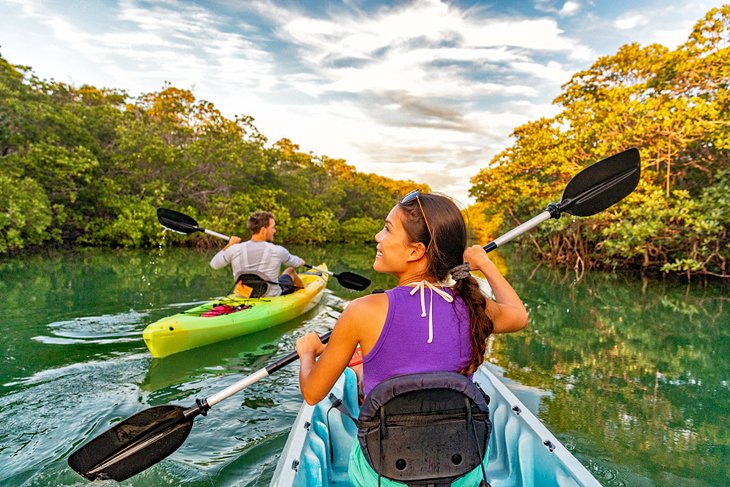 Kayaking is one of those activities that allows visitors a totally different perspective of the surrounding landscape. Fortunately, there are several eco-tour companies in the Islamorada area that provide an experience while keeping the health of the environment first and foremost.
Tourists will find some of the most interesting parts of the habitat in among the mangroves, where birds and other wildlife make their homes. The natural beauty and complexity of this delicate ecosystem can be reached easily by paddling through these scenic tidal channels.
Another option is an organized Eco-Adventure and Snorkeling Cruise. This boat trip allows you to see some of the sites, and snorkel along a reef. The exploration of the reef is the real thrill here, and includes a chance to see a variety of native fish species and coral. You'll also visit Indian Key Historic State Park and Lignumvitae Key Botanical State Park.
Driving along busy Highway 1, most could never imagine the incredible treasures waiting just beyond the stores and resorts lining the highway, all just waiting to be explored.
7. Feed the Tarpon at Robbie's Marina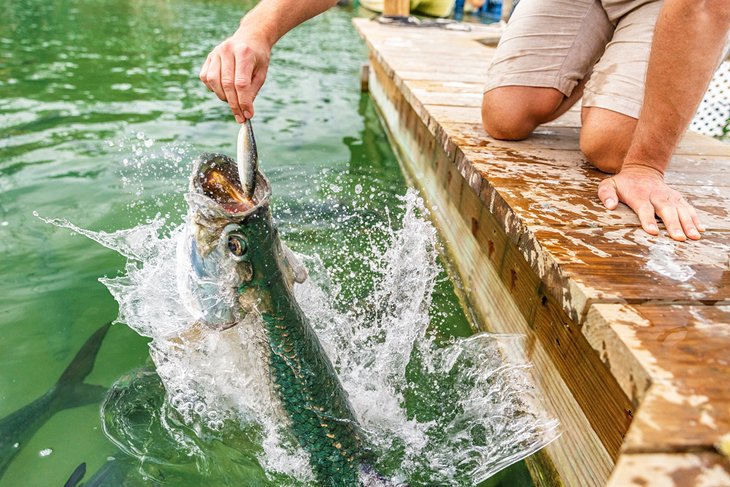 No trip to Islamorada is complete without a stop at Robbie's to feed the tarpon. It's famous for letting tourists hand-feed these massive fish. To see this breed of fish jump out of the water is thrilling for both fisherfolk and observers alike. They are fighters on the rod and can weigh up to 250 pounds.
If feeding the tarpon isn't for you, there is no shortage of other things to do while you are here. Depending on your mood, there are water sports, shopping, or dining to fit any itinerary. You can fish, snorkel, or parasail if you are feeling adventurous.
Visitors can view the tarpon feeding and the water while dining at a nearby restaurant. Don't forget to stop and check out the unique artwork and souvenirs, especially some of the lobster trap art. Robbie's is open early and closes late.
Address: 77522 Overseas Hwy, Islamorada, Florida
Official site: www.robbies.com
8. Enjoy a Quiet Swim at Anne's Beach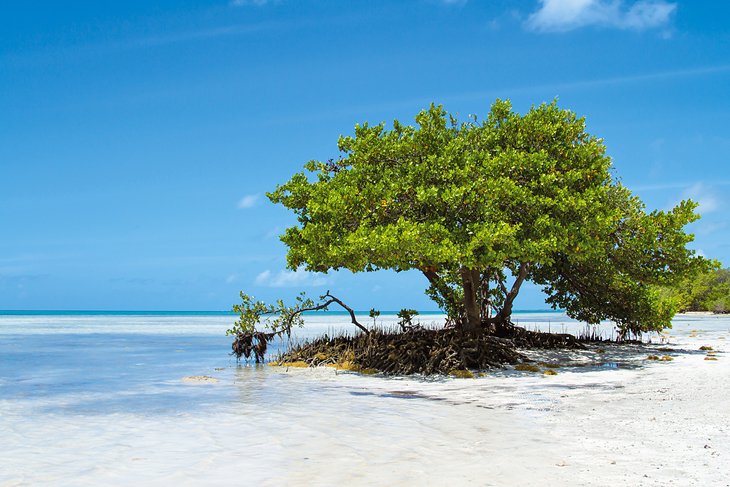 Dedicated to local environmentalist Anne Eaton, Anne's beach is one of the few public sandy beaches on Islamorada. Often described as a stretch of paradise, visitors will be hard-pressed to disagree.
Choose from one of two parking lots, located at mile marker 73.4, load up on supplies, and pick your spot by the warm, tropical waters of the Atlantic.
The water here is clear and shallow, making a great spot for young kids or anyone wanting to try paddleboarding or snorkeling in a calm area. You won't find much shade, so make sure to pack plenty of reef-safe sunscreen or an umbrella, along with your picnic, and have a day of fun in the sun.
Address: Mile Marker 73.5, Upper Matecumbe Key, Florida
9. Long Key State Park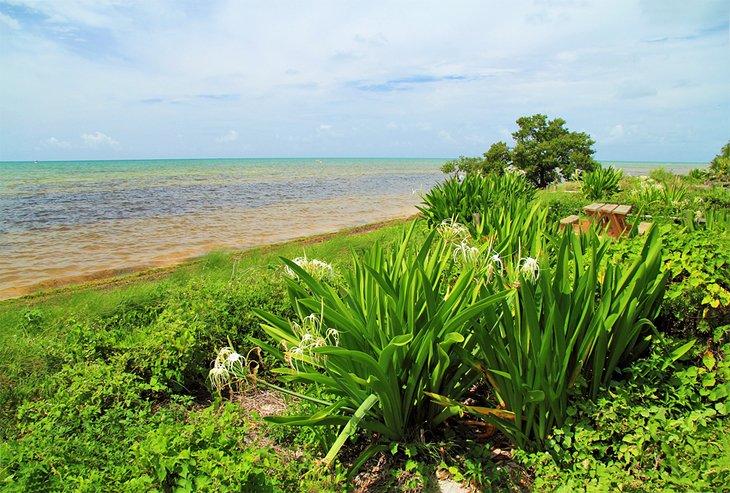 Throughout history, Long Key has been known to cater to the rich and famous. With beautiful beaches that lay the backdrop for a perfect sunset, it's easy to see why it's so prized a location. Long Key State Park is perfect for bird-watching, swimming, or sunbathing, and is also home to the longest nature trail in the Keys, the Golden ORB nature trail.
If you are feeling more adventurous, try kayaking or maybe fishing. Long Key has a rich history for anglers, who have been flocking to the region for centuries, even before the overseas highway was built.
Keep in mind this area was ravaged by Hurricane Irma, and the beachfront camping area is still recovering. The park is open from 8am to sunset every day. If you do have the chance and it's available, a stay overnight overlooking the sparkling blue water under the stars is an experience you won't soon forget.
Address: 67400 Overseas Hwy, Layton, Florida
Official site: www.floridastateparks.org/parks-and-trails/long-key-state-park
10. Indian Key Historic State Park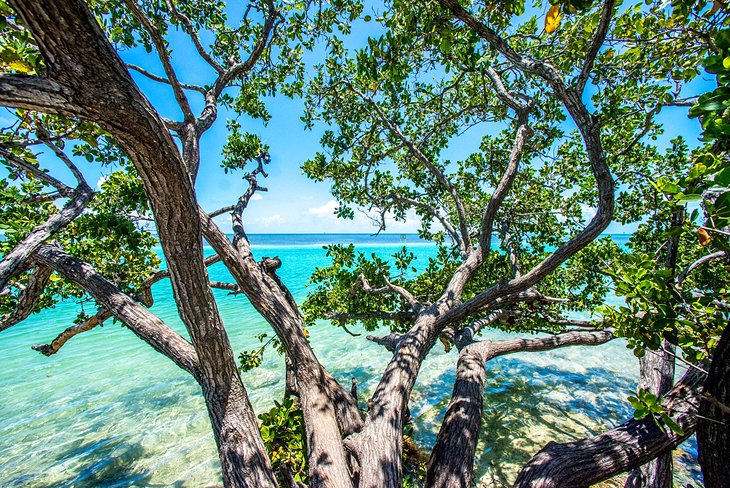 Indian Key was once a bustling town and the county seat for Dade County, built on the wealth from salvaging cargo from shipwrecks. Now all that remains is a ghost town, which is a draw to tourists and archeologists alike who are curious to get a peek into the past and uncover the historic building foundations.
Isolated from the mainland, you can only access Indian Key by boat, so plan accordingly. While you are here, you can swim, sunbathe, take a hike, snorkel, or kayak. Rent a kayak from Robbie's Marina or Kayak Indian Key, or set up a snorkeling adventure with Snorkel Indian Key.
Address: Offshore Island, Islamorada Florida
Official site: www.floridastateparks.org/indiankey/
11. Alligator Reef Lighthouse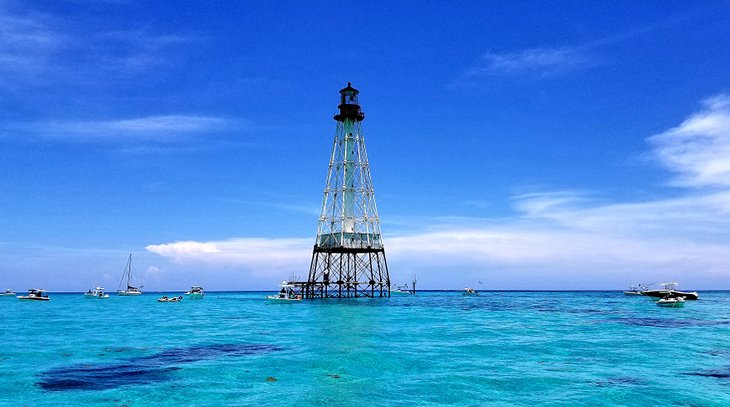 Lighthouse fans will love adding a visit to this unique structure to their itinerary. Alligator Reef Lighthouse is a famed Keys landmark, standing guard over the wreck of the USS Alligator. This pirate-hunting vessel ran aground in 1822 and was abandoned and stripped of value by the Navy to keep it out of the hands of vagabonds.
The 144-year-old lighthouse marks the remains of the ship's location and sits four miles off the shore of Islamorada. Measuring in at 136 feet, the beacon has withstood many a hurricane and storm, and was automated in 1963. The reef has claimed quite a number of ships, despite the lighthouse warning.
The area around the lighthouse is about 20 feet deep and teems with over 500 species of marine life. Parrotfish, barracuda, and a thriving reef can be seen from the surface of the water. Snorkeling and diving activities can be arranged in Islamorada.
Location: Matecumbe Keys
12. Windley Key Fossil Reef Geological State Park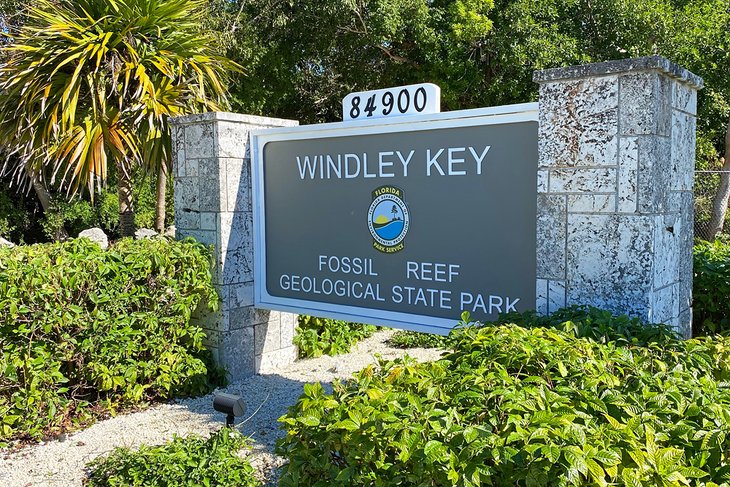 Windley Key has the unique claim to fame as one of the few places you can see a coral reef above the surface of the water. Of course, being above the surface of the water means the reef is no longer alive, but it's interesting all the same.
Henry Flagler, the American industrialist and founder of Standard oil, used this former rock quarry to build the railroad system in the early 1900s. The decorative keystone found here continued to be quarried until the 1960s.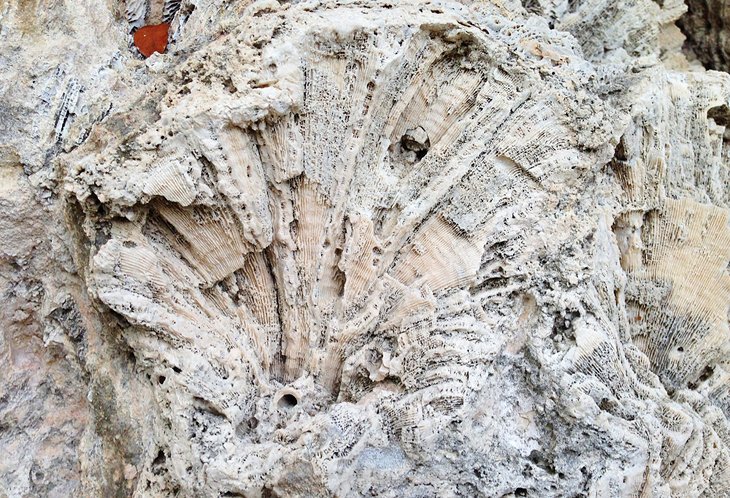 Starting at the informative visitor center, you can choose from five short self-guided tours in the park along 1.5 miles of trails. Along the well-marked paths, visitors will learn about the ecology of the area and a few cultural tidbits. Guided tours are available during the high season. Other amenities include picnic tables, restrooms, and ample free parking.
This preserved geological gem represents part of Florida's history, both recent history and the region's ancient fossilized past.
Address: 84900 Overseas Hwy, Islamorada, Florida
Official site: www.floridastateparks.org/WindleyKey
Map of Attractions & Things to Do in Islamorada, FL
Islamorada, FL - Climate Chart
Average minimum and maximum temperatures for Islamorada, FL in °C
J
F
M
A
M
J
J
A
S
O
N
D

24

17

24

17

26

18

28

21

29

23

31

25

32

26

32

26

31

25

29

23

27

21

24

18

PlanetWare.com
Average monthly precipitation totals for Islamorada, FL in mm.

63

49

54

51

95

175

82

132

171

137

78

52
More Related Articles on PlanetWare.com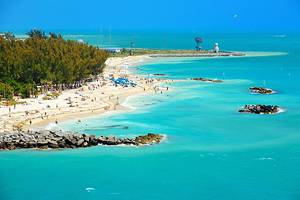 Where to Stay in the Florida Keys: Families heading to the Keys should have a look at our list of the Best Family Resorts in the Florida Keys.