8 Top-Rated Beaches in Key West
Tourists visiting Key West have the luxury of several great beaches to choose from, each with its own set of characteristics that sets it apart. There are beaches for those who like a lively atmosphere and a variety of diversions, beaches for families where the water is shallow and calm, and even a beach for the best sunrise and sunset in the Keys. Some are perfect for active water sports like jet-skiing and parasailing, while others are best for relaxation and serenity.
Most of the top beaches in Key west are located on its southern shore, with the majority clustered along a stretch of water only a little over a mile in length. Key West's largest beach, Smathers Beach, is an exception, stretching along a portion of South Roosevelt Boulevard.
Thanks to the extensive network of coral reefs, the entire area is known as a snorkeler's paradise, however those who are willing to stray from the downtown area will find even more ocean life at the area's more remote beaches within the boundaries of state and national parks. Plan your sun-sand-and-sea vacation with our list of the best beaches in Key West.
1. Smathers Beach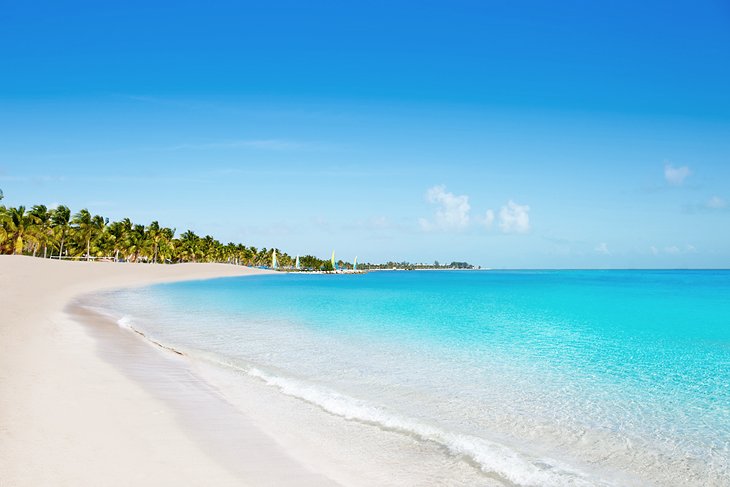 Smathers Beach is Key West's most popular beach, earning its place with excellent swimming conditions, two miles of sandy shores, and plenty of things to do. The gradual slope of the shoreline allows swimmers to wade in to the water for a good distance, and this combined with mild currents makes it a top beach for families in Key West, despite the crowds.
The services and amenities available to beachgoers are plentiful, from the basics like showers and restrooms to volleyball courts and vendors. There are also several rental shops along the beach where you can find beach chairs, shade umbrellas, snorkeling equipment, kayaks, Jet Skis, and other water sports equipment. As an added bonus, there is no entry fee to Smathers Beach, and if you don't mind the short walk from the boulevard, the parking is free as well.
2. South Beach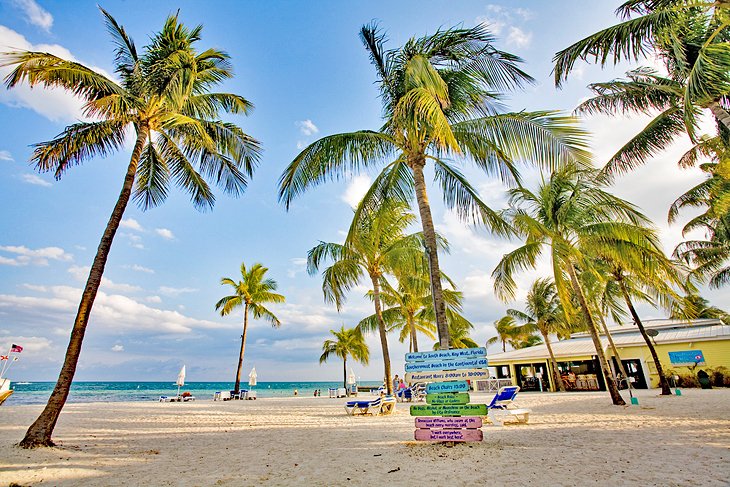 South Beach is another family favorite in Key West thanks to calm, shallow waters that are excellent for swimming. As the name suggests, it is located on the southern end of Key West, and is known for its relaxed atmosphere. Although there are not throngs of rental shops, there are several beachside refreshment stands and some options for lounge chairs and even towels. There are also public water fountains and a small café. The only drawback, especially for families with younger kids, is the lack of public restrooms, however nearby establishments are good about letting visitors use their facilities.
3. Higgs Beach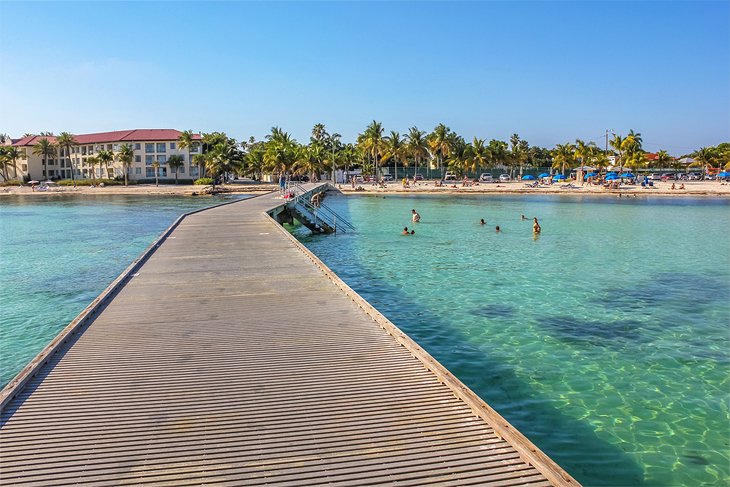 Higgs Beach is one of several beaches located within the bounds of the C.B. Harvey Rest Beach Park, a small but lovely public space that is also home to a restaurant and gardens. There are a good variety of options at the various rental shops here, from basic beach chairs and volleyball nets to snorkeling equipment and water sports rentals. Families will appreciate the nearby playground, and those with four-legged kids will like the dog park. There is also free parking, as well as public bathrooms and showers.
A unique feature of Higgs Beach is its historical significance, and here you will find monuments dedicated to the 19th-century slave cemetery located on the site. There is also a pier at Higgs Beach where visitors often see stingrays.
4. Rest Beach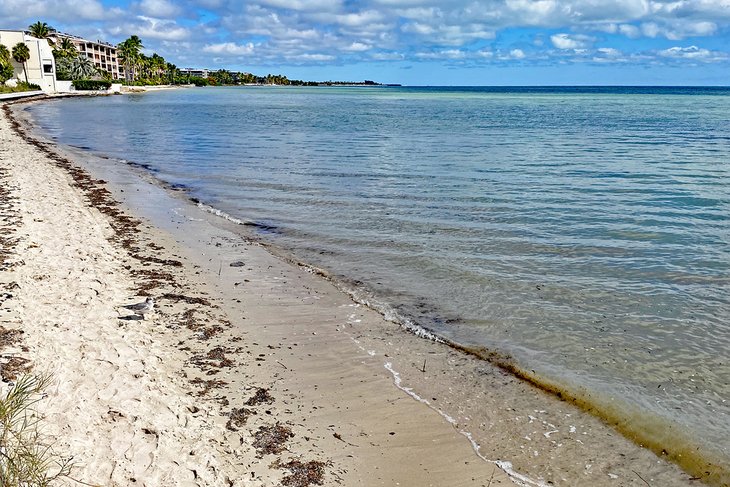 Located within the same park as Higgs Beach, this is a small but much-loved Key West beach. Its most celebrated feature is the beach's position, perfectly situated to give visitors the best views of both sunrises and sunsets. For those who want a change of pace from the lively atmosphere of Mallory Park's sunset festivities, this is the place to be. In contrast, here you will find a tranquil place to admire the views.
In testament to the peaceful nature of Rest Beach, there is a dedicated yoga deck, where visitors can participate in morning and evening yoga classes, welcoming the day or night.
5. Fort Zachary Taylor Beach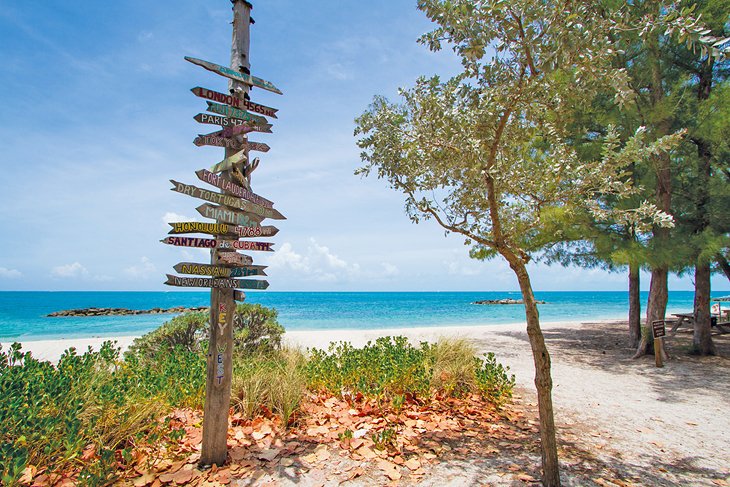 Fort Zachary Taylor Beach may not be known for its sunbathers and summer volleyball games, but it is often considered the most authentic of Key West beaches thanks to its natural shoreline, which is composed of ground coral instead of imported sand. Nature lovers flock to Fort Zach beach for its plentiful plant and animal life, both on land and under water.
As one of the top snorkeling spots in Key West, visitors will see everything from schools of tiny reef-dwellers to goliath grouper, as well as beloved sea creatures, including dolphins and turtles. Land-lovers will enjoy the scenic nature trails, and visitors can also take ranger-guided tours of historic Fort Zachary, which explore the Civil War era fortifications.
6. Bahia Honda State Park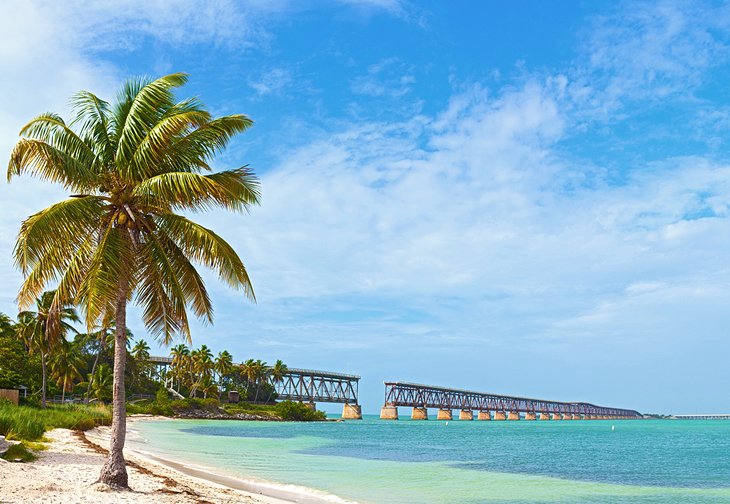 The best beach for camping near Key West is at Bahia Honda State Park, located about 45 minutes away by car. It can also be accessed via boat. Camping facilities include fresh water and electricity, and a concessions shop is open during the day. Both day and overnight visitors come for the soft white sand, safe and shallow water, and the park's natural beauty.
Among the abundant marine life found here are nurse sharks, rays, barracuda, and other fish that thrive in the surrounding reefs, making this a popular place for snorkeling. On land, the park is also home to the highly endangered Miami Blue butterfly, once thought to be extinct.
7. Dog Beach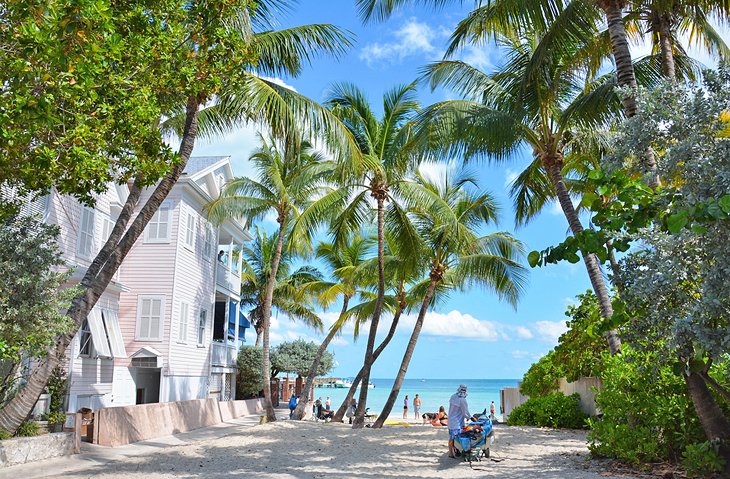 Although it may be tiny-less than two dozen feet across-dog beach is adored by pet parents living in and visiting key West because it is the only beach that allows dogs to run freely. Dogs big and small can play in the water and sniff among the rocks for hidden treasure while their humans can cease worrying about their four-footed friends shaking saltwater on a sunbather or stepping on a sandcastle. Dog Beach can be difficult to find, but if you can't see the small sign just ask at Louie's Backyard, an equally dog-friendly restaurant just next to the beach.
8. Dry Tortugas Beach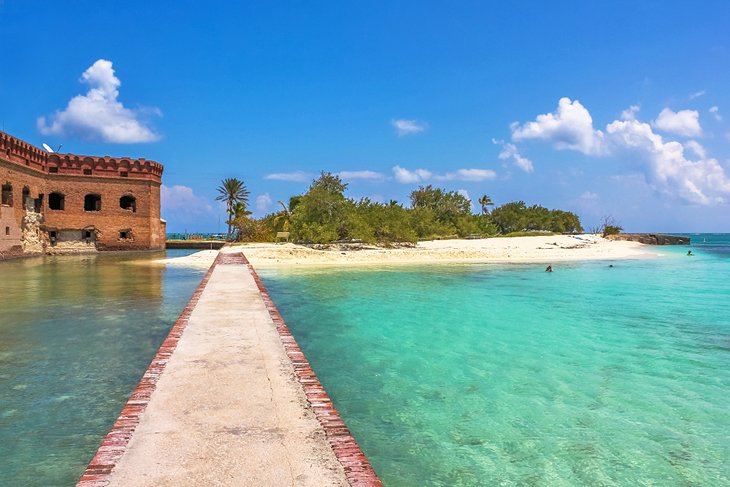 Although Dry Tortugas Beach is located nearly 90 miles away within Fort Jefferson National Park, its beach is considered part of Key West's seaside offerings thanks to the Dry Tortugas Ferry. Plan a full day for your visit, and be prepared to spend the day in awe of the natural beauty of the park. The beach itself is a palm-lined paradise, where you can relax, play, and swim, but the park's biggest draw is its expansive coral reef system. Visitors can also enjoy tours of the 19th-century Fort Jefferson.
Snorkeling is the number one activity in and around Dry Tortugas, and there are several excursion and tour options that include equipment. If meals are not included in your tickets, be sure to pack food for the day, as well as any supplies you might need, as there are no stores on the island. More adventurous travelers can ditch the ferry for a seaplane ride to and from the beach, and those who plan well ahead can even spend the night in one of the limited campsites.
More Related Articles on PlanetWare.com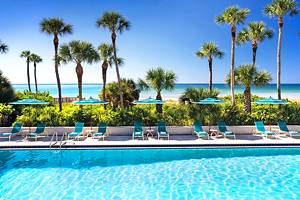 Where to Stay: If you want to compliment your beach vacation with a luxurious stay, see our article on the Best Resorts in Key West. For other ideas on where to stay in Florida, have a read through our Best Resorts in Florida.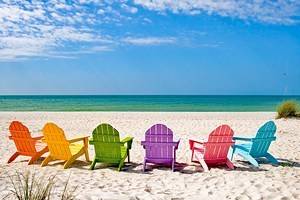 More Florida Beaches: Some beaches are not like others. If you are traveling with kids or looking to plan a family vacation, start by reading our piece on the Best Florida Beaches for Families. Other beautiful beach towns and family destinations to consider include Panama City Beach, Daytona Beach, and Cocoa Beach, to name just a few.
More on Florida