10 Top-Rated Beaches in Key West, FL
Planning on visiting Key West? Then pack your bathing suits. You'll be pleased to learn you'll have the luxury of several great beaches to choose from, each with its own set of characteristics that sets it apart.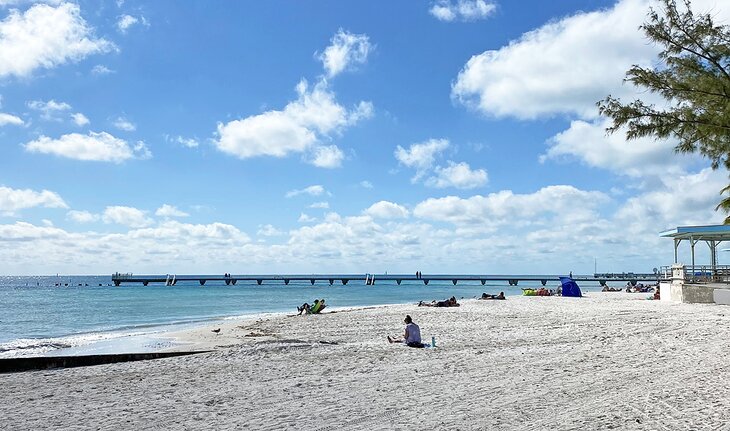 There are beaches for those who like a lively atmosphere and a variety of diversions, beaches for families where the water is shallow and calm, a beach for the best sunrise and sunset in the Keys, and even a beach for those traveling with their four-legged friends: the aptly named Dog Beach.
Some are perfect for active water sports like jet skiing and parasailing, while others are best for relaxation and serenity. Still others are romantic enough for couples to want to linger awhile even after the sun has set.
Most of the top beaches in Key West are located on its southern shore, with the majority clustered along a stretch of water only a little over a mile in length. This is good news if, like me, you prefer to bed down for the night out of earshot of the round-the-clock hustle and bustle up at the top end of Duval Street. Most of the things to do in Key West for tourists are located around Mallory Square and north Duval Street, but they're never as much fun if you're lacking sleep!
Thanks to the extensive network of coral reefs, the entire area is known as a snorkeler's paradise. However, those who are willing to stray from the downtown area will find even more ocean life at the area's more remote beaches within the boundaries of state and national parks. These include Bahia Honda State Park and Fort Jefferson National Park, an idyllic island that's home to the incredible Dry Tortugas Beach.
Plan your sun-sand-and-sea vacation in Florida's most Caribbean-like setting with our list of the best beaches in Key West.
1. Smathers Beach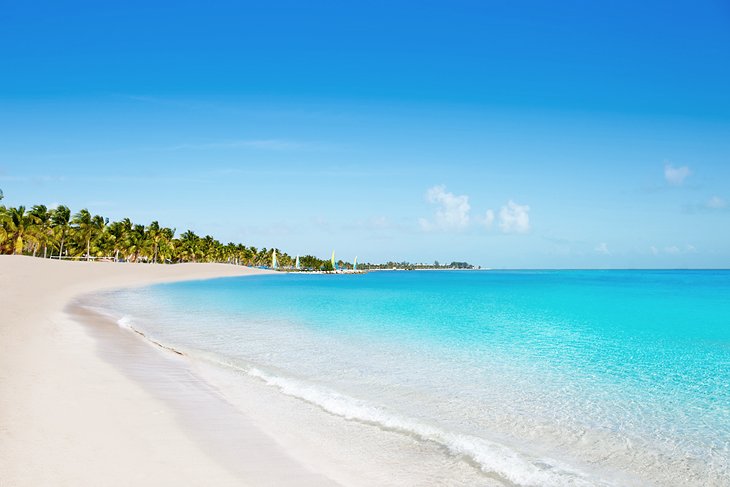 Smathers Beach is not only Key West's most popular beach, but it's also one of the biggest, too. It earns its place at the top of our list of Key West beaches for its excellent swimming conditions, two miles of pristine sandy shores, and its substantial list of things to do.
Located mid-way along the island's southern shore, this south-facing stretch of white sand is far enough away from the fun stuff going on 3-miles away on Duval Street that it's free of revelers. A gradually sloping shoreline allows youngsters and not-so-strong swimmers to wade into the water a good distance and still keep their feet on the sandy bottom.
This, combined with mild currents, makes it a top beach for families in Key West. It can, however, feel a little crowded at peak times of day, so try to get there early to stake your spot and beat the crowds. A less busy time to visit is later in the day when everyone's scooted off to view the glorious sunset from Mallory Square.
The services and amenities available to beachgoers here are plentiful, from the basics like showers and restrooms to volleyball courts and vendors. There are also several rental shops along the beach where you can find beach chairs, shade umbrellas, snorkeling equipment, kayaks, Jet Skis, and other water sports equipment. One of the best, Sunset Watersports offers a day pass that will allow you to try your hand at a variety of activities including kayaks, paddle boards, beach umbrellas, and even a parasailing option.
As an added bonus, there's no entry fee to Smathers Beach. The on-street parking here is free, too, but at busy times you may find yourself having to park and walk a little to hit the sand.
Address: 2601 S Roosevelt Blvd, Key West, Florida
2. South Beach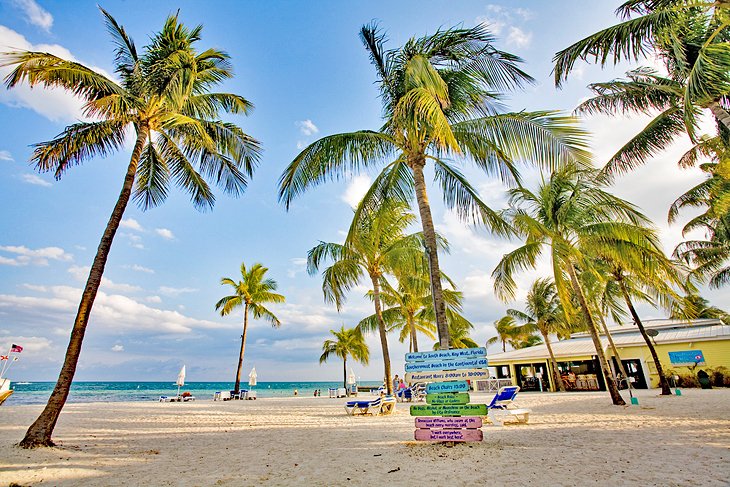 Although one of the smaller sandy parks in Key West, South Beach is another family favorite. Just 200 feet in length and sandwiched between Emma Carrero Cates Pier and a large resort at the end of Duval Street, it can feel a little cramped. Also, it doesn't take too long before any available parcels of sand are occupied, so plan to get here early or later in the day when the crowds have gone for the day.
All that aside, it's a great place for you to include on your must-visit list if you're traveling with kids and are just looking for a quick dip to cool off as the beach's calm, shallow waters are excellent for splashing about.
Another drawback is the lack of public restrooms. However, nearby establishments are usually pretty good about letting visitors use their facilities, especially if you're purchasing their goods and services. There are, however, public water fountains.
If you're prepared to stay late, you'll catch a great and usually much quieter sunset experience from the pier, which is located on the west side of the beach. It's the exact same sunset, in fact, that famed writer Tennessee Williams often enjoyed when in Key West.
Location: Duval Street (south end)
3. Clarence S. Higgs Memorial Beach Park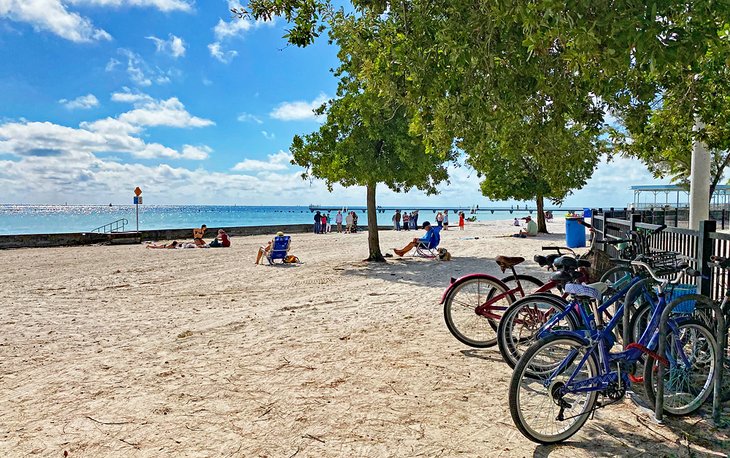 Clarence S. Higgs Memorial Beach Park, usually shortened to simply "Higgs Beach," is one of several beaches located within the bounds of the C.B. Harvey Rest Beach Park. This small but lovely public space is also home to a restaurant and gardens.
For those wanting to make a day of it, there are a good variety of options at the various rental shops here, from basic beach chairs and volleyball nets to snorkeling equipment and water sports rentals. Families will appreciate the nearby playground, and those with four-legged friends will like the dog park. There is also free parking, as well as public bathrooms and showers.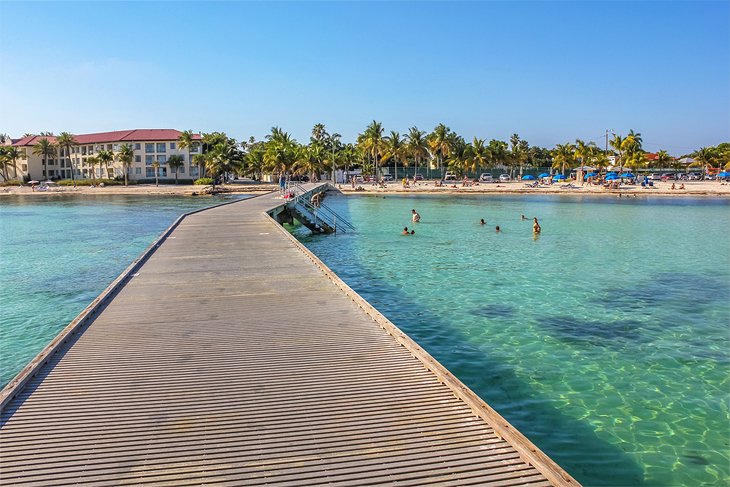 A unique feature of Higgs Beach is its historical significance. Take a wander around, and you'll find monuments dedicated to the 19th-century slave cemetery located on the site. There is also a pier at Higgs Beach, where, if you're lucky and patient enough, you can often spot stingrays and other marine species swimming by.
Address: 1000 Atlantic Blvd, Key West, Florida
4. Simonton Beach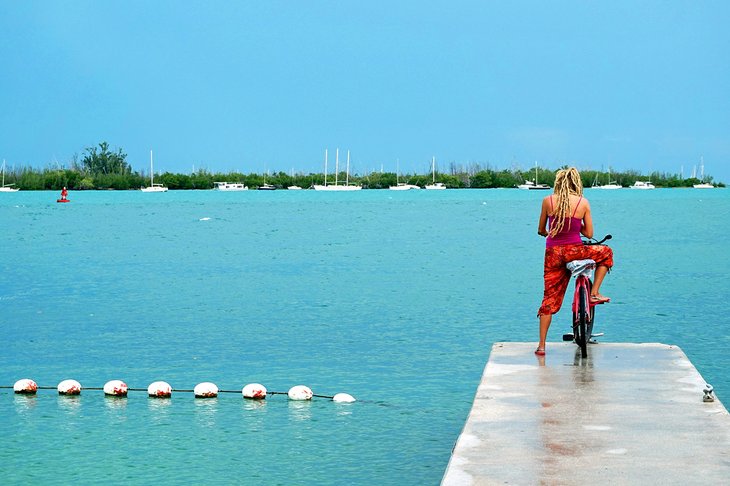 Simonton Beach is the perfect place to lay down a towel if you're looking for a beach close to Key West's downtown attractions. Located on the city's north-facing Gulf side, it's in fact notable as the only public beach in downtown Key West and is just steps from Mallory Square.
A favorite spot for locals, this pet-friendly beach is quite small, so it's best to arrive as early as possible to secure a spot on the sand. Despite the soft sand beach, the shoreline can be a bit rocky, so swimmers will want to bring water shoes.
Although it's relatively small, Simonton Beach has a good selection of amenities, including a boat ramp and on-site equipment rentals for chairs and umbrellas. It also offers some picnic tables and restrooms, and there is a small food vendor on the beach as well.
The restaurant situated right next to the beach offers a full range of water sports rentals, including Jet Skis, boats, and new hydrobikes, cool bike-like machines that allow you to stay dry while you pedal. These can be rented from Lagerheads Watersports directly on the beach.
and also runs sunset cruises, as well as charter tours for snorkeling, fishing, dolphin watching, and island tours. Parking is extremely limited, so you'll need to find an off-site lot and walk to the beach.
Address: 5 Simonton Street, Key West, Florida
5. Fort Zachary Taylor Beach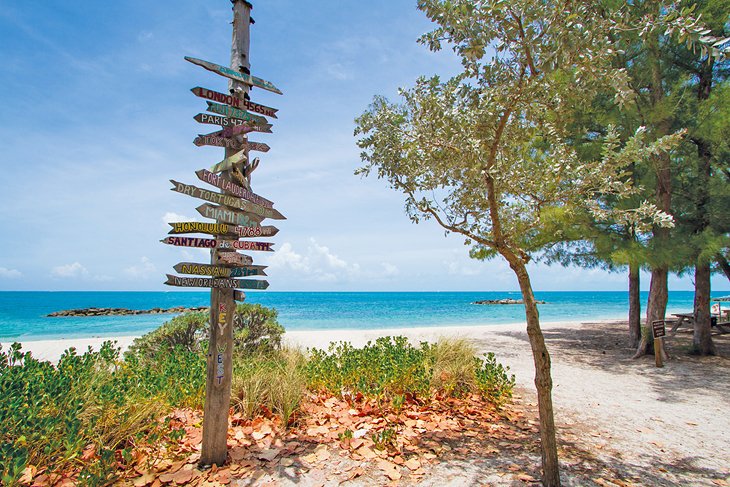 Fort Zachary Taylor Beach is my kind of beach. While it may not be known for its sunbathers and summer volleyball games, I consider it the most authentic of Key West beaches thanks to its natural shoreline, which is composed of ground coral instead of the usual imported sand.
Are you a nature lover? Then you'll love Fort Zach Beach for its plentiful plant and animal life, both on land and underwater. It's an especially popular spot for bird-watchers who also enjoy a little sun worshipping on the side.
It's also one of the top snorkeling spots in Key West. Here, you'll see everything from schools of tiny reef-dwellers to Goliath grouper, as well as beloved sea creatures, including dolphins and turtles. And when you've had your fill of relaxing on the beach or just need a break from the sun, take advantage of the park's shady scenic nature trails.
If you've got the time in your day, I thoroughly recommend you take one of the ranger-guided tours on offer at historic Fort Zachary itself. In addition to exploring the Civil War-era fortifications and learning of the tough conditions for Union soldiers stationed here, you'll have the chance to take some great photos of the stunning sea views as well as of the old canons partially buried in the building's foundations.
Another big plus at Fort Zachary Taylor Beach is that there's ample parking, something of a rarity in Key West. It's also only a 25-minute walk from here to Duval Street, so you may want to consider leaving the car here and making your way downtown on foot.
Address: 601 Howard England Way, Key West Florida
6. Bahia Honda State Park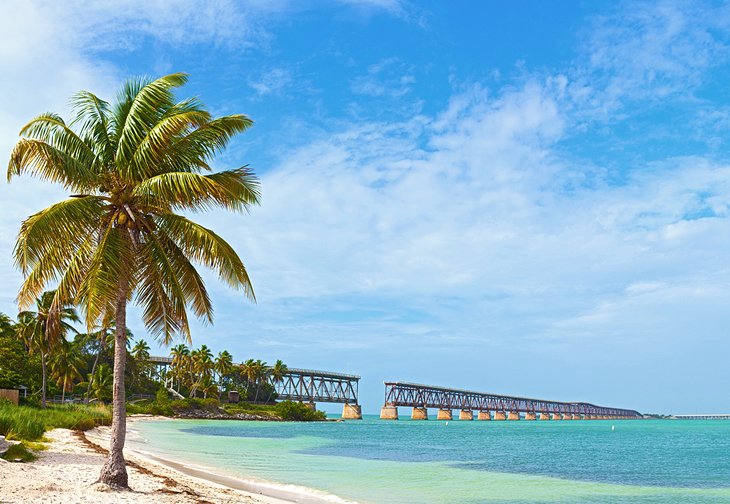 The best beach for camping near Key West is at Bahia Honda State Park. Located about 45 minutes away by car in Big Pine Key, it can also be accessed via boat.
Camping facilities include fresh water and electricity, and a concessions shop is open during the day. Both day and overnight visitors come for the soft white sand, safe and shallow water, and the park's natural beauty.
Among the abundant marine life found here are nurse sharks, rays, barracuda, and other fish that thrive in the surrounding reefs, making this a popular place for snorkeling. On land, the park is also home to the highly endangered Miami Blue butterfly, once thought to be extinct.
Address: 36850 Overseas Hwy, Big Pine Key, Florida
7. Dry Tortugas National Park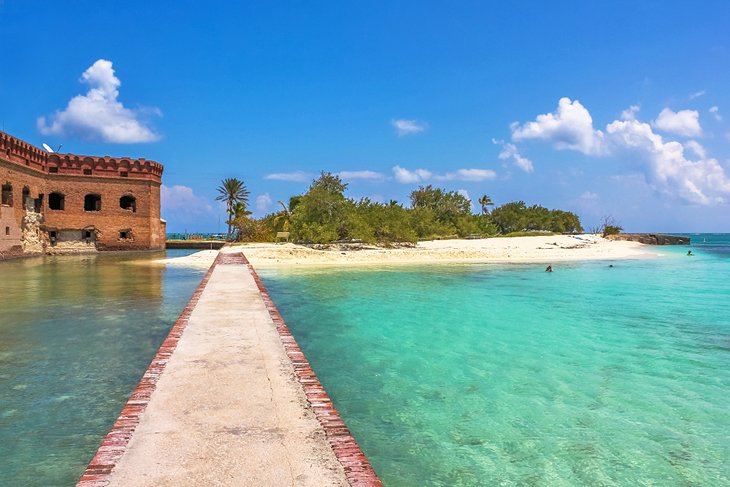 Although Dry Tortugas Beach is located some 70 miles away within Fort Jefferson National Park, its beach is considered part of Key West's seaside offerings thanks to the Dry Tortugas Ferry. This service aboard the Yankee Freedom takes about 2 hours each way, with an additional 4 hours to enjoy yourself on the beach.
The Dry Tortugas National Park is one of the top attractions in the Florida Keys. It's more than just a beach. Plan a full day for your visit, and be prepared to spend the day in awe of the natural beauty of the park. The beach itself is a palm-lined paradise, where you can relax, play, and swim, but the park's biggest draw is its expansive coral reef system. You can also enjoy tours of the 19th-century Fort Jefferson.
Snorkeling is the number one activity in and around Dry Tortugas, and there are several excursion and tour options that include equipment. If meals are not included in your tickets, be sure to pack food for the day, as well as any supplies you might need, as there are no stores on the island.
More adventurous travelers can ditch the ferry for a seaplane ride to and from the beach, and those who plan well ahead can even spend the night in one of the limited campsites.
Author's Tip: Be sure to travel light! All you really need for this excursion from Key West is a bathing suit and towel, sunscreen and sunglasses, as well as comfy shoes or sandals and a light jacket or sweater for the return journey. Oh, and bring a book or a magazine, as there's no Internet service available.
Location: 90 miles west of Key West (accessible by boat only)
8. Rest Beach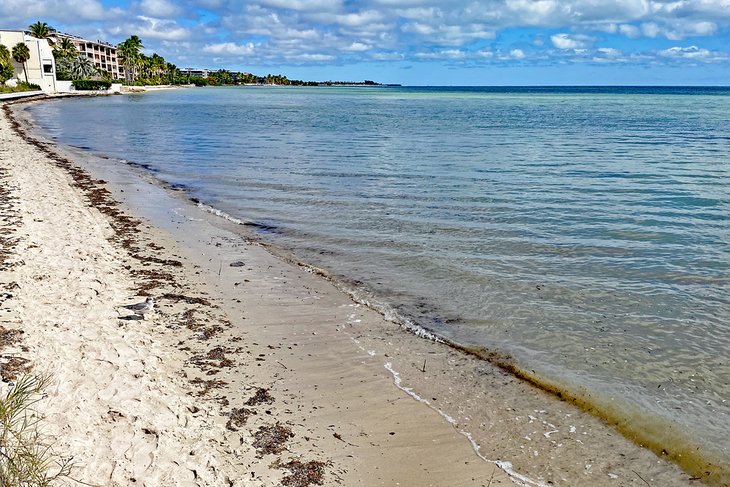 Located within the same park as Higgs Beach, the aptly named Rest Beach is a small but much-loved (and therefore crowded) Key West beach. Its most celebrated feature is the beach's position, perfectly situated to give visitors the best views of both sunrises and sunsets.
For those who want a change of pace from the lively atmosphere of Mallory Park's sunset festivities, this is the place to be. In contrast, here you will find a tranquil place to admire the views without the revelers.
In a testament to the peaceful nature of Rest Beach, there is a dedicated yoga deck, where visitors can participate in morning and evening yoga classes, welcoming the day or night.
Location: C.B. Harvey Rest Beach Park
9. Dog Beach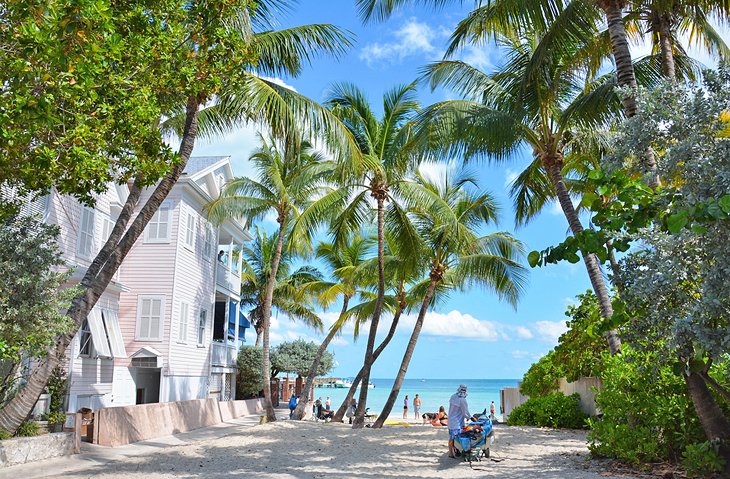 Although it may be tiny and stretches just two dozen feet from end to end, Dog Beach is adored by pet parents living in and visiting Key West.
As the only beach that allows dogs to run freely, dogs big and small can play in the water and sniff among the rocks for hidden treasure without their human friends having to worry about their four-footed fur babies shaking saltwater on a sunbather or destroying a youngster's sandcastle.
Dog Beach can be difficult to find, so if you miss the small sign, just ask at Louie's Backyard. This dog-friendly restaurant is next door to the beach, and the staff will happily put you right.
Address: 1500 Vernon Avenue, Key West, Florida
10. County Beach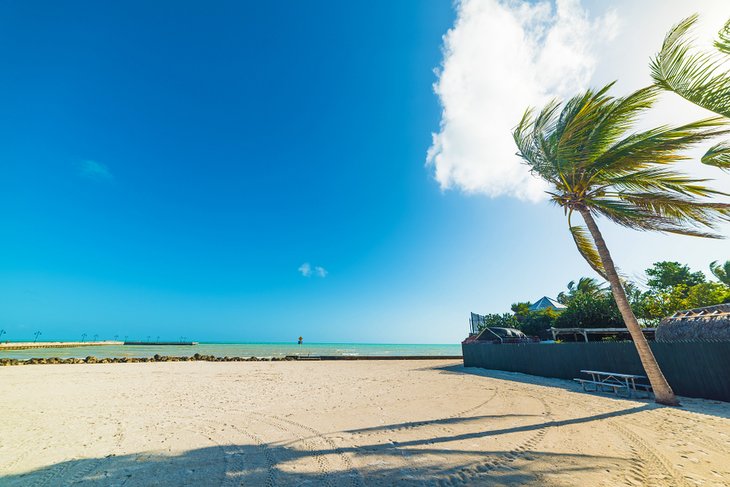 Sandwiched between Rest Beach and Higgs Memorial Beach Park, County Beach is a great little spot for sunbathers not too fussed about having a swim (swimmers will want to pop over to the neighboring beaches to dip their toes). Although the sandy section is flat, the waterfront on this man-made beach consists of large boulders placed to keep the sea out.
The plus? Families with kids tend to migrate to Higgs Beach to the west, making for a usually quieter, less crowded experience. Another benefit is its picturesque setting, as it backs onto the extremely photogenic West Martello Tower.
This attractive red-brick fortress just so happens to be home to the Key West Garden Club, and strolling these shady, lush grounds is a much-welcome diversion from all that lounging around on the beach.
Address: 1100 Atlantic Blvd, Key West, Florida
Map of Beaches in Key West, FL
Key West, FL - Climate Chart
Average minimum and maximum temperatures for Key West, FL in °C
J
F
M
A
M
J
J
A
S
O
N
D

24

18

24

19

26

21

28

22

29

24

31

26

32

27

32

26

31

26

29

24

27

22

25

19

PlanetWare.com
Average monthly precipitation totals for Key West, FL in mm.

56

38

47

52

88

116

83

137

138

110

67

54
More Related Articles on PlanetWare.com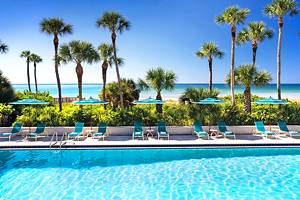 Where to Stay: If you want to complement your beach vacation with a luxurious stay, see our article on the Best Resorts in Key West. For other ideas on where to stay in Florida, have a read through our Best Resorts in Florida.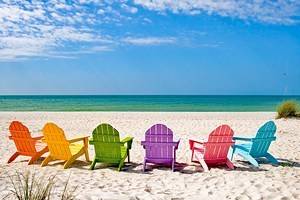 More Florida Beaches: Some beaches are not like others. If you are traveling with kids or looking to plan a family vacation, start by reading our piece on the Best Florida Beaches for Families. Other beautiful beach towns and family destinations to consider include Panama City Beach, Daytona Beach, and Cocoa Beach, to name just a few.