11 Top-Rated Attractions & Things to Do in Key Largo, FL
Just the name Key Largo brings forth images of palm trees, sunny skies, and warm water lapping the shoreline. The reality, fortunately, is not far from the dream.
Just an hour's drive from the city of Miami and a perfect stopover for those making the journey from Miami to Key West, Key Largo is part of a string of sun-soaked islands extending like a necklace from the bottom of Florida all the way to the sunshine state's southernmost tip.
Life here is all about the ocean. Things to do are almost entirely aquatic based. Snorkeling, swimming, diving, fishing, pleasure boating, and just lingering on shady patios are all popular pastimes. If that seems like too much work, you can also simply relax around a pool at one of Key Largo's resorts.
Key Largo is the largest of the Florida Keys and the closest and easiest spot near the mainland to access the Gulf of Mexico, the Everglades, and the Atlantic in one location. This allows you to easily find your favorite back bay, deserted island, sandbar, or coral reef, and set up shop in this tropical paradise.
Whether you're passing through, here for a few days, or looking for a day trip from Miami, you'll discover the very best places to visit with our list of the top attractions and things to do in Key Largo, Florida.
1. Take a Dive at John Pennekamp Coral Reef State Park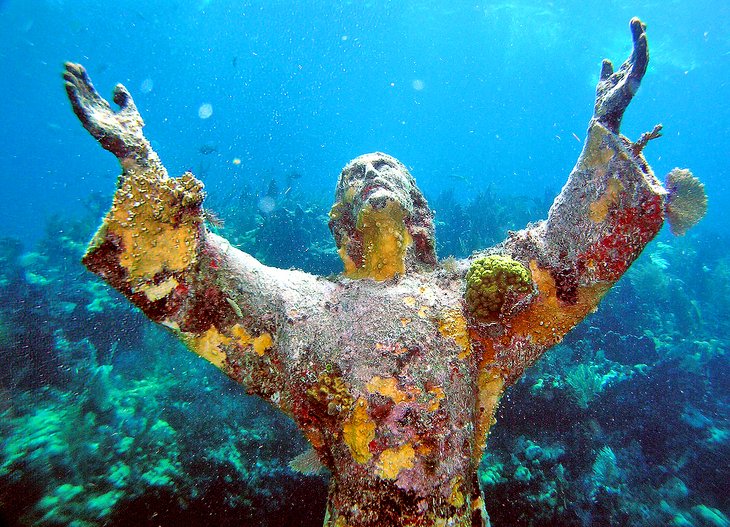 Located just an hour's drive from downtown Miami and with direct access to the Overseas Highway (it's on your left as you drive south), John Pennekamp Coral Reef State Park is a must-do when in Key Largo. As popular with adventure seekers after a memorable diving or snorkeling experience as it is with those who enjoy gentler outdoor activities, this pristine park stretches some 25 miles along the Florida Keys and three miles out into the Atlantic Ocean.
Dip beneath the waters at John Pennekamp State Park, and you'll be amazed by the treasures that lie below. Ancient statues, cannons, and remnants from old shipwrecks rest on the bottom just offshore, waiting to be discovered.
As you swim about, colorful fish accompany you on your adventure to find the famous Christ of the Abyss statue. Set on a large concrete base, the statue reaches towards the surface with both arms extended in exaltation. The statue is in 25 feet of water and can be easily seen by snorkeling or diving.
For beginners, a great way to experience an in-water adventure here is to join the excellent Half Day Snorkel Trip on Reefs in the Florida Keys. This fun excursion includes passage aboard a catamaran to a quiet reef for the chance to snorkel at this site, as well as in the Florida Keys National Marine Sanctuary. All equipment is provided, along with eco-friendly sunscreen and drinking water.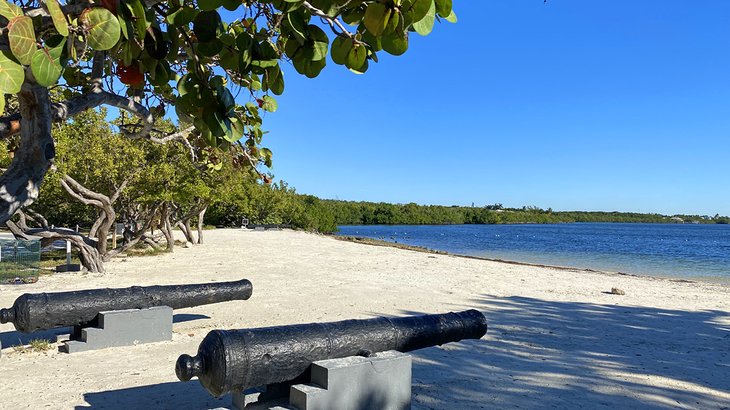 Other things to do at the park include glass-bottom boat tours, picnicking, kayaking, as well as stand up paddleboarding. Other on-site facilities include restrooms and showers, as well as a food truck. There's also a fun and informative visitor center with a well-stocked aquarium, and for those wanting to simply set and soak up the sea views, plenty of well-placed benches (and a cute gazebo) are dotted about the property.
If all that hot Florida sun has you wishing for a cool down, head to one of the park's beaches. The beaches are not big, and tend to be a bit rocky. Cannon Beach (so named for the antique cannons overlooking the beach) has a nice stretch of sand and is popular for swimming.
Address: 102601 Overseas Highway, Key Largo, Florida
Official site: https://pennekamppark.com/
2. Join a Guided Snorkeling Tour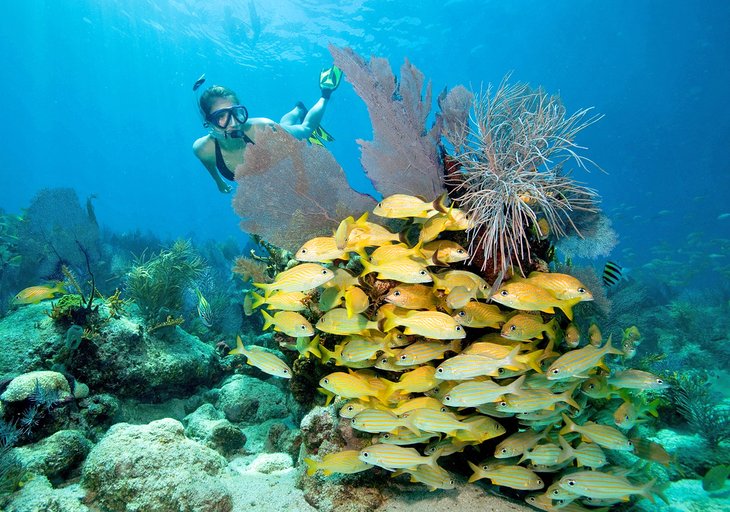 For inexperienced snorkelers or people who don't want to snorkel alone, joining a group is a good option. Key Largo is the perfect place to take up this hobby, with plenty of calm water and great sites, and no end of options when it comes to booking and planning a snorkeling adventure.
One good option for beginners is the Key Largo Snorkeling Tour, which comes complete with all equipment, including masks, fins, and life vests. All you need to do is show up. This tour will take you into the Florida Keys National Marine Sanctuary to snorkel in calm, clear, shallow water. This is a 2.5-hour mini adventure that the whole family can enjoy on a trip to Key Largo.
3. Go Fishing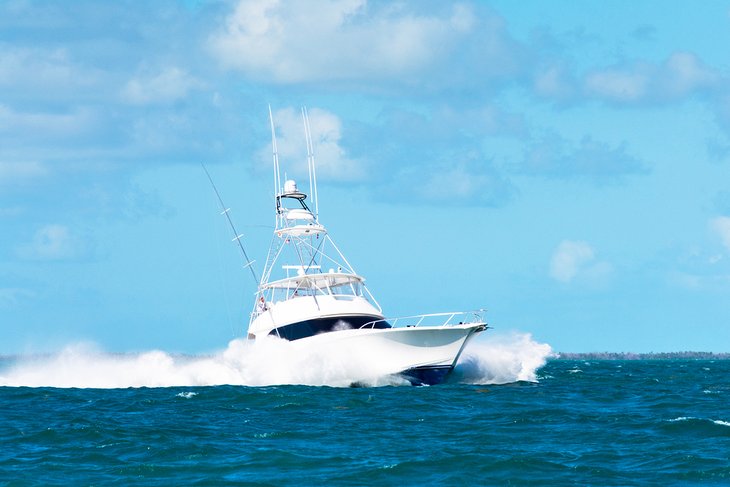 Turquoise waters, warm salty breezes, an abundance of fish, and calm seas make fishing around Key Largo easy. Perhaps the toughest part of your day will be deciding what fish to go after and where to fish. The reason the decision is difficult is because of the sheer number of choices: the Atlantic Ocean, Gulf of Mexico, the Everglades, flats, backcountry, and wrecks all present themselves as tempting options.
Key Largo is well set up for your fishing adventure. Extensive marinas provide all the services your boat will need, and tackle shops can tell you where the fish are biting and what to catch them on. Launch sites on either side of the island get you out onto the water and where you want to go fast.
If you'd prefer to hire a captain and crew to put you onto the fish fast, an extensive array of capable operators are standing by. A variety of fighting fish are lurking below in the warm waters, depending on where you fish. If you are keen on offshore fishing, and depending on the season, your captain will do their best to put you onto mahi-mahi, tuna, kingfish, marlin, and sailfish.
For those worried about sea sickness and preferring to say closer to shore, reef and wreck fishing is the norm. Catches of grouper, cobia, snapper, and giant amberjack are common.
4. Get Out on the Water in a Boat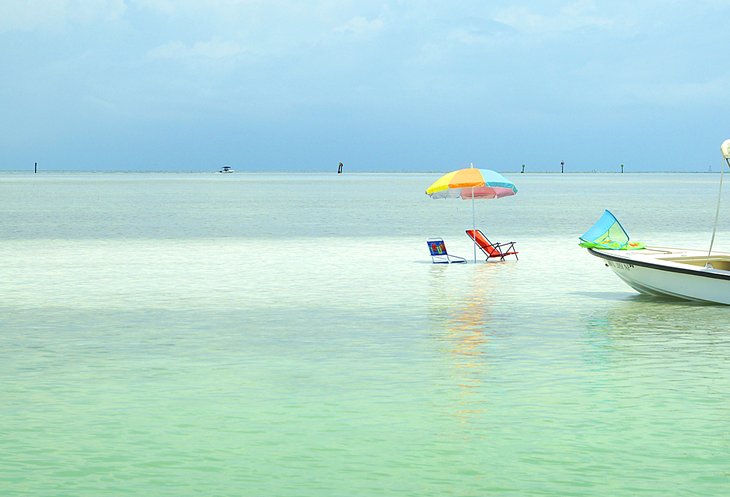 Skimming across the calm, turquoise waters of the Gulf of Mexico in your boat with the warm breeze on your face is one of the most popular things to do in Key Largo. Hitch that boat up to the car and head south. Wide-open spaces, few navigation hazards, and a whole fleet of like-minded enthusiasts are what you'll find.
Be sure to pack your swimsuit and lots of sunscreen, pick a shallow spot, and drop anchor. Grab your floaties and jump overboard into the warm, clear waters. One of the most popular activities is boating to the sandbar off Islamorada. Here, you'll find a fun crowd swimming, snorkeling, barbecuing, and generally just hanging out in the warm shallow waters.
If you are lucky, you may have dolphins playing in your wake, or spot manatees lolling in the shallows. Key Largo is well set up for pleasure boating. Boat slips are available for long-term and short-term stays, they come complete with shore power, water, and Wi-Fi. Launch facilities are excellent, with wide ramps and trailer parking. Boat rentals are widely available.
5. Go Diving on the Molasses Reef & Explore Sunken Wrecks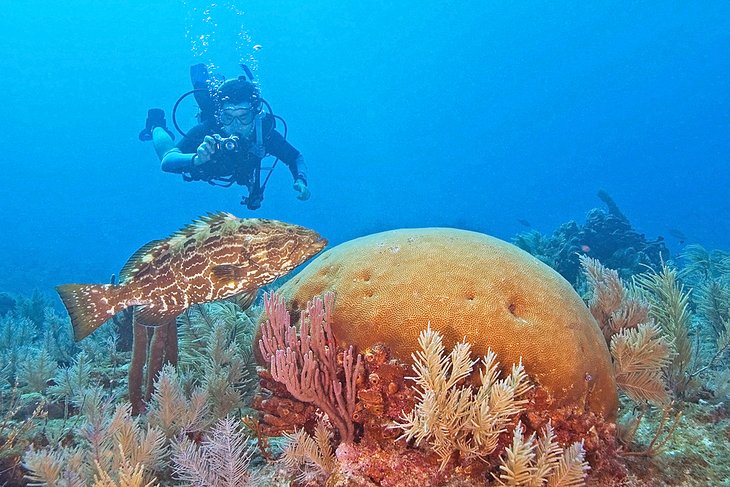 Surrounded on all sides by water and reefs, Key Largo is a hot spot for diving. The underwater offerings range from extensive reefs teeming with colorful fish, challenging wrecks, historical underwater statues, and wall dives. The 13 main dive locations are on the Atlantic side of the island and are across a range of depths.
One of the most popular dive sites is Molasses Reef. Here, you'll find a massive reef system with depths of up to 90 feet, but the main attraction are the coral heads that jut up from the bottom. The reef is inside John Pennekamp State Park and as a result, aquatic life is abundant. Keep an eye out for parrotfish, barracuda, southern stingrays, turtles, blue chromis, and schoolmasters. Must-see areas in Molasses Reef include the Aquarium, the Winch Hole, Eagle Ray Alley, and Fire Coral Cave.
Key Largo is especially known for wreck diving, with four major sites offering varying levels of challenge for those qualified. These are not your average little ships on the bottom; the wrecks here range in size from 327 feet to 510 feet long. Of the four wrecks, three are in deep water, and advanced certification is required. The fourth, the Benwood, in water 25- to 45-feet deep, is available to Open Water Divers.
6. Relax at a Top Key Largo Resort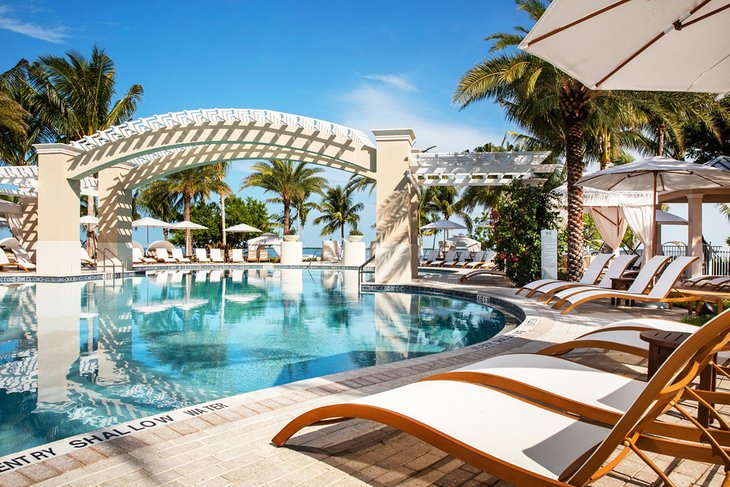 Key Largo has an abundance of excellent resorts and hotels. One of the best is the Playa Largo Resort & Spa, Autograph Collection. The resort has one of the finest beaches in the Florida Keys, lined with cabanas and a large pool.
Rest comfortably in your choice of 177 rooms, cabanas, suites, or even a large beach house complete with its own private pool. Most of the rooms have patios, perfect for relaxing and soaking up the vibe of the resort.
Get active, if you wish, on the tennis, basketball, or volleyball courts, and then soothe any aches at the resort's spa. In the evening, the Sol by the Sea offers romantic seaside dining with the freshest of local ingredients.
All that turquoise water may draw you away from your sun lounger and book (or maybe not), and if that is indeed the case, the water sports center has everything you could ever want. Choose from stand up paddleboards, snorkeling equipment, Jet Skis, and kayaks. Tours and other activities can also be booked here, including diving expeditions, sailing charters, deep sea fishing, and parasailing among many others.
Address: 97450 Overseas Hwy, Key Largo, Florida
7. Dine by the Seashore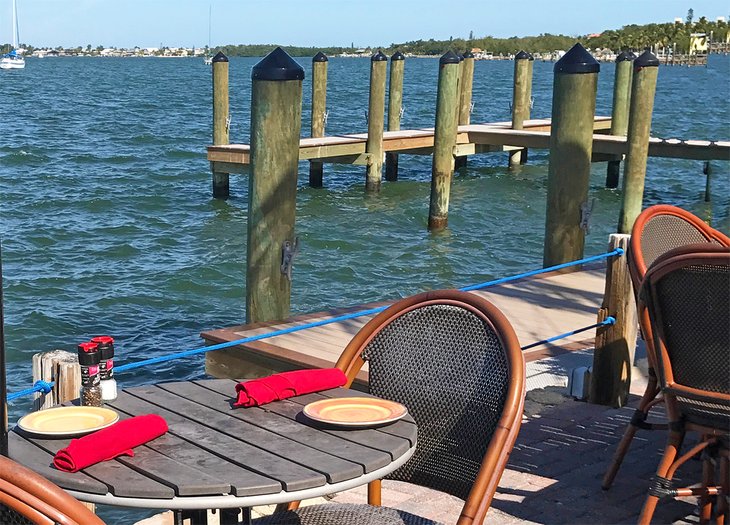 Seafood is king in Key Largo. Fresh fish dominates menus in most restaurants, and local chefs have innovative takes on preparing this bounty. Restaurants have open-air themes, and patios are the norm. The warm evening air blowing gently as you dine under the stars by the seashore is amazing.
You'll want to linger, as that's just what happens in Key Largo. Conversations ebb and flow and sometimes stop, as the view does the talking. Cap off your meal with some key lime pie for desert.
It's not all about long dinners on the patio, though, Key Largo has amazing fast food restaurants that will whip you up a quick sandwich using the freshest catch of the day. A leisurely late breakfast is also a Key Largo pastime.
8. Interact with the Animals at Island Dolphin Care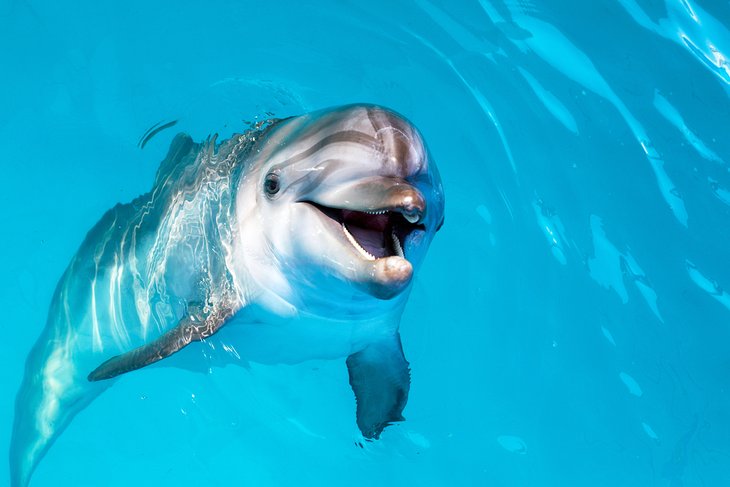 Have you ever wondered what a kiss from a dolphin would be like? Bring the family to the Island Dolphin Care to get up close and personal with these friendly creatures. The center is all about education, with a variety of programs.
All visits take place on personal tours led by a knowledgeable guide. Programs range in price, and include basic visits dockside right through to full-day adventures where you shadow the animal-care professionals.
One of the most unique adventures is the Dolphin Float. The excitement starts the moment you arrive, with the chatter of dolphins filling the air as you check-in. Once in, you'll climb onto a raft and float around in the dolphin pool.
You'll be amazed to see what the curious dolphins do with the visitor in their pool. Most of the time the dolphins will come up beside the rafts and look to see who's on top, look for a bit of petting, or if you can convince them, push you and your raft around the pool.
One of the best free things to do at Dolphin Care is yoga. Bring your mat and enjoy a flow class with your instructor on the docks while the dolphins Zen out around you.
Address: 150 Lorelane Pl, Key Largo, Florida
Official site: https://islanddolphincare.org/
9. Florida Keys Wild Bird Rehabilitation Center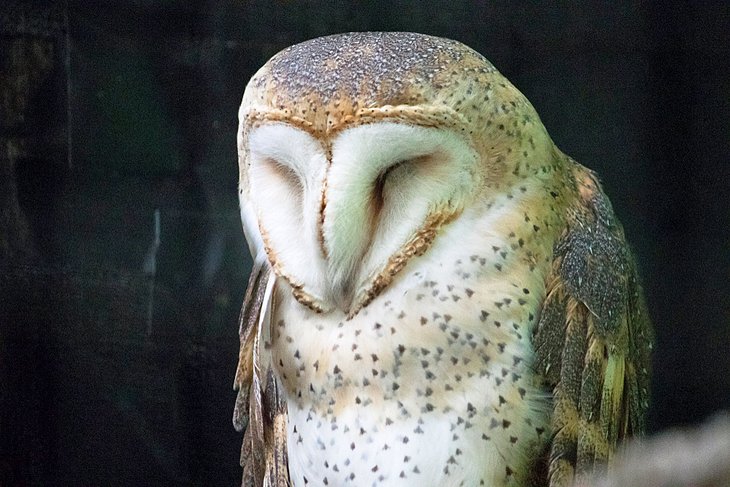 Wild birds are everywhere in the Florida Keys, and occasionally some of them sustain injuries. Fortunately, the Wild Bird Rehabilitation Center and Laura Quinn Wild Bird Sanctuary are there to save the day.
The rehab center is not open to the public, but the sanctuary is. Here, you'll find 90 birds across 40 different species that are not able to be released into the wild. The birds here are accustomed to people and are also used in educational programs.
One of the highlights of a visit is seeing the pelican feeding. This spectacle takes place each day at 8am and 2:30pm. Admission to the sanctuary is free, but donations are always appreciated to help the facility continue its critical work.
Address: 92080 Overseas Hwy Tavernier, Florida
Official site: www.missionwildbird.com
10. Go Swimming at Harry Harris Park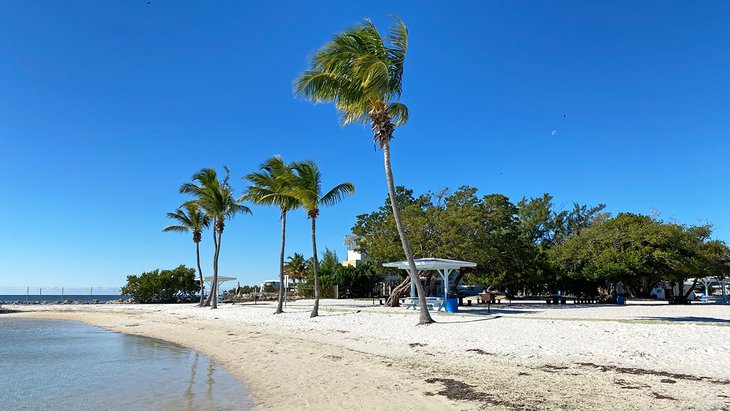 Harry Harris Park is a wonderful public park that's ideal for those with young children looking for a safe beach. Located on the Atlantic side of the island, this man-made beach has a giant rock seawall that extends out into the ocean, creating a giant saltwater pool.
The water in the pool is always calm, exceptionally warm, and perfect for splashing about. The imported sand is white, soft, and good for crafting the best sandcastles in the state.
Just back from the beach, the park has everything for a perfect day: picnic tables, covered pavilions, BBQs, a playground, a basketball court, and a baseball field. Comfort stations have restrooms, change areas, and showers.
Fishing is popular off the jetty, and with the right bait, you'll have a good chance of catching yellowtail snapper, grunt, and schoolmaster.
Address: 50 E Beach Road, Tavernier, Florida
Official site: www.monroecounty-fl.gov/facilities/Facility/Details/250
11. Dagny Johnson Key Largo Hammock Botanical State Park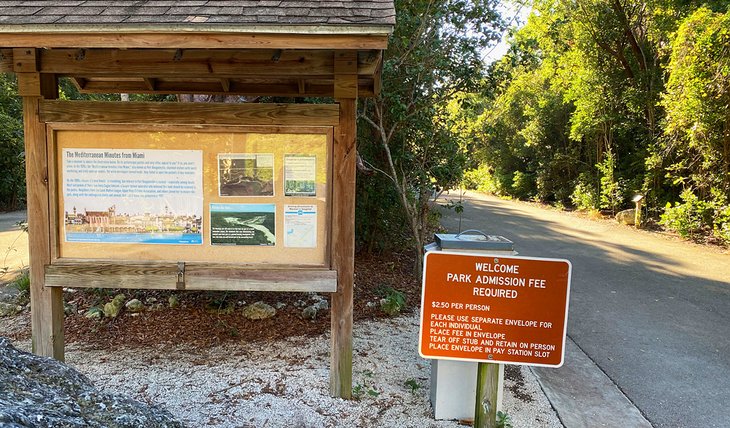 Dagny Johnson Key Largo Hammock Botanical State Park was saved from development in 1982, and today it's an 84-acre natural wonderland. Located about a mile north of the Overseas Highway's Monroe County Toll Bridge, the park is home to numerous rare and protected plants and is an excellent place to visit to brush up on the flora of Florida.
Six miles of level and paved walking and biking trails wind their way past West Indian hardwood hammock. Rare plants include mahogany mistletoe and wild cotton. American crocodiles are also found here. Information is posted on signs along the trails and provides greater insights into the diverse ecosystem that surrounds you.
Dagny Johnson Key Largo Hammock Botanical State Park is also a hot spot for birding, as Key Largo makes a perfect rest stop for migrating birds. Some of the many species to be spotted here include the black-whiskered vireo, La Sagra's flycatcher, and yellow-billed cuckoo. Bring your binoculars, and keep an ear out for the songs of the Bahama mockingbird as they perch atop the greenery.
As you stroll along, look for butterflies, too. The park is home to a variety of species. A couple of the most frequently sighted include the Schaus' swallowtail and mangrove skippers. One of the park's smallest but most colorful inhabitants are the tree snails, easily spotted slowly making their way along the tree trunks.
While there's limited parking at the entrance (so arrive early), it's a mile or so walk into the heart of the park, so plan accordingly. There is, however, a covered picnic pavilion just a short distance in. Also, the full two-mile loop can sometimes be inaccessible after heavy rainfall.
As for facilities, there is a compostable toilet on-site, but no running water is available.
Address: County Rd 905 & Mile Marker 106, Key Largo, Florida
Official site: www.floridastateparks.org/parks-and-trails/dagny-johnson-key-largo-hammock-botanical-state-park
Map of Attractions & Things to Do in Key Largo, FL
Key Largo, FL - Climate Chart
Average minimum and maximum temperatures for Key Largo, FL in °C
J
F
M
A
M
J
J
A
S
O
N
D

24

17

24

17

26

18

28

21

29

23

31

25

32

26

32

26

31

25

29

23

27

21

24

18

PlanetWare.com
Average monthly precipitation totals for Key Largo, FL in mm.

63

49

54

51

95

175

82

132

171

137

78

52