14 Top-Rated Things to Do in Pompano Beach, FL
Dubbed the "heart of the Gold Coast," Pompano Beach is a beautiful gem clinging to the dramatic Atlantic Ocean. Set 35 miles north of Miami, this pretty spot is lower-key than its more vibrant, and much louder, counterpart. Despite its more laid-back appeal, there are plenty of fun things to do in Pompano Beach.
From sunning yourself on the golden sand to snorkeling in the warm water around the vibrant coral reefs to shopping in the upscale stores of open-air malls, guests can choose from a wide variety of activities in Pompano Beach. Enjoy the city's parks (there are over 50 of them), fish off a long wooden pier, or ride in a water taxi. You'll never be bored in Pompano Beach.
Before you go, plan your sightseeing with help from our list of the top things to do in Pompano Beach.
1. Hit the Sand at Pompano Beach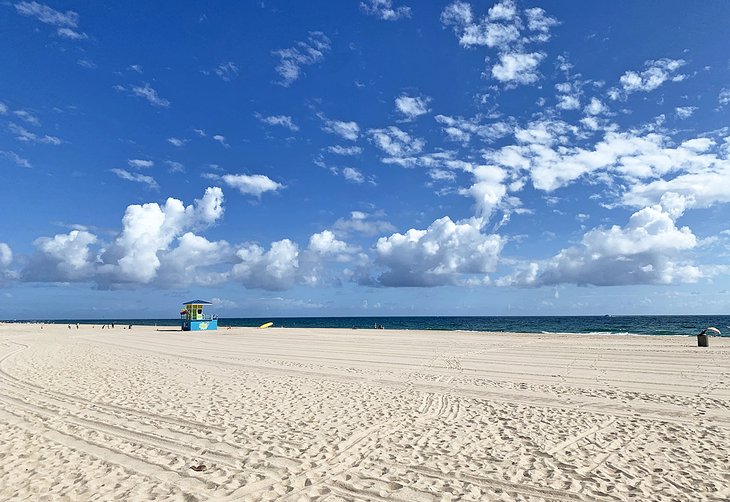 Visitors to Pompano Beach spend most of their time lounging upon the soft, golden sand of this Atlantic Ocean beauty. When the sun's rays become too fierce, beachgoers take to the water to cool off. Whether they choose to paddleboard, kayak, boogie board, swim, or snorkel, there's no shortage of fun to be had in the ocean off Pompano Beach.
Another bonus: the water here is warm and crystal clear due to a bend in the Gulf Stream. That means it's easy to spot marine life from shore, and even better for those wishing to spend their afternoon snorkeling.
You'll find lifeguards on duty year-round and multiple facilities on offer to make your stay more enjoyable. A paved boardwalk lies behind the sand dunes, peppered with picnic pavilions offering shade and flanked by tall, waving palms.
It will lead you to the Fisher Family Pier, one of the most popular places to visit if you hope to while away an hour in Pompano Beach. The views from here are spectacular, but be sure to pack sunblock and water, as it can get quite hot. A beach chair and umbrella are also good to have on hand if you're planning to spend a whole day.
Craving a bit of retail therapy to complement your sunbathing? The upscale Pompano Beach Fishing Village lies just steps from the sand and is packed with fun shops and restaurants.
2. Go Snorkeling or Scuba Diving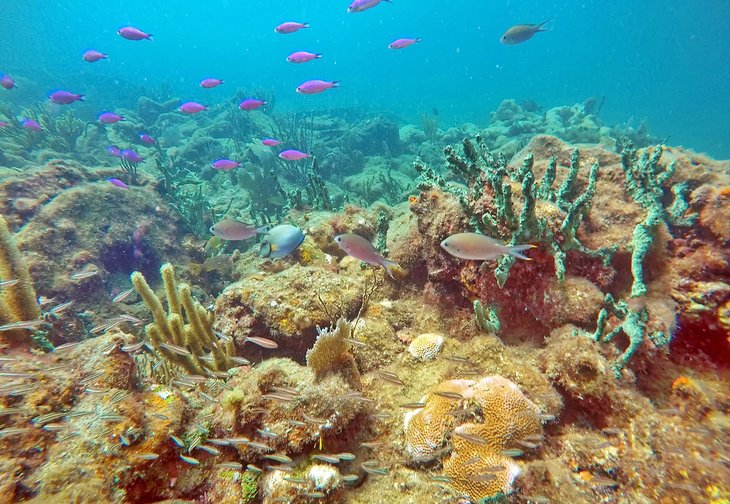 An impressive coral reef lies just offshore from Pompano Beach, offering underwater explorers an up close and personal look at Florida's most spectacular marine life. The Pompano Beach Drop Off lies half a mile south of Fisher's Family Pier and is home to shellfish, colorful coral, and an exciting array of fish.
It spans 25 mooring buoys and includes the Nursery & Copenhagen sites. If you're looking for lobster, you'll spot them more easily in holes on the western edge. Keep your eyes peeled - they're good hiders. Snorkeling here is a popular family activity, and you'll be happy your kids joined in the fun.
More adventurous snorkelers and divers should explore Suzanne's Ledge, which drops between 15 and 30 feet. A continuation of the Drop Off, this scenic spot is a true beauty; you'll want to pack a waterproof camera.
Labontee is another pretty spot perfect for novice divers. It, too, is teeming with marine life (hello nurse sharks and lobsters) and sits a mere mile north of the Hillsboro Inlet, making it relatively easy to reach. The best viewing spots are located on the western edge.
Strap on a tank and scuba your way to the SS Copenhagen (on the east side of the Pompano Beach Drop Off) or Lady Lucky Wreck, which has been transformed into a unique wonderland of giant dice, mermaid waitresses, and other exciting man-made finds.
3. Tour the Sample-McDougald House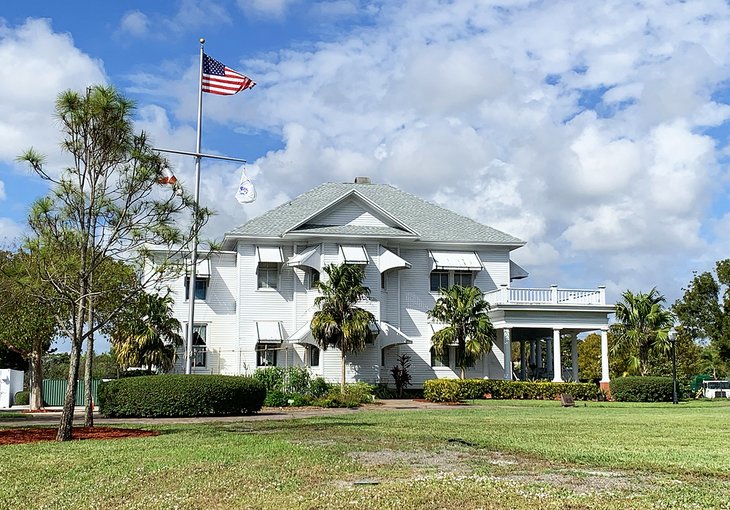 The lovely Sample-McDougald House earned a coveted spot on the National Register of Historic Places in 1985. A luxuriant Colonial Georgian revival home, this Southern gem boasts picturesque porches that wrap around the ground and second floors. Not surprisingly, this is a popular place to get married, and presents a perfect backdrop for memorable photos.
Built by farmer Albert Neal Sample in 1916, the grand white house sat on Dixie Highway among the owner's vast pineapple fields. In 1940, it was purchased by William and Sarah McDougald and donated to the Sample-McDougald House Preservation Society in 2001. At that time, the society moved the building to its current location in the much quieter Centennial Park.
Visitors are welcome to enjoy house tours, yoga on the lawn, mommy and me museum days, antique car shows, and other fun events in this lovely locale.
Insider's tip: The house is closed on Sundays and Mondays.
Address: 450 NE 10th Street, Pompano Beach, Florida
Official site: https://www.samplemcdougald.org/
4. Find Serenity at Butterfly World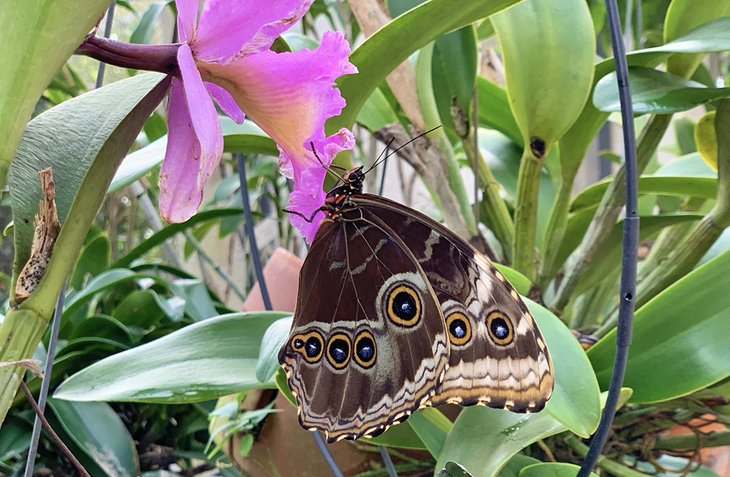 Time seems to stand still the moment visitors enter the Paradise Adventure Aviary at Butterfly World. The first stop on a journey through this idyllic attraction, the colorful aviary is breathtaking, and boy does it ever smell divine.
The sweet scent of roses fills the air, soothing guests as they wind their way through the bright blossoms, waterfalls, and trickling fountains towards the dewy Tropical Rainforest. Butterflies of all shapes, sizes, and colors flitter throughout, some landing briefly on opulent flower petals or even a guest's shoulder.
Serene music acts as a fitting soundtrack to the lazy, moist heat of this paradise, lulling visitors into a stress-free haze. Visit on a sunny day, and you'll be amazed by how many beautiful butterflies skim through the air; they prefer sunshine to a dull, rainy day.
Opened in 1988, this popular tourist attraction was the first butterfly house in the United States. It's also the largest of its kind in the world. Inside you'll find a variety of large aviaries, including one devoted to tropical birds, Butterfly Lake, a bug museum (complete with a massive tarantula, scorpions, and cockroaches), a Lorikeet Encounter where guests can feed the birds, the Mariposa Café, and a gift shop.
Although technically in neighboring Coconut Creek, Butterfly World is just six miles northwest of Pompano Beach, a short drive you'll be more than happy you took.
Insider's tip: Call ahead to book a same-day ticket; otherwise, you'll have to order a ticket online and wait five to seven days for delivery.
Address: Tradewinds Park, 3600 West Sample Road, Coconut Creek, Florida
Official site: https://www.butterflyworld.com
5. Get Active in the Area's Best Parks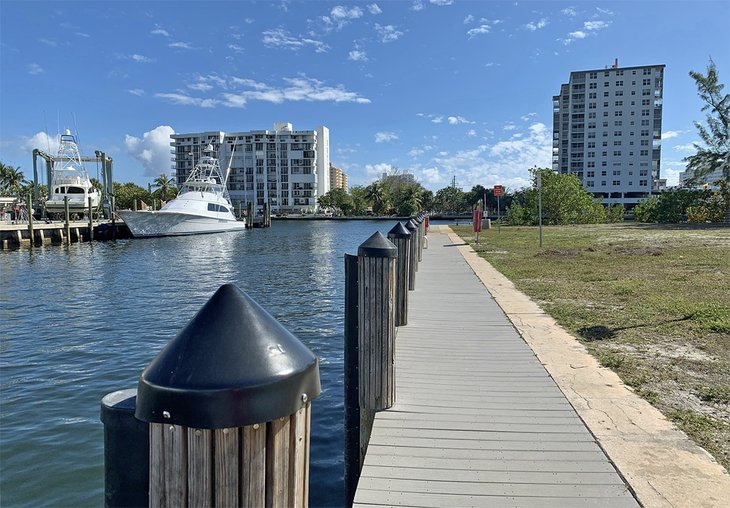 Pompano Beach plays host to 52 lovely parks that come in all shapes and sizes. Whether you're looking for a cozy spot to relax on a bench, a waterfront area to enjoy a picnic with your view, or a spacious spot boasting amenities like basketball courts and a pool, you'll find the perfect place in this lovely city.
Traveling with a four-legged pal? Don't miss the Pompano Beach Dog Park. Located between 1000 and 1098 18th Avenue, this vast area allows visitors to let their furry friends run free. North Ocean Park (at 3424 NE 16th Street) offers shade, ocean views, and beach access.
Pompano Beach Community Park (at 820 NE 18th Avenue) is one of the most popular places to visit for families. It boasts aquatic and tennis centers and a baseball complex, as well as a playground and covered picnic area.
Alsdorf Park (2974 NE 14th Street) offers a public boat launch, boat wash facilities, a marina, and plenty of parking. There's also a small playground with swings and climbing equipment, but not much else to do other than watch the boats pass by. The Pompano Beach Water Taxi stops here on Friday and Saturday nights.
Officer Scott A. Winters Memorial Park (at 1199 N. Riverside Drive) is another must-visit. In addition to a splash pad and playground, this cute park offers a covered picnic area and serves as yet another stop for the water taxi.
6. Reel in a Big One off the Fisher Family Pier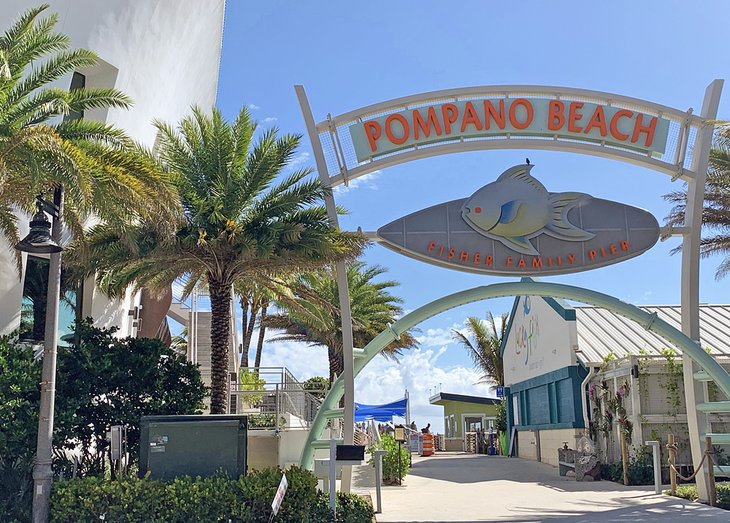 The Fisher Family Pier is a fun and beautiful spot to spend an hour or two. Named after Lamar Fisher, the former mayor of Pompano Beach, this 900-foot-long pier juts into the Atlantic Ocean, providing an impeccable view of both the waterfront and the city behind the golden beach.
Although hard to define when you're standing at the tip of the pier, it was built in the shape of the region's famous pompano fish, including a little indent for the mouth and a circle for its eye.
Giant blue umbrellas stand stoically along the pier, offering much-needed shade, and many benches provide a comfortable spot to rest while enjoying the unbeatable vista. Arrive early for a chance to watch the breathtaking sunrise.
There's no charge to walk along the pier, but those wishing to fish will have to pay a minimal fee. Bait and other fishing essentials can be purchased, and rods rented from the on-site Bait Shop.
Address: 222 North Pompano Beach Boulevard, Pompano Beach, Florida
Official site: https://parks.pompanobeachfl.gov/facilities/fisher-family-pier
7. Dine at the Pompano Beach Fishing Village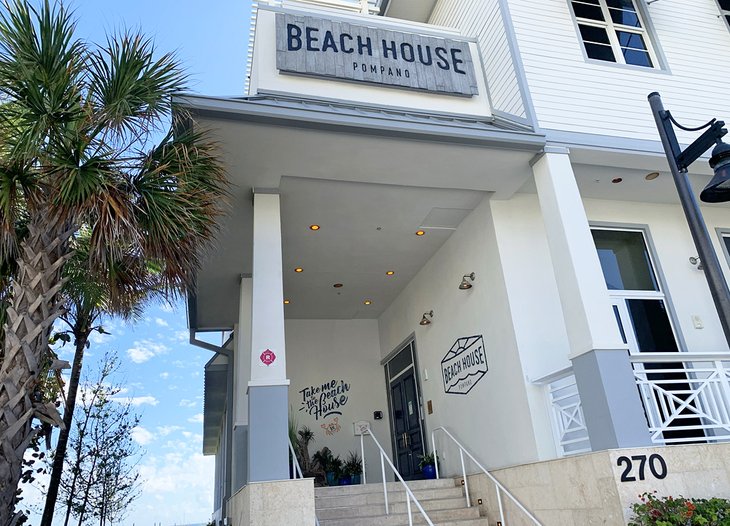 When you've finished fishing off the pier, take some time to wander through the lively Pompano Beach Fishing Village. A recent addition to the area, this upscale section of town features shops, hotels, and a bevy of fantastic restaurants serving food that's almost as impeccable as the view. This is one of the best places to visit at night.
Beach House Pompano is one of the most popular spots to enjoy a meal at the fishing village. It's located almost directly beside the Fisher Family Pier, just steps from the sand. Head to the rooftop for a palatable array of Beach Bites, or partake in a more substantial meal featuring fresh, local ingredients.
Oceanic Pompano is spectacular-both inside and out. Housed in an architectural masterpiece featuring breathtaking views, this local hot spot is a lovely place to enjoy a special brunch or an evening out. While the price tags are a bit hefty, the food and service are well worth the extra dough.
Laid-back Lucky Fish serves up a full day's worth of treats. Tasty breakfast burritos and a cup of java will get you going in the morning, while tacos, sandwiches, and nachos will keep you energized all day (and night) long. Take it to go, so you can enjoy the feel of sand between your toes as you eat.
Address: 270 North Pompano Beach Boulevard, Pompano Beach, Florida
Official site: http://www.pbpier.com
8. Climb aboard the Pompano Beach Water Taxi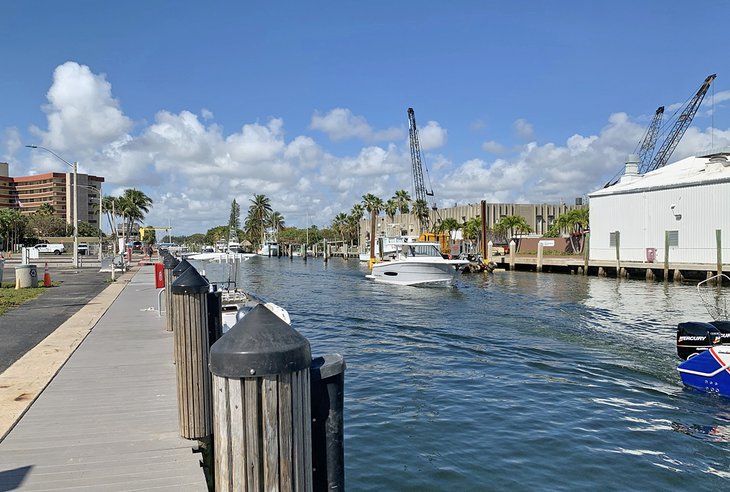 Searching for an exciting, traffic-free way to see the city? Look no further than the Pompano Beach Water Taxi. A fun way to explore the area's sparkling waterways, this popular taxi service steers tourists past the luxurious oceanfront mansions, vibrant shops and restaurants, and historic buildings lining the pristine shores of Pompano Beach.
With nine stops throughout the city, there are plenty of places to hitch a ride. Alsdorf Park is one of the most popular places to board on a Friday or Saturday evening (from 6pm to 10pm). Home to a boat launch, there's plenty of parking, so ditching the car is easy at this locale.
Insider's tip: The Pompano Beach Water Taxi runs Friday and Saturday evenings. Check their website for an up-to-date schedule.
Address: Multiple sites including, Hillsboro Inlet Park, Alsdorf Park, and Scotts Winters Memorial Park
9. Shop 'Til You Drop at Festival Marketplace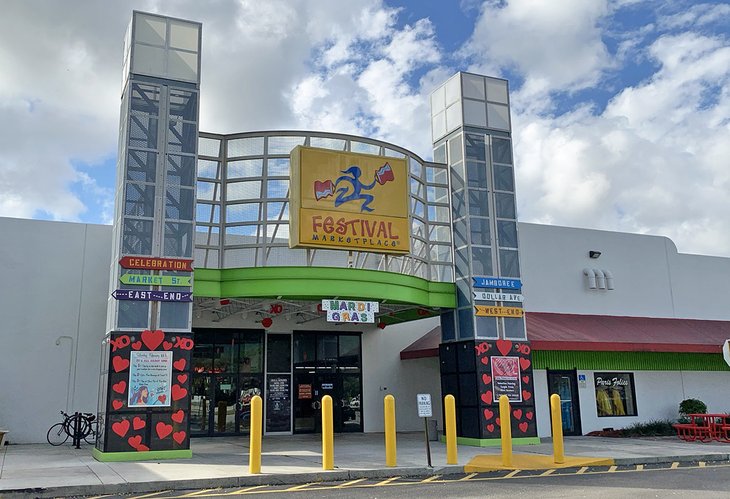 No matter what you're looking for, you'll find it at the eclectic Festival Marketplace. The quarter-mile-long shopping mecca opened as an outlet mall in 1986. Today, this unique indoor retail hub offers visitors a respite from the heat while they flex their shopping muscles.
More than 250 stores pepper this "European-style market," boasting everything from kids' clothes to jewelry to perfume. The food court will satisfy any hunger pangs with its varied array of gastronomic delights.
Throughout the year, the marketplace plays host to various events. Animal Adoption Day helps put future pet owners in touch with adorable cats and dogs looking for a home, while the Vintage Fair (which is hosted on the third Saturday of every month) boasts handmade and antique wonders.
Address: 2900 West Sample Road, Pompano Beach, Florida
Official site: https://www.shopfestival.com/
10. Get Inspired at the Blanche Ely House Museum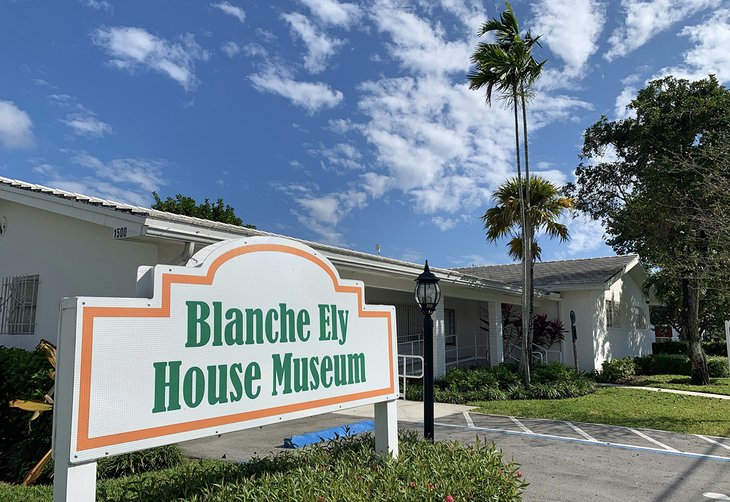 Once home to education and civil activists Blanche and Joseph Ely, the newly renovated Blanche Ely House Museum contains important relics from their lives. The museum honors the immense work of these influential leaders of the area's black community through various exhibits and displays, which include letters written to the governor and Pope.
This understated white bungalow plays host to a thriving creative community and serves as a cultural hub for the area, serving up a vast array of art classes and workshops. Listen to poets, watch films, visit the gallery, or attend a jazz concert. There are a variety of ways to stay entertained, and many free things to do at this attraction.
Insider's tip: The museum is open during events and by appointment only. Also, it can be a bit tricky to find if you're relying on GPS. Look at a map to be sure you're headed in the right direction - it's located at the corner of NW 15th Street and NW 6th Avenue.
The Northwest Branch Library and quaint Apollo Park, which boasts a playground and tennis courts, lie a short walk away on 3rd Avenue near NW 15th Place.
Address: 1500 NW 6th Avenue, Pompano Beach, Florida
Official site: https://www.pompanobeacharts.org/ely
11. Ogle the Unique Creations at Art Collection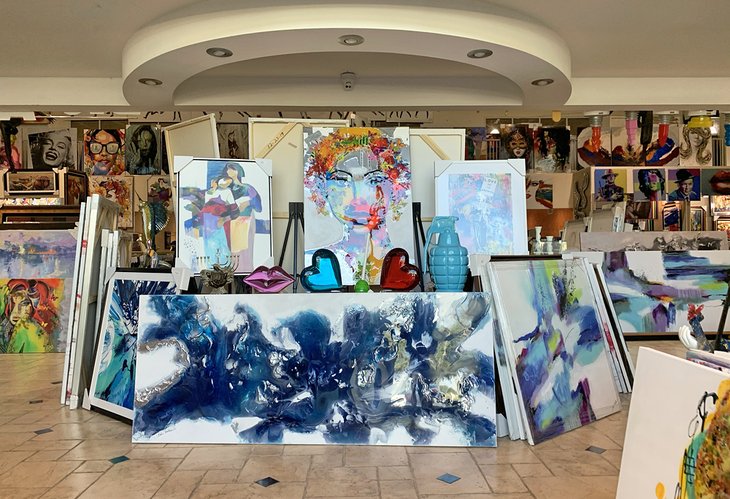 Art lovers can't go wrong with a visit to Art Collection. While its canary yellow walls don't look overly inviting, the interior's large (it spans 45,000 square feet), two-story showroom is packed with eclectic finds spanning multiple genres.
Over 4,000 pieces of art created by a slew of talented artists are on display inside this unique and somewhat cluttered venue. Many creations are stacked upon one another, so be sure to allocate enough time to flip through the multitude of works.
Whether you're looking for a contemporary mixed media painting, unique photograph, intricate sculpture, or classic landscape, you'll find something fabulous to adorn your personal space. Add pizazz to your home with one of Gerardo Mendez's fun and funky pop culture creations or enhance your space with the vibrant colors found in Dalia Kantor's innovative works.
Art Collection provides quality framing and a design service. If you aren't sure a painting will work in your home, their designers can bring it into your space to see how it looks before you purchase.
Not in the market for art? Treat this lively space as a gallery, soaking up inspiration from its wonderful creations while you enjoy the refreshing blast of air conditioning.
Insider's tip: The Rooms to Go Outlet is located in the same circle, just a minute drive away.
Address: 2860 Center Port Circle, Pompano Beach, Florida
Official site: https://www.artconnectionusa.com/
12. Catch a Show at the Pompano Beach Amphitheater
There's nothing quite like watching a show in the open air. Whether you're a fan of live music, dance performances, or theater, there's something extra magical about enjoying the creativity while sitting under the stars.
The Pompano Beach Amphitheater hosts concerts of all types, including multiple music-themed festivals throughout the year. With expansive grounds and 3,000 seats in this popular venue, there are plenty of places to sit back, relax, and enjoy the show. In fact, up to 7,000 people can enjoy the entertainment at this attraction.
As with most things in life, it's best to be prepared if you're planning on attending a concert at the amphitheater. Pack a seat cushion and bring a raincoat just in case. Also bring a refillable water bottle, which has to be empty when you arrive. Sunscreen and bug spray are also advisable.
Address: 1806 NE 6th Street, Pompano Beach, Florida
Official site: https://www.pompanobeacharts.org/amp
13. Grab a Bite and a Few Gifts at Pompano Citi Center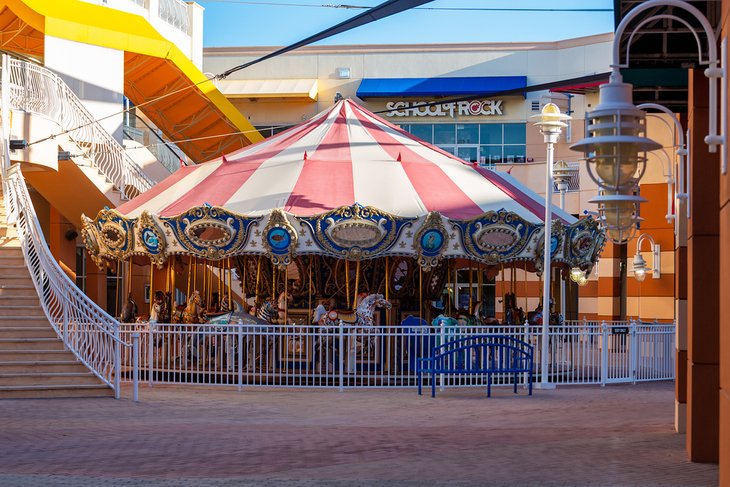 Those looking for a more traditional shopping experience should head to the open-air Pompano Citi Center, which is conveniently located a few miles east of the I95. This outdoor mall was built in 1970 and recently renovated to the bright and airy venue you'll find today.
The Pompano Citi Center features larger department stores like JC Penney (which also houses Sephora) and Ross Dress for Less, as well as shoe, clothing, home improvement, and electronics stores galore.
Need a manicure? Head to one of the multiple nail spas. Looking to occupy the kids? Look no further than the headache-inducing, child-pleasing Chuck E. Cheese's.
If you're searching for a substantial meal, head to one of the center's tasty restaurants. Watching the hibachi chefs at Saito's is akin to booking dinner and a show. Another bonus: the food's so delicious you'll want seconds. Craving something sugary? Cold Stone Creamery will satisfy any sweet tooth.
Address: 1955 North Federal Highway, Pompano Beach, Florida
Official site: https://www.pompanociticentre.com/
14. Learn to Fly at Pompano Beach Air Park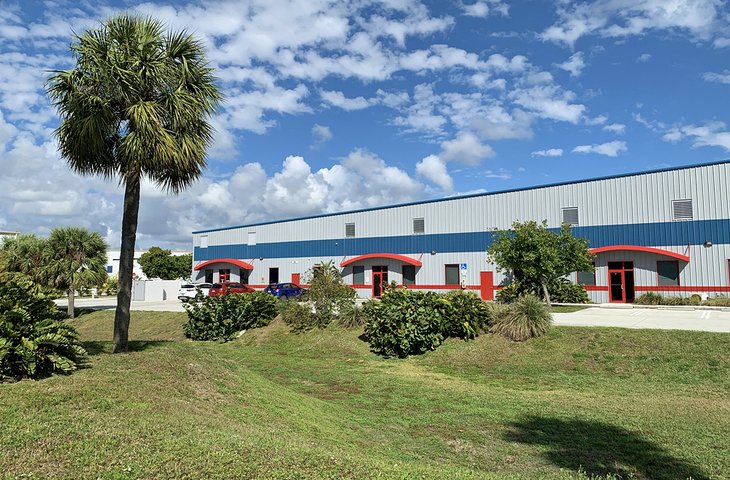 If visiting an airport doesn't top your list of things to do while on vacation, a trip to the Pompano Beach Air Park might change your mind. First, it's been home to a Goodyear Blimp since 1979. Today, the Spirit of Innovation blimp is housed in a 45,000-square-foot hangar - the largest building on the property - on the park's west side. Seeing it up close is a treat for all visitors.
Second, the park, which is run by the City of Pompano Beach, is home to everything from a lengthy bike path, fitness trail, 36-hole golf course, tennis courts, a restaurant, swimming pool, and baseball stadium, among other fun activities.
The Pompano Beach Air Park originated during the Second World War, when it was used as a training field for the Naval Air Station, located at what is currently Fort Lauderdale-Hollywood International Airport. Today, visitors can register for flying lessons through private companies.
In 1947, the airport was obtained by the City of Pompano Beach, renamed to Pompano Beach Air Park, and its property expanded to include what is now 650 acres of land. The Sample-McDougald House lies just across the street.
Address: 1001 NE 10th Street, Pompano Beach, Florida
Official site: https://pompanobeachfl.gov/index.php/pages/pw_airpark/airpark
Map of Things to Do in Pompano Beach, FL
Pompano Beach, FL - Climate Chart
Average minimum and maximum temperatures for Pompano Beach, FL in °C
J
F
M
A
M
J
J
A
S
O
N
D

24

14

25

14

27

17

28

19

31

22

32

23

33

24

33

24

33

23

31

22

28

19

26

16

PlanetWare.com
Average monthly precipitation totals for Pompano Beach, FL in mm.

71

70

76

86

146

186

151

176

178

146

108

63