16 Top-Rated Beaches in Fort Lauderdale, FL
Miami's quieter, more elegant cousin, Fort Lauderdale is best known for its pristine beaches and winding Intracoastal Waterway. Dubbed the "Venice of America," this is the only place in the state where you can glide past super yachts in a gondola, flex your shopping muscles at unique boutiques, and while away a sunny day on a soft sandy beach.
Over seven miles of Fort Lauderdale are covered by magnificent beaches. Running along much of this area is the iconic wave wall, an impressive installation providing both beauty and function – it's a wonderful spot to sit and watch boats pass, which is one of the best things to do in Fort Lauderdale.
Just outside the city limits, in what's been deemed "greater Fort Lauderdale," lie 23 miles of impressive beaches. Sun-kissed white sand, sparkling turquoise water, and tall waving palms welcome visitors from near and far. Even if you forgot to pack a swimsuit, you'll be tempted to shuck your shoes and play in the sand and surf all day.
Before heading surfside, check out our list of the best beaches in the Fort Lauderdale area.
1. Fort Lauderdale Beach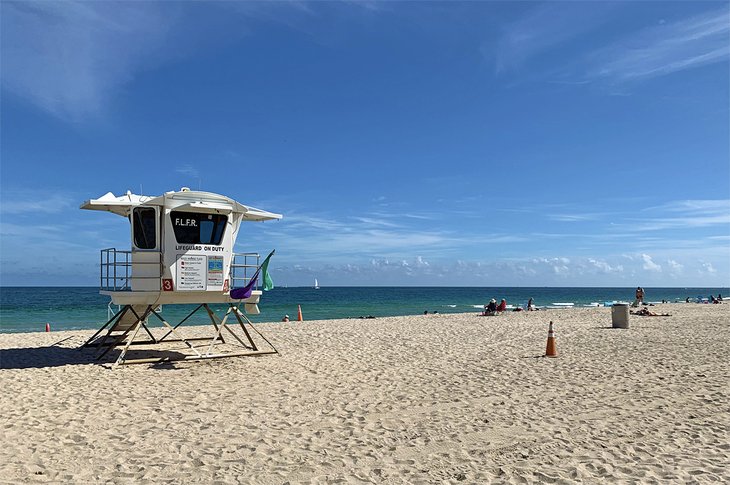 Seven miles of the cleanest, whitest sand entice visitors to dig in their toes, don a swimsuit and laze about for hours on Fort Lauderdale Beach. A true gem, this is the nicest beach in Fort Lauderdale.
One of its most inviting features is a long, beautifully bricked path separating the beach from busy A1A. Lined with swaying palms, this is the place to be for in-line skaters, runners, cyclists, and walkers looking for a break from the hot sand. Those who crave a more water-based experience can take part in some of the beach's most popular activities, like diving, snorkeling, swimming, fishing, and, of course, sandcastle building.
Boosting this strand to the top position on our best beaches list is its proximity to some of the area's best shopping and dining. Since restrooms won't be found on this popular beach, you'll want to work in a bathroom break while nipping out for a bite.
2. Fort Lauderdale Beach Park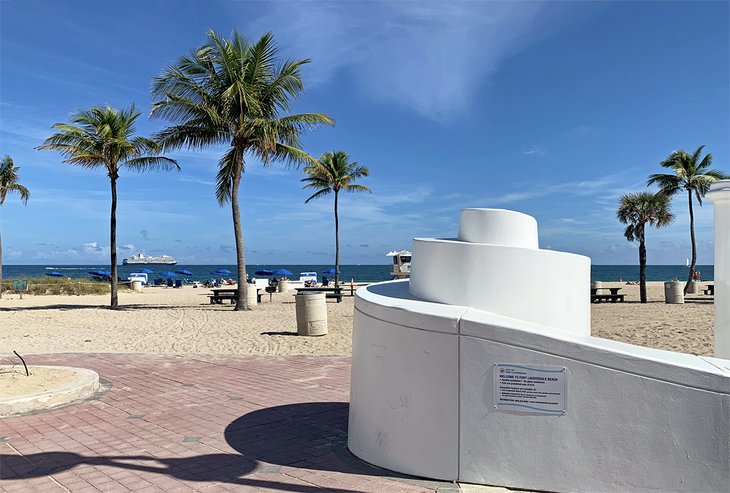 Technically part of Fort Lauderdale Beach, this "park" features everything you need to round out your day in the sun. From volleyball and basketball courts to a playground, there's lots on offer to keep everyone entertained. As for the necessary perks (ahem, toilets and showers), they've got those, too.
The facilities are so fancy, they sport a large mosaic of underwater creatures (and a pelican) to enhance the already beautiful park. There are also lifeguards on duty, which is an especially nice perk for those traveling with kids.
This picturesque park is dotted with exeptionally tall and skinny, shade-giving palm trees and more picnic tables than you could ever need. Seriously, if you brought all your friends here, there would still be tables left over.
Fort Lauderdale Beach Park is also conveniently located just south of the Bahia Mar, one of the most popular beach resorts in Fort Lauderdale. Up your swankiness and fill your belly by grabbing a bite to eat on their premises (Breezes restaurant is casual and lovely), but be sure you're wearing proper attire - a swimsuit and flip-flops aren't going to cover it, but there's no need to get glam.
Insider's tip: Don't miss Friday Night Sound Waves. These free concerts are offered every Friday night from January 24th to June 26th. They start at 6:30pm, last three hours, and feature a variety of live music - from reggae and classic rock to country and Latin fusion.
3. Las Olas Beach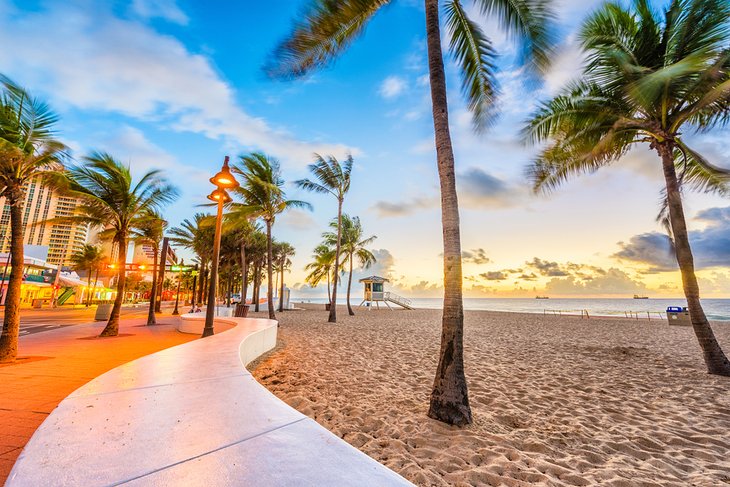 Las Olas Beach is a busy section of the main stretch of sand that lines Fort Lauderdale, just off Las Olas Boulevard. Close to beach resorts, restaurants, and shops, this pretty beach can get crowded, especially on weekends and during high season. Plan to arrive early if you're hoping to stay for a while.
Set next to Fort Lauderdale Beach Park, this beach has fewer high-rise buildings, which makes the whole experience feel a bit more authentic. You'll also find facilities here, as well as beach chair, umbrella, and water sports equipment rentals, which makes it easy to spend the whole day.
Metered parking is super close and readily available if you arrive early in the morning. We're talking 10am at the latest on popular days.
4. Lauderdale-by-the-Sea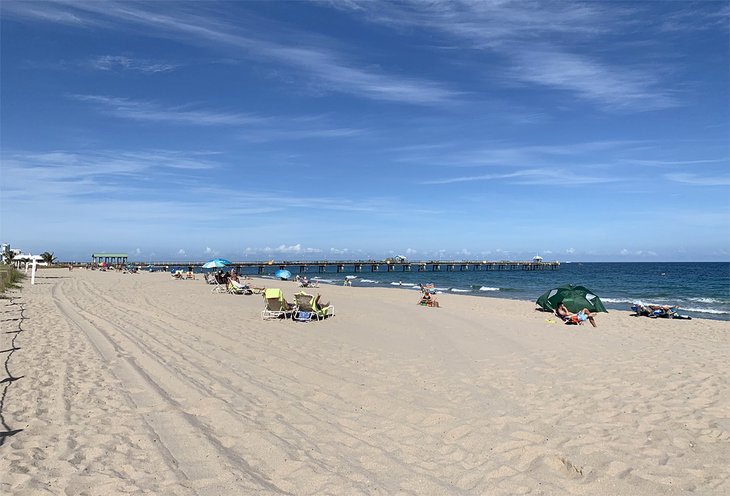 Talk about charm! Quaint Lauderdale-by-the-Sea is a one-of-a-kind beach town located on a barrier island a mere five miles from Fort Lauderdale. It harkens to the charming South Florida beach town vibe from days of yore.
Anglins Fishing Pier is a big draw that can be seen from pretty much every section of the beach. The long, wooden pier offers anglers a stab at catching sand- or reef-dwellers - no fishing license is required as long as you're on the pier. For walkers, it presents a spectacular setting for a memorable sunrise. It's also home to the Beach Café, a low-key restaurant serving breakfast, lunch, and dinner from 8am to 11pm.
Both snorkelers and divers flock here for the remarkable three-tiered coral reef that lies just over a hundred meters offshore. There's no need to rent a boat to get up close to the magnificent marine life, you can swim right up to it. The reef is close enough to be a good first-time snorkeling experience for kids.
Insider's tip: Grab dinner nearby, then enjoy live music and an uber-fun ambience every Friday night. Officials close the main road to traffic to create a paradise for music-loving pedestrians.
5. Hollywood Beach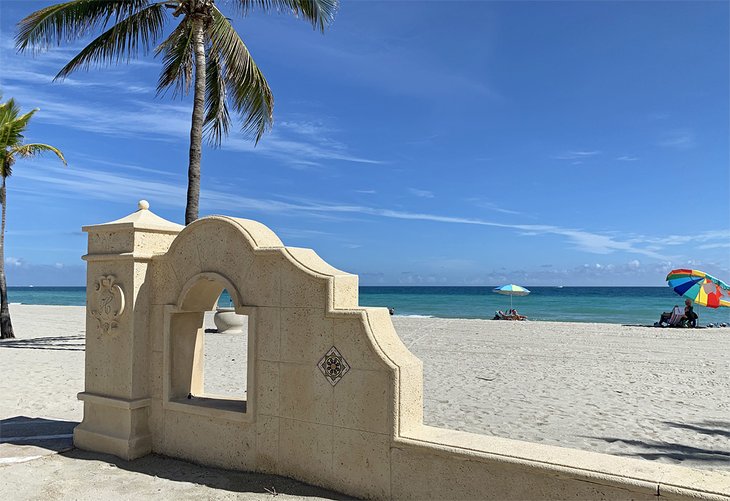 Given its name, you'd expect to find a lot of glitz and glam on this South Florida beach, and you wouldn't be wrong. This beautiful beach is a treat for your senses. It's lined by tall, skinny palms that wave elegantly in the ocean breezes. Behind them runs a stunning brick walkway and a low, winding wall with intricate gates. This spectacular beach features the bluest of skies and silkiest of sand. No wonder it's been voted one of the 10 best beaches in the area.
Located about 14 miles south of Fort Lauderdale, this Broward County beach is both wide and wonderful, offering visitors a ton of space in which to splay or play. Pack your beach chairs and umbrella and prepare to stay for the day since you won't want to leave, we promise! Don't forget sunblock, water, and snacks.
The two-and-a-half-mile boardwalk is where you'll find most of the action, from runners to rollerbladers to dog walkers and stroller pushers. Many choose to sit here and people watch, which is often more entertaining than watching television. Good news: The beach is dog-friendly, so little Fido is welcome here.
Insider's tip: Don't want to lug all the beach equipment with you? No worries. Boucher Brothers offers fantastic beach rentals, including all the chairs and umbrellas you'll need to complete your perfect day seaside.
Nearby Hollywood North Beach Park (located at Sheridan Street and the A1A), boasts 56 acres of land across from the beach, including climbing equipment for kids, an observation tower, and plenty of parking spots.
6. Dania Beach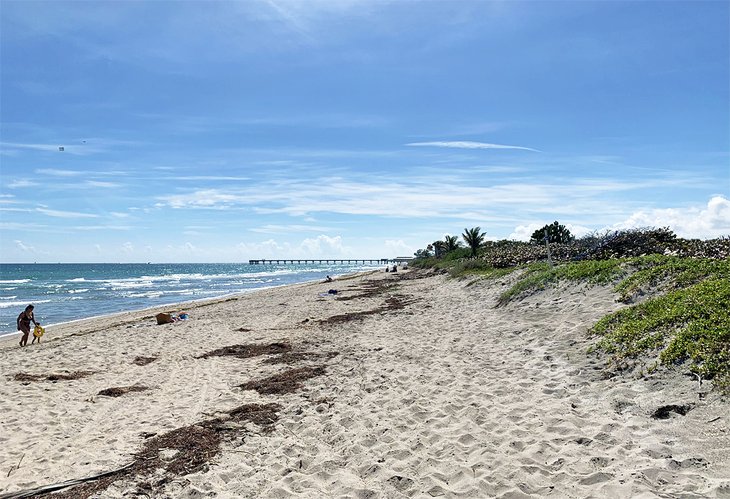 Located about six miles south of Fort Lauderdale, Dania Beach is a go-to spot for sun worshippers, especially those who hate crowds. A much quieter experience greets those looking for a break from Fort Lauderdale Beach's louder, more vibrant scene.
Instead of focusing on your neighbor's blaring speakers or barely-there bathing suit, you can lie back and hone in on the beach's best assets: gloriously azure water; soft, clean sand; rolling dunes; and never-ending sky. This is a very family-friendly beach for those traveling with kids.
Like many other beaches in the area, Dania features a long fishing pier to tempt anglers hoping to catch their lunch. It also boasts shade-providing tiki huts (a.k.a. "chickee huts"), grills, and picnic tables to entice visitors to stay all day.
Insider's tip: Head to the pier's Quarterdeck Restaurant before sunset to grab a delicious meal made better by a phenomenal, pink- and orange-hued view.
7. Pompano Beach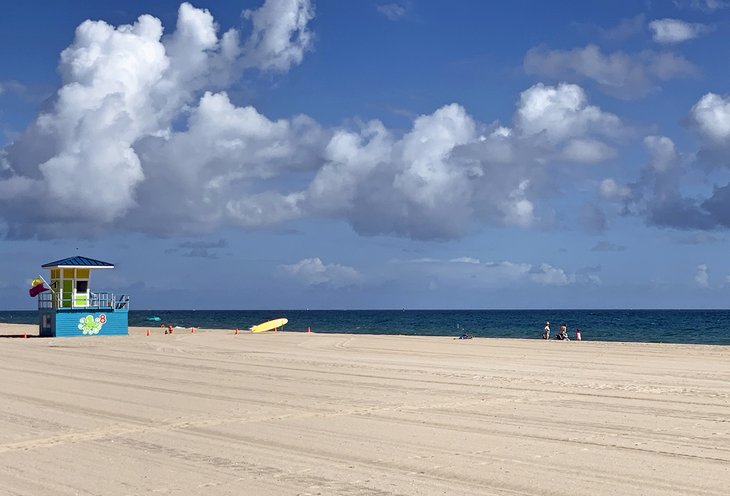 A mere 10 miles north of Fort Lauderdale, Pompano Beach is an angler's dream vacation spot. In fact, the beach earned its name from the region's noteworthy saltwater fish.
A bend in the Gulf Stream rewards this area with incredibly warm and clear water, making it a perfect environment for fishing. The water is so clear that you can spot the marine life (including sea turtles) right from shore. This is something little ones could spend hours getting excited by, which makes Pompano Beach a great spot for families.
Lifeguards are on duty year-round at this public beach, and there are plenty of facilities on offer. The brand-new fishing pier (opened in late 2019) is both beautiful and functional. A great backdrop for romantic photos, it features wonderful vistas.
Give in to your hunger pangs with a visit to Lucky Fish, a laid-back restaurant at the south side of the pier. It features fresh seafood and other tasty treats only made better by the spectacular view. They offer food to go if you'd rather enjoy lunch from the comfort of your beach chair.
The newly renovated Pompano Beach Fishing Village connects to the beach and pier via the Pier Street promenade, which also links to the Intracoastal Waterway. This funky and very walkable area is home to a slew of restaurants in every price range, as well as fun and quirky shops. Parking is a cinch in the new 655-space parking garage.
8. Hugh Taylor Birch State Park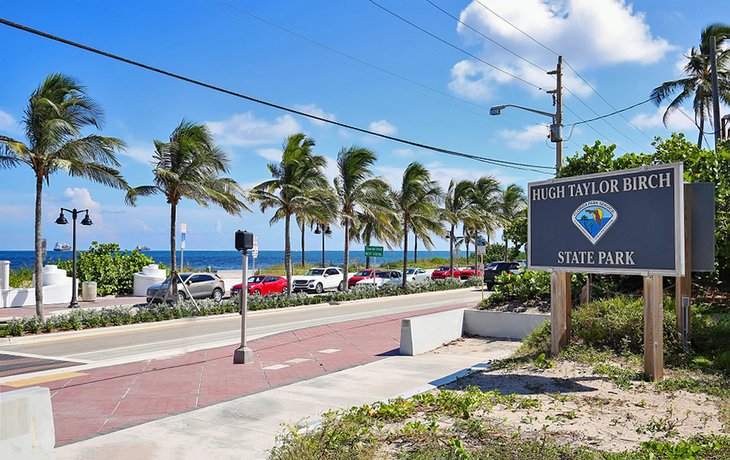 Looking for serenity? Head to Fort Lauderdale's answer to Central Park. Hugh Taylor Birch State Park provides visitors with a tranquil break from the hustle and bustle of everyday life.
Paddle your way through the calm lagoon, hike among the towering trees, or head to the beach via a tunnel that passes under the A1A. The area boasts all the amenities we look for in a great beach: benches, tables, bathrooms, and pavilions. Also, an on-site restaurant called Park & Ocean serves up tasty food on an outdoor patio located near the beach tunnel.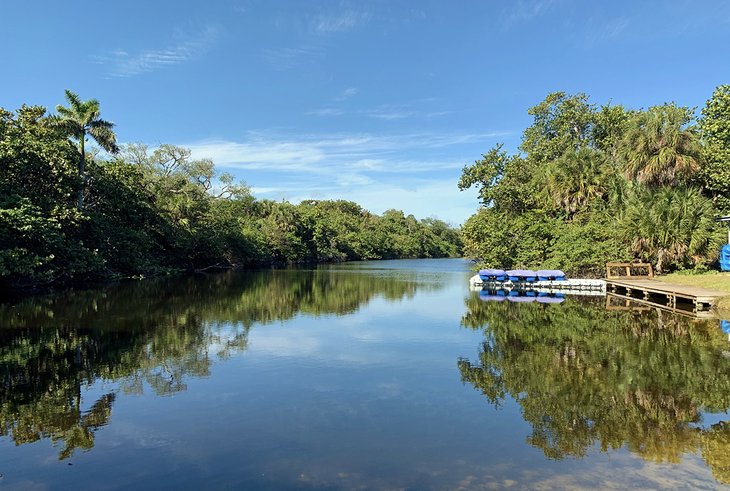 The park's Adventure Center rents everything from canoes to kayaks to stand up paddleboards. Whether you're hoping to lie on the sand, bike along the path, or admire South Florida's wide variety of birds, you'll find a ton of fun activities to keep you busy. And if you're not a fan of getting sand stuck in your swimsuit, the park's adventure activities offer the best of both worlds: water-based fun without the uncomfortable bits.
Insider's tip: Book a guided tour for a more in-depth look at the area's most impressive attributes.
9. Sebastian Street Beach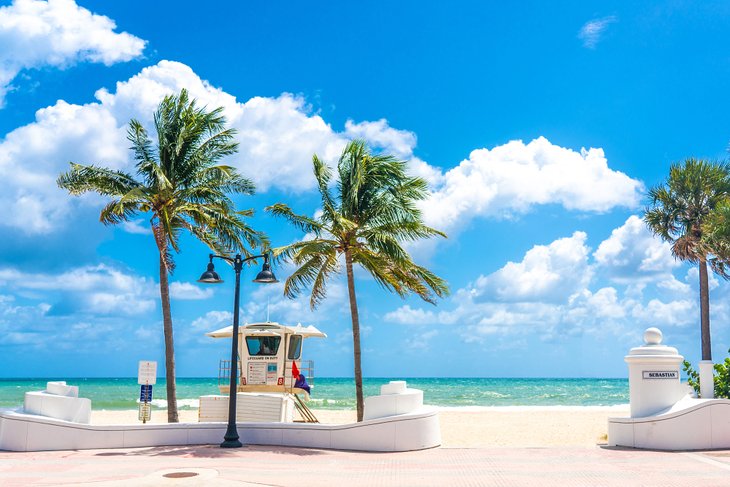 Sebastian Street Beach may be small, but it exudes a unique vibe when compared to other local beaches. Located at the intersection of Sebastian Street and the A1A, this unique spot features the soft white sand you'd expect from a Fort Lauderdale beach.
It also backs onto the fancy boardwalk you've heard so much about. Known as the area's "gay beach," the crowd here is fun, free, and exciting. That doesn't mean others aren't allowed to park their beach chairs in this section. The more the merrier!
Chairs and umbrellas can be rented here, and there are lifeguards on duty. There are also shower heads to use for a rinse off, but there are no bathrooms nearby. Metered parking is also easy to find but easier to attain if you arrive early.
10. Dr. Von D. Mizell-Eula Johnson State Park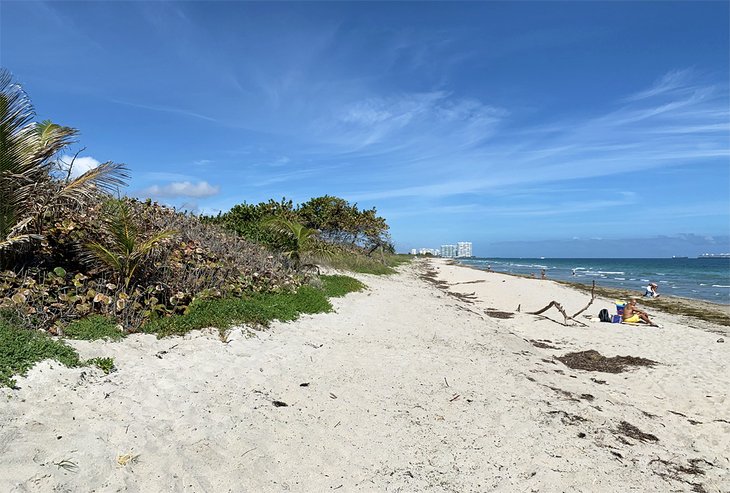 The most rustic beach near Fort Lauderdale, Dr. Von D. Mizell-Eula Johnson State Park (formerly known as John U. Lloyd Beach State Park) is the place to be for nature lovers. Kayaking through brackish water, hiking through mangroves, or snapping photos of swooping pelicans are all favored pastimes at this beautiful locale.
Remember, this beach is rustic, so you should expect a bit more seaweed and driftwood than you might at other Fort Lauderdale beaches.
It's been touted the "last example of an undeveloped ecosystem in Broward County." And you'll want to carve out at least a few hours to explore it all. If you're looking to lie face-down on a beach towel, this isn't the spot for you. If you're hoping to fish, swim, canoe, hike, or bike, you're in for a treat.
Insider's tip: Visit the park's Whiskey Creek Hideout for bathrooms, food, and water sport rentals like stand up paddleboards and kayaks. They also offer daily guided eco tours (in a kayak or on a paddleboard) through the mangrove-lined creek.
11. Hillsboro Beach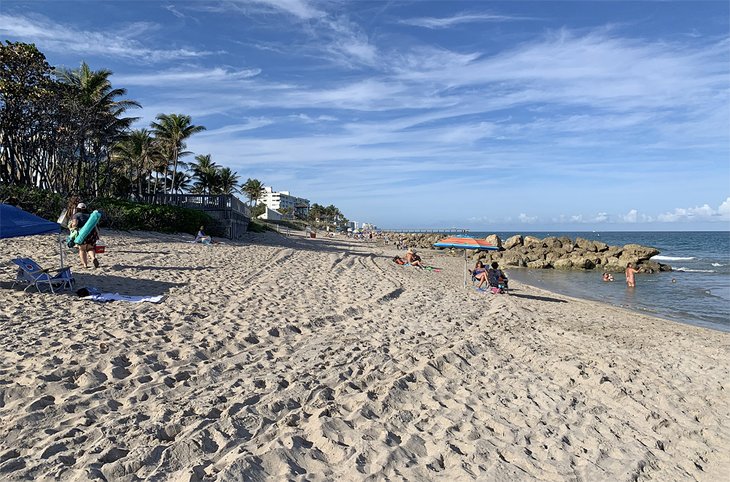 It won't take long to drive the 15 miles north to Hillsboro Beach, but parking is definitely challenging. Located in Broward County, this pretty spot is a quick jaunt south of Pompano Beach. Flanked by the picture-perfect Hillsboro Lighthouse, this beach offers an amazing backdrop for vacation pics.
This tranquil beach offers a welcome break from other more popular beaches. Its quiet locale also makes it a go-to resting place for nesting turtles, so be sure to watch your step. As we mentioned, parking is tough, as many access points are reserved for the hotel and condo buildings that line the sand, so keep your eyes peeled for a spot.
One of the region's most popular tourist attractions lies near the lighthouse, beside the Hillsboro Inlet. Called the Barefoot Mailman, this stone statue commemorates the barefoot mail carriers who walked for miles (almost 70) to deliver mail from Palm Beach to Miami.
12. Deerfield Beach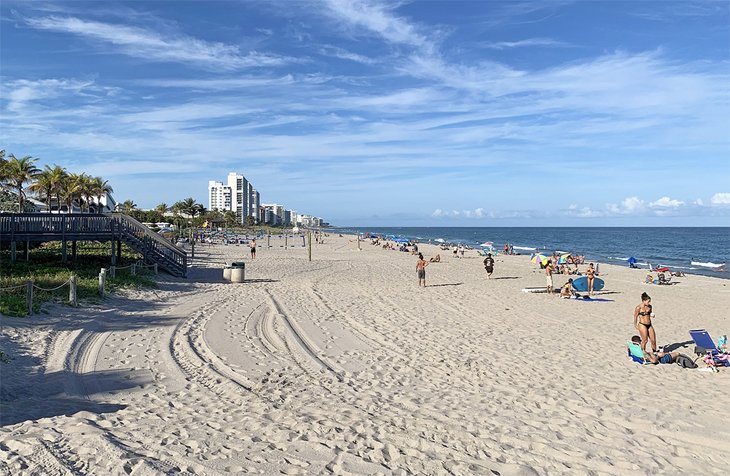 Sixteen miles north of Fort Lauderdale, Deerfield Beach is by far one of the best beaches near Fort Lauderdale. Recipient of the Clean Beach Council's "Blue Wave" award, this beauty boasts exceptional water quality, as well as pristine beach conditions and a dedication to habitat conservation.
Its lack of crowds and loud cigarette boats make Deerfield Beach an ideal place to spend a day with kids. Challenge them to a volleyball game, sandcastle-building competition, or body surfing contest. Take a walk along the one-mile stretch of sand and hold hands while jumping over waves as they crash onto shore. This is also a romantic beach for couples.
Then head to the iconic fishing pier, where you can try your luck for a small fee. North of the pier (and south of tower 7) is open to surfers. And there are plenty of restaurants in the area, which makes it easy to grab a quick bite.
Insider's tip: Score even more points with the kids by taking them to nearby Ski Rixen. An incredible cable water ski park, they teach kids to water-ski, kneeboard, or wakeboard by pulling them across the water on a cable. No boats needed. It also features Aquapark, an inflatable island of adventure they'll never want to leave.
13. Hallandale Beach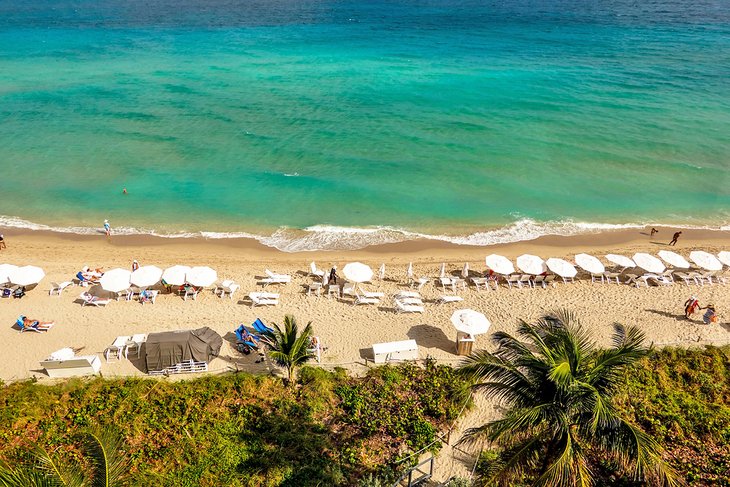 You'll know you're close to Hallandale Beach when you spy the giant and colorful beach-ball-shaped water tower bearing its name. Deep-sea fishing abounds just off this popular beach, which lies about 13 miles south of Fort Lauderdale.
Hallandale is also known for its other outdoor sports, like golf (nearby), boating, and swimming. Don't forget kite surfing, kayaking, SUPing, and body boarding.
Sports not your thing? You don't have to be active to enjoy this beautiful beach. The luxurious sand comforts tired bodies, the water is warm and calm, and the beach is lined with tall trees providing a much appreciated spot of shade.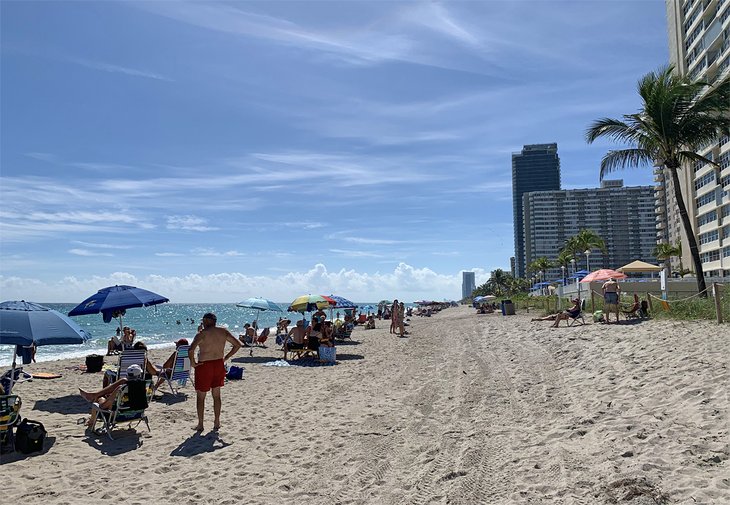 When you're feeling peckish, pop on a coverup, slide into your flip-flops, and take a quick walk to one of the delish restaurants just steps from the sand.
If you've got kids in tow, be sure to visit South City Beach Park, which is accessible from the sand. It boasts a snack bar, playground, volleyball courts, and facilities, as well as shady picnic pavilions. The park is also home to ample parking, which makes it a great base for your sunny day out.
14. Delray Beach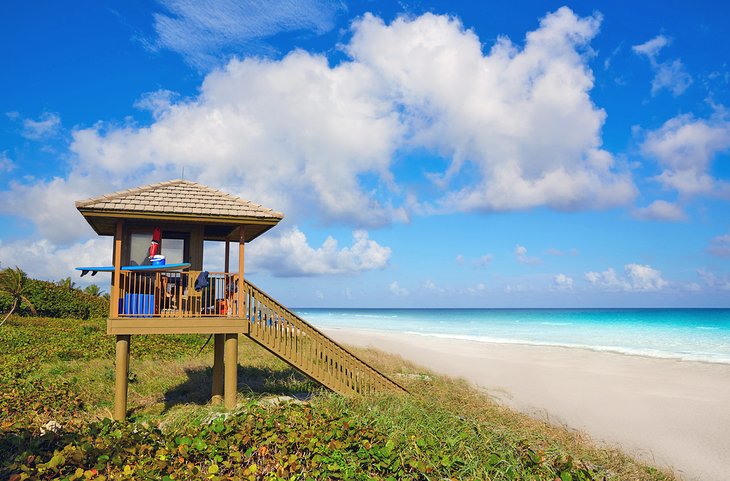 There's a lot of fun to be had at Delray Beach, and much of it doesn't involve getting sand stuck in your swimsuit. About 28 miles north of Fort Lauderdale, this beautiful gem lies in the heart of Palm Beach County and borders an adorable (and super fun) beach town.
Candy stores (like IT'SUGAR), fun restaurants (Wood & Fire), and mini golf will tickle any kid's fancy, while Atlantic Avenue's funky boutique stores will please shopaholics everywhere.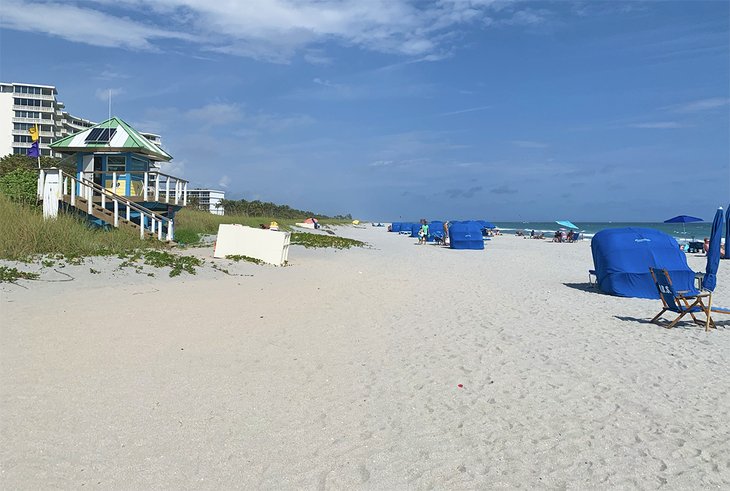 As for the beach itself, you'll be hard-pressed to find a nicer one. It boasts translucent turquoise water; clean, soft white sand; and enough shells to start a good collection.
Head to the beach at Atlantic Dunes Park (at 1605 South Ocean Blvd) for a quieter experience than the one you'll find near busy Atlantic Avenue. Plus, it boasts a large pavilion with long benches, perfect for those moments you're feeling in need of shade.
Insider's tip: Parking can be a bit of a nightmare, especially when the beach is crowded, so arrive early.
15. Palm Beach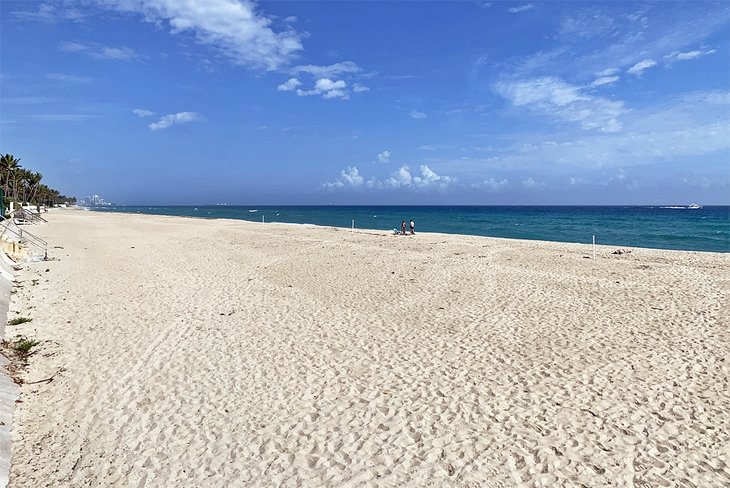 Looking to add some posh to your life? Head to Palm Beach. It's only 45 miles north of Fort Lauderdale. A playground for the uber-rich and famous (think Kennedys, Trumps, and Pulitzers), here, you'll be rubbing elbows with the elite on the extravagant, palm-lined streets.
The beach is what you'd expect from such a luxurious destination. It has pristinely manicured sand that's as soft as a baby's feet, and the water is clear and warm. A walk along its vast expanse rewards beachgoers with an up-close view of the insane mansions that line this magnificent beach.
There is one catch, though - it's tough to gain access to this elite beach. While many paths lead to the sand, the majority of them are private, which means you can't use them unless you're a resident. To get around this, head to one of the two "public" sections of beach (at Midtown and Phipps Ocean Park).
16. North Ocean Park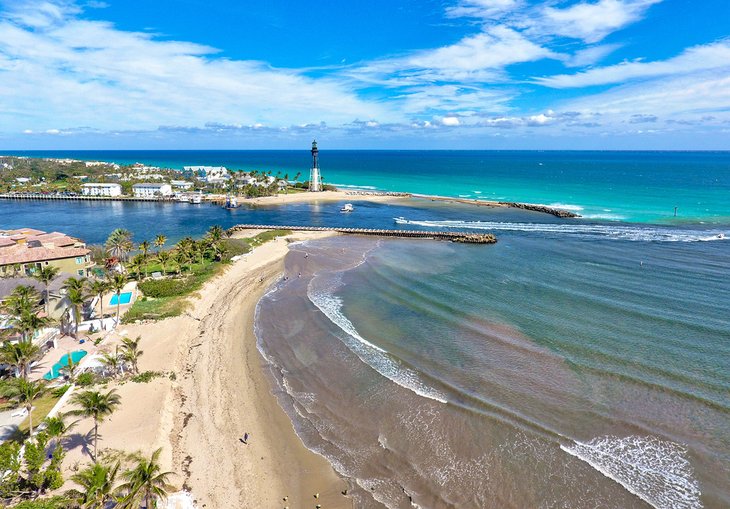 Located in Pompano Beach, this lesser-known beach lies about 12 miles north of Fort Lauderdale. It boasts a jetty that's perfect as a base for fishing, clear water fit for swimming, and sand that's soft enough to relax in for hours.
Nearby Hillsboro Lighthouse will tempt your camera's lens, while the rolling waves will beg you to dive in for a snorkel.
Windier than other beaches in the area, North Ocean Park has become somewhat famous as being the place to go for wind-driven sports. That's why kitesurfing is so super popular here. Expect to find a slew of brightly colored kites lining the water. They're mesmerizing to watch and even more fun to ride (once you get the hang of it).
Insider's tip: If you're looking for a pretty beach away from the crowds, this will fit the bill. Parking spaces are often hard to come by, which limits the number of people who head to this beautiful place.
Fort Lauderdale, FL - Climate Chart
Average minimum and maximum temperatures for Fort Lauderdale, FL in °C
J
F
M
A
M
J
J
A
S
O
N
D

24

15

25

16

26

17

28

19

30

22

31

23

32

24

32

24

32

24

30

22

27

19

25

17

PlanetWare.com
Average monthly precipitation totals for Fort Lauderdale, FL in mm.

75

69

71

99

161

254

170

175

210

164

116

67
More Related Articles on PlanetWare.com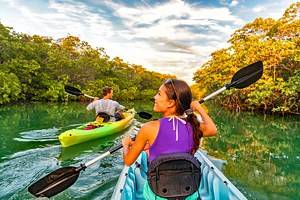 Things to Do in Fort Lauderdale Away from the Beach: No matter how beautiful it is, we all need a break from the beach at some point. When that time is now, head to one of these fun nearby tourist attractions. While you're there, why not book a stay at one of the area's best hotels?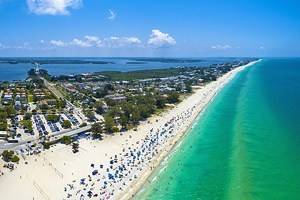 More Places to Visit in Florida: The Sunshine State has a ton of visit-worthy cities, including quirky Fort Myers and chic Naples. Want to forgo the hustle and bustle of urban hot spots? Check out these adorable small towns in Florida.