12 Top-Rated Attractions & Things to Do in Naples, Florida
Author Lana Law loves the laid-back feeling and awesome dining scene of Naples. The city draws her back time and time again, especially around Christmas and in the spring.
A stunning palm-lined stretch of seemingly endless soft-sand beach lines the ocean at Naples, but this is far more than just a beach destination. Trendy and chic, 5th Avenue in downtown offers alfresco casual to fine dining, as well as quality boutique shops.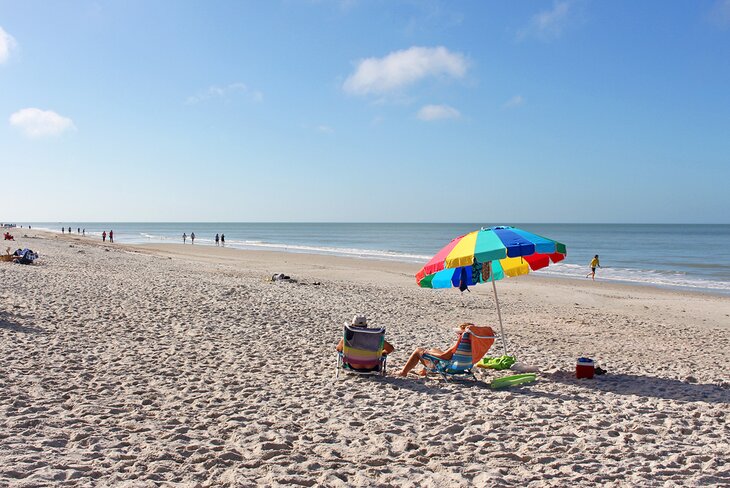 Museums for adults and kids, a zoo, and boat excursions are just some of the many tourist attractions in Naples. And if this isn't enough to fill your days, head to a nearby nature reserve for a hike, or explore more beach action on Marco Island or in the parks farther north.
Find out more, with our list of the best places to visit and top things to do in Naples.
1. Head to the Beach at the Naples Pier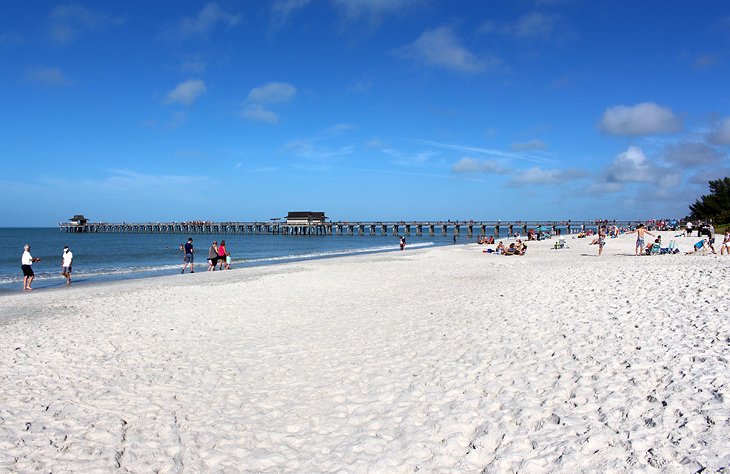 Highlights: Stunning white sand, crystal-clear waters, fishing, and great views
The beach at Naples is one of the finest along Florida's Gulf Coast, where white sand lapped by usually calm waters is backed by beautiful homes and lush vegetation. Wildlife is plentiful here, with wading birds hunting for their next meal along the shoreline, ospreys gliding overhead, and dolphins making regular appearances just offshore.
Naples Pier has been a landmark since 1888 and is always a popular place for a sunset stroll, or to do a bit of fishing. There is no charge to walk on the pier, and you'll find a small concession selling snacks and fishing supplies. Just to the south of the pier, volleyball nets are usually set up. While the entire beach is a great area for walking, the most level sections are south of the pier.
Access to the pier is at the end of 12th Avenue South, and there is a pay parking lot located here. You can also find beach access points and metered parking at regular intervals on either side of 12th Avenue, and these are generally less busy than the area right around the pier.
Read More: Best Beaches in Naples
2. Have a Delightful Meal on 5th Avenue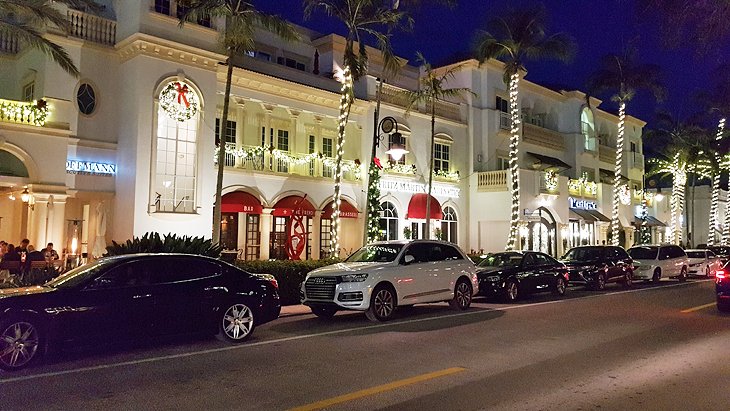 Highlights: Naples' best restaurants with outdoor patios, a buzzy scene, great people-watching
A trip to Naples would be incomplete without a visit to 5th Avenue South, the main downtown strip, running from 9th Street South down to 3rd Street South.
Lined with cafés and restaurants with patio seating, high-end boutiques, a famous ice cream shop, and posh hotels, this is a great place to dine or even go for an evening walk to watch the steady parade of cars cruising the strip.
This street is busy most of the day but really comes to life with things to do from 5pm to approximately 10pm. This is the best place to visit in Naples for nightlife. Early evening dining specials are frequently on offer at many of the restaurants.
Since this is Naples, it's probably easy to understand why a disproportionate number of the restaurants here are Italian. You can also find Middle Eastern, Asian, French, and classic American options.
3. Take a Cruise or Boat Tour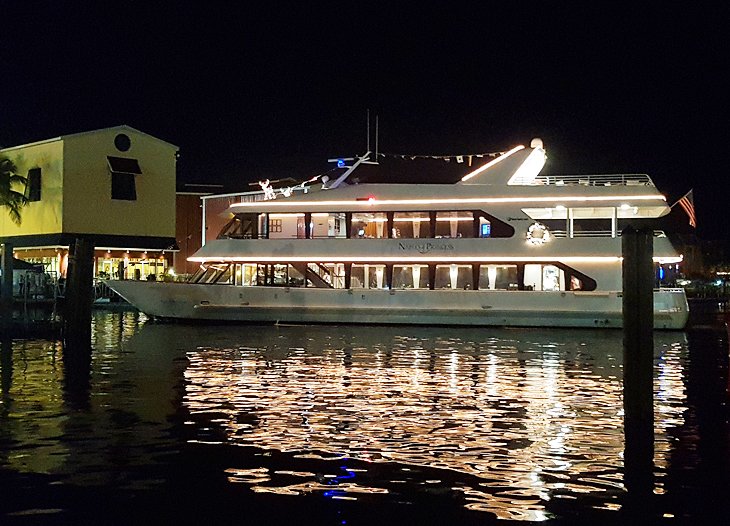 Highlights: Dolphin sightings, wonderful views up and down the coast, stunning sunsets over the ocean
One of the great attractions of Naples is the Gulf of Mexico and its azure blue waters. A fun way to get out and enjoy all that the ocean has to offer is on a boat tour, which might include a stop on a deserted sand island. Along the way, there's a chance you'll see dolphins surfing in the boat's wake or manatees cruising slowly just beneath the surface.
One popular tour is the Naples Sightseeing Boat Tour. This 1.5-hour trip cruises the waterways past some of Naples' finest mansions and Keewaydin Island. Dolphin sightings are a frequent occurrence; manatees are also spotted; however, this depends on the time of year. The sightseeing tour leaves from Tin City.
Another enjoyable trip and great way to cap off a warm day in Naples is to take a Gulf of Mexico Sunset Cruise. Boats cruise out towards the Gulf of Mexico, past beautiful Keewaydin Island and the spectacular waterfront homes of Port Royal. The sunset cruises also leave from Tin City.
4. Third Street South & the Farmer's Market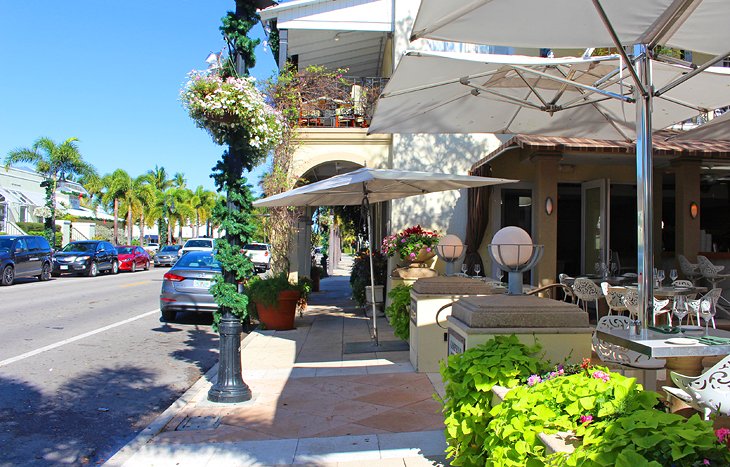 Highlights: Shopping, dining, and a fresh fruit and vegetable market on Saturdays
Similar in nature to 5th Avenue South, 3rd Street South is packed with restaurants and retail. The area is smaller and has a fun vibe with a slightly more casual feel, perhaps because the Naples Pier is just a short stroll away. You can enjoy outdoor dining and then take a sunset walk on the Pier or along the beach. A majority of the restaurants are located between Broad Street and 13th Avenue South.
Every Saturday morning (7:30am to 11:30am) from November to April, a portion of 3rd Street is blocked off from traffic and opens as the Third Street Farmer's Market. Vendors sell fresh produce, prepared foods, crafts, and other goods. This is incredibly popular, and the area is generally packed on market mornings. There is a large parking lot behind the shops and restaurants, accessed off 13th Avenue South.
5. Go Souvenir Shopping at Tin City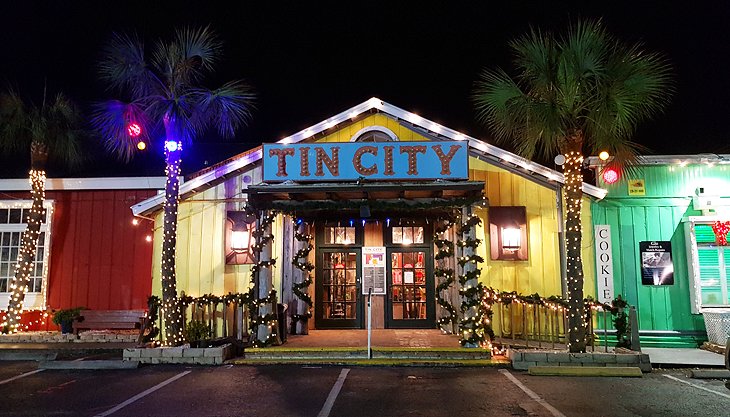 Highlights: Dozens of shops, historic setting, waterside dining, free parking
Tin City is a rustic-style waterfront shopping complex on Naples Bay, housed in historical buildings dating from the 1920s.
Inside, follow the winding walkways throughout the length of the building to find close to 70 shops selling items ranging from souvenir T-shirts right through to fashionable jewelry. The entire complex is air-conditioned.
Once you've finished shopping, settle in at a waterside restaurant to watch the boats cruise by while you eat. One of the best options, which also features live music in the afternoons, is Riverwalk. Tin City is just a short walk from 5th Avenue. A popular sightseeing cruise leaves from the docks out front. Free parking is out back, off 12th Street South.
6. Naples Zoo at Caribbean Gardens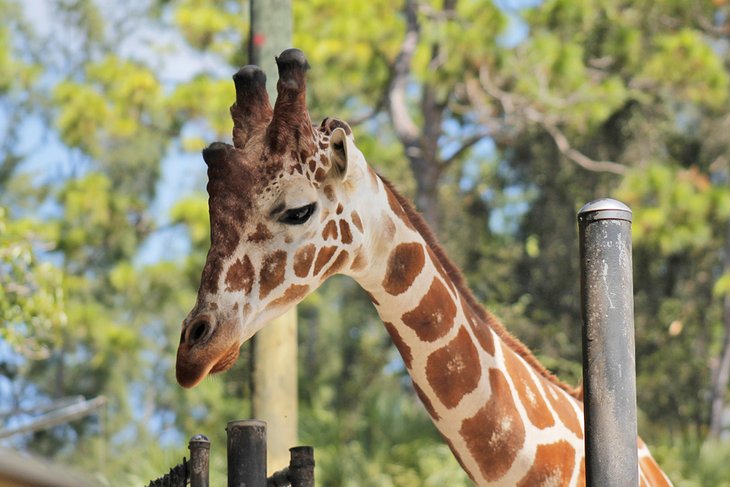 Highlights: An up-close cruise past animal enclosures, giraffe feeding, tigers
This small city zoo, easily identified from the road by a bright, colorful fish statue, is a perfect way to spend an afternoon away from the beach. The zoo has a variety of animals in three major categories; birds, mammals, and reptiles. The animals range from tigers to alligators.
One of the highlights of a trip to the Naples Zoo is the Primate Cruise, a 15-20 minute catamaran cruise past the animals. This zoo is uniquely designed to allow tourists to get closer to the animals than at more traditional zoos. You can even feed a giraffe.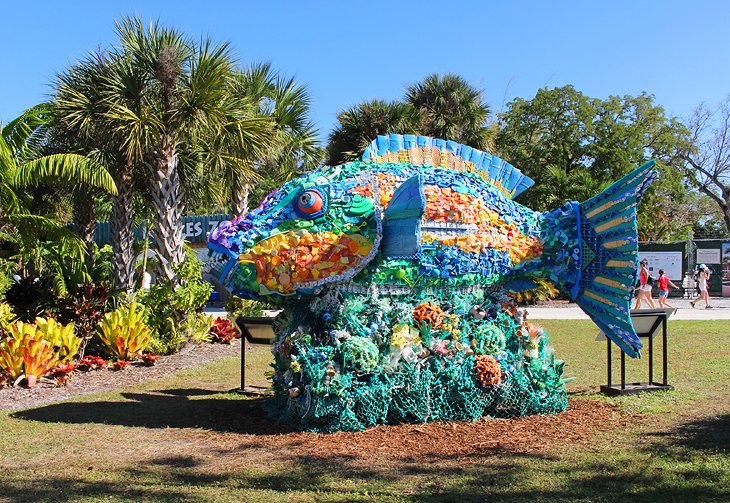 The botanical garden was founded in 1919 and became the home of the zoo 50 years later. Be sure to see the zoo's website to learn what's happening during your visit.
Address: 1590 Goodlette-Frank Road, Naples, Florida
7. Marco Island Beaches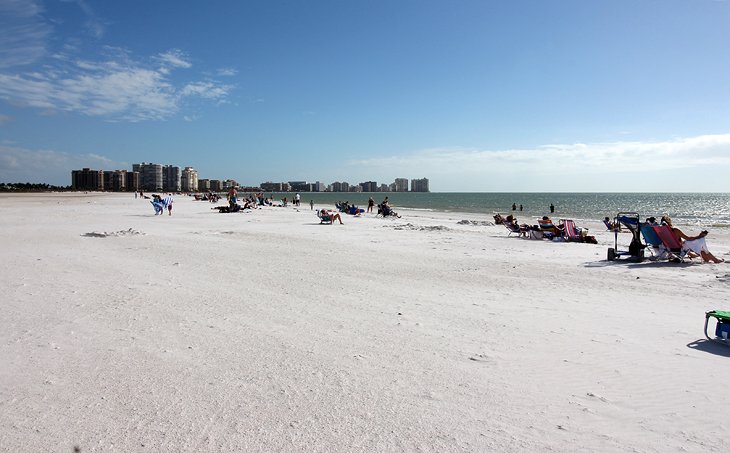 Highlights: Big white-sand beaches lapped by crystalline waters, miles of beach walking
The beaches of Marco Island, 30 minutes south of Naples, are big, long, wide, and completely different than those of Naples. The beach on Marco Island stretches uninterrupted for six miles, but the width of the beach in some sections, particularly closer to the north, is shockingly wide.
Some areas are backed by towering condos and others by natural areas, most people can find what they are looking for, regardless of their beach preference. The three main beach accesses are Tigertail Beach, located at the north end; the centrally located access; and access at the south end.
Each of these beach areas has its own feel. Tigertail Beach, the first beach you come to, looks out onto a small body of water and mangroves. This is where many families set up shop, and restrooms are nearby. You can rent umbrellas, kayaks, and stand up paddleboards. But other people who park here walk around this beach, beyond a line of mangroves to the south, where the beach opens up into a huge stretch of white sand.
If you're looking for more action, head to the central access, where you'll find umbrellas for rent, volleyball nets set up, and usually a crowd of sun-lovers sprawled out across the sand. Parking here is limited, but you may be able to find pay parking in Turtle Lot.
The south access is down a palm-lined walkway and eventually opens up to a pleasant beach that is not nearly as lively as the central access area, but sand and water conditions are just as nice. From here, you can walk south to the point for views down the coast. Limited parking is available at the South Beach Parking lot off Swallow Ave.
One thing to note is that Marco Island seems to try and limit day trippers and their cars. Parking is very scarce, and surface lots fill up quickly. You cannot park on the street and if you do, there's a very good chance you'll be towed away quickly. If you want to have a day at the beach on Marco Island, go early to ensure you get a spot.
8. See the Rare Cars at the Revs Institute
Highlights: Over 100 rare and valuable cars, a special section devoted entirely to Porsche, interactive exhibits
If you are traveling with a car buff, be sure to visit the Revs Institute, where you'll see an amazing collection of vehicles. Spread out over three levels, this museum is like catnip for car enthusiasts, with 112 vehicles in its collection.
The institute is divided into four areas. The first section is devoted exclusively to Porsche. The second is Automobility, which showcases an assortment of vehicles and how they fit into our lives. Vitesse contains vehicles related to sports motoring, and finally, Revs is devoted to racing cars and the daredevils who drive them.
The Revs Institute is located just north of Naples Airport, about 15 minutes from the shops on 5th Avenue.
Address: 2500 Horseshoe Drive S., Naples, Florida
9. Naples Botanical Garden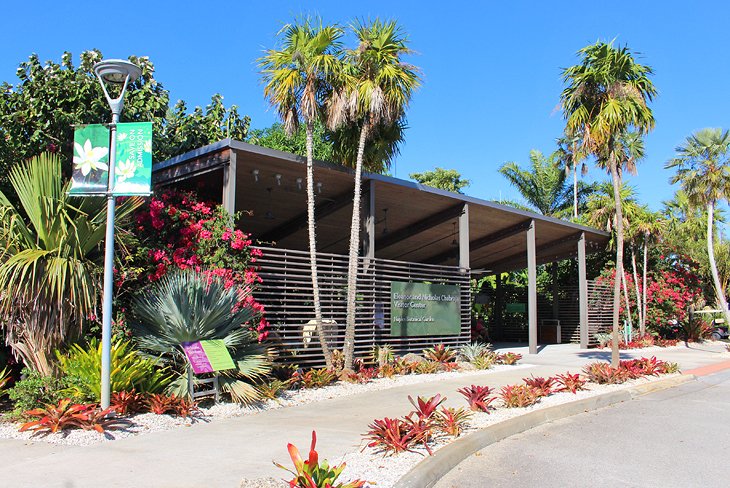 Highlights: Lush gardens, art installations by Chihuly and others, a pleasant on-site café
If you have a passion for plants or just want to experience what it's like to walk among more than 1,000 tropical plants, be sure to visit the Naples Botanical Garden.
Spread out over 170 acres, the garden is more than just pleasant paths through colorful and interesting plants. The gardens are specifically focused on plants and ecosystems that exist between the 26th parallel north and the 26th parallel south.
Some of the highlights are the Kapnick Brazilian Garden, the Buehler Enabling Garden, Lee Asian Water Garden, Kapnick Caribbean Garden, and the Smith River of Grass. After strolling through the gardens, grab a coffee or lunch at the Fogg Café, the views of the gardens are wonderful.
The Naples Botanical Gardens are located about three miles south of downtown Naples.
10. Naples Depot Museum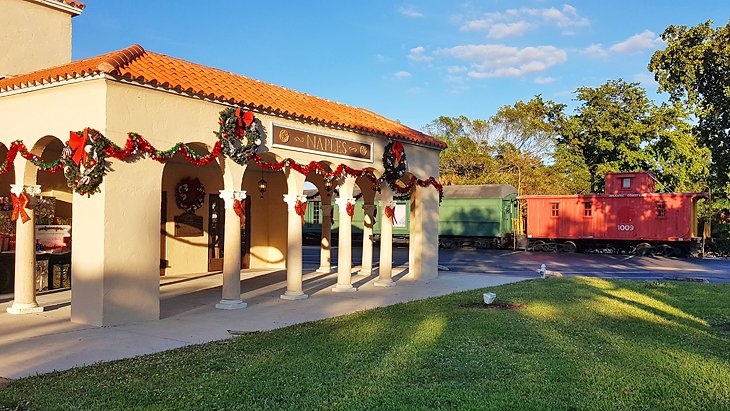 Highlights: Interesting displays on Naples railway heritage
The Naples Train Museum is temporarily closed due to damage from Hurricane Ian.
Just a short stroll from popular 5th Avenue is the free Naples Depot Museum. Housed in the original Seaboard Air Line Railway passenger station, the museum has a wide range of historical and interactive displays both inside the building and on the museum grounds. These include train memorabilia, restored coaches, a swamp buggy, old autos, and other historical displays.
Behind the Depot Museum is the Naples Train Museum, which operates separately and charges a fee. Here, you can see a wide variety of working model trains, with a minimum of 10 moving at any point in time. For the kids, train rides on a mini train complete with a real steam or diesel locomotive are available on most weekends and the ride is included with the admission fee.
11. Golisano Children's Museum of Naples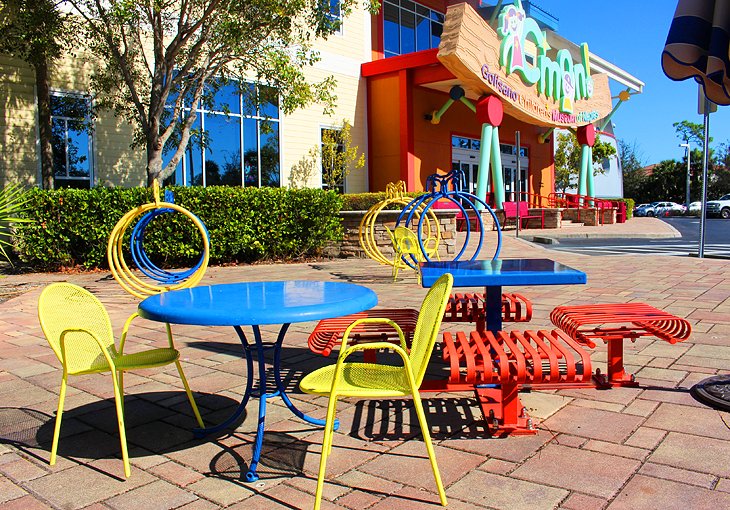 Highlights: A giant banyan tree along with 17 other interactive exhibits
Golisano Children's Museum of Naples provides a fun and stimulating day out for the young and old. Kids will love the 18 exhibits, including Adopt-a-Pet, Dinosaur Train, Journey through the Everglades, Mother Nature's House, World Cafe, and Build It!.
One of the most engaging exhibits is the giant Banyan Tree, where adventuresome youngsters can crawl from level to level right up to the top. Children can also try their hands at becoming the local weather forecaster.
Behind the museum is Johnsonville Backyardville, a fun outdoor exhibit with a hedge maze and a small water play area ideal for cooling off on a hot Florida day.
12. Corkscrew Swamp Sanctuary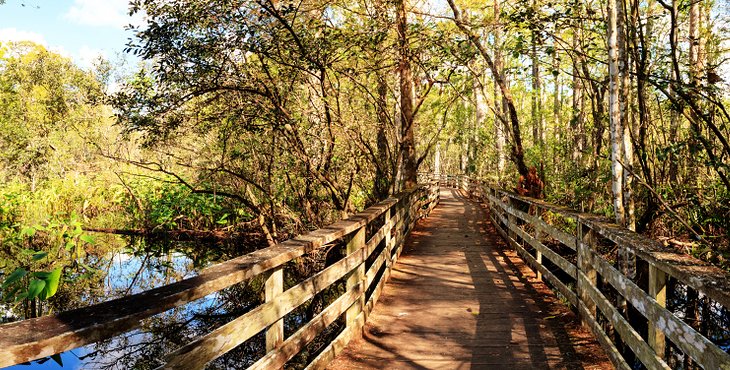 Highlights: A 2.25-mile boardwalk through a swamp, past huge trees; frequent animal sightings
For a pleasant outing on a cool or cloudy day, or even first thing in the morning, take a trip to the Corkscrew Swamp Sanctuary. The sanctuary is an oasis for wading birds, alligators, otters, turtles, and other critters. The main attraction here is the 2.25-mile boardwalk, which meanders out over swampland, pine flats, and wet prairie.
A particular highlight of the walk is a section that goes through old growth, with Bald Cypress trees towering up to 130 feet above you. These ancient giants are massive, some with a girth of 25 feet, and are related to the giant Redwoods found in California. The Corkscrew Swamp Sanctuary is about a 45-minute drive from downtown Naples and is well worth the trip.
Best Time to Visit Naples
If you are looking to escape the cold, the best time to visit Naples is January and February. At this time, the weather in Naples is consistently warm compared to areas farther north in Florida, and especially the wider United States. Although it's peak season and very busy and expensive, the extra people give the town a lively, buzzy atmosphere.
The spring months of March and April are warm and delightful full-on beach days, with longer days and warmer evenings, although the weeks around March school break and Easter can be packed.
The months of November and December are also excellent months to visit Naples. The days are short, the temperatures are still warm, and the winter crowds have not arrived. Deals are to be had on accommodation and food.
May, June, July, and August are hurricane season months. It's humid, hot, and rainy in the afternoons.
Map of Attractions &Things to Do in Naples, Florida
More Related Articles on PlanetWare.com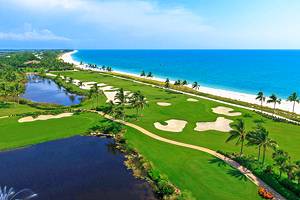 Resorts in Florida: For a resort experience in the Naples area, be sure to see our article on the Top Resorts in Naples. The reality is, if you are interested solely in splashing out at a beautiful resort to soak up the sun lounging by the pool or on the beach, you can find an assortment of places to visit up and down the Gulf Coast. For a list of the best, see our piece on the Top-Rated Resorts on the Florida Gulf Coast.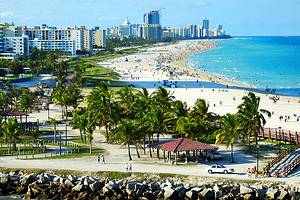 Destinations within a Three-Hour Drive: In just a couple of hours, you can be exploring the beaches and attractions of Miami or Fort Lauderdale on the Atlantic coast. Heading north up the Gulf Coast, Fort Myers and Fort Myers Beach are only an hour or less away, and Tampa is still well under a three-hour drive.