12 Top-Rated Tourist Attractions & Things to Do in Sarasota
Sarasota, on Florida's Gulf Coast, has so much going for it: beautiful beaches, world-class cultural amenities, and a city of white buildings fronted by azure waters filled with sailboats. It's known for the world-famous Ringling Museum of Art, as well as a collection of excellent performing arts companies and an active community of artists and craftspeople creating unique works.
Sarasota is also one of the best places to visit in Florida for a beach vacation. Beaches lie only minutes from downtown, and you'll also find fun family tourist attractions; prestigious golf courses; and nature preserves where you can hike, kayak, and fish. And within a few minutes' drive of town, you can be immersed in the tropical vegetation, wetlands, and wildlife of primeval Florida, and neighboring Bradenton also offers great attractions.
For shoppers and gourmands, be sure to visit Saint Armands Circle. Located on a small island across Sarasota Bay, this shoppers' paradise consists of a large circle of luxury stores and high-end restaurants just waiting to be explored. Pull up a chair at any one of the eateries in this pedestrian-friendly area, relax, and watch the world go by.
But if you want to find the real essence of Sarasota, face west at the end of the day. Here, you'll see the fiery sun dropping into a watery horizon without end, and it will take your breath away.
For more sightseeing ideas, read our list of the top things to do in Sarasota.
Note: Some businesses may be temporarily closed due to recent global health and safety issues.
1. Explore Three Museums in One at The Ringling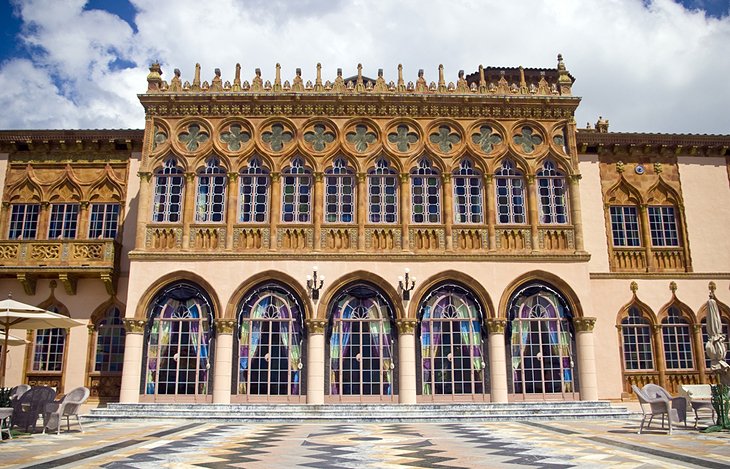 Come one, come all, folks! See the greatest circus museum on Earth, and see a great art museum and Asian art museum along with it. John Ringling was one of five brothers who created 'The Greatest Show On Earth," as they branded their circus.
In the early 1900s, John and his wife Mable decided to build an Italian palace on twenty acres in Sarasota. They named it Ca d'Zan, and on these grounds today stands one of the world's preeminent cultural treasures. Tours are available.
The must-visit Circus Museum houses the greatest collection of circus memorabilia and art anywhere. Filled with colorful displays and a huge model of the circus in its heyday, it's an unadulterated fantasy for the whole family to enjoy.
At the Museum of Art, you can browse an equally-impressive, multi-faceted collection of art, ranging from European and decorative art to Modern works, as well as a new Center For Asian Art. Be sure to spend time exploring the grounds and gardens: they're every bit as impressive as the works of art inside.
If art's your thing, you may also want to pay a visit to the Sarasota Museum of Art. Part of the Ringling College of Art + Design, the museum focuses on contemporary art and artists from across the globe.
Address: 5401 Bay Shore Road, Sarasota, Florida
Official site: www.ringling.org
2. Stroll around the Marie Selby Botanical Gardens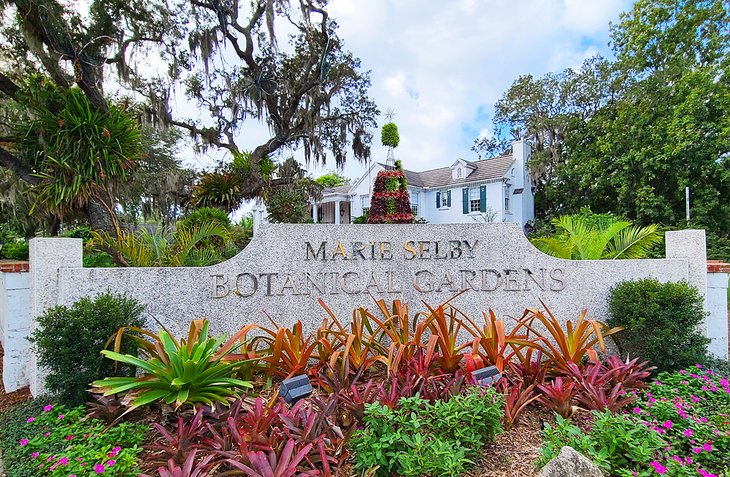 Fronting Sarasota Bay, the Marie Selby Botanical Gardens is a beautiful spot for a relaxing stroll, even if you're not a garden enthusiast. Peaceful sitting areas punctuate the grounds, so you can linger and soak up all the scenery. You can also venture along a wooden boardwalk through mangrove forests and see beautiful views of the bay.
Botanical highlights include spectacular displays of orchids, as well as bromeliads, bamboo, ferns, cycads, and magnificent old banyan trees that are almost 100 years old.
Kids love the koi pond and butterfly garden and the elevated children's rainforest garden. This popular area features hanging bridges, a waterfall, an Amazon village, and an adventure trail with treetop-views of the tropical plants. After admiring all the botanical beauties, you can shop for souvenirs in the on-site gift shop.
Address: 900 S. Palm Ave, Sarasota, Florida
Official site: http://selby.org/
3. Visit The Bishop Museum of Science and Nature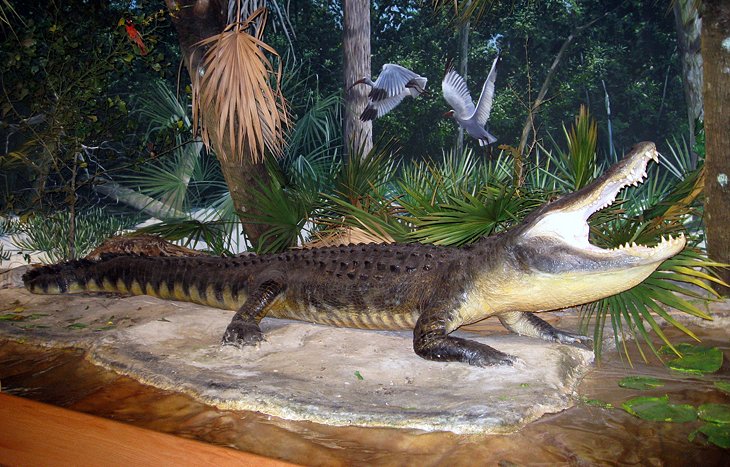 Like The Ringling in Sarasota, The Bishop Museum of Science and Nature in Bradenton offers three family attractions in one. A day of exploration here will take you up into the heavens, deep into the sea, and across dry land.
The exhibits start out in ancient times, with skeletons of the terrifying creatures that roamed Florida millions of years ago and artifacts from the humans who followed them. It then flows into modern times with decorative arts and a look at the maritime culture that symbolizes this part of Florida.
The Manatee Habitat provides an intimate look at the life and environment of the endangered "sea cow," the lovable, friendly manatee. These beasts can weigh up to 3,500 pounds. You can also see Manatee County's most famous resident, Snooty, the oldest known manatee in the world.
Also popular, the Planetarium's state-of-the-art projection experience takes viewers on a multi-million-mile trip into the heavens for a whole different perspective.
Address: 201 10th Street West, Bradenton, Florida
Official site: https://bishopscience.org
4. Luxuriate on Siesta Key Beach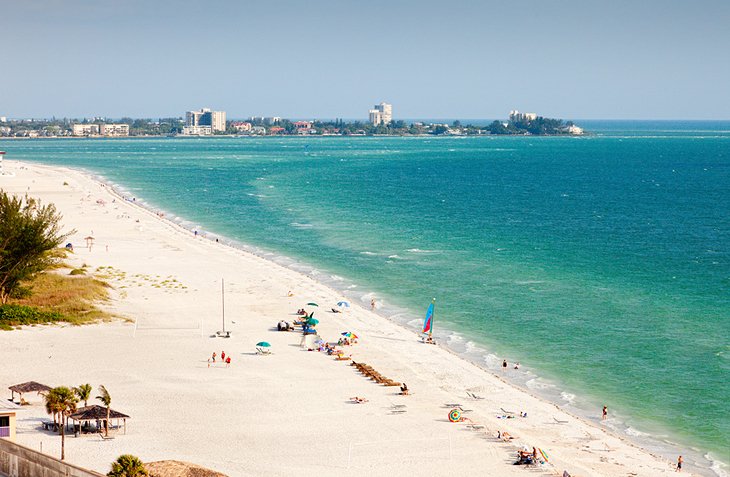 Newspapers and magazines all over the globe have called Siesta Key Beach the most beautiful beach in the world. In fact, it was recognized in one media poll some years back as having "the whitest and finest sand in the world".
Siesta Key Public Beach is not only one of the softest on which you'll ever step as, unlike most other beaches, which are coral, its sand is made of quartz. It's also cool to the touch when you walk on it. The shallow areas extend far from shore, making this an ideal family beach.
If you'd like your day to be an active one, there are beach volleyball and tennis courts, and if you want to just relax with the family, there are also picnic tables and playgrounds.
Address: 948 Beach Road, Siesta Key, Florida
5. Immerse Yourself in Nature at Myakka River State Park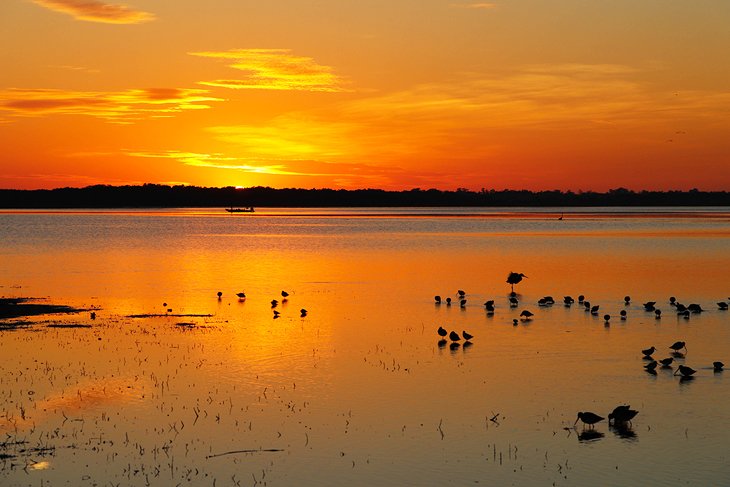 At Myakka River State Park, it seems as though nothing has changed in a million years. The Myakka River flows through an area of 58 square miles, which will never be touched by human development.
In addition to the scenic river and its diverse array of wildlife, there are also two lakes here, with great canoeing, kayaking, and fishing.
Those who prefer foot-power can hike on rare Florida dry prairie, and those who like to sit back and relax while letting someone else do the driving can travel via the two largest airboats in the world or the Safari Tram Tour. Here, the silence is beautiful, the stunning natural vistas seem to flow on forever, and you'll see plenty of wildlife.
Camping is available, and park tours come highly recommended.
Address: 13208 State Road 72, Sarasota, Florida
Official site: www.floridastateparks.org
6. Experience a Different World at the Pinecraft Amish Community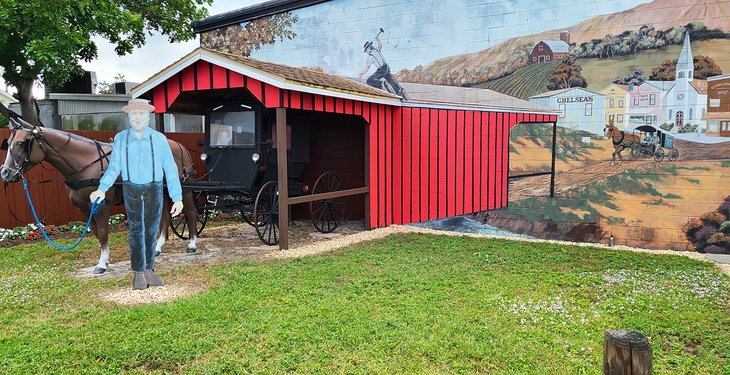 In the little Amish community of Pinecraft, the way it is, is the way it was. Here, some 3,000 Amish and Mennonite residents live the way their ancestors did, using their own hands to make or bake whatever they need. They create one-of-a-kind-crafts and housewares, as well as unusual culinary treats for visitors.
When you shop at one of Pinecraft's interesting little markets, you'll want to bring home the wonderful baked goods and homemade jams. And when you visit the shops and galleries of the local craftspeople, you'll find beautiful homemade quilts and hand-crafted furniture and old-fashioned utilitarian crafts that will last as long as you do.
Stop by Yoder's Amish Restaurant for the chocolate cake or the best pies in town. Ditto for Der Dutchman Restaurant for comfort food with a capital "C"!
7. Kayak through Mangrove Tunnels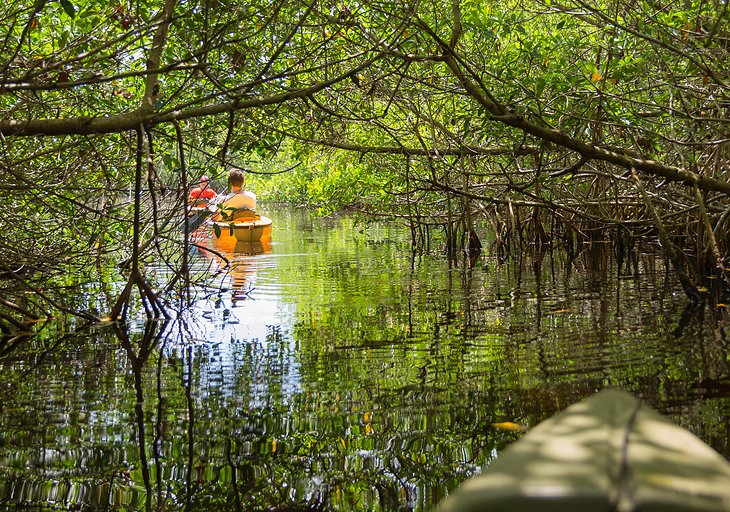 Mangroves are stands of smallish trees that grow only in marshy, subtropical wetlands. There's such a place in Sarasota where these little islands actually form green tunnels. Almost Heaven Kayak Adventures can take you there.
Along the way, you'll enjoy the peace and serenity of these winding, placid waterways. And while the wildlife is always watching you, you can often spot it, too.
You'll see a wide variety of birds, among them osprey, little blue herons, pelicans, wood storks, and, occasionally, even bald eagles. You'll also see a variety of swamp-inhabiting smaller animals (but no alligators).
In addition, these eco-tours can also take you out into Sarasota Bay, where both manatees and dolphins are abundant. The tours will take you into a world you may never have seen before, but one that you'll always remember.
Address: 100 Taft Drive, Sarasota, Florida
Official site: www.kayakfl.com
8. Travel Back in Time at Manatee Village Historical Park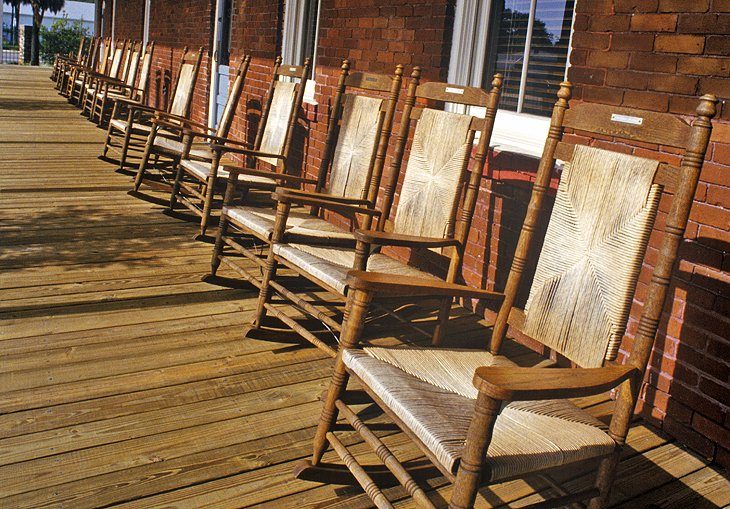 When you walk into Manatee Village Historical Park, you're stepping back in time and right past a 1913 locomotive lovingly called "Old Cabbage Head" by the locals.
The attractions here include a courthouse from pre-Civil War days (1860), a church from 1887, a one-room schoolhouse from who-knows-when, a wooden house from Old Florida times, and the Sugar Cane Mill and Smokehouse (sugar cane was once the chief crop around here).
You can also visit a blacksmith shop; a boat-crafting facility from settlement days; and the Wiggins General Store, built in 1903. You'll be hard-pressed to walk out without buying one of the unusual gifts, housewares, or delicious treats on offer at the store.
There are 14 landmarks in total here, each of them revealing a glimpse into a long-gone time when Florida was one of America's new frontiers. Admission is free.
Address: 1404 Manatee Avenue East (SR 64), Bradenton, Florida
Official site: www.manateevillage.org
9. Walk on the Wild Side at the Big Cat Habitat and Gulf Coast Sanctuary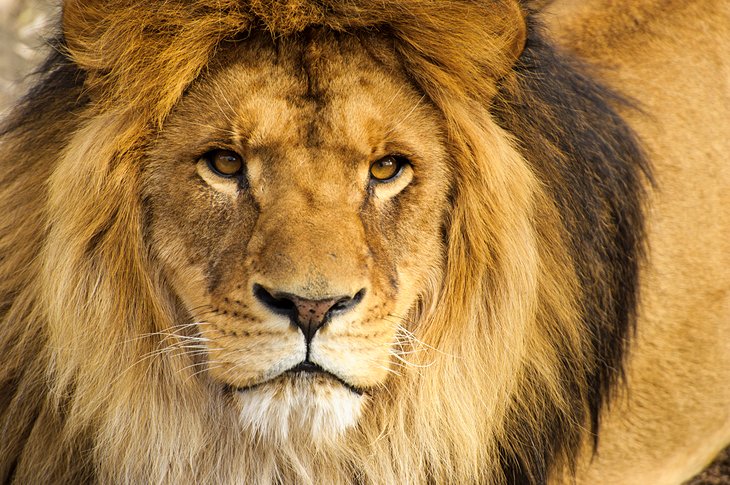 Residents of the Big Cat Habitat and Gulf Coast Sanctuary range from cute domestic critters like goats, sheep, and donkeys in the petting zoo, to magnificent lions.
Other animals here include huge tortoises, birds of some very beautiful feathers flocking together, monkeys and apes, camels, bears, ligers (half-tiger, half-lion), and tigers. All are kept in naturalistic environments, and many have been rescued and nursed back to health.
You can see dozens of rare and exotic species here, many of which you may not have seen before. The two daily shows are "Parrots In Paradise" and "Big Cat Encounter." All admission fees are used to house, feed, and care for the animals.
Another interesting animal experience can be had at Sarasota Jungle Gardens, a 10-acre tropical setting that includes an opportunity to hand-feed flamingos.
Address: 7101 Palmer Boulevard, Sarasota, Florida
Official site: www.bigcathabitat.org
10. Find Your Old Dream Car at the Sarasota Classic Car Museum
If you can't find your old dream car here, you probably can't find it anywhere. The Sarasota Classic Car Museum is the nation's second oldest such attraction, and you'll be drawn into a sweet, sentimental, technicolored world of gentler times as you make your way past one fantasy machine after another.
Here, you'll find icons from the halcyon early days of the automobile, a time when headlights stood out in the front and the jump-seats stood out in the back. You can also see once "futuristic" fantasies that barely made it to the streets before manufacturers discovered that no one - either in the present or the future - was going to want them.
Other exhibits include the muscle cars of the 50s to 70s, and collections spanning the range, from John and Mabel Ringling's big Rolls-Royces to Paul McCartney's cherished little Mini Cooper.
You'll also find special revolving exhibits and a gift shop with wonderful memories of your youth.
Address: 5500 N. Tamiami Trail, Sarasota, Florida
Official site: www.sarasotacarmuseum.org
11. Enjoy a Segway Ride by the Sea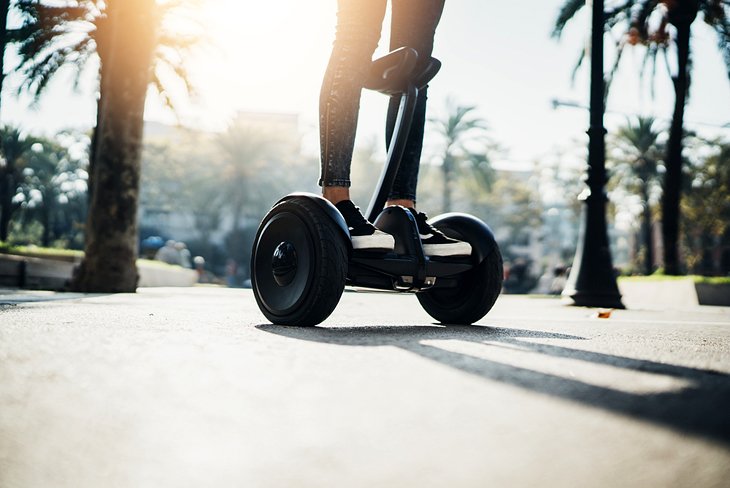 Anna Maria Island is one of a string of tiny, picturesque beach towns here. And now there's a fun way to see it: on a Segway. You'll get an up-close, intimate look at this sandy hideaway, the surrounding islands, and, of course, the blue ocean at its doorstep.
Riding a Segway affords you the freedom to see the sights at your own pace and stop to take a closer look whenever you like.
Segs By the Sea has state-of-the-art, self-balancing Segways. The company offers both guided and self-guided tours, and they'll be happy to create a customized tour just for you.
Anna Maria is a seven-mile-long barrier island with a bunch of interesting properties for rent. There's also a unique village centered by Pine Avenue, which is lined with funky eateries, novelty gift shops, and two piers with dolphins coming for a visit and incredible views of Tampa Bay.
Address: 103 Gulf Drive N., Bradenton Beach, Florida
Official site: www.segsbythesea.com
12. Learn about Life under the Sea at Mote Marine Laboratory & Aquarium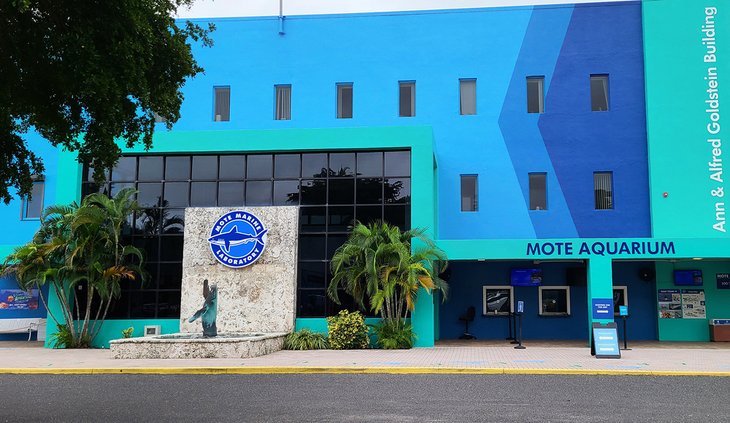 At the Mote Marine Laboratory & Aquarium, the focus is not only on nursing injured marine life back to health and caring for them afterward but also on using what scientists learn here to help humans. This is a true research facility, staffed by a group of world-class scientists who spend their lives pushing boundaries.
The research extends from citizens of the sea such as manatees, dolphins, sea turtles, and sharks, to coral reefs and other ocean ecosystems. Interestingly, some of this work may actually have implications for curing human diseases.
As for the exhibits, you can touch all sorts of rays, and you can see sharks swimming, delicate seahorses, and brilliantly colored fish.
Address: 1600 Ken Thompson Parkway, Sarasota, Florida
Official site: www.mote.org
Where to Stay in Sarasota
Whether you choose to stay in a luxury hotel in the historic downtown district of Sarasota, at a family beach resort overlooking the Gulf of Mexico - or even an affordable budget motel on the outskirts of town - you won't be disappointed by the selection available. To help you choose the best accommodations option, be sure to bookmark and review our list of the top-rated resorts in Sarasota, Florida.