9 Top-Rated Beaches in Naples, Florida
Author Lana Law has spent months traveling through Florida on multiple occasions. Naples is her favorite destination in the state.
The southern Florida city of Naples has some of the best beaches in the state. Sugar-soft white sands lapped by the gentle waves of the Gulf of Mexico make Naples' beaches not only scenic, but perfect for swimming.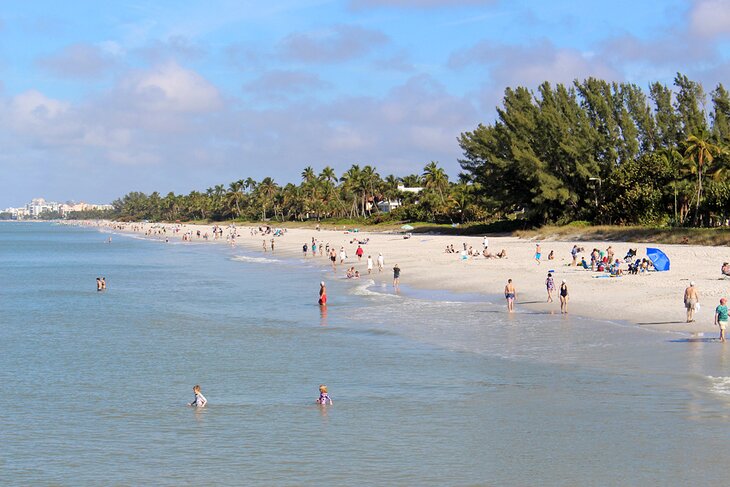 Beaches are located within the city limits, in county parks, state parks, and nature preserves, and each location has its own look and feel. Try out a few to find the perfect patch of sand.
Naples is located far enough south that the city enjoys a warm and sunny climate even throughout the winter months. Waves are usually small and manageable, and the water tends to be shallow for quite a distance from the shoreline. This makes the beaches ideal for families with small children.
Before setting off for your day in the sun, see our list of the best beaches in the Naples area.
1. The Beach at Naples Pier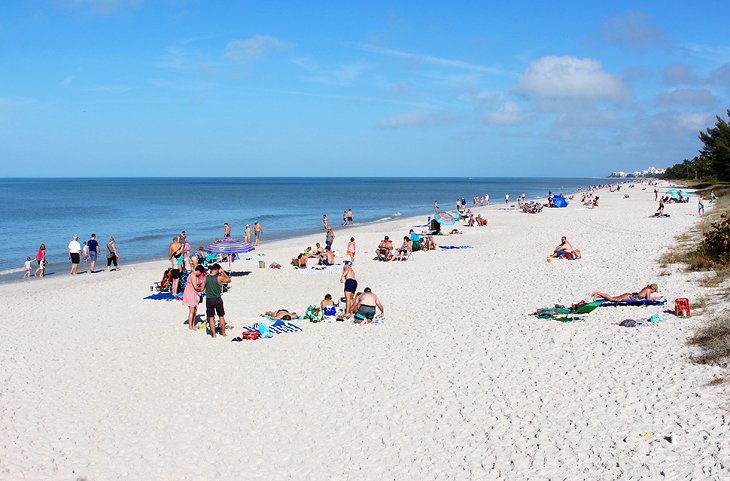 If you're looking for a beautiful soft-sand beach, with nearby restaurants, manageable crowds, a fun vibe, and washroom facilities, Naples Pier is the best place to go. This beach is picture perfect and stretches on for miles. The pier extends 1,000 feet into the ocean, splitting the beach into two sections. Most visitors set up near the pier, where facilities are easily accessible.
You can laze in the sun, people watch, swim, and stroll out on the pier for an ice-cream or cold drink. This is also a romantic place to catch a beautiful sunset. If this sounds too sedate for you, beach volleyball nets and sand courts are set up to the south of the pier, with a range of games from pro to beginner often taking place. For dedicated beach walkers, joggers, or shell hunters, the beach to the south of the pier tends to be more level. A long walk will take you to Gordon's Pass at the south end.
Just a couple of blocks back from the beach you'll find the happening area of 3rd Street, filled with restaurants with outdoor patios, interesting shops, and a farmers market on Saturdays.
2. Lowdermilk Beach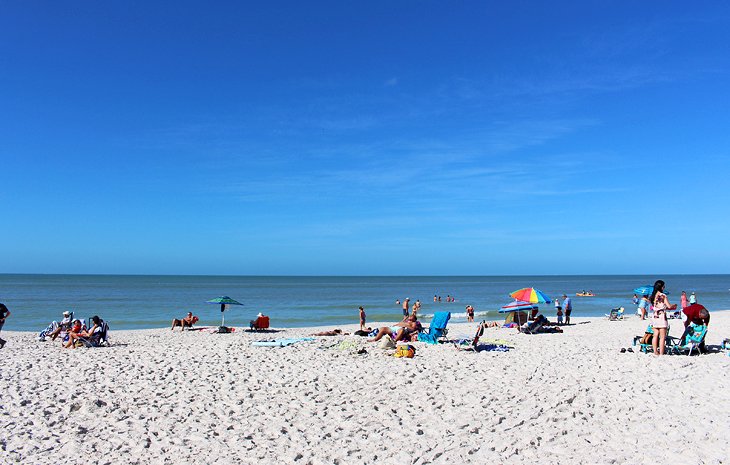 A bit north of downtown, set back in a residential neighborhood, you'll find Lowdermilk Park, with one of the area's most popular beaches. The beach is backed by a green space where you'll find picnic tables, showers, barbecues, and restrooms. Locals come here to catch the sunset, and you'll frequently see people set up on the grass with magnificent meals or relaxing in the late afternoon sun.
Those looking for some water sports action can rent paddleboards. You can also rent a chair, if you haven't brought your own. Both of these can be arranged at the concession, which also sells a range of snack foods, like fries, and cold drinks.
The beach here is not as wide as beaches farther south, so it can get a bit crowded. It's best to come early to secure a spot, both on the sand and in the pay parking lot.
3. Clam Pass Park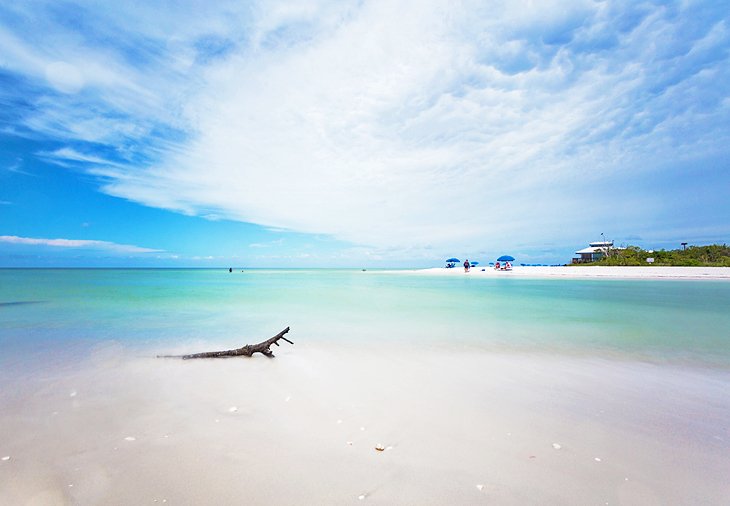 At Clam Pass Park in North Naples, you'll find a family-friendly beach with small waves and a relaxed vibe. The beach is set in a 35-acre wilderness area and is also a great spot to look for wildlife, from shorebirds to turtles.
The wide beach is 3,200 feet long, with white sand backed by low coastal vegetation. You can walk the interesting and mostly level boardwalk to the beach, or, if you prefer, you can take a free tram, which runs continuously from 8am to sunset.
The park has restroom facilities and a small restaurant. For those concerned about water safety, free loaner life jackets are available, and people with mobility issues can request a beach wheelchair.
Apart from the restaurant, the services are quite limited here, so plan to bring everything with you and be prepared to walk and carry it .75 miles or catch the tram. Picnic tables are spread throughout the park in shady areas and generally have a barbecue available for use.
There are 171 pay parking spots. Dogs are not permitted in the park.
4. Vanderbilt Beach Park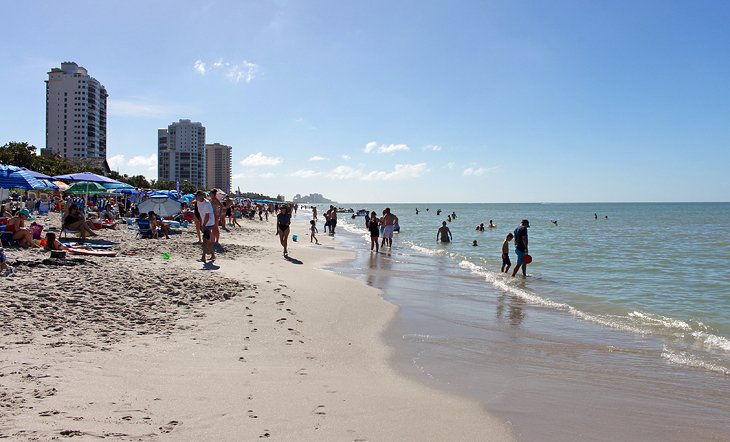 One of the most popular beach areas in the Naples, the five-acre Vanderbilt Beach Park, can be a busy place packed with people. If you like a bit of liveliness and action in your beach, this is the place to come.
An interesting mix of locals and tourists from neighboring high-end hotels flock to this beach, making for great people watching. The beach has soft, white sand and is shallow for quite a distance. A beach concession offers a variety of rentals and sells snacks and cold drinks. Other restaurants and stores are located across Gulf Shore Drive.
Pay parking here is in a large garage and relatively limited. A bit of planning on fine weather weekends and major winter holidays is recommended. Arrive early, ideally before 10am to secure a spot and to grab a prime piece of beach real estate, or be prepared to go somewhere else. Dogs are not allowed in the park.
5. Delnor-Wiggins Pass State Park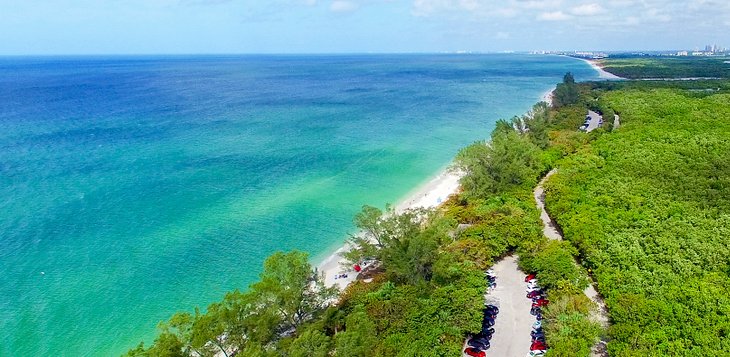 Delnor-Wiggins Pass State Park is closed due to damage from Hurricane Ian in September 2022. No reopening date has been announced, and due to the level of damage, the park could be closed for quite some time.
Just down the road, a short way from Vanderbilt Beach Park is Delnor-Wiggins Pass State Park. This stunning stretch of white sand is pristine and undeveloped. Unlike other built-up beaches, wildlife is abundant here. Frequent sightings of ospreys, owls, and eagles are common, along with a wide variety of shorebirds.
As is typical of Naples' beaches, you'll find soft sand and clear shallow waters, ideal for swimmers and children. This stretch of beach is considered one of the best shelling areas on the entire coast. The park is unique in that it has both an ocean side and a bay side. This makes for great canoeing and kayaking. If you don't have your own gear, the concession stand in the park has these items for rent.
Plan on bringing a picnic lunch and setting up at one of the many picnic tables complete with barbecues that are positioned undercover. A children's playground is located near the washrooms and concession.
Pleasure boaters and fishermen will be pleased to find that the park has ramps available to launch your craft, and this is an ideal place to easily access the Gulf of Mexico.
Pay parking at this beach on busy days can be an issue, and the park will not allow any additional visitors once the lots are full. Plan to come early, or if you can't get in, parking is also available at Conner Park about a mile away, and you can take the free Beach Bus. Pets are permitted in the park but not allowed on the beach.
6. Barefoot Beach Preserve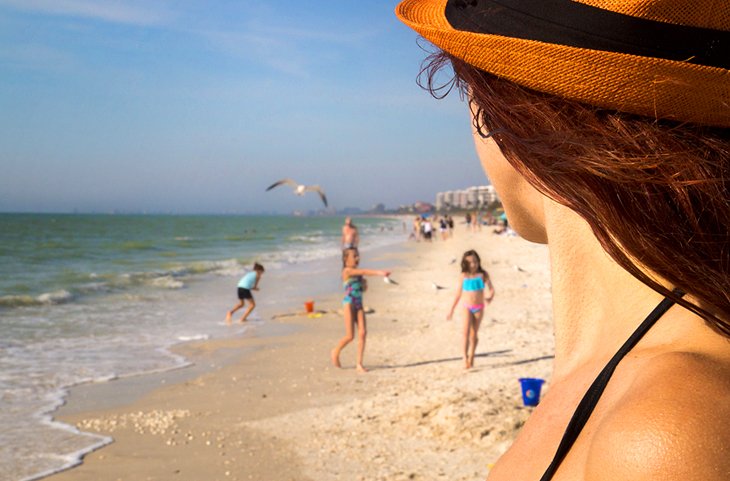 Barefoot Beach Preserve is closed due to the damage from Hurricane Ian in September 2022. No reopening date has been announced.
A bit farther north towards Bonita Beach is one of the most natural beaches in the Naples area, Barefoot Beach Preserve. Spread out over 342 acres, this place is perfect for nature lovers. If you like beach walking, you will be pleased to find that at just over 1.5 miles long, there's room to roam. The adventurous souls that make it to the southern end will see Delnor-Wiggins Pass State Park across the waterway.
The sand here is white and soft and backed by green sea oats waving in the pleasant onshore breeze. The beach vibe here is more laid-back and is more about the natural experience than a fun beach scene.
Off the beach, you'll find a one-mile boardwalk through the marine forest where you'll have an excellent chance of spotting some of the local wildlife. The Barefoot Beach Preserve is also a gopher tortoise preserve, and you can see these surprisingly speedy tortoises scurry about.
Kids will enjoy the cactus garden and butterfly garden. Also, be sure to check out the Learning Center. Park Rangers are on-site and lead guided walks and present informative lectures on a regular basis; the schedule is posted at the main office. The preserve has extensive pay parking for over 350 vehicles. Dogs are not allowed.
7. Keewaydin Island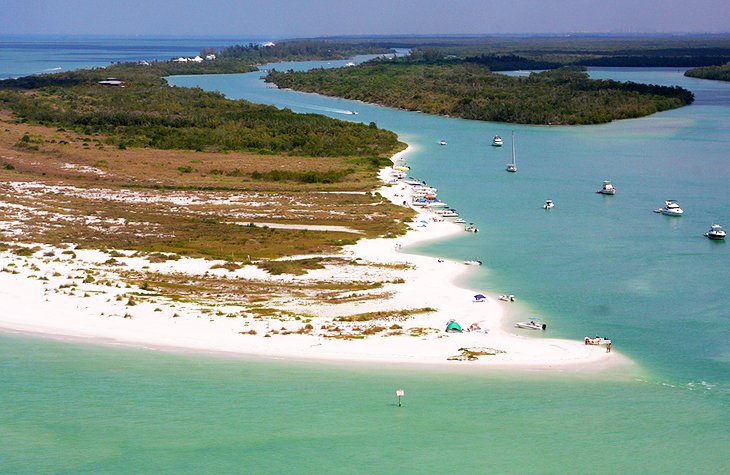 Looking for a completely different beach experience on a deserted and uninhabited island? Keewaydin Island is the place. Just south of Naples, this large and narrow barrier island has no roads, no cars, no bridges, just amazing white sandy beaches on both the ocean and bay side.
Access is only by boat. If you don't have your own, a shuttle is available from the nearby Rose Marina on Marco Island. You can find your own place here, or if you'd rather be sociable, join the multitude of boaters who anchor on the bayside near the southern tip. You can pack a picnic lunch or enjoy the food boats that stop by on a regular basis and offer a tasty lunch.
8. Lover's Key State Park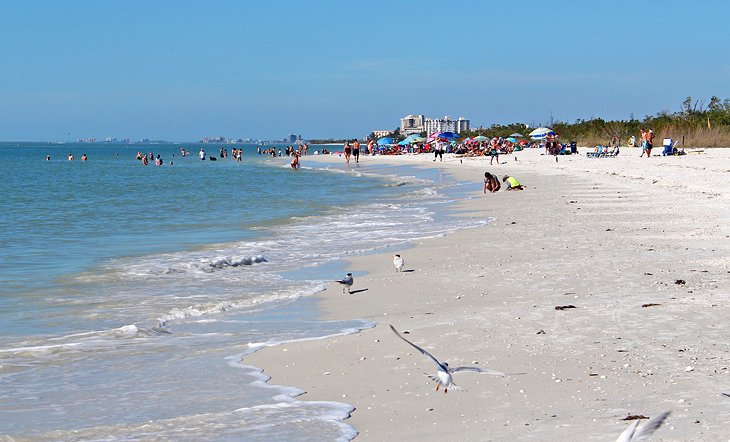 Lover's Key State Park was badly damaged by Hurricane Ian in September 2022, and the Gulf of Mexico side of the park remains closed. This means no access to the beach, boat ramps, or walking trails. Certain bayside areas of the park have reopened on a limited basis.
The wide and beautiful white-sand beaches of Lover's Key State Park are just over 30 minutes north of Naples. Located on a barrier island, this 712-acre park is unique in the fact that it has several great beach options and is one of the best beaches for pets.
Bonita Beach Dog Park, known more commonly as the Dog Beach, is at the southern end of Lover's Key. This is a fantastic spot to let your dog run free in the shallow waters and sandy shoreline with all of his or her new furry friends.
At one time, this wonderful nature preserve was slated to be developed into high-rise condominiums, but fortunately, that did not happen. Now wildlife, including manatees and dolphins, are the main dwellers, with people visiting during the daylight hours.
Access to the beach is via a wide trail that crosses two long bridges. Look down as you are crossing, and you may see alligators or fish swimming below. Off the beach, the Black Island Trail and the Eagle Trail will take you into the interesting estuary and maritime hammock ecosystems. Both trails offer excellent opportunities for wildlife spotting.
There is a fee to enter the park. Access is easy off Estero Blvd, and there's plenty of parking available.
9. Marco Island Beaches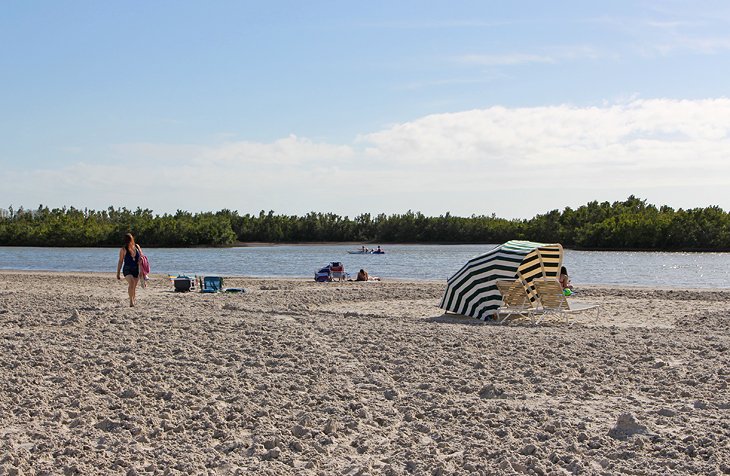 Marco Island, located 30 miles south of Naples, has some of the largest beaches along this stretch of Florida coastline. The main beach area is six miles long and has a bit of everything.
Those who prefer a quiet and natural beach experience will most likely enjoy the northern section, where you'll find Tigertail Beach Park. This is one of the best beaches in the Naples area for families with young children. The first section of the beach you'll see from the parking lot looks out over a shallow lagoon to vegetation on the far shore. It offers a very shallow and placid area with little to no waves, perfect for toddlers. Here, you don't have to worry about big waves from the ocean. You can rent beach chairs and paddling equipment in this area.
For more of a true oceanfront beach, walk a short distance to the left, around the mangroves, and the path soon opens up to a massive stretch of beach. The view stretches all the way along the oceanfront to the distant condo towers. The beach is so wide at this point, the walk to the water's edge takes quite some time and can seem daunting.
Parking at Tigertail Beach is easy, and there are washrooms and change facilities, making it a popular area for people who are not staying at a condo or resort along the beach.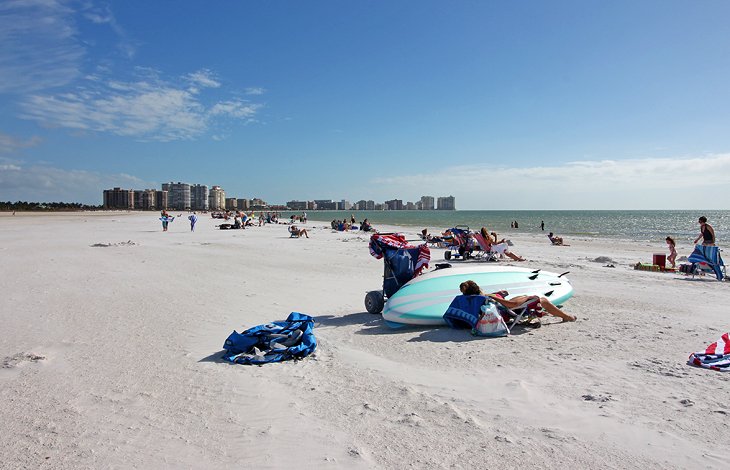 If you head south from here, you come to Marco Island's main stretch of beach, backed by massive condo and hotel towers. The main beach can be accessed via the central beach access trail between the Marriott's Crystal Shores and the Hilton Marco Island Resort. Once you emerge onto the beach via a boardwalk, you'll likely see a busy beach with plenty of activity and a fun vibe.
This is where the action is on Marco Island. On busy days, you'll see multiple volleyball games, people on stand up paddleboards (SUPs), Frisbee games, and an overall atmosphere of people having a great time in the sun.
Another beach access is available at the southern end of the beach, much farther on, however, it is a much quieter area.
Parking on Marco Island, apart from Tigertail Beach, is very limited and can be tricky. There is one small lot with 70 spaces across from the central beach access called the Turtle lot, so go early to get a spot. Street parking is prohibited, and there's a good chance you will get towed if you try to test your luck.
Tips for Parking & the Free Beach Bus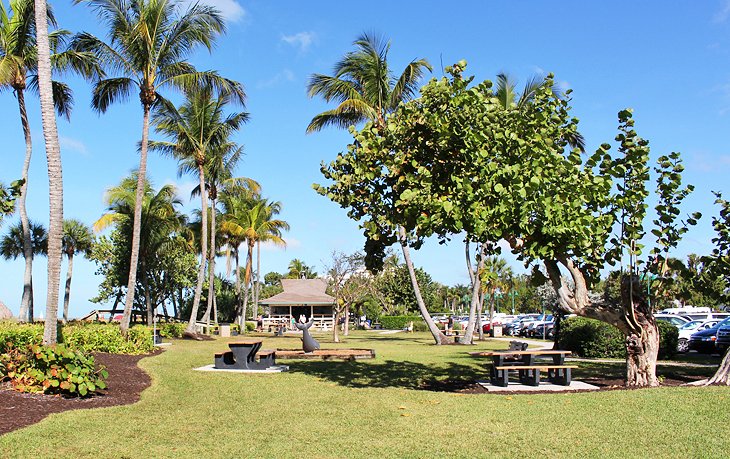 The city of Naples and the state parks charge to park at the beaches. On hot days and winter holidays in December and March, the beaches can get extremely busy. While there's generally plenty of space on the sand, parking can be a challenge. If you want to get a spot, you'll need to go early or take the bus.
A couple of beaches — Vanderbilt Beach and Delnor-Wiggins Pass State Park — can be accessed by the free Beach Bus. Part of the Collier Area Transit (CAT), the Beach Bus operates from late February until the end of April on Fridays, Saturdays, Sundays, and Mondays. The service runs from 8am to 3pm and then again from 4:30pm to 7pm.
Park at the terminus (Connor Park) and catch the bus as it runs along Vanderbilt Drive from Vanderbilt Beach to Delnor-Wiggins Pass State Park. The stops and the schedule can be found by accessing the city's transit website and looking for Route 29, or by downloading their rideCAT app.
Map of Beaches in Naples, Florida
Naples, FL - Climate Chart
Average minimum and maximum temperatures for Naples, FL in °C
J
F
M
A
M
J
J
A
S
O
N
D

24

12

24

12

26

14

28

17

31

19

32

22

33

23

33

23

32

23

31

20

28

17

25

13

PlanetWare.com
Average monthly precipitation totals for Naples, FL in mm.

51

55

53

51

107

208

203

205

206

91

51

39
More Related Articles on PlanetWare.com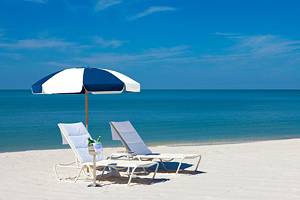 Where to Stay in Naples: If you're planning a vacation to this area, be sure to have a look at our article on the top-rated resorts in Naples. This will give you options from where to stay near the beach to resorts along Naples' lovely Fifth Avenue.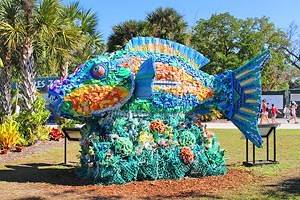 Things to Do in Naples: When you've had enough beach time, or perhaps you've hit a rainy day, you can find attractions and activities to keep you busy, from shopping to boat cruises, or even a trip to the zoo. For ideas, see our article on the top attractions in Naples.