10 Best Beaches in Sarasota
To the surprise of many travelers, the delightful mid-sized city of Sarasota is not actually located directly on the Gulf of Mexico and does not have any in-town beaches. Fortunately, six barrier islands with some of the best beaches in Florida are mere minutes away over two bridges.
If you don't mind day-tripping to the beach, Sarasota is a pleasant place to stay with many interesting things to do, including visiting the world-famous Ringling Museum and the Marie Selby Botanical Gardens.
Five keys hold all the best beaches near Sarasota: Lido Key, Longboat Key, Anna Maria Island, Siesta Key, and Casey Key. Access to the first three are via Highway 789, Siesta Key is via Highway 758, and Casey Key (Nokomis Beach) is accessed via Tamiami Trail and Albee Road to the south. No matter which key you choose to head to, access is easy.
Enjoy a beautiful day by the ocean with our list of the best beaches in Sarasota.
1. Lido Key Beach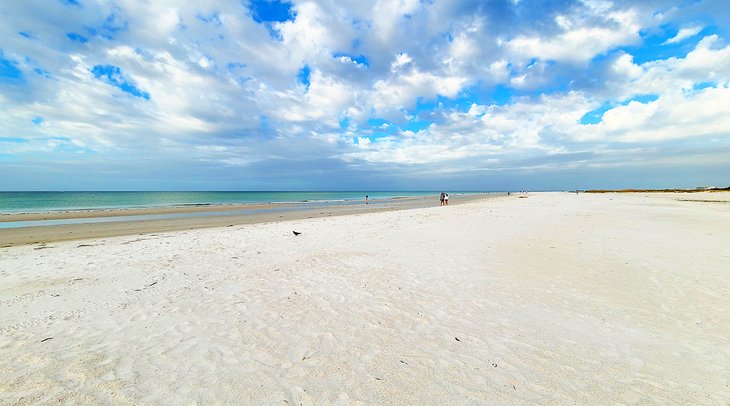 Lido Key Beach is the closest beach to Sarasota and easily one of the nicest. Reached via the John Ringling Causeway, Lido Key Beach has soft, whitish sand lapped by the warm waters of the Gulf of Mexico. Lido Key Beach is similar in nature to Siesta Key Beach farther south in the fact that it's exceptionally wide.
For a more lively beach experience, park in the main parking lot along Gulf Drive. Parking here is easy and free. The walk to the beach is short, so bring all your gear. This is where most of the crowds congregate, and the Lido Beach "scene," limited at best, is found. Lifeguards are on duty and take pride in keeping all bathers safe and sound.
At this location, you'll find a beach pavilion with restrooms, changerooms, and nearby volleyball courts. If all your sun tanning causes you to work up an appetite, swing by the Lido Island Grill. Casual fare is served up on the patio overlooking the beach.
If you want a quiet beach experience with few others around, park in the small north access parking lot.
Lido Key Beach is an ideal place to go walking. The flat sand is hard and easy to walk on. If you head north, the scenery is more natural, with sea oats and other grasses waving in the winds and no towers to interrupt your view.
2. Siesta Key Beach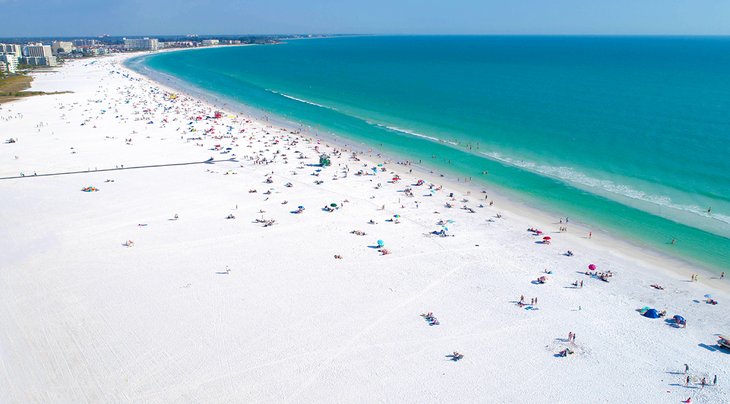 This incredible white-sand beach is consistently ranked as one of the best in North America and for good reason. Soft quartzite sand is the norm here, unlike crushed shells and limestone at other beaches along this shoreline.
Fortunately, access to Siesta Key Beach is easy with an exceptionally large parking lot that can accommodate nearly 1,000 cars. All these cars, packed with keen beachgoers, makes Siesta Beach a lively place on a regular basis. However, don't worry about finding your own patch of soft sand. The beach is particularly wide and long, ensuring that there's plenty of space for everyone. The majority of the action is at the main access by the pavilion where you'll find volleyball nets, washrooms, and showers.
Siesta Beach has two restaurants. Operated by the same group that manages the excellent Sharky's Restaurant in Venice Beach, the Sun Deck and Sun Pavilion offer more than just traditional beach fare. See if you can grab a patio seat up high for the best view of the beach.
3. Coquina Beach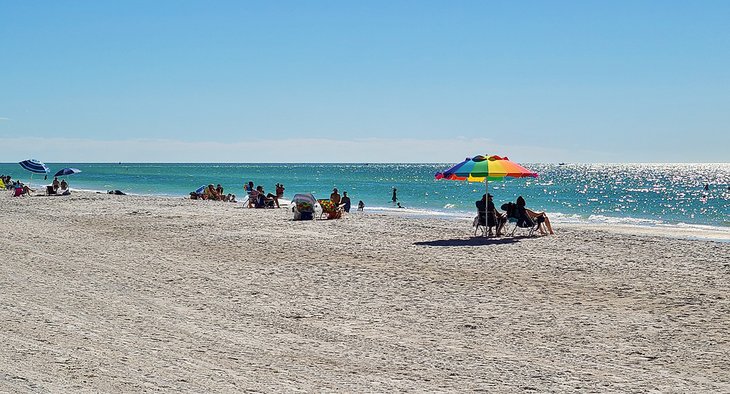 Located at the southern end of Anna Maria Island, Coquina Beach is an excellent spot for day-tripping. The beach has extensive parking, so finding a spot is generally not an issue. Coquina Beach is unique from other beaches in this area of Florida for its incredible canopy of pine trees just back from the beach. This is an ideal place for a barbecue, picnic, or to just escape the hot Florida sun.
The beach itself is wide and fairly deep, assuring that everyone will be able to find their own patch of soft sand. Waves tend to be fairly small here owing to the predominant winds over the land heading offshore. Lifeguards keep a watchful eye on all beachgoers, ensuring everyone's safety.
Most of the action is near the center of the beach, where the beach concession is located. Here, you'll find volleyball courts, washrooms, showers, and changerooms. For a bit of beachfront dining with the sand between your toes, grab a table under an umbrella at the Coquina Beach Café. Cold drinks, casual fare, and a million-dollar view are all on offer.
Every Sunday and Wednesday throughout the winter months (November Sundays only) and Wednesday and Friday for the balance of the year, a market springs to life under the shade of the trees. Vendors sell everything you never thought you needed, including tasty (and sweet) snacks, jewelry, beach clothing, and artwork.
Accommodation: Top-Rated Resorts on Anna Maria Island, FL
4. Cortez Beach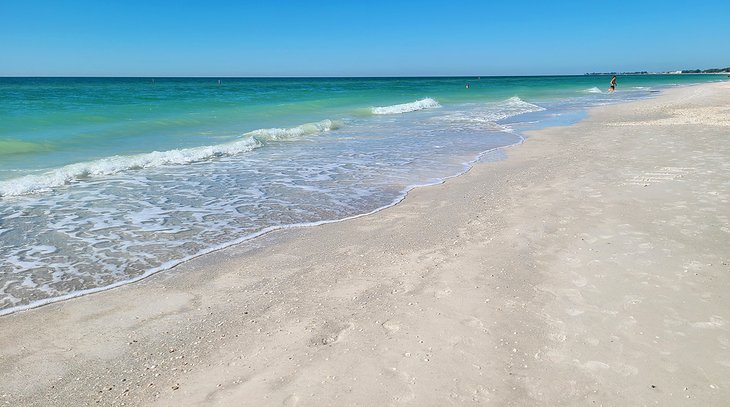 Farther north, near the historic center of Bradenton, is the low-key Cortez Beach. A quieter spot than Coquina, Cortez features a series of piers extending into the Gulf of Mexico. Depending on your point of view, these are eyesores or great ways to walk out over the water.
Surfers are definitely in the pro-breakwater camp, these manmade features help create some of the best surfing on Anna Maria Island.
Piers aside, the beach is wide, with soft sand and small dunes topped by sea oats at the back. Spend most of your day on the beach, but if you get hungry or thirsty, just a short walk north will take you to the historic Bridge Street area. Here, you'll find a wide assortment of restaurants and shops that meet your every need.
Parking is relatively plentiful off Gulf Drive South, be sure to snag a spot as soon as you see it!
5. Sarasota Beach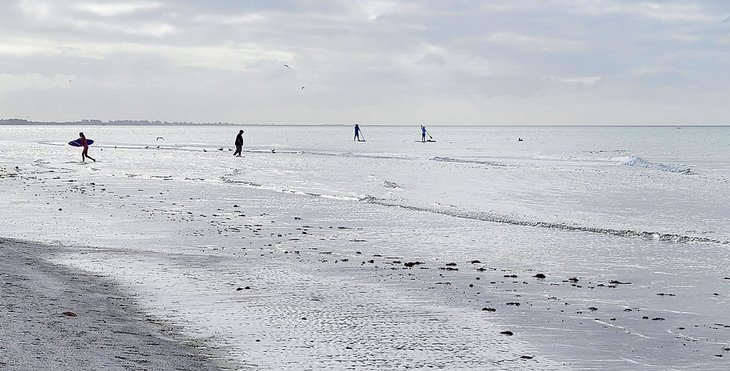 Sarasota Beach is located on Siesta Key and is one of the first beach accesses with decent parking that you come across. Sarasota Beach is for nature lovers. The wide beach is backed by extensive areas of sea oats and cabbage palms. Condos and hotels, which can sometimes crowd the shoreline at other beaches, are fortunately located a significant distance back from the beach area.
Sarasota Beach is a hidden treasure of a beach. Wide-open but protected at the same time, this beach is a perfect place to visit if the winds start to whip up out of the north. If you are faced with a north wind problem, just tuck yourself in behind the tall vegetation and luxuriate in the sun's warmth without the chill created by the wind.
This is an excellent beach if you love to walk along the shoreline. Pack your walking shoes, or go barefoot, and head north. If you make it to Sarasota Point (you'll know you've made it by the large rock wall), the views across to Lido Key with Longboat Key in the distance are your reward.
Parking is free, and you'll find about 40 spots that tend to stay open, as many people are unaware of this access point, most people keep going south to the much larger and livelier Siesta Beach.
Sarasota Beach is found by using beach access #7. Keep an eye out for Calle De La Siesta on your left.
6. Point of Rocks Beach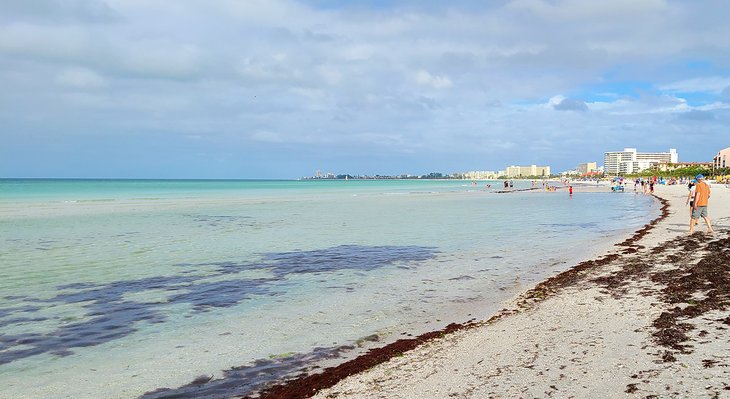 One of the more unique beaches near Sarasota, Point of Rocks is a rare geological anomaly. Just offshore, 4,000-year-old rocks and shelves lie just below the clear waters and attract a variety of marine life. Be sure to pack your snorkeling gear, flippers, and underwater camera if you have one – this is the best place for snorkeling near Sarasota.
Finding the snorkeling area is easy. Just walk south towards the graffiti-filled breakwater, and duck below the water. Your underwater friends will include triggerfish, snapper, snook, and other colorful denizens of the deep.
Located on Siesta Key, the access is via beach laneway #12 (limited parking) or #13 (no parking). Since it can be tricky to secure a parking spot, a better option may be to jump on the free trolley, or ride your bike.
The beach itself is relatively small and narrow, but there's still room to set up a chair and umbrella. Most people use the beach to leave their gear, as the attractions are definitely offshore.
7. Turtle Beach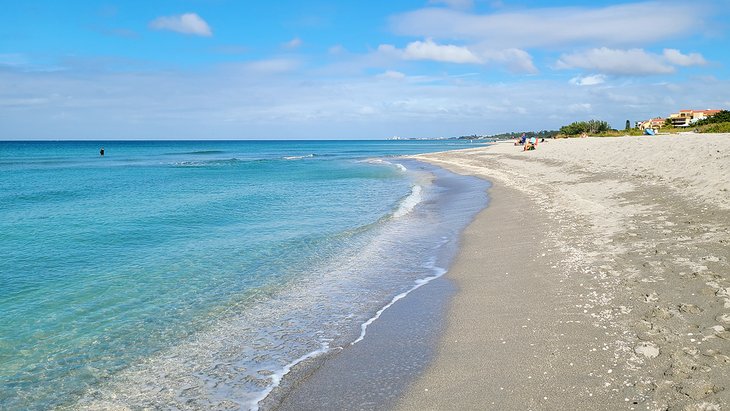 Down at the far end of Siesta Key, Turtle Beach is one of the lesser-known and visited beaches near Sarasota. Ideal for those looking for a different kind of beach, Turtle Beach is a very laid-back place with few crowds. The beach is different from the others just a short distance north in the fact that it has black and white, "salt and pepper," sand.
Turtle Beach has a unique formation: a bench of sand. This means that you actually sit about four feet above the water, allowing you to see down and easily spot marine life, including colorful fish and, occasionally, small stingrays. To access the water, you just step down through the soft sand to the hard-packed sand at the water's edge.
Although the beach is always changing, Turtle Beach generally has small points that extend out into the water, these in turn create small coves. The water extending out from these points is especially shallow, and you can easily walk out quite a distance.
If you are a beach walker, consider heading south to Palmer Beach Park. Walk past the condos for about a mile, and then you'll have a wonderful long stretch of undeveloped beach all to yourself. Palmer Beach Park is only accessible along the beach or by boat, so the shelling down here can be quite good. Alternatively, bring your own kayak or rent from the vendors near the boat launch in behind the beach and paddle down through the Jim Neville Marine Preserve to the park.
8. Nokomis Beach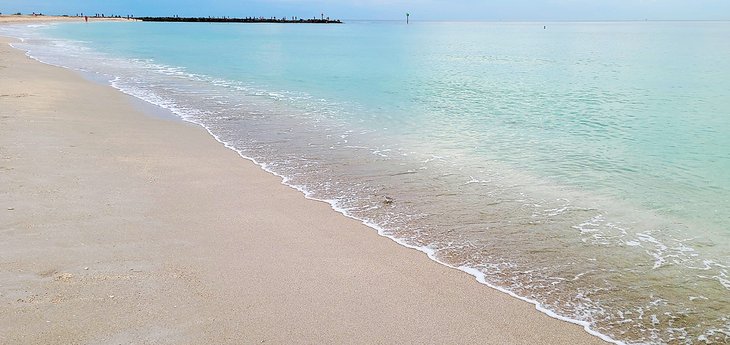 Nokomis Beach is a below-the-radar kind of beach that is as beautiful as beaches farther north, yet not as busy or tricky to get to. This beach has the distinction of being the oldest beach in Sarasota County and one of the only ones with a beach plaza listed on the National Register of Historic Places.
Take a stroll by the recently renovated 1950s-style plaza. Inside is a concession selling typical beach fare. The beach here is relatively wide and has soft sand. Beach walkers and shellers will want to walk south to North Jetty Park for views of Venice and some of the best shells around.
Nokomis Beach has a relatively large parking lot, but plan to go early to ensure you secure a spot. Pack a picnic; barbecues and covered picnic tables are available on-site.
9. North Jetty Beach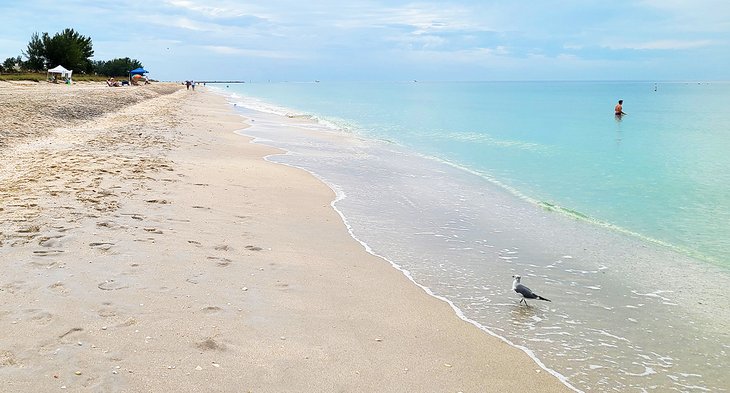 North Jetty Park is located at the south end of Casey Key. A lovely and quiet spot, North Jetty Beach is a long stretch of golden sand with a breakwater at the southern end. It's this breakwater that makes North Jetty Beach almost like a giant, glass-calm ocean pool when the waves come from the south. Shellers take note: this same breakwater also acts like a giant baseball glove, catching incredible numbers of shells that pile up in huge mounds.
Getting to the beach is easy, with short boardwalks from a large parking area. In behind the beach are covered picnic tables, barbecues, playground structures, restrooms, changerooms, and showers. If you can pry yourself off your towel, take a short stroll over to the breakwater and check out the view north up the beach and south towards Venice. You may also be lucky to see one of the many fisherman reel in a catch of snook or snapper.
A small restaurant operates by the breakwater, serving decent food and cold drinks. Additional parking is also located here.
10. Longboat Key Beach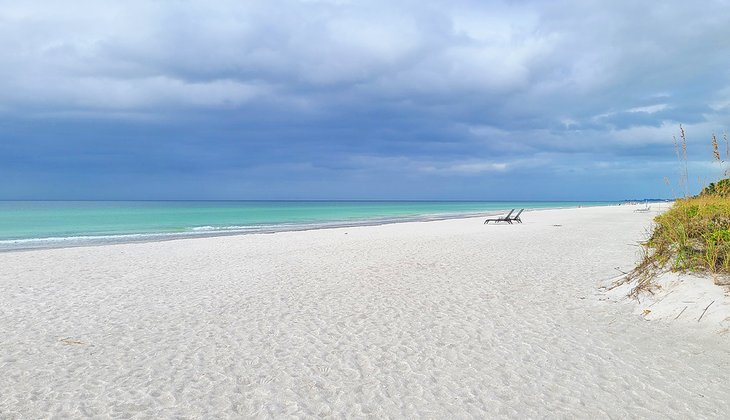 Also easily reachable from Sarasota, Longboat Key Beach is another option; however, parking for day-tripping is limited. The search for one of the roughly 250 coveted spots may take some time, but the reward is worth the effort. An uninterrupted 12-mile stretch of sand ensures you'll find your own patch of paradise with your only company a friendly seagull or heron.
Most of the waterfront on Longboat Key is privately owned, and in many cases, the owners are rarely at home. As a result, and depending on where you access the beach, you can walk for miles and miles north or south and in many cases, you'll be one of the few people on the beach.
The sand is sugary soft and blindingly white. This ensures that the sand never gets too hot to walk on. Longboat Key beach accesses have no facilities, so be sure to plan accordingly.
Don't worry if you can't find a spot on Longboat Key, Anna Maria Island is a short distance farther north, and Coquina and Cortez Beaches are almost as nice.
Sarasota, FL - Climate Chart
Average minimum and maximum temperatures for Sarasota, FL in °C
J
F
M
A
M
J
J
A
S
O
N
D

22

11

23

12

25

14

28

16

31

18

32

22

33

23

33

23

32

22

29

18

27

15

23

12

PlanetWare.com
Average monthly precipitation totals for Sarasota, FL in mm.

75

68

85

47

72

188

221

240

184

73

60

62