19 Top-Rated Attractions & Things to Do in St. Petersburg, FL
We may earn a commission from affiliate links ()
The city of St. Petersburg, known locally as St. Pete and famed for its perpetual sunshine, lies on the Pinellas Peninsula on the central Gulf Coast of Florida, between Tampa Bay and Boca Ciega Bay. Off the western side of the peninsula is a chain of long, narrow islands with some of Florida's best beaches.
The city is compact and easy to navigate. Many of the top attractions are near one another, making visiting more than one in an afternoon an easy task. St. Petersburg is one of Florida's cultural hot spots with a fine selection of world famous institutions, including the Dali, Imagine, and Fine Arts Museums along with the Morean Arts Center.
However, St. Pete's isn't all about culture. Mere minutes away is St. Pete's Beach and the gorgeous soft sands and warm waters of the Gulf of Mexico. Turning inland, the city of Tampa is another fun place to explore, with more things to do and great restaurants.
Explore the best places to visit in the city and surrounding areas with our list of the top attractions and things to do in St. Petersburg.
See also: Where to Stay in St. Petersburg
1. Soak Up the Sun at St. Pete Beach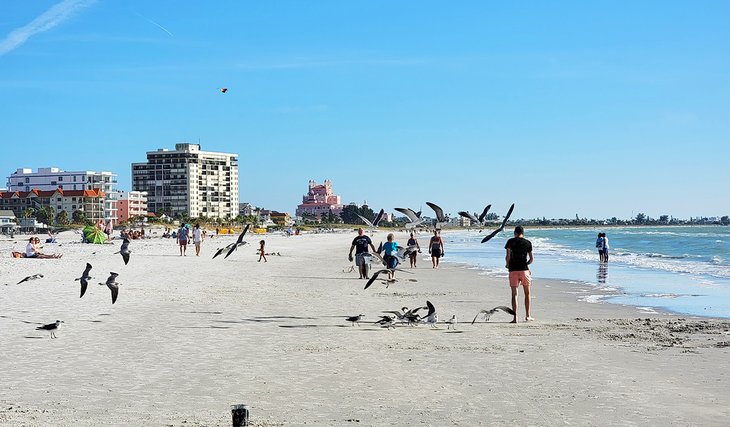 Just a 20-minute drive from downtown St. Petersburg is the fun beach town of St. Pete Beach. Home to a spectacular wide and long stretch of soft, golden sand lapped by warm, clear water, St. Pete Beach has been drawing legions of visitors for years. The list of things to do in St. Pete Beach is long, and includes lazing on the beach (of course!), parasailing, fishing, jet skiing, and frolicking in the ocean.
An assortment of accommodation is available, ranging from old-school Florida hotels to condos, right through to luxury resorts. Restaurants along the main street all have outdoor patios, perfect for grabbing a light lunch or a pleasant dinner once the heat of the day has passed. St. Pete Beach is just one of many fantastic beaches along this stretch of coastline; others include Treasure Island, Madeira, Redington Shores, and Indian Shores.
2. The Dali Museum in St. Petersburg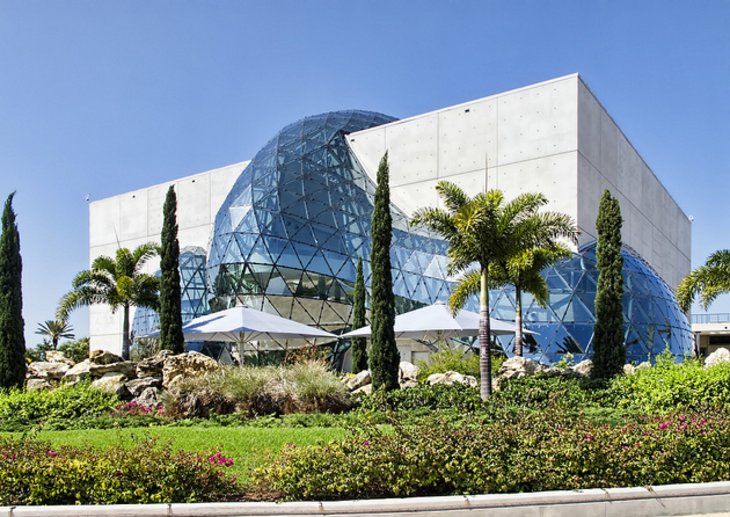 The Salvador Dali Museum in St. Petersburg houses a comprehensive collection of paintings by this Surrealist master, with a total collection of more than 2,000 works of art. Dali's entire artistic career is represented, from his early work in Impressionism and Cubism to later experiments in more "Classical" styles.
3. See Nature Come Alive at the Sunken Gardens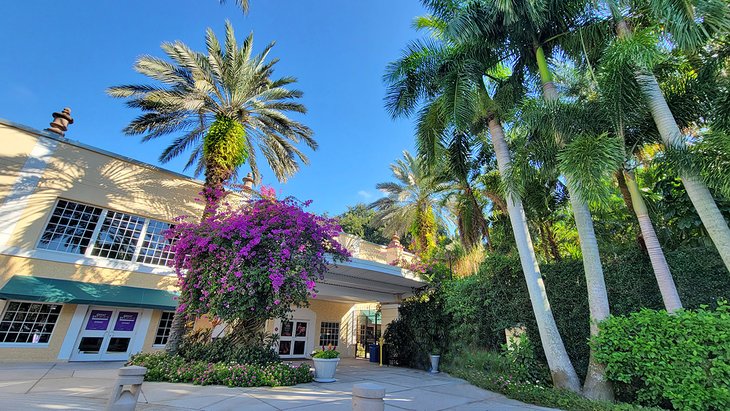 The Sunken Gardens began as the hobby of a plumber named George Turner and have evolved into a St. Petersburg institution. First conceived of in 1903, Turner transformed a lakebed into a six-acre tropical garden, which eventually became so popular that he started to charge admission.
The Turner family continued to care for and improve upon the garden, and it was finally purchased by the city in 1999, becoming a community effort. Today, you can walk the paths and enjoy the rare plants, some of which are as old as the garden itself.
4. Head Out to the New St. Pete Pier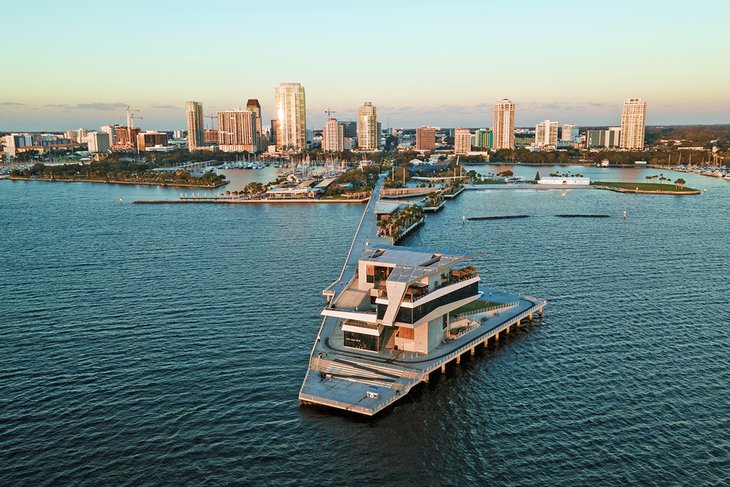 The brand-new St. Pete Pier is a far cry from what used to exist in the same space only a few short years ago. Today the Pier is more than just an extension into the ocean; now it's 26 acres of fun, food, activities, and entertainment.
Blending seamlessly into the surroundings, the pier area is an ideal place to spend an afternoon with the family or an evening out with a group of friends. You'll find six different restaurants ranging from Teak, a fine-dining establishment with fantastic views, right through to the more casual Fresco's Waterfront Bistro offering vistas of the incredible array of pleasure craft moored nearby. For a snack by the beach, pop into the Spa Beach Bistro.
The St. Pete Pier is 3,000 feet long and can be a nice place to visit for a stroll, but it can also feel like a long walk in the hot Florida sun. Fortunately, a tram runs from end to end making a walk out and a tram ride back a popular combination.
Spread throughout the St. Pete Pier area are public works of art, one of the most spectacular being the work by Janet Echelman called Bending Arc. Near the end of the pier is the unique Olnetopia by Nick Ervinck. Also definitely worth checking out is the sculpture of the Benoist Airboat first flown by Tony Jannus in 1914.
5. Explore Beaches and History at Fort De Soto Park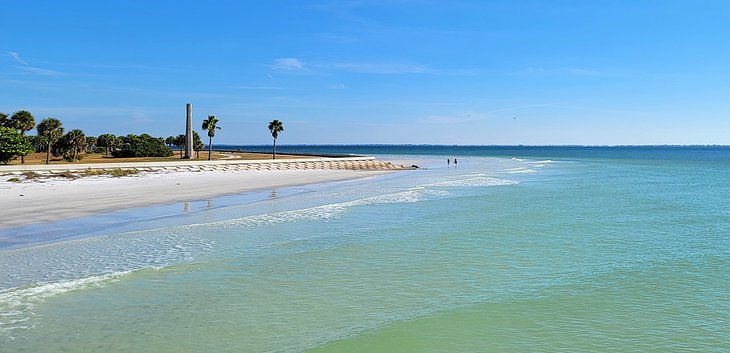 Five different keys make up the 1,136-acre Fort DeSoto Park, the largest park in Pinellas County. Most people come here to enjoy the beaches, but numerous nature and recreation trails offer great opportunities for hiking, birding, biking, and rollerblading, and there are also two fishing piers.
The park is named for the fort located on the southern end of Mullet Key, built in 1898 during the Spanish-American War. Remains of the fort can be visited on a self-guided tour, and a small museum with historical information is located in the former Quartermaster Storehouse. Other buildings on-site include civilian quarters, barracks, the bakery, and the former hospital, among others.
This is a particularly popular spot for bird-watchers, home to at least 328 species of birds.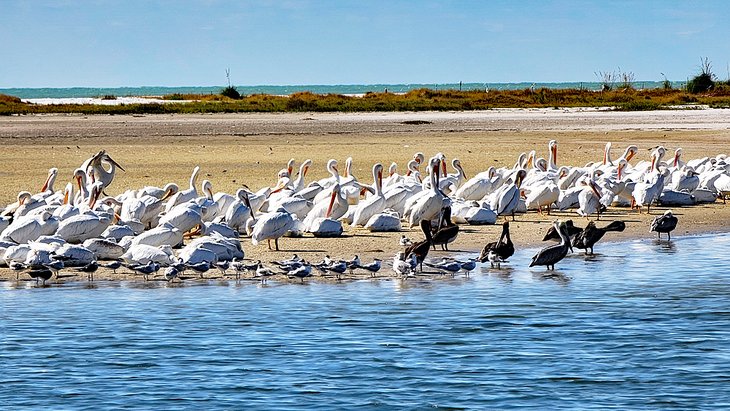 Camping is also popular here. The park has 238 sites just a short stroll away from the beach. Sites have electricity and water; central washroom buildings have flush toilets and showers. The campground has special sites set aside for those traveling with pets. The county has recently upgraded the playground in Campground Area #2, with new features that children will be sure to love.
6. Check Out the Colorful Chihuly Glass Collection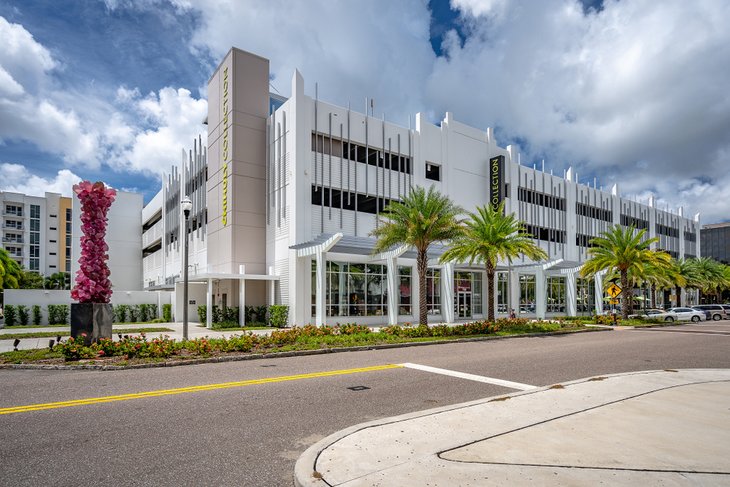 St. Petersburg is proud to be home to the Chihuly Collection. Found at the Morean Arts Center, the collection is spread out over 10,000 square feet and is housed in a specially designed building. To get the best experience and understanding of the items you are about to see, start your visit by watching the short video on Dale Chihuly's life and his creative methods.
The collection has some of the artist's finest pieces, including Ruby Red Icicle Chandelier, Macchia, Ikebana, Tumbleweeds, and many others. The colors are incredible and varied; the shapes formed are unlike anything you've ever seen.
7. St. Petersburg Saturday Morning Market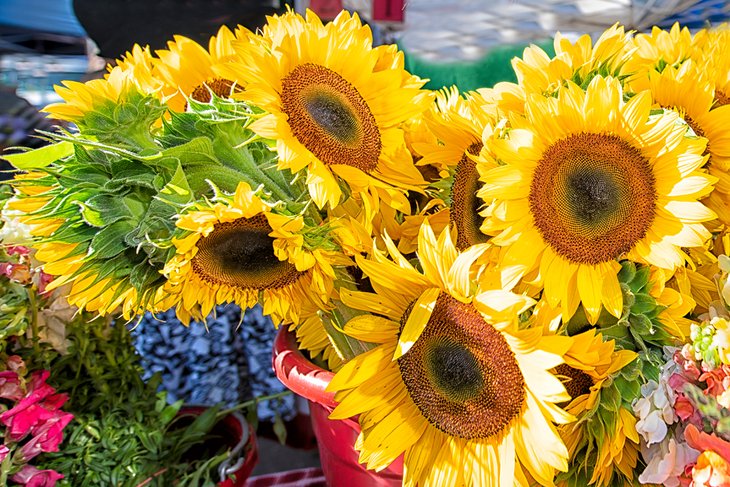 St. Petersburg is considered one of Florida's most livable cities for its mild climate, cultural institutions, and overall quality of life. Part of what makes it an attractive place to live are things like the St. Petersburg Saturday Market. Each Saturday, over 125 vendors set up and showcase their goods.
It's an ideal place to collect all the freshest ingredients such as meats, cheeses, vegetables, and sweets for your Saturday night get-together dinner. It's also a great spot to search out that eclectic or unique piece of artwork for that blank space on your wall. Feeling a bit of hunger coming on? You are in the right spot. Over 15 different cuisines are represented by vendors cooking up the tastiest dishes you can imagine.
In addition to all the great shopping, local musicians fill the air with the sounds of music. The market runs from 9am until 2pm. In the fall and winter (October 2nd to May 28th), the market is located at the waterfront at the address below. In the summer, it is located at Williams Park, 301 1st Ave N.
8. Waterfront Arts District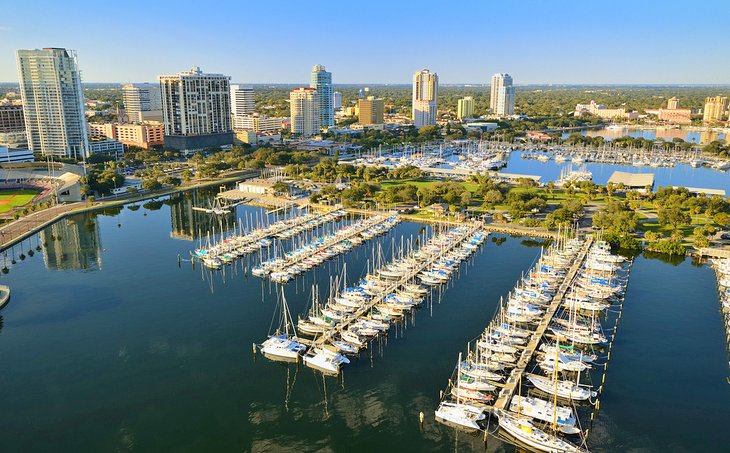 Just back from St. Petersburg's waterfront area is a delightful area known at the Waterfront Arts District, one of five located throughout the city. Stately old trees line the streets, and several city parks provide public space to rest and relax. Park the car and just wander around; you'll be amazed at what you find.
The area is home to many of the city's most popular cultural institutions, including the Dali Museum, the St. Petersburg Museum of History, The James Museum of Western & Wildlife Art, along with many others. All are within walking distance of one another.
In addition to the museums, the area is full of shops and restaurants, many of which have lovely shady patios, ideal for lunch or dinner. Walk towards the water past South Straub Park, and you'll come across the St. Pete Pier to your left and Demens Landing Park to your right.
The area is roughly defined as a long rectangle running from Beach Street/1st Street South to 3rd Street and 7th Avenue North and 7th Avenue South.
9. Imagine Museum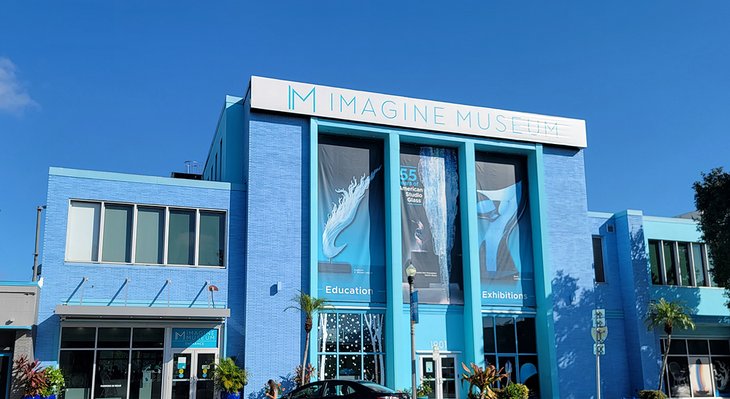 The Imagine Museum is one of the top museums in the United States for art created out of glass. The museum is the proud home of the extensive Trish Joy Collection of over 1,500 pieces, 500 of which are on display at any point in time. In addition, you'll find other interesting collections, including the spectacular 1,000 Buddha installation.
One of the best ways to experience the museum is to take one of the three free tours included with your admission. The first of the three tours is titled Journey of the Imagination. It is a fascinating multimedia and augmented reality experience.
The second tour is the Introduction to Studio Glass, and details the development of this art form starting in the 1960s.
10. Museum of Fine Arts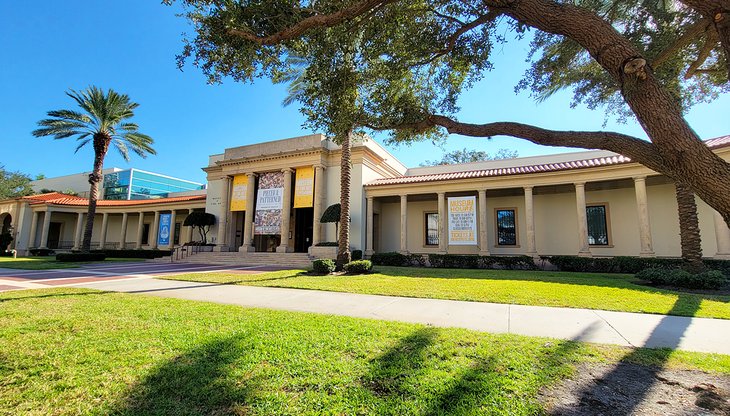 St. Petersburg's Museum of Fine Arts is considered the premiere art museum in the Tampa Bay area, home to over 20,000 works of art that span 5,000 years of human creativity.
The collection includes Greek, Roman, and Asian antiquities, African art, ancient art from the Americas, and European art. Among the better-known artists featured here are Monet, Rodin, and O'Keefe, and the museum hosts traveling exhibits and temporary galleries.
Collections also include a large photography collection, a gallery of glass art, and a sculpture garden. Docent-led tours are available for full museum tours, and visitors can request tours that focus on the areas that interest them most.
11. Enjoy Some Nature at the Boyd Hill Nature Preserve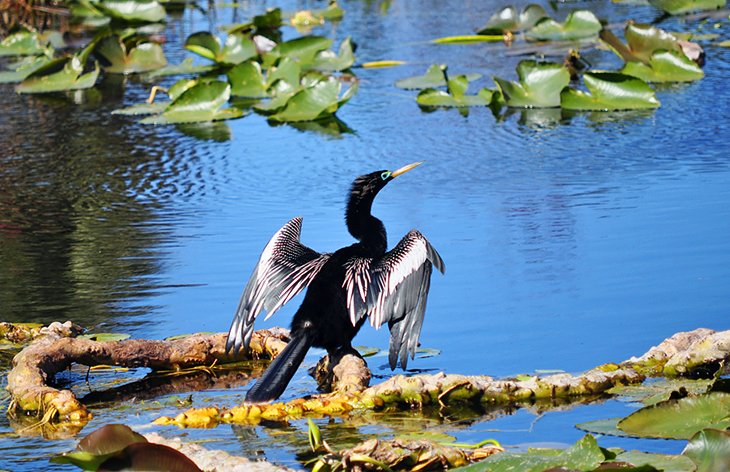 This lovely park is a beautiful retreat for those looking for a little nature. The park features six miles of walking trails and boardwalks that explore the area's varied ecosystems, including swamp woodlands and a willow marsh.
The park is also part of the Great Florida Birding Trail and home to the Birds of Prey Aviary, and rangers provide guided tours, which often spot turtles and other wildlife. The park also offers nature camps and picnic facilities and has a playground, picnic areas, and shelters.
A great way to explore the park is to take one of the tram tours. For a modest fee (in addition to your park admission) you'll cover far more of the park in a shorter period of time and learn about the flora and fauna from an expert.
Also on site is a gift shop, and the park hosts annual nature events like a butterfly count conducted by the North American Butterfly Association.
12. Drive the Sunshine Skyway Bridge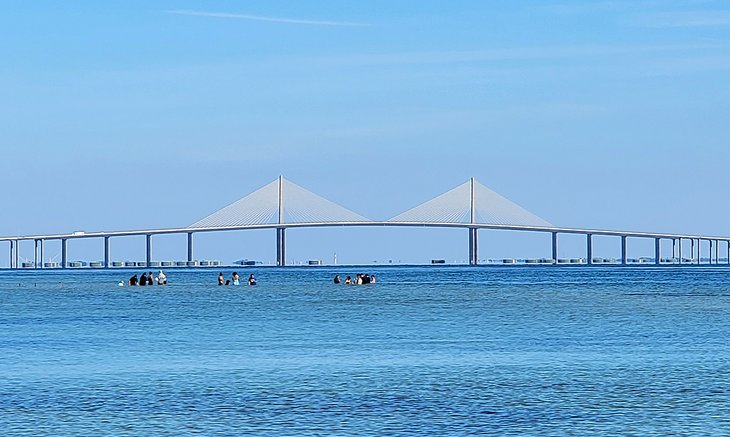 Located on I 275, the Sunshine Skyway Bridge crosses the water at the entrance to Tampa Bay. This spectacular bridge is impressive from a distance but driving across it offers a unique perspective. Stretching 12 miles in total, a little more than four miles of the bridge rises high above the ocean, allowing for large vessels to pass below.
Two main pillars tower above the road, and the high points add some eye-catching drama to the bridge. It took five years to build, and is now considered one of the world's most beautiful bridges. Views of the bridge are particularly beautiful at night when it is lit up.
If the wind is blowing, pull off at the northern Skyway Rest Exit and check out the kiteboarders racing across the water under their colorful kites.
13. Run, Walk, or Cycle the Pinellas Trail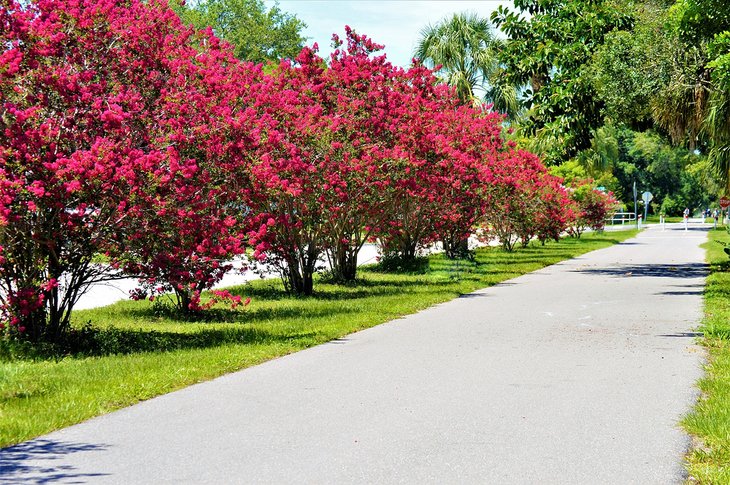 The Fred Marquis Pinellas Trail, created along an abandoned railroad corridor, is a 37-mile-long park and recreation trail, running from the downtown waterfront of St. Petersburg to Tarpon Springs.
This multi-use trail is enjoyed by walkers, runners, cyclists, and skaters, and features a number of shops, restaurants, and cafes along the route. To help visitors navigate, nine sculptures mark the various communities through which the trail passes.
One of the lovely areas along the trail is Dunedin, a quaint town that has preserved its village-like atmosphere. It began as a seaport and trading center, and is best known today as the spring training camp for the Toronto Blue Jays.
Honeymoon Island State Recreation Area and Caladesi Island State Park are located just off the coast of Dunedin and offer opportunities for both nature and water sports enthusiasts.
14. Weedon Island Preserve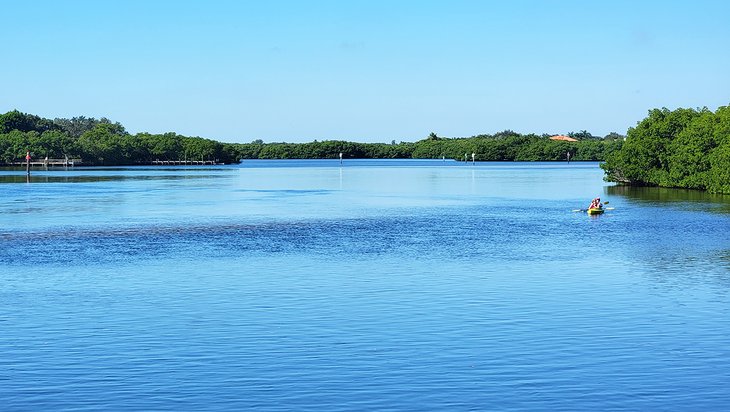 The Weedon Island Preserve covers over 3,000 acres in north St. Petersburg on the shores of Tampa Bay and can be explored on foot via nearly five miles of paths and boardwalks, and by water on designated paddling trails along the waterways.
A great place to start is the Weedon Island Preserve Cultural and Natural History Center, which houses a variety of exhibits and resources. This is a free attraction, and visitors will learn about the area's ecosystems, habitats, plants, and animals, and how humans have interacted with nature here over thousands of years. From the center, you can walk out on scenic trails.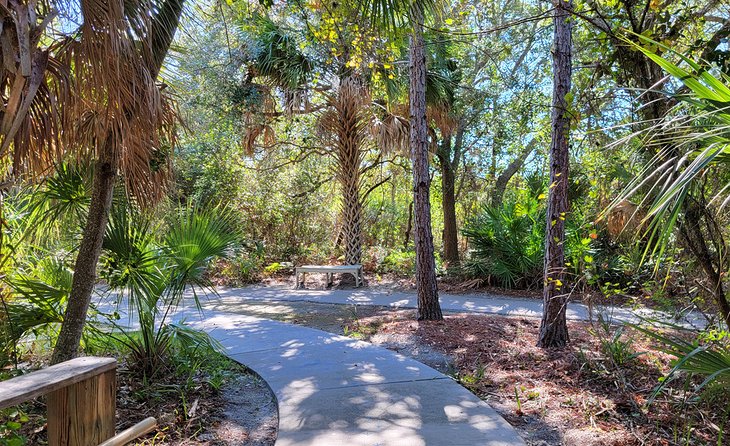 If you are interested in paddling or fishing, head to the boat launch area. You can set off from here, and the water is quite shallow in areas. People come here to kayak or stand up paddleboard; kayak rentals are available nearby. Next to the launch is a dock where people come to fish.
15. Great Explorations Children's Museum
The Great Explorations Children's Museum is an excellent place go on a rainy day, providing a variety of educational activities and fun things to do for younger kids. Children can explore and climb on an ocean-themed play structure, Longo's Cove, or dig in the sand in a beach-themed play area.
Young engineers can build using an assortment of materials provided at the "Build It" tables or stack giant soft blocks to create kid-size structures. Kids can try being a grown-up in the kid-size supermarket, help a sick puppy get better at the veterinarian's office, make "pizza" at the local shop, and learn about safety while exploring the firehouse.
16. Clearwater Marine Aquarium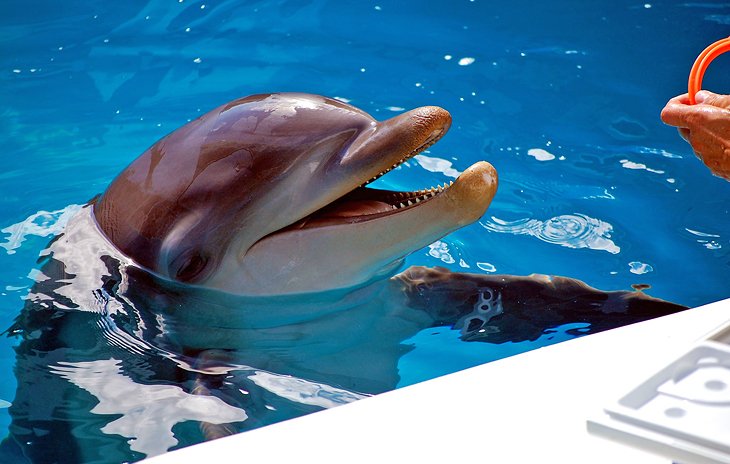 Clearwater Marine Aquarium is best known as home to film dolphins Winter and Hope who inspired and starred in the Dolphin Tale movies. Among other residents are sea turtles, otters, pelicans, sharks, and stingrays, as well as an assortment of other fish.
The aquarium has regular shows, which are part of general admission, as well as special tours and activities you can choose as add-ons. One of the most popular is a behind-the-scenes tour, which allows you to see rescued and recovering animals awaiting return to their ocean homes and learn about what it takes to care for these beautiful creatures.
17. Visit John's Pass Village & Boardwalk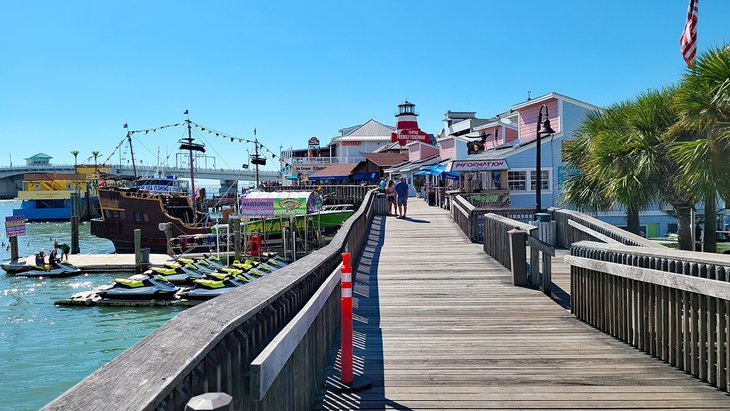 Tourist trap or fun place to go shopping and hang out; the jury hasn't made a final determination on this popular attraction. If it's a so-so day or you've had enough culture or beach and are looking for something different, swing by John's Pass. You'll find a boardwalk lined by restaurants with good views over the water and constant boat traffic.
18. Take a Drive to Clearwater Beach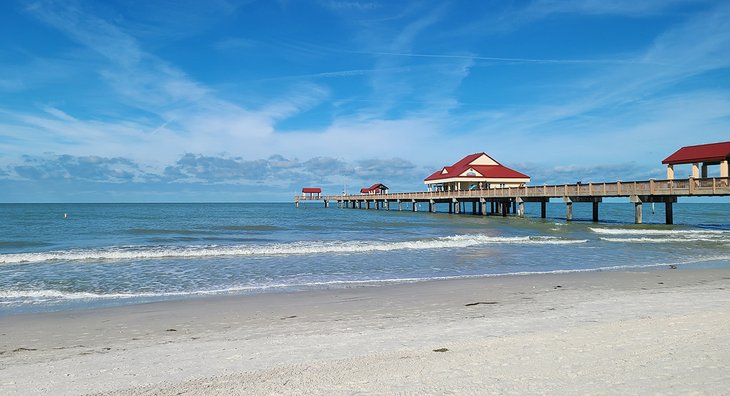 Clearwater Beach is often rated as one of the top beaches in Florida, and even the United States. Miles of pristine white sand attracts tourists and local sun-seekers, and it's all just a 40-minute drive from St. Petersburg. A number of Clearwater's top resorts look over this beautiful beach.
The Beachwalk, Clearwater Beach's seaside promenade, stretches along the sand and is lined with souvenir shops, restaurants, and other attractions. Another popular spot is Pier 60, a 1,080-foot fishing pier with numerous amenities, including a large bait and tackle shop, which provides rental equipment to tourists.
Family attractions include a huge beach playground and nightly sunset celebrations with entertainment and vendors
19. Sand Key Park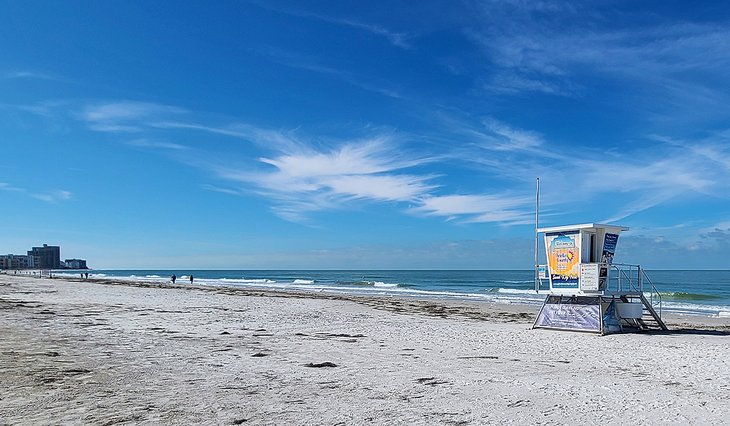 Sand Key Park is located on the barrier island of the same name, and is home to both a beautiful beach and a diverse nature area, if you are visiting Clearwater, it's worth a stop.
The park is part of an ongoing effort to create an artificial reef in the Gulf of Mexico, and also works closely with Clearwater Aquarium to ensure the safety of the sea turtles and their hatchlings.
In addition to its walking trails, Sand Key Park is ideal for bird-watching, where heron, roseate spoonbill, great horned owl, anhinga, and common moorhen nest and feed in the salt marsh.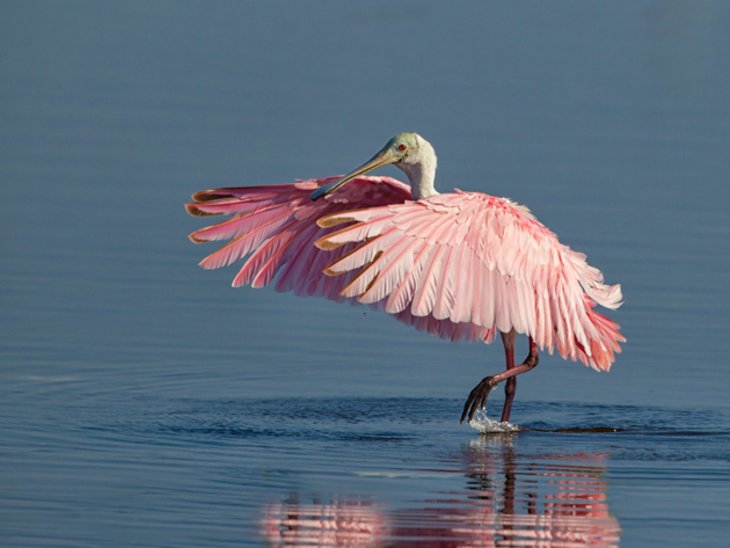 The park's beach area offers a good range of amenities, including lifeguards during the summer months, concessions, and bath houses. Plenty of rentals are available, so you don't need to lug your own - you can get everything from umbrellas and cabanas to bicycles and kayaks. This beach is also one of the least expensive things to do around St. Petersburg, with only a minimal parking fee.
Where to Stay in St. Petersburg for Sightseeing
Tips and Tours: How to Make the Most of Your Visit to St. Petersburg and Clearwater
More Related Articles on PlanetWare.com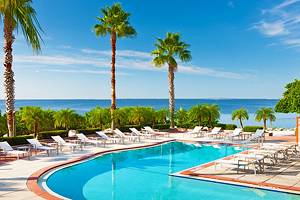 Family Fun in Tampa: Tampa sits about 45 minutes from St. Petersburg and can be reached via either of two bridges, which span Tampa Bay from one city to the other. Tampa's most popular tourist attractions include Busch Gardens and several other wildlife-focused parks, as well as good museums for families, a historic district, and the Franklin Street pedestrian center. Like many other cities on Florida's Gulf Coast, Tampa is home to several excellent resorts.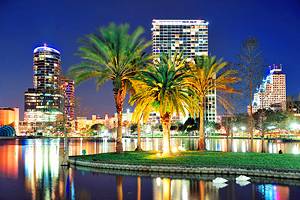 Orlando Getaway: While Clearwater Beach is a great day trip from Orlando, tourists staying here can just as easily head inland for a day in the nation's theme park capital. The city of Orlando is home to top family amusement parks like Walt Disney World and Universal Orlando, and also close to the Kennedy Space Center at Cape Canaveral.