6 Best Beaches in Tarpon Springs, FL
Tarpon Springs, a small town in South Florida, is known for its famous Sponge Docks, but a little known secret is that Tarpon Springs also has an excellent selection of beaches.
Beaches are located in town and just offshore. Some front the Gulf of Mexico, and others are found along large rivers. You'll generally find that the beaches have soft, white sand and very good amenities for a fun day at the beach. These include picnic tables, barbecues, showers, and lifeguards (in season) to keep an eye on all those splashing about.
Those in the know, and watching their wallets, find that Tarpon Springs is a low-key, affordable vacation spot. The city is well positioned. Only 45 minutes away are the fun family theme parks of Tampa, along with the cultural institutions and attractions of St. Petersburg.
Find the top stretches of sand with our list of the best beaches in Tarpon Springs.
1. Howard Park Beach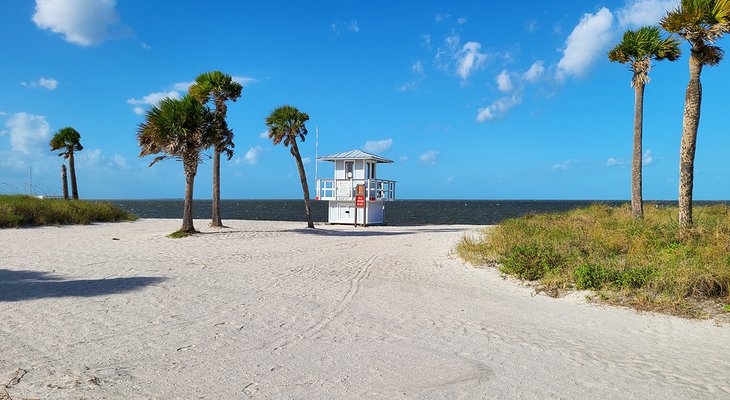 The best beach in Tarpon Springs is Howard Park Beach. Set just offshore at the end of a one-mile-long causeway, this lovely beach is one of the best beaches in the entire north Pinellas county area. Nearly two million people visit nearby Fred Howard Park; many of them making Howard Park Beach, located within the park, their main destination.
However, the popularity does not diminish the visitor experience. A wide, long stretch of white sand is backed by medium-sized palm trees, giving the place a rather idyllic feel. You'll rarely have trouble finding a spot to set up for your beach day, and with the parking lot only a short stroll away, you can bring as much gear as you want.
The water is shallow and warm, just perfect for swimming, splashing, and lazing about. Families with small children will find the attentive lifeguards an added bonus. If you can draw your eyes from your latest bestseller as you lounge in your beach chair, you may be lucky enough to spot a pod of dolphins swimming along just offshore. Depending on the season, you may also see the large and gentle manatees doing a bit of grazing.
Kayaking and canoeing are also popular pastimes at Howard Park Beach. You can paddle offshore from the main beach or plan a route out in the shallow water near the causeway. A boat launch is available, along with rental equipment if you don't have your own.
Address: 1700 Sunset Drive, Tarpon Springs, Florida
Official site: https://www.pinellascounty.org/park/06_howard.htm
2. Sunset Beach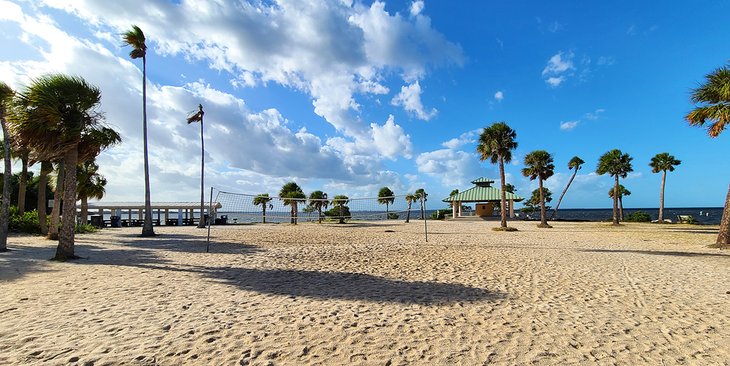 As the name implies, Sunset Beach is one of the best places to catch the sunset in Tarpon Springs. A small point of land juts out into the Gulf of Mexico, and it's here that you'll find a small, quiet beach with exceptional facilities that many locals prefer over Howard Park Beach.
The sand is white and spread out over a small but compact area. One of the many great things about Sunset Beach is that the picnic facilities are right near the water, making it easy to have a beach barbecue just a few steps from your towel.
Many weekends, when the weather is nice, a decent game of volleyball takes place on the sand courts. Most of the time the players are keen to welcome new participants. If the winds are up, grab your phone and snap some colorful shots of the kiteboarders racing across the flats towards Fred Howard Park.
3. Anclote River Park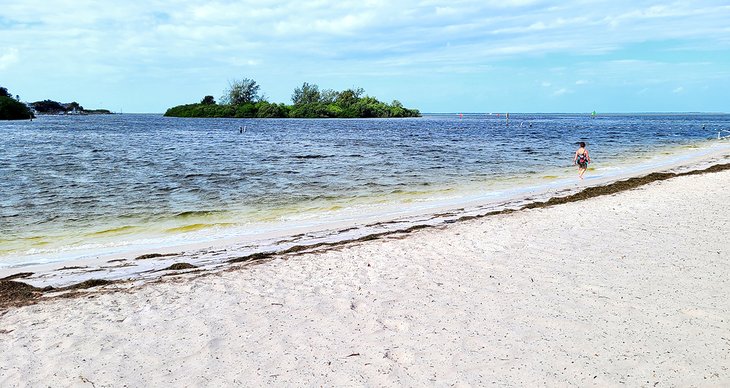 Anclote River Park has a small beach that, unlike other Tarpon Springs beaches, faces the Anclote River, not the Gulf of Mexico. One of the benefits of this orientation is that on windy and rough days on the Gulf, the waters here remain calm and manageable. The second benefit is that the river water tends to be warmer than the water in the Gulf, making it much easier to get into (and stay!)
The swimming area, roughly 300 feet long, is roped off to ensure you don't go out too far. No lifeguards are present from May to the end of August, but even if you come outside at these times, the area is fairly small, so keeping an eye on young swimmers is generally pretty easy. The white sand never gets too hot in the blazing Florida sun, and a few palms and other leafy trees offer shade should you need it.
Located at the back of the beach is a fantastic picnic shelter compete with tables and BBQs. It makes for an ideal spot for dad to cook up a midday feast, while the rest of the family enjoys the beach. If the beach wanes in its appeal to the younger set, two playgrounds are located nearby.
4. Honeymoon Island State Park Beach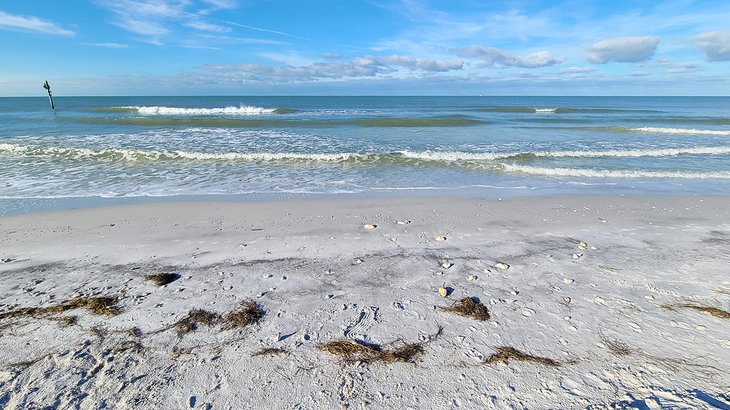 If you don't mind a bit of a drive, make the 30-minute trip out to Honeymoon Island to enjoy the beautiful soft, white sand. Once slated for a massive development, this offshore barrier island was saved by local do-gooders and today is one of the best beaches in Florida.
The beach here is substantially larger than anything you'll find in Tarpon Springs. Extending for four miles, it's a beach walker's paradise. The sand is soft and white, lapped by the warm, clear waters of the Gulf of Mexico.
Securing a beach spot is never an issue; massive parking lots are just steps from the sand. Although the large parking lots may give you pause about how many people will be at the beach, don't worry. Honeymoon Island's beaches are rarely crowded; even on the busiest of days, you'll always find space.
When you first arrive in the park, you may be tempted to pull into the first parking lot for Main Beach. Resist this temptation and keep going until you reach the far superior North Beach. The beaches along Florida's Gulf Coast are always changing, and recent events have left Main Beach badly eroded.
Back from the beach, you'll find restrooms and showers. Picnic tables are not located near the beach, they are over by the sand volleyball courts and playground structures.
Address: 1 Causeway Blvd, Dunedin, Florida
Official site: https://www.floridastateparks.org/honeymoonisland
5. Caladesi State Park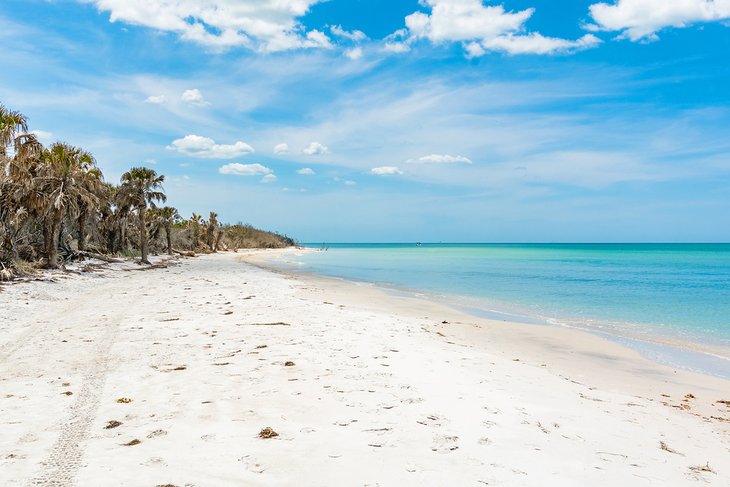 For a beach day that's completely different than what you are probably used to, consider Caladesi State Park. This beach destination is as close to a deserted palm island as you'll get in South Florida. It's quite an idyllic spot, with shallow, clear water lapping at the shoreline while small cabbage palm trees sway gently in the wind.
Accessible only by private boat or via a public ferry leaving from Honeymoon Island State Park, this is the place to come if you want to enjoy the beach with few others around. The island remains untouched in many ways, and the natural environment is unique and wonderful to explore.
Grab your hat and walking shoes (or go barefoot) and walk along the three miles of Caladesi's main beach heading north. After a while, you'll find the beach widens and ultimately ends at Hurricane Pass, with views across to Honeymoon Island State Park. For those looking for a bit less activity, just wander out to the beach over the boardwalk and set up on the powder-soft, white sand.
Pack a picnic lunch and bring it with you, or grab a bite at the restaurant at the marina, where you can also rent beach gear and kayaks.
The ferry from Honeymoon Island leaves every half hour to Caladesi Island; the trip takes about 20 minutes.
Official site: https://www.floridastateparks.org/parks-and-trails/caladesi-island-state-park
6. Anclote Key Preserve State Park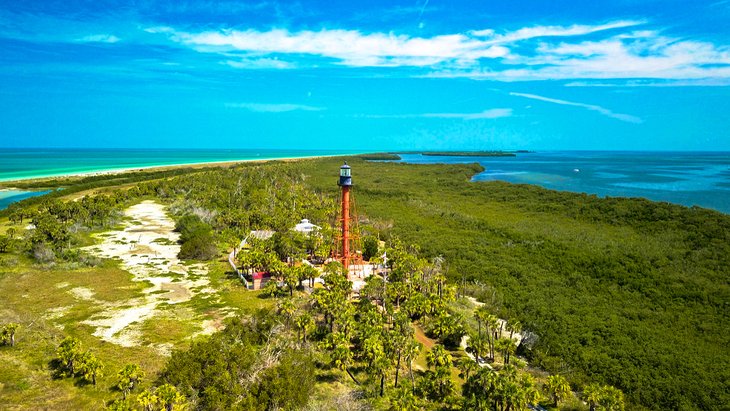 If the semi-deserted Caladesi Island State Park and its beaches are too busy for you, and you want something even more remote and untouched, head to the 403-acre Anclote Key State Park Reserve. Located three miles off the coast from Tarpon Springs, this special place is a beach lover's paradise.
Pristine white-sand beaches run along the Gulf Coast for just under four miles, and shelling here is quite good. Walk a bit from the ferry docks, and you'll probably only have to share the beach with a few Oystercatchers going about their daily business.
Swimming here is spectacular, with shallow water and soft sand that makes you want to linger in the warm, crystal-clear waters. Depending on the tides, small offshore sandbars appear and are a perfect spot to lay out and soak up the sun. If you can pull yourself off the beach, take a stroll out to the historic lighthouse dating from 1887.
It's easy to have a cookout here. Picnic tables and BBQs are available right near the beach. If you are truly adventuresome, try catching a local sea trout and cook it up for lunch.
Imagine that your day at the beach doesn't need to end at sunset. On Anclote Key Preserve State Park, primitive camping is available at the north end of the key. Spend all day on the beach walking, swimming, and having a good time, and then watch the sun set into the Gulf of Mexico from your beach campsite. Sleep out under the stars, and wake to the sound of waves washing gently ashore with a coffee in your hand.
Official site: https://www.floridastateparks.org/Anclote-Key
Tarpon Springs, FL - Climate Chart
Average minimum and maximum temperatures for Tarpon Springs, FL in °C
J
F
M
A
M
J
J
A
S
O
N
D

22

10

23

11

25

13

27

16

31

19

32

22

33

23

33

23

32

22

29

18

26

14

23

11

PlanetWare.com
Average monthly precipitation totals for Tarpon Springs, FL in mm.

81

80

98

50

77

147

180

215

184

85

60

76