12 Best Things to Do in Tarpon Springs, FL
Tarpon Springs is one of those places that many people visit only on a day trip, most likely to see the Sponge Docks. However, this small city of 25,000 people has more to offer than just sponges. Expansive city parks, fantastic offshore beaches, a pleasant main street, and a historical church are just some of the things to see and do.
Located a short distance north of Dunedin and 45 minutes to the theme parks and fantastic dining of Tampa, Tarpon Springs is an affordable and decent place to base yourself in South Florida.
Plan your trip with our list of tourist attractions and things to do in Tarpon Springs.
1. Sponge Docks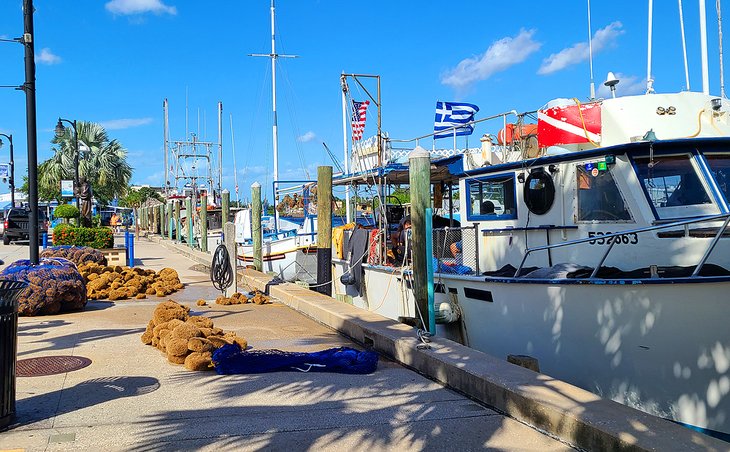 Tarpon Springs' sponge docks, restaurants, and resorts have been in operation for over 135 years, and it's this mix of work and play that continues to draw visitors today. If you and the family have been to all the theme parks, hit the beach, and are casting about for something fun and interesting to do, a day trip to Tarpon Springs and the Sponge Docks are in order.
Park the car at one of the many car parks (cheaper as you drive in further) along Dodecanese Boulevard and then just stroll along the wide sidewalks. Along the way, you'll pass interesting shops selling all kinds of, you guessed it, sponges. It's worth stopping in at Sponge-O-Rama to be amazed at all the incredible shapes and sizes of sponges that grow in Florida's waters.
The actual sponge docks, where if you are lucky, you'll be able to see a boat unloading a catch, are down on the right-hand side of Dodecanese Boulevard. You'll know you've come to the right spot when you see the large work of public art and the boats nearby.
It's not all about sponges here, though. It's also about the best Greek food in Florida. The original sponge divers were Greek, and it was their families that have set up restaurants to provide the workers with the taste of home. Many generations later, these restaurants are still serving up fine fare, including Greek Salads, spanakopita, and the freshest seafood.
2. Fred Howard Park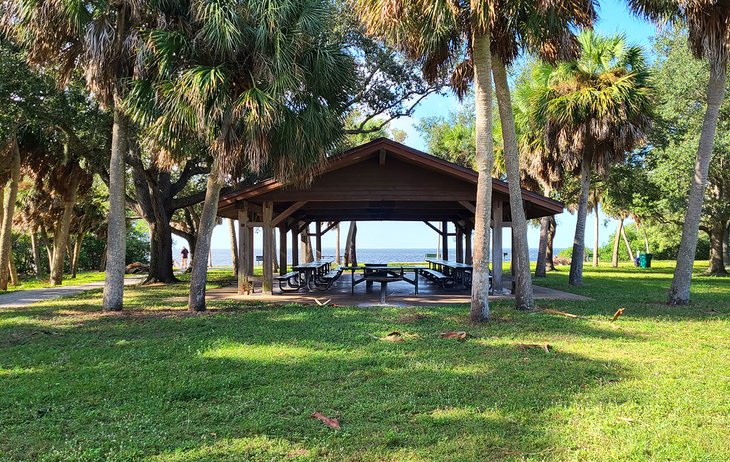 The city of Tarpon Springs has done a fine job of providing their citizens with ample opportunities to enjoy the region's best natural features. One of the best examples of this is at Fred Howard Park, named after one of the city's mayors, who was in office in 1945. Spread out over 155 acres, this park is a delightful place to escape the blazing Florida sun under towering green trees. The parks department estimates that over two million visitors use the park every year.
The park is also an ideal place for a family picnic with barbecue grills, and nine shelters are readily available. Two wonderful playgrounds are nearby, so mom and dad can relax while the kids burn off some energy on the innovative play structures. Restrooms are available throughout the park.
Fred Howard Park is connected to Howard Park Beach via a one-mile-long causeway.
Address: 1700 Sunset Drive, Tarpon Springs, Florida
Official site: https://www.pinellascounty.org/park/06_howard.htm
3. Howard Park Beach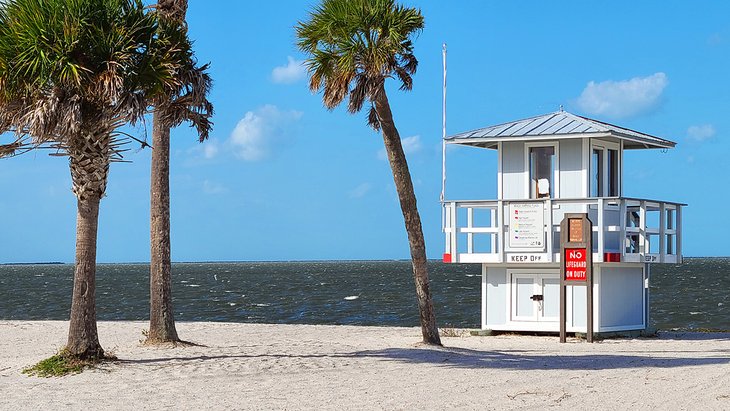 You may be forgiven for being slightly confused when you plan your trip to Howard Park Beach. Located in Fred Howard Park, the beach area is completely separate from the rest of the park and is reached via a one-mile-long causeway.
Howard Park beach is one of the best beaches near Tarpon Springs, with white sands, palm trees, and fantastic views out over the Gulf of Mexico and to nearby Sunset Beach. The beach is large, with lots of room for you to set up your beach gear on a perfect patch of sand. And, with the parking lot mere steps away from the beach, you can pretty much bring whatever you can stuff into the car.
A lifeguard tower, generally staffed most days, ensures you and your small swimmers are well taken care of. Just off the beach are restrooms and a bathhouse along with showers. Parking is a very reasonable $5 for the entire day.
Howard Park is an excellent place to go kayaking or stand up paddleboarding. You'll usually be able to find calm water on at least one side of the beach area. Many people also go ripping around on personal watercraft (i.e. Jet Skis). Bring your own gear or rent from the concession at the beach.
4. Sunset Beach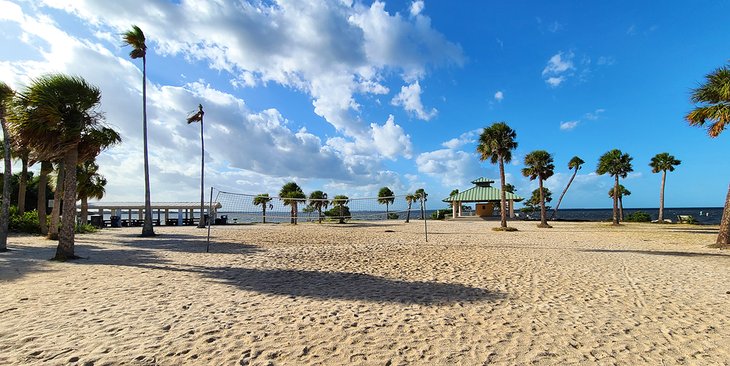 For a beach that's a bit more low key than Howard Beach, head over to Sunset Beach. Much smaller and known more to locals, who are happy to keep their beach secret, Sunset Beach has a lot going for it.
Sunset Beach is used by a more active set of beachgoers than Howard Beach. Here, you'll find that the beach has a large sand volleyball court just back from the water's edge. Most weekends, you'll find a friendly game going on. Be sure to pack a picnic lunch or a sunset dinner; you'll have no problem cooking up a feast at the excellent picnic shelter right near the water.
Sunset Beach, as the name indicates, is one of the best places to catch the sun descending into the Gulf of Mexico. With plenty of parking and a wide-open panorama, you can't help but get fantastic photos.
If the wind is up, the beach isn't really the best place to visit unless you are into the adrenaline-filled sport of kiteboarding. A small launch area is located to the right of the main beach, and the main run is out across the relatively flat water towards Howard Beach.
5. Tarpon Springs Historic Downtown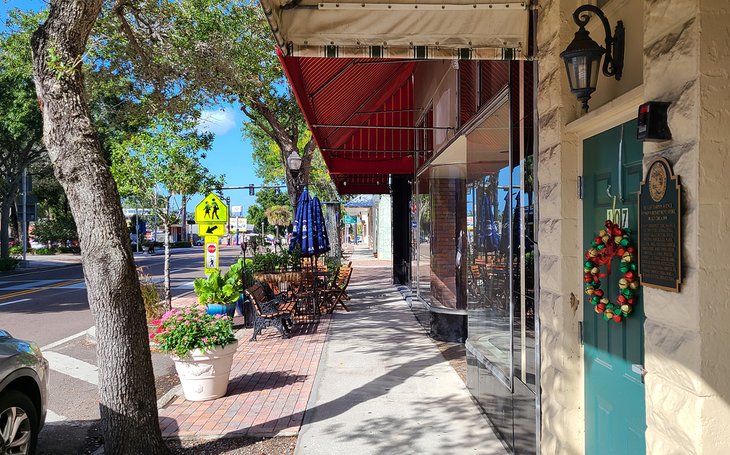 The downtown area of Tarpon Springs along East Tarpon Avenue is a delightful place to stroll, shop, and dine. Wide sidewalks underneath leafy trees pass by an interesting assortment of retail shops, restaurants, and even a historical museum that will be sure to pique your interest. Be sure to wander into Faklis' department store, operating in the same location since 1912.
If you've been sightseeing and are looking for a break, consider securing a patio table underneath a shade umbrella and grab a coffee or lunch. On-street parking is easy to find and is free of charge.
6. Replay Amusement Museum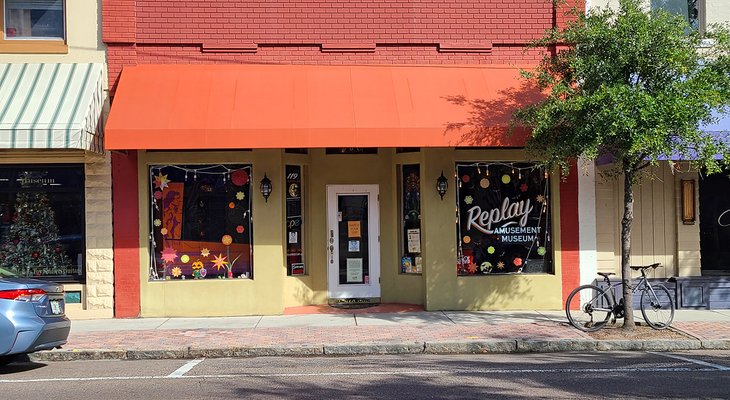 Looking for something completely different to do in Tarpon Springs that will be fun for the entire family? Head downtown and pop into the Replay Amusement Museum. Inside you'll find over 120 arcade games all set to "Free Play," meaning that you can play for as long as you want; no need to keep plugging the machine with quarters.
One admission fee is good for the entire day, so play a bit in the morning, grab a bite to eat downtown or over at the Greek restaurants at the Sponge Docks, and spend the afternoon playing some more.
Games range from the latest pinball machines right through to arcade electronic games. They even have the iconic Pac Man, Pac Woman, and Galaga games.
Address: 119 E Tarpon Ave, Tarpon Springs, Florida
Official site: https://www.replaymuseum.org/
7. St. Nicholas Greek Orthodox Cathedral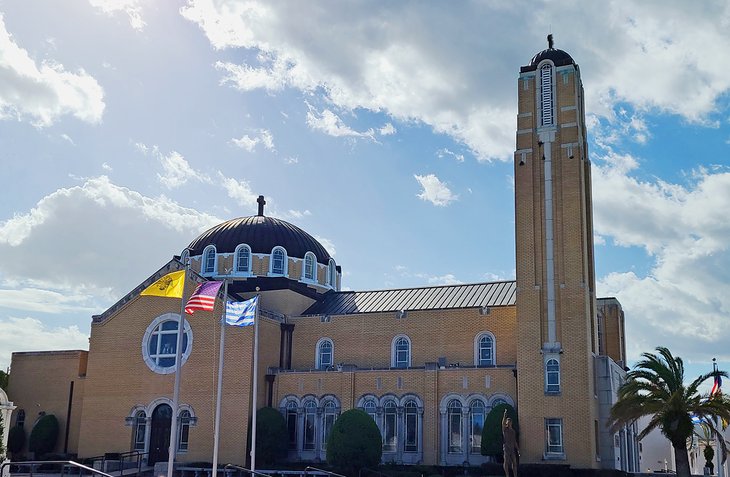 Tarpon Springs' most prominent religious institution is St. Nicholas Greek Orthodox Cathedral. Occupying almost an entire city block, this massive cathedral is a must-see when visiting the downtown area.
Step inside to see the colorful artwork that adorns almost every surface. Of special note are the 23 stained-glass windows, all hand painted by the esteemed artist Joseph V. Llorens. Look up in awe at the three massive chandeliers that the cathedral had specially built in the former Czechoslovakia.
The cathedral is considered an excellent example of Neo-Byzantine architecture.
Address: 36 N Pinellas Ave, Tarpon Springs, Florida
Official site: https://stnicholastarpon.org/
8. Anclote River Park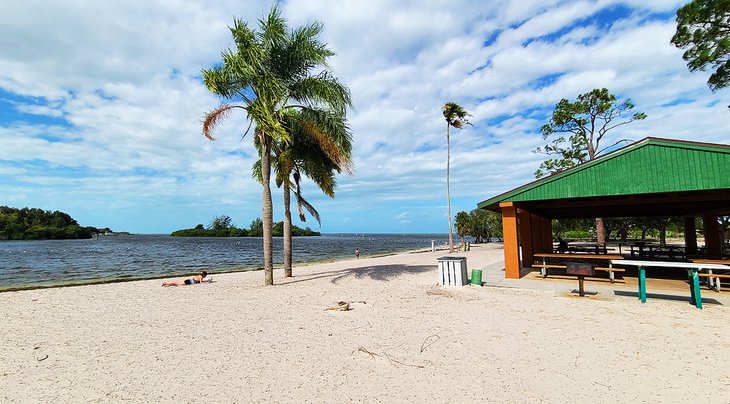 Another one of Tarpon Springs' wonderful green spaces much loved by locals and visitors alike is the 31-acre Anclote River Park. The park, located north of the city, has a great selection of amenities, including picnic sites, playground areas, and a fishing pier.
One of the most popular amenities in the park is the 300-foot-long beach fronting the Anclote River. Along with Howard Beach and Sunset Beach, it rounds out the trio of great places to access the water near Tarpon Springs. At the beach, you'll find a roped-off swimming area, generally calm conditions, and warm water, and lots of room to set up your towel or beach gear under a palm tree. Nearby is a picnic pavilion, just perfect for a beachfront BBQ. Restrooms, outdoor showers, and volleyball courts are also available.
Anclote River Park is especially popular with boaters. The well maintained boat ramp gives easy access to the Gulf of Mexico, the Anclote River, and the water-access-only Anclote Key Preserve State Park.
9. A.L. Anderson Park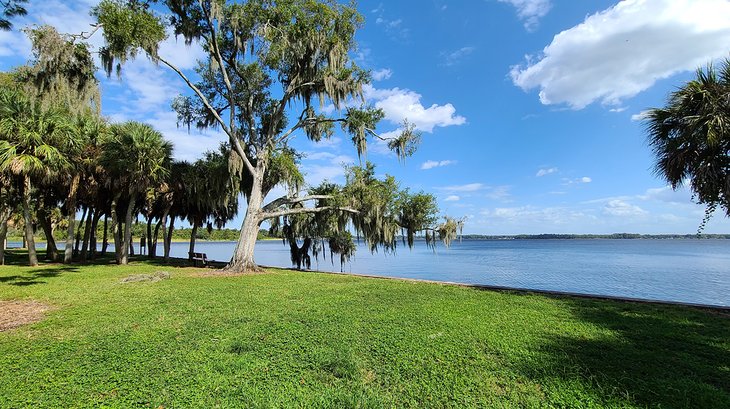 One of the most beautiful parks in Tarpon Springs is A. L. Anderson Park. Scenic roadways wind their way through the park, eventually ending up at Lake Tarpon. Unusual in its topography, the park has rolling hills that provide wonderful views out over the lake and Salmon Bay.
The park is especially noteworthy for its incredible collection of mature trees, most of which are draped with Spanish moss. Walking trails wind their way through the park, and one that is not to be missed is the elevated boardwalk passing through the Cypress trees, extending for nearly 500 yards along Salmon Bay.
A. L. Anderson Park is a favorite of local boaters. The launch ramp (fee charged) provides excellent access to the lake and all the bass lurking below the waters. The park is also perfect for families with small children — the playgrounds are modern and have a fun assortment of structures.
10. Tarpon Springs Aquarium and Animal Sanctuary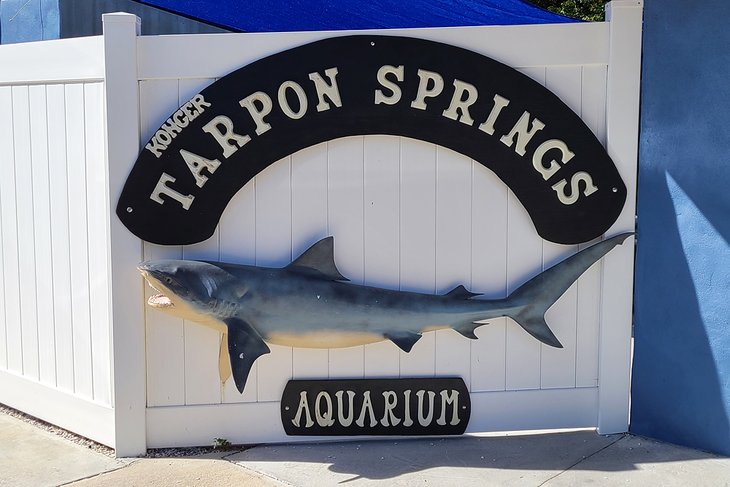 A fun and interactive family thing to do, the Tarpon Springs Aquarium and Animal Sanctuary, is a small facility that lets you get up close and personal with their resident animals. This family-run business has been helping and rehabbing animals for over 30 years.
A visit here allows you to get up close and personal with a wide variety of animals, including sharks, alligators, stingrays, and turtles. You'll have the option to hold the animals and even feed them should you choose to do so.
In addition to the animal interaction options, the Tarpon Springs Aquarium and Animal Sanctuary hosts animal performance shows on the hour starting at 11am.
Address: 1722 N Pinellas Ave, Tarpon Springs, Florida
Official site: https://www.tarponspringsaquarium.com/
11. Brooker Creek Preserve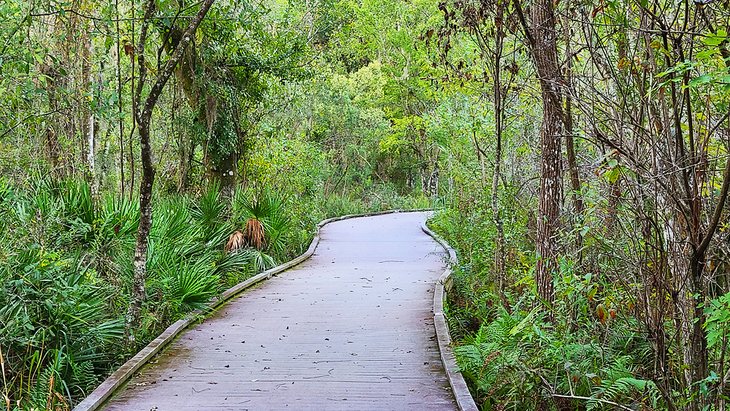 Over the years, much of Florida has been bulldozed into shopping malls, condos, and private homes. Fortunately the forward thinkers at Pinellas County and the city of Tarpon Springs set aside 8,700 acres of land to be preserved in its natural state.
This fantastic area is home to a wide variety of animals, birds, and wetland wildlife. An extensive network of trails, many of which are boardwalks, are perfect for getting out into nature by lacing up your walking shoes or saddling up your horse.
During your visit, be sure to stop in at the Brooker Creek Preserve Environmental Education Center. Perfect for all ages, the center is home to an excellent assortment of displays and dioramas.
The educational component continues along the trails, where you'll find interpretive trail signs providing insight into the natural ecosystem that surrounds you. For a deeper understanding consider signing up for a guided hike, available by reservation only.
Admission to the Brooker Creek Preserve is free.
Address: 3940 Keystone Road Tarpon Springs, Florida
Official site: http://www.brookercreekpreserve.org/
12. Craig Park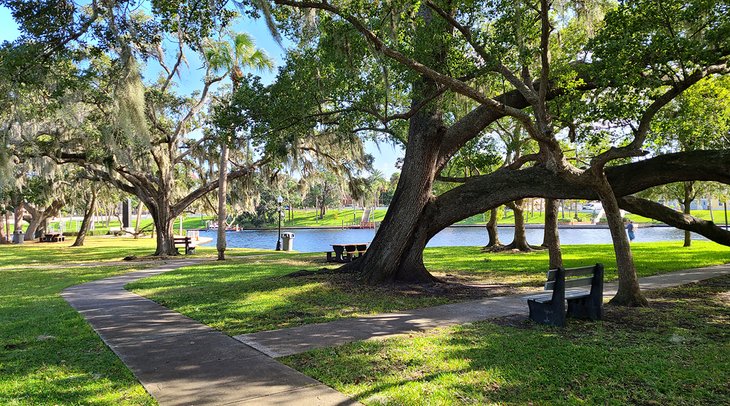 If you are renting a home in Tarpon Springs near Whitcomb Bayou, Craig Park should be on your list of places to visit. Although the park is relatively small, it hits above its weight on the scenery and amenities scales.
Located on Tarpon Springs Bayou, the park has lovely old trees draped with Spanish moss, and pleasant walking trails along the shoreline. Tennis and pickleball players should check out the lighted courts, while families with small children will enjoy the innovative playgrounds.
Map of Things to Do in Tarpon Springs, FL
Tarpon Springs, FL - Climate Chart
Average minimum and maximum temperatures for Tarpon Springs, FL in °C
J
F
M
A
M
J
J
A
S
O
N
D

22

10

23

11

25

13

27

16

31

19

32

22

33

23

33

23

32

22

29

18

26

14

23

11

PlanetWare.com
Average monthly precipitation totals for Tarpon Springs, FL in mm.

81

80

98

50

77

147

180

215

184

85

60

76