14 Top-Rated Things to Do in Dunedin, FL
Planning a trip to Florida and not quite sure where to go? Consider Dunedin, population 38,000, where you'll find sunny skies, warm temperatures for most of the year, and a wonderful waterfront. The city is small enough that it's easy to get around, even on foot, to see all the main attractions. Looking for a night out or to hit the theme parks? Tampa, and all it has to offer is just a short 25-mile drive south.
Although it's a hot spot for snowbirds escaping the cold, the city still manages to maintain a lively vibe, with plenty of events, shops, dining, and things to do, especially in the downtown area.
Sports fan? Dunedin is fortunate to be one of the spring training bases for the Toronto Blue Jays, and there's nothing quite like enjoying a game of baseball knowing that back in Toronto the ground is frozen and the skies are grey.
Plan your trip with our list of things to do in Dunedin, Florida.
Note: Some businesses may be temporarily closed due to recent global health and safety issues.
1. Honeymoon Island State Park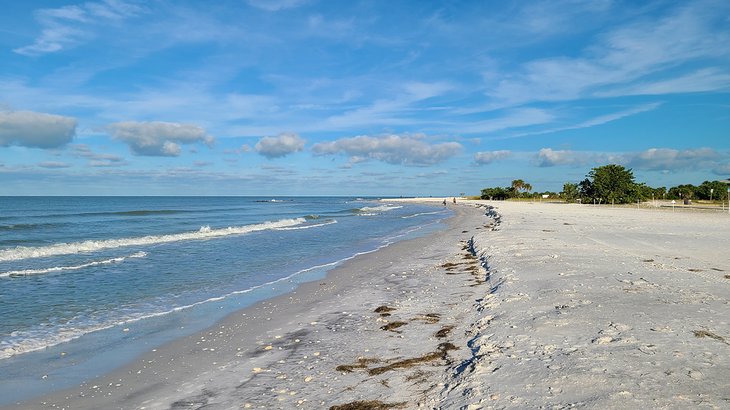 One of the best places to hit the beach while visiting Dunedin is Honeymoon Island State Park. An easy drive over a long and scenic causeway brings you to the park entrance and the start of the walking and biking trails.
The island has had many incarnations over the years, but the key year was 1969, when plans for a massive housing development were thwarted. The state has owned the island since 1974 and has allowed it to revert back to its original form while still allowing for easy access to the wonderful beaches located here.
The best beach on Honeymoon Island is North Beach. The main beach (the one you come to first as you drive in) is badly eroded and not suitable for swimming. Off the beach are wonderful walking trails, a nature center, and volleyball courts.
Traveling with your dog? Honeymoon Island's dog beach is one of the best, with lots of room to roam and even a doggie shower in the parking lot area.
2. Caladesi State Park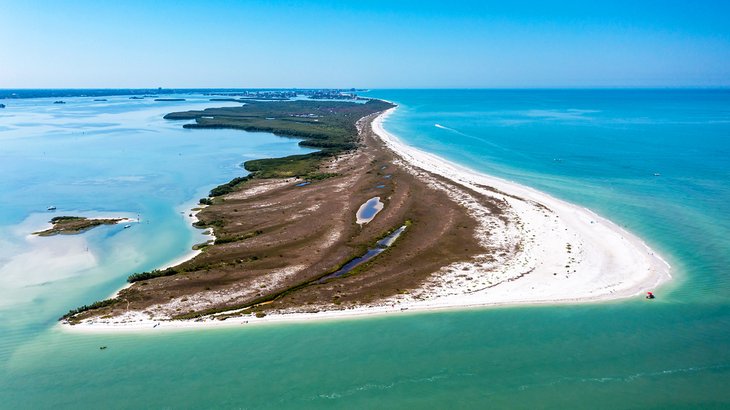 Postcard-perfect Caladesi State Park is as close to a deserted tropical island as you can get in the Dunedin area. Practically uninhabited, this island is a wonderful place to escape the crowds at the other Gulf of Mexico beaches.
Accessible only by water or a long and hot walk from Clearwater, the island has amazing beaches fronting the Gulf and mangroves facing the mainland. Jump on the ferry that leaves Honeymoon Island State Park, and in mere minutes, you'll have an island to explore, with pretty much no one else around.
Although the number of visitors is low, it doesn't mean the facilities are second rate. Here, you'll find picnic tables, barbecue grills, restrooms, showers, a 108-slip marina, and a small café.
Walk the beaches or, if you prefer, rent a kayak and paddle through the fascinating mangrove tunnels. For a bit of island lore and background, follow the trails to the historic Sharrer Homestead. New in 2022 is a three story Discover Center complete with a viewing tower.
3. Pinellas Trail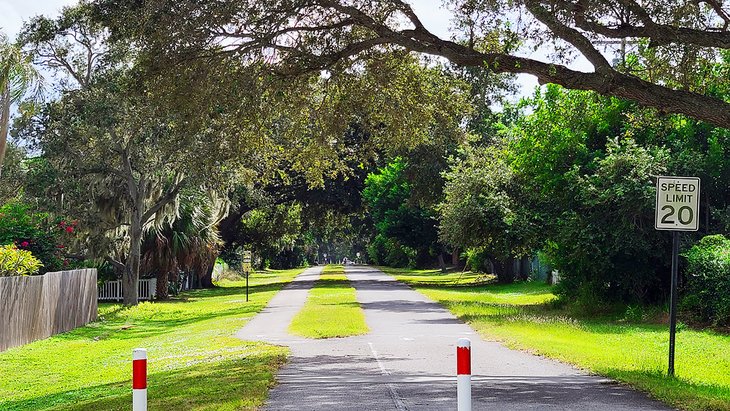 Dunedin is fortunate to have a plethora of walking trails throughout the city, and one of the best in the Pinellas Trail. The Dunedin section is part of a wider network that runs for 47 miles (with plans for further expansion) from St. Petersburg right through to Tarpon Springs.
This multi-use trail is open to walkers, inline skaters, runners, and bikers. It follows an abandoned railroad and is flat and easy, the only exception being the occasional overpass over a roadway. In fact, the Pinellas Trail passes right through downtown Dunedin, making it easy to plan a pit stop to replenish your energy levels.
4. Downtown Dunedin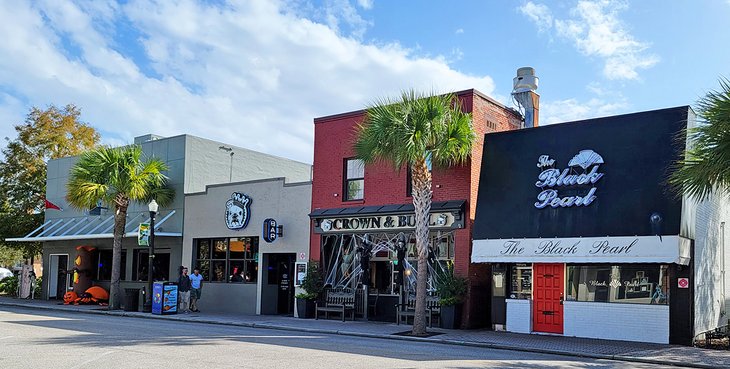 Downtown Dunedin is the beating heart of this small city. A cute main street is lined with trees shading wide sidewalks, while just back from the roadway is an eclectic mix of restaurants, shops, and a museum.
Although not a large area, the sheer variety of retail establishments will draw you in, and you may be surprised at how long and how much money you actually spend here. Interesting and photo-worthy works of public art are well worth checking out.
Parking is easy to find on any one of the side streets or at Edgewater Park.
5. Edgewater Park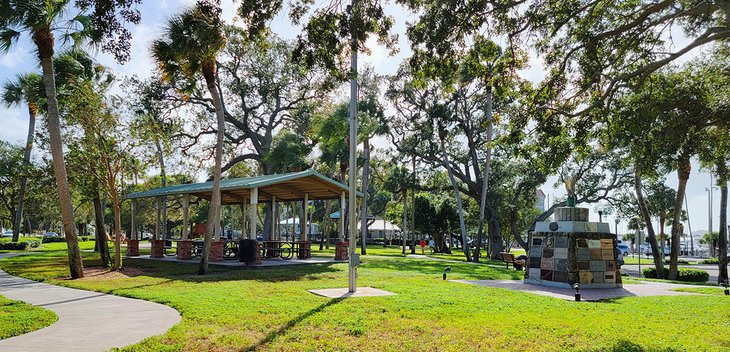 At the end of Marina Plaza is the lovely Edgewater Park. Making up most of Dunedin's downtown waterfront, this leafy green space is the perfect place to cool your heels after a day of sightseeing around the city. The extensive playground area is sure to be a hit with the smaller travelers in your group.
Wonderful views out over the sailboats bobbing at anchor greet you as you secure one of the prime benches for relaxing and zoning out. For even better views, or to see what the charter boats have landed, walk out along the short Dunedin Pier.
The park also has restrooms and picnic shelters, the latter being the perfect place to enjoy some fish and chips take out from the nearby Old Bay Café.
6. TD Baseball Stadium/Spring Training (Home of the Blue Jays)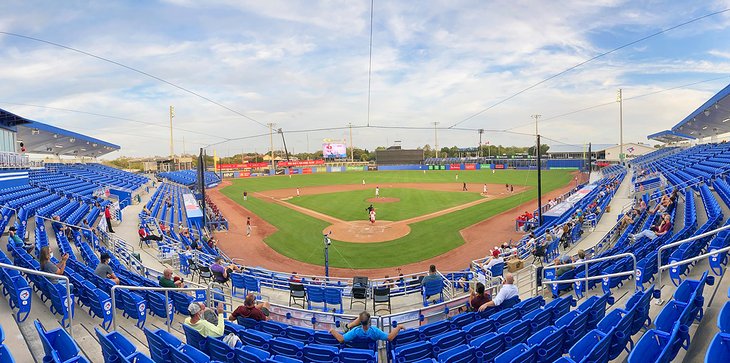 If you are down in Dunedin as part of a flock of snowbirds, and the warm weather has you thinking of the Boys of Summer (i.e. baseball), you are in luck. Dunedin is the spring training home of the Toronto Blue Jays.
Games take place at the wonderful TD Baseball Stadium, one of the best of the spring training ballparks located in Florida. Tickets to the games are affordable, and a day in the sun watching baseball is a great family thing to do in Dunedin.
Keep an eye out for special promotions. You'll be amazed at what sorts of trinkets you can accumulate, from player bobbleheads right through to team swag and even dollar hot dogs.
7. Hammock Park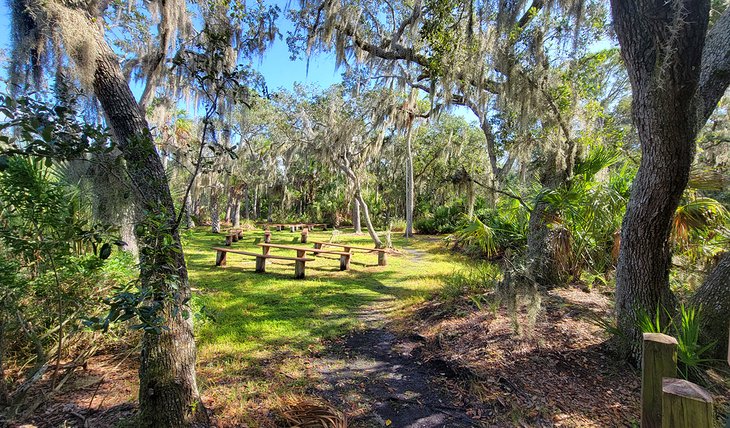 A trip to Hammock Park is like stepping into a wonderful natural world found in exotic tropical locales, except it's right in the heart of Dunedin. Home to massive trees, many of which are well over a hundred years old, the park is a 90-acre oasis of green and calm.
Hammock Park provides the perfect habitat for a variety of wildlife, including gopher tortoises and nearly 200 species of birds, both permanent and transitory, making it an important stop on the Great Florida Birding and Wildlife Trail. Other airborne creatures include well over 50 different species of butterflies, many of which can be spotted in the butterfly garden.
The park is a good place to visit for a bit of exercise. Five miles of nature trails, many of which include raised boardwalks, wind their way throughout the park. If you have small children and are looking for a place for them to play, the park has an excellent playground, nearby restrooms, and picnic tables.
8. Dunedin Downtown Market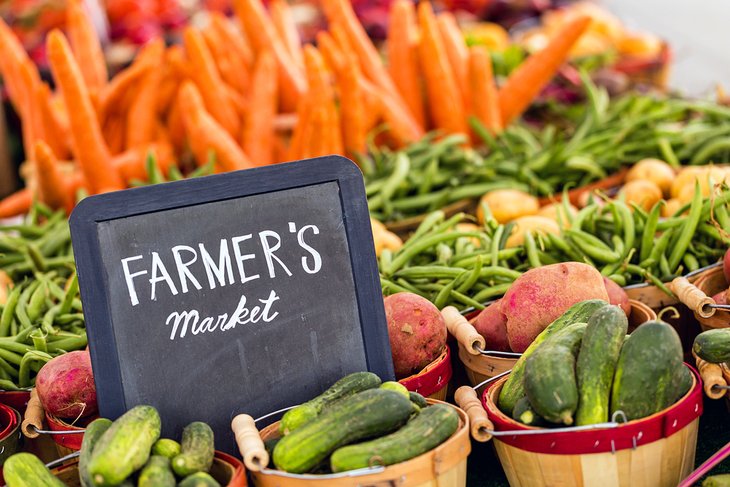 If you find yourself in Dunedin on a Friday or Saturday morning, be sure to wander over to the Downtown Market. Held in John L. Lawrence Pioneer Park, this low key event is a great way to spend part of your morning.
You'll find a fine assortment of fresh fruits, vegetables, along with home baking and other sweets, any one of which could be a good accompaniment to the cup of coffee you may have in your hand. Free musical entertainment takes place on the stage in the center of the market and provides a pleasant backdrop to the scene.
9. Penny Lane, the Ultimate Beatles Museum
Those of a certain age group will want to be sure to visit Penny Lane, the Ultimate Beatles Museum. Stuffed with memorabilia from one of the world's greatest bands, the museum has a vast and unusual collection.
Highlights of a visit might include a photo or two with a signed guitar, reading about the slightly creepy stuffed puppets of the band, and even a look at some strands of hair from the band members. If you don't know what a serape is, you will once you see the one worn by Ringo Starr.
The museum is free and is located on the second floor of the Stirling Commons.
10. Josiah Cephas Weaver Park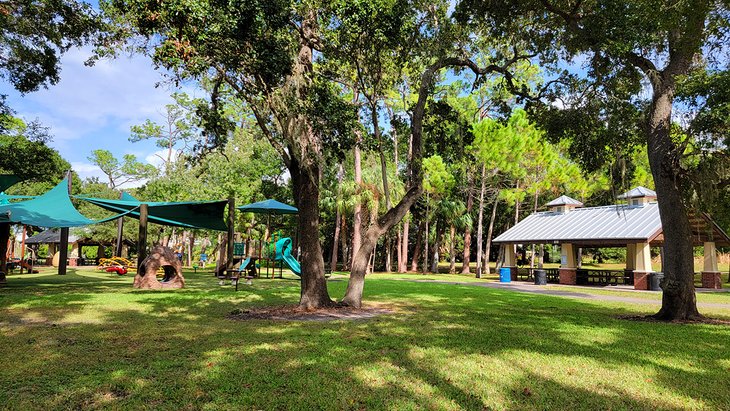 Just a short distance south of downtown is the delightful Josiah Cephas Weaver Park. Spread over both sides of Bayshore Boulevard, the park has two distinct areas: a waterfront section and an area under mature trees with large lawns.
The waterfront section is much smaller but has an amazing feature: a long pier extending out into the bay. The views from the pier out across the water to Caladesi State Park and up and down the bay are spectacular. The pier is also a popular place for fishing with local catches of cobia, grouper, and mackerel.
On the other side of the road in the larger area of the park, you'll find the Kiwanis Fit Zone, with 11 stations that will be sure to whip you into shape in no time flat. Nearby are picnic tables, restrooms, and playgrounds.
11. Highlander Park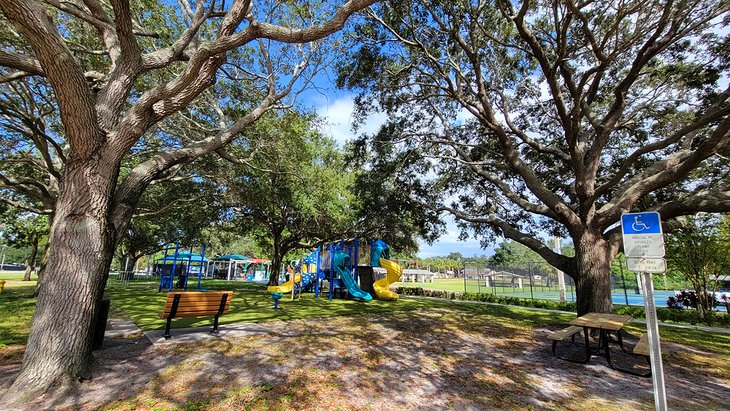 Dunedin's Highlander Park is a perfect place for an afternoon of activity. This 70-acre park has baseball diamonds, tennis courts (lit at night), and basketball courts. In addition, sand volleyball courts are nearby.
For the kids, an incredible playground with fun and interesting climbing features is also found on-site. For those warm Florida days, take a dip at the Highlander Pool or enjoy the Kiwanis Sprayground.
12. Dunedin History Museum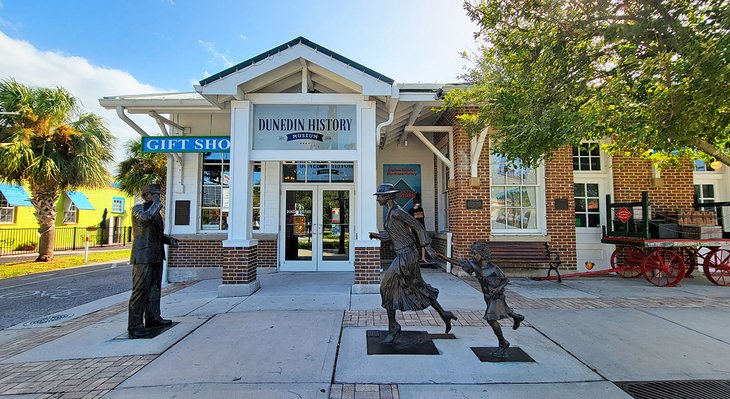 For a deep dive into the history of Dunedin and the surrounding areas, consider spending a bit of time perusing the exhibits of the Dunedin History Museum. All contained within this gem of an attraction are over 2,000 artifacts, 2,500 photographs, and permanent exhibits featuring local industries.
Exhibits not to be missed include the fascinating one dedicated to the development of the alligator tank, used extensively in WWII. Other interesting displays deal with the citrus industry and the role that railroads played in the development of Florida and Dunedin specifically.
If you are planning a trip to the aforementioned Honeymoon Island State Park or Caladesi Island State Park, check out the information provided on the ecological diversity of the parks.
Address: 349 Main Street, Dunedin, Florida
Official site: https://www.dunedinmuseum.org/
13. Clearwater Marine Aquarium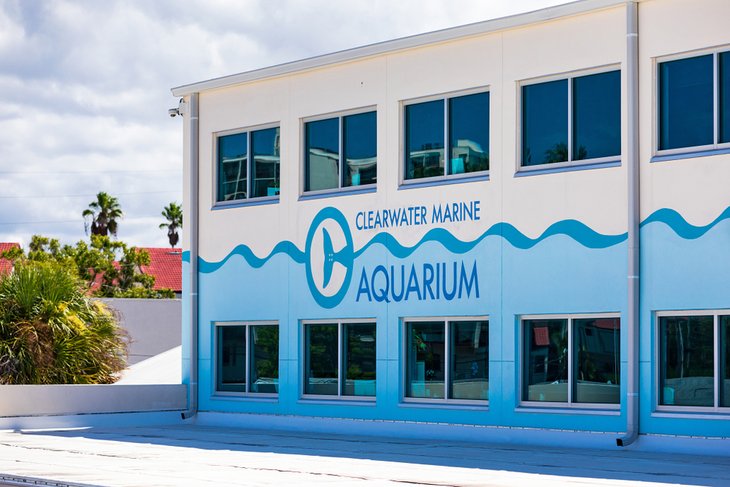 One of the best aquariums along the Gulf of Mexico, this first-class facility is home to a wide variety of marine mammals. Local inhabitants include dolphins, stingrays, otters, turtles, sharks, and a whole host of other creatures that make their life below the waves.
Located just over the Clearwater Memorial Causeway from downtown Clearwater, the aquarium is about a 20-minute drive south from Dunedin. The facility is huge, with four levels spread across the original facility and the expanded section.
Throughout the day, experts host demonstrations with resident animals that are both entertaining and informative. If you want to interact with the animals on an even closer basis, animal encounters are available for an additional fee.
Address: 249 Windward Passage Clearwater, Florida
Official site: https://www.cmaquarium.org/
14. Visit the Tarpon Springs Sponge Docks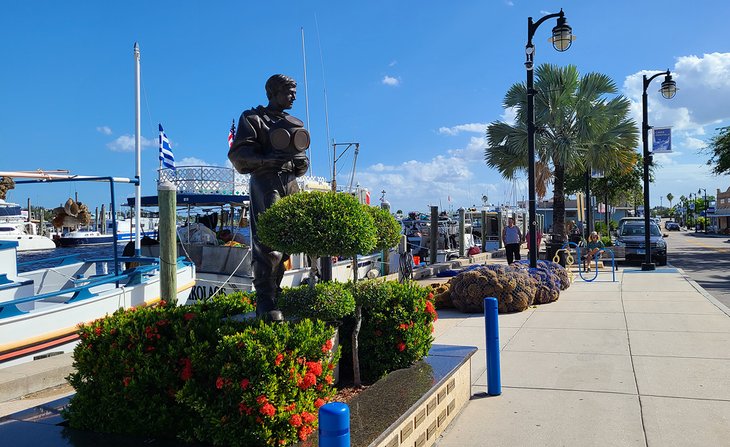 A must-do excursion when visiting Dunedin is a trip up to Tarpon Springs and the famous Sponge Docks. This lively and fun area of town is chock-full of interesting things to do and makes for a great afternoon of family fun.
Park the car at one of the public lots or take the free trolley from Dunedin and wander down the main street. Lining both sides are an eclectic mix of shops selling all manner of sponges and other sorts of things that you probably never knew you needed.
After a short distance, the actual docks themselves emerge on the right-hand side. You'll know you've found the right spot when you see the large public art installation and the boats unloading sponges.
The area has a strong Greek connection. Many of the former and current sponge harvesters originally came from Greece, and as a result, some of the best Greek food in South Florida can be found here. Grab a seat on a sunny patio and order up a tasty dish of souvlaki accompanied by a Greek salad created from Florida's freshest vegetables.