7 Best Beaches near Tampa, FL
Tampa, with its theme parks, first-class accommodation, and lively food scene is one of the most popular destinations in Florida. But, in addition to all this, it's also perfectly positioned near some of Florida's best beaches.
St. Pete's Beach is a short drive away as is Clearwater Beach; Indian Rocks; and the long, lonely stretches of soft sand at Fort Desoto Park. Take a drive up and over the spectacular Bob Graham Sunshine Parkway Bridge on your way over to Anna Maria Island, where a relaxed vibe and seven additional beaches await your towel and umbrella.
It's easy to plan a day at the beach. In most cases, parking is easy to find, access to the water is easy, and restaurants serving fine fare under patio umbrellas are a short stroll away.
Plan your sun-and-sand escape with our list of the best beaches near Tampa.
1. Fort De Soto Park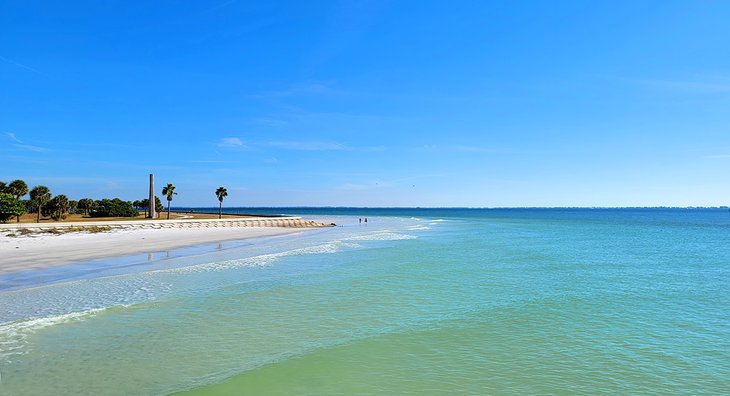 If you are looking for a couple of beaches with lots of room to roam and relatively few people, head to Fort De Soto Park. Only 40 minutes from downtown Tampa, this beach area has not only two amazing beaches but a historical fort dating from the turn of the 19th century. In addition to all that, Fort De Soto Park has two excellent fishing piers: one offering wonderful views of the Bob Graham Sunshine Skyway Bridge and the other of Anna Maria Island.
Fort De Soto Park is an excellent family beach destination with good facilities, making a beach cookout an easy endeavor. Uniquely designed covered picnic shelters provide shelter from the hot Florida sun and come complete with barbecues and picnic tables. Nearby are wide-open green spaces ideal for a game of tag football or soccer.
But we can't forget about the beaches. Two spectacular beaches are on offer here. The most popular is North Beach. Fronting onto the Gulf of Mexico, this extensive beach takes a bit of work to get to the water's edge, but once you get there, you'll be glad you made the effort. Sweeping views out to the Gulf of Mexico; crystal-clear, shallow water; and miles of beach to walk make this one of the best beaches in the area.
East Beach, also named for a point of the compass, is a more traditional beach and faces Tampa Bay. This is the place to visit if the winds are up from the north or west; on these days, you'll find it nice and calm here.
2. Anna Maria Island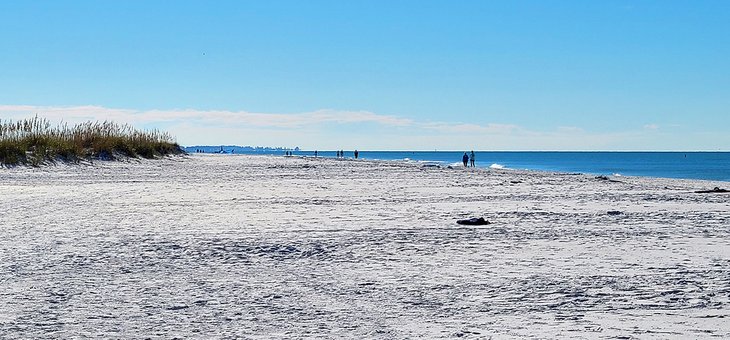 Just a one-hour scoot down Interstate 75 brings you to the wonderful beaches of Anna Maria Island and a tough decision: which beach to set up on. This funky and fun island has no less than seven great beaches, each just a little bit different, ensuring that whoever visits will likely find what they are after.
The most popular beach is Coquina Beach, and for good reason. A long ribbon of sand backed by towering Australian pine trees and excellent facilities make this beach many people's first choice. The water is warm and shallow, and with picnic tables and BBQs mere steps from the sand, it's a perfect place to visit for a day at the beach.
If you find yourself here on a Wednesday or Saturday, wander back from the beach and check out the market that operates under the trees. Vendors offer everything from beach fashions right through to fresh and prepared foods. It's a hard place to come home empty handed from!
The beach that's the easiest to get to (you basically drive into the parking lot if you don't turn off Highway 64) and that also has a lively atmosphere is Manatee Public Beach. A wide stretch of sand is backed by a popular local restaurant, where you can dine with your toes in the sand. For the active set, five volleyball courts are on offer, and it's usually pretty easy to join in a game.
If these beaches sound too busy for you, make the trek northwards on the island to Bean Point Beach. Out here, at the northern point of the island, you'll have the beach to yourself, so you can soak up the nearly 270-degree view uninterrupted.
Accommodation: Best Resorts on Anna Maria Island
3. Clearwater Beach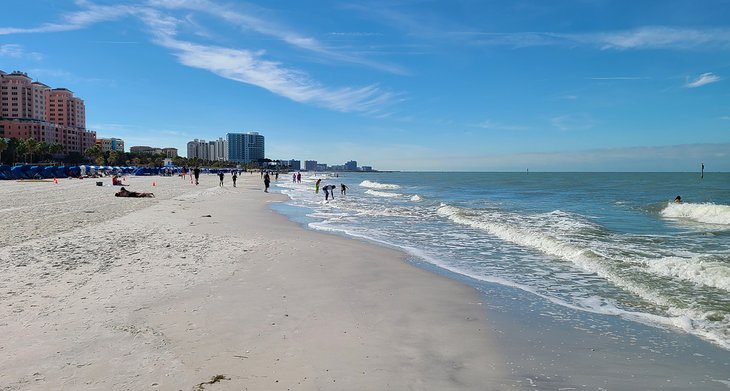 Almost a straight shot west from Tampa is Clearwater Beach. One of the busier beaches in the area, Clearwater has a great deal going for it. A three-mile stretch of powdery white sand is usually packed with beachgoers on warm, sunny days. The water is clear, warm, and shallow, making it ideal for wading out, a game of water football, or just splashing about with the kids.
Bring your own beach gear and set up at the water's edge, the walk from the parking lots is relatively short, or rent from any one of the many beach vendors offering chairs, umbrellas, and tables. One thing to bear in mind: parking is expensive ($30 and up for the day) and finding a spot at the closest lots can be a challenge if you arrive later in the day.
Few beaches can compare with Clearwater, with its plethora of attractions on and off the beach. All kinds of restaurants, many with outdoor and even rooftop patios, shops, and other places to spend your money tempt you off the sandy shoreline.
While visiting, don't forget to take a stroll out on the Clearwater Pier, known locally as Pier 60. It's nearly 1,100 feet long and one of the best places to get a panoramic view back towards the beach and out towards the Gulf of Mexico. In the evening, Pier 60 is the "in" place to be for incredible sunset viewing, music, and vendors selling all kinds of arts and crafts along with everything you never knew you needed.
You may enjoy Clearwater Beach so much that you may want to spend a night or two of your Tampa trip at one of the excellent luxury resorts located right on the beach.
4. Sand Key Park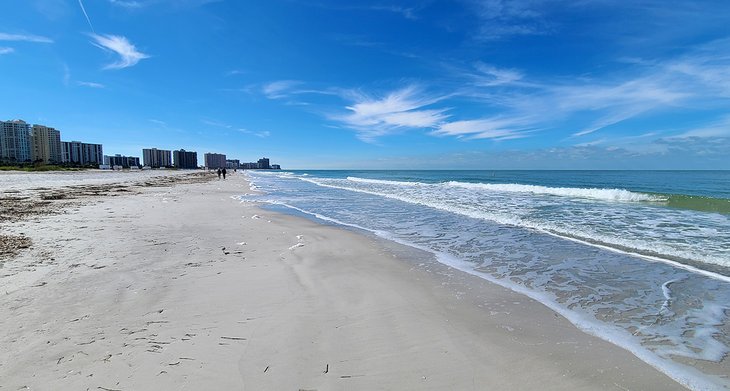 If Clearwater sounds a bit too busy or too expensive or just plain not your scene, Sand Key might be a good alternative. This low-key beach is rarely crowded and is located about 500 yards due south of the main Clearwater Beach. Here, you'll find wide-open spaces, lifeguards, and that powdery soft sand that Florida's Gulf Beaches are famous for.
Parking is rarely an issue. Massive lots are located just steps from the beach, and with the daily parking fee at a very affordable $5, you can keep more money in your pocket.
Sand Key has long been a favorite with beach walkers. Point your toes south, and you can walk all the way to Johns Pass, a distance of nearly 15 miles.
A small concession stand rents chairs and umbrellas and serves up snacks and cold drinks. If you find you've had enough sun and sand, wander back through the park and take one of the nature trails that wind their way in and around a unique wetland area.
5. Honeymoon Island State Park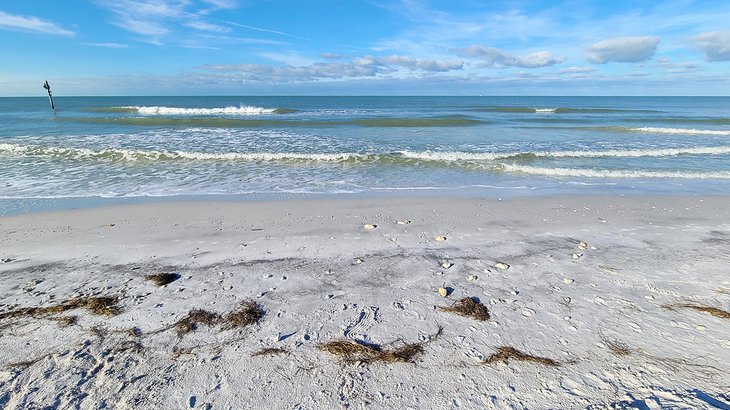 What better place to hit the beach than a place called Honeymoon Island? This offshore island is home to an incredible beach and is well worth the trip for the afternoon or entire day. Miles of beaches await you, along with sparse crowds, ensuring a perfect seashore experience.
Honeymoon Island was once slated to become a resort community, with countless homes and hotels, but through the concerted efforts of local opposition, plus problems with dredging, the project never went forward. Today Honeymoon Island is forever preserved as a state park.
When the park was originally built, the main beach was the one that most people visited; however, with changing ocean conditions, that beach no longer exists in its once pristine condition. Now, the best beach is North Beach, reached by following the park's main road almost to the very end. You may be tempted to drive in and park at the first parking lots you see, but resist that urge and continue onwards – you'll be glad you did.
North Beach runs uninterrupted to the end of the island, and it's here where you'll have the best beach experience. Powdery soft sand will soothe your toes, as you make your way to the crystal-clear water. Once you enter the water, you may find it hard to leave its warm embrace. After your swim, settle in on your beach chair and soak up the sun while you gaze out at the cobalt-colored waters of the Gulf of Mexico.
Feeling energetic? Slip on your walking shoes or go barefoot and stroll northwards. The farther you get from the parking lot, the less people you'll see, and the more animals you'll come across. Above you look for ospreys, in the water look for dolphins, and in the grasses just back from the beach cast an eye about for tortoises.
If all this beach activity leaves you hungry, be sure to swing by Frenchy's restaurant on your way out and feast on some of Florida's freshest seafood.
6. Indian Rocks Beach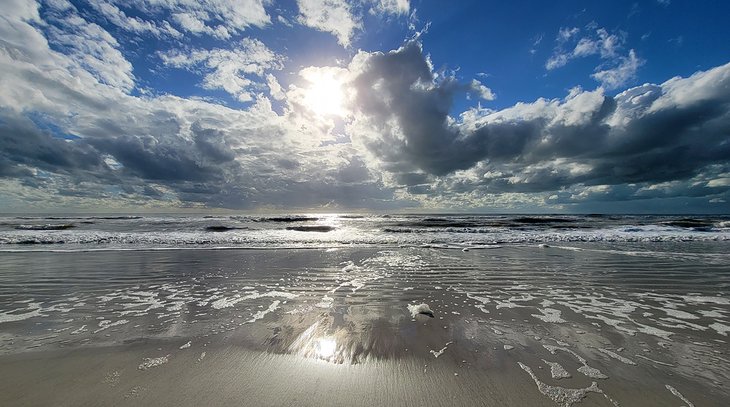 One beach near Tampa that manages to fly below most people's radar is Indian Rocks Beach. Ask any local why this is the case, and they might shrug their shoulders and say they don't quite know, but they are happy to keep this fun and funky beach to themselves.
Indian Rocks Beach is a classic Florida beach, with miles of soft sand, clear water, and incredible Gulf of Mexico views. It's rarely crowded, so finding a patch of warm sand to set up your gear is easy to do. Frequent beach access walkways and a reasonable amount of street parking make enjoying a day at the beach here quite easy.
But Indian Rocks Beach is not all about sun, sand, and surf. It's also about the fine collection of restaurants and shops located mere steps from the sand on Gulf Boulevard. Great seafood can be had at Guppy's. Grab an ice cream at the IRB Creamery, or settle into a patio seat at Hurricane Eddy's and brush up on your people-watching skills.
If you've had enough sun and sand or just need to work off your big lunch, wander down to Indian Rocks Beach Nature Preserve and check out the boardwalks through the mangroves.
7. St. Pete Beach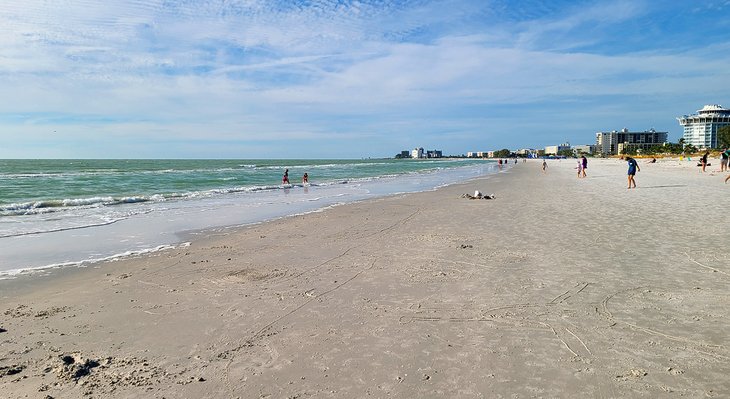 Long a destination for beach lovers from Tampa and other points inland, St. Pete Beach is one of the best of the best. People have been drawn to its fine white sands and luxurious accommodation options since the 1920s.
Easy access to the beach and good parking options make planning and executing a family outing here an easy task. Chair rentals are available if you don't have your own gear. But if you do have lots of beach paraphernalia, the distance from the parking to the shoreline is not too onerous.
Back from the beach, you'll find a fine assortment of restaurants, most with patios and umbrellas. If you've got some time and a curious spirit, walk south down the beach towards the impressive pink structure known as the Don CeSar Hotel. This huge building dates from 1928 and is one of the best resort hotels in St. Petersburg.
Map of Beaches near Tampa, FL
Tampa, FL - Climate Chart
Average minimum and maximum temperatures for Tampa, FL in °C
J
F
M
A
M
J
J
A
S
O
N
D

21

11

22

12

24

14

27

17

30

21

32

23

32

24

32

24

32

23

29

20

26

16

22

13

PlanetWare.com
Average monthly precipitation totals for Tampa, FL in mm.

58

68

72

46

72

140

165

193

166

58

41

58