19 Best Beaches on the Florida Gulf Coast
Nothing screams beach holiday like relaxing on the sunny shores of Florida's Gulf Coast. Unlike its busier eastern neighbor (i.e. the Atlantic Coast), this calmer, quieter side intrigues vacationers looking for tranquility, as well as those traveling with kids.
Florida Gulf Coast beaches feature everything from the silky white sand of postcard fame to the crystal-clear, turquoise waves that inspire selfies. Speaking of waves, you won't find massive surf on this coast, which makes swimming, snorkeling, and paddleboarding more enjoyable.
Whether you want a secluded beach frequented by more turtles than people, or a more popular strand featuring water sports and amenities, you're sure to find something you love on the Gulf Coast.
Not sure where to start? Decide which beach (or beaches) to visit during your holiday with our list of the best beaches on the Florida Gulf Coast.
1. Siesta Key Public Beach, Sarasota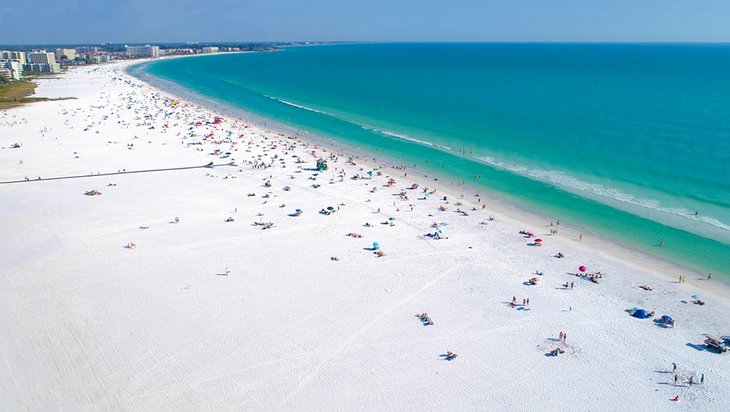 Voted time and again as one of the best beaches in the United States, Siesta Key Public Beach never fails to disappoint. Once you step foot on its sand (so soft it pillows your feet) and look out to the flawless crystalline water, you'll understand why so many adore this stunning strand.
Located south of downtown Sarasota, Siesta Key Beach spans eight miles, offering visitors a ton of space to walk, run, or build sandcastles. Made up of mostly quartz, the sand never gets too hot, which is perfect for those toting little ones. Families also love the beach's shallow shoreline.
Amenities abound at this popular spot, including tennis and volleyball courts, playgrounds, picnic areas, pavilions, and restrooms, not to mention lifeguards on duty. Snorkeling is great here due to the incredible visibility, and many opt to kayak at nearby Turtle Beach (at the island's south end).
Accommodation: Top-Rated Resorts in Sarasota, FL
Read More:
2. Clearwater Beach, Clearwater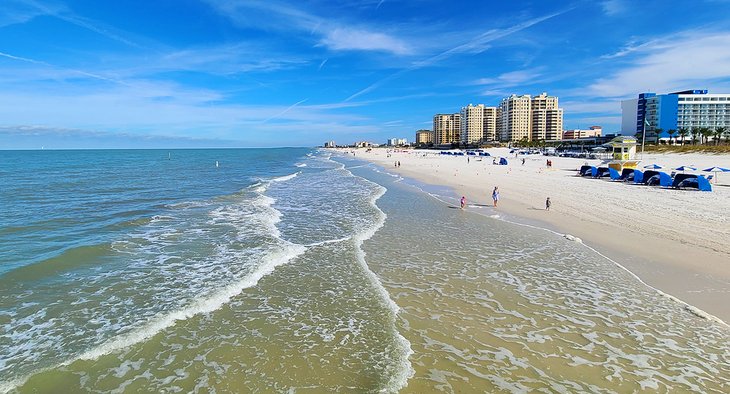 Dazzling Clearwater Beach is one of the best beaches for families in Florida. Bright emerald waves lap the snow-white shores of this idyllic strand, enticing visitors to jump in. Little ones love the calm, warm, and shallow water, perfect for splashing about safely. The playground is another big hit.
Lifeguards are on duty year-round at Clearwater Beach, making it easy to visit during any season. Walk along the palm-lined Beachwalk, a winding promenade you'll share with many a cyclist and rollerblader. Or head to Pier 60, a long, wooden fishing pier perfect for angling.
Set on Clearwater Beach Island, a barrier isle just off the west coast of Clearwater, this lovely strand offers a fun small-town vibe and plenty of shops, restaurants, and cafés to choose from. When you've had enough sun, head to the nearby Clearwater Aquarium (home to Winter, star of the film, Dolphin Tale, now sadly passed away).
Accommodation: Top-Rated Resorts in Clearwater, FL
3. Sanibel Island Beaches, Sanibel Island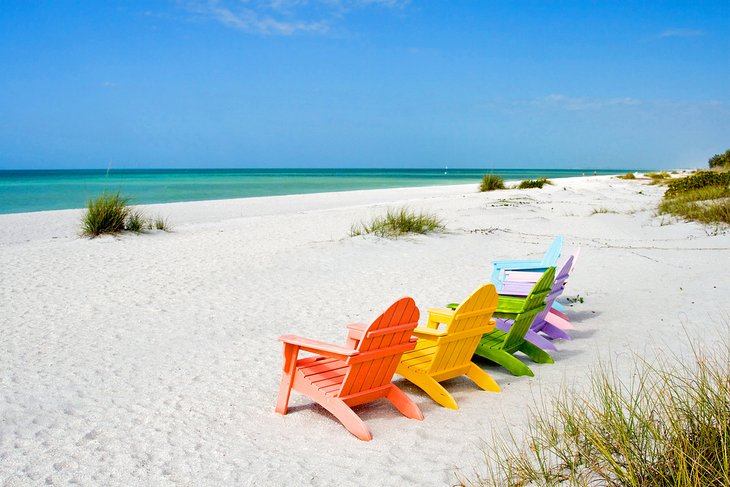 It's easy to see why Sanibel Island was dubbed the "Shelling Capital of the World." Each of its 15 miles of beaches are filled with unique shells (including sand dollars) that rolled in from the Gulf of Mexico. With so many beautiful beaches on Sanibel Island, it's hard to pick just one.
Sanibel Lighthouse Beach Park sits on the eastern tip of the island and features a historic operating lighthouse. Set around a point, the soft ivory beach faces both the Sanibel Causeway and the Gulf of Mexico. It boasts restrooms and a fishing pier.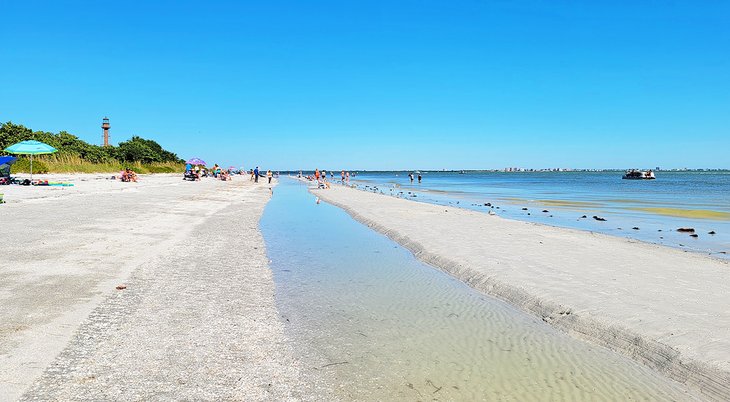 Bowman's Beach is more secluded than the rest and lacks the crowds you'd find at other, more popular beaches. You'll find restrooms, picnic tables, and a children's playground, but you'll have to pack your own chairs and food.
On the west of the island lies beautiful Blind Pass Beach. Stretching from Sanibel Island into Captiva Island, this is one of the best beaches for shelling in Florida. It's conveniently situated close to shops and restaurants.
Accommodation: Top-Rated Resorts on Sanibel Island
4. Henderson Beach State Park, Destin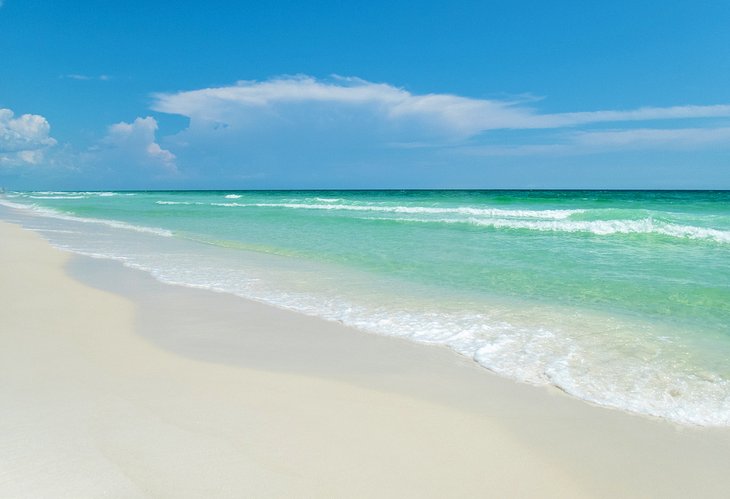 A sparkling gem on Florida's Emerald Coast, Henderson Beach State Park is not to be missed. Where else can you find towering sand dunes so shimmeringly white, you'll want to wear shades to cut down on the glare. Some are as tall as 30 feet!
Innate beauty abounds in this protected nirvana, which is home to 60 campsites and a nature trail. Keep your eyes peeled for dolphins, turtles, and birds (including black skimmers and brown pelicans).
Made up mainly of quartz, the sand at this beach never gets too hot, and the warm waters of the Gulf are perfect for swimming. In terms of amenities, you'll find a boardwalk, pavilions, restrooms, picnic tables, and a playground on-site.
Destin is known as "the luckiest fishing village in the world," so you should probably try your hand (or in this case, rod) at catching a big one while you're here.
Accommodation: Top-Rated Resorts in Destin, FL
5. Pensacola Beach, Pensacola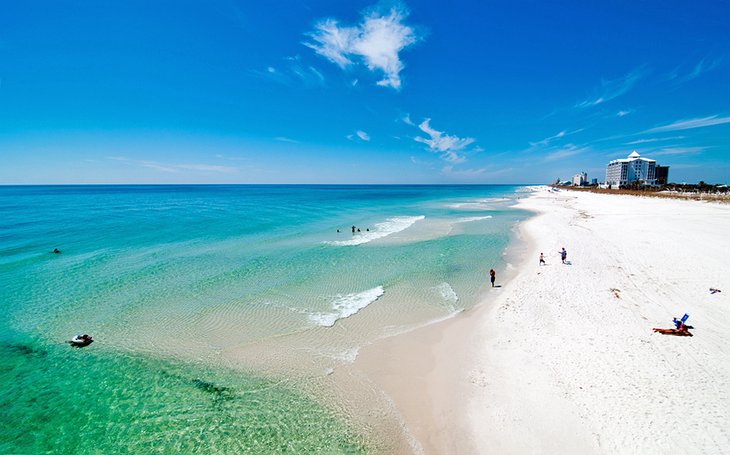 The emerald green water of Florida's northwestern Gulf Coast caresses the soft, white sandy shores of Pensacola Beach in Pensacola. Stretching far into its vast expanse is the wooden and concrete Pensacola Beach Fishing Pier, a fun spot for anglers to spend an early morning, and visitors to enjoy a spectacular sunset.
The beach itself spans close to eight miles on Santa Rosa, a barrier island. It is surrounded by the Gulf Islands National Seashore, a protected area that boasts phenomenal wildlife (we're talking sea birds, turtles, stingrays, and other marine creatures). Several beaches in Pensacola offer different experiences, including some lovely dog beaches.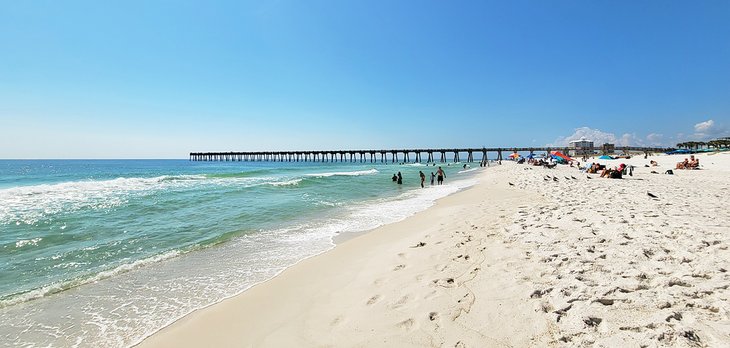 You won't find massive waves here due to the two sandbars that lie offshore. That makes this a great spot for little ones to swim, paddleboard, or boogie board. In behind are a number of restaurants, hotels, and vacation rentals.
Accommodation: Top-Rated Resorts in Pensacola, FL
6. Fort Myers Beach, Fort Myers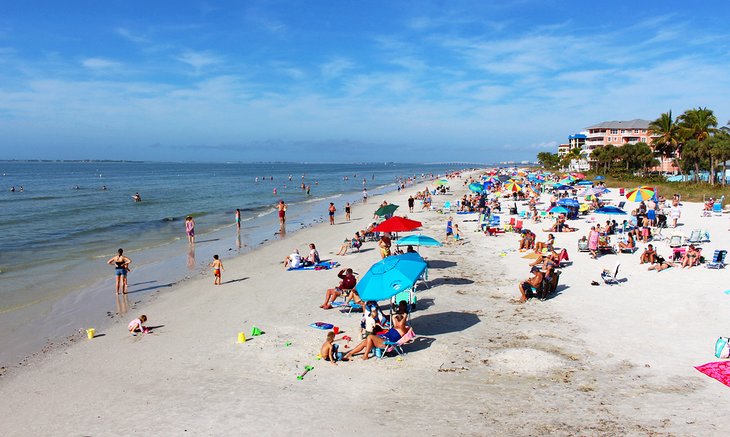 A visit to Fort Myers Beach offers so much more than the sugary sand and green waters it's known for. Spanning seven miles along the coast of the barrier isle, Estero Island, this lovely strand is flanked by shops and restaurants on one side and a variety of water sports on the other.
The wide beach slopes gently towards the Gulf of Mexico, where activities like parasailing, snorkeling, and kayaking await. Fort Myers Beach is a bit of a scene on hot sunny days. A younger crowd tends to set up in front of the Lani Kai hotel, and as the day progresses, the music gets louder and the crowd a bit more lively. If this is for you, join right in, if not, head north of the Pier where a more sedate crowd, mostly families, tend to set up.
Those looking for a photo-worthy vista should walk along the fishing pier, particularly at sunset. Bring a rod and bait if you want to test your luck with the aquatic dwellers below. Shelling is another popular activity at this sandy shore. The best time to find treasures is during low tide (early in the morning). Be sure you leave the live shells, though.
Accommodation: Top-Rated Resorts in Fort Myers, FL
Read More:
7. Pass-a-Grille Beach, St. Petersburg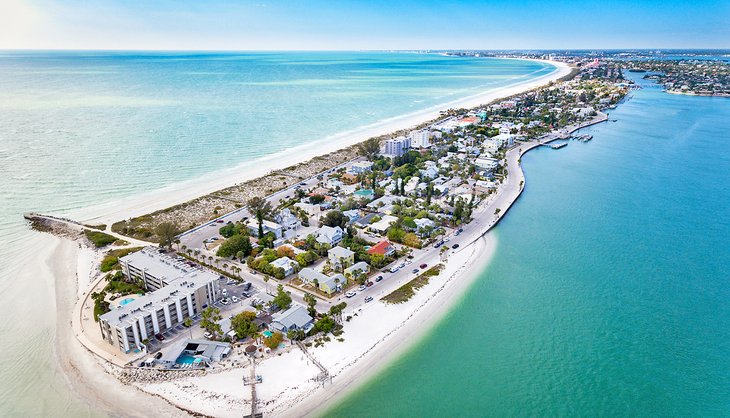 Spanning many miles of a barrier island just off the coast of St. Petersburg, Pass-a-Grille Beach offers the perfect mix of a sandy escape, adventurous water sports, and a vibrant shopping and dining scene.
A pleasant seaside community has been built around this lusciously white shore, creating an entertaining place to spend a day. Sun yourself on the pristine sand, play a game of pickup volleyball, boogie board, paddleboard, ride a Jet Ski, or hop in a glass-bottomed kayak. You'll never get bored.
This strand, the longest undeveloped public beach in the area, is lined with hotels of all shapes and sizes, so you won't have to travel far to get back to your room. If you're hoping to rent a chair, umbrella, or paddleboard, you can do those close by as well.
Parking can be tight here on busy days. Check to see what's available on the innovative and real time St. Pete's Beach parking guide.
8. Venice Beach, Venice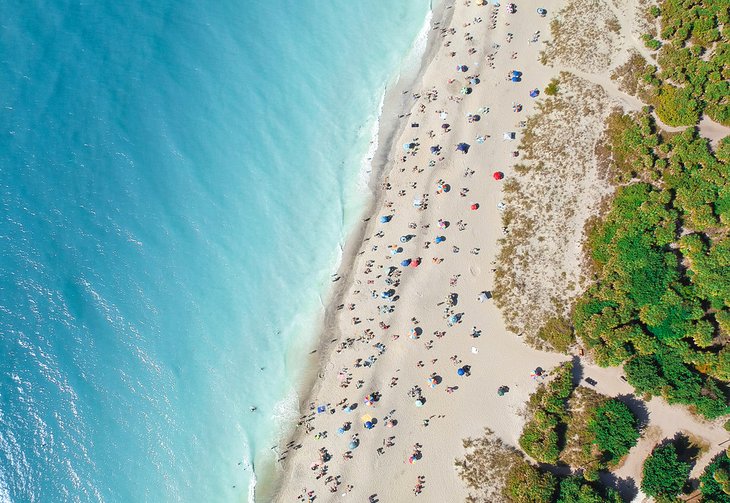 You won't be alone on this silky soft beach. Crowned a Blue Wave Beach (it's "clean, healthy, and well managed") by the Clean Beaches Coalition, tourists flock here for the pristine conditions. They also make use of a variety of amenities, including a boardwalk, volleyball courts, concessions, restrooms, and a sail-shaped pavilion.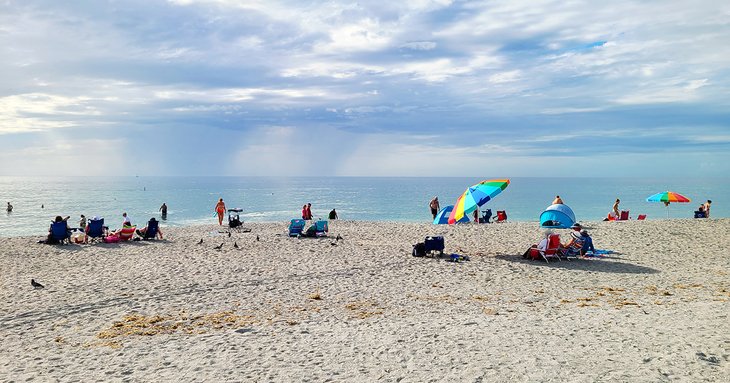 Venice Beach is also known for fossilized shark's teeth. A record number of these teeth wash up on the shores of this family-friendly strand, dubbed the "shark tooth capital of the world." You need to know what you're looking for to find them, and keep a close eye out for the black shapes in the sand. Venice Jetty is the best place to look.
If you're visiting between May and October, you may also have a chance to spot nesting turtles.
9. Naples Municipal Beach, Naples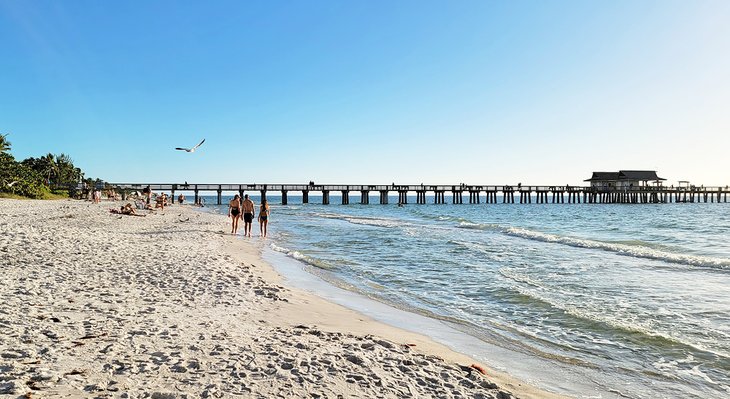 Naples may not be cheap (it's the west coast's version of Palm Beach), but this glamorous town is worth visiting for those looking for a quiet and stylish beach vacay. Home to Naples Municipal Beach, this elegant city boasts numerous upscale restaurants and shops near its sandy shore, offering respite from the heat.
As is to be expected from a glitzy town, the beach is spotless. Its sugar white sand is perfectly groomed and soft enough to nap on. The water is so turquoise, you'll want to jump right in. Flanked by rolling dunes and beautiful mansions, this is a little slice of Eden.
Adventurous folks will take to the waves for fun activities like snorkeling, kayaking, paddleboarding, or boating. Fishing fans should head to the iconic Naples Pier, where they can use the amenities (restrooms and food are on offer) and chance their luck at reeling in a big one.
Accommodation: Top-Rated Resorts in Naples, Florida
10. Bean Point Beach, Anna Maria Island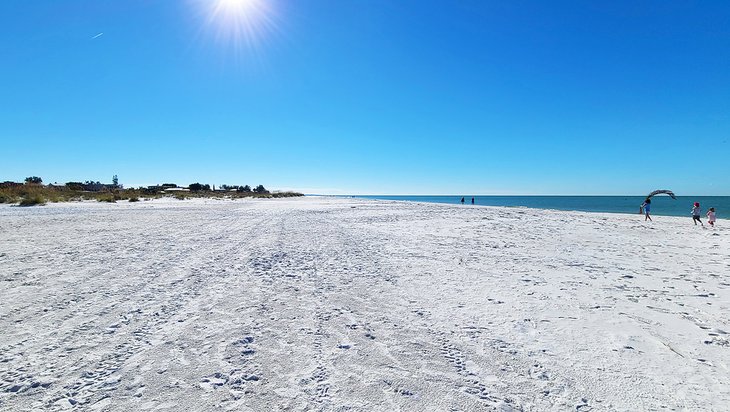 Anna Maria Island is a small barrier isle lined with seven miles of unspoiled sandy beaches. Flanked by the warm, turquoise waters of the Gulf of Mexico, visitors love to spend much of their time either in the water or lounging beside it.
Bean Point Beach wraps around the northern tip of the island, offering a secluded and tranquil beach experience. This is one of the most expansive beaches on the island, which means there's plenty of space to spread out. Be cautious about swimming here; the current on the northern end of the beach can be quite strong. Stay south of the point to avoid any problems.
Bean Point has no amenities, so be sure to bring all your gear with you. Parking can be a bit tricky here, so be sure to go early to snag one of the spots on Gladiolus Street. Alternatively, ride your bike and park it at the handy bike stand.
11. Manatee Public Beach, Anna Maria Island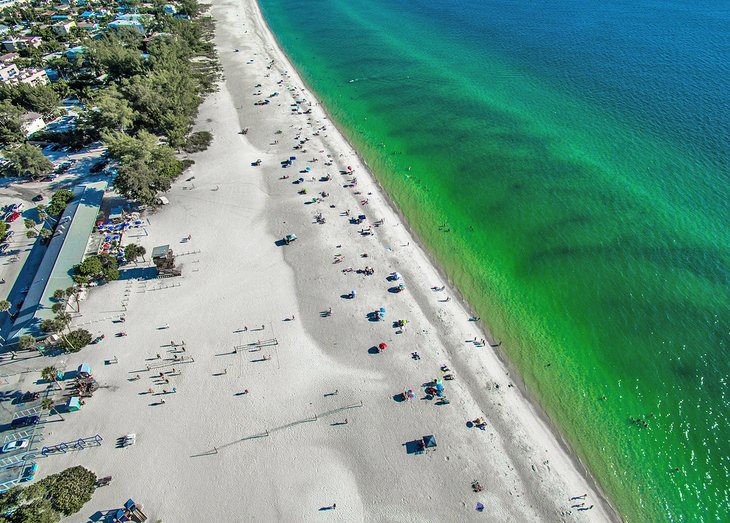 Another sandy beauty, Manatee Public Beach is a family-friendly strand everyone will love. Part of the town of Holmes Beach, this is yet another stunning beach on Anna Maria Island. It, too, boasts the stark white sand and bright turquoise water you've come for, and it's speckled with pretty shells.
In prime beach season, you won't find a quiet spot on popular Manatee Public Beach. Instead, you'll have to share the soft sand with multiple travelers looking to lounge upon this comfortable shore. Being well-liked comes with perks in the form of amenities, though, which make it easy to spend a whole day.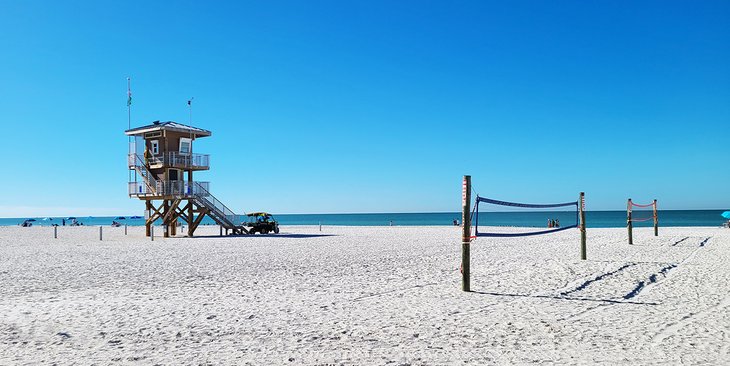 A free trolley stops here on its way to other Anna Maria hot spots. You'll also find chair and umbrella rentals, a playground, restrooms, and cabanas, volleyball net, not to mention water sports galore. One more upside: parking is free!
12. Madeira Beach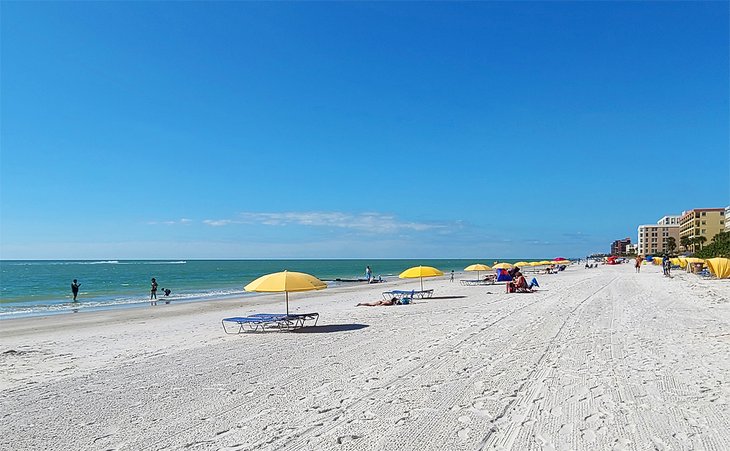 Grouper and pirates and sea oats, oh my! There's so much to love about Madeira Beach. Sandwiched between the Gulf of Mexico and St. Petersburg, this quiet beach sits on an idyllic barrier island and is lined by sea oats waving in the warm ocean breeze.
According to legend, a pirate was the first to settle this area, which spans about two and a half miles of the shoreline. While most spend their days sunning, swimming, jet skiing, or boogie boarding, those in the know take time to fish at this mecca for anglers.
You're bound to bring in a good haul in this "Grouper Capital of the world." When you've had enough sun, head to John's Pass Village and Boardwalk to enjoy a bevy of unique outdoor shops and restaurants.
13. Tigertail Beach, Marco Island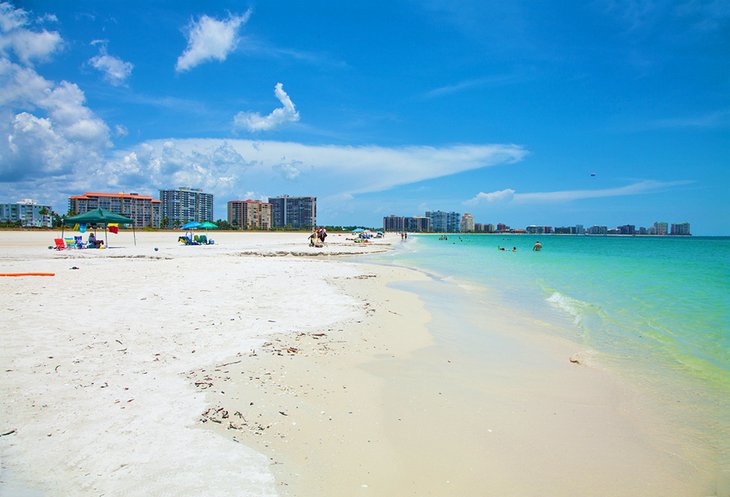 Located on one of Florida's best islands, this lavish beach is both long and wide, covering over 30 acres of land on Marco Island. Rent a kayak to enjoy the area's most impressive asset – its wildlife – up close and personal.
Visitors can expect to spot dolphins, manatees, and interesting sea birds (like sandpipers, plovers, and osprey) along this unspoiled part of the coast. Wind your way around mangroves or hop on a paddleboard and glide across the smooth water. Each board rental from Tigertail Beach Rentals comes with a free lesson.
Back on land, flex your shell-seeking muscles. It shouldn't be hard to find a handful, as hundreds wash up on shore each day.
Insider's tip: Nearby South Marco Beach is hands down the best spot to watch the sun set.
14. Barefoot Beach County Preserve, Naples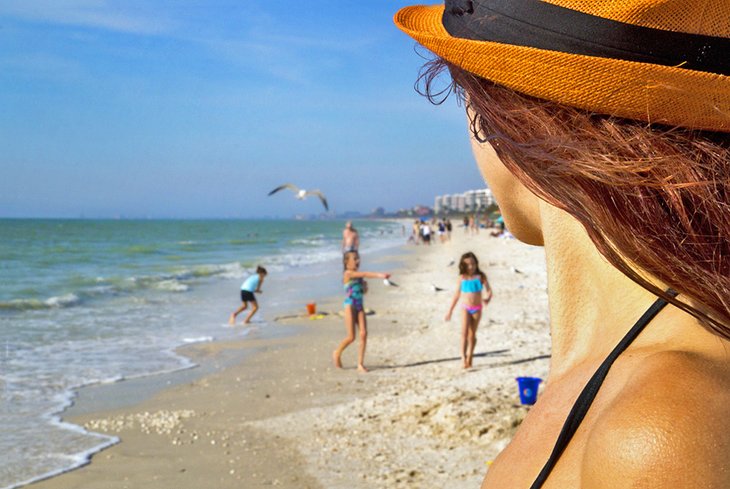 An undeveloped barrier island is home to the stunning Barefoot Beach County Preserve, one of the best beaches in Naples. Not surprisingly, the sand here is soft enough to enjoy while walking without shoes, hence the name.
In this protected area covering 342 acres, visitors encounter a lovely array of indigenous creatures (including turtles nesting among the sea oats) and vegetation in addition to the dune-lined sandy shore. Anglers will enjoy the ample fishing found in the surrounding tidal creeks and mangrove swamps.
It's easy to get confused when locating the Barefoot Beach County Preserve. A very small section of the park is located right by Bonita Beach; however, the main area of the park with all the amenities and wide-open space is actually located at the end of Barefoot Beach Blvd. Don't be deterred by the large gate area that stretches across the road; just drive right on through, past spectacular homes, until you reach the park gate at the end.
15. Bonita Beach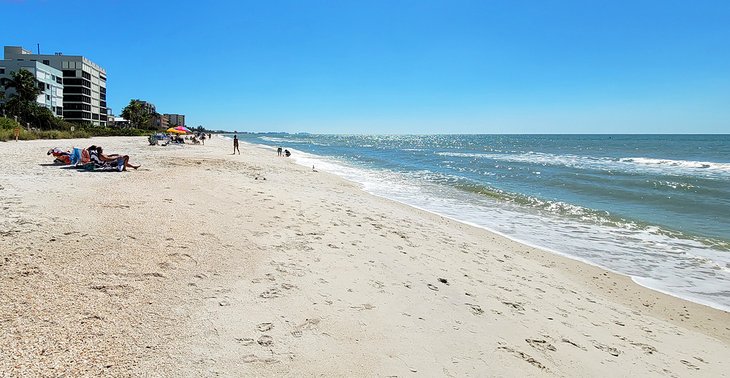 Just a few miles up the way from Barefoot Beach County Preserve, Bonita Beach is the place to go if you are looking for a livelier beach scene. This pristine stretch of sand is usually packed with beachgoers looking to have a good time. You'll usually find a game of beach volleyball on the go here most weekends, along with folks paddling kayaks and stand up paddleboards. Or, if the winds are up, you may see a few kiteboarders doing their thing offshore.
Back from the beach is Bonita Beach Park, one of the best in Lee County. Picnic tables and shelters, restrooms, showers, charcoal grills, and a snack back are all available. A short stroll north will take you to Doc's Beach House restaurant, a Bonita Beach institution.
If you want quiet, just walk a bit to the north or south away from the main area, the beach stretches for miles either way.
16. St. Pete Beach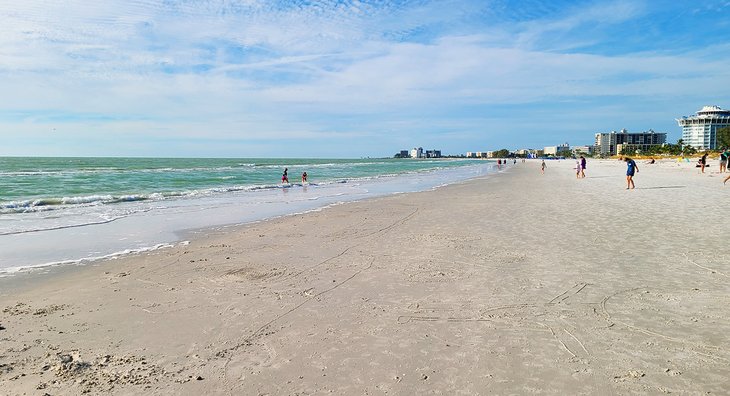 One of the most popular beaches in the St. Petersburg area, St. Pete Beach has long been a destination for sunseekers from the frozen north. A long ribbon of golden sand runs along the coastline for miles and miles. Go for a walk on the beach in the morning with the rest of the active sorts; you'll run out of energy long before you run out of beach.
Although there are several areas to access the beach, the true St. Pete Beach is located across the street from the Dolphin Mall. Here, you'll find a large pay parking lot (235 spaces) along with a big sign indicating you've found the right spot. Facilities are fairly limited, with just restrooms and showers. As soon as you stroll over the boardwalk, you may have to pick your jaw up out of the sand. An incredible vista of crystalline water stretches to the horizon, just begging you to wade right in.
If you work up an appetite from all the sunbathing or swimming, the town of St. Pete is just back from the beach. Here, you'll find a wide variety of restaurants, most with outdoor patios, just perfect for satisfying that hunger or thirst.
17. Navarre Beach, Navarre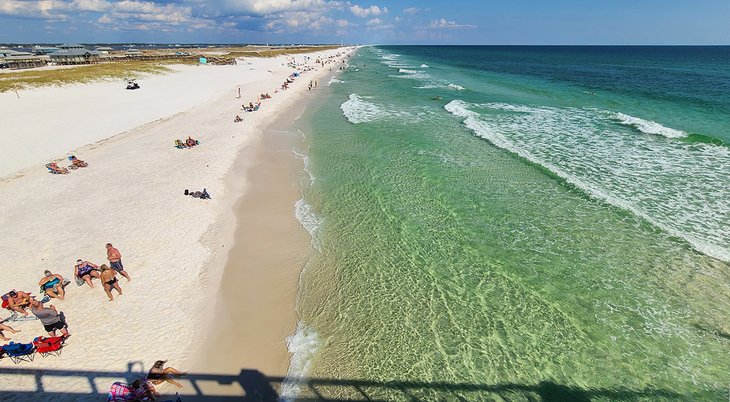 Welcome to Navarre Beach, a place where fascinating wildlife, lush ivory sands, and the most vibrant emerald water await visitors. Surrounded by the Gulf Islands National Seashore, this is the spot to come if you're looking for a bit of sun mixed in with your serenity.
Home to the largest fishing Pier on the Gulf coast – the Navarre Beach Pier is 1,545 feet long – you'll have plenty of chances to score a beautiful view and try your luck at catching some fish. There's a small fee to walk the pier, but the vista is worth it.
When you're not sprawling on the sand, playing volleyball, walking across the dunes, or splashing about in the waves, enjoy the nearby shops and restaurants. The beach also boasts picnic tables, restrooms, and pavilions to make your day more comfortable.
If you'd like to see what lives underneath all that crystal-clear water, grab your snorkel or dive gear, and head to one of the four artificial reefs located just offshore. Two are on the sound side; two are on the gulf side and are well marked with indicators either on shore or in the water.
18. Fort De Soto Park Beach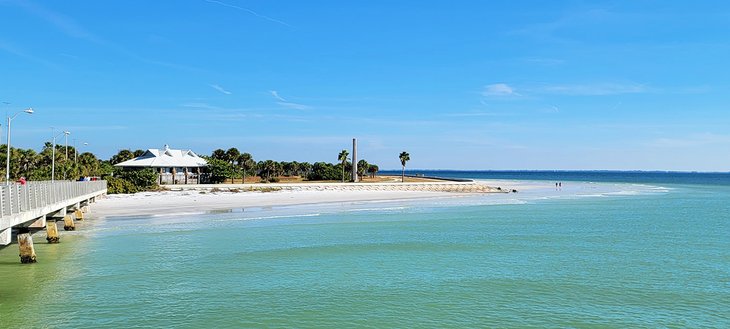 Over 2.7 million visitors a year agree: Fort De Soto Park Beach is an amazing spot. About eight miles from St. Petersburg or a 40- to 45-minute drive from Clearwater and Tampa, this is a great day-trip destination. Two spectacular beaches await your towel, beach chair, and umbrella. Depending on which way the wind is blowing, or your personal preference, pick one and settle in for the day.
North Beach is a wide-open barrier island beach that is absolutely huge. Be prepared for a long walk from the parking lot to the water's edge, but once you make it, you won't want to leave. Powdery soft sand, wide-open spaces, and clear warm water beckon you to stay until sunset. North Beach is also an excellent place to observe birdlife, nearly 330 species have been observed here over the past 60 years. Back from the beach are uniquely designed concrete picnic facilities with tables and grills.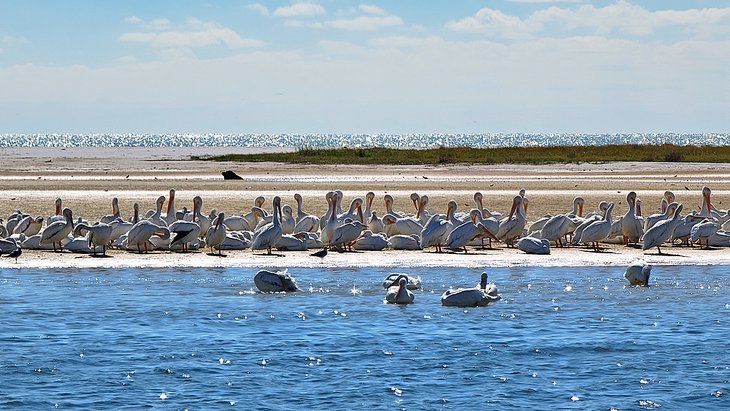 East Beach is a more traditional, long, straight ribbon of sand that has the added bonus of incredible views of the Skyway Bridge. The water is shallow and warm for a long way out, making this an excellent spot for those who aren't strong swimmers. One thing to watch out for at East Beach is fire ants. These stinging critters lurk in the grass back from the sand; their bites are painful.
If two amazing beaches and extensive wildlife weren't enough, a historic fort dating from 1900 is another fun thing to explore. Layer on a fishing pier that offers not only great fishing, but stunning views across to Egmont Key and Anna Maria Island. You'll be planning a return trip before you leave.
19. St. George Island State Park Beach, St. George Island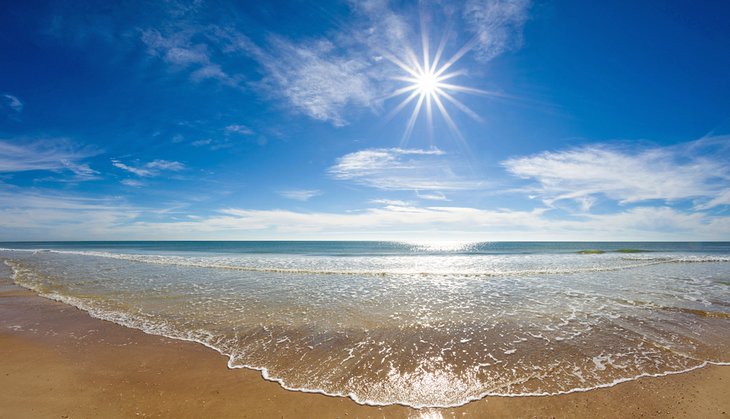 St. George Island is the place where stress disappears. A 28-mile-long barrier island on the northern Gulf Coast, this pristine isle is protected, which means it's fantastically clean and lush. You won't find high-rises marring the beautiful landscape, but you will run into some of the best beaches in Florida.
St. George Island State Park is home to one of the loveliest beaches on the island. This pristine strand faces the emerald waters of Apalachicola Bay, and miles of the softest sand your feet have ever sunk into.
While swimming, snorkeling, paddleboarding, and shelling are popular activities, visitors can also enjoy amenities like a basketball court and playground. Its real stars, though, are the fish, birds, and turtles that call this beach home. A visit during early summer may reward beachgoers with sightings of loggerhead turtles nesting nearby.
More Related Articles on PlanetWare.com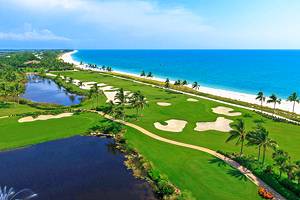 More Things to Do in Florida: While you're in the Sunshine State, be sure to check out its best tourist attractions. Or take a break from the Gulf Coast for a visit to some of these adorable small towns. When it comes time to hit the proverbial hay, stay at one of these fab resorts on the Gulf Coast.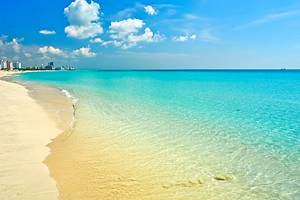 Hit the Beach in Florida: The number one thing to do in Florida is lounge on its silky soft sand. For the best holiday, you'll want to choose your strand well – whether you're hoping to hit a family-friendly beach or not, you'll all love or want to visit one of the best beaches in Miami, Key West, or the state.