23 Top-Rated Beaches in the US
We may earn a commission from affiliate links ()
Nothing says vacation like bright azure waters lapping the shore of a white, sandy beach. Mix in a salty ocean scent with a soft breeze tickling your face, and you've found nirvana, especially if it comes with an ice-cream stand nearby. With so many incredible beaches to choose from in the US, you won't have to go far to wiggle your toes in warm sand and bob about in cerulean waves.
Whether you're a fan of kitesurfing, fishing, or beachin' (that's slang for lying in the sand of an empty beach, discussing deep life issues with friends), there's little more enjoyable than a day well spent at the beach. Luckily, the US offers a slew of visit-worthy beaches so stunning, you'll want to dig your feet in when it's time to leave.
From family-friendly beaches with plenty of activities to romantic beaches, perfect for a secluded couple's getaway, to a unique beach that sings while you walk along the shore, the US offers a dazzling array of beaches for every type of traveler.
To ensure your next beach vacation is as relaxing as a day spent floating on a calm ocean, choose a beach from our list of the top beaches in the US.
1. Miami Beach, FL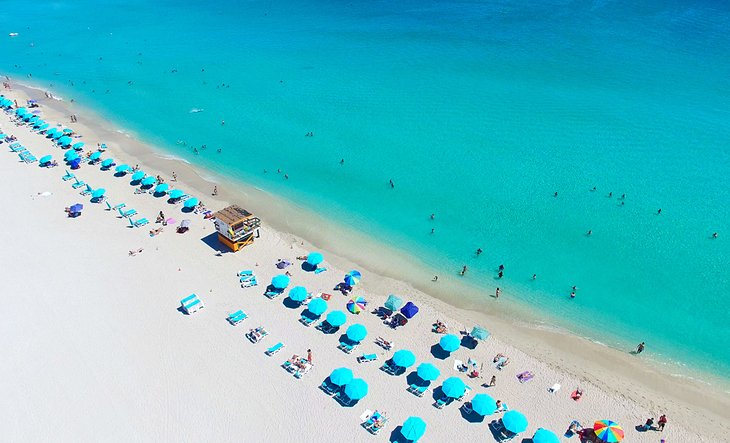 It's no shocker that Miami Beach tops the list of best beach destinations in the US. Also unsurprising is this lush beach's position as one of the top beaches in Florida.
Of all the beaches on this list, it's likely the most fun. While here, you can swim, surf, Jet Ski, waterski, or participate in the number one activity on Miami Beach - people-watching. Models, celebrities, and "beautiful people" abound, strutting their stuff on the boardwalks and white-sand beach. People literally come here to see and be seen.
The closer you get to South Beach, the more interesting things get. You literally have to see it to believe it. This thriving district, best known for its Art Deco buildings (circa the 1930s and 1940s) and vibrant restaurant and shopping scenes, is a go-to for culture and entertainment. Beware: it can be a bit pricey!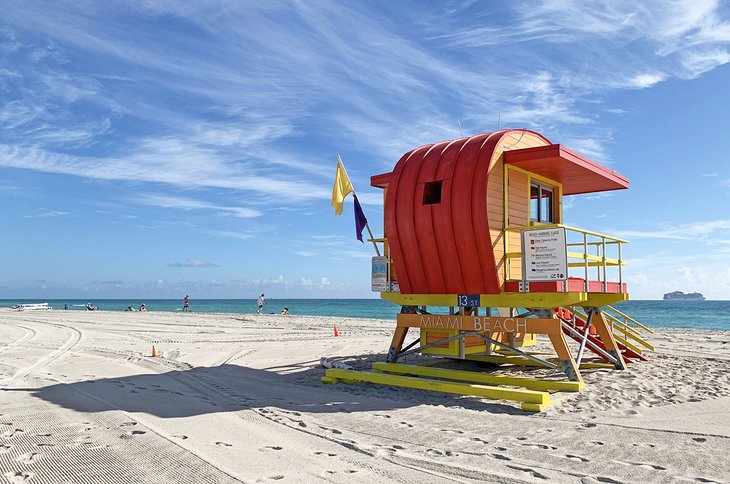 Lummus Park lies between 5th and 14th Streets, just north of South Beach. It boasts volleyball courts, a playground, and easy access to even more tasty eateries. Beach chair and umbrella rentals are on offer everywhere, and ice cream trucks are parked right on the sand.
2. La Jolla Cove, San Diego, CA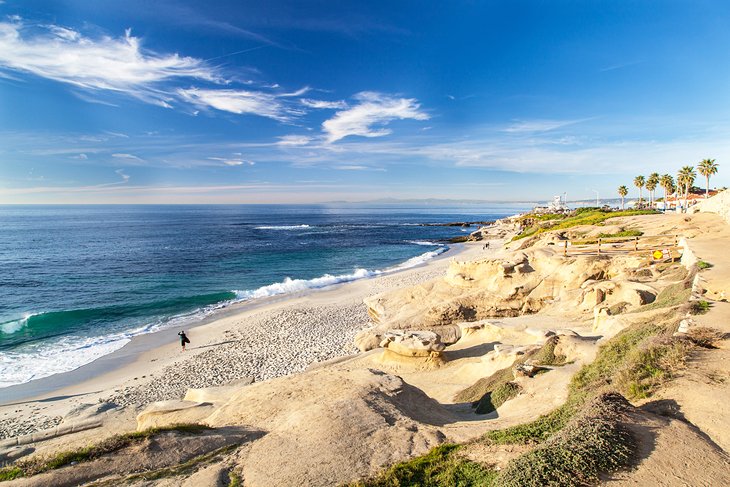 Boasting nearly 70 miles of coastline, San Diego is home to some of the most beautiful beaches in America. La Jolla Cove may not be the most expansive, but it's one of the most photographed and top-rated beaches in California. Facing north, this small gem is tucked between sandstone cliffs, making it the perfect spot to swim, snorkel, or scuba dive. No wonder it is deemed one of the best beaches in the US.
The deep, blue-green bay is well protected, and the visibility is great (at times you can see beyond 30 feet). Another bonus: It's nestled within the La Jolla Underwater Park Ecological Reserve, which prohibits fishing and removal of objects from the area. The result: the bay is teeming with marine life. It truly is a diver's paradise and one of the best beaches in San Diego. Be sure to pack your snorkel gear.
A quick jaunt north (about 12 minutes by car) will take you to La Jolla Shores. This laid-back spot offers tourists a mile-long stretch of soft sand and gentle surf. Thinking of trying your hand (and feet) at surfing? The small waves featured at this pretty beach make it ideal for beginners. Paddleboarders and families with young kids will also appreciate the calm waters.
3. Lanikai Beach, HI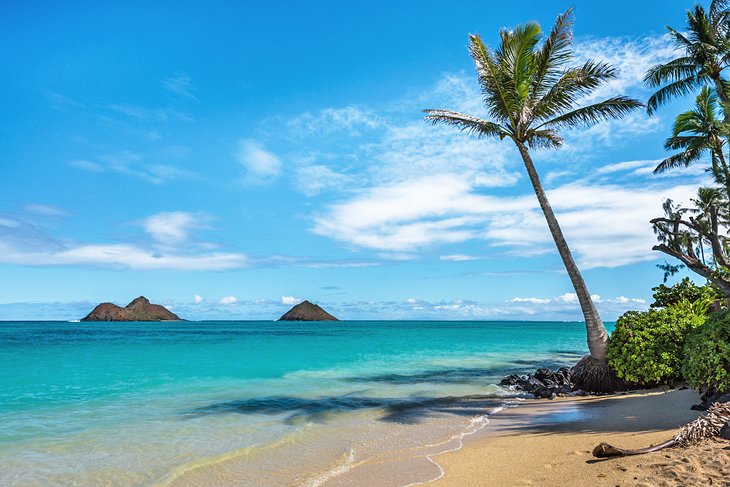 Hawaii is known for its beaches. With bright, sparkling blue water lapping picture-perfect seashores, it's no wonder people flock here to escape the hustle and bustle of their busy lives. Oahu, the third largest of the Hawaiian Islands, is also the most visited. Home to many of the best beaches, that's not surprising.
Waikiki is probably the best-known of Oahu's beaches. This ultimate Hawaiian beach destination is lined with luxury resorts and high-end retailers, not to mention delicious restaurants. The majority of visitors, however, prefer a beach that is 100 times more beautiful and much quieter than the commercialized Waikiki-Lanikai Beach.
Lanikai has been said to have the best swimming in Hawaii. It has also been voted as the "most beautiful" beach on Oahu. Not surprisingly, its name translates to "heavenly ocean." Another plus: Lanikai is more secluded than other beaches on this list and is free from crowds.
The picturesque beach is postcard worthy, featuring pristine golden sand and vibrant turquoise water. In the distance, you'll be able to spot the spectacular Mokalua Islands.
There are virtually no waves here, which makes it a perfect beach to visit with kids. Plus, the water at Lanikai Beach is warm enough to entice visitors to lounge or play in it for hours. Just meters from shore lie healthy coral reefs teeming with sea creatures. The luxuriously clear water makes it easy to get an intimate view of brightly colored fish. Again, don't leave home without snorkel gear.
It may be outstandingly beautiful, but Lanikai Beach doesn't offer facilities (i.e. bathrooms, showers, or shops). So, bring everything you need (including water, towels, a beach umbrella, and sunblock) with you. Also, we suggest grabbing lunch (and having a bathroom pit-stop) in nearby downtown Kailua.
4. Siesta Key Beach, FL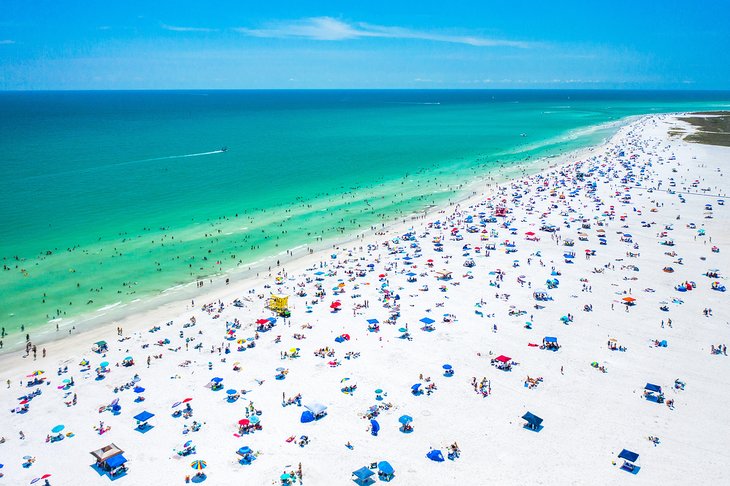 Siesta Key Beach has been voted time and again as one of the country's best beaches to visit. Clear blue water is highlighted by the type of turquoise that screams relaxation at this beautiful Sarasota spot.
Siesta Key is home to several beautiful beaches. The most popular is aptly named Siesta Key Beach, which is sometimes referred to as Siesta Beach or Siesta Key Public Beach. A beautiful gem, this tourist hot spot boasts two concession stands, year-round lifeguards, and facilities to make it easy to stay all day.
Powdery, white quartz sand beckons beachgoers to spread out and spend the day. Being shallow for a long way from shore, this is a perfect beach for families. Plus, the quartz sand stays cool (unlike its coral-based cousin), which means little (and big) feet will stay protected from the sun's intense heat.
Not a fan of biting into sandy sandwiches? Have lunch in the covered picnic area. You'll be happy for a shady respite. Bored by lazing on a towel for hours? Siesta Key offers eight miles of luxurious sand to walk (or run) on, as well as tennis and volleyball courts to help while away the time.
Water enthusiasts can swim, Jet Ski, parasail, snorkel, and boogie board until their arms give out. Or, you can head to nearby Turtle Beach (at the south end of the island) to kayak.
Crescent Beach lies just south of Siesta Key beach. Its best feature (beyond that same, soft white sand) is Point of Rocks, a rich area bursting with healthy coral and active marine life to entice snorkelers and divers. There are two public access points to make it easy to reach this part public, part private beach.
5. Kailua Beach, HI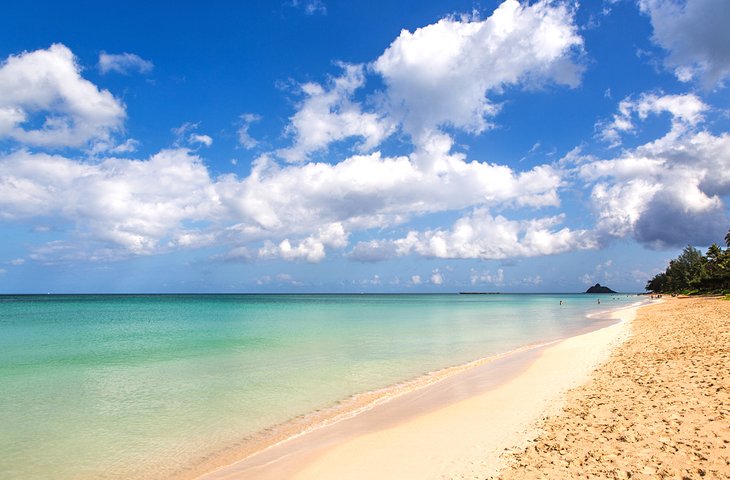 Oahu's Kailua Beach is a haven for tourists of all ages, especially if they're into surfing. At this popular vacation spot, waves are big enough to entertain experienced surfers but small enough for beginners to get a good grasp of the sport. This also makes it well-liked by paddleboarders, kitesurfers, and windsurfers.
Located a short drive from Waikiki, along the scenic Pali Highway, Kailua Beach is situated very close to Lanikai Beach and is one of the top beaches on Oahu. To say this beach is beautiful is to downplay its magnificence. The calm water is both warm and inviting, while the soft, golden sand stretches for nearly two and a half miles.
In the distance lie lush, green mountains and the stunning Popoi'a (aka Flat) island, a bird sanctuary and snorkeling hot spot, especially during the summer months. Rent a kayak for an up-close view but be sure to purchase a landing permit, so you can get out to explore. It's well worth it.
6. Cannon Beach, OR
Few places can surpass the beauty of the Oregon Coast and its many outstanding beaches. Choosing the best isn't hard, though, with Cannon Beach thrown into the mix.
Sitting on the clean, soft sand overlooking Haystack Rock, you'll feel as if you are transported somewhere more exotic-like Thailand, for instance. The 235-foot basalt sea stack was created by lava flows millions of years ago.
During low tide, visitors can walk right up to the rock. That's also the best time to look for intertidal sea creatures (like crabs, limpets, sea slugs, and starfish) in its tide pools. Be sure to keep an eye out for the tufted puffins, which are best seen when they're nesting on the rock from April through July.
The charming seaside village of Cannon Beach is one of the best small towns on the Oregon Coast. It boasts interesting shops and delectable food at its numerous restaurants. You wouldn't think you'd be eating Irish food at this West Coast locale, but The Irish Table, a short walk from the beach is a real hidden gem. The service is impeccable, as is the seafood chowder.
7. Wailea Beach, HI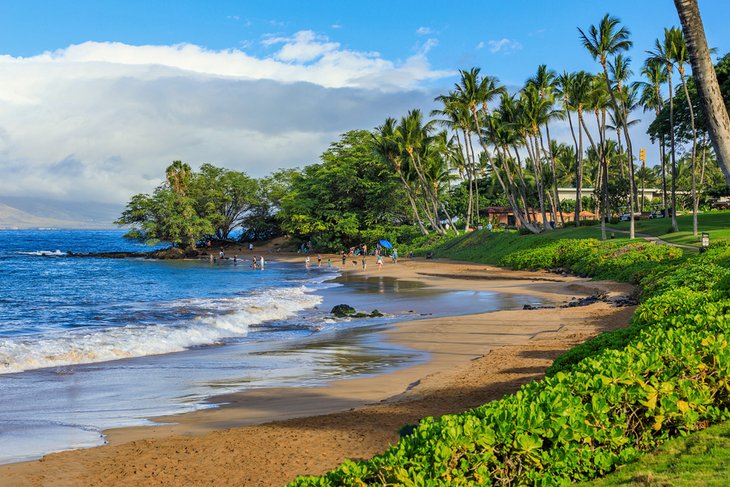 A long crescent of the most luxurious golden sand welcomes visitors to Maui's Wailea Beach. Boasting the kind of beach experience vacationers dream of (we're talking calm, warm waves, a lengthy boardwalk, and silky soft sand), it's no surprise that Wailea has been voted one of the best beaches in Maui and the world.
Along with its fame can come crowds, so be prepared to share this pristine wonderland with others, especially if you visit during the high season. No matter how many visitors you encounter, though, a trip to this Hawaiian utopia is more than worthwhile.
8. Main Beach, Laguna Beach, CA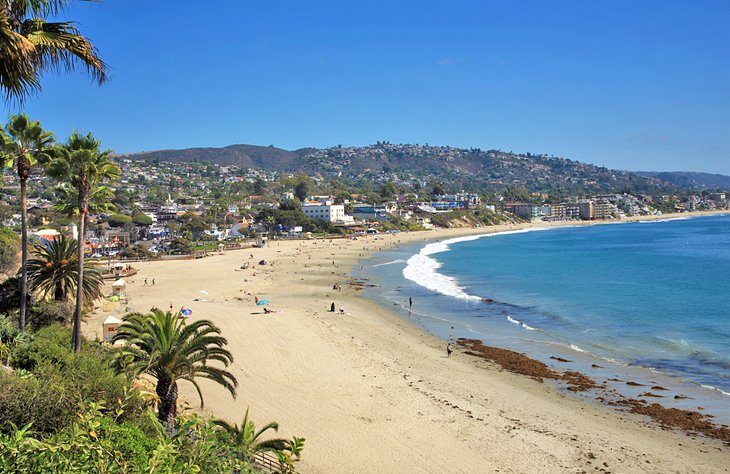 About an hour south of Los Angeles and halfway to San Diego, Laguna Beach is one of California's premier beach destinations. Once you've had time to explore the sea caves, coves, and ocean-side bluffs, you'll understand why this is one of the best beaches in the US. It can be tough to determine where to spend your time at Laguna Beach, with seven miles of coast and 30 beaches.
Main Beach makes that decision easy. The most centrally located (and famous) of the area's beaches, Main Beach sports soft, tan-colored sand and is situated in a broad cove. It's also a perfect spot to take a dip. The waves crash far out from shore, so you won't be slammed onto the sand. One of the highlights is the nearby grassy park, offering basketball and beach volleyball courts, as well as a playground. There's also a beachfront bike path.
Art is a way of life in Laguna Beach. When you've finished soaking up Vitamin D, stop by a gallery or take in a festival - June plays host to the Sawdust Art Festival and Laguna Art-A-Fair, while July welcomes the Pageant of the Masters.
9. Fort Lauderdale Beach, FL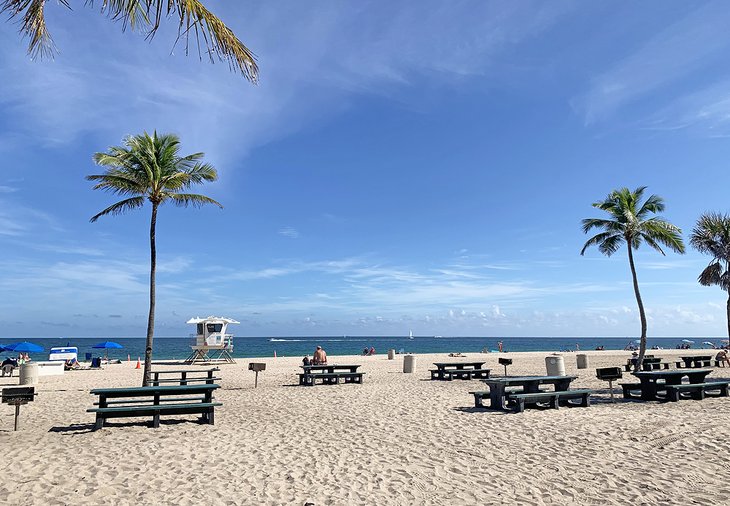 Similar to its cousin in Miami, Fort Lauderdale Beach is also lined by an ocean-front boardwalk. Here, too, you'll find rollerbladers, sun worshippers, and beach volleyball aficionados. You'll also come across a vibrant social scene complete with outdoor musical entertainment and street performers. Unlike Miami Beach, however, you won't need to fight huge crowds to find a good spot for your sun tent on this popular beach.
Florida is packed with beach getaways. This beautiful beach vacation destination is a list-topper featuring seven miles of pure, soft, white sand backing a vast view of the sparkling blue Atlantic Ocean. Two miles of this is staffed by lifeguards. Although it might appear to be one long beach, there are several beach areas in Fort Lauderdale.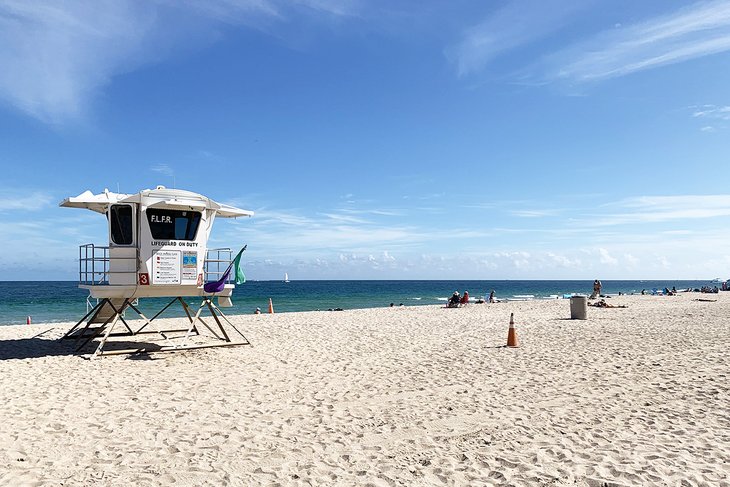 Towards the north end of the beach, you'll find Fort Lauderdale Beach Park, which has enough picnic tables to seat everyone you've ever met, as well as restrooms, outdoor showers, lifeguards, and of course, that beautiful boardwalk Fort Lauderdale Beach is so famous for.
10. Myrtle Beach, SC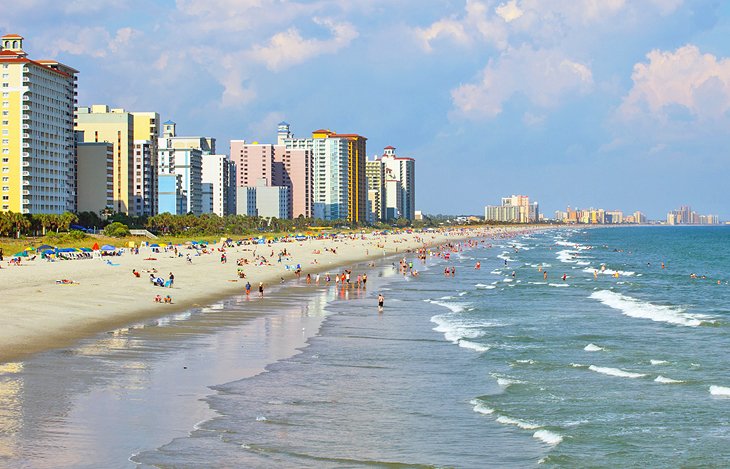 There's nothing boring about Myrtle Beach. With over 60 miles of amazing coastline, this popular East Coast beach offers visitors a little bit of everything, making it one of the best beaches for families. Soak up the sound of the Atlantic Ocean as its waves crash onto the shore. Throw a frisbee, play beach volleyball, or head out on a surfboard.
When the kids get bored, you can spice things up at WonderWorks, a 50,000-square-foot complex that contains rides, obstacle courses, a glow in-the-dark indoor ropes course, and over 100 hands-on educational exhibits. Or, spend a few hours at Ripley's Aquarium before riding the Myrtle Beach Skywheel, which offers impressive views from almost 200 feet above the boardwalk.
While Myrtle Beach can often feel crowded and busy, Southern hospitality abounds at local shops and restaurants like Thoroughbreds Chophouse & Seafood Grille. Their NY Strip steak is not to be missed.
11. Coast Guard Beach, Cape Cod, Massachusetts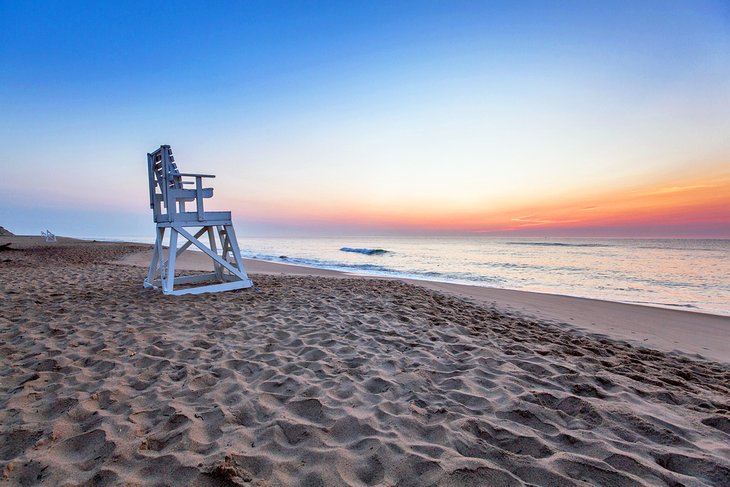 Cape Cod is known as a haven for sun worshippers, especially during summer. Packed with incredible beaches, it's difficult to choose the best beach in Cape Cod. That said, Coast Guard Beach is a winner.
In addition to a wide, flat expanse of sand; dramatic sand dunes; adjacent marshlands; large surf; and spectacular views, this popular beach boasts everything you'd hope for in a top beach in the US.
Spend the day here, and you'll find plenty of things to do, including seal-watching, swimming, surfing, sandcastle building, and playing volleyball. Lifeguards are on duty, and you'll find restrooms, making it easy to spend an entire day here.
12. Kiawah Beachwalker Park, Kiawah Island, South Carolina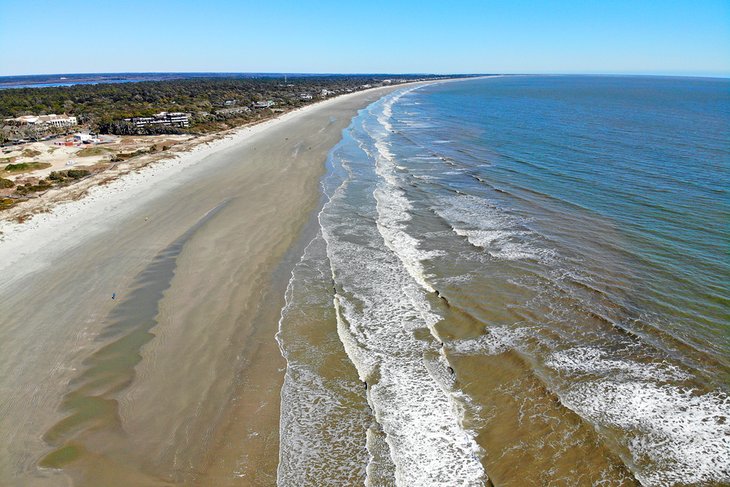 Kiawah Beachwalker Park is home to one of the best beaches in South Carolina. Located an hour south of the top tourist attractions in Charleston, this sandy slice of heaven is the perfect spot to unwind and enjoy a serene day by the shore.
Kiawah Island is a quiet, mostly gated community, which means you won't encounter music-blaring beachgoers vying for your spot on the pristine sand. You'll find Kiawah Beachwalker Park on its west end, optimally located for pretty views of the Atlantic Ocean and Bohinket River.
No need to overload your car – you can rent chairs and umbrellas on-site every weekend from May 1st to September 26th. Daily rentals are available between May 31st and August 15th. There are grills on offer and picnic areas, as well as a snack bar, so you won't go hungry.
Lifeguards are on duty from 10am to 6pm daily from May 31st to August 13th, and on weekends from May 1st to 30th and August 14th to September 6th.
13. Singing Beach, Massachusetts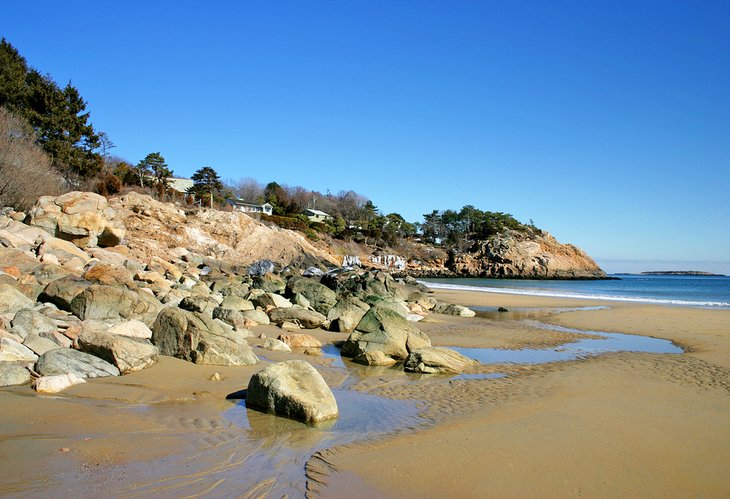 Located in Manchester-By-The-Sea, a mere eight miles from Gloucester and an hour outside Boston, Singing Beach is one of the best beaches in Massachusetts.
Also dubbed one of the best beaches in New England, this half-mile-wide superstar is famous for its unique musical qualities. When the humidity is just right, the sand produces a squeaking sound when its grains rub together, hence the beach's noteworthy name.
Singing Beach boats amenities like a bathhouse (circa the early 1920s), restrooms, changing stalls, showers, and lifeguards who are on duty from Memorial Day to Labor Day.
14. Coligny Beach, Hilton Head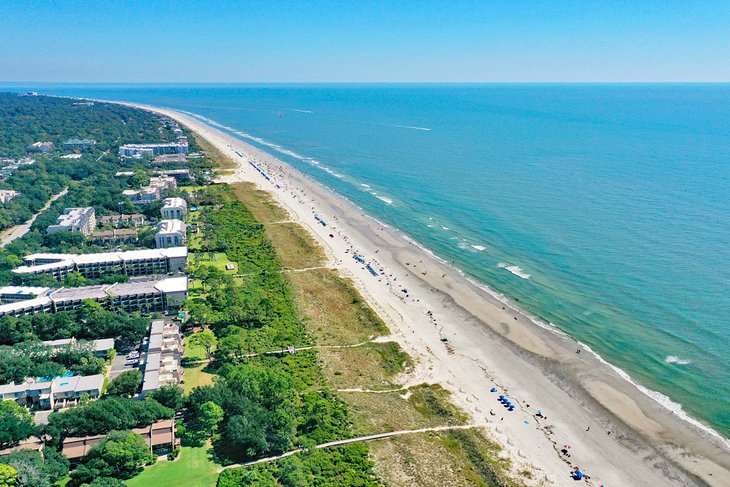 Coligny Beach is yet another of the best beaches in South Carolina. Set on the illustrious Hilton Head Island, this beautiful beach is set beside Coligny Beach Park. Spending time on its soft, sandy base is one of the best things to do in Hilton Head.
Sitting on the sand isn't the only enjoyable activity at Coligny Beach. Frolic in the waves, head out on a paddleboard, people-watch on the boardwalk, spike a beach volleyball, or surf the web (yes, there's free Wi-Fi on the beach). There are lifeguards on duty, a huge mat that makes the beach wheelchair accessible, and chair and umbrella rentals on-site.
To get to the beach, head through the public park, pass the amenities (i.e. restrooms, changerooms, and outdoor showers). No one will blame you for stopping for a rest on the inviting rockers or ginormous swing chairs.
15. Ocracoke Lifeguard Beach, The Outer Banks, North Carolina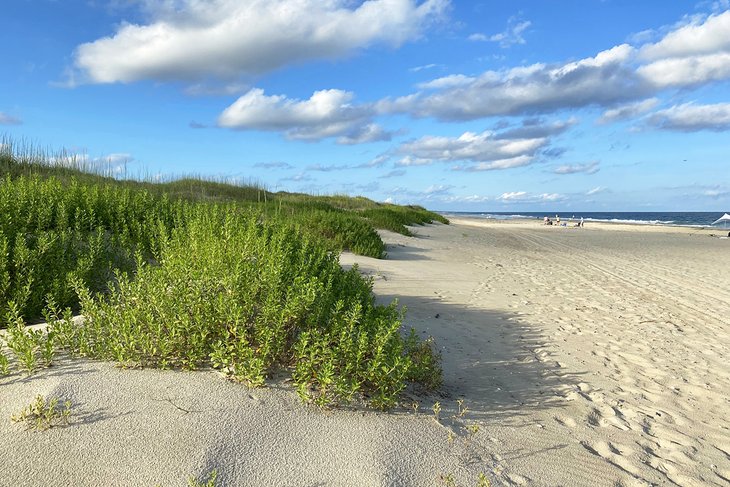 It's not easy to reach the Ocracoke Lifeguard Beach. Expect a long drive and a ferry ride from Hatteras. Once you're finally faced with its immense beauty, you'll understand why this stunning beach is worth the trip. One of the best beaches in the Outer Banks, this natural beauty is set on Ocracoke Island and has been dubbed "the best beach in America" by Dr. Beach.
The water at Ocracoke Lifeguard Beach is warmer than that found on the Cape Hatteras National Seashore to the north, so you'll want to spend much of your time splashing, floating, or sailing above the azure waves during your visit. Luckily, lifeguards are on duty during summer to be sure your water-based fun is safe.
16. Old Lighthouse Beach, The Outer Banks, North Carolina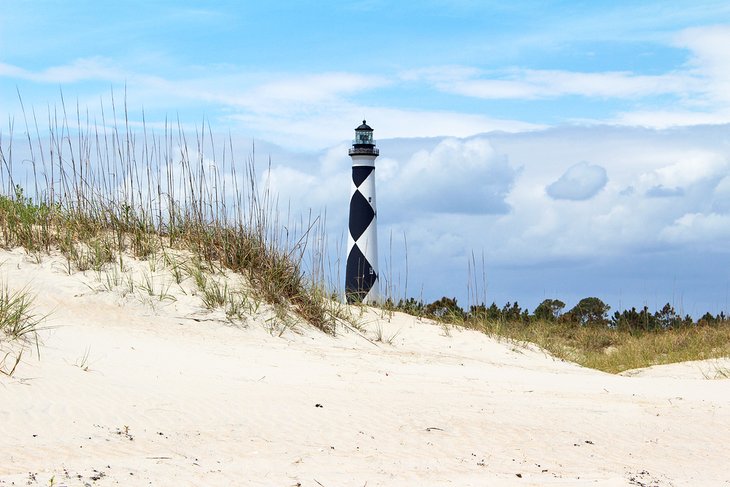 Buxton plays host to the idyllic Old Lighthouse Beach in North Carolina's Outer Banks. During summer, visitors and locals pack the shore between June and August with towels, chairs, umbrellas, and water sports equipment. Luckily, the parking lot is mere steps from the beach, so there's no need to walk far with all that gear.
While the epic waves are the biggest draw for people who like to surf, shell seekers will enjoy the vast array of finds on this long stretch of beach. The best spot for shelling is on either side of the sand barrier.
You'll want to hold on tight to little ones, as the ocean gets rough here, but they'll have plenty of fun playing in the sand.
17. Venice Beach, Los Angeles, California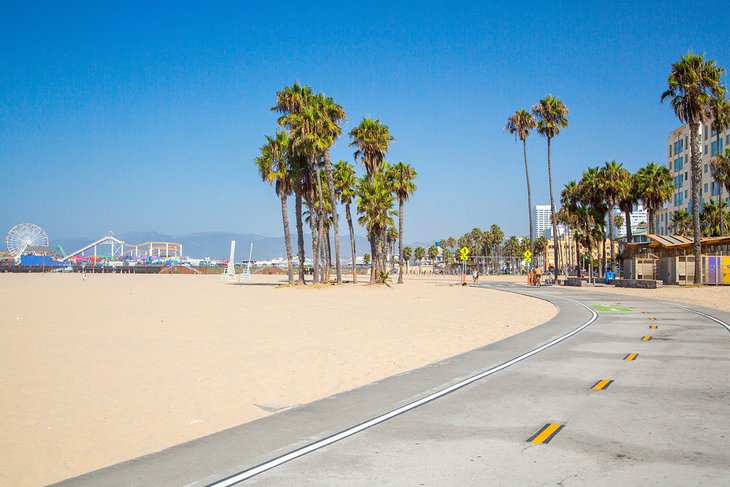 Venice Beach is California's answer to Miami Beach. A perfect spot to people-watch, this glitzy stretch of silky sand spans a mile along the Los Angeles coast. Running along the Pacific Coast Highway, Venice Beach nestles against Santa Monica and offers visitors a day (or more) that they'll never forget.
It's all action all the time in this fun locale. Yes, you can swim, boogie board, sunbathe, and play beach volleyball, but there are so many other interesting things to do on this top L.A. beach. Basketball courts, a skatepark, and tennis and handball courts are all available for your use.
18. Cape May Beaches, New Jersey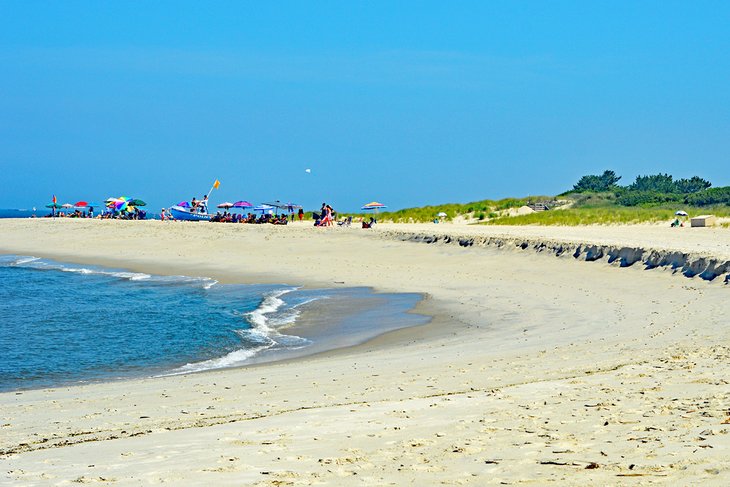 It's easy to see why Cape May is deemed one of the best beaches in New Jersey. Technically a collection of 16 different beaches, the Cape May shoreline spans about 2.5 miles of soft, wide beach. This is the perfect beach for families in the US, not to mention singles and couples looking for a bit of romance. In short, Cape May is the ideal beach destination for anyone on the northeast coast.
Lifeguards are on duty at Cape May City Beaches from July 1st to Labor Day, and there are plenty of amenities, not to mention activities, on offer. Visitors can try their hands at everything from fishing to skimboarding to kayaking.
Those with a penchant for surfing can head to Cape May's only surf-friendly beaches: Poverty Beach, The Cove, Surfing Beach, and South Queen Beach. No matter which beach you choose to unfurl your towel, you'll need to acquire a beach tag if you're visiting between Memorial Day and Labor Day.
19. Del Mar City Beach, Del Mar, CA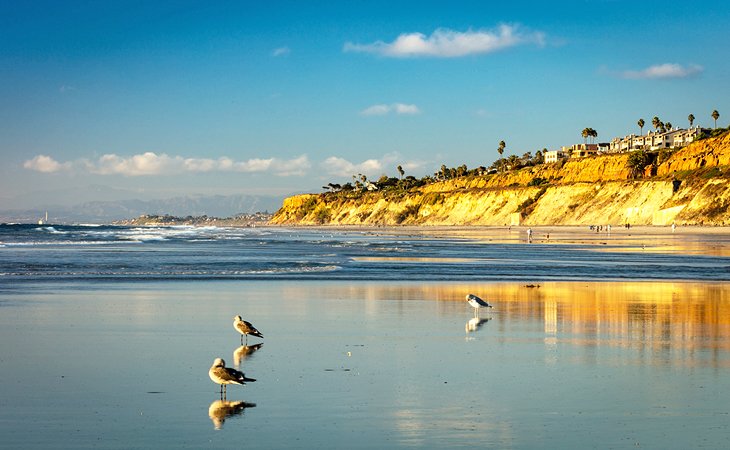 Searching for one of the best family beaches? Look no further than Del Mar City Beach. Located in the small city of Del Mar (a 30-minute drive north of San Diego), the main part of the beach begins at Powerhouse Park and runs north to the San Dieguito River. Powerhouse Park is a perfect family picnic spot. This grassy venue is peppered with picnic tables and benches offering beach views. Plus, it's a stone's throw away from stores and restaurants.
Del Mar City Beach runs about two miles in length and provides excellent swimming areas for kids of all ages. Plus, there are lifeguards on duty, which can help keep your parental worries at bay.
Itching for a run? Jog on the beach or head to the dirt trail lining the bluffs at the south end. At the north side of beach, you'll find Del Mar North Beach. Locals call it "dog beach" because dogs pretty much own this place, running around at all times of day.
20. Santa Monica State Beach, CA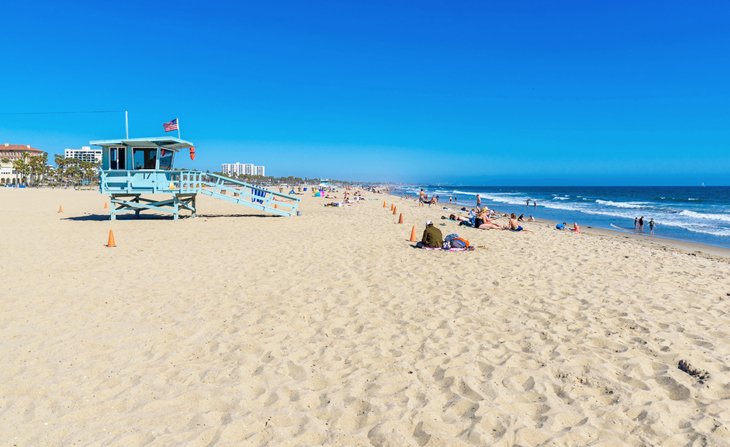 This famous Pacific Coast beach ticks off all the boxes, making it one of the best beaches in the Los Angeles area. Soft, white sand? Check. Clear blue water? Check. Boardwalk and bike trail? Check. Playgrounds? Check. Deliciously good restaurants? Check. People-watching? Double check!
Spanning 3.5 miles, Santa Monica State Beach has made good use of its space. The famed and highly photographed Santa Monica Pier is the number one reason for visiting this sunny spot, and those who stop by won't be disappointed. Situated smack in the middle of the wide beach, it boasts an aquarium, amusement park, shops, and restaurants.
South of the pier, you'll find large, open green spaces; a carousel in Carousel Park; and gymnastics equipment on "Muscle Beach." This is also where many of the city's best hotels and resorts lie. And you can bike all the way to Venice Beach (or farther to Redondo Beach) if you're feeling up to it. North of the pier, you'll be faced with miles of beach (aka Will Rogers State Beach) to wander.
21. Henderson Beach State Park, Destin, FL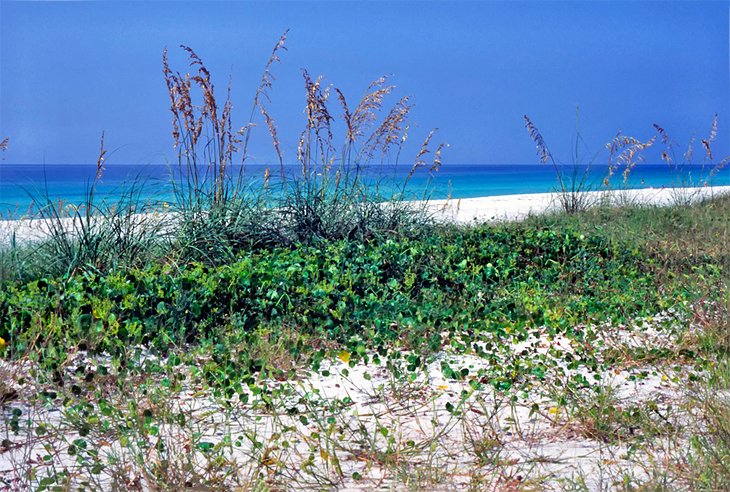 The unique color of the ocean bordering this amazing beach is all kinds of spectacular. Located on Florida's Emerald Coast, the water here is clear, emerald green, and utterly inviting. While visiting, tourists will have four other beach parks to choose from: June White Decker Beach Park, Norriego Point Beach Park, Shore at Crystal Beach Park, and James Lee Park (a county beach park). Each boasts soft, sugar-white sand that's perfect for walking on or building sandcastles with your kids.
James Lee Park is perhaps the most family friendly, as it boasts a playground, as well as picnic tables and three pavilions. Henderson Beach State Park, however, is also great for families. It, too, boasts top-notch facilities (like bathrooms, picnic tables, outdoor grills, and a pavilion). Plus, it's roomy, less crowded, and plays host to a great play area for kids (including a tight rope obstacle course).
A little-known fact: Destin is known as the "world's luckiest fishing village." If you're into that sort of thing, grab a fishing rod and head out to try your luck in the deep sea.
22. Easton's Beach (aka First Beach), RI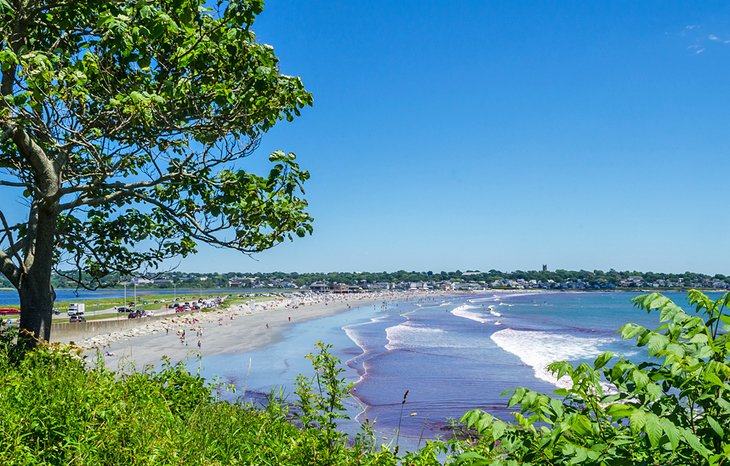 Easton's Beach doesn't deliver all the pomp and circumstance of other, more high-profile beaches (we're talking about you, Miami Beach). One of many highly rated beaches in Rhode Island (like Crescent Beach on Block Island and East Matunuck State Beach in South Kingstown), Easton's is the largest public surfing beach in Newport.
Tourists of all ages love the 1950s carousel and the amazing views of Newport's cliff-top mansions. Located at the start of the Cliff Walk, Easton's is a perfect spot to base yourself for the day. Grab lunch at the snack shack and park yourself on a towel. Forgot to pack a beach umbrella? No worries, you can rent one (along with a boogie board or beach chair) at the local beach store.
23. Headlands Beach State Park, OH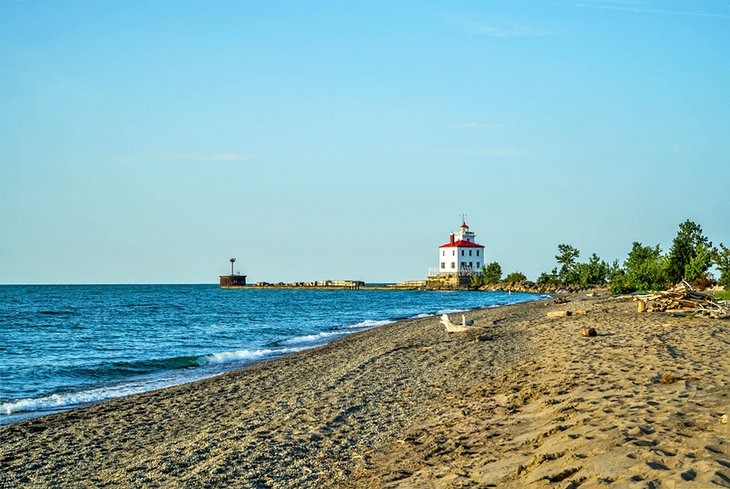 Bet you've never heard someone say, "I can't wait for my romantic beach getaway in Ohio." When we think about the best places to visit for a beach vacation, the obvious contenders include Florida, California, and Hawaii – not the Buckeye state!
Just because it's not widely known for its beaches, doesn't mean this state doesn't have something great to offer beach lovers. In fact, there are some fantastic beaches in Ohio, all along the Lake Erie shoreline.
Topping the list is the mile-long Headlands Beach State Park-the largest natural beach in the state. And it's by far the most popular. Located beside Headlands Dunes State Nature Preserve, this is one of the nicest places to spend a day.
In addition to the traditional water sports, sandcastle-building, and relaxing offered at all the beaches on this list, Headlands boasts a bevy of animal-watching opportunities. Flanked by natural dunes and American beach grass, you'll find yourself sharing the beach with monarch butterflies, gulls, and migrating songbirds, among other native creatures.
Another bonus: you won't have to worry about salt stinging your eyes or sharks lying in wait at this freshwater beach.
More Related Articles on PlanetWare.com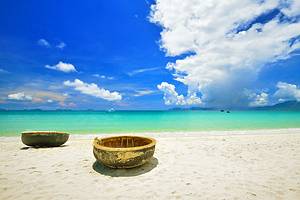 Best Beaches around the World: If you are interested in planning a European beach vacation, have a look through our list of the best beach destinations in Italy and France. Looking for something a little more exotic? Why not try the beaches of Vietnam. Alternatively, you might want to simply set your sights on the most beautiful beaches in the Caribbean.