11 Top-Rated Attractions & Things to Do in Cape May, NJ
We may earn a commission from affiliate links ()
Cape May is the perfect destination for a classic American beach vacation. This fashionable historic town, with its pleasant tree-lined streets and dainty Victorian cottages, is full of nostalgic charm. The natural scenery is equally attractive. At the southernmost tip of the Jersey Shore, Cape May boasts miles of spectacular sandy shoreline in pristine condition.
During summertime, the beaches are colorful scenes of bright parasols and kids splashing around in the shallow waves. In the spring and autumn, the refreshing Atlantic breezes and mild weather invite leisurely strolls along the oceanfront promenade. Other things to do include biking, boating, fishing, bird-watching, fine dining, and antique shopping. Plan your trip to this charming town with our list of the top attractions in Cape May.
Note: Some businesses may be temporarily closed due to recent global health and safety issues.
1. Cape May Historic District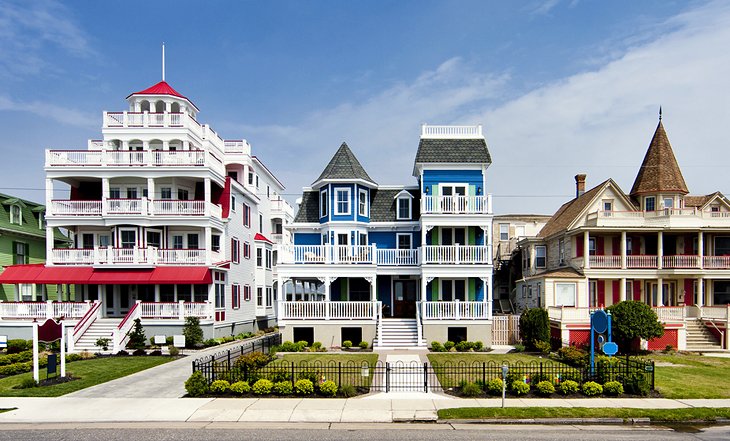 Cape May is considered the best-preserved 19th-century seashore resort in the United States. The entire center of Cape May (30 blocks) is a registered National Historic Landmark with over 600 Victorian-era houses. These charming summer cottages were designed with covered porches for enjoying the sea breezes and decorative elements such as "gingerbread" trim, "wedding cake" details, turrets, and gables.
The Emlen Physick Estate is a "Stick Style" Victorian house (and includes a museum and tearoom) that represents a break from the overly fanciful Victorian facades. At the heart of the Historic District, the Washington Street Mall (between Ocean Street and Perry Street) includes three blocks of enticing locally owned boutiques, candy stores, ice-cream shops, and restaurants.
A wonderful way to explore the Historic District is by foot or bike, stopping to admire the gorgeous "painted ladies" (Victorian houses). The Mid-Atlantic Center for the Arts & Humanities offers guided walking tours along Washington Street, where many of the town's prettiest old houses are found. Other especially lovely Victorians grace Lafayette Street, Hughes Street, and Columbia Avenue. The "Stockton Row Cottages" on Gurney Street are also famous.
A few landmark hotels stand on Beach Avenue overlooking the ocean: Congress Hall built in 1816, and the Victorian-era Inn of Cape May. In October, during Victorian Weekend, tourists enjoy special house tours and entertaining activities such as playing Victorian parlor games.
2. Sandy Beaches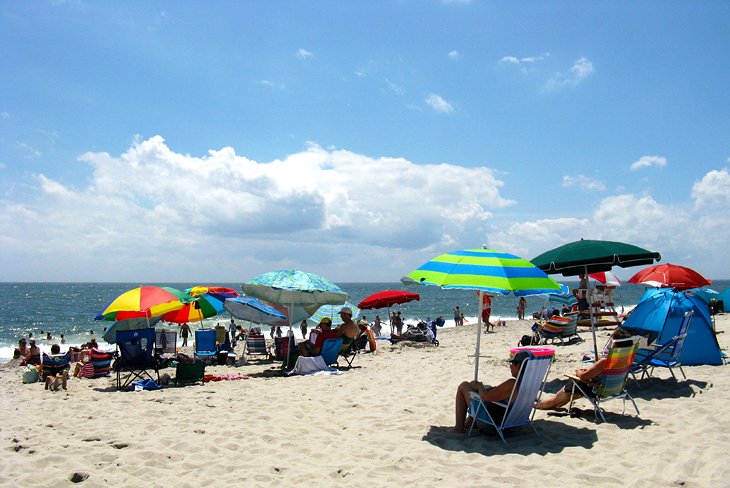 Cape May is nestled between the Atlantic Ocean and Delaware Bay at the southernmost tip of New Jersey. The shoreline includes 2.5 miles of sandy beaches, which are some of the most beautiful on the Eastern coastline. Cape May's family-friendly beaches are well maintained and located near public restrooms, shopping, and restaurants. Most hotels and accommodations in Cape May are within easy walking distance of the beaches. During the high season (Memorial Day weekend through Labor Day), Cape May beaches require entry tickets from 10am to 5pm. Beach tags may be purchased for the day, three-day period, week, or season.
From June until September, Cape May beaches offer a classic summertime experience of sunbathing and swimming. In the off season, bird-watching and nature walks are popular. A favorite beach for soaking up the rays (as well as for surfing) is The Cove with its wide, slightly sloped shore.
In front of the famous Congress Hall, the Congress Street Beach has an upscale ambience and is the location of the annual 4th of July fireworks. Steger Beach and 2nd Avenue Beach have volleyball nets. The section of beach a quarter-mile east of the Brooklyn Avenue storm pipe is reserved for fishing. At all the other beaches, fishing is allowed before 10am or after 5pm.
Sunset Beach in West Cape May is the place to go for late-afternoon walk. Many visitors arrive here just before dusk to take in the last sparkling golden rays of the day. From May through September, a flag ceremony is held at Sunset Beach every evening.
3. Bird-Watching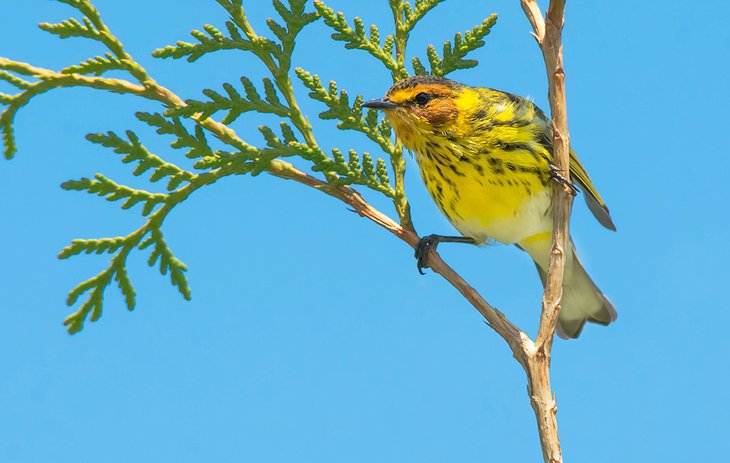 Cape May is North America's premier birding destination, thanks to its location on migratory paths and diverse habitat of marshes, ponds, swamps, grasslands, and forests. For over two centuries, the Cape May environment has been appreciated by bird-watchers, including John Audubon. Around 450 bird species have been spotted at Cape May such as warblers, sandpipers, oystercatchers, plovers, orioles, and summer tanagers.
Top locations for birding are in West Cape May (the rural area outside of the historic town): South Cape May Meadows, the Cape May Hawkwatch, and Higbee Beach Wildlife Management Area. Peak migration periods occur in May (for shorebirds) and in September (for songbirds).
4. Cape May Point State Park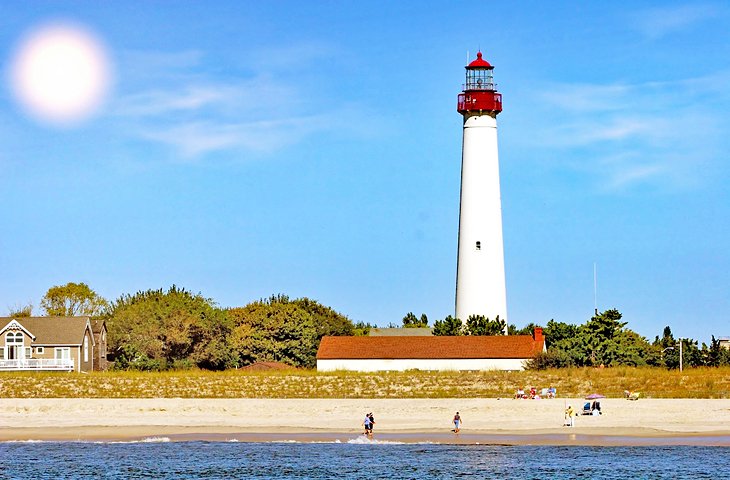 Cape May Point State Park is a protected stretch of shoreline, sand dunes, coastal marshland, ponds, and forest habitat with an environmental center and museum. The park's main attraction is the Cape May Lighthouse, which commands sweeping panoramas of the Atlantic coastline.
Several hiking trails wind through the park, affording a chance to spot wildlife or migrating birds. The Monarch Trail was named after the monarch butterflies that are attracted to wildflowers here in the fall, while the Plover Trail is a wonderful path for viewing plovers, oystercatchers, and other shorebirds. The Duck Pond Trail abounds with wildlife including duck, turtles, river otters, and bald eagles.
From both the Monarch Trail and Plover Trail, visitors can see the World War II Gun Battery (bunker) on the beach. Near Cape May Point about a five-minute drive from the Cape May Lighthouse is the WWII Lookout Tower, which played an important role in defending the country from invasion during the Second World War. The tower was built in 1942 as one of 15 coastal defense towers in New Jersey.
This tourist site includes a museum, which presents military history-themed exhibits, interpretive panels along the boardwalk that provide historical insights, and a memorial paying tribute to war veterans.
5. Victorian Bed-and-Breakfasts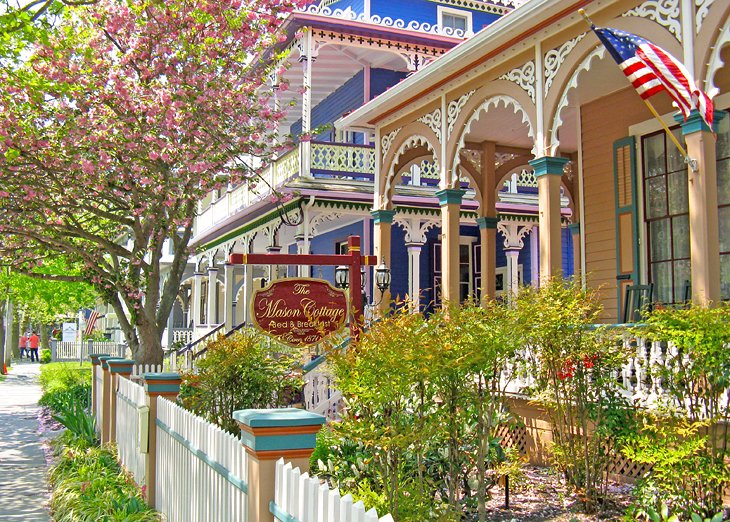 Staying at one of Cape May's charming historic accommodations is a special experience. Many of the town's Victorian summer cottages have been converted to luxurious bed-and-breakfast hotels. Many B&B guest rooms are outfitted with four-poster beds, vintage floral wallpaper, and antique furniture. Breakfasts are served in elegant dining rooms, for a glimpse of what life was like for high society holiday-goers in the 19th century.
For those who'd like to see inside one of the old Victorian houses (without staying here), Angel of the Sea gives 30-minute guided tours of its sumptuous interior.
Accommodation: B&B and Inns in Cape May
6. Schellenger's Landing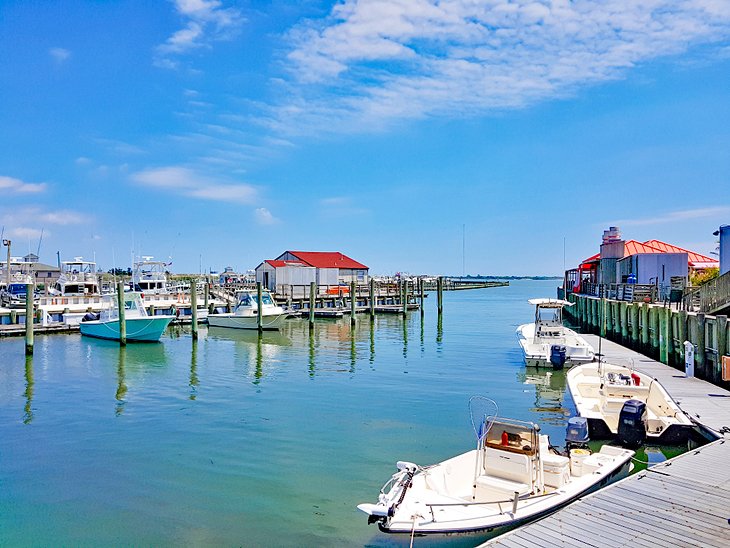 The Fisherman's Wharf of Cape May, Schellenger's Landing gives tourists a taste of the town's seafaring past. Schellenger's Landing has several marinas: South Jersey Marina, Utsch's Marina, and Miss Chris Marina. This area is one of the best places to visit in Cape May for a classic seafood restaurant experience. Popular waterfront restaurants draw crowds of diners who are willing to wait.
A great spot for setting off on recreational fishing and boating adventures, the marinas at Schellenger's Landing have many shops that sell fishing gear and rent out kayaks and paddleboards. At Utsch's Marina and Miss Chris Marina, anglers can embark on sportfishing charters and deep-sea fishing trips. Another attraction at Utsch's Marina is the Cape May Whale Watch & Research Center. Many tourists enjoy the whale-watching trips, dolphin-watching trips, sunset cruises, and Delaware Bay lighthouse cruises, which depart from Miss Chris Marina. Birding by Boat and Wetlands Wildlife Safari tours also leave from Miss Chris Marina.
7. Cape May Harbor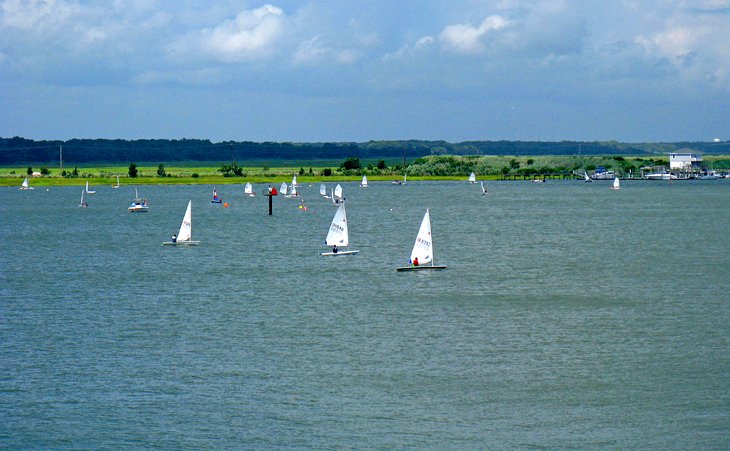 This sheltered harbor is an idyllic scene of sailboats and yachts gliding through gently rippling turquoise waters. There is a tiny beach in a quiet cove with a few picnic tables. Overlooking the harbor, the New Jersey Audubon's Nature Center of Cape May presents educational exhibits and hands-on activities designed to inspire kids' interest in nature. The nature center also has an observation tower, gift shop, picnic area, and a lush flowering garden landscaped to attract butterflies.
For families with young children, a Harbor Safari is a fun outing. Kayaks and paddleboards can be rented from Aqua Trails near the nature center.
8. Christmas Celebrations and House Tours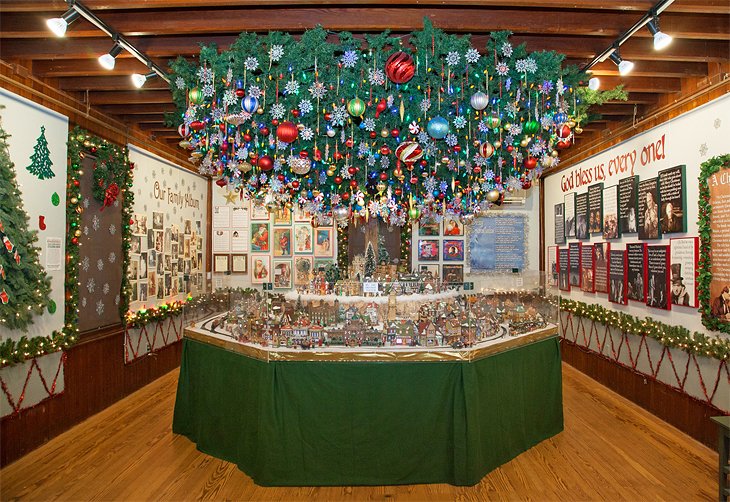 The holiday season is a special time to visit Cape May and brings with it a selection of festive things to do. During December, the Victorian houses and landmark hotels of Cape May are decorated in old-fashioned style for Christmas. Festive illuminations, garlands, and Christmas trees lend a magical ambience to the town's historic houses. The Mid-Atlantic Center for the Arts & Humanities organizes Candlelight House Tours at historic properties throughout town. The tours include Christmas carols, hot beverages, and homemade cookies.
Kicking off the season, a Christmas Parade is held in West Cape May on the first Saturday in December. Other events in December include tree lighting ceremonies, held at Congress Hall and the Emlen Physick Estate, and holiday-themed trolley rides. Congress Hall hosts a Winter Wonderland with concerts, activities for kids, and an open-air Christmas market. The Washington Street Mall is a lively place to go Christmas shopping, as boutiques open their doors for longer hours and offer refreshments.
9. Historic Cold Springs Village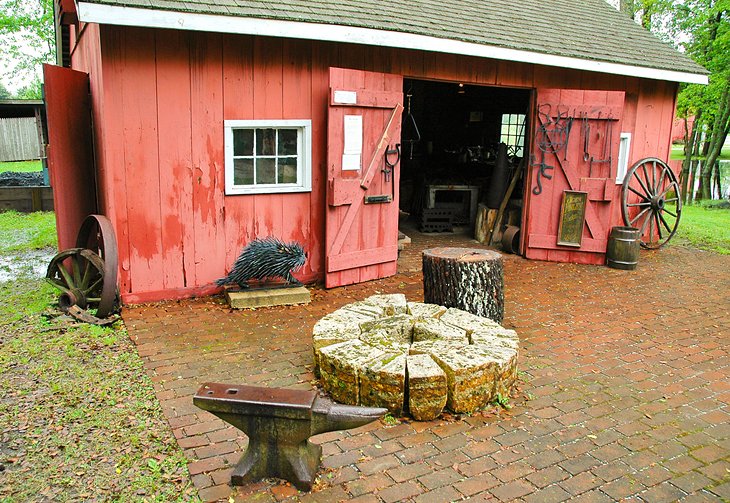 The Historic Cold Springs Village is a small country community frozen in time. This open-air museum of Early American history includes 27 perfectly preserved buildings, mostly dating from the early to mid 1800s, including a country store, craft shops, restaurants, a bakery, and ice-cream parlor. Walking around the 30-acre village, visitors get a sense of the 19th-century cultural heritage. To further bring the history to life, the village offers demonstrations on the Early American trades, such as blacksmithing, woodworking, and weaving. The property also features a working farm.
Official site: https://hcsv.org
10. West Cape May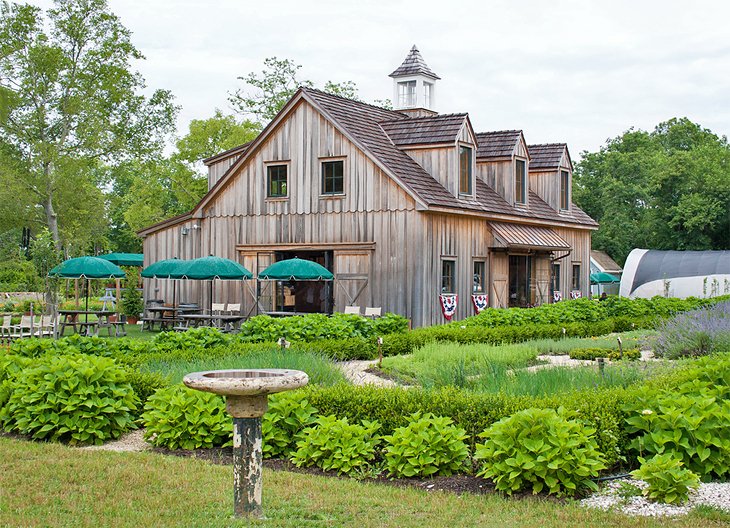 Beyond the historic district of Cape May is a quiet rural community with many small farms. Dating back to the 1600s, European colonists cultivated this area for agricultural use. In the 20th century, the land was used for the Cape May dairy, as well as for lima bean and soy bean farms. In keeping with its heritage, a Lima Bean Festival takes place at Wilbraham Park in West Cape May every October.
Tourists will also enjoy cycling in West Cape May; it's an easy (and scenic) bike ride from Cape May's center. Bird-watchers will appreciate the observation decks and walking trails at South Cape May Meadows, which includes 200 acres of protected habitat for birds and other wildlife.
Built on a historic property, Beach Plum Farm is a 62-acre farm that supplies produce to local restaurants. Beach Plum Farm grows over 100 varieties of fruits, vegetables, herbs, and flowers. The property's rustic-chic country market sells hand-picked fresh produce harvested from the farm's fields and gardens, while the Farm Kitchen serves breakfast and lunch made with ingredients from the farm. Other reasons to visit are the shaded picnic area (perfect for sunny days), farm-to-table dinners, and quaint cottages that provide overnight accommodations.
11. Colonial House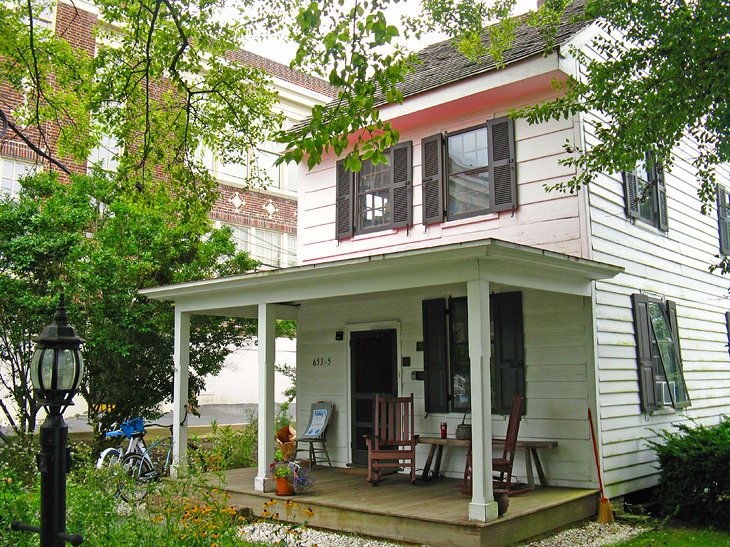 Cape May was an important whaling town during the 16th and 17th centuries. However, most of the original "First Period" (1690 - 1730) colonial-era houses were destroyed in the fire of 1856. The Colonial House luckily survived the fire and is the oldest house in Cape May. Built in 1730, the house (now open to the public as a museum) displays authentic period furnishings and household items. Visiting hours are from 1pm - 4pm Wednesday through Saturday (June 15 through September 15), as well as during Victorian Weekend in October and Christmas Candle House Tours.
Address: 653 1/2 Washington Street, Cape May
Official site: https://www.capemayhistory.org
Where to Stay in Cape May for Sightseeing
Luxury Hotels:
Check out the recently renovated Boarding House Cape

May

for a laid-back luxury ambience inspired by Cape May's surf culture. Rooms have surfboards mounted on white wood-paneled walls, as well as paintings by local artists. Walking distance from the town's top restaurants and the beach, the hotel is also pet friendly if you're traveling with a dog.
Located on 1.5 acres in Cape May's historic district, The Southern

Mansion

is one of the top luxury B&B choices in town. A popular wedding venue, it has a historic, romantic ambience. The property dates back to 1863, and the spacious rooms and suites have been restored to the style of this period. The property is adults-only, and besides a complimentary breakfast, it also has free parking. Don't skip a stroll around its beautiful gardens.
Mid-Range Hotels:
Budget Hotels:
Cape May doesn't have many budget properties, and even 2-star hotels here are pricy in season. One of the cheaper choices is the Madison Avenue Beach Club

Motel

. The family-friendly property features rooms and suites with kitchenettes. The motel is also dog friendly.
More Related Articles on PlanetWare.com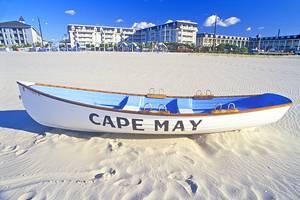 See More of New Jersey: If you are just getting started on your trip planning, be sure to see our article on the top tourist attractions in New Jersey. For summer trips, be sure to also check out our list of the top beaches in New Jersey. And regardless of when you plan to visit, see our top-rated resorts in New Jersey to help select your accommodation.