18 Top-Rated Beaches in New Jersey
Fronted by nearly 130 miles of pristine coastline, New Jersey is home to some of the most beautiful beaches in the Northeast. We're talking beaches perfect for kitesurfing, sandcastle building, and fishing. Plus, others are so serene, they'll make you forget you ever had worries.
With 44 beautiful beaches spanning the coast from Cape May (south) to Sandy Hook (north), the Garden State could have easily been called the Beaches State. Not surprisingly, New Jersey's best beaches are the go-to summer destination for locals and tourists alike.
Whether you're looking to spend the day lapping up the sun with a side of gently crashing waves at Stone Harbor or hope to people watch on the more touristy Wildwood Beach, you'll find a perfect spot to indulge your beach fantasies in New Jersey. Arrive early to stake your claim, especially if you choose to visit on a summer weekend.
Not sure where to start? Narrow your options with our list of the best beaches in New Jersey.
1. Cape May Beaches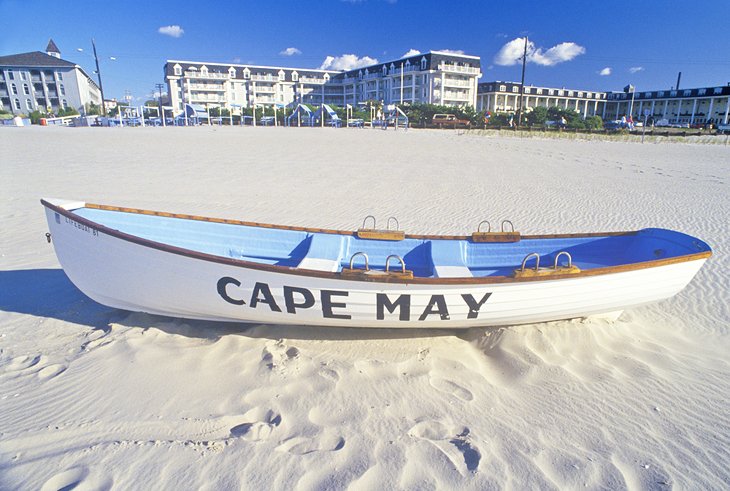 Cape May is arguably the most charming of the Jersey Shore beach towns, and its city beaches are frequently dubbed the best beaches in New Jersey. No wonder so many New Yorkers choose this beachy spot as a weekend getaway destination from the Big Apple.
Technically one long (about 2.5 miles), wide beach, Cape May's vast, sandy shore is divided into 16 different beaches, most of which are named for the nearest street intersecting Beach Avenue (like Queen Street, Decatur Street, and Broadway).
A perfect place for singles, couples, and families, Cape May City Beaches offer up a slew of fun activities, with lifeguards on duty to keep everyone safe (from 10am to 5:30pm from July 1st to Labor Day, that is). Visitors can swim, fish, kayak, skimboard, play a game of beach volleyball, or try surfing (at Poverty Beach, The Cove, Surfing Beach, and South Queen beaches, only).
Visitors require a beach tag if traveling between Memorial Day and Labor Day. These can be purchased from a kiosk on the promenade at the Broadway, Gurney Street, Howard Street, Madison Avenue, and beach entrances. If you choose to buy them online, you'll still have to pick them up in person.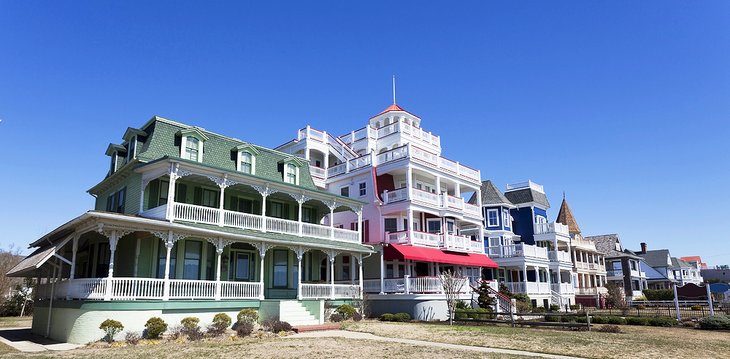 Known as the nation's oldest seaside resort, Cape May's beaches are lined by adorable streets dotted with Victorian houses, quirky shops, and quaint bed-and-breakfasts. If you're looking for sustenance, head to one of the tasty restaurants nearby and take your food to-go, so you can enjoy it on the sand.
Those who'd like to beat the heat or enjoy a rainy day indoors can visit one of the top attractions in Cape May - like the Cape May County Park and Zoo, Fireman's Museum, or the Cape May Lighthouse, or relax in one of their many spas.
After a busy day, stop in at Uncle Charley's Ice Cream for some homemade, hand-dipped ice-cream, an all-time favorite of those visiting the Jersey Shore. A short walk from the beach, The Virginia hotel has a delightful front porch, which will tempt you from the shore, and Angel of the Sea is a Victorian delight complete with afternoon tea.
Accommodation: Best Resorts in Cape May, New Jersey
2. Ocean City Beach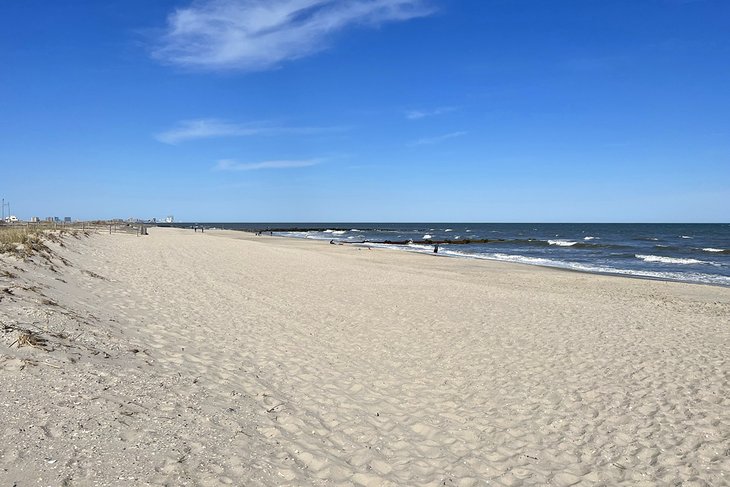 Over eight miles of clean beachfront greets visitors to Ocean City, a family-friendly barrier island boasting sugar-white sand. Technically divided into multiple beaches (similar to Cape May), Ocean City's beaches include: Waverly Boulevard, Seventh Street, 16th Street, and St. Charles Place, among many others.
The most popular stretch of sparkling beach fronts a dramatic, postcard-perfect boardwalk that carries pedestrians past nearly two and a half miles of spectacular scenery. This is where you'll find the most action, and it can get quite busy on warm, summer days.
While many of the beaches are guarded from 10am to 5:30pm from Memorial Day through Sunfest Weekend (usually the third weekend after Labor Day), surfing is only permitted at a handful: Waverly Boulevard, Seventh Street, 16th Street, and beaches south of 36th street where "lifeguard stands are three blocks apart."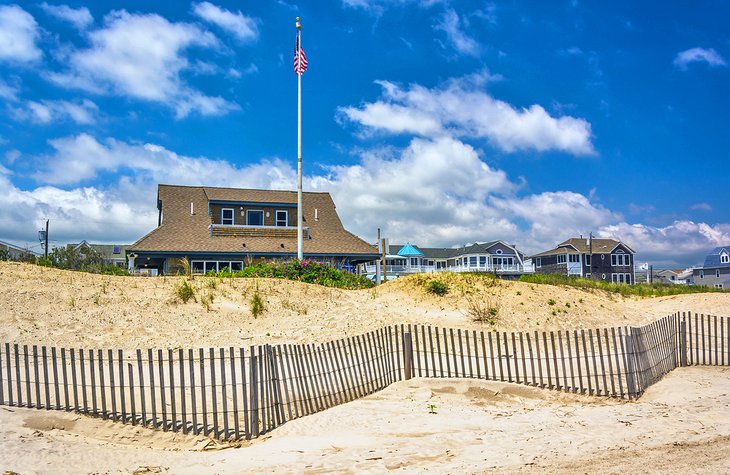 When they aren't frolicking in the waves or burying each other in the sand, kids will love all the fun activities Ocean City has to offer - like water and amusement parks, miniature golf courses, and concerts at the Ocean City Music Pier. Gillian's Wonderland Pier is a particularly epic crowd-pleaser boasting 25 rides.
3. Wildwood Beach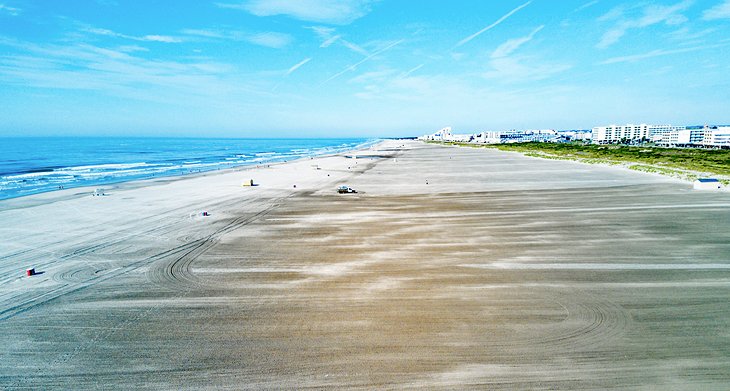 Wildwood is the spot to be if you crave more excitement than the Atlantic Ocean provides. Lined with five miles of luscious sand so soft, your toes will sink right in, this family-friendly destination is also home to an epic, 36-block boardwalk featuring amusement rides, games, and souvenir shops. Talk about a quintessential Jersey Shore vacation.
The beach stretches nearly five miles, offering guests plenty of places to park their sun loungers and set up shop for a full day of fun and relaxation on the sand. Lifeguards are on duty from 10am to 5:30pm from Memorial Day through Labor Day, and you'll find plenty of places to rent water sports equipment like boogie or surfboards.
Forgot your beach chair? No worries. You can rent one on-site. Don't want to lug all of your belongings to the sand? Hire a "beach taxi" to cart your stuff.
Morey's Piers is a must-stop for those who either have children or are kids at heart. It boasts two water parks and a slew of fun land-based rides perfect for kids (and adults) of all ages. The pier is located on the expansive Wildwoods Boardwalk.
When it's time to cool off, take a dip in the ocean, of course. Then, grab a delicious cold treat (or two) from Kohr's Brothers Frozen Custard.
Official site: https://wildwoodsnj.com
4. Asbury Park Beach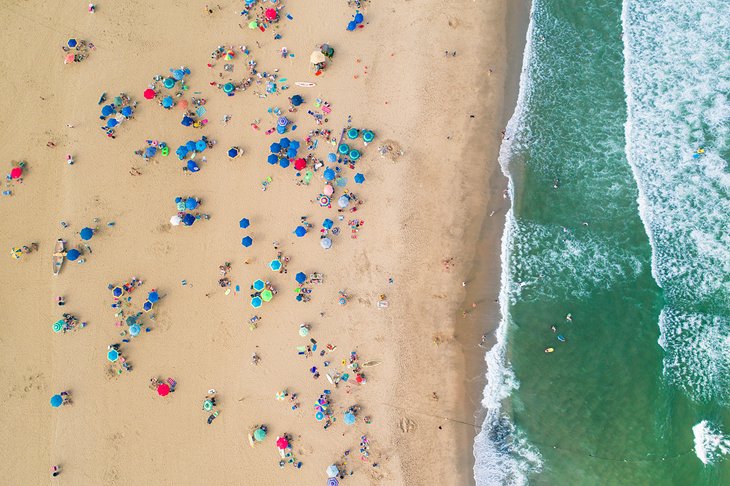 Asbury Park wasn't always known as one of the best beaches in New Jersey, but things have changed in the last decade or so. Its somewhat recent transformation has included a revamped boardwalk lined with fab restaurants and interesting shops.
Asbury Park Beach features a mile-long stretch of clean, white sand so pristine, you'll be tempted to build a sandcastle even if you aren't visiting with kids. Brush yourself off and head in for a swim, jump in a kayak, or try your balance on a stand up paddleboard.
Have a fishing rod? You can fish here, too. And it's just a 90-minute drive from both New York and Philadelphia. A lover of all things 80s? This is the beach for you. Both Bon Jovi and Bruce Springsteen graced the local venues and got their start at places like the Stone Pony, where you can still listen to live music.
Pinball aficionados will be taken back to their childhood after one visit to the Silverball Museum Arcade on the boardwalk. The eclectic mix of activities in Asbury Park make this a destination for old and young alike.
Have a four-legged friend? Asbury Park's 8th Avenue Dog Beach is one of the best dog-friendly beaches in New Jersey.
5. Brigantine Beach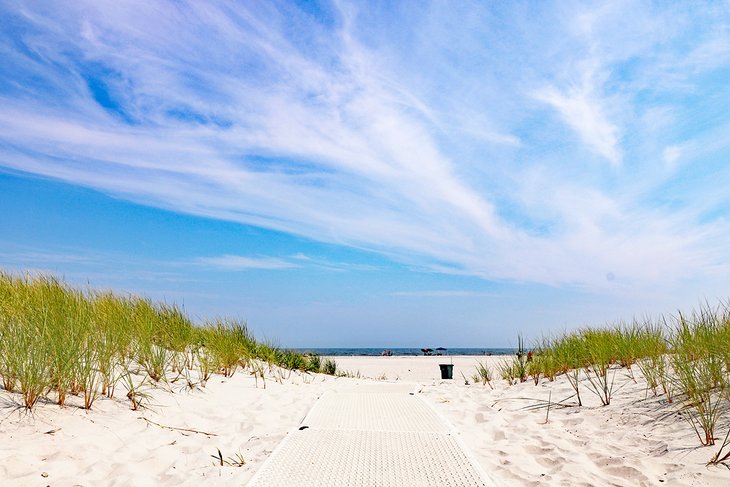 Brigantine Beach is a Jersey Shore staple. Set on a barrier island just over five miles north of Atlantic City, the sandy shores lining The Island (as it's called by locals) entice travelers looking to swim, sail, kayak, SUP, fish, kitesurf, lounge, and even Jet Ski.
With lifeguards (a.k.a. the Beach Patrol) on duty from June 15th through Labor Day, visitors are welcome to play in the waves from 10am to 5:30pm on 20 different sections of the beach. Those looking to surf can do so at one of four areas: 12th Street North, 10th Street South, South of the Sandy Lane bathing area, and North of the South End Jetty.
Beach tags are needed for every beachgoer aged 12 and up, and you'll require a special permit if you're planning to drive a 4x4 or use a Jet Ski. There are five beach parking areas, making parking a breeze.
Dogs are allowed to enjoy the beach fun from October 1st to May 29th, as long as they are less than six feet long and leashed.
6. Sandy Hook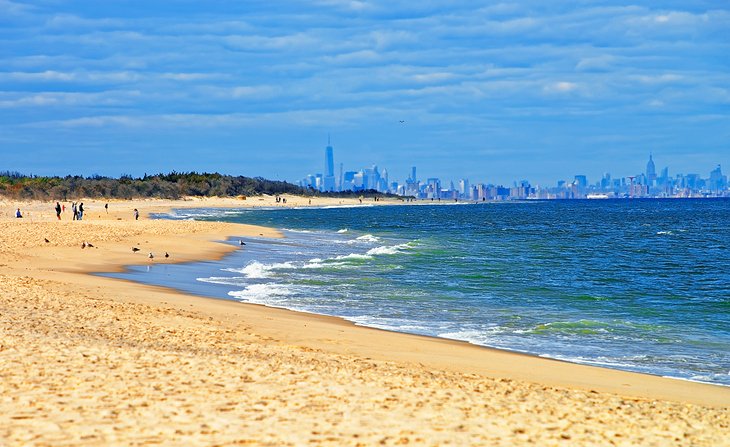 Located at the north end of the Jersey shore, this state park is home to one of the best beaches in New Jersey. You will have to pay to access it, but when you are inside the state park grounds, you will enjoy beautiful white sand and plenty of parking, something that is at a premium in this state. In season, you should definitely arrive early to best enjoy this destination and the surrounding nature.
There is more to do than just sunbathing on this barrier spit of land. Bring your bike and tour the seven-mile bike trail through the park, reserve a primitive camping spot and sleep under the stars, windsurf, or kiteboard. There is also excellent bird watching. One of the best ways to experience Sandy Hook is through one of the ranger-led canoe tours that take adventurers on a two-mile trip, allowing you to experience Sandy Hook from the water.
7. Island Beach State Park, Seaside Park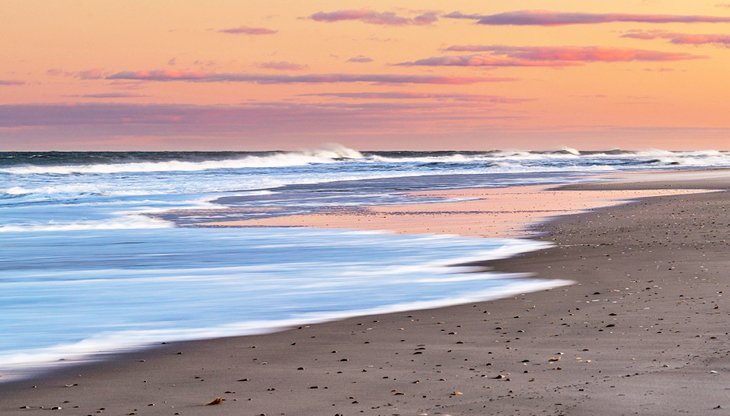 Island Beach State Park is one of the most serene and natural of New Jersey's best beaches. Located on a narrow barrier island, this protected park was shaped by Mother Nature herself - multiple storms and aggressive tides have left their impression here. This is one of the last remaining islands of its kind in the state.
The park lies between the dramatic Atlantic Ocean and much calmer Barnegat Bay, offering visitors access to a wide variety of water-based activities. Swimming is permitted along a mile-long stretch of beach in the middle of the park. It's guarded from 10am to 6pm on weekends from Memorial Day through the second Saturday in June, and daily from that second June Saturday through Labor Day. Tip: Don't bring flotation devices like inner tubes or rafts - they aren't permitted on-site.
A fee is required to get on the island, but once you are there, you can enjoy the shore in its natural state, with clean beaches, ample bathrooms, shower facilities, and picnic areas. Visitors can walk the self-guided trails, enjoy a picnic lunch, swim in the ocean, surf, and canoe.
This is the perfect spot to visit for the day for those looking for a respite from the hustle and bustle of the other shore towns. It is also home to the state's largest osprey colony, so be sure to bring your binoculars and bird guide.
8. 7 Mile Beach, Avalon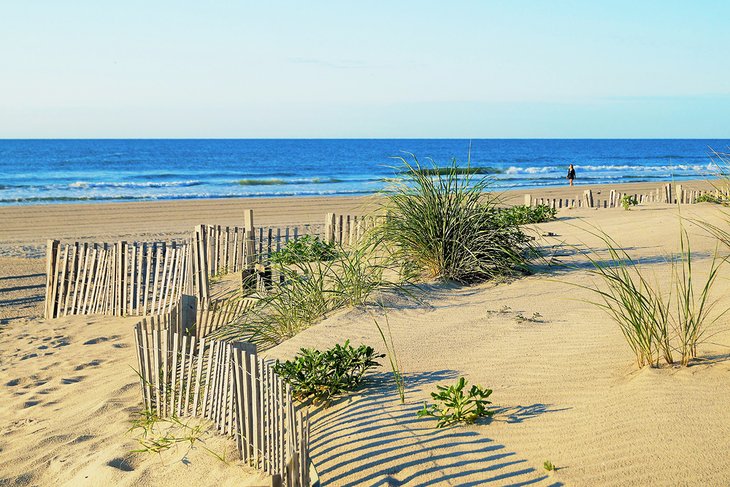 7 Mile Beach is another gem found on the Jersey Shore. Located on Seven Mile Island, this pretty spot boasts the sugar-white sand that makes New Jersey one of the top beach destinations on the North East coast, especially during summer.
Also known as Avalon Beach, this family-friendly expanse of sand stretches through two New Jersey boroughs: Avalon (in the north) and Stone Harbor (in the south). No matter which section you choose, you're in for a treat.
Locals refer to Avalon Beach as "cooler by a mile," since it juts out one mile farther into the water than other beach resort towns. It extends from 9th to 78th Streets.
Those traveling with little ones can relax a bit more during the summer, knowing that their precious tykes are being guarded by the Avalon Beach Patrol.
Hoping to surf? Gnarly! You can do so only at the 30th and 63rd Street beaches, or on either side of the 12th Street section. Inflatable rafts are allowed at any of the swimming areas. Bad news for those hoping to kayak or bodyboard, though. These activities are banned from 10am to 5pm.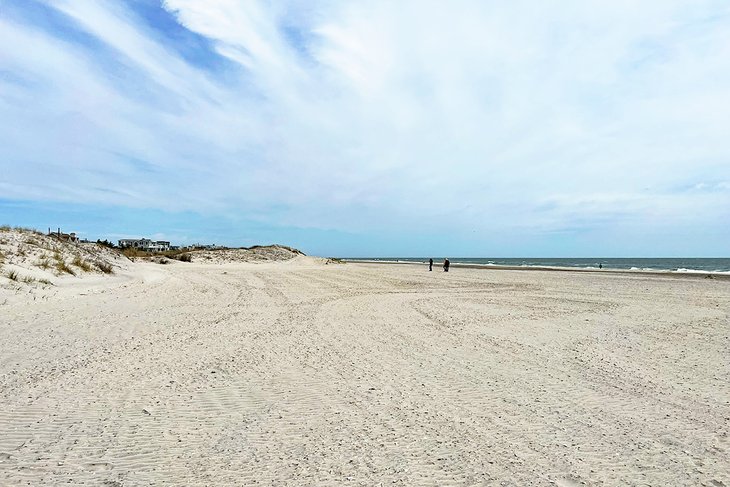 Facilities are scattered throughout the area, making it easy to hunker down for a day at the sea. We suggest heading there early to catch the sunrise, which is quite spectacular.
Wooden walkways line the end of streets backing the high Avalon Dunes, making it easy to access the soft, golden sand. Don't worry, there's plenty of space to be able to stake your claim for a good spot.
The Avalon Fishing Pier offers anglers a prime spot to make a catch at 29th Street, and a long walkway boasts plenty of space to bike, run, or stroll leisurely. A restaurant and shops are here as well, so you can easily spend an uninterrupted day by the shore. If you're looking for more variety, the town offers plenty of cute spots to tempt your tastebuds.
As is the case with most of New Jersey's best beaches, you'll need to purchase a beach tag to access the beach from Memorial Day weekend through early September. These can be purchased from an on-duty Beach Patrol Tag Inspector or from Community Hall. They grant visitors access to the beach at Stone Harbor as well.
9. Ocean Grove Beach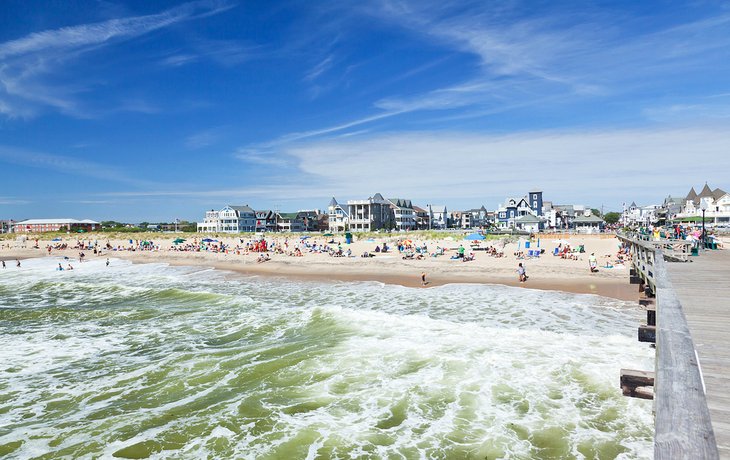 While the ocean can get rough at Ocean Grove Beach, its wide, shallow waters are ideal for families. The lengthy boardwalk is another kid-friendly plus offering unbeatable views, a stroller-ready base, and a picturesque pier.
Popular activities at this silky soft, sandy beach include the usual water sports (swimming, paddleboarding, surfing, boogie boarding, and floating), but visitors are also treated to unique sports like beach tennis - there's a sand court set up between Main and Middle beach, and you can grab paddles from the beach office.
Lifeguards are on duty during the summer, and sustenance and sundries are found only a couple of blocks away, in the Ocean Grove's downtown. Fun activities are planned throughout the year, including family movie nights and a sandcastle contest.
The beach is open weekends from Memorial Day weekend through June 19th. After that, visitors can frolic at the shore from 9am to 5:30pm Monday through Saturday, and from noon to 5:30pm on Sundays until September 7th.
Beach badges are required to access Ocean Grove beach during the summer. The daily passes go on sale at 5pm the night before.
Official site: www.oceangrove.org/beach
10. Long Beach Island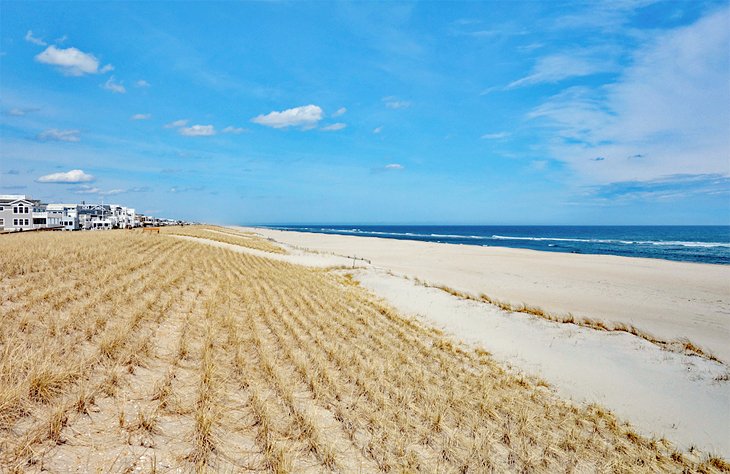 Long Beach Island is another favorite of families visiting the Jersey Shore. Along this 18-mile stretch of sandy shores, small towns dot the landscape. This summer colony hosts many residents who move to the shore for the season as soon as the school year ends.
Among the many beaches, you will find watersports, shopping, dining, fairs, festivals, and a pretty amazing fourth of July fireworks show. Don't miss the infamous Barnegat, an appealing village at the northern end, which has somehow managed to retain its original character. The historic lighthouse is a highlight.
For those seeking adventure, you can enjoy surf lessons or take advantage of the rides at the amusement park. For a rainy day or to get out of the hot sun, take the kids to the Long Beach Island Historical Association Museum, where they will enjoy fun activities.
11. Belmar Beach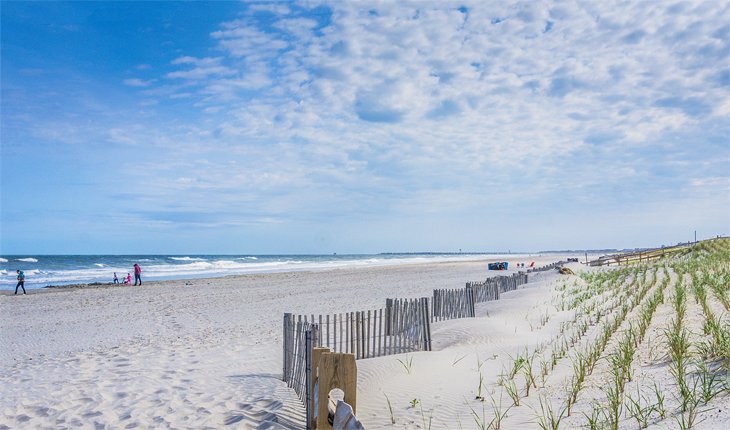 Belmar is a favorite of Jersey Shore visitors. With tons of attractions, fairs, festivals, and a beautiful beach, it's easy to see why travelers flock here every year.
The town offers a vibrant downtown; well-maintained, splinter-free boardwalk; and a marina for those wanting some fishing or sailing time. In addition to these perks, Belmar is best known for its clean beaches and family-friendly beach playgrounds located every few blocks. It was one of the first New Jersey towns to make its beaches wheelchair accessible.
Be sure to check out the town's website before your stay, as the summer months are filled with family-friendly festivals and events for tourists and residents alike. While there, visit one of their many seafood restaurants, like Mr. Shrimps.
12. Sea Girt Beach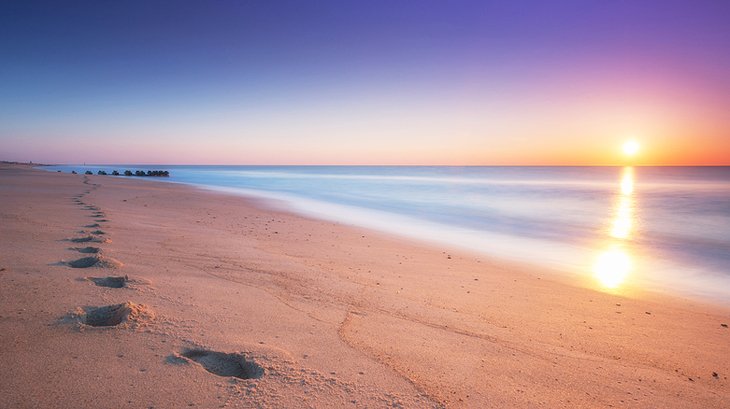 If you want to live like a local during your New Jersey beach vacation, Sea Girt is the place to do it. Measuring about one square mile, this small local staple is best visited during the week, when it's particularly quiet. This is a family favorite at any time - you won't have to fight crowds or have the kids tempted away from the sand by loud amusement park rides and other attractions found at busier beaches.
Located south of Belmar Beach, you'll find a palatable-sized boardwalk perfect for a leisurely and scenic stroll, and a pavilion offering easy-to-eat fare best enjoyed from a beach chair. The boardwalk runs from the charming Sea Girt Lighthouse to the south end of town.
Lifeguards are on duty on weekends starting with the Memorial Day Weekend. Beginning June 19th, they will be on duty full-time until September 6th. A beach badge is required when visiting on a weekend from May 29 through June 13th and during the week from June 19th through September 6th.
Because this town was incorporated around the turn of the century, there are plenty of historical sites and museums available for those craving more than a day on the beach.
Be sure to ask one of the locals their favorite places to eat. They may point you to The Parker House, always a good bet.
Official site: www.seagirt-nj.gov/home/sea-girt-beach
13. Atlantic City Beach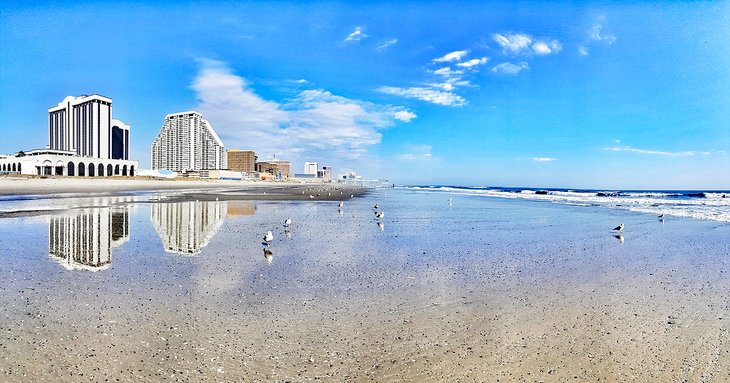 If you're looking for a quiet place to soak up a serene landscape, Atlantic City Beach is not for you. If you enjoy a more action-packed, people-watching adventure with your beach vacation, hallelujah, you've found the perfect spot.
A long stretch of sand fronts Atlantic City, the most famous, and largest, city on the Jersey Shore. The East Coast's answer to Las Vegas, Atlantic City boasts all the excitement you'll ever need from a beach town. We're talking amusement rides, tasty restaurants, a lengthy boardwalk, iconic lighthouse, casinos, and shops and hotels a plenty. No wonder more than 20 million visitors lay claim to this fun zone each year.
Atlantic City Beach carries the city's vibrant, fun-filled atmosphere to its shore, offering multiple opportunities to enjoy water sports, play volleyball, fish (from jetties on Maine Avenue or off the boardwalk), or have a sandy picnic. That said, certain activities are only permitted in specific sections. Kayaking and windsurfing, for instance, are only allowed at Jackson Avenue Beach.
Surfing is permitted at Crystal Beach (at New Hampshire Ave), Downtown Beach (at Raleigh Avenue), and Delaware Avenue Beach. Gear rentals and lessons are also available at these locales.
Lifeguards are on duty from 10am to 6pm throughout the summer. You'll find them from July 1st through Labor Day on the section of beach spanning from Caspian Avenue to Jackson Ave. Some areas of the beach are also protected from Memorial Day to July 1st, and others lengthen their lifeguard season from Labor Day to September 30th. More good news: beach access is free!
14. Stone Harbor Beach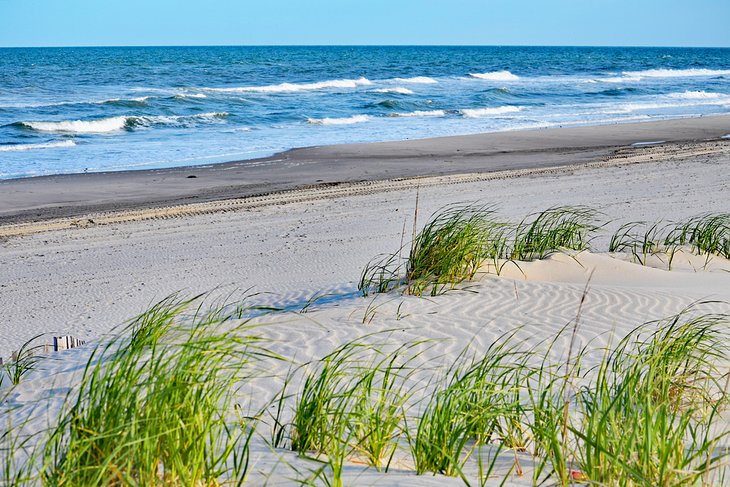 Stone Harbor is perfect for those looking for a laid-back vacation at the shore. This beautiful town has pristine beaches and a cobblestone street filled with one-of-a-kind boutiques and unique restaurants. You won't find a bustling boardwalk filled with tourists here, just families looking to enjoy some quality time at the beach (be sure to grab the required beach tag).
After a day at the beach, check out the Wetlands Institute to learn more about the ecosystem at the Jersey shore, visit live marsh animals, and get a panoramic view of the beach from the Observation Tower.
15. Strathmere Beaches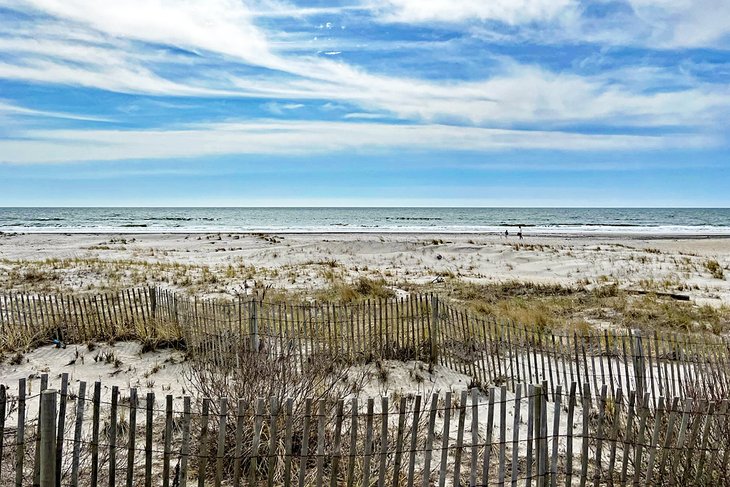 If you're looking for something a little less crowded than Ocean City Beach, the lesser known Strathmere is a great bet. Getting here is a cinch, as this two-mile beach is located a mere 15-minute drive from Ocean City, across a small bridge to Ludlam Island, just north of Sea Isle City. The best part? It's free.
Once here, you'll note the lack of busy boardwalk, noisy shops, and sand laden with beach umbrellas. Instead, visitors to Strathmere's beaches are granted a slightly quieter experience with a bit more space to unfurl their towels and surf the waves on boogie boards. As is the case with most New Jersey beaches, though, this beach gets crowded on warm, summer days.
Beginning Memorial Day, Strathmere beaches are lifeguarded from 10am to 5pm Monday to Thursday and 10am to 5:30pm Friday through Sunday, making them good beaches for families.
As long as you set up camp near the entrances at Williams, Whittier, Tecumseh, Sherman, and Prescott Roads or Commonwealth Avenue, you'll be guaranteed a lifeguarded area during this time. Nearby Morris Beach is guarded on weekends only, while Whale Beach is unguarded.
Port-o-potties can be found at Williams and Putnam Roads and 1400 Commonwealth Avenue. There's also a bathroom at Beesley's Point.
16. Sea Isle City Beaches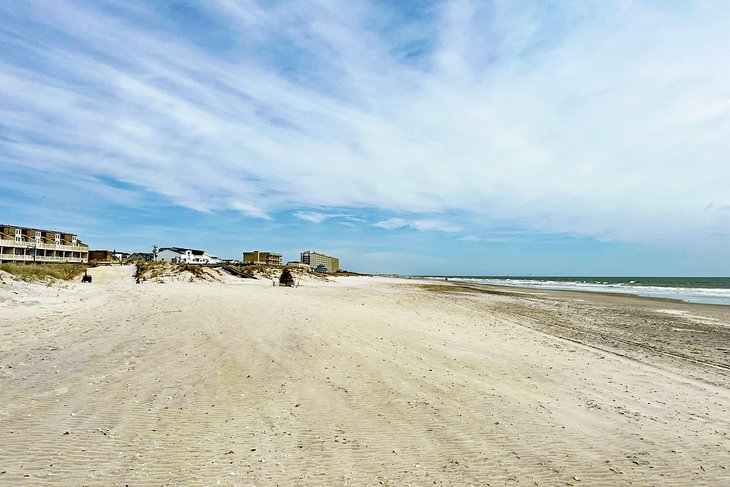 There's a lot going on at Sea Isle City's beaches. Located south of Ocean City Beach and Strathmere Beaches, this soft, sandy spot is a haven for lovers of sun, sand, and surf. Speaking of surfing, visitors are permitted to hang 10 at multiple spots–26th, 37th, 42nd, 48th, 53rd, 63rd, 74th, and 82nd street beaches are all open for surfing.
A small amphitheater provides entertainment of all kinds, while concession stands are available at 44th, 65th, and 75th streets. Visitors can rent bikes to explore the promenade, volleyball is on offer at certain beaches, kiteboarding (at 14th and 16th street beaches only), and kayaking (at 30th, 35th, 58th, and 79th street beaches) are all popular activities.
Planning to bring a sailboat? Great idea! You'll have to launch it at the beach between 20th and 22nd streets and expect to pay a fee, though. You'll also need to provide insurance and a permit from the records department office of the police station.
Be sure to acquire a seasonal beach tag in order to use the beach from Memorial Day Weekend to Labor Day. Lifeguards are on duty from Memorial Day through Labor Day from 10am to 5pm on weekdays and 10am to 5:30pm on Saturdays and Sundays.
17. Seabright Municipal Beach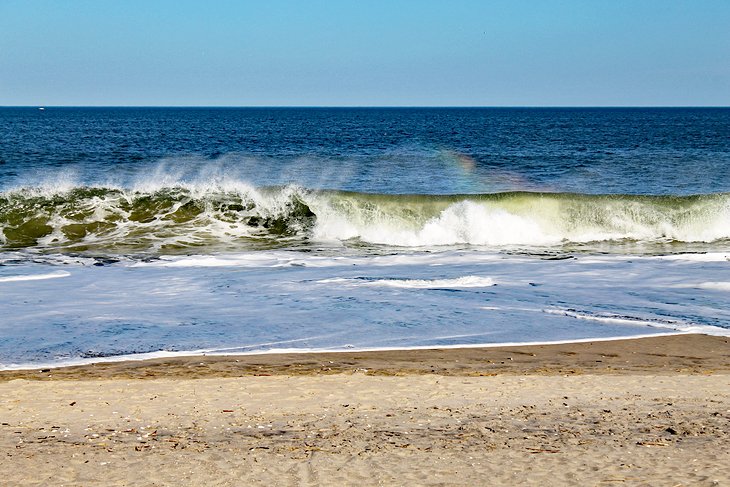 Sea Bright is more for the discerning Jersey Shore traveler or a couple looking to relax. Offering seven free public beach access points, the town is known for its private beach clubs and five-star dining experiences.
The most popular beach in the area is Sea Bright Municipal Beach. It boasts a large parking lot and beautiful views, as well as lifeguards and facilities. Nearby Anchorage Beach also employs lifeguards. Both require a beach badge.
While you are there enjoying the peace and quiet, be sure to stop and enjoy an Italian meal at Anjelica's Restaurant, hands-down the best Italian food at the Jersey Shore, or head over to the yoga studio or nearby spas.
Sea Bright is also one of the most dog-friendly shore points, so be sure to bring your four-legged friends with you.
18. Front Beach at Corson's Inlet State Park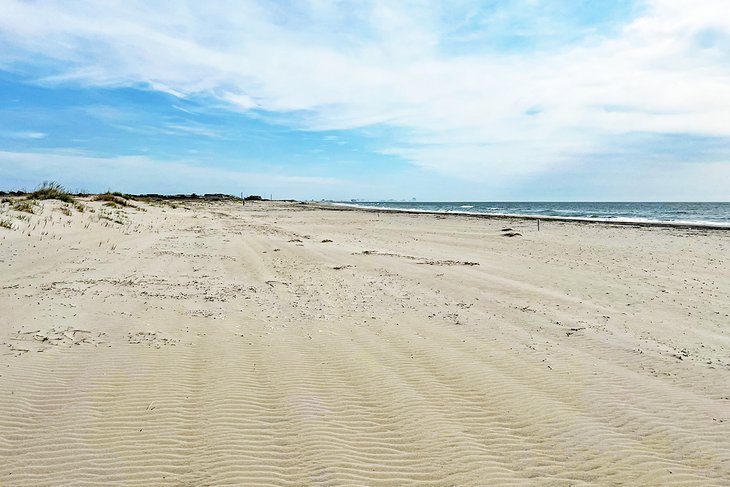 Front Beach lies in Corson's Inlet State Park, a 14-minute drive south of Ocean City. While it takes a bit of a hike to get to it (about 12 minutes through a flat, tree-lined trail), the vast expanse of sand is worth the trek. Plus, you'll have the beach mainly to yourselves, as there are few spots available in the parking lot at this pretty park.
Locals don't want you to know about this pristine beach; they are keen to keep it as quiet as it is now, so don't tell them we let you in on their secret.
The one drawback: swimming isn't permitted at this unguarded beach, so you'll have to make do with cooling off by dipping your toes in the water.
Boating, hiking, sunbathing, and fishing are the most popular activities at this New Jersey beach. There are plenty of spots to try your luck at reeling in a big one, but many anglers tend to stick by the bridge, which is where you'll find the boat ramp.
Be sure to pack light, as you'll have to carry your gear to the beach, and bring all trash back with you at the end of your visit.
This protected area of undeveloped beachfront is a perfect place to visit to spot shorebirds and waterfowl.
Official site: https://nj.gov/dep/parksandforests/parks/corsonsinletstatepark.html