21 Best Beaches in the Northeast, USA
Everyone has a different mental picture of the perfect beach, so no two people would agree on a ranking order on the beaches that stretch from the rocky coast of Maine to the golden sands along the New Jersey shore.
For some, the perfect beach is a tiny remote cove or one isolated behind miles of undeveloped dunes. Others crave the hubbub and excitement of an old-fashioned beach resort with a busy boardwalk, soft ice-cream, and a carousel. Some love to mix their beach time with ocean-side fun parks and other tourist attractions. Beachgoers also differ on their preferred water temperature, from bracing Maine surf to the warmer waters of Cape May.
Ranking beaches is a tricky business at best, so instead, we arranged them geographically, from Maine to New Jersey. We've tried to mix the list to include something for all tastes, although, of course, none of these is the secluded little cove that's a secret to all but a few. You'll have to find that for yourself - and keep it a secret. But these beaches have plenty of room for everyone, and on a hot summer day, it may seem as though everyone is there.
These are all popular places to visit, so expect parking to be difficult, unless you arrive early in the morning, and don't expect to be alone. Remember, there's a reason these beaches are so popular: they're the best.
Plan your next family vacation using this handy list to find the best beaches in the Northeast.
1. Old Orchard Beach, Maine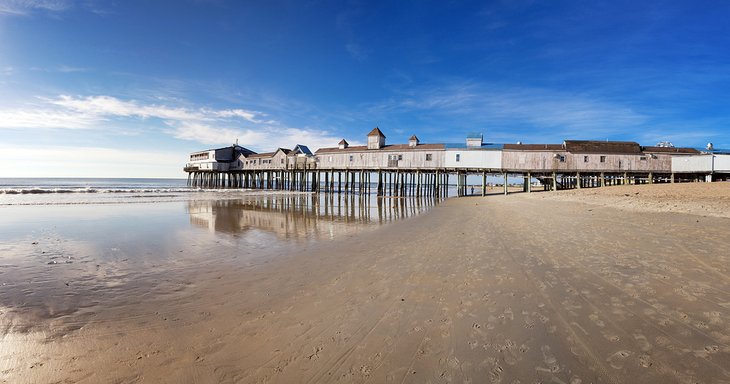 The throwback atmosphere of Old Orchard Beach is what its devotees love about it as they soar above the beach on a heart-stopping Ferris wheel ride at Palace Playland, New England's last full-scale amusement park on a beach. The old-fashioned wooden pier extends into the sea, with all the expected soft ice-cream, saltwater taffy, and fried dough.
The is one of the best beaches in Maine – seven miles of golden sand that's open to the public and free. Arrive by train and walk to one of the beachside hotels.
Accommodation: Where to Stay at Old Orchard Beach
2. Kennebunk Beach, Maine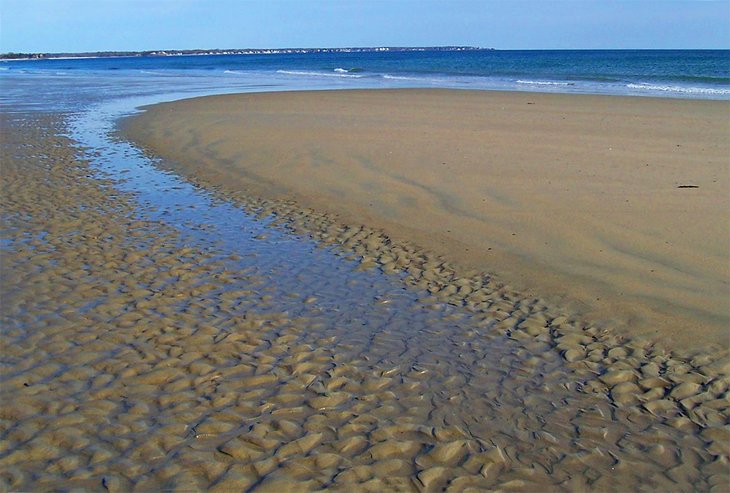 If you want to wiggle your toes in southern Maine's famous soft sand, formed by eons of grinding the native granite into a fine silver-colored powder, kick off your shoes in Kennebunk. Get a parking sticker at the town hall or take the handy trolley from your hotel or one of the B&Bs that fill the town's former captains' mansions.
Gooch's Beach begins at the Kennebunk River and leads to Mother's Beach, a short section protected by low rocky areas that are safe for kids to play in.
West of the in-town beaches, close to the Rachel Carson National Wildlife Refuge, is the idyllic dune-backed Parsons Beach. Parking is limited at the beach itself, but you can park near the main road and walk in.
Accommodation: Where to Stay in Kennebunk
3. Misquamicut State Beach, Rhode Island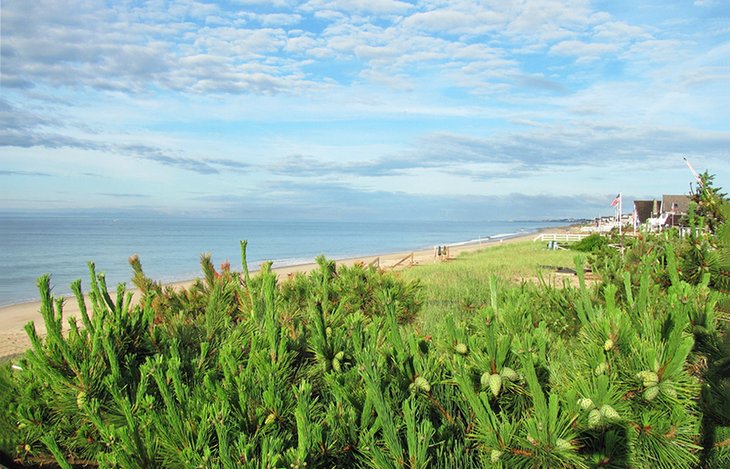 Despite its small size, Rhode Island has a whopping 384 miles of shoreline along the Atlantic Ocean and Narragansett Bay. Its beaches are legendary – none more so than Misquamicut, in Westerly. Its gradual slope into the water and gentle waves make it an especially popular beach for families.
In addition to the wide beach of soft sand, Misquamicut State Beach has shaded picnic areas and other things to do, including frequent evening concerts and fireworks.
Nearby Watch Hill is a well kept and upscale old summer resort town with a historic carousel that's a hit with kids. It's home to one of Rhode Island's best resorts.
4. Hampton Beach, New Hampshire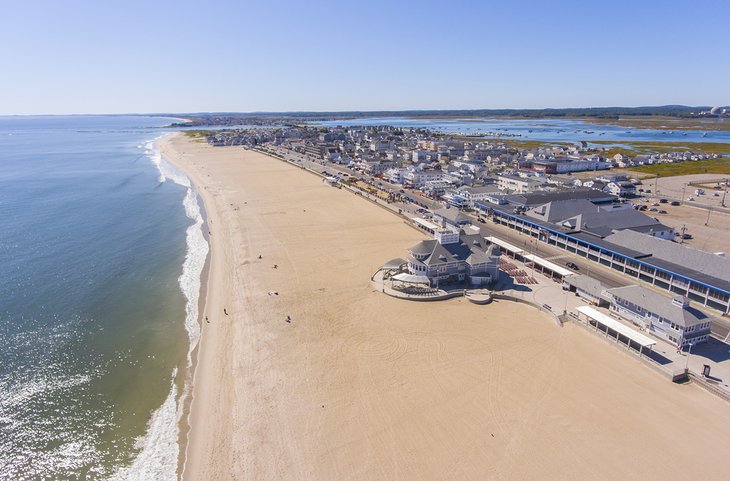 New Hampshire makes the most of its 13-mile coastline with five public beaches, three of which are state parks. The biggest is Hampton Beach, a long span of white sand that's consistently rated as one of the cleanest beaches in the United States. The town behind the beach is unabashedly pure honky-tonk beach resort, with a boardwalk, fried dough, saucy T-shirts, candy shops, and a penny arcade.
At the center of this is the Hampton Beach Casino Ballroom, built in 1899 as a community entertainment center, now a live music and comedy venue that hosts name performers and bands. Consistent with its lively atmosphere, Hampton Beach hosts frequent festivals: sand sculpture in June, Children's Festival in August, weekly firework displays, and live music nightly on the Sea Shell Stage.
Accommodation: Where to Stay in Hampton
5. Race Point Beach, Massachusetts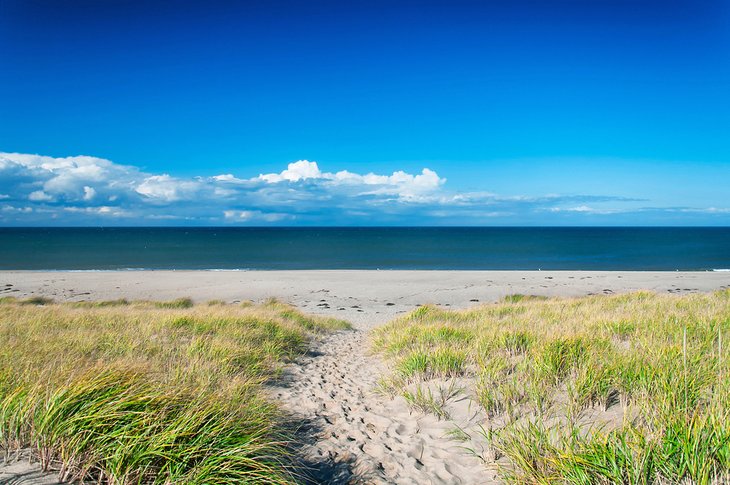 Part of the Cape Cod National Seashore, Provincetown's Race Point Beach sits at the outermost tip of Cape Cod, a long arm of Massachusetts that curves between Cape Cod Bay and the open Atlantic.
Backed by miles of protected dunes and on the ocean side of the Cape, Race Point tends to have heavy surf and an undertow. This makes it unsafe for serious swimming, but the shallow waters are fine for playing in the surf. And for sunbathers who like a bit of space, it's spectacular enough to be frequently listed as one of the states's top beaches.
6. Coney Island Beach, New York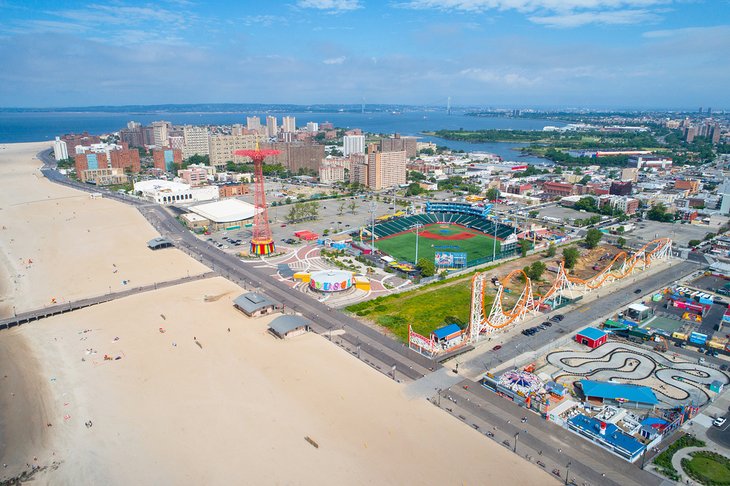 Possibly the most iconic old-style beach of all, Coney Island in Brooklyn is everything you imagined: neon lights, noise, arcades, tacky souvenirs, crowds, boardwalk, the legendary Cyclone roller coaster, and hotdogs from the original Nathan's Coney Island restaurant.
Two amusement parks provide diversion from the three miles of sandy beach and rolling waves. It may be hard to find a few feet of sand on hot summer weekends, but you'll always find plenty of things to do here. It's a scene as well as a beach.
7. Wells and Ogunquit Beaches, Maine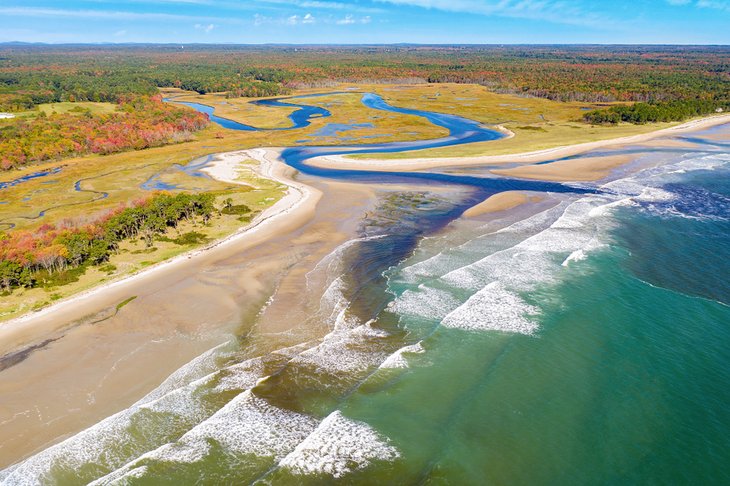 A long barrier beach separates the saltmarshes of the Wells National Estuarine Research Reserve from the Atlantic Ocean, stretching from the town of Wells south to Ogunquit. Drake Island, Wells, Crescent, Moody, Footbridge, and Ogunquit beaches meld from one to the other, each with plenty of soft sand and its own following of families that return year after year.
Lodging and tourist facilities stretch along Route 1, which parallels the coast. Of the lot, Ogunquit is the tonier base, with high-end resorts, fine dining and shopping, as well as a beach with an especially gentle slope into the water - great for families. Don't miss walking Marginal Way from Ogunquit to Perkins Cove for beautiful ocean views and several tiny beaches enclosed by rocks.
8. Weirs Beach, New Hampshire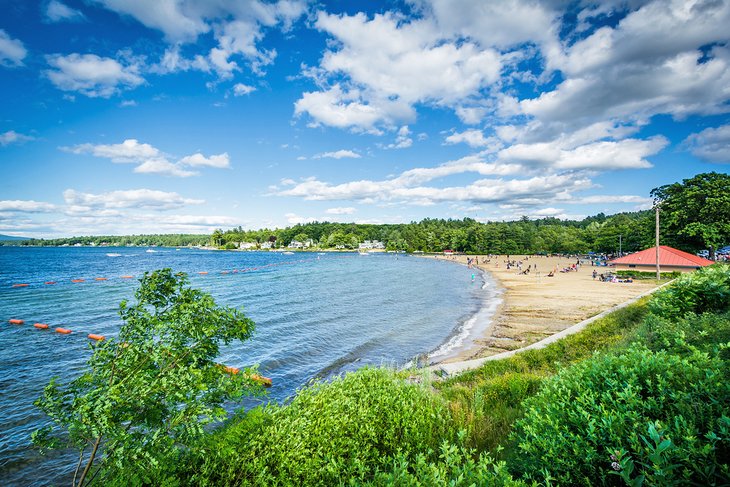 Weirs Beach is located near Laconia in New Hampshire's Lakes Region, and is a favorite freshwater swimming spot for visitors. It occupies a stretch of sand on the shore of Lake Winnipesaukee (locally referred to simply as "the big lake"), within the Endicott Rock State Historic Site.
Although the beach itself doesn't offer much in the way of amenities, it sits at the end of the Wiers Boardwalk, which has plenty of restaurants, shops, and diversions, including classic arcades. This is also home to the dock for the M/S Mount Washington and the US Mailboat M/V Sophie C, which offer tour rides and event cruises.
In the evening, visitors can enjoy films on one of the three screens at the Weirs Beach Drive-In theater, and if the weather isn't cooperating, FunSpot is just up the street for plenty of indoor fun, including bowling and the world's largest collection of arcade video games.
9. Head of the Meadow and Ballston Beach, Massachusetts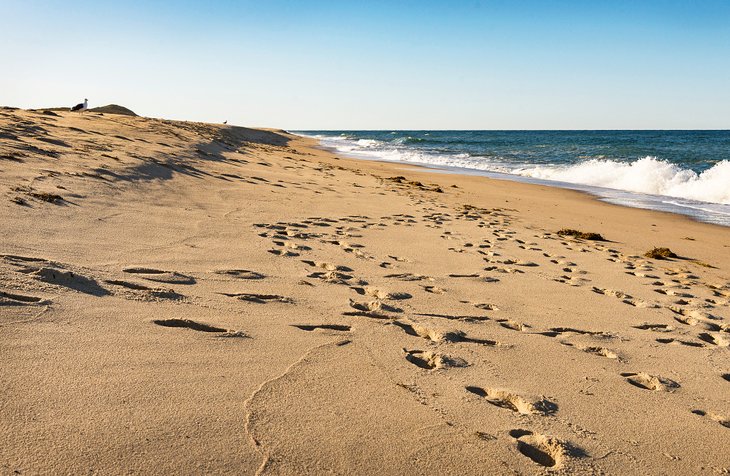 Both in Truro, on the outer end of Cape Cod, Head of the Meadow and Ballston Beach are idyllic stretches of sand facing the Atlantic, backed by dunes and sand bluffs that rise as high as 100 feet. Accessed over the dunes on paths lined with dune grasses, Head of the Meadow has two areas: one a town beach, the other inside the Cape Cod National Seashore. The latter has a lifeguard.
Surfing is allowed at Head of the Meadow, outside the designated swimming area. Both beaches are accessed from Route 6.
Accommodation: Where to Stay in Truro
10. Narragansett Bay Beaches, Rhode Island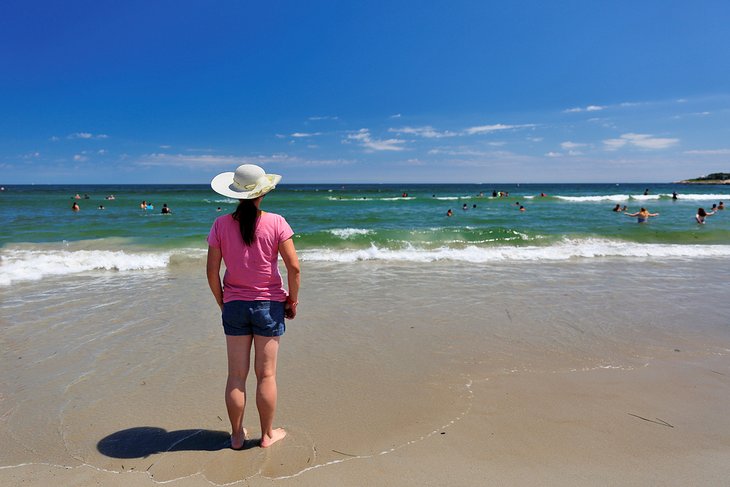 There's no need to make hard choices between the beaches that line the shore from the resort town of Narragansett to Point Judith. Twenty-acre Narragansett Town Beach extends for a full mile beginning at the edge of town and is a favorite for surfers, who have their own designated area.
There's plenty of water for swimmers here and in the long golden beaches farther south: Matunuck Beach State Park, East Matunuck State Beach, Roger W. Wheeler State Beach, Scarborough State Beach, and Narragansett Town Beach. All these have changing facilities and parking (if you're planning a few days to sample all of these, you can buy a parking pass that's good at all state parks).
11. Wingaersheek Beach, Massachusetts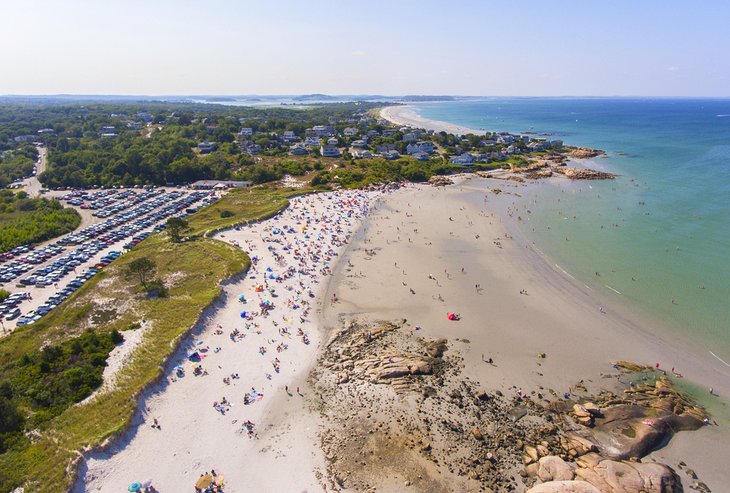 Stretching along the tidal Annisquam River and Ipswich Bay north of Boston, Wingaersheek Beach has crystal clear waters and a very gradual slope that at low tide extends the beach to more than half a mile wide.
The shallow water makes this Gloucester beach a favorite place to visit for families, especially when the receding tide uncovers huge rock formations to climb on and tidal pools filled with snails and other small marine creatures to discover.
In the summer, you'll find changing facilities and food vendors at the beach.
12. Easton's Beach/First Beach, Rhode Island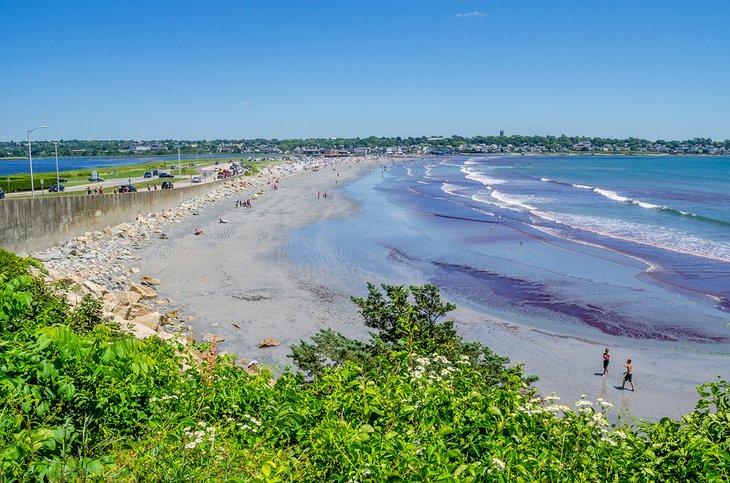 Easton's Beach, also called First Beach, offers ocean swimming, as well as plenty of activities for kids. Younger kids will love the vintage carousel and playground, while teens can make use of the skateboard park and enjoy live music.
Beach amenities include showers, changing areas, and rest facilities, as well as picnic tables and grills for public use. Visitors can rent umbrellas, chairs, and water sports equipment on-site, and there is a snack bar that also sells staples like towels and sunscreen.
For a midday break, head to the Rotunda to visit the Save the Bay Exploration Center and Aquarium. Focused on conservation education, the center has touch tanks and aquariums that are home to more than 40 species of marine life and also offers a variety of educational programs and activities.
13. Singing Beach, Massachusetts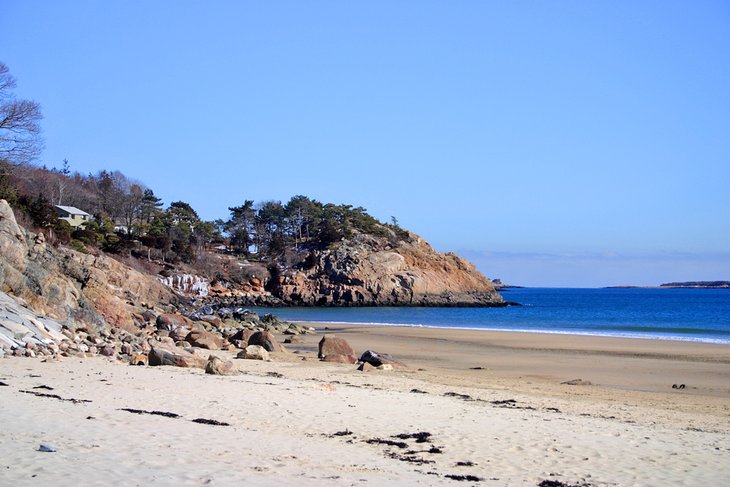 Close to Boston, but feeling light years away in the cute and historic town of Manchester-by-the-Sea, is a beach with two unique features: singing sand and a charming bathhouse built in the 1920s. The setting is scenic, with a long rocky headland bookmarking one end of the beach.
The "singing" you'll hear as you walk across the sand is caused by a combination of round, uniformly sized sand grains containing silica, and a humid atmosphere. As you walk, the friction and compression cause the low humming sound.
14. Ocean Beach Park, Connecticut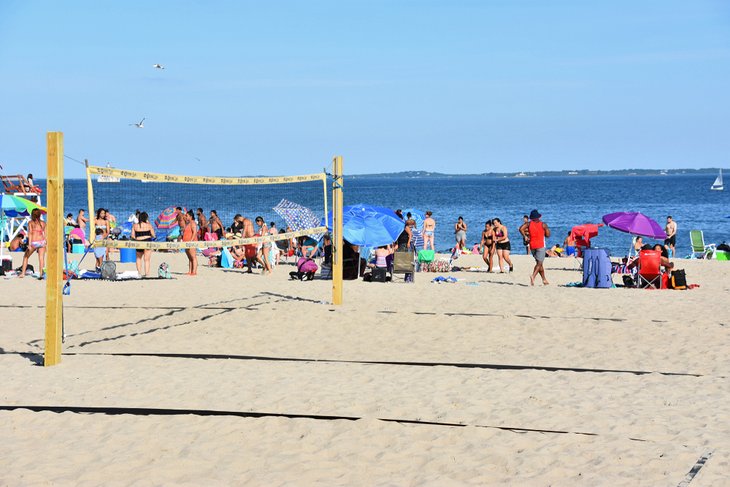 Ocean Beach Park in New London is an excellent choice for families, offering swimming not only on the half-mile beach, but also in the Olympic-size pool. There is also a spray park for little ones, and an all-ages triple waterslide for an additional fee.
Beach amenities include a changing area with lockers available, as well as a picnic area, playground, and nature trails. There is also an 18-hole mini-golf course on-site, as well as a collection of seaside carnival rides, from kiddie rides to thrill rides for teens and adults. The park also has a coin-operated arcade that offers all the classic games, including pinball.
Visitors can also enjoy live entertainment on Boardwalk Stage, as well as special events during the summer months, including dances and car shows. Day use fees are per vehicle (up to five people), and there is a lower walk-in rate for individuals who won't be parking here. There are also several food vendors, including a sit-down restaurant, a snack shack, and an ice-cream parlor.
Read More: Top-Rated Beaches in Connecticut
15. Brighton Beach, New York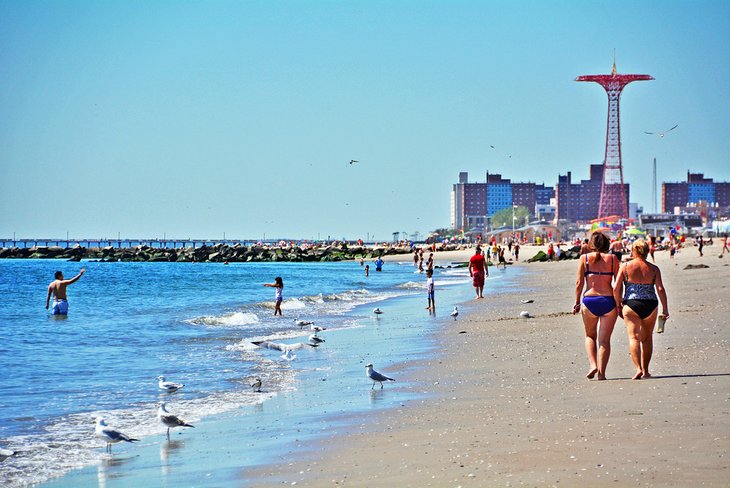 Another of the most popular beaches near New York City, Brighton Beach is east of Coney Island, in Brooklyn's Brighton neighborhood. Because it's farther from the city, it's correspondingly less crowded and has fewer commercial amusements.
Instead of arcades and rides, you'll find the exotic flavors of "Little Odessa" – a neighborhood of émigrés from Russia and Eastern Europe. You may not find Coney Island hotdogs, but look for pierogies and cheese-filled Georgian flatbread. The nearby New York Aquarium is the oldest in the United States.
16. Stone Harbor Beach, New Jersey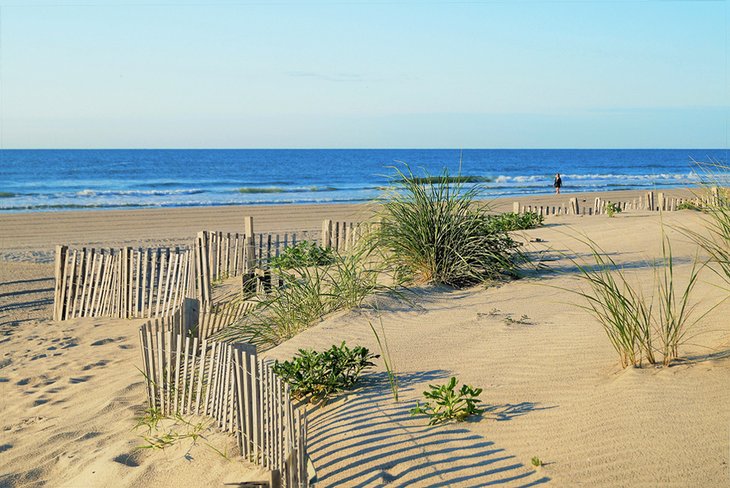 New Jersey makes the most of its 127 miles of coastline, with some of the northeast's best beach towns. The easygoing vibe of Stone Harbor Beach, on an island bordered on the west by the Intracoastal Waterway and on the east by the Atlantic, appeals to families and couples seeking a quiet getaway. Entertainment here means lazing on the pristine dune-backed beach, stopping in a café and browsing in the boutiques that line the stone-paved streets.
Stop at the Wetlands Institute to learn about the shore ecosystem and meet some of the animals that live here, or get closer to the water on a boat excursion or fishing trip.
17. Hammonasset State Park, Connecticut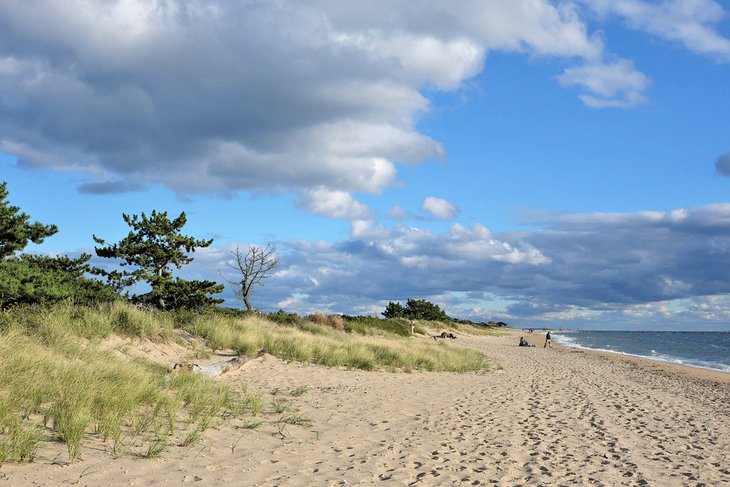 The largest beach in Connecticut, Hammonasset State Park beach lines two miles of shoreline facing Long Island Sound. Waves in the sound are much calmer than those facing the open ocean, making this beach a popular place to visit for families with small children. Another attraction is the boardwalk that runs alongside the beach.
Meigs Point Nature Center offers walks, exhibits, and programs for children. Tourists who want to stay right here can camp in one of the 500 adjoining campsites or find several beach hotels and resorts nearby.
18. Sandy Hook, New Jersey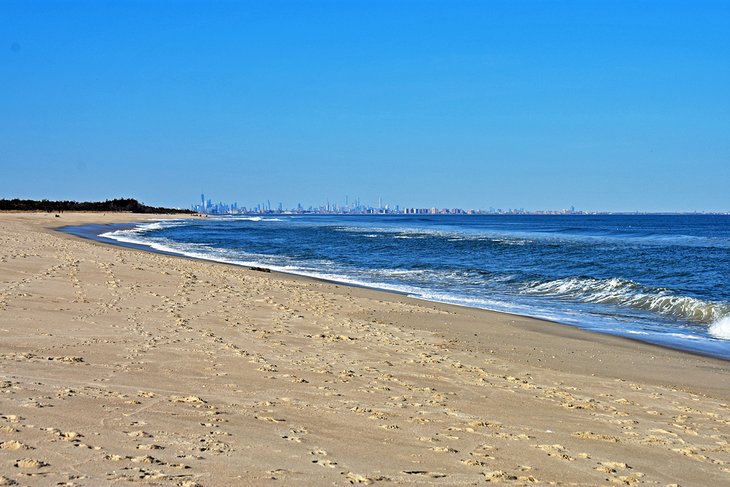 At the north end of the Jersey shore, with views of the New York City skyline, Sandy Hook State Park is on a long, low spit of land, really an island connected to the mainland by a bridge. Beside the miles of lovely sand beaches, Sandy Hook State Park has a seven-mile bike path, camping sites, and water sports equipment. You can watch the abundant birdlife or join a park ranger on a canoe tour.
With its protected wildlands and beautiful ocean beaches, Sandy Hook is one of the favorite weekend getaways in New Jersey. There are no hotels on Sandy Hook, but you'll find places to stay on the mainland in Atlantic Highlands, which is connected to New York City by a 35-minute ferry ride.
19. Jones Beach, New York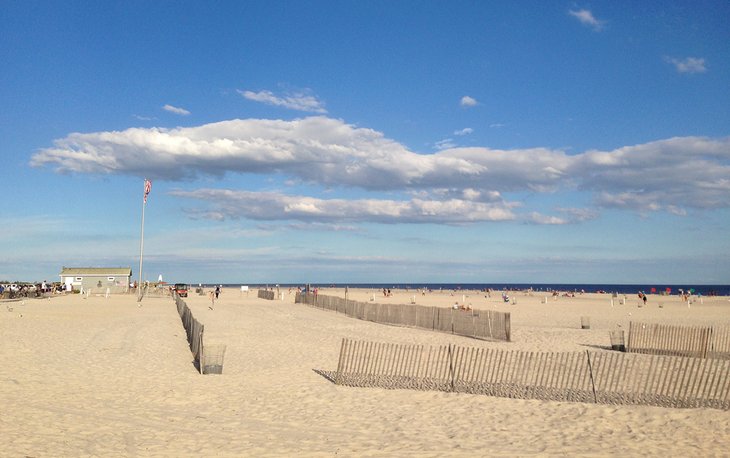 The most heavily visited beach on the East Coast, Jones Beach lines 6.5 miles of Jones Island seafront, off the south shore of Long Island. Known for gentle waves and its wide expanse of soft sand, the beach is easy to reach from the city on the Long Island Rail Road (LIRR).
Once here, you can run, jog, rollerblade, or just stroll and nosh along the two miles of boardwalk and play shuffleboard or ball on the beach. You can even play golf, and on summer evenings take in a show at the Northwell Health Theater.
20. Wildwood, New Jersey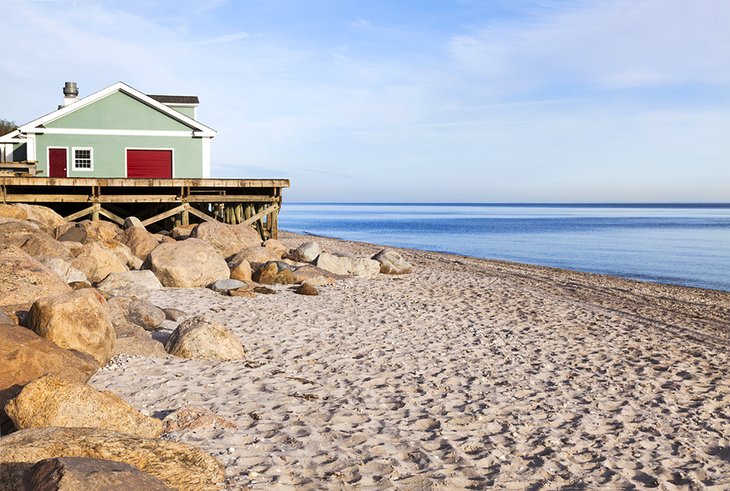 After the sedate atmosphere of Stone Harbor and the peaceful natural environment of Sandy Hook, it's hard to believe that Wildwood is part of the same 127-mile coastline. If you long for the neon and the noise, the tacky souvenirs, and cotton candy, Wildwood is your scene.
Thirty-six blocks of boardwalk are filled with games, rides, frozen custard, beachwear, and fast food of all descriptions. The mood and the décor are strictly retro, with an unmistakable mid-century vibe. Don't let all this distract you from Wildwood's glorious sandy beach.
21. Cape May Beach, New Jersey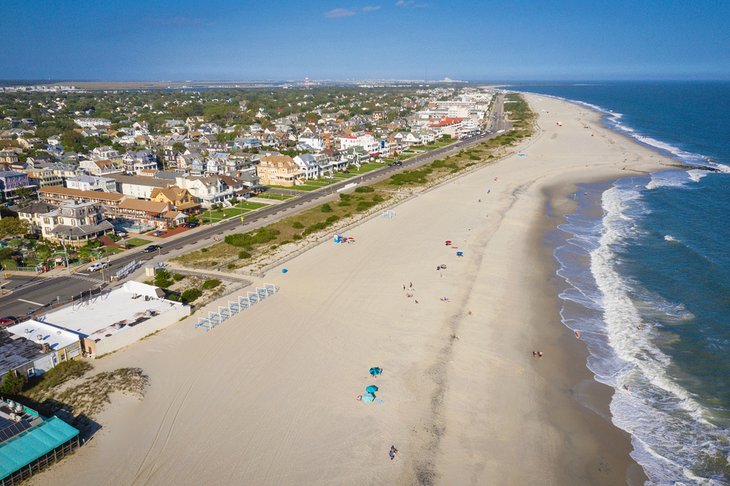 Known for its Victorian gingerbread beach cottages and saltwater taffy colors, Cape May is like stepping into yet another era, a smartened-up version of the town's historic past as a proper Victorian summer colony.
Lined primly along the beach are spotless Victorian "cottages" replete with towers, gingerbread trim, and inviting front porches. You can retire to a rocking chair of your own at teatime, as many of the houses are now elegant B&Bs.
The history is real, for Cape May claims to be America's oldest seaside resort. Congress Hall, a grand hotel built in 1816 is one of the country's oldest hotels, and Cape May had already been a thriving resort for decades when it opened. The reason is clear: the beach is a spectacularly well kept, gleaming expanse of soft white sand.
Accommodation: Best Resorts in Cape May