14 Best Beach Towns in Connecticut
Flanked by miles of soft, sandy shores, Connecticut is a haven for beach lovers. While the Nutmeg State may not be the first to come to mind when planning a sunny beach vacation, rest assured that this East Coast gem offers a boatload of beautiful beaches, and enough charming beach towns to make it easy to settle in for at least a few days.
From pristinely groomed, private town beaches (that visitors can often use for a fee) to lush state parks that hug the Long Island Sound, you won't run out of seascape when traveling along the Connecticut coast.
Over 300 miles of shoreline cling to the southern side of the state, which extends from Greenwich in the west to Stonington in the east. Sprinkled throughout are adorable beach towns offering their own unique personalities – from upscale Westport to historic Mystic to picturesque Madison.
Most of Connecticut's best beach towns don't center on their soft strands. In place of the lengthy, shop-lined boardwalks prominent at more popular beach destinations, you'll find sidewalks or unpaved walkways. Small, wooden fishing piers abound, but beachgoers more commonly fish off the natural, rocky piers uncovered at low tide.
The heart of the action in Connecticut's beach towns is found a bit farther from shore, in the restaurants and shops lining the towns' charming downtown streets. This is the perfect place to relax after you've washed the sand from your hair.
Not sure where to visit first? Read our list of the best beach towns in Connecticut.
1. Madison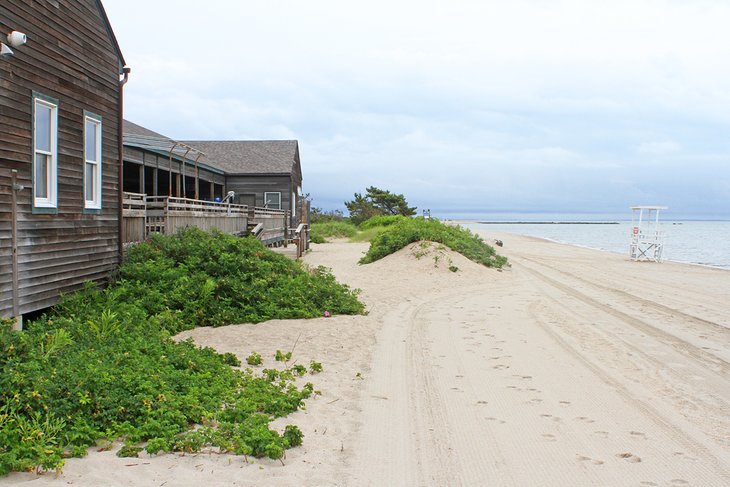 Hammonasset Beach State Park is the main draw in beautiful Madison, one of the best beach towns in Connecticut. At two miles in length, this public park boasts the largest and loveliest strand in the state. You'll find plenty of things to do here. If you're looking to walk along fine, soft sand; swim through calm waters; kayak; or SUP, you'll love any time spent in Madison.
A sweet, oceanfront town, Madison transports visitors back to a time when fun could be had by wandering along quaint streets, sipping a coffee while chatting with friendly locals, and shopping in independent bookstores (the staff at RJ Julia Booksellers will make you fall in love with books all over again).
This small hamlet is a suburb of nearby New Haven, where you'll find a slew of fun tourist attractions to keep you busy when you aren't sunning yourselves on the shore.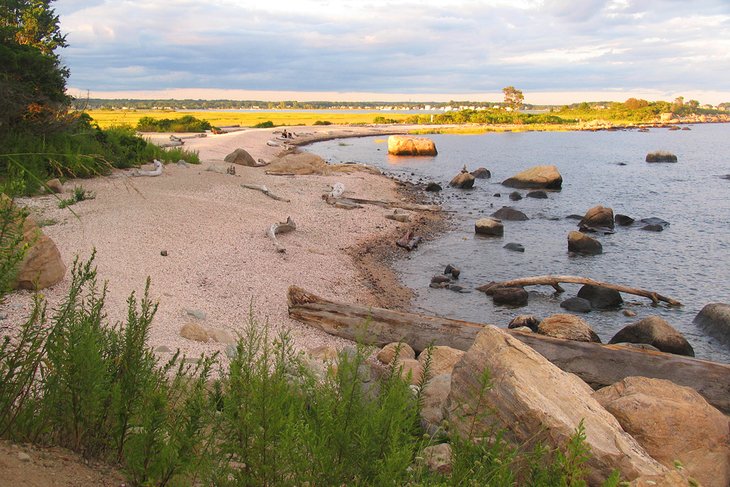 That said, Madison itself offers visitors plenty of interesting places to visit, including four beaches (three run by the town and one by the state) to choose from, and the Miegs Point Nature Center (located within the State Park) is a must for wildlife lovers.
Insider's tip: A stay at the resplendent Madison Beach Hotel, Curio Collection by Hilton offers a relaxing retreat you'll be happy you booked.
2. Mystic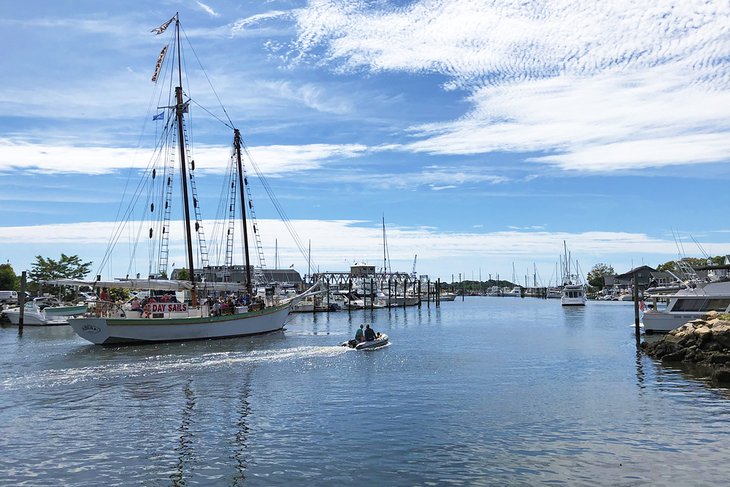 While Mystic is only home to one public beach, the Williams Beach Park, this charming seaside town is located near some impressive beaches, most of which are less than a 15-minute drive away.
Whether you plan to spend time at nearby duBois Beach (a soft, sliver of sand perched at the tip of nearby Stonington Point) or hope to play games at the rockier Esker Point Beach in Groton, Mystic is the perfect beach town to use as a base.
One of the best small towns in Connecticut, Mystic has a bevy of fun things to do to keep the whole family busy when you're not spending time playing in the sand.
The Mystic Seaport Museum is unmissable. It boasts a re-created 19th-century seafaring village; the world's last wooden whale ship, which you can board; a children's museum; a planetarium; restaurants; and so much more.
The Mystic Aquarium is another of the top places to visit in Mystic. It's been voted one of the best attractions in Connecticut for good reason. You can watch a stingray paint, touch a starfish, ogle beluga whales, or watch the California Sea Lion Show.
Then, head downtown for a bite at one of the many tasty restaurants.
Accommodation: Where to Stay in Mystic
3. Fairfield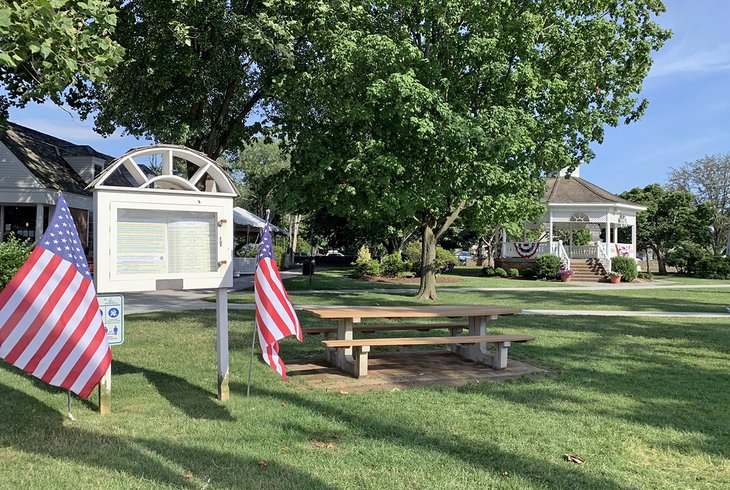 Tucked serenely between Bridgeport and Stamford, Fairfield makes the most of its five miles of coast.
Along this strip lie five sandy town beaches: Jennings Beach is the largest and most popular (but the shore is a bit rocky), followed by Penfield, South Pine Creek, Southport, and Sasco. With so many beaches to choose from in such a small space, it's easy to see why Fairfield tops our list of the best beach towns in Connecticut.
If you're looking for a long weekend spent on the sand and in the surf, Fairfield won't disappoint. Non-residents will have to fork over $40 ($50 on weekends) to park during the summer. Insider's tip: from October 1 to March 31st, beach access is free, and pet dogs and horses can roam free. Also, during the summer, the beach hosts multiple Family Movie Nights.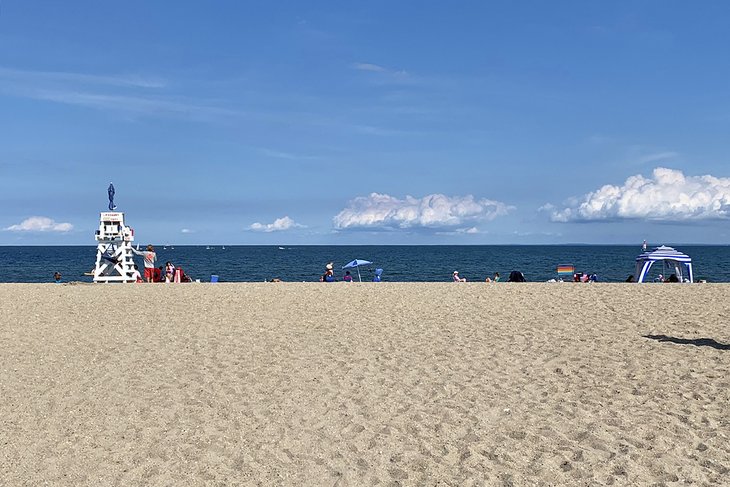 In town, you'll find fantastic restaurants (the pizza at Colony Grill is top-notch) and plenty of places to satisfy your sweet tooth (16 Handles and Saugatuck Sweets are a must). You'll also be able to shop till you drop at stores like Victoria's Secret; the adorable kids' shop, Glitter & Grime; and beachwear specialist, Snappy Gator.
Don't miss the outdoor Fairfield Farmers Market, where you can grab delectables like fresh honey, kombucha, and the freshest kale every Saturday from June 14th to October 4th.
Accommodation: Where to Stay in Fairfield
4. East Lyme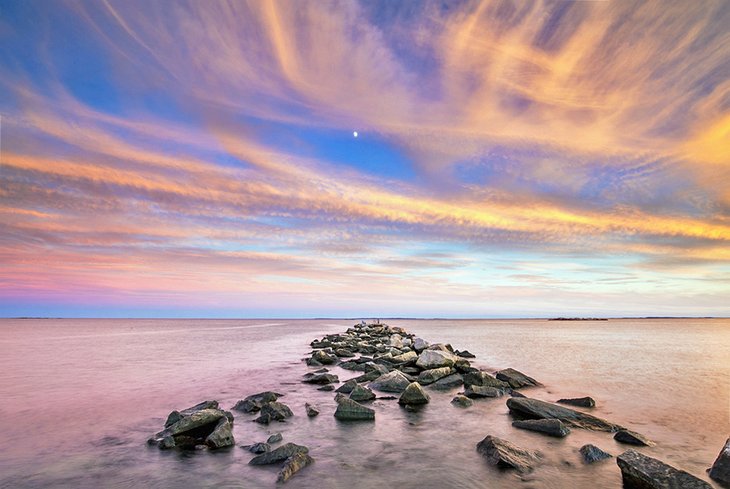 Located a mere 20 minutes south of captivating Mystic, East Lyme offers a photo-worthy seashore complete with a mile-long boardwalk (a.k.a. the Niantic Bay Boardwalk).
Adventure and sparkling blue water await those who emerge from the tunnel beneath the railroad tracks at the aptly named Hole-in-the-Wall Beach in McCook's Point Park. Yes, you'll hear (and see) trains rumble past every once in a while, but to many, this only adds to the park's allure. Plus, the sugar-white sand is so clean and soft, you'll quickly forget you aren't in the Caribbean (as long as you visit during the warm summer, that is).
Insider's tip: Non-residents are charged a hefty fee ($40 on weekdays and $50 on weekends and holidays) to spend a day here between Memorial Day and Labor Day. If you hit the beach early in the morning or late at night, however, you can access the area for free. And if you're planning to spend a week, you can purchase a seven-day pass for $75.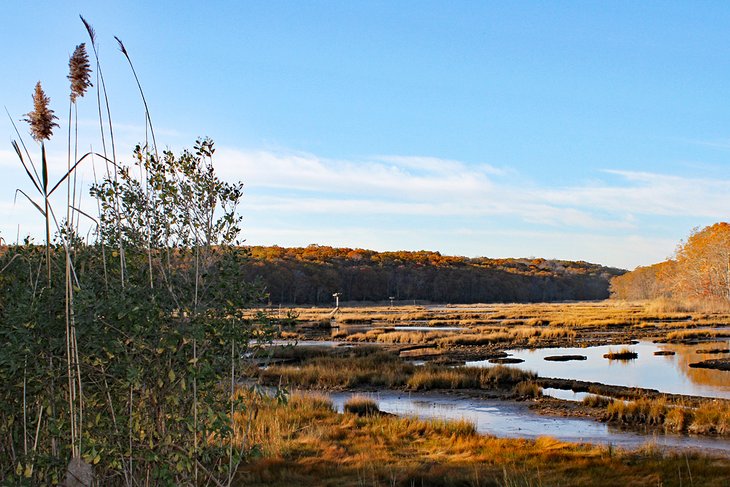 Rocky Neck State Park is also located in East Lyme. Home to a half-mile beach shaped like a crescent, this strand is ironically free of rocks in many places, with soft sand enticing swimmers of all ages to wade in.
East Lyme is made up of two small villages: Niantic in the north and Flanders at the shore. They both overflow with charm, cute shops, and quaint restaurants enticing visitors to stay longer than they'd planned. in many places
Looking to score major points with your kids? Take them to Gumdrops & Lollipops in Niantic. This 1950s-style candy and ice-cream shop also serves beach-worthy lunch fare and a load of smiles. Its bright yellow façade is impossible to miss at the corner of Hole-in-the-Wall Beach.
5. Westport
One of Connecticut's best beach towns, Westport boasts three main beaches: Sherwood Island State Park, the first state park in Connecticut, covers over 230 acres of land, much of which includes fine, golden sand. (Out of state visitors can expect to pay anywhere from $7 to $22 a visit, depending on when they arrive).
Compo Beach is the other, more exclusive beachin' option - a clean, town-owned slice of well-groomed heaven. Expect to pay $45 on weekdays or $70 on weekends if you're from out of town. Old Mill is a small, crescent-shaped beach a short walk from Compo. You'll need a parking permit to stop here during the summer.
When not lazing in the sun, head three miles into town where you'll find the newly revamped Westport Library overlooking the sparkling Saugatuck River. You can attend an informative talk by a speaker, grab a snack or latte in the on-site café, or wander the path along the peninsula to enjoy the pretty, river views. Time your visit during the summer months, and you can catch a free outdoor concert at the Levitt Pavilion.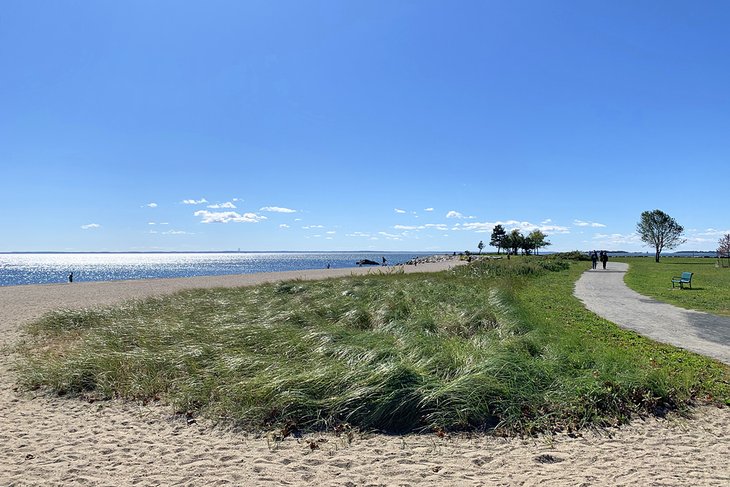 Walk along the town's quaint and historic Main Street, where you'll find shops ranging from Lululemon to teen-fave Brandy Melville. Anthropologie, which is housed in a restored Tudor-style building is unmissable.
As for noshing, choose an outdoor table at downtown's uber-popular Bar Taco (it, too, is set on the shore of the Saugatuck River); dine while watching sailboats cruise the Long Island Sound at La Plage (it's connected to the picturesque, Inn at Longshore); or grab a bite at the river-facing Rainbow Thai, which is only two miles north of Compo Beach.
Accommodation: Where to Stay in Westport
6. Old Saybrook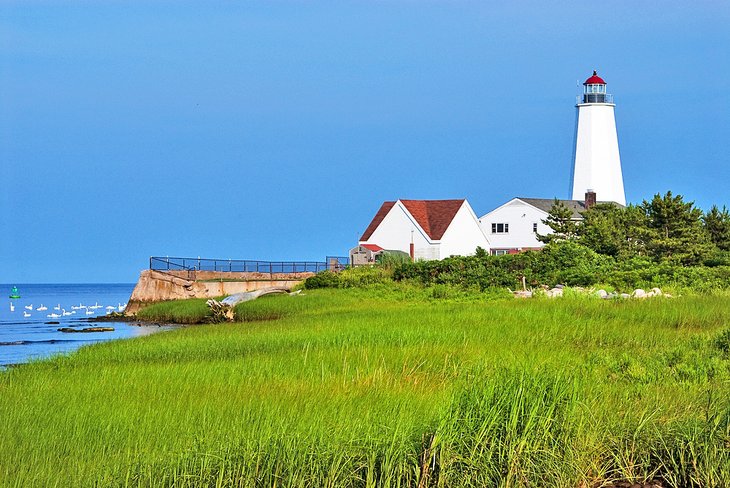 A romantic sunset as seen from the Marina at Saybrook Point Inn & Spa..JPEG
Few towns are as charming as Old Saybrook. Set at the mouth of the Connecticut River, this scenic spot is utterly romantic, making it a perfect beach town for couples in Connecticut.
When it comes to sightseeing, there are plenty of things to do in Old Saybrook. The delightful Main Street screams small town New England, leading visitors past eclectic antique shops, charming cafés, and adorable restaurants to the picturesque Fenwick Historic district. It features shingled cottages, some of which were built over 100 years ago. Don't miss a visit to "The Kate," a performing arts center named after former resident, Katherine Hepburn.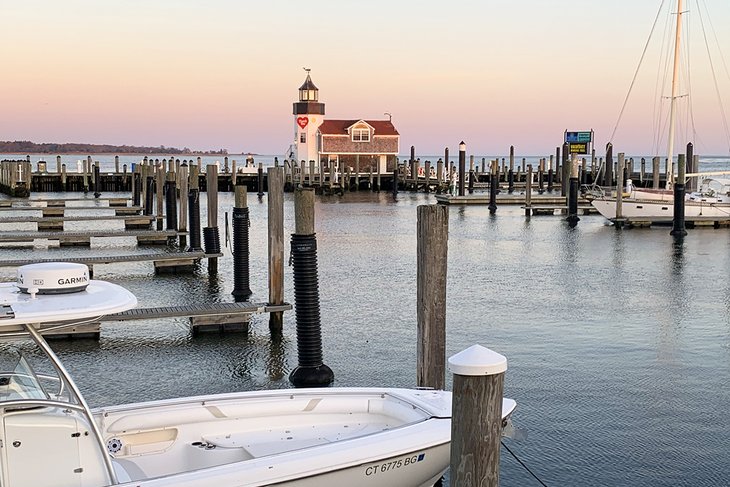 Harvey's Beach is a definite draw with its fine sand and calm waters. Lifeguards are on duty during the summer season, and despite its small size, the beach is home to a playground, concession stand/truck (make sure to try the Italian Ice), bathrooms, and changing areas. Visit on a Friday night, and you might luck into a free concert.
Insider's tip: Parking costs $12 on weekdays and $25 on weekends and holidays.
Accommodation: Where to Stay in Old Saybrook
7. New London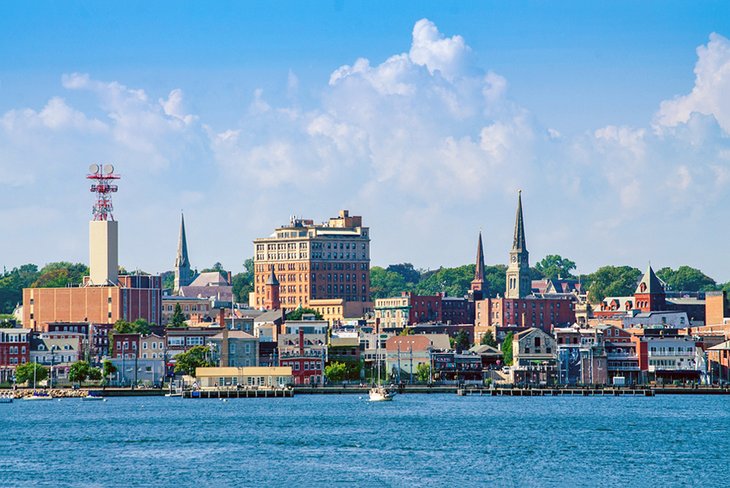 It's hard not to fall in love with New London, a seaside town once supported by its business as a busy whaling port. From Bank Street's charming buildings dating back to the 1790s to the elegant Capitol Theater built in 1921, this town is peppered with historic structures and plenty of fun things to do. They range in style from Federal to post-Revolutionary to Greek Revival to Italian Renaissance Revival.
Downtown's captivating U-shaped historic district runs along the west bank of the Thames River; its base lies on Bank Street. This is where you'll find the city's best shopping, as well as fantastic places to visit for a bite to eat.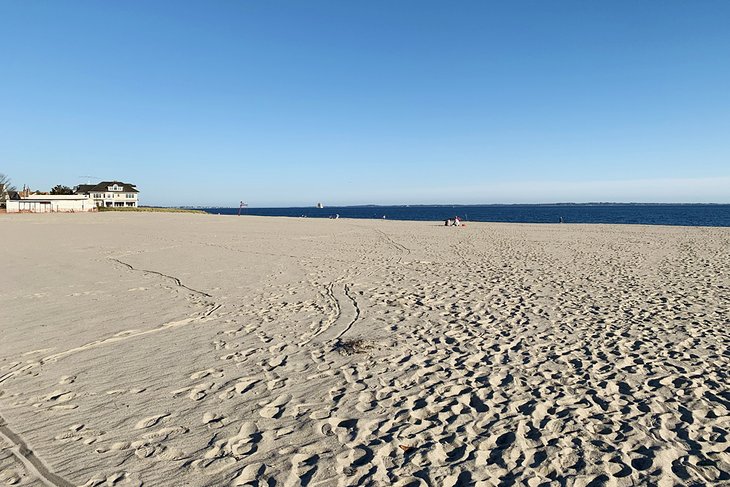 New London's main attraction is Ocean Beach Park, home to a family-friendly strand that boasts an Olympic-sized swimming pool, playground, waterslide, an arcade, mini golf, and concessions. The kids won't want to leave.
When you've had enough of picking sand from your swimsuit, head farther into town. Travel back in time at Fort Trumbull State Park, get cultured at the Lyman Allyn Art Museum, or find a peaceful respite at the Connecticut College Arboretum.
Accommodation: Where to Stay in New London
8. Greenwich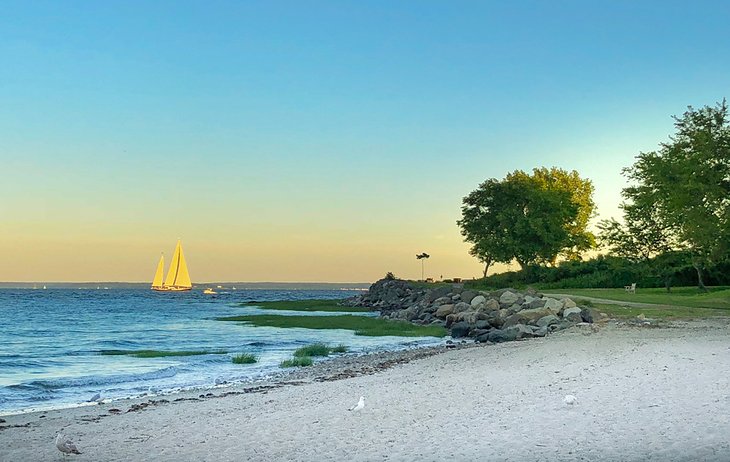 When most people think of Greenwich, a beach scene isn't the first thing that comes to mind. High-end shops, diverse art galleries, the lovely Greenwich Historical Society, award-winning restaurants, and perfectly manicured parks, yes, but a beach town? Not many would believe it.
This tony NYC commuter town (it lies less than an hour from Grand Central via the Metro North train) is a magnet for the rich and often famous. Home to hedge funds and many ladies who lunch, it's a perfect, swanky place to visit and rest your bejeweled head.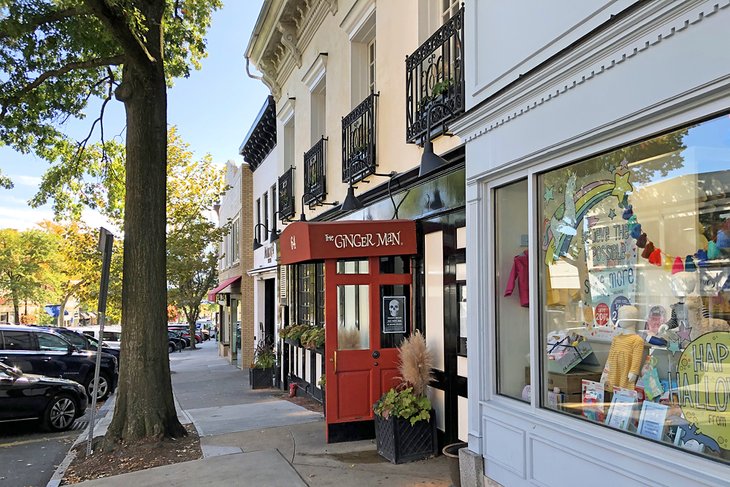 The exclusive yet "kind of" open to the public, Greenwich Point Park, allows that head to rest upon a golden-sand beach that overlooks the Manhattan skyline. Between May 1st and October 31st, out-of-towners must display a beach pass (expect to pay $40 per car and an added $9 for every person over four). Problem is, these can only be purchased on a weekday from one of two civic centers in town, so you'll need to plan your visit accordingly.
Board a ferry to Island Beach at Greenwich Harbor for a more remote sunbathing experience.
Accommodation: Where to Stay in Greenwich
9. Stony Creek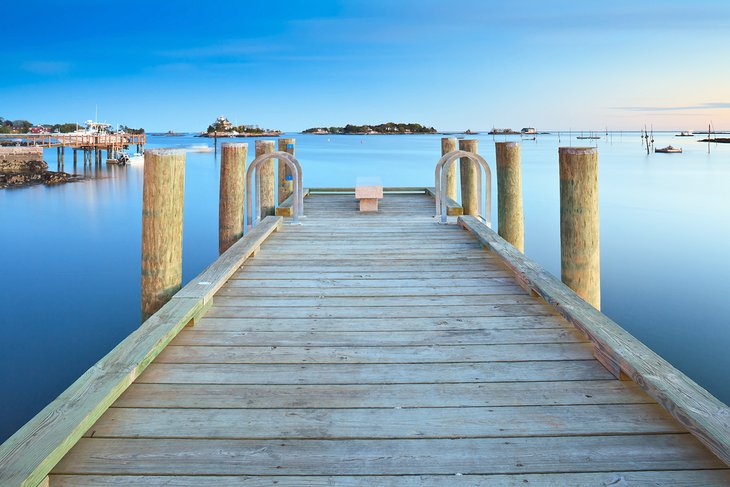 Nestled quietly in southeast Branford, the tiny Stony Creek bursts with charm. If you were hoping to snap photos of adorable New England cottages and Victorian homes, you'll be pleasantly surprised. Within the town's teeny limits, you'll find only one main retail area that's home to a gift shop, market, and a few small restaurants.
Most come to enjoy the beach and embark on a cruise to the Thimble Islands, a unique archipelago consisting of tiny rock islands, some of which lay claim to adorable homes.
Stony Creek Beach is a small speck when compared with other more grandiose strands on this list (ahem, Hammonasset). What it lacks in size, though, it makes up for with clean, clear water and a perfect sandy base. The beach also offers a place to launch smaller boats, kayaks, and canoes (from the nearby Madera Park).
10. Norwalk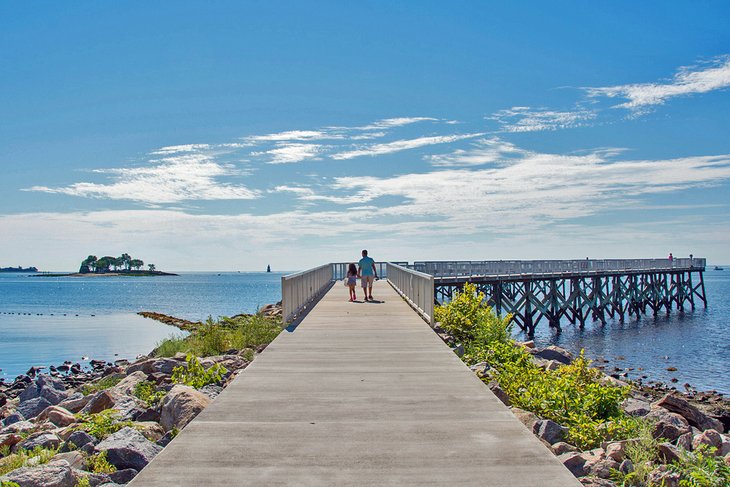 You can't visit Norwalk without stopping to see the seals and touch a stingray at the impressive Maritime Aquarium. Located mere steps from busy Washington Street, this popular part of town is known locally as SoNo (a.k.a. South Norwalk). It's home to Norwalk's best restaurants (you'll love the fresh fare at Oishi and tacos at Rio Bravo) and eclectic shops.
For more retail therapy, head to the new shopping mall, the SoNo Collection. It's a 10-minute drive (just over two miles) from the beach, but you'll be grateful for a break from the heat. Plus, you'll pass the town's beautiful Veterans Memorial Park.
Calf Pasture beach is Norwalk's best asset. Featuring fine golden sand, plenty of paths, and a wooden fishing pier, it's easy to forget you're in Connecticut when visiting this beach. You can also rent boats, play baseball, practice your ollies on a skateboard, grab a bite at the on-site restaurant, or hang from monkey bars at the playground.
Non-residents can expect to pay $40 per car on weekdays and $65 on weekends and holidays. The adjacent Shady Beach is for residents only, but out-of-towners can access it from the sand.
Accommodation: Where to Stay in Norwalk
11. Guilford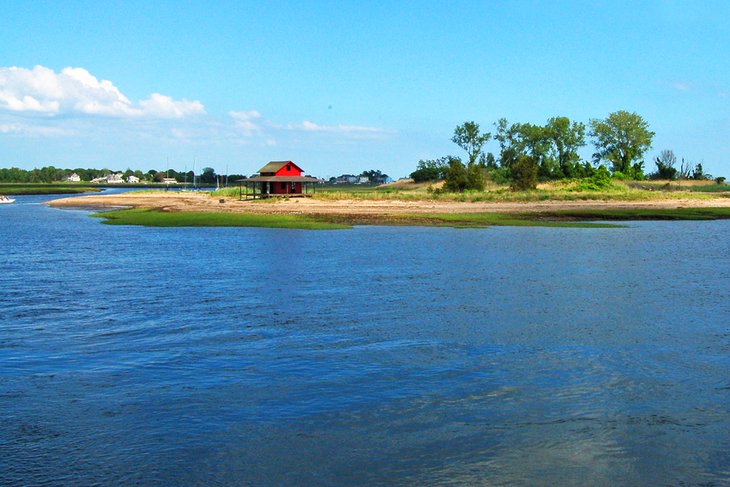 Like many of the Connecticut beach towns on this list, Guilford is endearing. Homes built in the 17th, 18th, and 19th centuries line historic streets surrounding the town's shining star: the Town Green. A small village (it measures only five miles wide and 12 miles long), Guilford packs antique markets, boutique stores, cafés, galleries, and restaurants into its delightful, tree-lined roads. Here, you'll also find cute museums like the Hyland House, Thomas Griswold House, and Henry Whitfield State Museum.
The serene Jacobs Beach is located on Seaside Avenue. You won't find signs to direct you to this hidden gem, so keep your eyes peeled. Popular with kayakers, swimmers, and tiny tots armed with shovels, this 25-acre strand requires out-of-towners to purchase a daily pass for a visit.
Accommodation: Where to Stay in Guilford
12. Old Lyme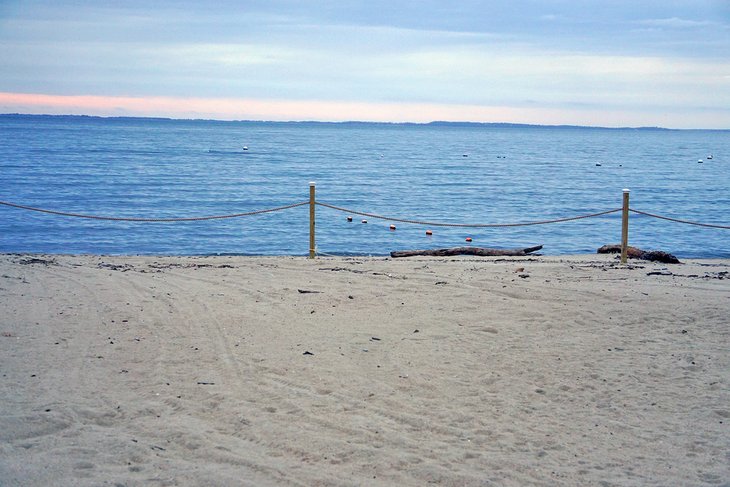 Thousands of visitors flock to Old Lyme after Memorial Day, more than doubling the town's permanent population. They come to enjoy the pretty landscape, Colonial and Federal architecture peppered throughout the beguiling town, and, of course, the lovely beaches that lie in (and near) this pretty beach town in Connecticut.
Those who rent in town are granted access to the area's private beaches, while Sound View beach is open to the public. You can enter for free, but you'll have to pay for parking.
The pretty White Sands Beach can be accessed by everyone after Labor Day, but it doesn't have parking for non-residents during the summer. The Town Beach sits between two private sections of the White Sand Beach Association. They aren't open to the public.
When you're not laying prone on the sand, head to the Florence Griswold Museum to soak up some culture, window shop in one of the boutique stores, or grab a bite from one of the local restaurants.
Insider's tip: Your taste buds will love you forever if you stop for ice-cream at the Old Lyme Ice Cream Shoppe.
Accommodation: Where to Stay in Old Lyme
13. Clinton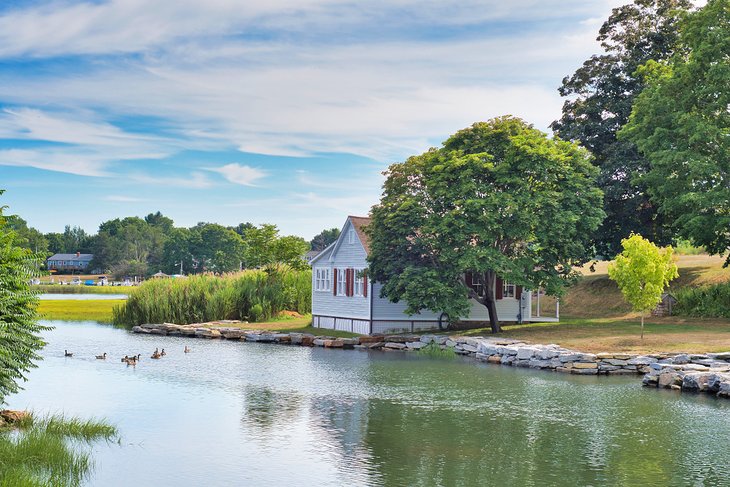 History seeps through the streets of Clinton. A quaint beach town, Clinton's eastern portion (the side that lies east of the Indian River) has been listed on the National Register of Historic Places. The Clinton Art Gallery features work by over 30 artists and crafters.
The Hammonasset Nature Preserve plays host to the gorgeous Cedar Island Marina. A fun spot to take the kids, this unique place offers a heated pool, recreational areas, a waterfront restaurant, and a free shuttle bus. Speaking of restaurants, don't miss a trip to the Beach Donut Shop on Main Street. Their homemade treats literally melt in your mouth.
If you're hoping to swim or hop on a paddleboard, high tide is the best time to visit Clinton Town Beach. If you're looking to walk hundreds of yards along sandbars, spotting crabs with each step, low tide is where it's at. As with most town beaches, outsiders will have to pay a daily parking fee of $50 during the week or $75, Friday through Sunday and on holidays from the third weekend of June through Labor Day.
Accommodation: Where to Stay in Clinton
14. Milford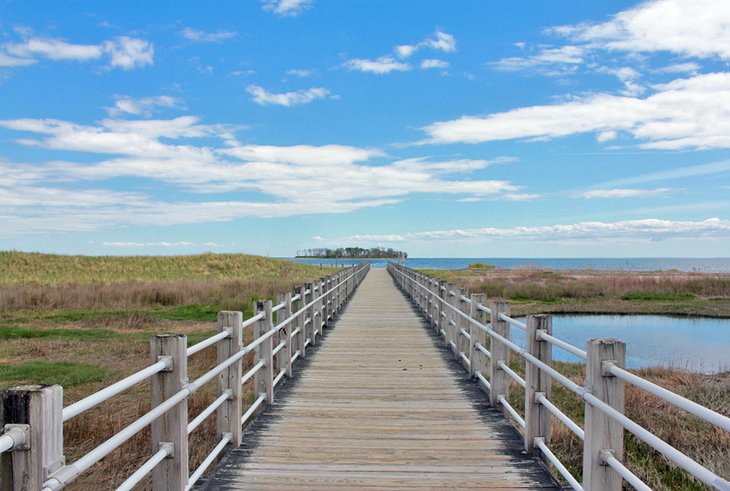 Milford knows how to cater to beachgoers. Boasting a laid-back summer vibe, this town's quirky shops and low-key (yet yummy) restaurants make visitors feel immediately at home.
Eisenhower Park is a winner with kids (hello, playground and splash pad), as well as tennis aficionados. And the Coastal Center at Milford Point is a must-see for wildlife lovers. Make sure to pack your camera.
People flock here in the summer for a chance to lounge and play on one of the town's incredibly soft sandy beaches. Between Anchor, Gulf, Walnut, Woodmont, and Middle (the closest to the town's main amenities) beaches, there are a bevy of glistening strands to choose from.
Ever wanted to find buried treasure? You might get lucky at Silver Sands State Park. As legend has it, Captain Kidd hid treasure on the beach in 1699, and it's never been claimed. The park is housed on Charles Island, which can be reached by foot when the tide is low. Bring a bag with you, just in case you get lucky on your search!
Accommodation: Where to Stay in Milford
More Related Articles on PlanetWare.com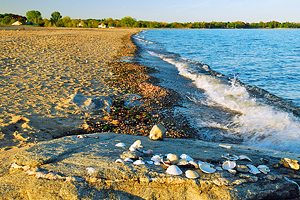 Connecticut Beaches 101: By now you know that Connecticut boasts some of the East Coast's most gorgeous beaches. From family-friendly strands to rugged beauties, Connecticut is home to a bevy of lovely beaches. Not sure where to stay when you're visiting the sandy shores? Check out this list of the best beach hotels in Connecticut.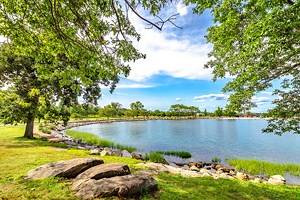 More Charming Connecticut Must-Sees: Beach towns may get all the glory, but there are a ton of other Connecticut spots worthy of a visit. From quaint small towns to more cosmopolitan cities like Stamford and Hartford, you won't get bored in the Nutmeg State.