8 Top-Rated Beaches near Portland, Maine
In and around Portland, tourists will find a wide variety of beaches, from the large, activity-filled Old Orchard Beach to the small but lovely Higgins Beach in Scarborough. The beaches of southern Maine are some of the most popular because of their proximity to Massachusetts and the plethora of things to do in the region.
Maine beaches are also some of the most scenic, thanks to the varied landscape and picturesque buoys and fishing boats that dot the coastline. You will find that tourists are welcome at even the most secluded of spots, and the locals are always more than happy to let you know where to find the best catch of the day.
Find the top spots to relax by the sea with our list of the best beaches in and around Portland, Maine.
1. Old Orchard Beach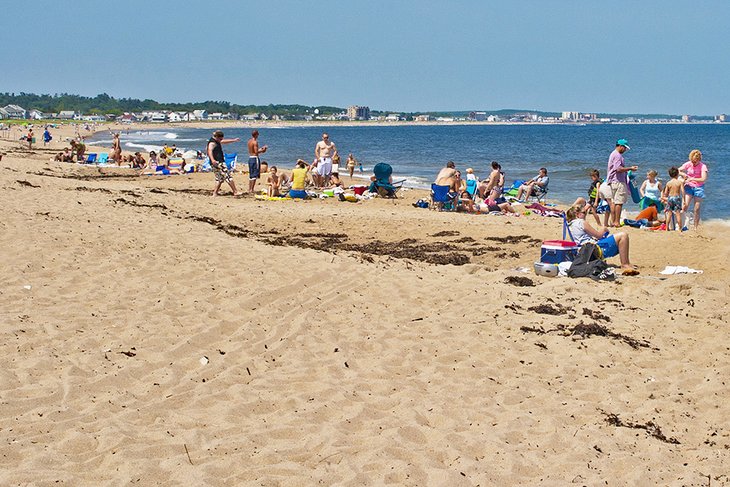 In addition to the seven miles of sandy beach on the Atlantic coast of Maine, this old-fashioned beach resort at Old Orchard Beach has many things to offer. A popular destination for adults is Old Orchard Pier, where you can find an assortment of restaurants, shops, and entertainment venues that sit atop pilings extending 500 feet into the ocean. Open May through September, the pier is alive every night of the week.
Palace Playland, New England's only beachfront amusement park, has rides and attractions for the entire family. There are nearly 30 rides to choose from, including more than a dozen kiddie rides for the little ones. Family rides include old favorites like a flume ride, bumper cars, and the huge Ferris wheel with views out across the beach and boardwalk.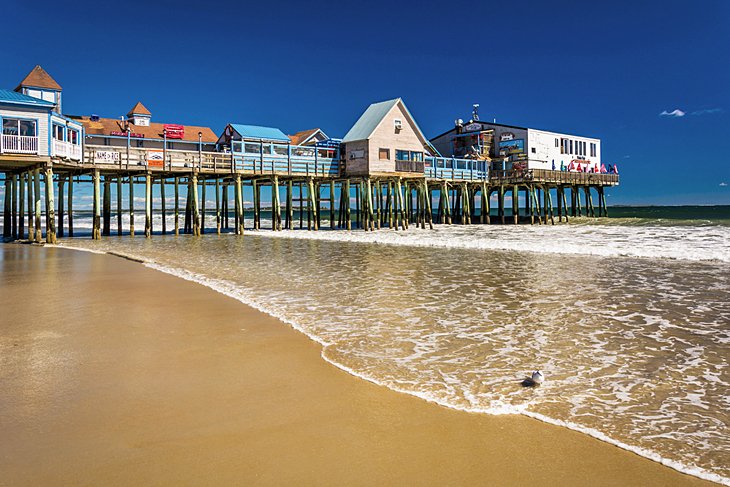 The park also has two roller coasters, as well as other high-intensity rides for thrill seekers. Rides are purchased using a ticket system instead of an all-inclusive theme park admission, convenient for those who only want to enjoy a few rides while at the beach.
The Beachwood is a recently remodeled oceanfront hotel at Old Orchard Beach that offers full kitchenettes and self-serve laundry, making it a top choice for families and long-term stays. There is a pool and hot tub on-site, and beachgoers can use the hotel's beach chairs and umbrellas for a relaxing day by the waves.
2. Crescent Beach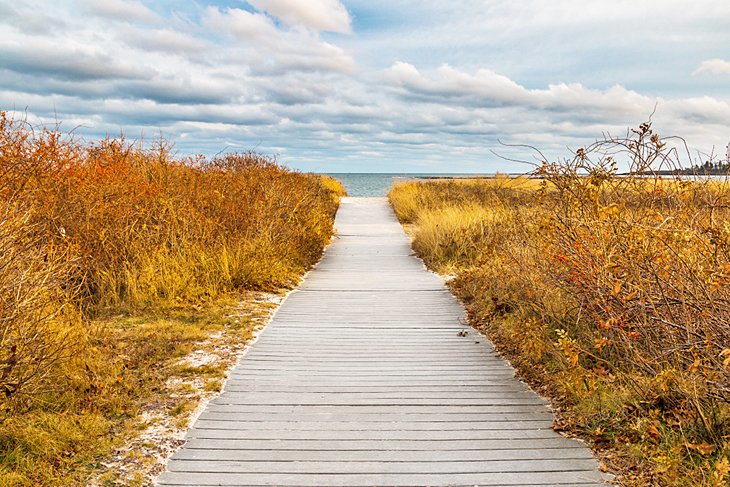 Located on Cape Elizabeth about eight miles south of Portland, Crescent Beach is part of Crescent Beach State Park, a picturesque spot where visitors can enjoy all that Maine beaches have to offer. There is a mile of sandy beach, plus grassy dunes, rocky outcroppings, and shady wooded areas, as well as several great spots for fishing.
The beach is known for its gentle waves and amazing views of a nearby island and local fishing boats, popular with families and couples.
Lifeguards are on duty during the summer season, and there are restrooms and showers available. There is also a concession stand and bicycle racks for those who bike to the beach.
The 4-star Inn by the Sea is very close to this beach and has kids' activities, an on-site spa and restaurant, and a pool. This dog-friendly hotel also has a private stretch of beachfront and offers family-sized suites with full kitchens and fireplaces.
Address: 66 Bowery Beach Road, Cape Elizabeth, Maine
3. Scarborough Beach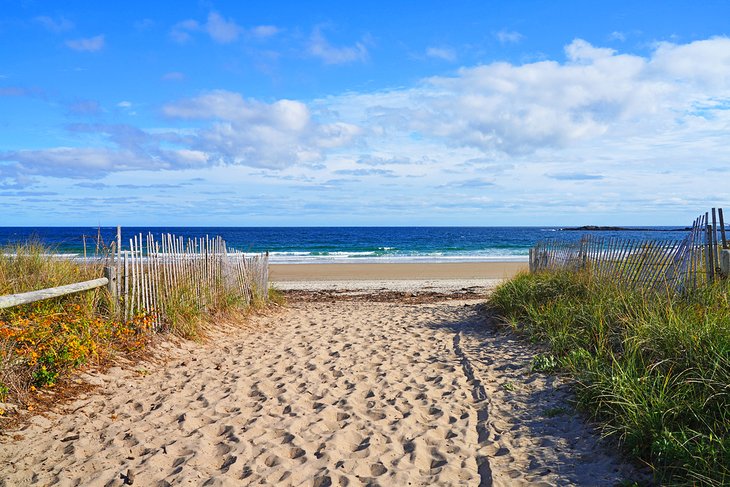 Scarborough Beach is a family favorite with ample parking, known for its temperate waters during July and August. You can rent a variety of recreational items at the lifeguard station, including chairs and umbrellas, boogie boards, surfboards, stand up paddleboards, and sea kayaks.
Lifeguards are on duty from early June through Labor Day, and swimmers should be aware that this beach can have a strong undertow current, so it is wise to stay in the lifeguard's range. There is a small burger stand for refreshments and lunch, and showers and restrooms are available.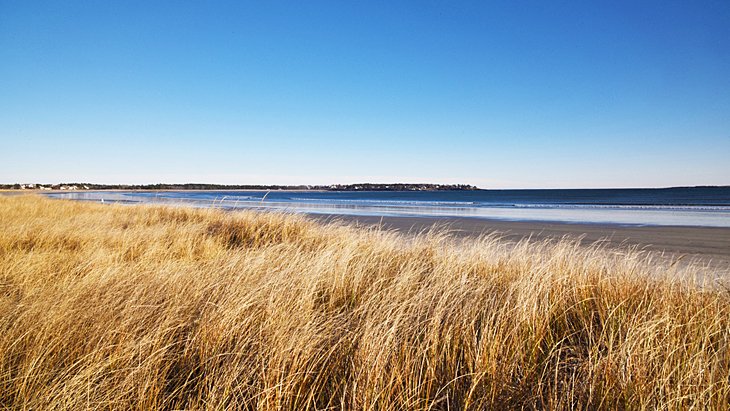 This beach is a nesting ground for the endangered piping plover, so dogs, kite flying, and bicycles are not allowed on the beach from the beginning of March through November. Although Scarborough Beach is considered a state park, it is managed by a private company, so Maine State Park passes are not valid for entry here.
Scarborough's 1878 Black Point Inn Resort offers an 18-hole golf course, hiking trails, tennis, and many other top-notch amenities including babysitting service.
Address: 418 Black Point Road, Scarborough, Maine
Official Site: https://www.scarboroughbeachstatepark.com/
4. Ferry Beach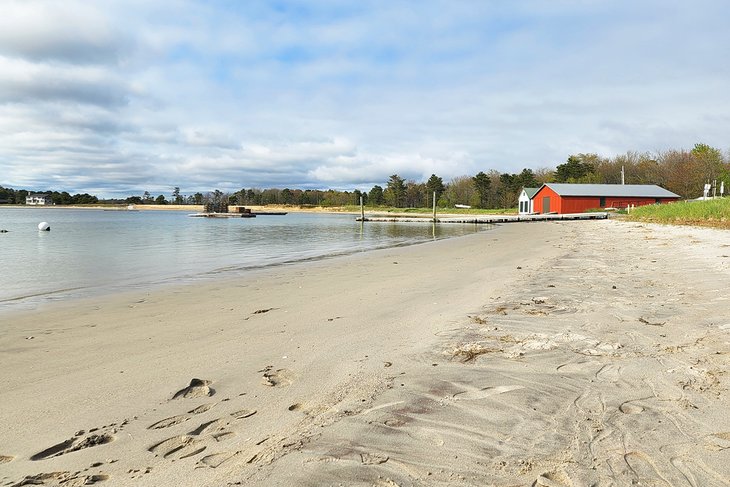 Ferry Beach State Park in Saco is open from Memorial Day through the end of September. This beach is far less crowded than many others in the area, but has the basic amenities including a changing area, restroom, and picnic area.
Ferry Beach is a crescent-shaped beach that is well-protected from bigger ocean waves, tucked just inside the mouth of the Nonesuch River at the northern end of Saco Bay.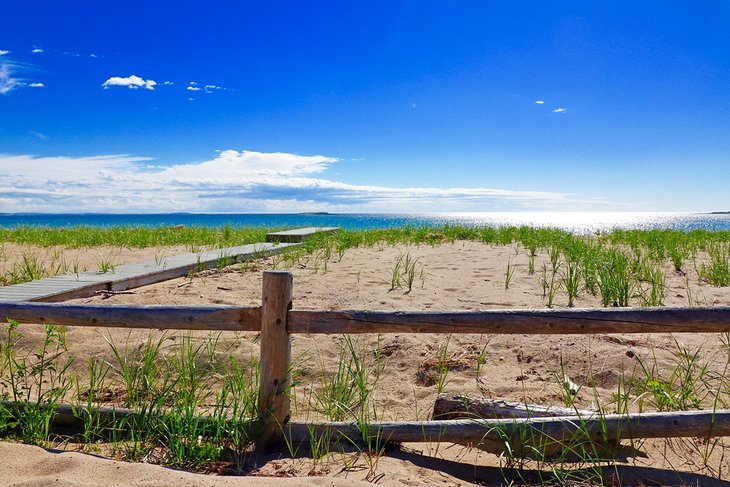 This beach is popular with nature lovers for its many birds, including sandpipers, ruddy turnstones, and the piping plover. The park is home to more than two dozen nature trails and has been the focus of extensive dune recovery programs, which you can learn about at the park nature center.
Hotels in Old Orchard Beach are convenient to this beach, but Biddeford and Saco have less expensive alternatives close to Ferry Beach, like Hampton Inn Saco/Biddeford, which includes breakfast and has a pool and self-serve laundry facilities.
Address: 95 Bayview Road, Saco, Maine
5. Pine Point Beach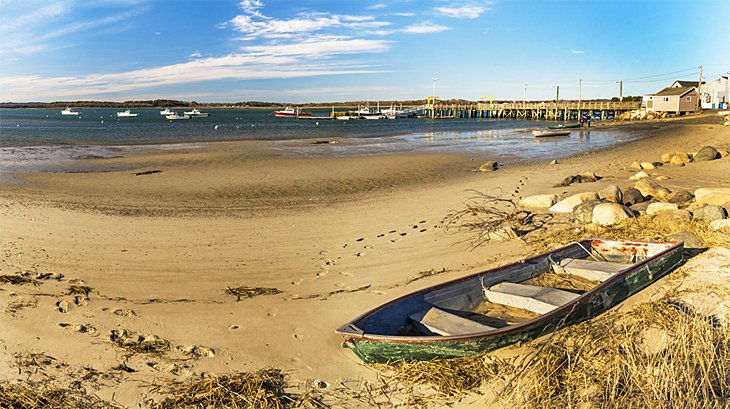 Pine Point Beach stretches for about four miles from Old Orchard Beach to the Pine Point Jetty on the shores of Saco Bay. Inexpensive parking and the wide expanse make this a popular spot for beachgoers in the summer, and it is a favorite with surfers for its active waves.
There is a small snack stand, but the beach is also within convenient walking distance of some good seafood restaurants like Pine Point Fisherman's Co-Op. It is also close to a beach shop, where you can find boogie boards and other beach toys or rent a kayak or surfboard for the day.
Guests at the Fairfield Inn Portland Maine Mall can take a free shuttle to the beach or any destination within five miles of the hotel, and will enjoy many amenities, as well as complimentary snacks each evening.
Location: Scarborough, Maine
6. Higgins Beach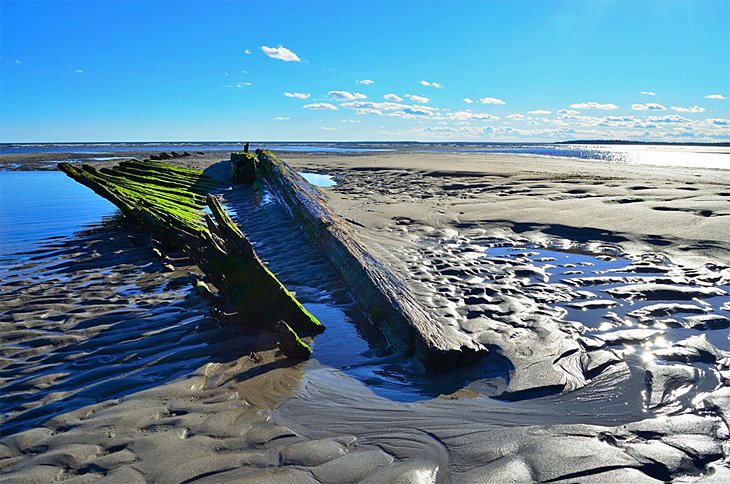 Higgins beach is a popular choice for families for its calm surf, soft sand, and smaller size. The northern end of the beach has the calmest waters, facing the outlet of the Spurwink River. This has made the spot a popular one for both fly fishing anglers and kayakers, as well as those seeking a peaceful stretch of sand.
One of its most interesting features is the embedded remains of a wooden shipwreck that now decorates the shore, sparking the imagination of many a child (and adult) who approaches.
Just 15 minutes' drive from Portland, Higgins Beach is set alongside a peaceful community beach that welcomes curious tourists with open arms.
The locally owned Higgins Beach Inn sits only about a block from the beach and serves an included breakfast at its restaurant. Guests can take advantage of the hotel's bicycle and watersports equipment rentals, or spend time relaxing at the on-site pool.
Location: Scarborough, Maine
7. Willard Beach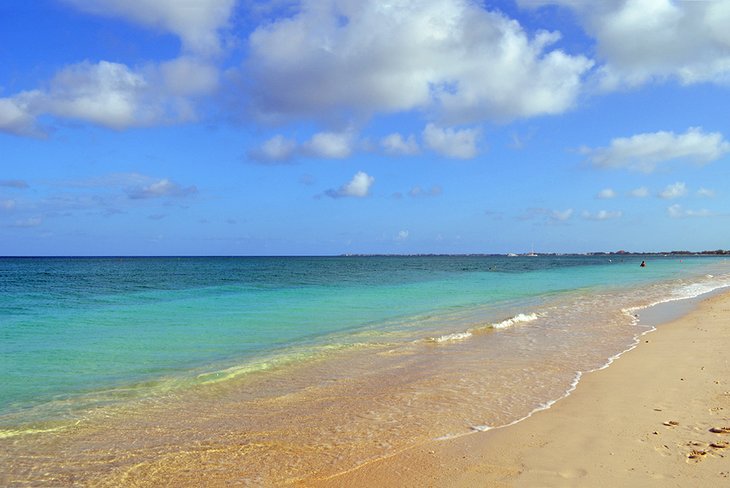 Willard Beach is smaller than many of its neighbors but is perfect for families with younger children who don't want to deal with big crowds. Tucked within Simonton Cove, the water here is calm and scenic, dotted with sailboats. There is a playground on-site, as well as a bathhouse with toilets and showers and a concession stand for refreshments.
If you are feeling adventurous, you can take a short walk on the Spring Point Shoreway Trail out to Spring Point Ledge Lighthouse, which has been lighting the way into Portland Harbor since 1897.
A dependable family hotel nearby is the Best Western Merry Manor Inn, which has both indoor and outdoor pools, complimentary breakfast, and self-serve laundry facilities.
Location: South Portland, Maine
8. East End Beach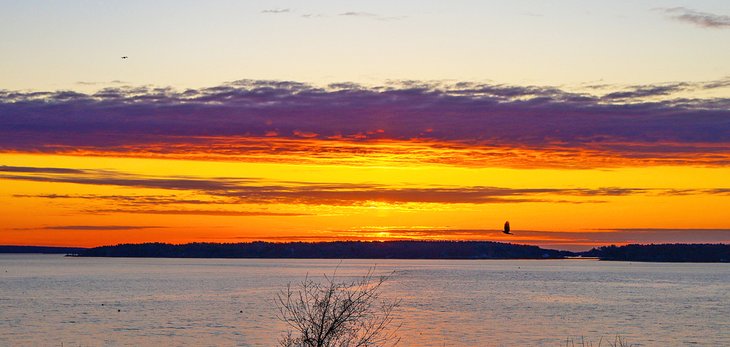 East End Beach sits on Casco Bay at the end of Cutter Street and the Eastern Promenade near Portland's Old Port shopping district. This is an excellent place to visit for photographing the bay, its islands, and occasionally a seal.
Visitors can also watch the sailboats come and go from the nearby marina, and there is a public boat launch at the beach with plenty of parking. Those who would like to keep their own small craft on-site can rent a spot in the kayak rack, which can also accommodate canoes and small dinghies.
Beach amenities also include changing rooms and restrooms, as well as tennis courts, basketball courts, and a playground. Behind the beach, a grassy hillside provides a nice spot for picnics, with plenty of tables and benches. In addition to swimming and sunbathing, there is plenty of space to spread out for a game of frisbee or flying a kite.
There are also several trails that branch off from the beach, including ones that lead to nearby Fort Allen Park and Fish Point. Beachgoers have easy access to the Eastern Promenade, a two-mile harborside trail and park, which was designed by the same team as the Boston Commons and New York's Central Park. Be sure to keep an eye out for the sightseeing train operated by the Maine Narrow Guage Railroad, which runs alongside portions of the trail.
Address: Cutter Street, Portland, Maine
Best Time to Go to the Beach in Portland, ME - Historical Climate Averages
Average minimum and maximum temperatures for Portland, ME in °C
J
F
M
A
M
J
J
A
S
O
N
D

-1

-11

1

-9

6

-4

12

2

17

7

23

12

26

15

25

14

21

9

14

3

8

-1

2

-7

PlanetWare.com
Average monthly precipitation totals for Portland, ME in mm.

104

80

105

108

97

83

84

78

86

112

120

108