10 Top-Rated Weekend Getaways in New Jersey
A popular destination for New Yorkers looking to escape for a few days, New Jersey is full of options for every taste. Beach lovers have plenty of options thanks to the state's 127 miles of coastline, and even among these seaside resort towns there is something for everyone.
Just on Cape May alone, families have their choice of amusement parks and kids' activities, and couples have an equal number of options for a romantic, secluded getaway. Those who aren't as fond of sand between their toes have choices, too, from a complete resort experience in Sussex County to a weekend appreciating art and music in Yogi Berra's old stomping grounds.
Plan your next short break from the Big Apple with our list of the best weekend getaways in New Jersey.
1. Cape May Point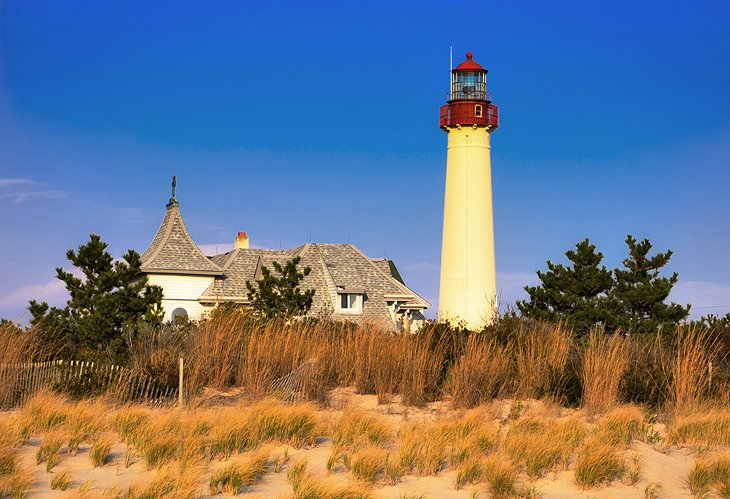 Located on the southern tip of New Jersey's Cape May, at the mouth of Delaware Bay, Cape May Point has long been an important place for both its strategic position and its beaches. It has been a popular resort destination since the 19th century, and still has a reputation for being a tranquil retreat with plenty of things to do. A convenient and popular way to get around here is via bicycle, and there are several hotels and shops that offer rentals.
The Cape May Historic District, a registered landmark, is home to over 600 beautifully preserved Victorian houses, several of which can be toured. The area covers about 30 blocks, and walking tours are available that highlight the most historically and architecturally significant homes along main routes like Washington Street. In addition to the museums and tea rooms that are scattered throughout the historic homes, the Washington Street Mall in the center of the Historic District has a variety of small shops and eateries.
Cape May Point State Park provides both natural and historic attractions. The most popular of these is the Cape May Lighthouse, a beacon that has been in use since it was built in 1859. Tourists can climb the 199 steps to get panoramic views, and there is a good visitor center as well. The park is also home to the World War II Lookout Tower, as well as a bunker from that era. Nature lovers will find numerous walking and hiking trails where you can spot a range of wildlife, especially migrating and shore birds.
Cape May Point has a long public beach that runs along its southern shore, and this is where you will find the larger hotels and resorts, as well as some good ocean-view restaurants. A smaller beach, located on the western shore, is Sunset Beach. As the name suggests, this is a popular place for couples to take an evening stroll to watch the sun go down over the water. All beaches in Cape May do have an entry fee during the summer season.
Accommodation: Best Resorts in Cape May
2. Atlantic City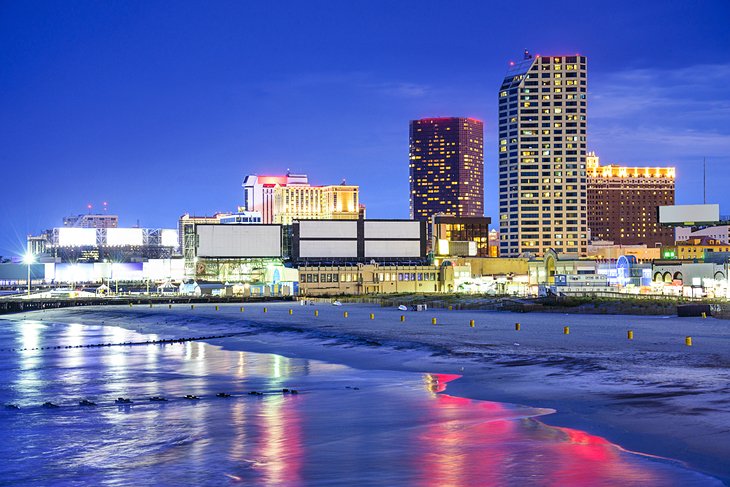 Atlantic City has enough things to do to keep you busy for weeks, but it's also a great place for a fun-filled weekend getaway. It is known as the "Las Vegas of the East" because of its 'round-the-clock entertainment and lively atmosphere, but it has even more to offer thanks to the miles of sandy beaches and family-fun atmosphere of oceanside amusement parks.
The Boardwalk is a classic wooden promenade dating back to 1870, and today it spans 5.5 miles of coastline. Tourists short on time or who simply want to have the full Boardwalk experience can ride in the unique electric tram or in the people-powered rolling chairs, similar to a rickshaw. Most of Atlantic City's most popular attractions are positioned along the Boardwalk, and you will find no shortage of food vendors, beach supplies, and arcades.
Among the most iconic landmarks is The Steel Pier, a huge seaside amusement park that was first opened in 1898. Today, it is fully updated and includes a full range of rides, from kiddie trains to thrill rides like the Slingshot. Here, you can also find the most classic of all rides, The Wheel, a 227-foot Ferris wheel with gondola-style passenger cars. Weather permitting, this is in operation year-round, and each car is temperature controlled for comfort. All rides and games are ticketed, with no high-priced admission fee for those who just want to enjoy the carnival atmosphere.
For a classic Atlantic City experience, tourists can stay at Caesars Atlantic City, a four-star resort hotel located in the heart of the action, just a block from the Boardwalk. The resort offers a full range of amenities, including a pool, fitness center, full-service spa, game room, free shuttle service, beach access, and on-site dining and entertainment.
Another centrally located hotel that's a bit more budget-friendly is the Courtyard Marriott Atlantic City Beach Block, which is just two blocks from the Boardwalk and Steel Pier. The hotel offers several conveniences, including bicycle rentals, a free shuttle bus, self-serve laundry, and a 24-hour snack bar, as well as an on-site restaurant.
3. Crystal Springs Resort, Hamburg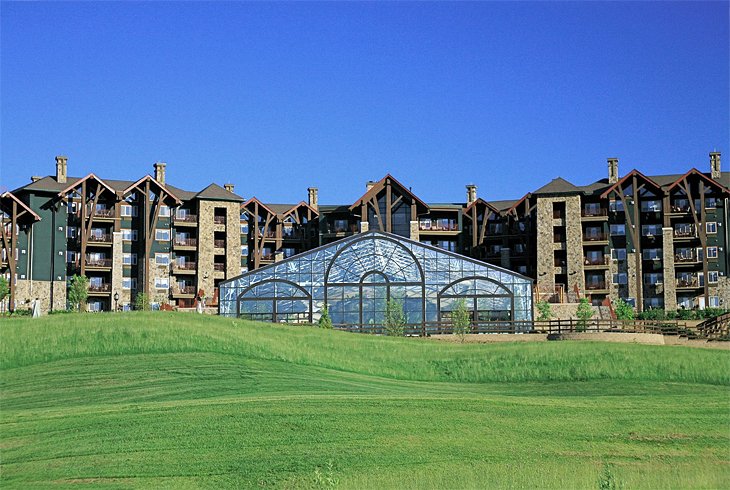 Tucked away in northwestern New Jersey in the town of Hamburg, Crystal Springs Resort offers a classic full-service resort experience for families, groups, and couples. The massive complex gives guests ample space to spread out for solitary time, as well as plenty of activities and things to do for all ages.
Those looking for some time in nature can enjoy a variety of activities at the mountaintop lake, from sunbathing on the white sand to kayaking, canoeing, or paddleboarding. Other outdoor activities include fishing, hiking, horseback riding, pony rides for kids, and even archery lessons. Guided nature tours are also available.
Among on-site sports facilities, the resort has many options, including a private golf course, as well as a putting green and "glow golf." There is a softball field, basketball court, and indoor tennis and racquetball courts, as well as facilities for laser tag. For more sedate play, there is a life-sized chess game and plenty of space set up for games.
One of the most remarkable features of the resort is its selection of pools, with three unique settings to choose from. Overlooking the golf course, the Vista 180° Pool has spectacular views from its west-facing infinity edge. The Minerals Pool Complex includes both indoor and outdoor pools, a cliff jump, sauna, and Jacuzzis. The Biosphere Pool has the most impressive atmosphere, complete with real tropical plants and secluded grottoes.
The pools have water features that include kiddie pools, splash-areas, waterslides, and even aquariums, and there is food and beverages available at all three locations.
Parents will appreciate the numerous kids' activities available to keep the little ones active and give mom and dad some R&R. The top activity for kids ages 4-12 is Circus Ninja Warrior, an exciting program where they can learn a range of challenging circus-themed activities.
4. Long Branch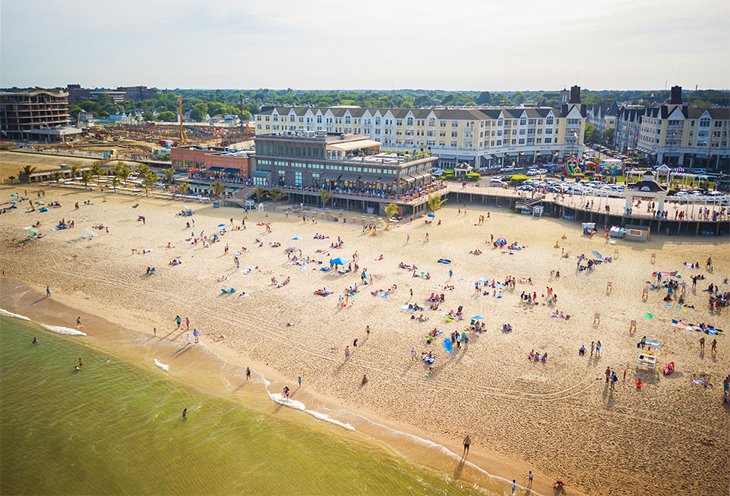 One of the more upscale beach towns along the Jersey Shore, Long Branch is a great place for sunbathing, swimming, and shopping. The main beach here is Seven Presidents Oceanfront Park, a 38-acre space with lifeguards on duty and designated areas for water sports like surfing and kayaking. Amenities include showers, changing rooms, restrooms, and a sheltered picnic area, and there is a playground for little ones.
The beach snack shack is fine for a small bite, but when you are ready for a great meal head over to Pier Village, home to several excellent restaurants. Here, you can also find live entertainment and special events, including regular music and theater performances in the summer and free film screenings. Pier Village is also home to several chic boutiques.
A good place to stay in Long Branch is the Bungalow Hotel. It sits just next to Pier Village and has a private beach, which is helpful on those extra-hot days when the main beach is crowded. Benefits include free secure garage parking, a large game room, bicycle rentals, and a lovely outdoor fireplace and seating area. Kitchenette rooms are available, as are themed suites.
5. Montclair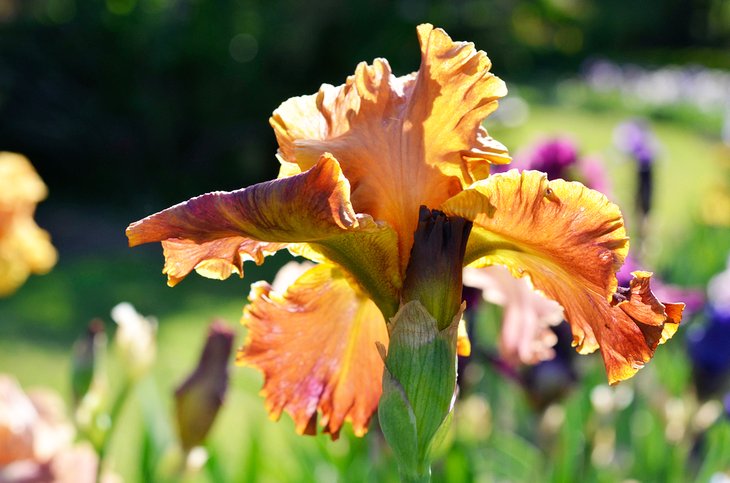 Montclair is a great getaway for those interested in art, music, and cultural attractions, as well as fans of baseball. In addition to the museums, theaters, and galleries, visitors can enjoy a plethora of unique boutiques and small shops. Montclair is also home to a surprising variety of international cuisine, including Ethiopian, Brazilian, Greek, and Moroccan restaurants.
This suburban city was once the home of baseball legend Yogi Berra, and today his life and career are immortalized at the Yogi Berra Museum and Learning Center, located on the Montcliar State University campus next to Yogi Berra Stadium. In addition to exhibits dedicated to his life as an athlete, visitors can learn about his service during World War II, his family, and much more. The center also hosts many events, as well as baseball camps for youngsters.
The Wellmont Theater, first opened in 1922, is a local landmark that was once frequented by Thomas Edison. Today it is a center for performing arts, as well as a host for the Montclair Film Festival, and also home to a restaurant. Another cultural attraction is the Montclair Art Museum (MAM), home to a wide range of visual arts from North America. It is unique for its gallery devoted to George Inness, a painter who lived in Montclair in the late 19th century.
Those who enjoy gardens will want to visit the Van Vleck House & Gardens, an Italianate villa with beautifully curated landscaping, as well as the Presby Memorial Iris Gardens. The largest non-commercial iris garden in the world, it covers 6.5 acres with more than 3,000 varieties. Those looking for more nature will enjoy Edgemont Memorial Park, home to walking trails, a safe playground for youngsters, and a lovely pond that hosts ice-skating in the winter.
The MC, Autograph Collection Montclair is an excellent place to stay, centrally located within a five-minute walk of several local restaurants, as well as the Montclair Art Museum. This chic, modern hotel boasts a large rooftop dining area with stunning views of Manhattan and spacious well-appointed rooms.
Couples looking for an extra-special getaway will love The George, an elegant B&B housed in a sizable historic mansion. Rooms are spacious and well-appointed, featuring décor that blends contemporary and historic elements.
6. Wildwood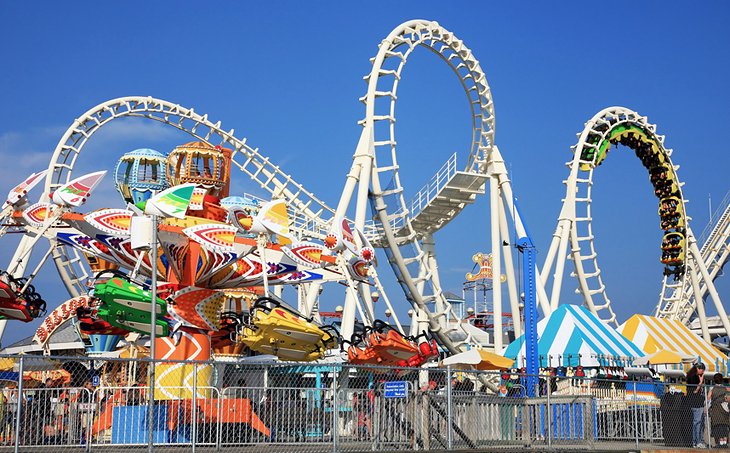 The resort city of Wildwood is located on a barrier island adjacent to Cape May and is a popular family destination. Five Mile Beach is its centerpiece, along which runs a classic wooden Boardwalk, home to numerous waterside amusements, including arcades and food vendors.
Despite the plentiful waves, Wildwood is home to several water parks in addition to its beachfront amusement parks. One of the most popular is Splash Zone, which has a lazy river and plenty of slides, as well as covered seating areas. This is just one of the water parks at Morey's Piers amusement park, which covers a six-block stretch and includes over 100 rides. Adjacent to this is a smaller but nostalgic old-fashioned amusement park, Mariner's Pier.
Another great spot is Surfside Pier and Ocean Oasis Water Park, which features a combination of traditional and splash-based rides for all ages. Right next to this is Wildwood Dog Park and Beach, the only place your four-footed friend can enjoy the ocean between Memorial Day and Labor Day. Other family-friendly activities include the Doo Wop Experience, home to a museum and some rides, as well as the Seaport Aquarium, a small but interesting exhibit of ocean life.
Great for couples, as well as families, The Sea Gypsy Bed and Breakfast is an excellent choice for those who want elegant yet laid-back lodgings. In addition to a home-cooked breakfast, guests can enjoy the convenience of kitchenettes and strong Wi-Fi.
7. Seaview, A Dolce Hotel, Galloway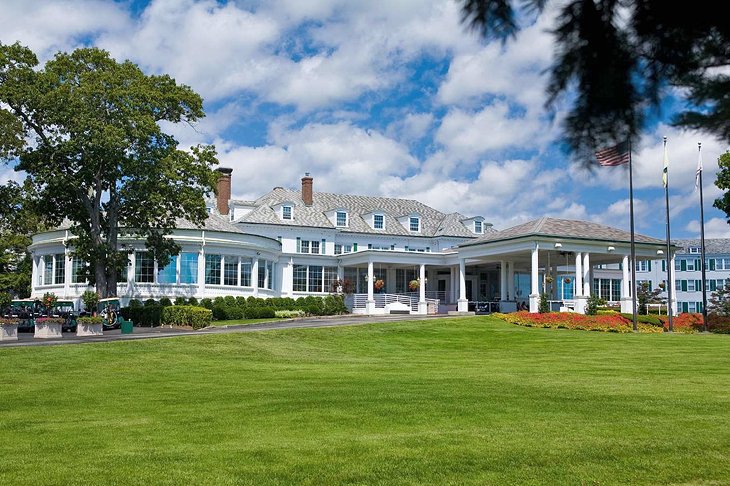 A golf-lover's paradise, this newly renovated resort hotel sits on 670 acres near Reeds Bay, a protected area of New Jersey's shoreline. It is home to two world-class golf courses (the Bay and Pines Courses), as well as the smaller nine-hole course, Turtle Course. Here, you will also find the Bird Golf Academy, where PGA Masters and champions can teach you their skills.
If you want to take a break from the greens, Galloway has plenty of things to do, and an evening stroll on its lovely boardwalk is a must. Tourists will also enjoy Historic Smithville, a retro-themed shopping village that features a carousel, mini-train, and paddleboats, as well as hosts special events like classic car nights and a children's festival each May.
Nature lovers will enjoy the Edwin B. Forsythe National Wildlife Refuge, an area of protected wetlands and coastal habitats that covers over 47,000 acres. This is one of the best places for bird-watching, and is easily accessed via both scenic road and hiking trails. Observation towers and decks are along the main route.
8. The Reeds at Shelter Haven, Stone Harbor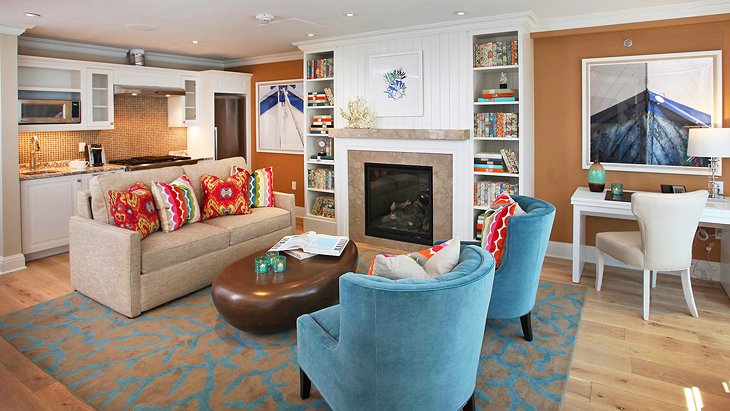 For an extra-special getaway at one of New Jersey's top-rated resorts, The Reeds at Shelter Haven delivers top-notch resort amenities and services. Guests are treated to on-call transportation to the private beach, complete with umbrella, chairs, and towels, and attendants are on the sand and ready to assist all day.
On-site, the Salt Spa offers an astounding array of services, from traditional massages to state-of-the-art beauty treatments. The resort also provides transportation and special packages to the nearby Stone Harbor Golf Club.
Stone Harbor is located on a barrier island, just off the coast of Cape May, and is home to the top-rated beach in New Jersey. Although the narrow town is dominated by the beach and hotels, it is also home to several points of interest.
To learn more about the area's history, visit the Stone Harbor Museum. Both the Stone Harbor Bird Sanctuary and Stone Harbor Point are excellent places to spot local and migratory birds, and The Wetlands Institute offers guided educational walks about the local ecology. Those traveling with children will want to go inland to the Cape May County Park & Zoo, a small but free zoo that is home to well over 500 animals.
9. Asbury Park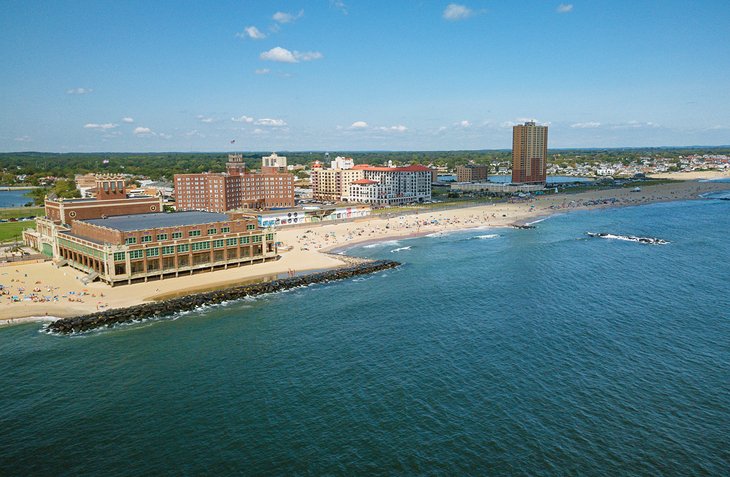 Asbury Park is a bustling seaside town that was put on the map in the 1980s by the legendary music venue The Stone Pony. The town sits along the shore of Ocean Grove Beach, an expansive sandy stretch that attracts swimmers and sunbathers all summer long. The Asbury Park Boardwalk runs parallel, and this is where you will find the majority of the city's most popular tourist attractions.
Families with younger children will appreciate Splash Park, a centrally located spray park that features over-sized watering cans and garden hoses in a safe, enclosed area. Another great family attraction, perfect for a rainy day activity, is the Silverball Museum. Enjoy the nostalgia of playing on the classic and vintage pinball machines and video games in this unique museum. Here, you will also find other arcade favorites, including air hockey, Skee-Ball, and other games. Just next door is an 18-hole mini-golf course.
The Asbury Ocean Club Hotel is a centrally located accommodation located steps from the Boardwalk and the most popular attractions and restaurants. Amenities include a rooftop pool, fitness center with personal trainers, in-room breakfasts, and electric vehicle charging.
10. Ocean City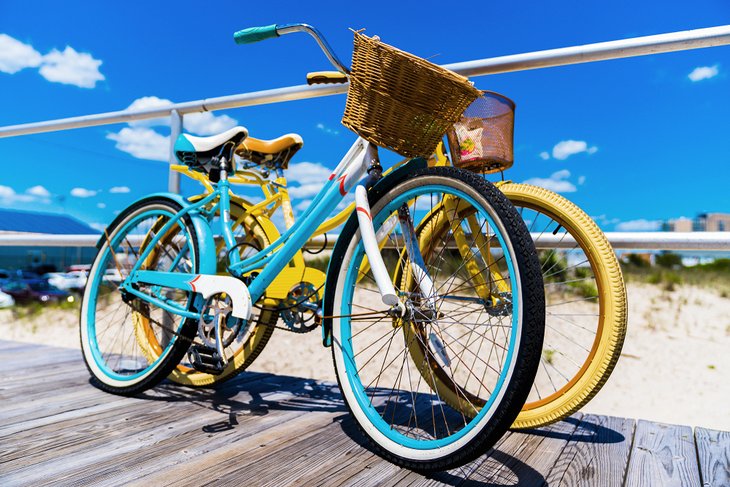 Just a few miles away from the hustle and bustle of Atlantic City, Ocean City is a little calmer than its sibling, perfect for families and couples looking for a more intimate weekend getaway. That's not to say there aren't plenty of things to do in Ocean City; it's a vibrant seaside community filled with attractions, history, and outdoor activities.
Top family attractions include multiple water parks and miniature golf options, arcades, and amusement parks including the Steel Pier Theme Park. There is also a 2.5-mile Boardwalk along the sandy beach, which is filled with shops, restaurants, and goodies. Several local vendors offer water sports equipment rentals, and there are boat tour operators for sightseeing, wildlife watching, and fishing.
Families with younger kids will love the Francis Scott Key Family Resort, which features a spray park and a nine-hole mini-golf course, an outdoor pirate-themed pool, as well as a heated indoor pool. The resort also features a movie theater, arcade, basketball and sand volleyball courts, and a shuttle service to the Boardwalk.
If your family is looking for something right on the beach, the Princess Royale Oceanfront Resort features a huge indoor pool in an atrium facing the ocean.
Couples looking for a special romantic getaway will enjoy the Atlantic House Bed and Breakfast, conveniently located less than a block from the middle of the Boardwalk.
Map of Weekend Getaways in New Jersey
More Related Articles on PlanetWare.com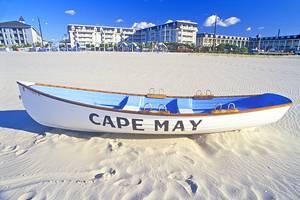 The Best of New Jersey: If you are traveling through New Jersey in summer, be sure to check out our articles on the Best Beaches in New Jersey. And for anytime of year, be sure to see our list of the Top Tourist Attractions in New Jersey to help plan your trip.