19 Best Things to Do in New Jersey
We may earn a commission from affiliate links ()
New Jersey may be small (it is the 4th smallest of America's states), but it's a real crowd pleaser. Packed with exciting things to do, the Garden State is a picturesque wonderland bursting with lush parks, deep forests, rushing waterfalls, and its number one attraction: pristine beaches, which line over 140 miles of the Jersey Shore.
Easily reached from New York, Delaware, and Pennsylvania, New Jersey offers visitors a flurry of events to enjoy while on holiday, especially during summer. Speaking of summer, this is when the state comes alive with fun activities like surfing, swimming, kayaking, and seeking out thrills in amusement parks. Hikers and outdoor enthusiasts will find numerous parks and peaceful escapes, and the ocean is just the beginning for water bugs, thanks to New Jersey's beautiful lakes and waterfalls.
When visitors aren't splaying on the soft sand in July or hiding from winter's cold in a museum, they can choose from a bevy of interesting tourist attractions. From walking the Atlantic City Boardwalk to eating fudge in Ocean City to crossing a rope suspension bridge over a tank of sharks at Adventure Aquarium in Camden, you won't be bored in New Jersey.
To help plan your first adventure in this pretty state, read our list of the best things to do in New Jersey.
1. Step Back in Time in the Cape May Historic District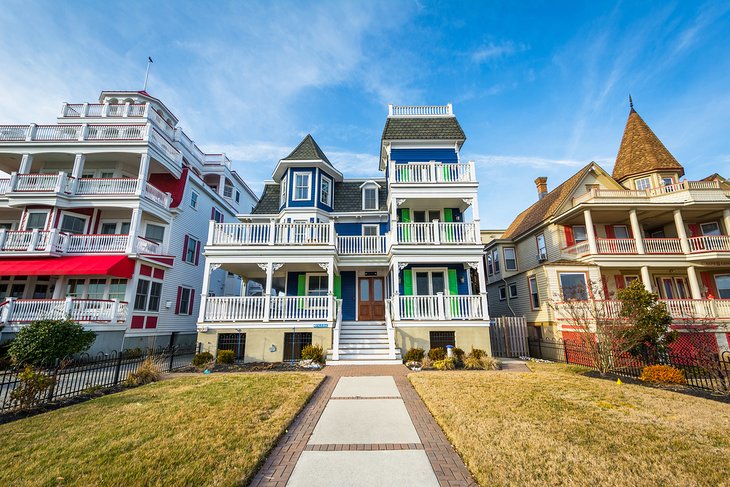 While Cape May is best known for its soft, sandy beaches, this iconic small town overflows with charm and the refreshing scent of a salty sea breeze. Whether you choose to dine al fresco at its top restaurants, shop in the eclectic boutiques, or dig your toes into the sand, you're in for a treat.
The entire town is a registered National Historic Landmark, with its 600 Victorian houses enticing visitors to not only snap hundreds of photos, but to dream about sipping a coffee on their dramatic front porches.
2. Board the Ferry for Ellis Island from Liberty State Park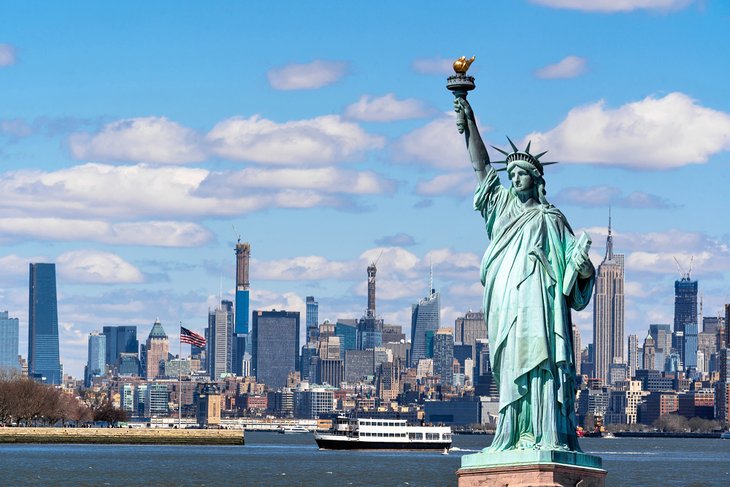 There's no quieter way to see New York City than from the water. A calm ride on the Liberty Landing Ferry will take visitors from Liberty State Park to Ellis Island and the Statue of Liberty with no traffic in sight. Along the way, guests are wowed by close-up views of Lady Liberty, as well as panoramic vistas of the Manhattan skyline.
Before you board the ferry, be sure to spend time in Liberty State Park. And by time, we mean at least half a day. A natural oasis set in the heart of urban New Jersey, this park boasts a two-mile promenade along the Hudson River that's perfect for walking, jogging, or biking.
This is also where you'll find the "Empty Sky" 9/11 Memorial and the Historic Central Railroad of New Jersey Terminal.
3. Take in the Sights and Sounds of Atlantic City's Boardwalk

Those searching for a quiet getaway may want to look somewhere other than Atlantic City. Known as "Las Vegas of the East," this popular New Jersey city is packed with entertainment and fun things to do at all times of the day and night. For those who like to be entertained, you'll find nirvana here.
With so much on offer, this is one of the best seaside resorts on the east coast of the United States. Much of the action takes place on Atlantic City's star attraction–its Boardwalk. This is where visitors can sample a variety of cuisines, try their luck in the arcade, or shop for tchotchkes. Parades take place here year-round.
4. Shop & Grab an Ice Cream at Palmer Square in Princeton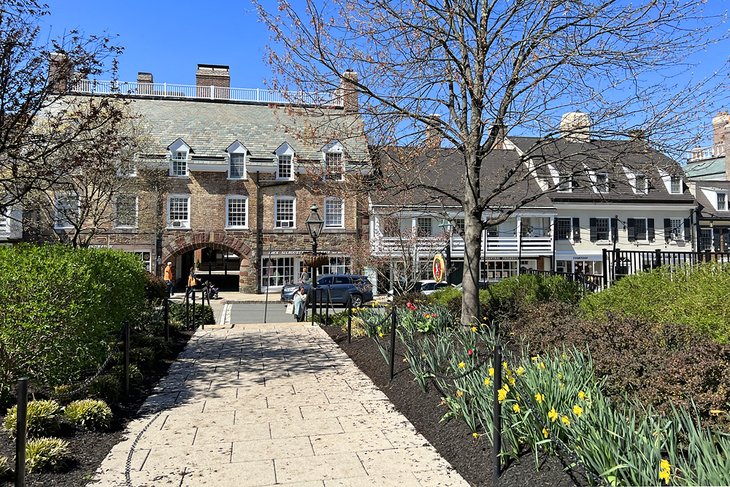 Sometimes shopping can be taxing (and we're not just talking about the check). All those steps you must take from one store to the next, laden with bags overflowing with items you couldn't resist. Luckily, Princeton's adorable Palmer Square takes the stress out of retail therapy.
At this palatable square lined by Colonial-Revival-style buildings from the 1930s, visitors can easily get from one shop to the next in just a few steps. And when their feet have had enough, they can rest on one of the central benches with a homemade ice-cream cone in one hand. Bent Spoon is the best place to get a scoop, but be prepared to stand in line on a warm and sunny day.
5. Ride the Ferris Wheel at Ocean City Boardwalk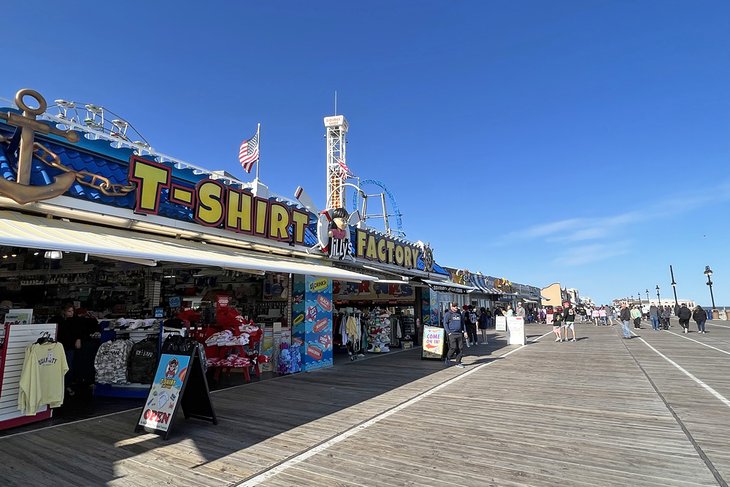 Ocean City is the perfect place to visit for a family beach vacation. At this dry town, you won't be faced with rowdy revelers roaming the city's most popular attraction, it's iconic boardwalk.
This is where you'll find the most action in Ocean City. From the Ferris wheel at Gillian's Wonderland Pier to mini golf at Congo Falls Adventure Golf to roller coasters at Playland's Castaway Cove, endless thrills await visitors to this two-mile path.
Then there's the food. Kohr Brothers has been serving the tastiest Frozen Custard since 1919, Fralinger's offers the best fudge and saltwater taffy, and Manco & Manco Pizza has been serving drool-worthy 'za since 1956.
Enjoy a peaceful sleep at the Scarborough Inn, the area's oldest and most charming hotel. The ambience will set you at ease from the moment you enter through the historic porch, and the friendly staff will make you feel at home immediately.
6. Traverse the Sharks at Adventure Aquarium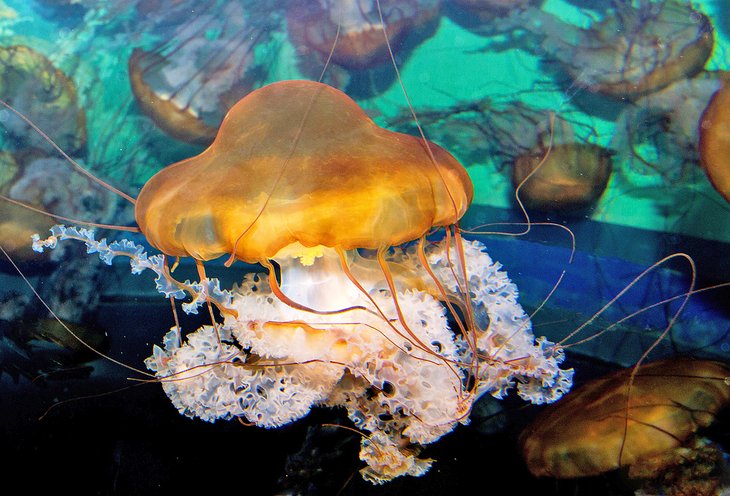 It's easy to see why Adventure Aquarium has ranked among the top 10 aquariums in the States. Not only is it home to more than 15,000 aquatic animals, but this expansive venue boasts interactive exhibits, touch tanks, and creatures you won't find at other area aquariums, like two massive Nile hippos.
Shark lovers should schedule extra time to explore this family-friendly attraction. The 40-foot shark tunnel puts you in the middle of the action, while traversing Shark Bridge is not for the faint of heart. At 81 feet, this is the longest V-shaped rope suspension bridge in the world. The brave souls who cross it will hover mere inches above the Shark Realm.
7. Learn to Surf at Sea Isle City Beaches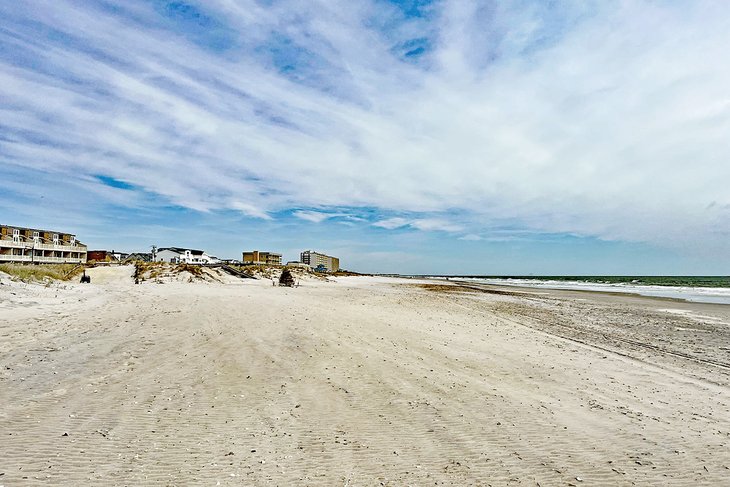 While New Jersey might not be the first place that comes to mind when you think about surfing, Sea Isle City's beaches are the perfect spot to learn to hang 10. While the surf here is optimal for newbies, it can give seasoned pros a good workout as well.
Surfing is permitted at Sea Isle City's Beaches at 26th, 37th, 42nd, 48th, 53rd, 63rd, 74th, and 82nd streets. A word of warning: these beaches are not guarded, even during the summer, so you'll be surfing at your own risk.
Insider's Tip: The area between 37th and 42nd streets is known to boast some of the best waves on this barrier island. Thanks to the rock jetties in this area, the northeast swells can get pretty gnarly in this locale.
Not into surfing? No worries. There are plenty of other fun things to do at Sea Isle City's beaches, including, swimming, sailing, kayaking, fishing, sandcastle building, and lying on the sand. Rent a bike to explore the beachfront promenade, play a game of pickup volleyball, or try your luck at kiteboarding (at 14th and 16th street beaches only).
8. Ride a Coaster at Six Flags Great Adventure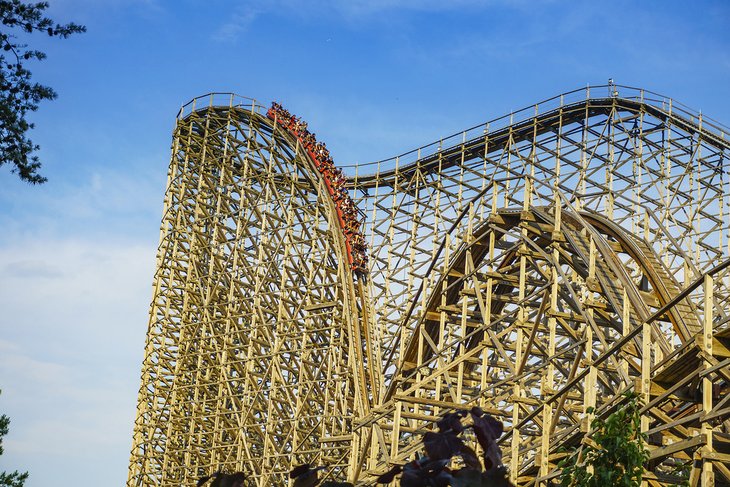 Nothing screams vacation like a trip to an amusement park–literally. When that amusement park is Six Flags Great Adventure, you're in for thrills galore. One of the most fun attractions in New Jersey, Six Flags offers excitement for kids and adults of all ages.
As one of the largest theme parks in the world, you can expect enough rides to keep you busy for hours or, better yet, days. In addition to small, family-friendly rides, like a carousel and mini coaster, the park boasts hard-core thrills like Superman: Ultimate Flight, which takes brave guests on a ride so fast and crazy, they'll beg to do it again and again.
9. Feel the Spray from Paterson Great Falls National Historic Park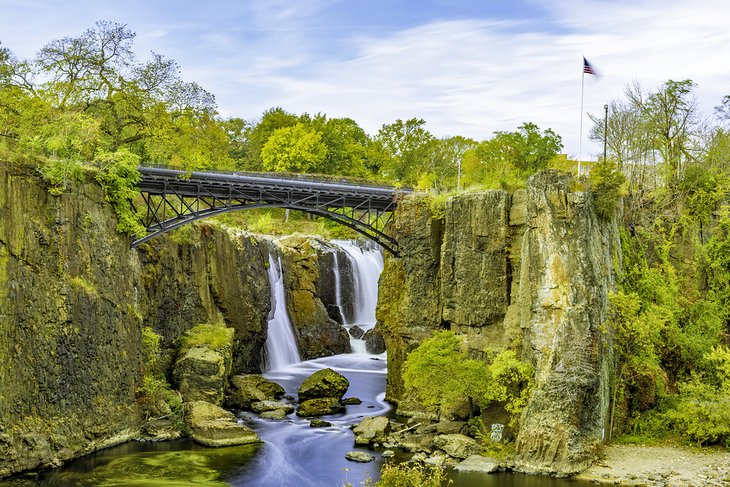 Bet you can't guess what Paterson Great Falls National Historic Park is best known for. Yep, it's a giant, spectacular waterfall. Sometimes referred to as Passaic Falls, this thunderous cascade is second only to Niagara Falls in terms of volume (on the east side of the Mississippi, that is).
It's impossible to miss Paterson Great Falls. First, they're loud! It's hard to be quiet when you have so much water rushing over the edge of the Passaic River. Second, they're the centerpiece of the town. In fact, Paterson was built around the falls and the town's industry – including multiple mills – was based on the sheer power provided by this natural wonder.
10. Visit the Liberty Science Center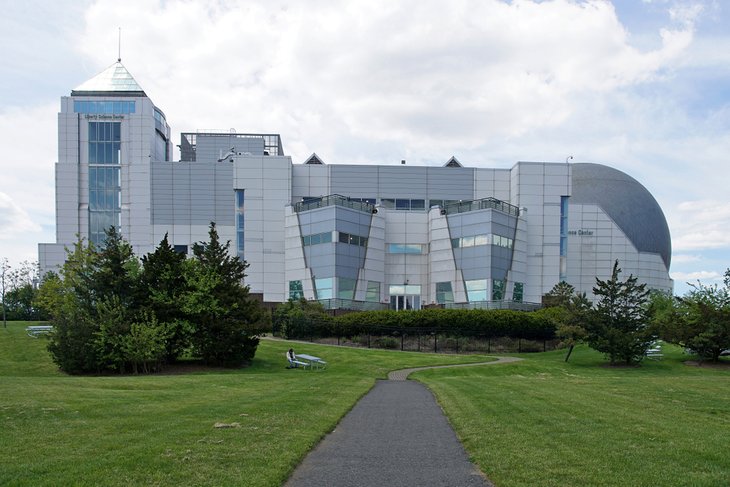 You'll want to schedule at least three hours to spend at Liberty Science Center. This massive 300,000-square-foot learning center is packed with interactive exhibits, a collection of live animals, giant aquariums, and a 3D theater, just to name a few of its impressive attributes.
A one-stop-shop for fun, it's not shocking that so many families choose to stay all day (or all night with the Camp Ins at LSC program). Minecraft: The Exhibition is a beloved section where kids can come face to block with life-sized characters from the game. Little ones up to age five can learn about balance and motion in Wobbly World, and everyone's welcome to unleash their inner paleontologist in the Dino Dig Adventure.
11. Fish off the Pier at Avalon Beach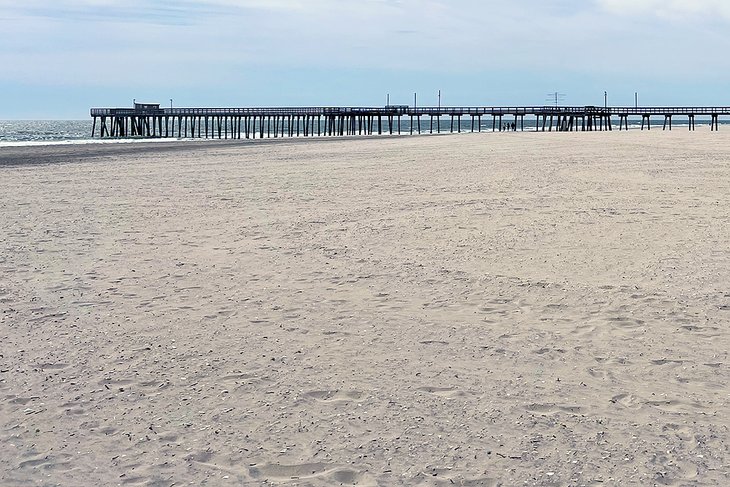 Often referred to as "cooler by a mile," Avalon Beach is one of the best family-friendly beaches in New Jersey. This pretty, white sandy beach stretches through two New Jersey boroughs – Avalon and Stone Harbor – and is a perfect place to spend an active day by the Jersey Shore.
Little ones can frolic in the waves under the supervision of the Avalon Beach Patrol during summer, and families can wander along the boardwalk or the Avalon Dunes and Beach Trail. Surfers can ride the waves at the 30th and 63rd street beaches, or on either side of the beach at 12th street.
12. Tour the Lab at Thomas Edison National Historical Park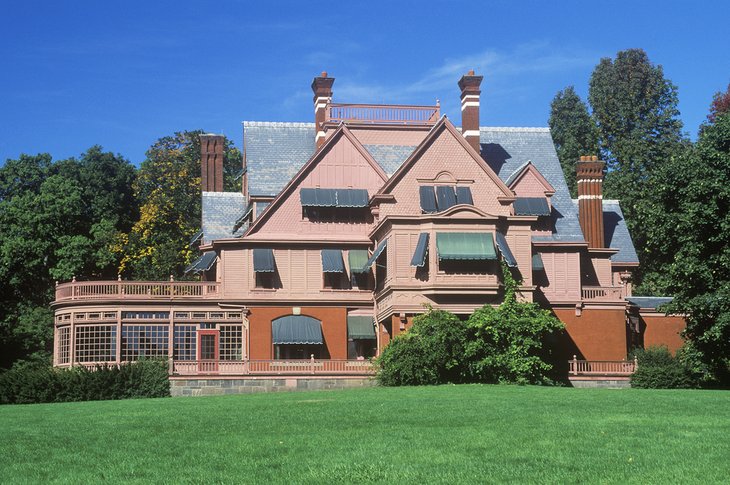 Thomas Edison National Historical Park is a must-see venue for science lovers and anyone else interested in the process of inventing life-changing creations like the electric light system, motion pictures, and the phonograph.
Edison had three laboratories in New Jersey: one in Newark, one in Menlo Park, and the lab on display at this park in West Orange.
The Thomas Edison National Historical Park consists of four main areas: the Visitor Center, where you can watch an orientation film and visit the museum store; the Main Laboratory Building, which includes Thomas Edison's library, music room, and machine shops; the Glenmont Greenhouse, which boasts exotic plants favored by the Edison family; and the Glenmont Garage, where guests can see Edison's historic vehicles.
13. See Princeton Battlefield State Park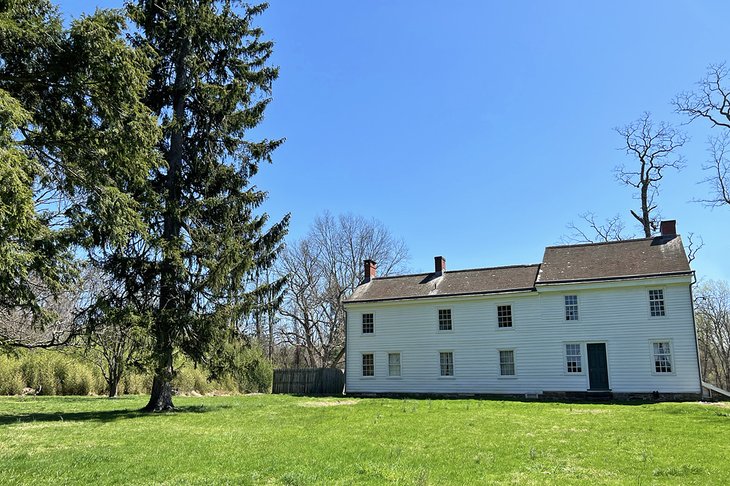 Princeton Battlefield State Park is famed for its role in the victory of George Washington's troops over the British during the American Revolution. The field battle fought here on January 3, 1777 is renowned across the country and memorialized throughout Princeton.
A visit to this park allows travelers to retrace Washington's steps during the Battle of Princeton and peek into life during the Revolution with a tour of the Thomas Clarke House. Once used as a hospital to treat troops on both sides of the war, this historic home is worthy of a tour.
14. Treat Your Sweetheart to a Romantic Getaway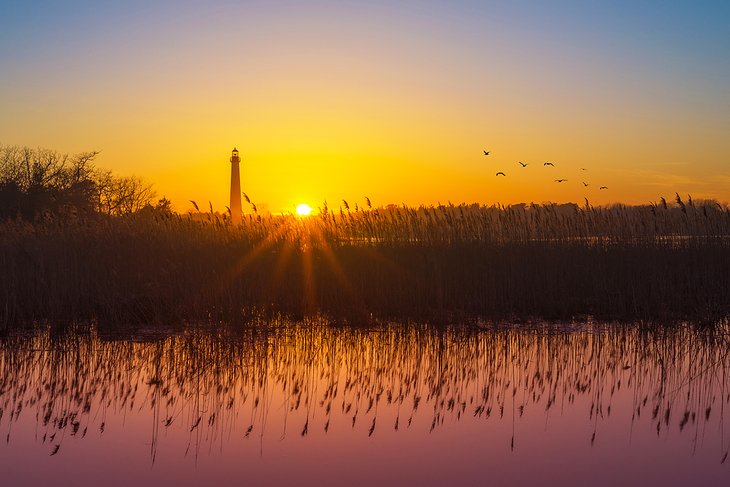 For couples who want to have a unique and special romantic getaway, The Southern Mansion in Historic Cape May is New Jersey's best place to go.
This fully-restored Victorian mansion was built in the mid-19th century, and today is home to luxurious period-furnished rooms and suites that offer the charm of the past while delivering all the modern amenities, including spacious private baths.
Guests can enjoy a complimentary full breakfast and on-site parking, and are also welcome to borrow beach chairs and towels. For the best sunsets, be sure to head to the far end of the beach where a wide swath of sand faces west.
15. Climb through the Trees at Turtle Back Zoo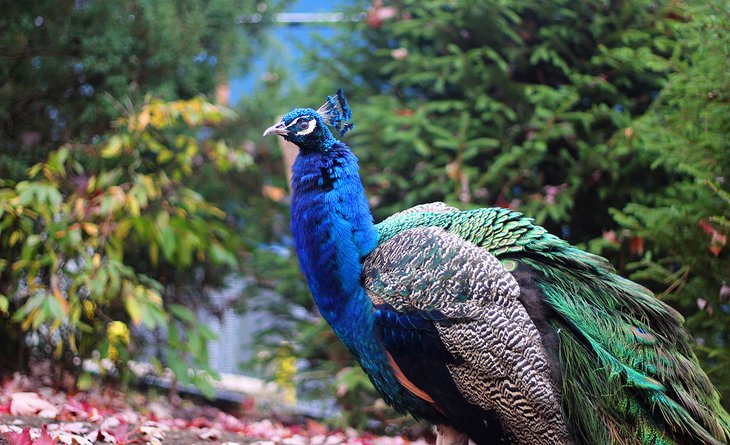 If you have kids in tow, head to Turtle Back Zoo. One of the best zoos in New Jersey, this Essex County gem is a beloved spot to introduce little ones to wildlife.
The zoo first opened in June of 1963 and is set on over 15 acres in the South Mountain Reservation. It is home to more than 200 species from across the globe and features 10 regional exhibits with creatures originating everywhere from Africa to Australia to right here in New Jersey. In all, you might spy 800 animals!
Whether your kid is an alligator lover, a sea turtle fan, or a wallaby wannabe, they'll love spending a day at this fun zoo.
16. Discover New Jersey's Lakes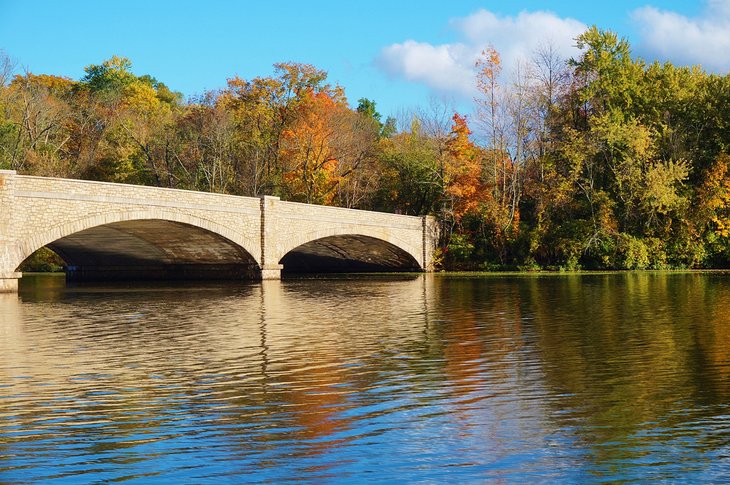 A day on the water can be incredibly restorative, and those who aren't up for the hassle of beach parking and crowded boardwalks have plenty of options. New Jersey is home to many lakes, large and small, that offer cool swimming beaches and opportunities to kayak, canoe, and paddleboat.
Those looking for more excitement will find several motorized boats for group fishing outings and sports like water-skiing.
Located only 40 miles from New York City, Lake Hopatcong is the central feature in the state park of the same name. All along its 45-mile shore, visitors will find beaches, parks, restaurants, and recreational facilities.
Lake Carnegie, a man-made reservoir named for its wealthy benefactor, who was determined to create a suitable place for the Ivy-League crew team to practice, is located in Princeton. Although swimming is not allowed, catch-and-release fishing is welcome.
Another excellent man-made lake for fishing is Deal Lake, located close to Asbury Park Beach.
17. Take a Whale-Watching Cruise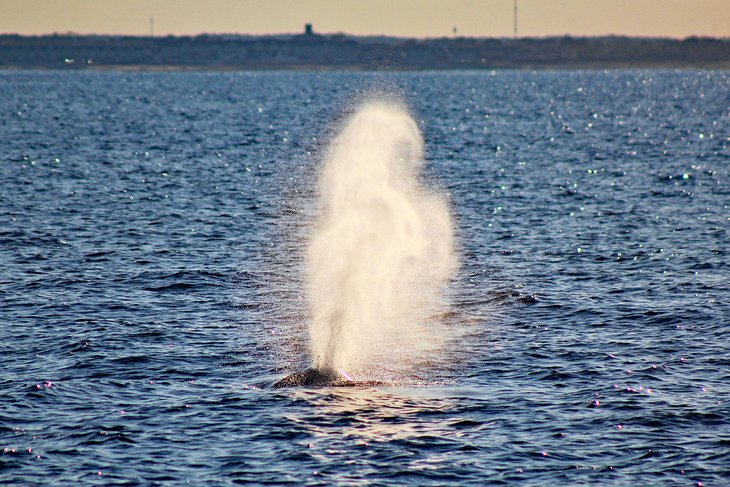 When visiting New Jersey's Coastal region, a whale-watching cruise is a fun thing to do, especially on a hot summer day.
The best time to visit for maximum whale-spotting is in late spring during May and June as the whales migrate north, and again in the late autumn as they head back to the warm waters of the Caribbean.
Tourists are most likely to spot humpback, minke, and fin whales.
For those visiting during the height of summer, there is plenty of other ocean life to observe, especially the playful bottlenose dolphins. Other dolphin varieties also frequent the Jersey shore, including short-beaked dolphins and striped varieties.
18. Hide Away at Crystal Springs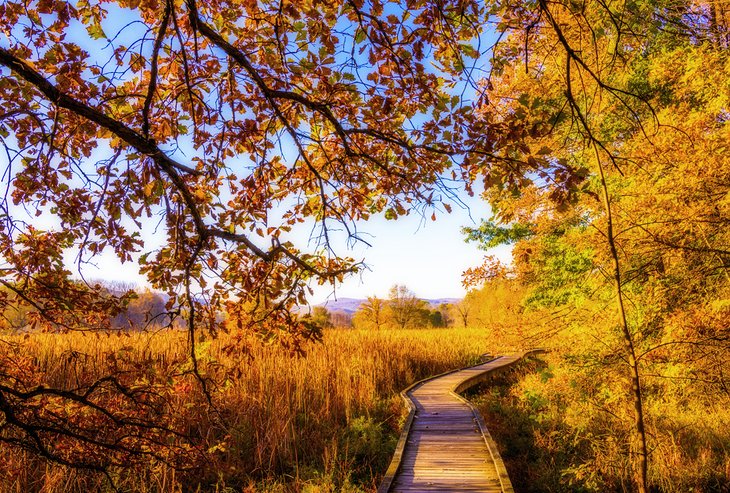 A stay at Crystal Springs Resort in Hamburg is the best way to leave the worries of everyday life behind. Far from the Jersey shore and the big cities, the resort is an oasis tucked beside the Appalachian Mountains in northwestern New Jersey.
At this full-service property, guests have full access to the grounds, which offer a wide variety of recreational opportunities. Guests can enjoy the beach or go kayaking and canoeing on the private lake, or hop on a horse to explore the territory. There are also miles of hiking and walking trails, with naturalist guides available for tours.
The property also offers many sporting opportunities, from solitary pursuits like archery to tennis and racquetball. The resort also has an excellent private golf course as well as a putting green, and there are three separate pool areas that include the Vista 180° Pool, the activity-filled Mineral Pool Complex, and the tropical Biosphere Pool.
19. Go "Wild" at Morey's Piers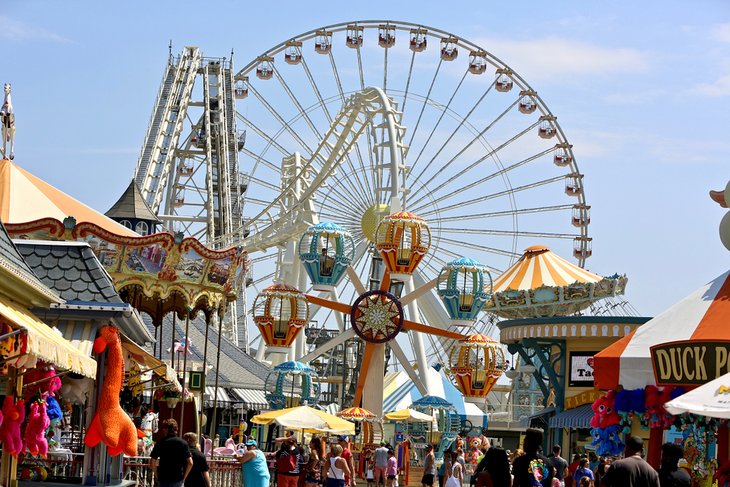 Morey's Piers has earned its spot as a New Jersey institution, emerging in 1968 as a modest attraction on the Boardwalk on the beach in Wildwood. It has quickly grown into a massive and incredibly popular amusement park that offers excitement for all ages, from gentle kiddie rides to thrilling roller coasters.