14 Top-Rated Things to Do in New Hope, PA
New Hope is a tourist-favorite town in Eastern Pennsylvania that's jam-packed with things to do. More than 200 years of history brim through the streets of New Hope, from the restored Locktender's House on the Delaware Canal to Parry Mansion, which was built by a founding father of the town.
New Hope is also home to the famous Bucks County Playhouse, which has drawn some of the biggest stars in theater since opening in 1939.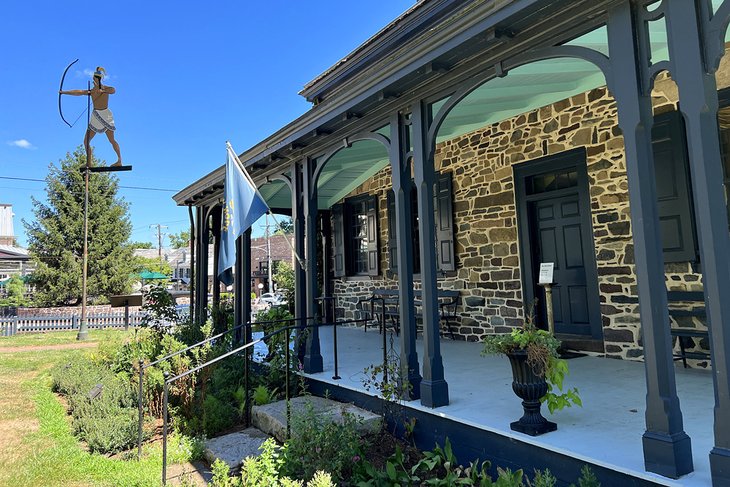 Eclectic shopping abounds at New Hope's many boutiques and its massive flea market.
And if you're traveling with children, many attractions can keep the entire family entertained. You can take an excursion on the historic New Hope Railroad, go apple-picking at Solebury Orchards, visit the children's museum, and see hundreds of native plant species at Bowman's Hill Wildflower Preserve.
Plan the sightseeing for your next getaway with our list of the top things to do in New Hope, PA.
1. See a Play at the Bucks County Playhouse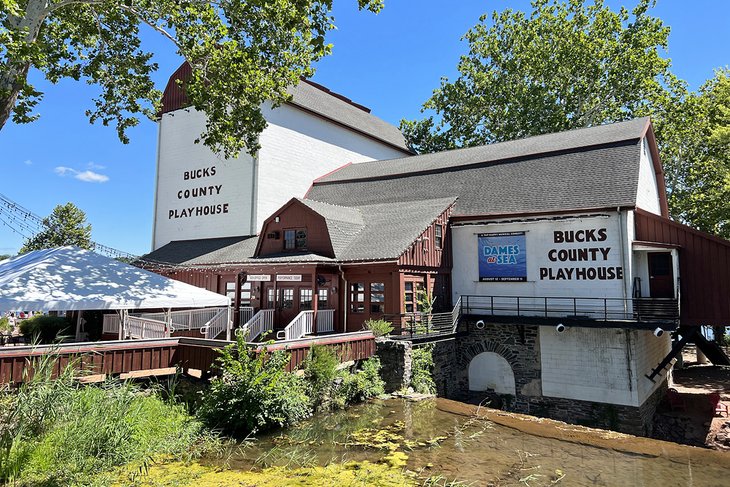 Seeing a performance at the Bucks County Playhouse is definitively the top thing to do in New Hope. It stages fine theatrical entertainment all year-round and even offers acting classes for adults.
Built on the site of a former grist mill next to the Delaware River, this historic theater opened in 1939 and has remained open almost continuously ever since. Over the years, a number of famous performers have taken the stage here, including Angela Lansbury, Dick Van Dyke, Jessica Walter, Audra McDonald, and many more.
Just behind the venue, the Playhouse Deck makes a great spot to dine before or after the show. Check the website to see what's coming up during your visit to New Hope, and be sure to get tickets in advance.
Address: 70 S. Main Street, New Hope, Pennsylvania
Official site: www.bcptheater.org
2. Explore Native Plants at Bowman's Hill Wildflower Preserve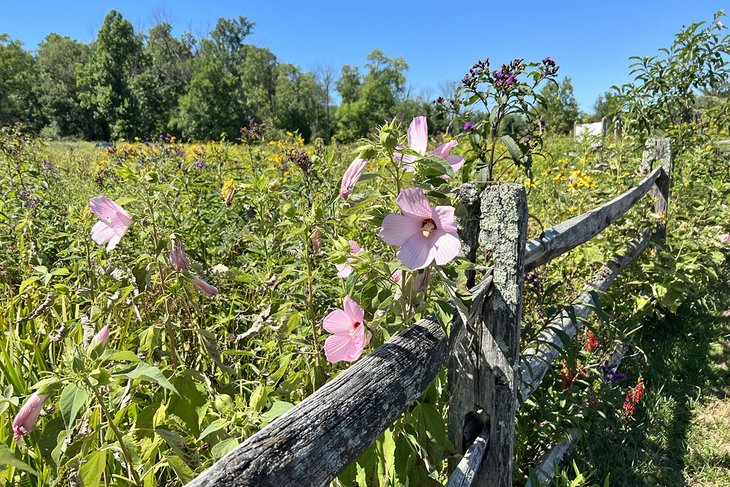 Tourists can see more than 700 of Pennsylvania's 2,000 native plant species in a natural setting at Bowman's Hill Wildflower Preserve. The 134-acre nature preserve, which is just a five-minute drive from Bowman's Hill Tower, is open year-round and features 4.5 miles of trails through various environments, including the forest, wetlands, and meadows.
A number of animals live in the preserve, and if you listen closely, you may hear the croak of frogs or the drumming of a woodpecker. The attraction is also home to several historic sites, including a triple arch stone bridge and log cabin, both from 1933.
You can choose to explore the preserve on your own, or take a guided wildflower walk, available Fridays, Saturdays, and Sundays from April through October.
Address: 1635 River Road, New Hope, Pennsylvania
Official site: www.bhwp.org
3. Walk along the Delaware Canal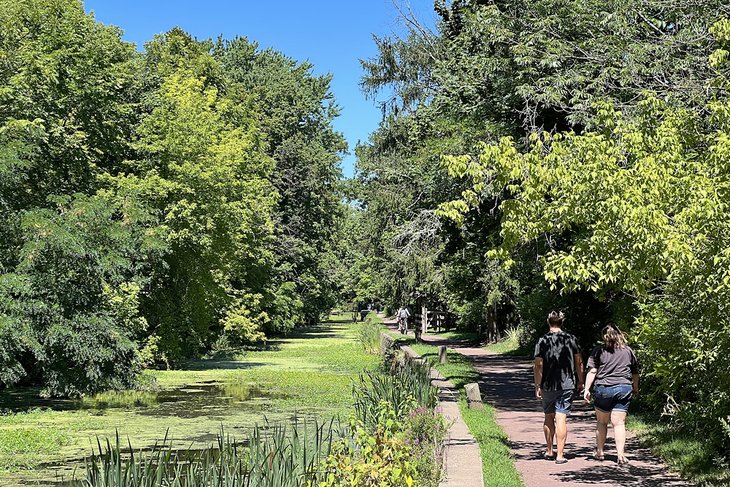 Talk a stroll through American history by walking a portion of the 60-mile-long towpath of the Delaware Canal, a National Historic Landmark.
Completed in 1832, this important shipping route played a key role in transporting coal to Philadelphia and New York, which gave important economic benefits to the Lehigh Valley. It's the only continuously intact canal that remains from the great towpath canal building era, according to the Pennsylvania Department of Conservation & Natural Resources.
Today, the towpath offers a peaceful place to walk, hike, jog, or bike. The portion of the trail in New Hope takes you past the famous Locktender's House, which now serves as an interpretive center for tourists. Visit to learn about the history of the canal and learn how the canal locks worked.
Official site: www.fodc.org/visit-the-canal
4. Pick Your Own Berries at Solebury Orchards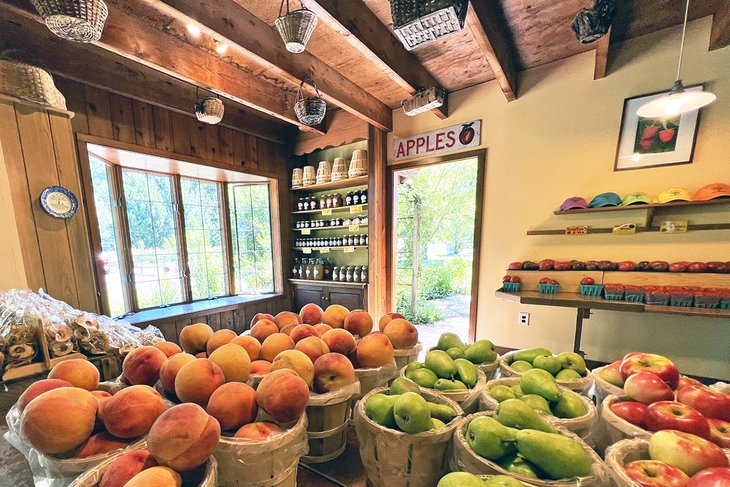 Fruit doesn't get much fresher than what you'll find at Solebury Orchards. This picturesque 80-acre farm invites you to pick your own berries, apples, and cherries when they're in season. You can also tiptoe through the waist-high flower garden, and cut your own bouquet.
If you're short on time (or just want to enjoy your fruits without the labor), make a beeline for the on-site market. It's well-stocked with seasonal produce, such as tomatoes, pears, peaches, and apples grown in the surrounding fields. You can also stock up on canned pie filling, fruit butters, jams, applesauce, and cider.
Address: 3325 Creamery Road, New Hope, Pennsylvania
Official site: www.soleburyorchards.com
5. Explore the Historic Parry Mansion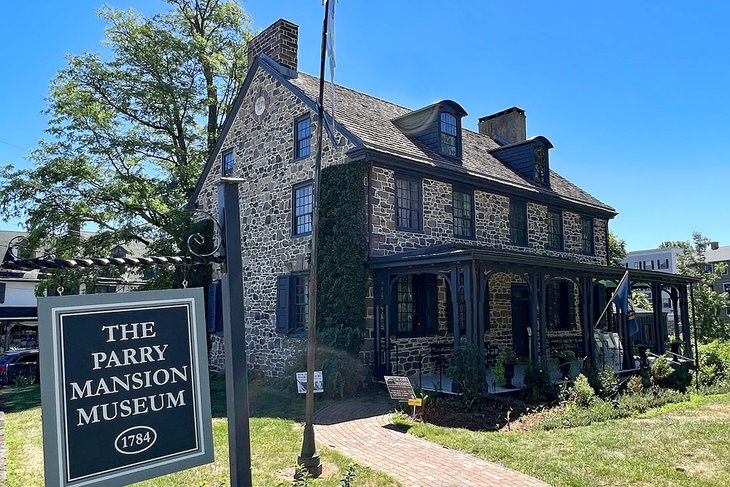 The distinctive stone home on the corner of West Ferry Street and Main Street is Parry Mansion.
The two-story Georgian-style mansion was built by a founding father of New Hope, Benjamin Parry, in 1784. It served as the home for five generations of the Parry family until it was sold to a local historical preservation group in 1966.
Parry Mansion now serves as a museum, with each of its rooms filled with heirlooms, artwork, and design details of different historical eras from 1775 through the early 1900s.
The New Hope Historical Society offers guided tours of the property on weekend afternoons. Tickets must be reserved in advance.
Address: 45 South Main Street, New Hope, Pennsylvania
Official site: www.newhopehistory.org/visit
6. Walk across the New Hope-Lambertville Bridge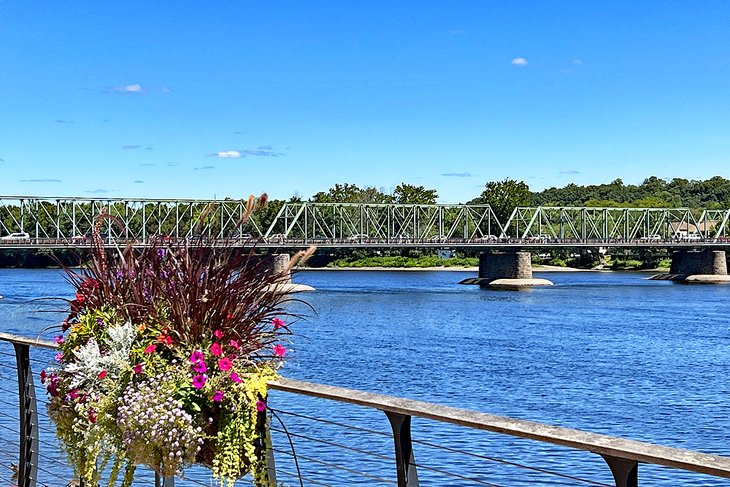 For a breathtaking view of New Hope and the Delaware River, take a stroll across the 1,053-foot bridge that connects the town with Lambertville, New Jersey (another fun tourist destination).
About halfway across, the path has been painted to mark the separation between Pennsylvania and New Jersey. Straddle the line, and you can officially say you've been in two states at the same time. The bridge also makes a great spot to take a photo of the Bucks County Playhouse.
Address: West Bridge Street, New Hope, Pennsylvania
Official site: www.drjtbc.org
7. Bargain for Treasures at Rice's Market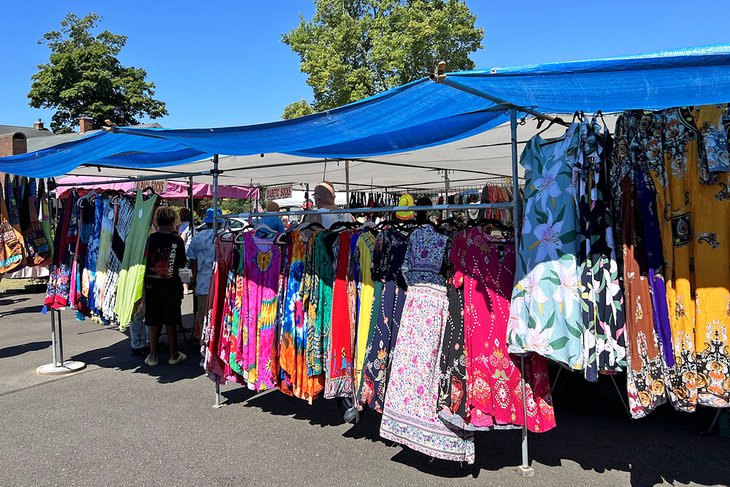 From vintage clothes and antique furniture to jewelry, games, and knick-knacks, Rice's Market has just about anything you could possibly want to shop for.
This massive flea market, which has indoor and outdoor spaces, has been a staple in New Hope for more than 150 years, attracting hundreds of vendors to its 30-acre property every week between March and December. If you love bargaining for great prices on unique finds, you'll feel right at home at this New Hope attraction.
In addition to the usual flea market treasures, you can also find tons of great food at Rice's Market. It offers freshly baked breads, homemade cheeses, just-butchered meats, fresh produce, and more. On-site parking is available for $1.
Address: 6326 Greenhill Road, New Hope, Pennsylvania
Official site: www.ricesmarket.com
8. Play and Learn at The Bucks County Children's Museum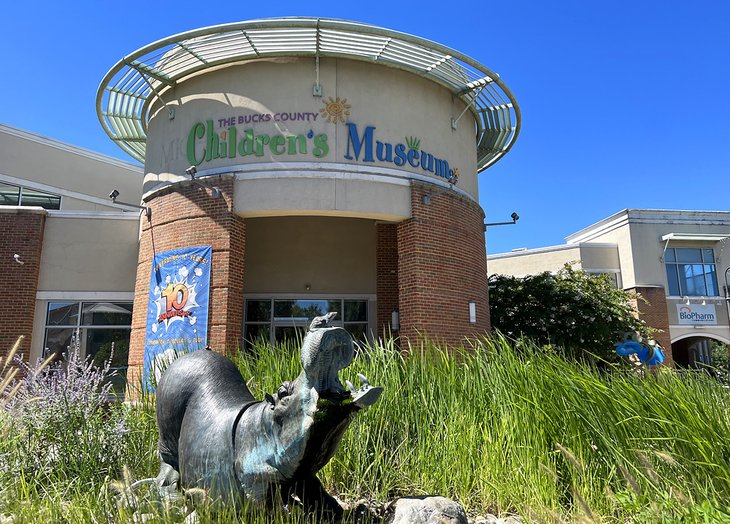 The Bucks County Children's Museum opened in 2011 after a local elementary school teacher dreamed of creating a hands-on educational attraction for kids in the region. The 9,000-square-foot museum has exhibits for children between 12 months and 7 years old.
Visitors can try their hand at playing a life-size game of Operation, pretend to cook in the galley of a train, design and build a racetrack, learn about conservation by cleaning up a virtual river, and soar in a hot air balloon simulator.
This museum has also taken special care to make itself accessible to children with diverse needs. It's wheelchair accessible and offers backpacks with sunglasses, ear muffs, and fidget toys for kids with sensory challenges.
Address: 500 Union Square Drive, New Hope, Pennsylvania
Official site: www.buckskids.org
9. Ride a Historic Train on the New Hope Railroad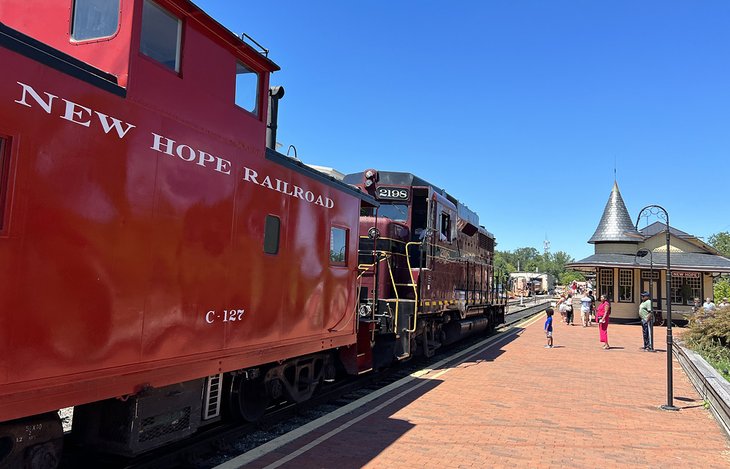 The New Hope Railroad gives tourists the chance to experience a bygone era of historic train travel on tracks that date back more than 130 years.
You'll board a vintage train from a historic "witch's hat" train station for a round-trip journey to nearby Lahaska. Along the way, on-board narration will share folklore, railroad history, and point out several interesting sites.
The traditional excursion lasts about an hour. The railroad also offers a range of specialty rides, including a trick-or-treat train, scenic fall foliage tours, and Santa's North Pole adventure, throughout the year.
In the warmer months, it's worth booking a ticket in the historic open-air class car, which features unobstructed views and a blissful breeze.
Address: 32 West Bridge Street, New Hope, Pennsylvania
10. Learn the History of the New Hope Visitors' Center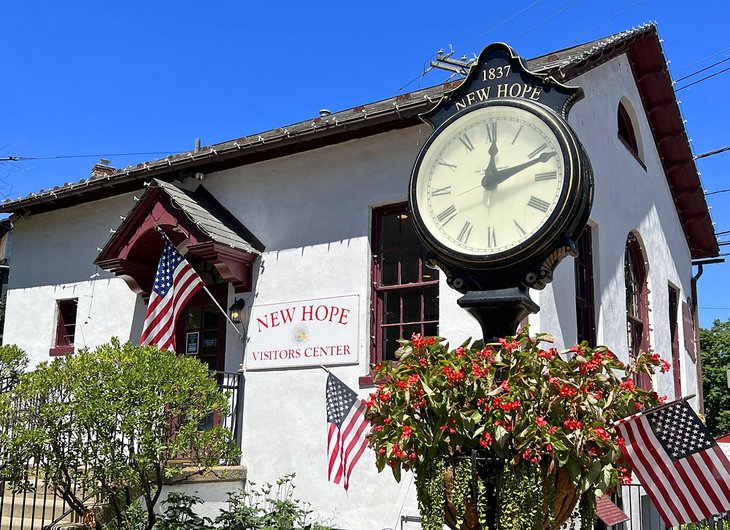 New Hope Visitors' Center has everything you'd expect to find as a tourist: knowledgeable staff with a passion for the town, clean public bathrooms, and brochures on all the top attractions. But it is also a site steeped in history.
In 1836, New Hope's newly elected borough council decided its town needed a town hall. They bought a plot of land for a dollar, and constructed a building that would serve as the town hall until 1973, before eventually becoming the visitor center you see today.
Over the years, it also housed a jail, police department, and a school. Check out the plaque from the New Hope Historical Society just outside the building to learn more about this storied site.
Address: 1 West Mechanic Street, New Hope, Pennsylvania
Official site: www.newhopeborough.org/241/Visitors-Center
11. Kick Up Your Feet at Lenape Park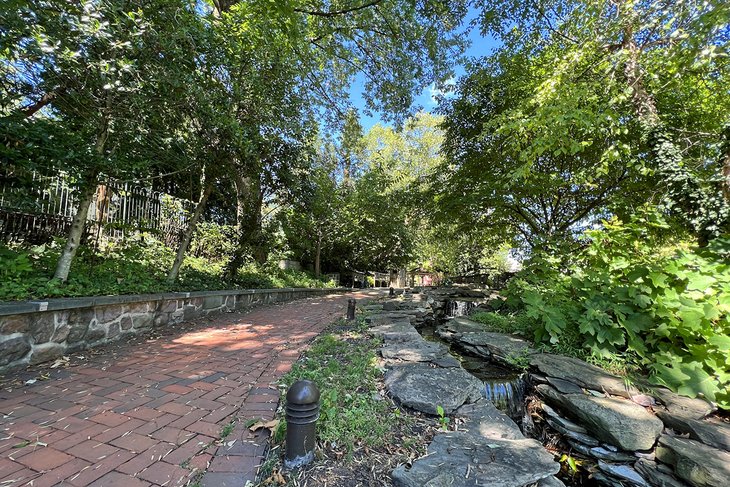 If you're looking for a place to visit to take a break from New Hope's busy streets, head to Lenape Park, just a block away from the New Hope Railroad.
Named for the Indigenous people who originally called this region "home," the park is a cozy, quiet space for some fresh air and nature therapy. It features a brick path next to a rock-lined stream with a small waterfall and plenty of shade from large trees.
There's also a gazebo and several benches where you can linger all afternoon. Consider grabbing some treats from Ferry Market and setting up a picnic here.
Address: 54 West Ferry Street, New Hope, Pennsylvania
12. Climb Bowman's Hill Tower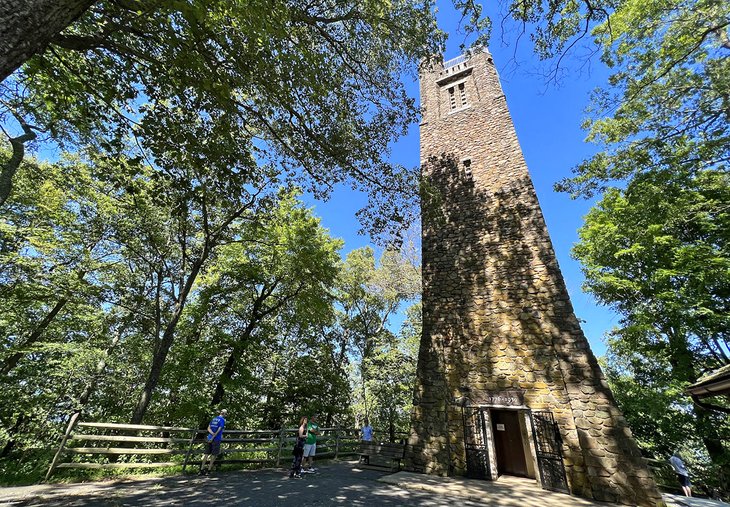 Bowman's Hill Tower is a prominent structure located within the 500-acre Washington Crossing Historic Park.
While some people think that this 125-foot-tall tower was used by George Washington during the Revolutionary War, that is a myth. The stone building was actually constructed around 1930 in an effort to recreate a possible lookout point Washington's troops may have used to keep an eye on the Delaware River.
Construction took nearly two years and required more than 2,400 tons of materials. An elevator was installed in the early 1980s.
Today, tourists can choose to get to the top by taking the lift or climbing the open stone spiral staircase to the observation point. It offers an incredible 14-mile view of the treetops and surrounding countryside.
The park contains more than a dozen other historic buildings, as well. After visiting the tower, you may wish to go see the Thompson-Neely House, which served as a military hospital in the Revolutionary War, and the memorial cemetery, where an unspecified number of Continental soldiers were buried after passing away during the December 1776 encampment in Bucks County.
Address: 1 Tower Road, New Hope, Pennsylvania
Official site: www.washingtoncrossingpark.org/park/bowmans-hill-tower
13. Taste a Bit of Everything at Ferry Market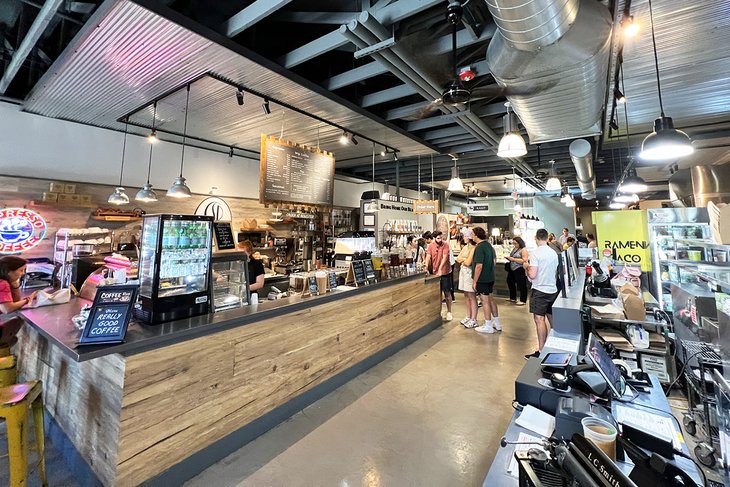 You're never far from a tasty meal in foodie-friendly New Hope. But for a wide variety of gourmet treats under one roof, head to Ferry Market.
This indoor food hall has more than a dozen vendors offering a range of edible delights, including Venezuelan arepas, shawarma, flavored shaved ice, avocado toast, rice bowls, macarons, and specialty deli sandwiches. In other words, come with an appetite.
Don't miss the sweets stand near the entry. It has delectable mini Key lime pies you'll remember long after the last bite.
Address: 32 South Main Street, New Hope, Pennsylvania
Official site: www.theferrymarket.com
14. Check Out Local Art at the Canal Walk Studios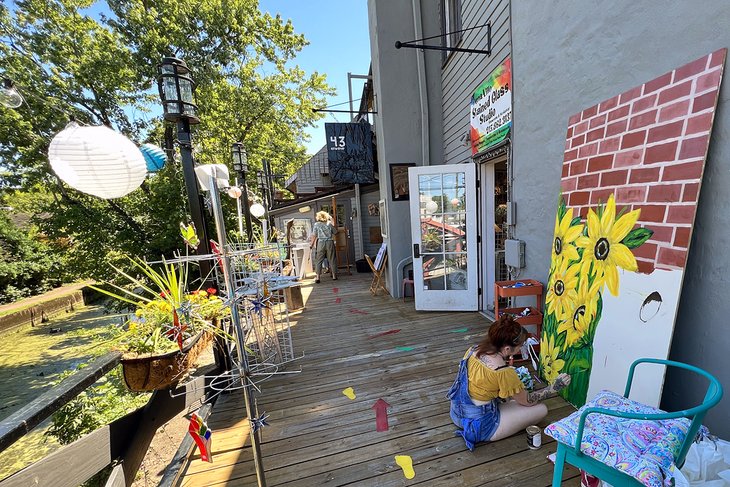 Canal Walk Studios houses a number of local art galleries from a boardwalk at the corner of West Bridge Street and Stockton Avenue.
Within this creative paradise, you can see art in all kinds of mediums, from oil paintings of iconic sites of New Hope and stunning photographs of butterflies to stained glass and handmade dream catchers. Sometimes you can also see artists at work right on the boardwalk.
There's no pressure to make a purchase, but the art is available for sale and may make the perfect souvenir.
Canal Walk Studios are housed in the same building as the New Hope Arts Center, a nonprofit organization that showcases pieces from contemporary artists in New Hope and throughout the Delaware Valley. It has an on-site gallery with rotating exhibits that are well worth a view.
Address: 37-43 West Bridge Street, New Hope, Pennsylvania
Map of Things to Do in New Hope, PA
New Hope, PA - Climate Chart
Average minimum and maximum temperatures for New Hope, PA in °C
J
F
M
A
M
J
J
A
S
O
N
D

4

-6

6

-6

11

-1

17

4

23

9

28

15

31

17

29

17

26

12

19

6

13

1

7

-3

PlanetWare.com
Average monthly precipitation totals for New Hope, PA in mm.

103

73

107

101

117

103

129

112

116

89

96

95

Average monthly snowfall totals for New Hope, PA in cm.

22

21

8

2

0

0

0

0

0

0

2

12
Average minimum and maximum temperatures for New Hope, PA in °F
J
F
M
A
M
J
J
A
S
O
N
D

39

21

42

22

52

30

63

39

74

49

83

59

87

63

85

62

78

54

67

42

55

34

44

26

PlanetWare.com
Average monthly precipitation totals for New Hope, PA in inches.

4.0

2.9

4.2

4.0

4.6

4.1

5.1

4.4

4.6

3.5

3.8

3.7

Average monthly snowfall totals for New Hope, PA in inches.

8.8

8.2

3.0

0.6

0

0

0

0

0

0.1

0.7

4.6