16 Top-Rated Tourist Attractions in New Jersey
We may earn a commission from affiliate links ()
Although covering an area of only 14,000 square miles and the fourth smallest state in the USA, New Jersey is home to many first-rate tourist attractions. From national parks and areas of outstanding natural beauty to fine museums and historical sites, New Jersey is certainly well worth taking the time to explore.
A good place to start your "Garden State" adventure is along New Jersey's Atlantic Coast. Using any one of its many quaint harbor towns or resorts as a jumping-off point, you can easily cover a variety of fun things to do in New Jersey in a relatively short time. Alternatively, you could even opt to use the entertainment hot spot of Atlantic City as a base from which to explore.
New Jersey also has the added benefit of being close to the many attractions of New York City, with excellent public transit getting you to and from its many landmarks.
The state also boasts many great accommodation options within reach of NYC, from luxury New Jersey hotels and resorts to quaint family-run inns and B&Bs.
To learn more about what is undoubtedly one of the best places to visit on the East Coast of the United States, check out our list of the top tourist attractions in New Jersey.
1. Take a Stroll along Atlantic City's Famous Boardwalk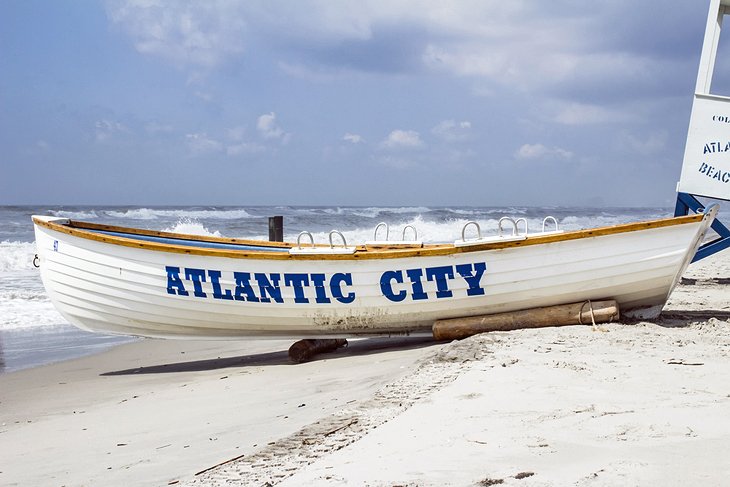 One of the most popular coastal resort towns on the northeastern coast of the United States, Atlantic City is best known for its famous Boardwalk. This four-mile-long promenade was constructed in 1870 and to this day remains the place where the majority of the city's sightseeing opportunities are found.
Among its most popular tourist spots is the iconic Steel Pier. This 1,000-foot-long carnival-style amusement park has rides for all ages, including a massive observation wheel with climate-controlled gondolas that give riders amazing views over the city and the ocean year-round. Bike rentals, the historic electric tram, or traditional rickshaw-like rolling chairs make a fun alternative to walking the Boardwalk.
While strolling the Boardwalk, be sure to check out the Entrance to the Stars. The East Coast equivalent of Hollywood's famous Walk of Fame, this must-see landmark features the handprints of celebrities, such as Frank Sinatra, Dean Martin, and Johnny Carson.
Atlantic city is also home to several historic and cultural attractions. These include Absecon Lighthouse; an aquarium; and the huge Boardwalk Hall, a venue that hosts concerts and events like the Miss America finals.
Address: 2301 Boardwalk, Atlantic City, New Jersey
Accommodation: Best Hotels in Atlantic City, NJ
2. Visit Old Victorian Cape May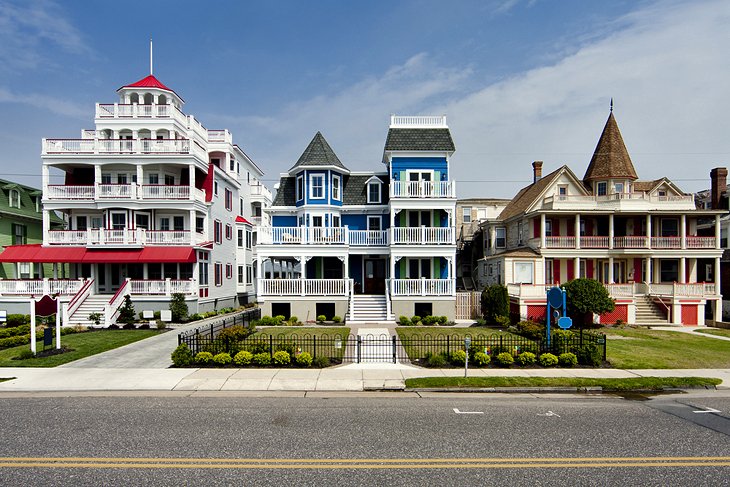 The many attractions of Cape May, located at the southernmost tip of New Jersey on Delaware Bay, were largely discovered by the wealthy during the 18th and 19th centuries when it enjoyed its heyday as a fashionable resort town. It was so popular, in fact, that no less than six US Presidents had summer homes here.
Tourists today are attracted by the very things that first attracted so many American Presidents. These include its endless fine beaches; the beautiful Cape May Point Lighthouse, built in 1859; and the many handsome Victorian-style holiday homes located here.
Of the latter, one of the best examples is Emlen Physick Estate. Now a museum, this 18-room mansion was built in 1879 and is a fine example of the American Stick Style of architecture. Also of interest is the Yankee, an 80-foot-tall schooner offering a variety of harbor tours, as well as dolphin and whale-sighting cruises.
Address: 1048 Washington Street, Cape May, New Jersey
Accommodation: Where to Stay in Cape May: Best Areas & Hotels
Read More: Top-Rated Attractions & Things to Do in Cape May, NJ
3. Liberty State Park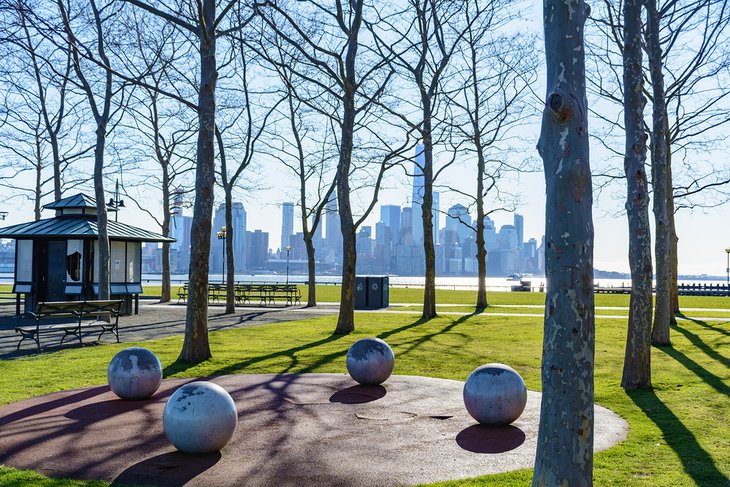 Overlooking the Upper New York Bay; Liberty Island; and Ellis Island, home to New York's Statue of Liberty; Liberty State Park takes awhile to tour. Encompassing 1,212 waterside acres, it not only offers wonderful views of the aforementioned attractions, but also contains many interesting sightseeing opportunities of its own.
One of the best places to visit for nature lovers is Communipaw Cove, a 36-acre tidal salt marsh that has been designated as a nature preserve.
The park is also home to a number of interesting memorials and monuments. Two of the most important are Liberation, dedicated to the Holocaust, and the sobering Empty Sky, a memorial consisting of two 210-foot-long steel walls with the names of those victims of the tragic events of 9/11 who had ties to New Jersey.
4. The Hudson River Waterfront Walkway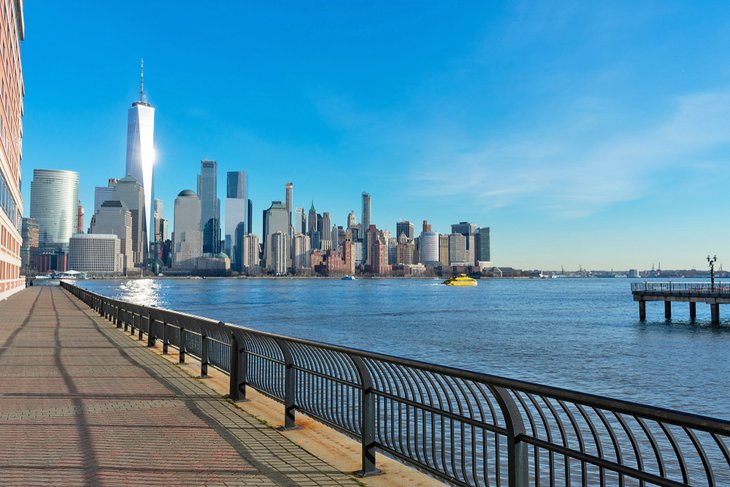 New Jersey's newest attraction, the Hudson River Waterfront Walkway, opened in early 2022 and promises to become one of the top attractions in the Garden State. Nearly 19 miles in length and passing through no less than nine different New Jersey municipalities, this remarkable pedestrian route stretches all the way from Bayonne to Fort Lee.
Along the way are some of the most spectacular views over the Hudson River across to New York City, including views of the Manhattan skyline and the Statue of Liberty. Built solely for pedestrian and bike use, the pathway is 30 feet wide for its entire length, ensuring there's plenty of room for all.
Those wanting to cycle the route can bring their own bikes or make use of one of the "bikeshare" options available. Fishing and kayaking are also permitted off the walkway.
Be sure to include a stop at Pier A Park. This delightful pier park extends out over the Hudson, with plenty of seating for those who simply want to sit and soak up the views. In addition to wet and dry play areas for the kids, there's also a dedicated area for fishing.
Address: 340 Sinatra Drive, Hoboken, New Jersey
5. Island Beach State Park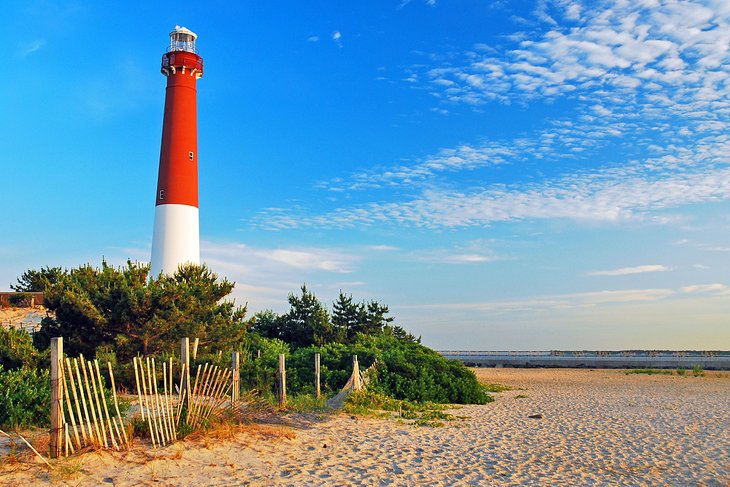 Located on Barnegat Peninsula just an hour's drive north of Atlantic City, Island Beach State Park is notable as one of the country's largest undeveloped barrier islands. Covering an area of nearly 2,000 acres, the park is split into a northern and southern section, both of which offer great opportunities to get outdoors and explore.
With a diverse landscape of beaches, dunes, tidal marshes, maritime forests, creeks, and ponds, the park boasts an abundance of wildlife. It's particularly rich in birdlife and is home to large heron and osprey populations. Birders are welcome to take advantage of bird-watching blinds, so bring your binoculars.
Other fun activities include kayaking, surfing, and swimming, along with fishing in designated areas. There's also an extensive network of trails and boardwalks. Be sure to check out the Barnegat Lighthouse. Located at the southern tip of the park, it offers superb views over the water and surrounding countryside.
Location: Berkeley Township, New Jersey
6. New Jersey Beaches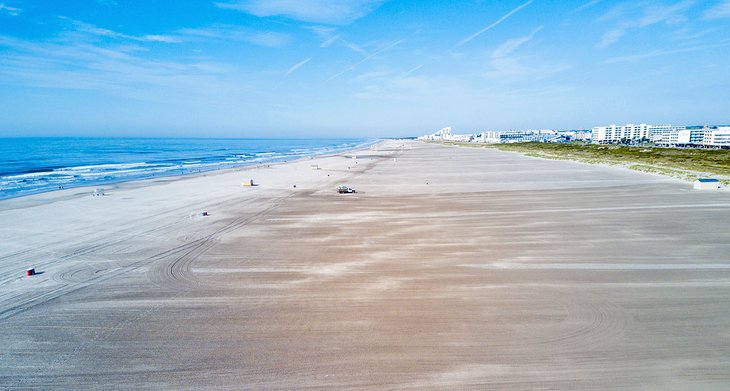 In addition to the popular beach areas found in communities like Atlantic City and Cape May City, there are plenty of other great New Jersey beaches to explore.
Just a 15-minute drive north from Cape May itself, Wildwood Crest Beach is popular for its quieter pace and family-friendly ambience. Its clear waters and three miles of unspoiled white sand are perfect for little ones to splash and play, while also appealing to adults wanting to swim, sail, or charter a boat for some Atlantic fishing for everything from mackerel to sea bass.
The small community in which it's located, Brigantine Beach, is a great choice for those who like their waterfront experience on the quieter side. Also located to the north of Atlantic City, the community actually features a variety of beach options.
Another beach worth visiting for adults traveling without kids is Gunnison Beach, named after its former role as the location of a military gun battery. It's worth noting, though, that a substantial section of the beach has been designated clothing optional.
7. Delaware Water Gap National Recreation Area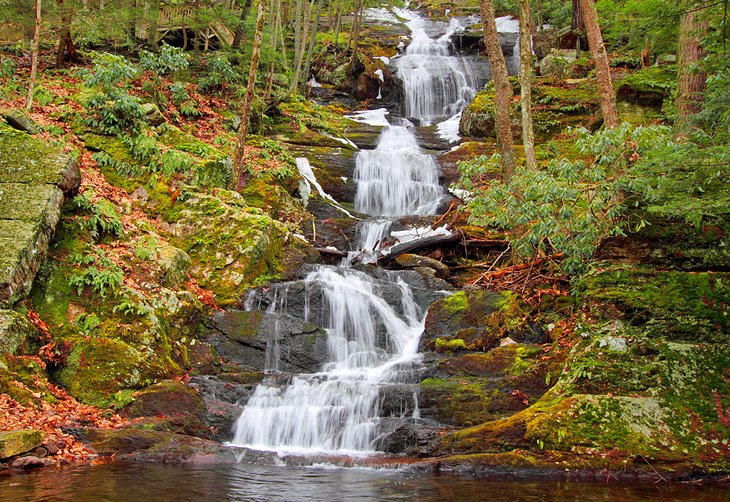 Covering more than 70,000 acres, the Delaware Water Gap National Recreation Area straddles the border between New Jersey and Pennsylvania and includes a spectacular 40-mile protected stretch of the Delaware River. This large recreation area is accessible at numerous points, with the New Jersey section being serviced by two visitor centers.
The first of these, Millbrook Village Historic Site, consists of a re-creation of a 19th-century community complete with displays of traditional crafts. Equally fun to visit, the Kittatinny Point Visitor Center features numerous exhibits, magnificent views, and an access point for the Appalachian Trail.
Other park highlights include the Minisink Archaeological Site, where remnants from a 10,000-year-old settlement were found, as well as activities such as canoeing, kayaking, swimming, fishing, and camping.
8. Princeton Battlefield State Park & Institute for Advanced Study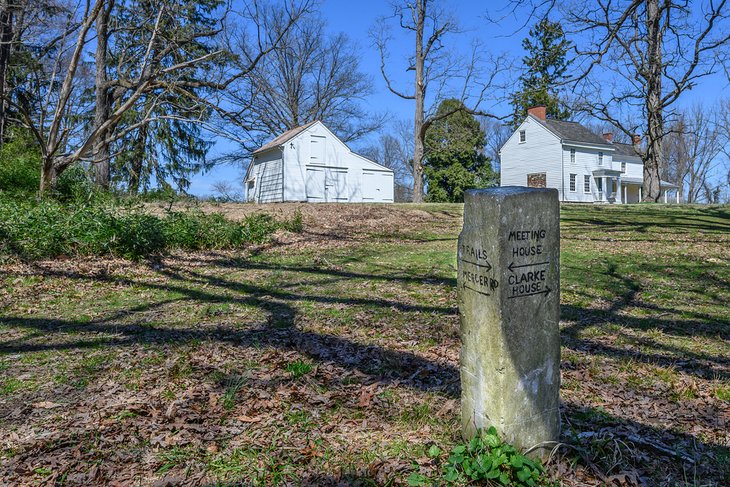 One of the best small towns in New Jersey, Princeton owes its international reputation to its university and associated research institutes. These include the Institute for Advanced Study, where Albert Einstein carried out his final work.
Established in 1756, the school's 1,600-acre grounds are wonderful to explore, and one of the best ways to do so is by joining the student-run tour program. These informative tours last an hour and are well worth it.
Another famous historic site is Princeton Battlefield State Park. This impressive 200-acre site is the location of the Battle of Princeton of 1777, which resulted in George Washington's victory over the British in the American Revolutionary War.
In addition to the battlefield itself, other highlights include Clarke House Museum. Built in 1772, the building was used as a hospital by troops from both sides of the conflict. The Ionic Colonnade and a memorial marking the graves of British and American soldiers should also be viewed.
Address: 500 Mercer Road, Princeton, New Jersey
Official site: www.nj.gov/dep/parksandforests/parks/princeton.html
Accommodation: Where to Stay in Princeton
9. Battleship New Jersey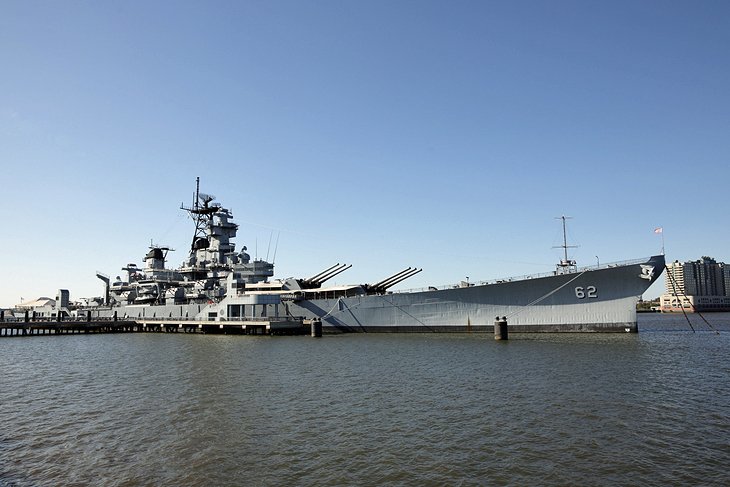 The US Navy's most decorated vessel, the mammoth USS New Jersey is now an excellent floating museum moored on the Delaware River. Highlights of a visit include guided tours through this historic Iowa-class battleship, launched in 1942 and one of the largest military vessels ever built.
Throughout the ship, you'll see numerous exhibits and displays of artifacts relating to its involvement in conflict zones from WWII to the Middle East in the 1980s. Other highlights include visiting the bridge where Admiral Halsey commanded the Pacific Fleet, and viewing its huge 16-inch guns.
If you can manage it, take advantage of the opportunity to spend a night aboard the ship or join one of its popular twilight tour packages.
Address: 100 Clinton Street, Camden, New Jersey
Official site: www.battleshipnewjersey.org
10. The Adventure Aquarium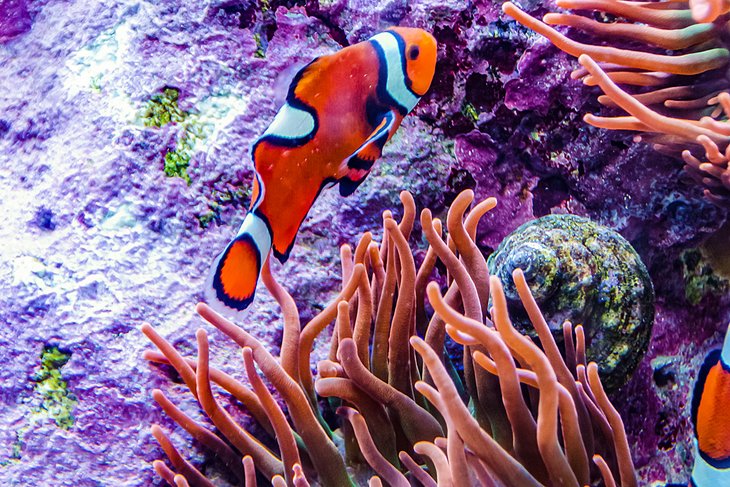 Another popular family attraction in New Jersey is the Adventure Aquarium on the Delaware River in Camden. Considered one of the best aquatic educational facilities in the United States, this two-million-gallon aquarium is home to more than 8,500 marine animals, including a large collection of sharks, sea turtles, penguins, and stingrays. It also has the distinction of being the only aquarium in the world with hippos.
In addition to observing animals in their habitats, the aquarium gives visitors the opportunity to go "behind the scenes" and meet some up close, including African penguins, and sea turtles. An in-water encounter with sharks and stingrays is also available.
Address: 1 Riverside Drive, Camden, New Jersey
Official site: www.adventureaquarium.com
11. Cape May County Park & Zoo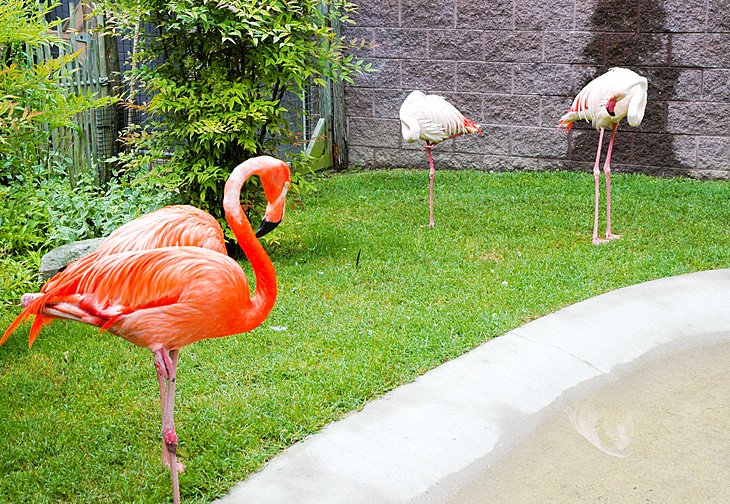 Cape May County Park & Zoo is a favorite New Jersey attraction for families due to its numerous things to do and free admission. The public park offers many recreational facilities that are all free and open to the public, including hiking and biking trails, a disc golf course, volleyball and tennis courts, and many more outdoor game areas. It's also equipped with picnic tables and grills.
The zoo was added to the park's facilities in 1978 and has grown over the years to include both native and exotic species. Among its residents, you will find the bald eagle, African lion, giraffe, ring-tailed lemur, zebra, and many more.
For a fee, visitors can sign up for a guided tour, a specialty tour for a behind-the-scenes look at caring for the animals, and even encounters with select zoo residents such as reptiles, primates, camels, and giraffes.
Address: 707 Route 9 North, Cape May Court House, New Jersey
Official site: www.cmczoo.com
12. Thomas Edison National Historical Park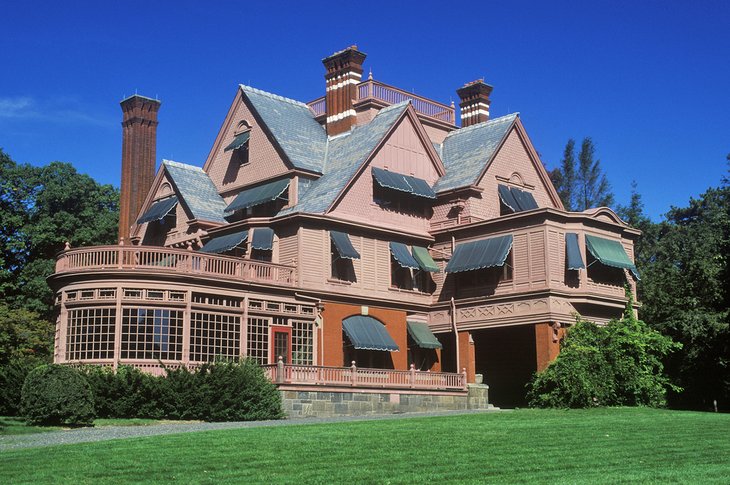 A must-see when visiting New Jersey is the former home and laboratory of the state's most famous son, Thomas Edison. Preserved under the Thomas Edison National Historical Park, these two structures were where such breakthrough technologies as movie cameras, sound recordings, and batteries first saw the light of day.
Highlights of a visit include a close-up look at labs, vintage movies, and original artifacts, as well as a chance to tour Glenmont, Edison's magnificent Queen Anne-style home, a perfectly preserved 29-room mansion. Guided and audio tours are available for both sites.
13. Grounds For Sculpture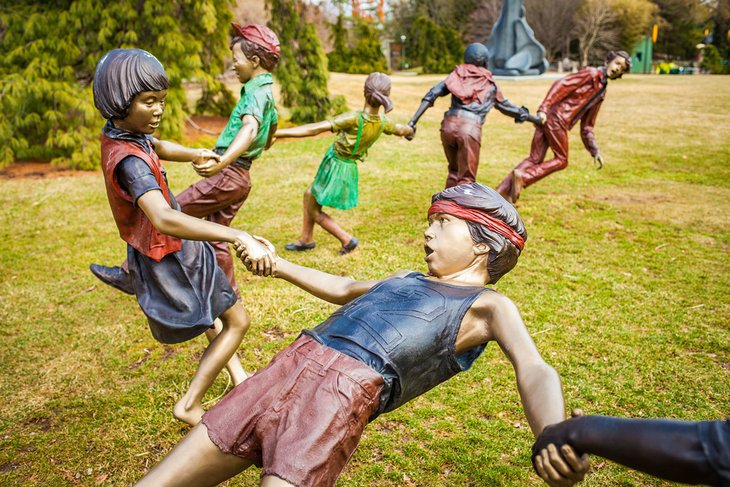 Art lovers (and nature lovers) won't want to miss the incredible Grounds For Sculpture, a 42-acre museum and sculpture park in the town of Hamilton. Established in 1992 to facilitate the appreciation of contemporary sculpture, it has become one of the state's most popular art exhibits, boasting 270 large-scale works by Seward Johnson and other US artists.
In addition to the sculptures, the park itself is wonderfully landscaped with numerous trees and flowerbeds.
Another great art experience awaits at the Jersey City Museum with its collection of more than 300 paintings, as well as a large permanent collection of historical artifacts from the region. Also of interest is the Newark Museum, home to more than 80 galleries containing American paintings, sculpture, and decorative arts, as well as American Indian and African items.
Address: 80 Sculptors Way, Hamilton Township, New Jersey
Official site: www.groundsforsculpture.org
14. Morey's Piers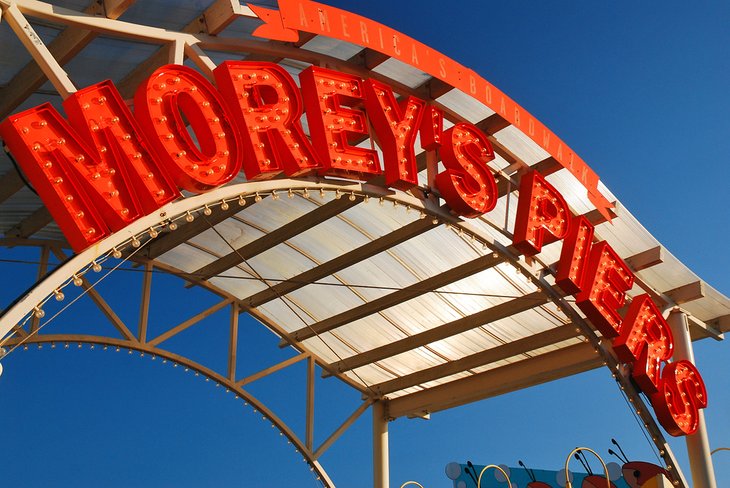 Located on the shoreline of the resort town of Wildwood just a short drive from Cape May, the amusement and water parks at Morey's Piers cover six blocks running parallel to the sandy beach. Beginning in 1968 with a lone waterslide and a concession stand, the Morey brothers have expanded the park over the past 50 years and have a legacy as the creators of one of the country's best parks.
There are rides for every age, from kiddie to family-friendly favorites like the tilt-a-whirl, bumper cars, and a 156-foot ferris wheel. There is also no lack of thrill rides, including several roller coasters and daredevil rides with names like IT and Springshot.
The park also includes a go-kart track, as well as several driving rides and interactive attractions like the "Ghost Ship." Morey's Piers also includes two water parks that offer refreshing waterslides, a lazy river, and pools with floating snack bars.
Address: 3501 Boardwalk, Wildwood, New Jersey
Official site: www.moreyspiers.com
15. Liberty Science Center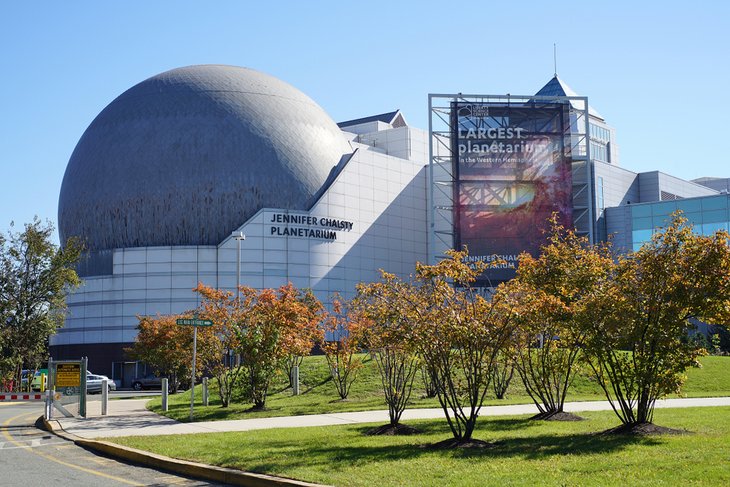 A highlight for kids visiting Liberty State Park is the Liberty Science Center. Lying on the park's northwestern tip, this fun interactive science museum offers numerous fascinating hands-on exhibits and displays relating to science and technology. The recently updated planetarium conducts regular shows that explore the night sky and outer space, and is also host to films and amazing laser shows that envelop the audience.
The center also has a 3D theater that shows immersive films about science, technology, and nature. Interactive exhibits include the Infinity Climber and a pixel art wall, and there are plenty of educational presentations, including a lightning show, an animals encounter, and a touch-tank with sea creatures. Other highlights include exhibits about robotics, engineering, bees, energy, and much more.
Address: Liberty State Park, 222 Jersey City Blvd, Jersey City, New Jersey
Official site: http://lsc.org/
16. Great Swamp National Wildlife Refuge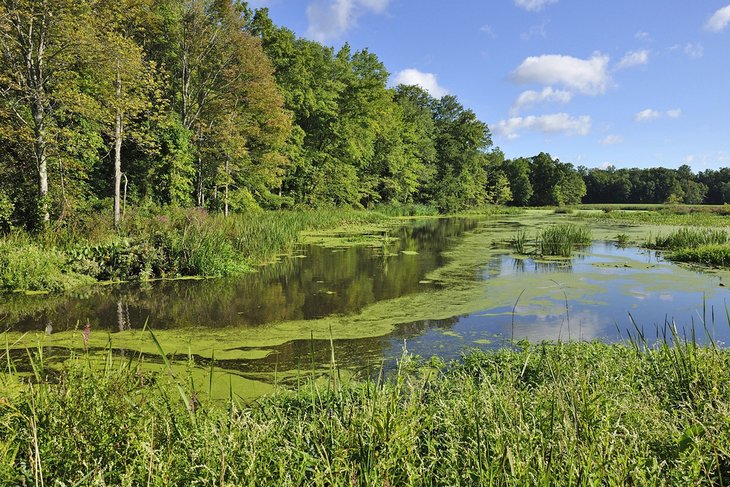 Founded in 1960 and notable as the USA's first federal wilderness area, a visit to the Great Swamp National Wildlife Refuge is a great way to spend a few hours when in New Jersey. Just 30 miles from Jersey City, the refuge covers some 7,800 acres, and is significant for its diverse wildlife and vegetation.
It's a popular spot for birders, with more than 240 species of birds including it on their migration routes. In addition to a permanent population of birds, other species seen here include fox and deer, snakes and turtles, as well as numerous fish species.
The swamp, in fact, dates back to the end of the last Ice Age, and was also of importance as a hunting ground for Indigenous people who lived in the area over the past 10 millennia.