From Philadelphia to New York City: 4 Best Ways to Get There
Located 95 miles northeast of Philadelphia, the bustling metropolis of New York City beckons with its skyscrapers, cultural institutions, and endless entertainment. Visitors hoping to make their way from Philadelphia to New York have many transportation options, thanks to planes, trains, and buses.
Anyone wanting to explore NYC from Philadelphia can do so in a day; however, a weekend getaway or longer stay is advisable for seeing all the sights and experiencing the energy of the city that never sleeps. From the famous Central Park to top-notch museums, Broadway shows to concerts, five-star hotels to sports venues, there's no shortage of attractions you can enjoy in the Big Apple.
The easiest way to travel between these two historic Eastern cities is by train, but those wanting a more leisurely and cheaper option can opt for the bus or drive on their own. There are pros and cons to each mode of transportation. To help you get started on planning your New York City outing, we've put together four best ways to travel from Philadelphia to New York, with considerations to keep in mind with each option.
1. From Philadelphia to New York by Train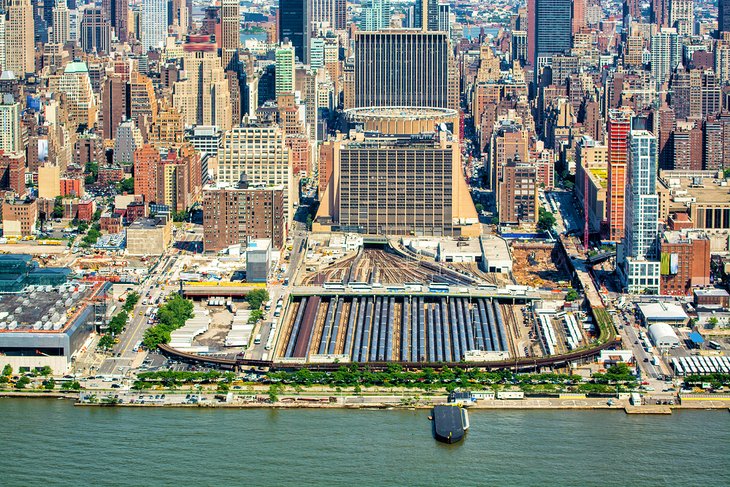 Highlights: Speedy and hassle-free convenience to maximize sightseeing time
The train is by far the best option if you are looking for a relaxing way to reach New York. Amtrak's Acela Express train gets into the city in just over an hour, departing from the beautiful 30th Street Station in Philadelphia to Midtown Manhattan's Penn Station.
The slightly slower and slightly cheaper Northeast Regional train takes 90 minutes and also leaves you in the center of the Big Apple at Penn Station, allowing you to get on with your day or start sightseeing early. Penn Station is a major transportation hub with connections to many subway lines, and it is located within walking distance of attractions like Madison Square Garden and Times Square.
The Acela Express train only has Business and First classes, whereas the regional train has Coach class with cheaper fares, but still features comfortable seating with extra legroom. Both trains have a café car and free basic Wi-Fi onboard. There are multiple departures daily, with the earliest train leaving at 5:15am to the last one at 11:44pm, making rail travel between the cities convenient.
For a more affordable option, consider taking the Philadelphia SEPTA regional train line connecting to New Jersey Transit in Trenton, New Jersey to New York's Penn Station. The trip takes at least two hours, with stops and a waiting period between connections, but the fare is significantly less compared to Amtrak.
A key benefit to taking the train between Philly and NYC, is that in the winter months, it will give you peace of mind and get you to your destination without delays experienced by buses and cars stuck on the highways due to ice and snowy conditions.
2. From Philadelphia to New York by Bus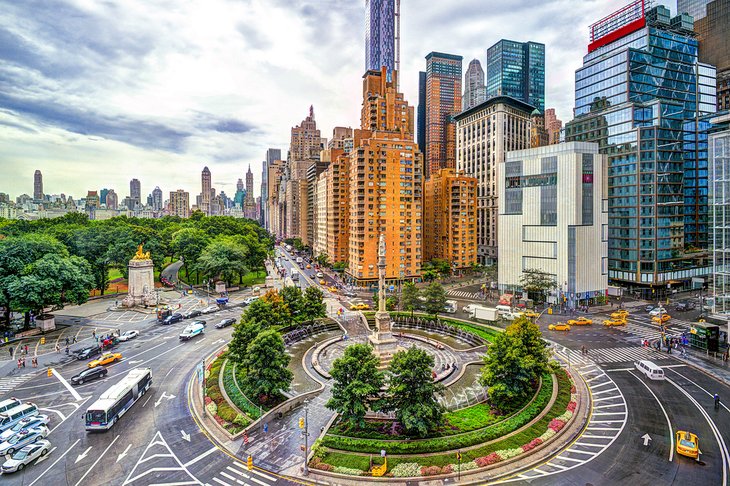 Highlights: Most affordable option with frequent service and range of amenities
Bus travel may not be as glamorous or convenient as traveling by rail, but it's the cheapest way to get between the two cities. Things are changing and now bus companies offer online reservations, Wi-Fi, and comfortable seating; some even offer onboard entertainment on your personal devices. When traveling during weekends and holidays, you may be sitting next to college students making their way to educational institutions.
Buses run regularly from two stations in Philadelphia to New York City. Greyhound and regional provider Peter Pan buses leave from the Philadelphia Bus Station at 1001 Filbert Street, while Megabus leaves from JFK & N. 30th Street Bus Stop. A bus ride will take anywhere from two to three hours, depending on traffic and weather conditions, and there are frequent regular departures daily.
FlixBus runs almost 20 buses per day from Philadelphia to New York City. Buses leave from a stop at 6th and Market. Aside from the downtown starting point, you can also catch a FlixBus from Cherry Hill, NJ or from Malvern, PA in the Main Line area. The drop-off point is in Midtown, adjacent to (not inside) Penn Station. FlixBuses have reclining seats, a decent amount of personal space, free Wi-Fi, restrooms, and an onboard entertainment portal available on your mobile device. The non-stop ride typically takes just under two hours.
Purchase tickets ahead of time online for the best fares and seating choices. Greyhound buses leave passengers at the Port Authority Bus Terminal, while the other buses drop off curbside in various points in Midtown Manhattan.
3. From Philadelphia to New York by Car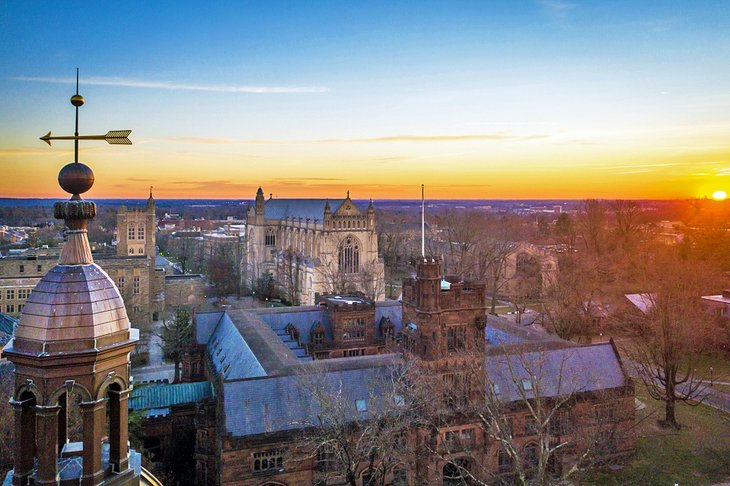 Highlights: Self-paced travel with the flexibility to explore nearby sights and attractions
Driving from Philadelphia to New York City takes under two hours without any traffic. Half of the 95-mile drive will be on the I-95, also known as New Jersey Turnpike in the Garden State, and you will enter Manhattan through the Holland Tunnel. Keep in mind that there are tolls on this road, and it is best to have your E-ZPass handy to avoid slowdowns. If you are renting a car, bring your E-ZPass with you, otherwise, the rental companies will charge a daily fee for using their transponders, or bill you for the tolls later with an administrative fee.
E-ZPass is an electronic toll device allowing for cashless use of tolls, bridges, and tunnels. It works in 19 different US states focusing on the northeast region and can also be used to pay for airport parking at some airports. You can purchase one in advance of your travel, or they are provided with most rental cars. Keep in mind you can use tollsbymailny.com to easily pay tolls in New York State without a device. You enter your license plate, travel dates, and location and credit card info, and this must be done within 48 hours of driving through the controlled area.
Renting a car from a company like Budget, Hertz, or Avis is an option, but keep in mind traffic is very congested in New York City, and parking is very expensive. If you are staying in the city, you will not need to use a car to get around, so it's only a good idea if you want to go other places.
Driving allows you the convenience of traveling at your own pace, stopping for meals and adding sightseeing along the way, if you wish. Take in some history with a stop at New Jersey's Washington Crossing State Park, the site where George Washington and his troops crossed the Delaware River on December 25, 1776, before launching a surprise attack in Trenton that eventually helped America win the war.
Other New Jersey highlights to consider visiting are Princeton University Campus and a Bruce Springsteen inspired tour of Asbury Park along the popular Jersey shore.
Driving also proves to be prudent when you are traveling with family or friends, or bringing pets (Amtrak will only allow small pets in carriers on their trains, and buses do not allow any pets). If you have your own car, exploring New York City's boroughs and neighboring places like Long Island and Westchester becomes easier.
You could take a Lyft or Uber rideshare from Philly to NYC, the cost would be about $160 one-way, excluding gratuity. If you're traveling with four people, this may be a reasonable way to get there.
4. From Philadelphia to New York by Plane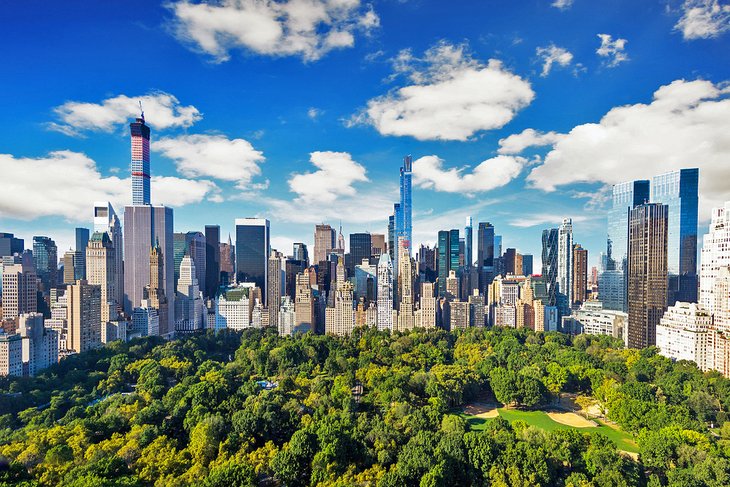 Highlights: Short flight times and cheap airfare options
Flying from Philadelphia International Airport is one of the fastest ways to reach New York City, but given the time it would take to get to the airport, clear security, check bags, and fly, you are looking at the same amount of time or more when compared to the train.
Keeping that in mind, if you prefer to fly, United provides the most non-stop flights between Philadelphia International Airport and Newark Airport (EWR). Oftentimes, the airfares are cheaper than train tickets.
Located a 17-minute drive from the city center, the Philadelphia International Airport can be reached by SEPTA local train. Once you land in Newark, you have a few options to get into Manhattan. The AirTrain connects the airport with all the regional transit lines. You can then take NJ TRANSIT or Amtrak right into Penn Station. The journey takes about 30 minutes.
A taxi costs about $55 into Midtown, or you could take an Uber or Lyft for about $30. These prices do not include gratuity or bridge/tunnel tolls, which are paid by the passenger.