18 Best Waterfalls in New Jersey
New Jersey may be famous for its popular tourist attractions, like the Atlantic City boardwalk, Jersey Shore, and an overabundance of diners, but many of its best attributes lie hidden amid lush forests and craggy rocks. We're talking about waterfalls, and boy does New Jersey have some winners!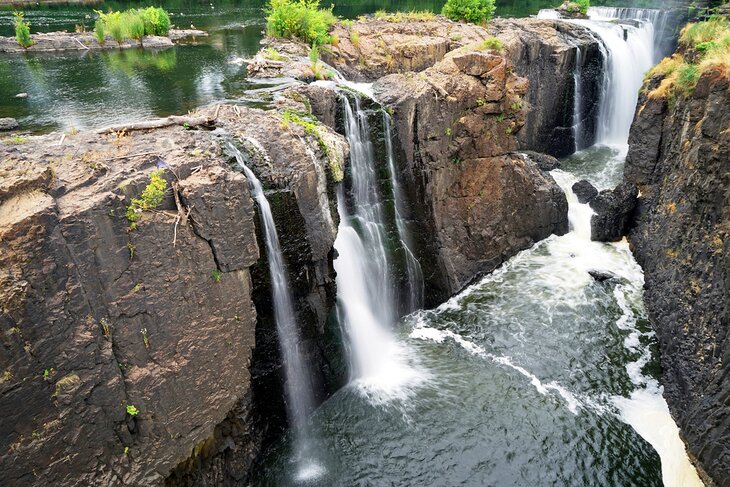 Some of the state's best waterfalls lie by the side of busy highways, while others are concealed by thick woodlands near adorable small towns. No matter where they reside, New Jersey's falls are so therapeutic, that visitors head here for a weekend getaway, hiking for miles just to catch a glimpse.
With so many to choose from, it can be difficult to decide which falls to visit. After all, many hiking trails and New Jersey parks feature waterfalls. Narrow your search with our list of the best waterfalls in New Jersey.
1. Paterson Great Falls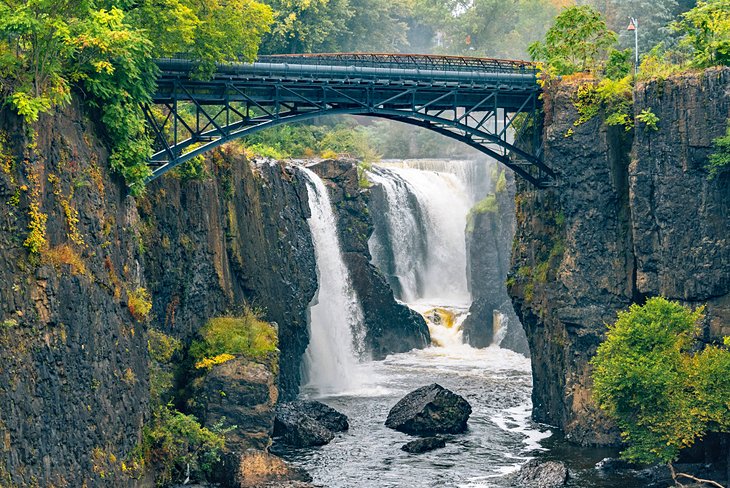 It's hard to miss Paterson Great Falls, which is sometimes called Passaic Falls. In terms of sheer volume, they are second only to New York state's top waterfall, Niagara Falls, on the east side of the Mississippi. The colossal crash of water rushing over the edge from the Passaic River is enough to draw your attention. It's also a great place in New Jersey for taking pictures.
The fact that these massive, 260-foot-wide and 77-foot-high falls are in the heart of an urban environment makes them even harder to miss. No wonder they've been dubbed one of the best waterfalls in New Jersey.
This Passaic waterfall is so spectacular that the town of Paterson was established around it – the first planned industrial city in the US – and you can thank Alexander Hamilton for its development. He created it to help provide jobs in a variety of industries – from textiles to railroads.
Today, the falls lie under a bridge in a highly urban setting. Thanks to the National Park Service, they've been recently restored as the Paterson Great Falls National Historical Park (a.k.a. Great Falls Park). It's easy to see why visiting them tops the list of the best things to do in New Jersey.
2. Buttermilk Falls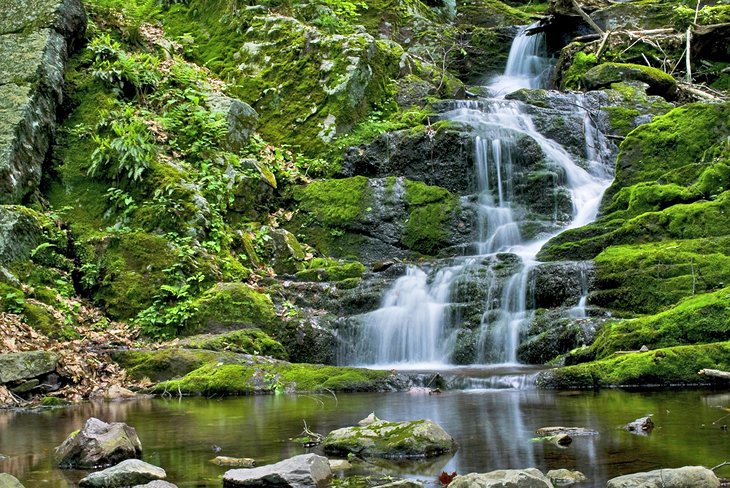 The water of Buttermilk Falls flows gently down its rocky stairway as smooth as, well, butter. The best way to see the falls up close is to follow the Buttermilk Falls Trail, a 1.4-mile, moderately challenging path that takes you up to its summit. Considering this is one of the tallest waterfalls in the state, expect a bit of a climb.
Luckily for those who aren't hiking fans, the falls sit near the beginning of the trail. Those who turn back early, though, will miss the magnificent, unsurpassable valley views offered as a reward for continuing on the Appalachian National Scenic Trail.
Insider's tip: The blue trail is especially lovely in the fall. Be sure you enter the New Jersey Buttermilk Falls into your GPS. Connecticut is home to another fantastic waterfall with the same name. This is both a relaxing and rejuvenating place to visit as a stop on an East Coast road trip, so pack a picnic to prolong your stay.
3. Hemlock Falls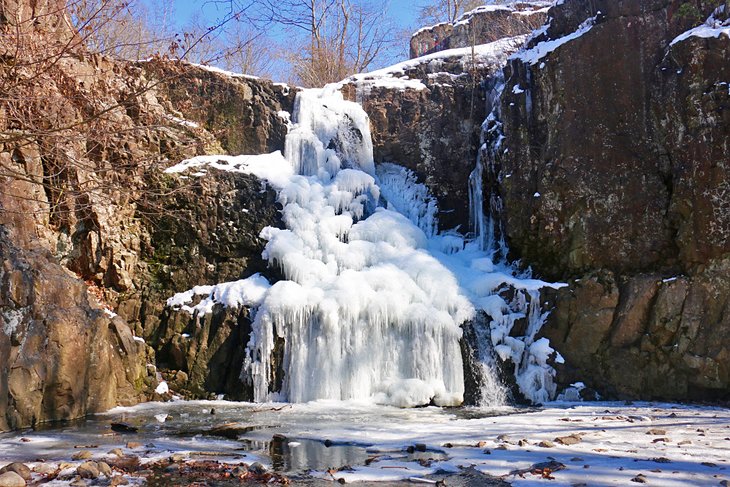 South Mountain Reservation is home to Hemlock Falls, a 25-foot-high waterfall located in Essex County. A sprawling 2,110 acres with 50 miles of trails to explore, the park contains many of nature's best elements: hills, forests, rivers, and of course, the Hemlock Falls.
The falls are a thrilling sight in every season, their magical façade highlighting the lush surrounding as they take on a new shape and color. While hiking along the Hemlock Falls Trail may not top a traveler's list of things to do in New Jersey during January, witnessing the frozen falls is worth every bit of the chill.
These pretty falls lie just over half an hour west of New York City, making this a perfect day trip destination for those looking for a serene spot to detox from the Big Apple's bright lights, sirens, and horn honking.
4. Tinton Falls
The best place to view the serene Tinton Falls is from a wooden platform located at 741 Tinton Avenue in the town of the same name. The falls, which are located in Monmouth County, are the tallest on the state's coastal plain. While the waterfalls aren't massive, they're calming and lovely, a perfect respite to help eliminate any worries, at least for a while.
Back in the 1600s, when the area was known as New Shrewsbury, Tinton Falls was recorded to be 30 feet tall. Today, thanks to erosion and a destructed dam, the size has tapered, but it still holds its top ranking for height.
Those looking for an easy day trip from the famed university town of Princeton can drive here in an hour. There are plenty of things to do in this charming town, and a slew of quaint cafés and highly rated restaurants to enjoy.
5. Tillman Falls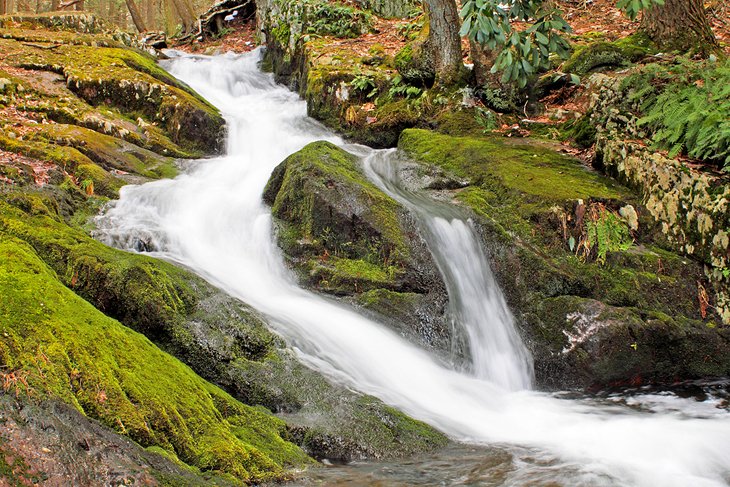 Deep within the Tillman Ravine, in the heart of Sussex County, lies a captivating waterfall begging to be found. Much smaller than its towering neighbor, Buttermilk Falls, Tillman is just as impressive. Like many of the falls on this list, Tillman, too, requires a waterfall hike to reach its beautiful peak.
The easiest way to reach this lovely cascade, located in the Stokes State Forest, is by following a path through the Tillman Ravine. An easy walk, the ravine's trails lead visitors on a tranquil walk through verdant woods. Those who keep going along the Appalachian Trail will eventually end up at Buttermilk Falls.
Pack shoes with good tread in case you're tempted to wander close to the falls, where the footing can become slippery.
6. Worthington State Forest Waterfall/Laurel Falls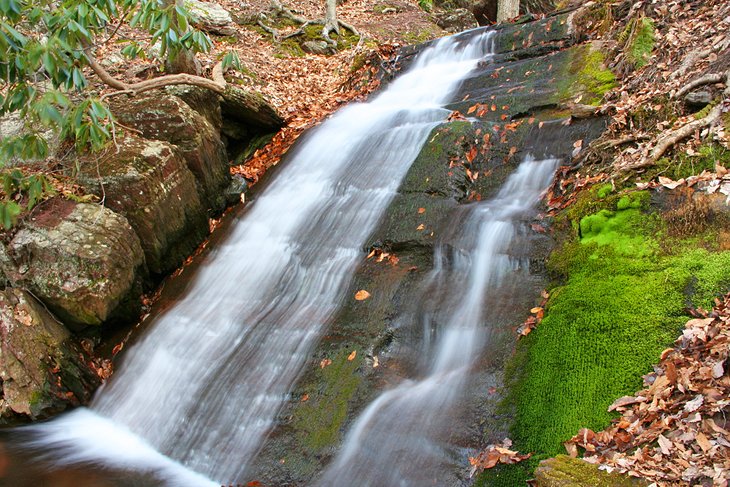 Over 26 miles of trails greet waterfall hikers to Worthington State Forest. Seven miles of these are part of the Appalachian Trail. Those who follow the trail near Dunnfield Creek Natural Area will find its dainty waterfall, sometimes called Laurel Falls, calmly rushing towards the Delaware River.
Merely walk a mile from the parking area off Route 80 (west of exit 4), and you'll find this resplendent marvel that consists of three cascades running from Sunfish Pond, one of the best lakes in New Jersey.
Avid climbers can find a challenge in the hike to Mount Tammany's peak (1,527 feet above sea level). It's a long, sometimes tricky climb up, but the panoramic vista of the Delaware Water Gap will make you forget the arduous parts of the journey. Be sure to pack water and snacks.
7. Chikahoki Falls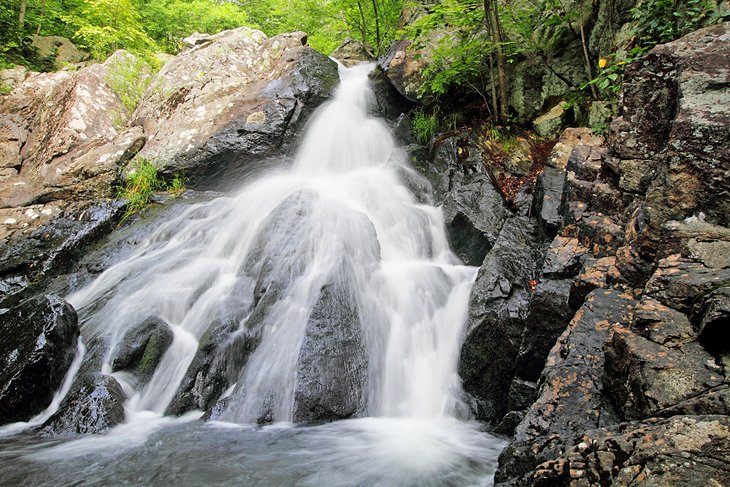 Situated deep in the middle of a thick forest, Chikahoki Falls provides visitors with a double reward for their hiking efforts. What these falls lack in height, they make up for in magnificence. This is an idyllic spot to picnic or sit back and soak up (sorry, we had to) the dramatic lullaby being played upon the giant rocks.
Known by locals as "Chick Falls," they lie within the Norvin Green Forest, west of the Wanaque Reservoir. Those who follow the hiking loops in their entirety can catch an unbeatable glimpse of the falls from above while standing at the top of the Wyanokie High Point.
8. Hacklebarney State Park Waterfall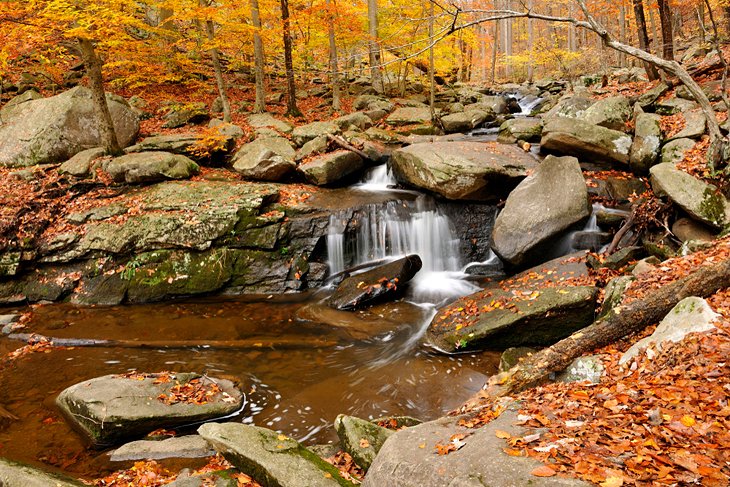 One of the best places to visit to feel Mother Nature's touch, Hacklebarney State Park offers waterfalls in all different shapes and sizes – from tiny little trickles to the gushing falls at Trout Brook. The aptly named Waterfall Trail (purple) leads visitors to the main falls. It's only a 0.1-mile walk leading from either the 0.7-mile Main Trail (white) or the 1.8-mile Riverside Trail (red).
The best viewing spot is a "scenic lookout" posited slightly downstream of the falls. Either print a copy of the park's trail maps before setting out or take a photo of one at the parking lot to be sure you don't lose your way.
9. Tumble Falls
The water flowing over Tumble Falls does just that – it tumbles, especially after a rainstorm. Technically a series of small waterfalls, this quaint natural wonder lacks the power of other, larger falls on this list, but its beauty is still impressive enough to trigger a longer-than-natural inhale and a collective "oooh" by visitors.
The best part about these falls, which flow into a tributary of the Delaware River, is their close proximity to the road. They are located near the intersection of Tumble Falls Road and NJ Route 29, so you won't need to embark on a massive hike to view these beauties.
10. Boonton Falls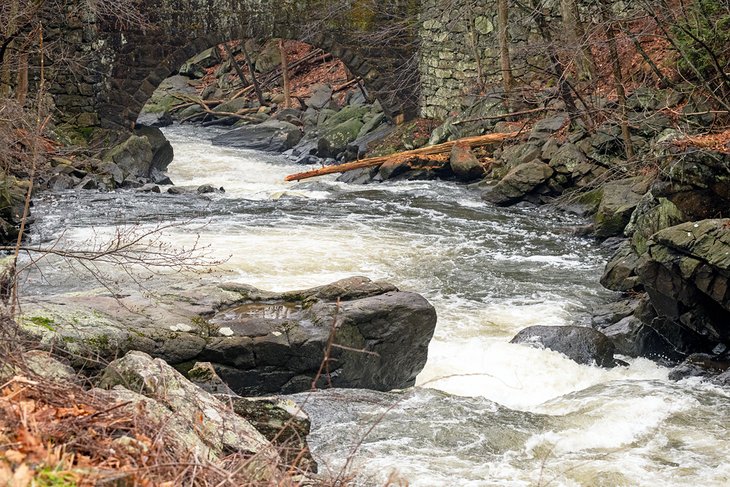 The incessant roar of Boonton Falls can be heard all the way from Main Street in Morris County's adorable town of Boonton. Considering the falls are only a short walk from town, their rushing water doesn't need to be thunderous to get attention.
Located in Grace Lord Park, Boonton Falls are made even more picturesque by the romantic gazebo placed in the most serene spot, near their crest. Talk about a perfect place for a wedding proposal (wink, wink).
Those looking for the best photo op should hike a bit farther back, a few hundred feet away along the river's edge. The rocks can be slippery, here, though, so watch your step.
11. Watchung Reservation Waterfall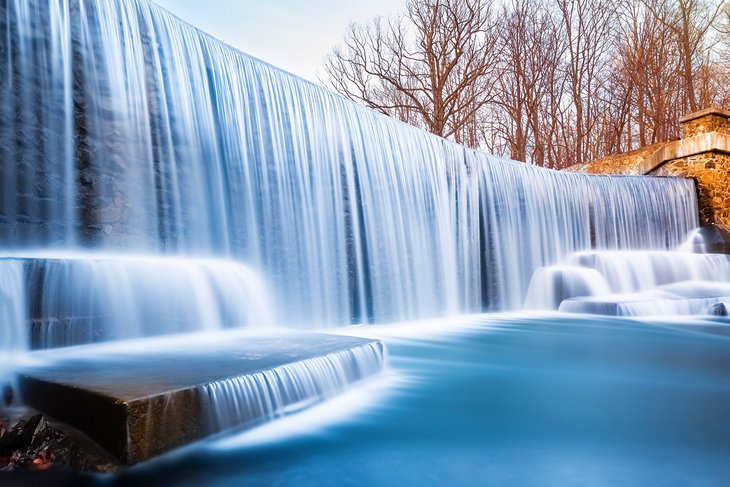 Watchung Reservation offers hikers over 2,000 acres of remarkable woodland to explore. Its 10-mile-long Sierra Trail takes them past the booming wall of water comprising the reservation's impressive waterfall. Once you spy its magnificence up close, you'll understand why it's one of the best waterfalls in New Jersey.
Located in Union County, near the town of Mountainside, Watchung Reservation boasts 13 miles of hiking trails that follow the valley and ridge of the Lower Watchung Mountains. It's also home to the Trailside Nature & Science Center, Watchung Stables, and a historic trail that passes multiple ruins.
Insider's tip: Grab a map at the Trailside Center and take it with you during your hike; the trails aren't well-marked.
12. Ramapo Falls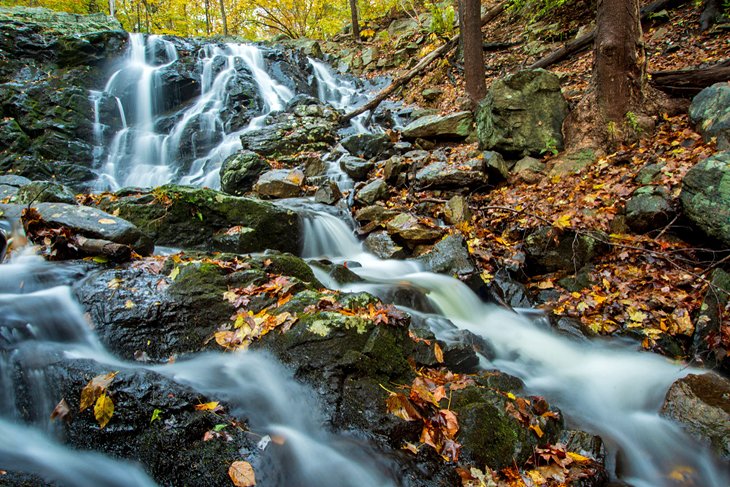 Travelers hoping for a glimpse of sparkling Ramapo Falls need to head to the Ramapo Valley Reservation in Mahwah. Follow the white trail (located opposite the parking lot) to the yellow trail, and you should see not only the falls, but also an impressive view of Oakland. Be sure your camera is charged.
Kids and dogs will love this waterfall hike, but wear proper shoes as the elevation can get challenging at times. If you're hoping to see the water gush over the edge, plan your visit for early spring, after the snow has melted and the spring rains have caused a more impressive flow. By the end of summer, the falls have slowed to a trickle.
Insider's tip: pack a picnic to enjoy while overlooking the shimmering Lake Todd.
13. Dunnfield Creek Falls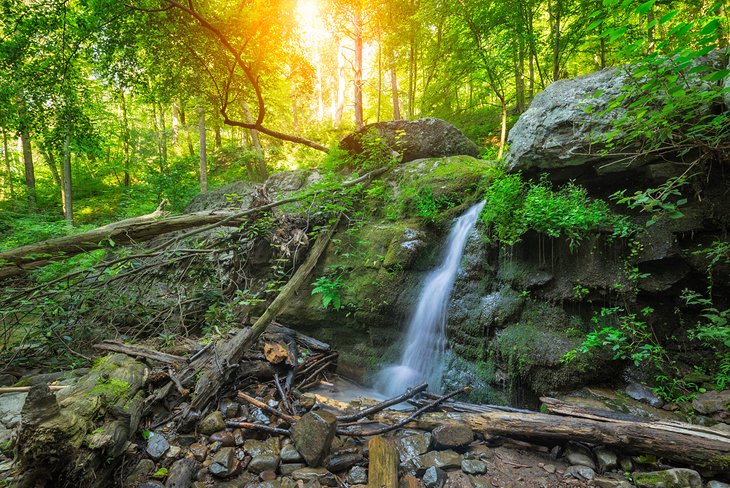 The cascading falls at Dunnfield Creek are as relaxing as they come, especially when you pair their melodic lapping with the chirping of forest birds. Deep in Worthington State Forest, south of Van Campens Glen Falls, these beauties rush from a ravine into a refreshing wading pool.
All 3.5 miles of the Dunnfield Creek Trail are spectacular, winding across the creek (and multiple small water cascades) numerous times during each hike. The creek itself is a designated wild trout stream.
As with many of the falls on this list, these vary in magnificence by season. The height of their loveliness can be caught during early spring.
14. Van Campens Glen Falls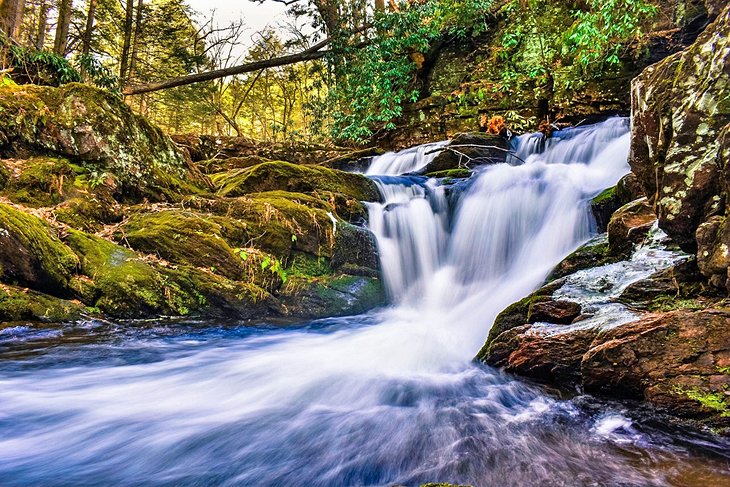 Wow, what a beauty! The falls at Van Campens Glen can lift the spirits of even the weariest of explorers. They derive from the Van Campens Brook's journey through a ravine on the Delaware Water Gap.
Here, you'll find not one, but many beautiful cascades massaging the rocks along the forested wonderland. Despite its popularity, early-morning visitors can often find themselves enjoying a bit of solitude, as well as shady trails.
Be cautious, as much of the trail runs beside the water's edge, making for a slippery surface, especially when it's covered in ice. Fall is the best time to visit, offering an unbeatable kaleidoscopic foliage show.
15. Greenbrook Falls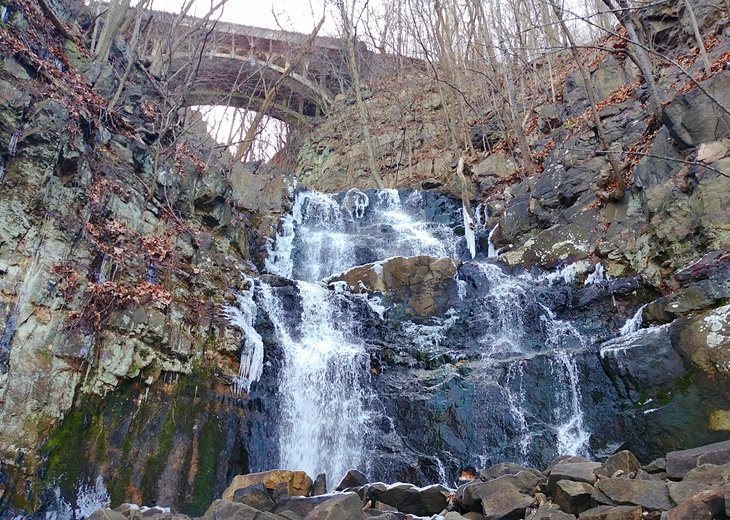 A giant when paired with other falls on this list of the best waterfalls in New Jersey, the 250-foot Greenbrook Falls are a breathtaking sight. They lie within Greenbrook Sanctuary, a resplendent nirvana set in 165 acres of the lush Palisades Interstate Park, which stretches from Tenafly to Alpine. The falls are created by one of three streams that spill dramatically down the cliff face to their final resting spot, the Hudson River.
To gain access to Greenbrook Falls, visitors require a membership, which is available to everyone through the Palisades Nature Association. The fee may seem a bit steep if you're only planning to visit once but consider it a donation that will be used towards the upkeep of the sanctuary.
16. Silver Spray Falls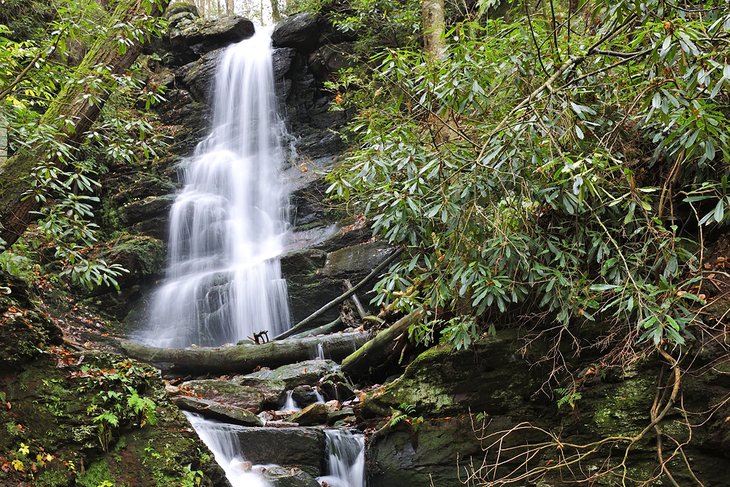 The deeper you hike into the middle of the hemlock- and oak-laden Hidden Falls Trail in Walpack township, the closer you'll get to this glorious spectacle. Locals call this spot "Hidden Falls," likely in reference to the difficulty many have in finding its unmarked trail.
About half a mile along Mountain Road, you'll find the trailhead, but remember, it's not well marked, so you'll have to really pay attention. It's only about five miles from Buttermilk Falls, so those who are waterfall hiking can easily hit two falls in one day at this locale.
Insider's tip: Be sure to cross the stream in order to see the falls. If you start heading uphill, you're likely on the wrong path.
17. Apshawa Falls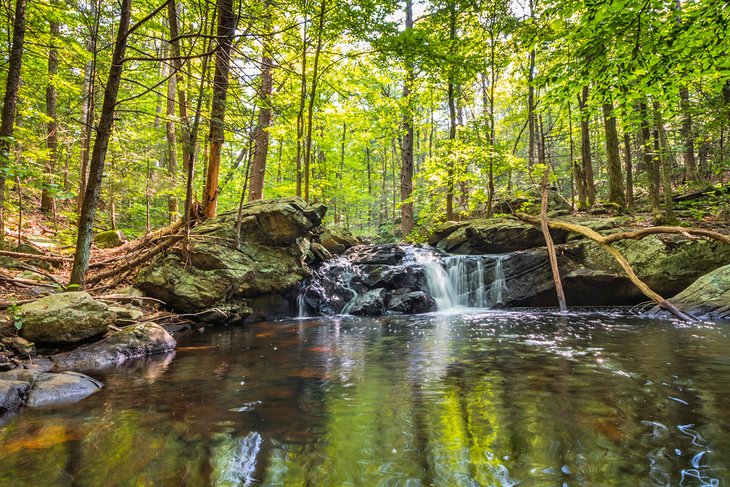 Apshawa Falls may be small in comparison to others on this list of the best waterfalls in New Jersey, but what it lacks in size, it more than makes up for in beauty, especially if you visit in the spring or right after rain. Set along Apshawa Brook in the Apshawa Preserve, visitors to this forested site will be graced by the presence of multiple small and dainty cascades.
A captivating hiking trail leads visitors past a dam (which boasts another impressive waterfall) and the ruins of gargantuan water tanks that date to the 1900s. Pack bug spray, as little critters tend to bite, especially in summer. Also, be sure to wear good walking shoes, as the trails are more moderate than easy and a bit steep at times. The rocks can get slippery as well.
18. Schooley's Mountain Falls
If you're a fan of chasing waterfalls, you'll have to add Schooley's Mountain County Park to your list of the best places to find waterfalls in New Jersey. While you'll find public facilities and a few well-trodden areas in this pretty park, spotting the waterfalls will take a bit of traipsing before you catch a glimpse.
Follow the Falling Waters Trail through the stunning Electric Brook Gorge but be careful, the rocks can be steep and slippery. The Schooley Mountain Falls will soon reveal themselves, likely first by the relaxing sound of rushing water. A series of two falls (small in comparison to others on this list) are your reward for a trail well followed.
Map of Waterfalls in New Jersey
More Related Articles on PlanetWare.com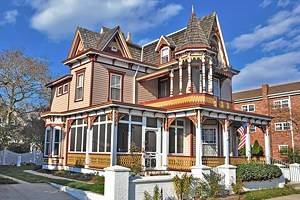 More Things to Do in New Jersey: Hiking isn't the only fun activity to try in the Garden State. Take a break from the breathtaking waterfalls at one of these top beaches. While you're there, don't miss out on these quaint and charming small towns.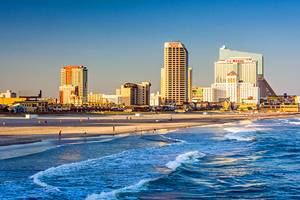 How to Be a Tourist in New Jersey: New Jersey has a slew of interesting things to do. From parks to museums, these top-rated tourist attractions shouldn't be missed. Speaking of things you really must see, check out these attractions and things to do in Cape May.