8 Top-Rated East Coast Road Trips
There are few things that scream "summer" like an East Coast road trip. Whether you're renting an RV or piloting your own car, a road trip is a fabulous way to make memories and see the country in a way you haven't before. Instead of rushing past idyllic towns on a train or flying over spectacular mountains, a car journey allows you to stop at those off-the-beaten-path treasures you never knew existed.
The East Coast is packed with amazing places to visit and fun things to do. From museum-hopping in Washington, D.C. to catching the view from atop a chair lift at Okemo Mountain Resort in Vermont to sunning yourself on Miami beach, the East Coast offers a variety of holiday options.
Before heading out, you'll need to figure out what kind of trip you're hoping for and then find a way to incorporate some must-see places on the East Coast. Are you big-city culture lovers or small-town folks? Do you love hiking through forests or prefer walking on a boardwalk?
No matter what type of traveler you are or how long you'll be on the road, plan your adventures with our list of the top East Coast road trips.
1. Two-Week East Coast Road Trip: See New England at its Best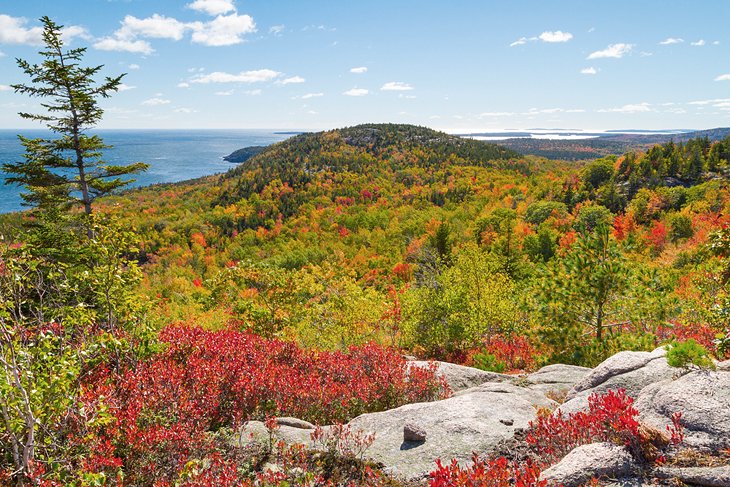 Stops include: Bar Harbor and Acadia National Park, White Mountains National Forest, Boston, Providence, Newport, and Mystic.
New England is one of the top places to visit on the East Coast in summer. It's made up of six of the country's most picturesque states: Maine, Massachusetts, New Hampshire, Vermont, Connecticut, and Rhode Island. In addition to boasting exceptional shoreline views and fantastic trails through national forests, New England is home to a slew of quaint towns and thriving cities bursting with attractions.
Begin your journey in Maine's Acadia National Park. You can spend hours (or even better, days) hiking, biking, and swimming in this 46,000-acre natural wonderland. Use Bar Harbor as your base and enjoy the small-town charm and incredible food on offer.
Walk along the Shore Path from Bar Harbor Town Pier. Then grab a bite in one of the town's quaint cafés or restaurants dotted along charming Main Street. Agamont Park is the perfect place for a serene afternoon pit stop, plus it offers remarkable views of the sparkling Frenchman Bay.
Next stop: Stowe, Vermont. Best known for its incredible skiing, Stowe is a perfect spot to visit at any time of year. The church steeples, rolling hills, and pastoral scenes are picture perfect. The captivating cascades of Moss Glen Falls flow most freely in spring, but are beautiful in all seasons.
Now on to New Hampshire's White Mountains National Forest. If your feet are sore from all that hiking, take a ride on the aerial tramway at Cannon Mountain or climb aboard the Mount Washington Cod Railway.
No trip to New England is complete without seeing the highlights of Boston, which is your next stop. Walk the Freedom Trail, visit the Boston Tea Party Ships & Museum, spook yourself on a ghost walk, and grab lunch at Quincy Market. Visit during the off-season for fewer crowds, and you'll be privy to the beauty of Boston in winter.
Then, on to explore the attractions of Rhode Island. Providence is the place to be for foodies and culture junkies, while those who favor a more laid-back seaside vibe will enjoy a stay in Newport.
Your last stop is Mystic, Connecticut, a beautiful waterfront town, which is home to the impressive Mystic Aquarium and Mystic Seaport Museum. Bursting with maritime charm, it's easy to fall in love with this adorable spot. Don't miss Olde Mistick Village, a fun and unique place to grab a bite or practice some retail therapy.
2. Ultimate East Coast Road Trip: Around the East Coast in Two to Three Weeks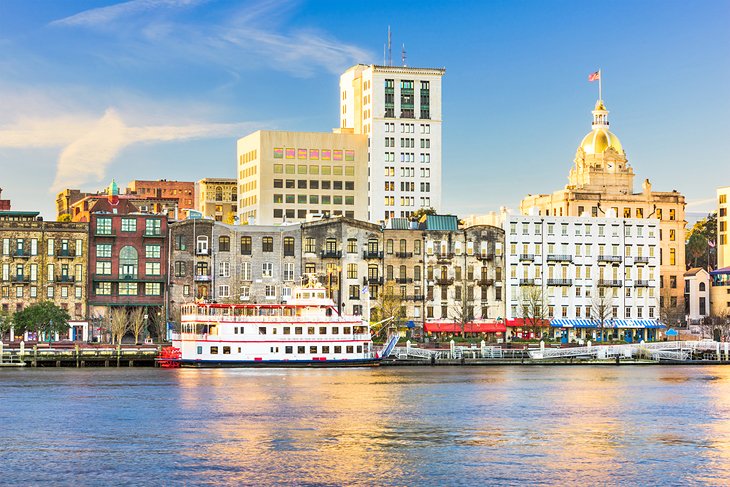 Stops include: Portland, Boston, NYC, Philadelphia, Baltimore, Washington, D.C., Arlington, Charleston, Savannah, Orlando, Miami, and Key West.
This ultimate East Coast road trip will take you from the tip of Maine to the bottom of Florida in two to three weeks. It all depends on how long you want to spend at each stop. Whether you breeze through one of our options or choose to spend an extra day or two, you'll be hard-pressed to get a better feel of the varied East Coast than you will with this itinerary.
Start your trip in Portland, Maine's largest town and home to numerous museums and a bustling Old Port district. Cape Elizabeth is another worthwhile and more relaxing stop, boasting picturesque lighthouses and beautiful beaches. It's only five miles away, so there's no reason not to visit.
Now, it's off to Salem, Massachusetts, where you can step back in time at the Witch House and visit the Salem Maritime National Historic Site. Boston is a stone's throw away (well, about 25 miles) and not to be missed. One day is enough to get a feel for this popular capital, but two will really help you get a feel for the town.
Next stop: The Big Apple. You can't be this close and NOT see the sights of New York City. Budget at least two days for non-stop eating, museum-visiting, musical watching, and shopping. Then, head to Philadelphia to soak up the history, see the Liberty Bell, and walk along old cobblestone streets while gazing up at nouveau sky scrapers.
Don't miss Wilmington, Delaware. You won't need long in this pretty town, but its Riverwalk, museums and Airlie Gardens are worth a stop. Baltimore, Maryland is next. This seaport is easy to love (for a day), with multiple sightseeing attractions, a fun music scene, and award-winning restaurants.
Now it's time for Washington, D.C. You're going to want to carve out a couple of days for this visit. The obvious draws include the White House, Capitol Hill, and The Lincoln Memorial. But there are so many more tourist attractions that shouldn't be missed, especially the museums.
Next, head to Arlington, Virginia to check out Mount Vernon and Monticello. Charlotte, North Carolina is your next locale. Home of the Carolinas Aviation Museum and the NASCAR Hall of Fame, this is sure to be a popular pit stop.
Charleston, South Carolina offers up a whole lotta Southern charm. Be prepared to be transported back in time in this historic town. Make sure you save room for a good meal (or three). The traditional dishes are hearty and delicious!
Next, tee off in Hilton Head, South Carolina before heading to Savannah, Georgia for an even bigger taste of southern hospitality.
The final leg of your ultimate East Coast Road trip ends in Florida. So much more than a warm paradise for wintering "snow birds," Florida offers everything from pristine beaches to excellent restaurants and air boat tours through the Everglades. You'll start with a quiet day (or a few hours) in Jacksonville, followed by a few days spent exhausting yourself at Orlando's Disney or Universal theme parks.
Rest up in Cocoa Beach before enjoying Miami's attractions, shopping, and nightlife. Your final stop is Key West, where you can choose to stretch your aching legs on a walk around Hemingway's House, or lounge on the beach with a good book.
3. East Coast Road Trip to the Parks: The Best Way to Be at One with Nature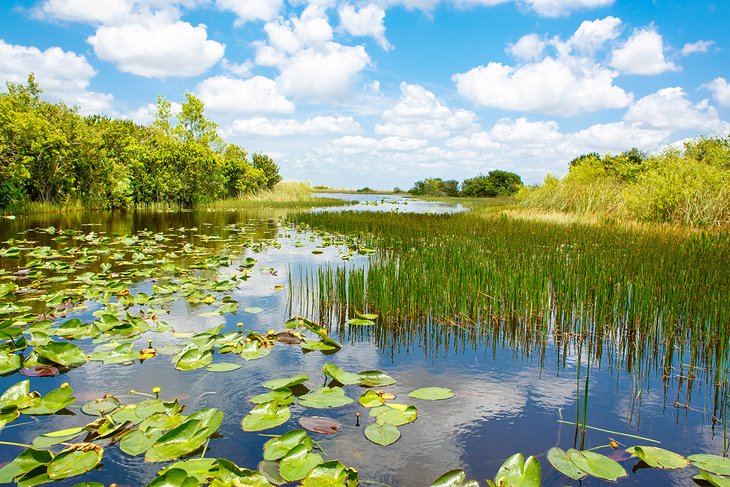 Stops include: Acadia National Park, White Mountains National Forest, Green Mountains National Forest, Catskills, Chincoteague National Wildlife Refuge, Shenandoah, Great Smoky Mountains National Park, and the Everglades.
Sometimes it's good to get away from the hustle, bustle, and incessant noise that buzzes around big cities. Getting back to nature can do our minds and bodies so much good. This two- to three-week itinerary is a perfect break for those who love the outdoors. Rent an RV, pack a tent, or stay at small inns or B&Bs along the way.
First stop: Acadia National Park in Maine. The National Park Service has deemed Acadia the "Crown Jewel of the North Atlantic Coast," and we couldn't agree more. With 158 miles of hiking trails and seven peaks that rise higher than 1,000 feet, you won't fail to find something to make your draw drop in appreciation.
Next is White Mountains National Forest in New Hampshire. With 800,000 acres to explore, you can spend days adventuring in this verdant wonderland. Green Mountain National Forest is found in southwestern and central Vermont. While many enjoy exploring the awesome peaks during the height of fall foliage, summer offers amazing opportunities to hike, camp, fish, and canoe while winter gives skiers the ultimate gift.
New York's Catskills are also a great place to ski, but the thick forests and varied wildlife attract visitors year-round. Then it's time to head to Chincoteague National Wildlife Refuge in Virginia. Animal lovers will want to spend days in this incredible place. From bird-watching to wild pony spotting, this refuge is packed with more creatures than you could possibly count.
Heading south again, it's time to explore the trails in Shenandoah National Park, Virginia. Avid hikers will fall in love with the mountains, valleys, waterfalls, and rock scrambles. Whether you want to spend days testing your limits on rock walls or a few hours meandering through lower impact trails, you won't be disappointed. Just be sure you've packed good hiking shoes.
The Great Smoky Mountains National Park is our next stop and one of the main attractions in North Carolina. The Appalachians grace this forest, lending it a majestic air. It's also a popular spot for avid hikers, mountain bikers, and skiers. There are so many ways to enjoy this spectacular park: pack a picnic, pitch a tent, or head out fishing.
If you're up for it, tack on a drive to Florida's Everglades National Park. Yes, there are gators. Yes, you will see at least one. But, there's so much more to the Everglades than our sharp-toothed friends. Take an airboat ride, charter a fishing boat, sign up for an adventure tour, or walk the Anhinga Trail. Adding this stop will add about 16 hours of driving, but it's more than worth the extra time spent in the car.
4. One-Week Round-Trip East Coast Road Trip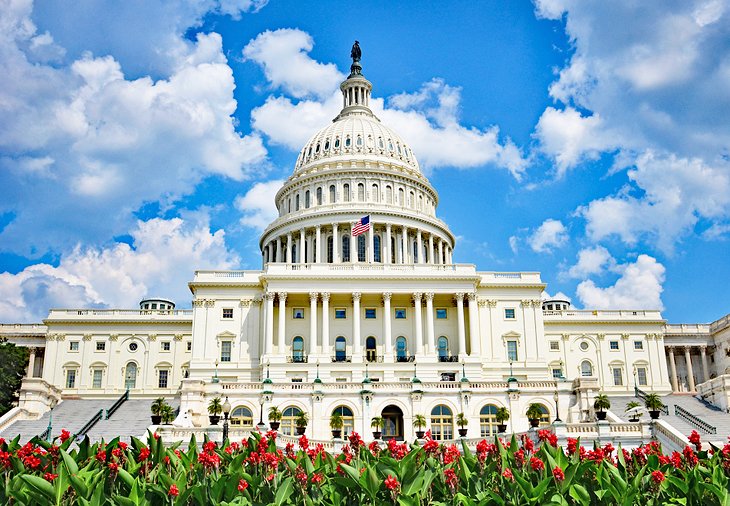 Stops include: Philadelphia, Amish Village, Washington, D.C., Colonial Williamsburg, and Assateague Island
This unique East Coast Tour ends where it begins, in Philadelphia, Pennsylvania. You'll want at least a day in this historic town to soak up sites like the Liberty Bell, Independence National Historical Park, and One Liberty Observation Deck.
Next, you'll head to Washington, D.C., stopping at The Amish Village in Strasburg, Pennsylvania on the way. Tip: book a private tour of an Amish farmhouse for an intimate look at the Amish culture. Set aside at least one full day and night to spend in Washington. From Capitol Hill to The White House to The Washington Monument, history is on full display in the nation's capital.
Step back in time during your stop at Colonial Williamsburg in Virginia. Known as "the world's largest living history museum," this quaint town comes alive with original buildings housing museums and so much more. Take a horse and buggy ride, visit a theme park, and have a chat with someone dressed in costume from the 18th-century, all right here.
Then head to your final stop before completing your loop in Philadelphia. Virginia's Assateague Island National Seashore offers a wonderful respite from all that driving. Run with the wild ponies, play in the dunes, and picnic on the beach. You'll be thankful for the fresh air.
5. Five-Day North East Coast Road Trip: A Tour of Top East Coast Cities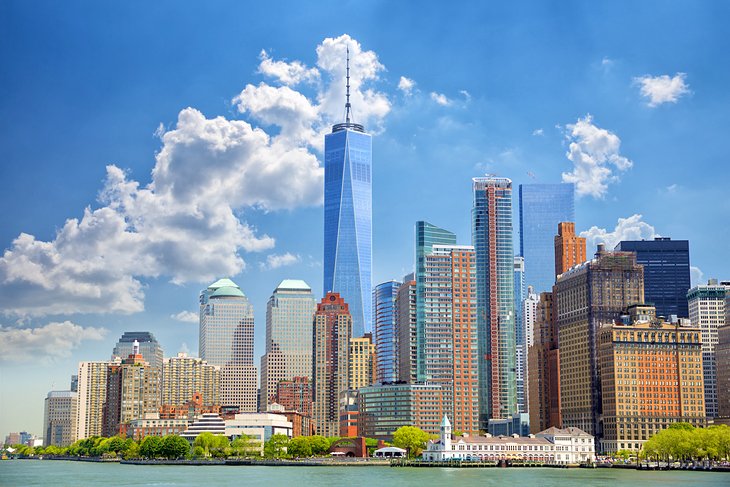 Stops include: Lake Placid, New York City, and Boston
In just a few days, you can cover significant ground. This 5-day tour begins in Lake Placid, a picturesque alpine village nestled in New York's Adirondack Mountains. It's best known for being a great place to ski, but Lake Placid offers so much more to entice visitors. Impressive restaurants, pampering spas, art galleries, hiking trails, and skating are only a few of its main attractions.
Next, you're off to New York City, the mecca of all things cool. You need to budget a minimum of two days here to really feel the vibe of this stellar city. Come with a big appetite, as you'll consume some of the best food of your life. And pack good walking shoes since you'll be on your feet all day visiting museums, shopping, and wandering through Central Park. Don't forget to add a Broadway show (or two) into your schedule.
Your final stop on this tour is Boston, where you should also budget a two-day stay. While not as bustling as New York, this harbor town also boasts an impressive atmosphere. Whether you favor a leisurely stroll through the various restaurants and shops in Quincy Market or prefer to catch a baseball game at Fenway Park, there's something for everyone in this vibrant city. Don't miss walking the Freedom Trail. It's a great way to learn more about Boston's interesting history and will guide you to some of the city's most important locales.
6. Three-Day East Coast Road Trip: Maine to New Hampshire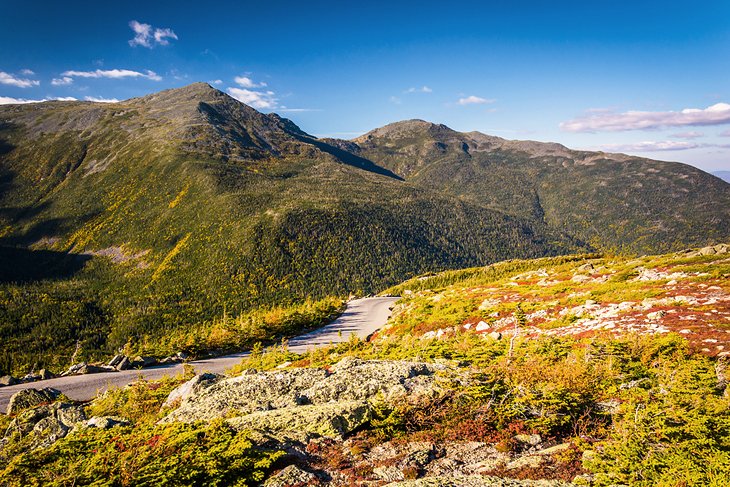 Stops include: Bangor, Portland, and Mount Washington State Park
Sometimes, a long weekend is as much time as we can afford to set off on an exploration. This three-day East Coast tour offers the perfect amount of time both in and out of the car. Start your trip in Bangor, Maine. Scary story buffs will enjoy a visit to Stephen King's house, while others might favor a walk along the Penobscot River Walkway or a trip to the Cole Land Transportation Museum.
Portland is your next stop. It's a mere two hours away and offers a more populated version of life in Maine. Wander around the shops and stop for a coffee or meal in the Old Port waterfront neighborhood. Another must-see: the Portland Museum of Art.
Don't miss the Portland Head Light. Located 13 minutes south of Portland in Cape Elizabeth's Fort Williams Park, this picturesque spot is a great place to stretch your legs while snapping frame-worthy photos.
Your final stop on this three-day East Coast road trip is Mount Washington State Park in New Hampshire. This natural beauty is found on the summit of Mount Washington, the highest peak in the Northeast. Nearby is White Mountains National Forest. Hikers will relish the 15 trails that take you to the top, while photographers will be hard-pressed to find a more impressive background.
7. The Cape Cod Peninsula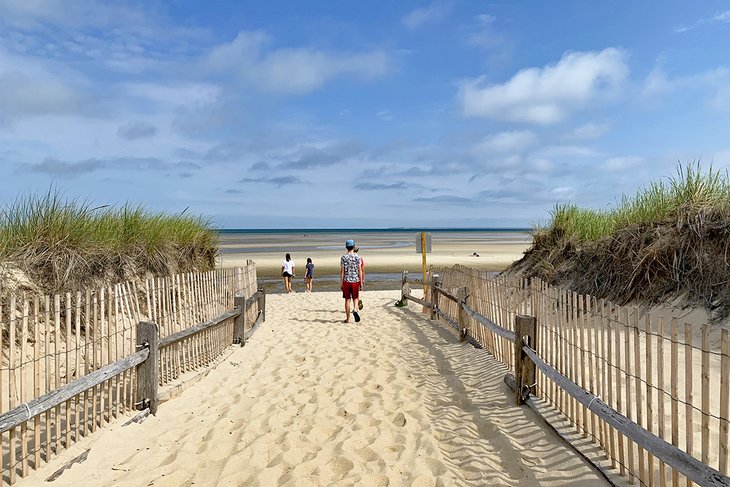 Stops include: Providence, Cape Cod National Seashore, Coast Guard Beach, Provincetown
While some areas are a bit tough to navigate in an RV, the Cape Cod Peninsula is a real winner when it comes to East Coast road trip destinations. Plus, there are only two main highways here, making it tough to get lost.
Start your journey seeing the sights of Providence, RI, where you can spend time ogling the Art Deco and Beaux-Arts buildings or visiting top attractions, like the Roger Williams Park Zoo and RISD Museum of Art.
U. S. Route 6 is your best bet for getting to bustling Provincetown, located all the way at the tip of the Cape. This is where you'll find a ton of fab restaurants, sweets shops, boutique stores, and plenty of interesting things to do to keep you busy.
Along the way, you'll spy pristine beaches, picturesque lighthouses, and adorable small towns so charming, you may want to book in for a night or two. The Cape Cod National Seashore consists of over 40 miles of some of the most beautiful beaches in the state. Don't miss Coast Guard Beach, which is a highlight for beach lovers, especially during summer.
8. Connecticut to Rhode Island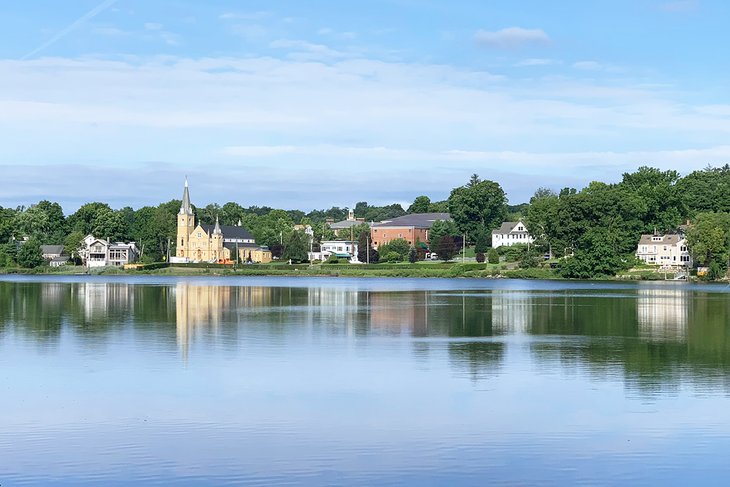 Stops include: Stamford, Westport, Old Saybrook, New London, Rocky Neck State Park, Mystic, Newport
You won't have a lot of ground to cover when traveling from Connecticut to Rhode Island – Stamford to Newport is about 140 miles. The views along this route, however, can be pretty spectacular, especially if you take time to stop in some of the most adorable towns along the way.
While busy highways aren't the best way to enjoy a scenic East Coast road trip, they are efficient at getting you where you need to go. The I-95 acts as the main thoroughfare for visitors to Connecticut and Rhode Island. Along the route, there are many places to stretch your legs, grab a coffee, or take a wander along the beach.
Although only 15 miles from Stamford, Westport is a charming small town in Connecticut with a big-city vibe. Its quaint Main Street is packed with high-end stores and ice-cream shops, and the Saugatuck River is a resplendent place to enjoy a bit of peace and quiet. Head to the beach if you're hoping to frolic in the sand or play a game of beach volleyball. Be prepared to pay a daily fee between Memorial Day and mid-October, though. They also boast a top-notch theater and arts center.
Old Saybrook and New London are also worthy of a visit, if only for a quick lunch. Dip off the route at Rocky Neck State Park and plan to spend at least an hour here wandering the trails or hanging on the soft, sandy beach.
Whatever you do, be sure to schedule a stop in Mystic. One of the most charming maritime towns in Connecticut, this New England beauty is a fab place to spend a few hours or, better yet, a weekend. The Mystic Seaport Museum and Mystic Aquarium are family-friendly attractions you won't want to miss.
Newport is a must stop once you reach Rhode Island. One of the top summer destinations for people across the East Coast, Newport is filled with high-end restaurants, eclectic shops, charming inns, and sandy beaches. The Breakers is unmissable and one of the most stunning houses you'll see on the famed Cliff Walk.
Map of East Coast Road Trips