11 Top-Rated Tourist Attractions in Providence, Rhode Island
We may earn a commission from affiliate links ()
At the northern tip of Narragansett Bay, Rhode Island's capital city is wonderfully compact, diverse, and eccentric. Its long history, from its founding by dissidents escaping Puritan Massachusetts to its colorful contemporary politics, may explain the eccentricities. These combine with its wealth of historic sights (entire neighborhoods are designated historic districts) and artistic highlights to make Providence fun to visit.
Visitors who love architecture will be happy in Providence, whose old downtown (called Downcity here) is filled with priceless period architecture. Art Deco and Beaux-Arts buildings and late Victorian terra-cotta facades were spared the ravages of urban renewal and retain beautiful and astonishingly well-preserved decorative details. Downcity's granite icon, The Arcade, was America's first shopping mall, built in 1828. Filled with locally owned boutiques and galleries, it's still a favorite for shopping.
In addition to offering top tourist attractions and things to do, Providence is lively and full of character, a city of distinctive neighborhoods reflecting both its ethnic and cultural diversity. A high-powered student population from Brown University, Rhode Island School of Design (RISD), and Providence College keep it young and vibrant, along with insuring a rich arts and intellectual scene. People here take their restaurants seriously, so be sure and ask locals for dining suggestions — you'll always get an informed opinion.
For more ideas on things to see and do, read our list of the top attractions in Providence, Rhode Island.
See also: Where to Stay in Providence
Note: Some businesses may be temporarily closed due to recent global health and safety issues.
1. Roger Williams Park Zoo
The 40-acre Roger Williams Park Zoo is not only one of the oldest zoos in the country, but it's a paragon of modern zoo design and concept. At this kid-friendly and largely cage-free place, you can meet a snow leopard, giraffe, elephant, zebra, wildebeest, alligator, kangaroo, and red panda, and small-fry can climb into the treehouse or go for a camel ride.
If you don't like the notion of caged animals and want to learn something about them and their habitats instead of just parading past, this is the zoo for you. Seasonal activities such as the October "Spooky Zoo" and pumpkin spectacular make it even more fun for kids.
The Botanical Center at Roger Williams Park is New England's largest public indoor display garden, with 12,000 square feet of gardens that include two main greenhouses and three smaller ones, as well as an outdoor garden.
Roger Williams Park has a lot more, and it's easy to see why it is one of the city's favorite places to visit for families. Covering 435 acres with gardens and a lake, the park has a 1915 bandstand, an amphitheater, the 1773 Betsy Williams Cottage, and a children's area with a carousel and trackless train rides. Also in the park is a Museum of Natural History with insects, minerals, fossils, and the state's only planetarium.
Address: 1000 Elmwood Avenue, Providence, Rhode Island
Official site: http://www.rwpzoo.org/
2. WaterFire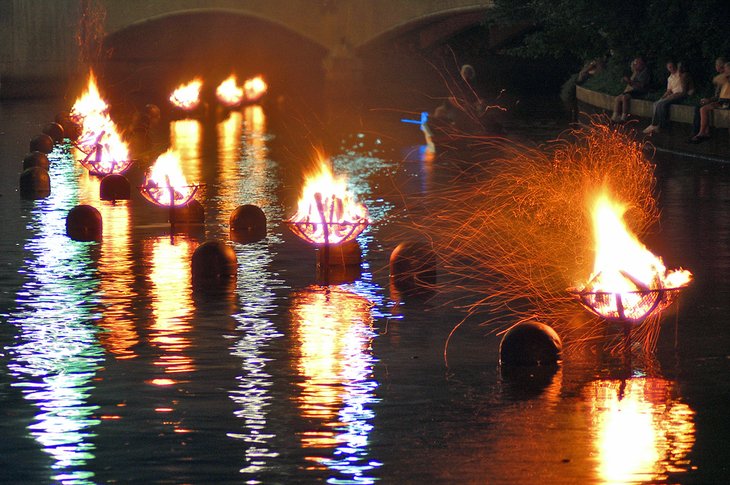 At least twice a month between mid-May and late November, braziers in the middle of the river are filled with bonfires that light Downcity Providence. During "Full WaterFire," more than 80 fires blaze from Waterplace Park to Memorial/South Main Street Park. "Basin Fire WaterFire" events are smaller versions lighting 22 braziers in the Waterplace Park Basin and five more toward Providence Place mall.
The four-acre Waterplace Park and Riverwalk become a festival of arts and music during WaterFire, as young and old alike enjoy their city's revitalization and cultural vibrancy. This and other festivals are among the best free things to do in Rhode Island.
Official site: http://waterfire.org/
3. RISD Museum of Art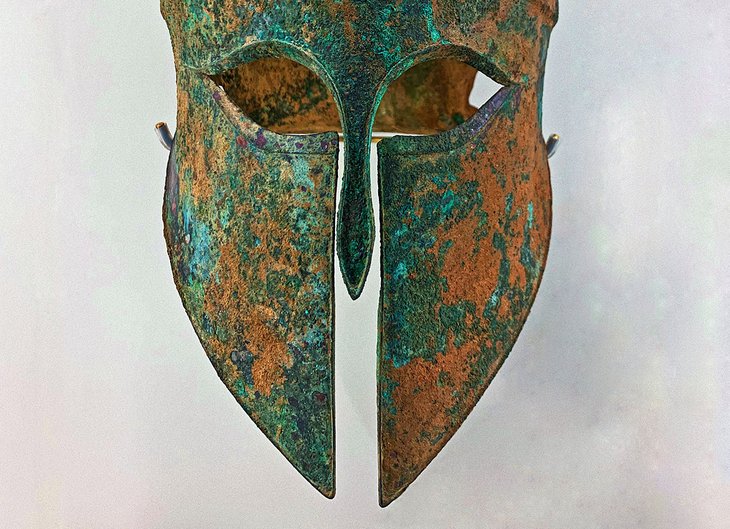 Whether your artistic passion is for French Impressionists or Japanese prints, or your design tastes run to ancient Egyptian, early American, or cutting-edge contemporary, you'll find enough to keep you happy in the depth and breadth of this museum's collections. The Rhode Island School of Design (RISD), one of America's top art colleges, reflects its own wide range of specialties in the objects chosen for its museum.
Needlework and textiles, sculpture from ancient to Rodin, Asian art, videos, furnished Federal period rooms, and galleries of priceless paintings comprise dozens of individual collections. So many outstanding works are here that each of its separate collections would be enough to make a museum of its own.
Address: 224 Benefit Street, Providence
Official site: www.risdmuseum.org
4. Rhode Island State Capitol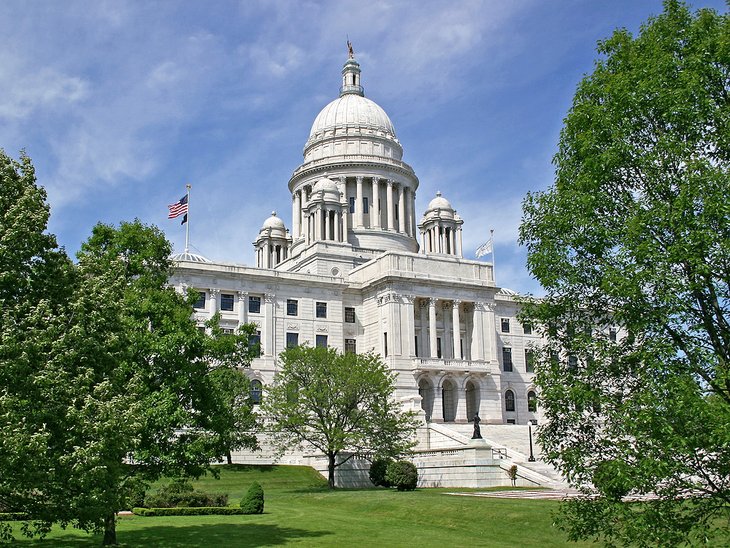 A Providence landmark, the white marble Rhode Island State Capitol dominates the city with the world's fourth largest self-supported dome. The neoclassical building was designed by the architectural firm of McKim, Mead & White, and completed in 1904. You can visit the building on your own or with a free guided tour. You'll see the painting entitled "The Four Freedoms" by James Allen King, inside the dome, and Gilbert Stuart's portrait of George Washington. There's also a gun from the battle of Gettysburg and a replica of the Liberty Bell.
Address: 82 Smith Street, Providence, Rhode Island
5. Federal Hill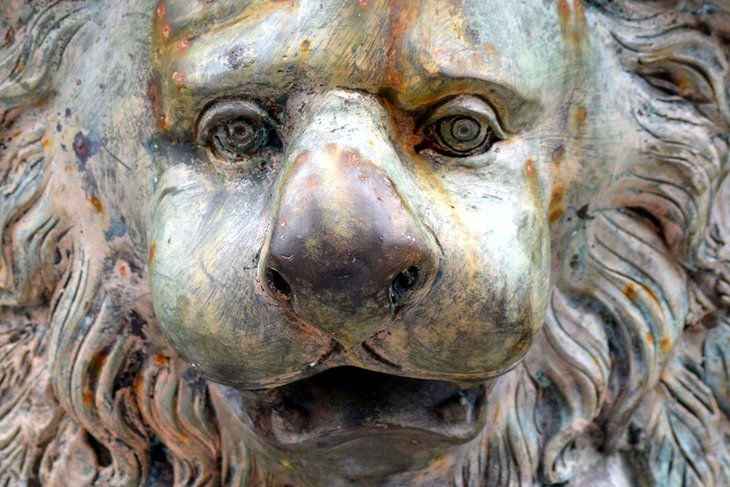 Atwells Avenue crowns Federal Hill, the hill that rises to the west of Downcity, and is the vibrant heart of Providence's large Italian American community. That community now spreads throughout the city, but the concentration of restaurants, cafés, and shops selling Italian foods along Atwells Avenue and its adjacent streets and squares stems from the days when immigrants grouped closely with others who shared their language and traditions.
Today, Italian cooks shop in its delis and bakeries to find fresh-made mozzarella, tangy pickled cherry peppers, imported cured meats, and golden panettone. Come here to eat an Italian meal, whether it's spaghetti and red sauce (called simply "gravy" here) in elbow-bumping conviviality or northern Italian dishes served in a linens-and-crystal setting. It's also the place to linger over cappuccino or a dish of gelato at a sidewalk café in DePasquale Plaza, or join in a boisterous street festival on Columbus Day.
Official site: http://atwellsave.com
6. Waterplace Park
People still have trouble pronouncing the names of the Moshassuck and Woonasquatucket, two narrow rivers that wind through Providence, but at least they can see them now. This was not always true - for decades they were hidden by what may have been the world's widest bridge, until they were once again revealed in the 1990s.
In a major revitalization of the entire area, the rivers were uncovered and their banks lined with walkways, benches, gardens, and trees in a riverside corridor known as WaterPlace Park and Riverwalk. Instead of a solid bridge of highways and traffic congestion, the rivers are now spanned by graceful bridges patterned after those in Venice.
During Waterfire, centered in WaterPlace Park, the river is alight with bonfires, and from spring through late autumn, the area is alive with walkers, bikers, joggers, people enjoying the summer concerts, and public art installations.
You can explore these waterways in the daytime, on a sunset cruise, or during WaterFire in an open-air boat ride that gives a new perspective on the city and some interesting sidelights to its attractions and history. Tours include the rivers and the upper parts of Narragansett Bay, revealing some new views of the city's architecture and skyline. You can also ride in an authentic Venetian gondola; especially in the evening or during WaterFire, this has to be one of the most romantic things to do in all Rhode Island.
Address: 575 S. Water Street, Providence, Rhode Island
Official site: https://www.providenceriverboat.com
7. Providence Performing Arts Center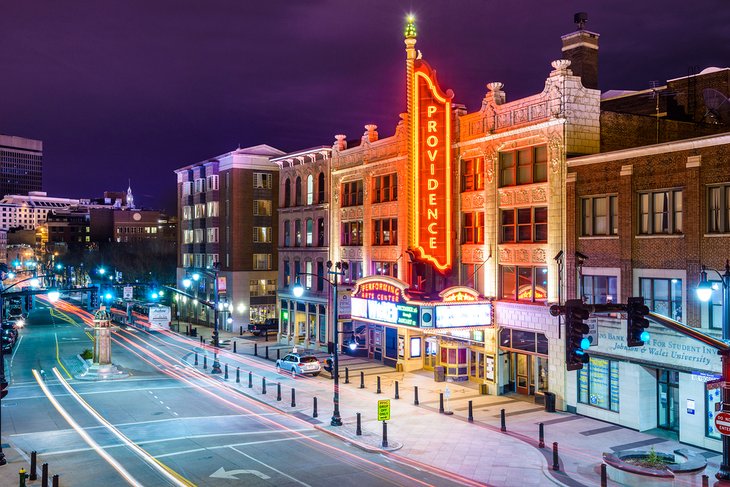 A prominent feature on lively Weybosset Street for nearly a century, the Providence Performing Arts Center occupies the former Loew's Movie Palace. The stunning Beaux Arts theater was designed by George and C.W. Rapp of Chicago, who designed many of the most opulent theaters of the time.
The interior is as sumptuous as it was when it opened in 1928, with marble columns, detailed plaster work, a richly ornamented ceiling, and crystal chandeliers. Periodic renovations have modernized its facilities without losing the opulent interior.
The highly respected Trinity Repertory Company is another venue for plays, musicals, and films, with two theater stages.
Address: 220 Weybosset Street, Providence, Rhode Island
Official site: https://www.ppacri.org/
8. Benefit Street "Mile of History"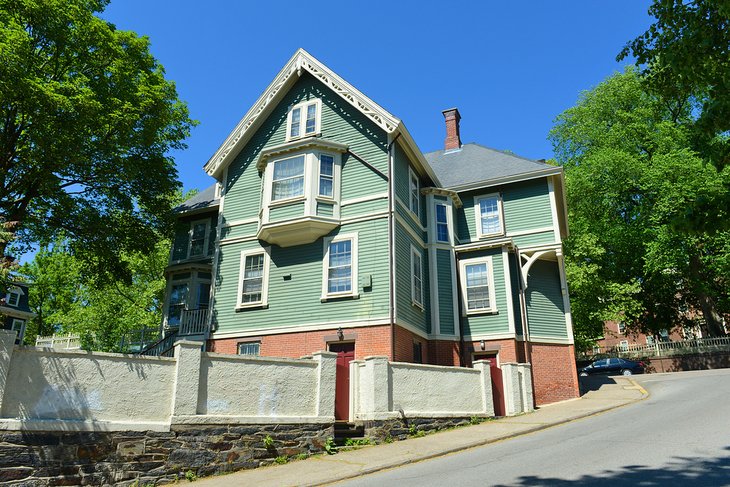 On this mile-long street traversing the steep hillside that rises from the river to the Brown University campus, you can see an architectural history of Providence. At one end are the restrained and elegant Federal period homes, beautifully restored with their doorways in a neat row close to the street, and as you walk farther, you'll see grand homes set back on their lawns, and later Victorian, even Arts and Crafts-style residences.
Several of the city's tourist attractions are among them — the Governor Stephen Hopkins House with its terraced garden, the Athenaeum (with Edgar Allen Poe connections), and the John Brown House. You can get details on the various buildings from an excellent Benefit Street walking tour booklet from the Providence Preservation Society.
9. Brown University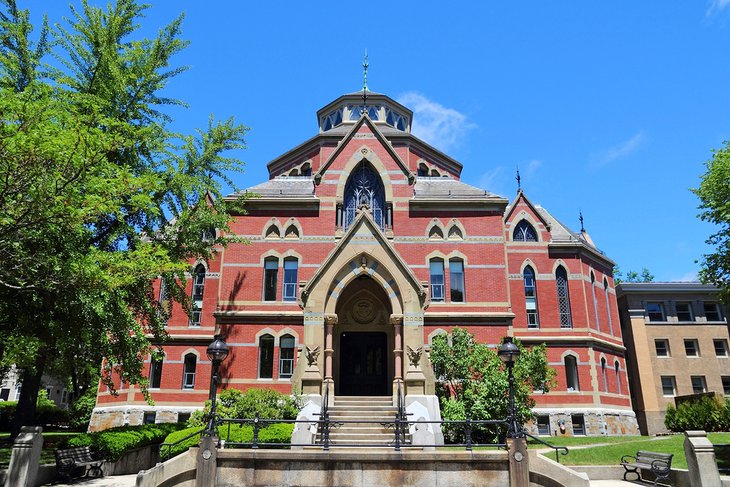 The Brown University campus crowns College Hill and has since 1770; its oldest building and still the center of the campus is University Hall, which served as a barracks and hospital during the Revolution. The impressive Van Wickle Gates open only twice a year, on the first day of classes and for the commencement procession in May.
Stamp collectors will want to see the complete collection of US postage stamps in the John Hay Library; the John Carter Brown Library has a collection of rare early maps. The free David Winton Bell Gallery has excellent changing exhibits of contemporary and historic art. For student-led campus tours, visit the Corliss-Brackett House.
Here's a secret you probably won't hear about on the tour: Brown's Environmental Center has a conservatory on Waterman Street, a glass house with a jungle of plants and exotic flowers thriving inside through the coldest of winter days. Few know about it, but the center advises that "Artists, gardeners, tinkerers, dreamers, readers, thinkers, general plant lovers, and green and brown thumbs are encouraged to visit."
Address: Corliss-Brackett House, 45 Prospect Street, Providence
Official site: https://www.brown.edu/
10. John Brown House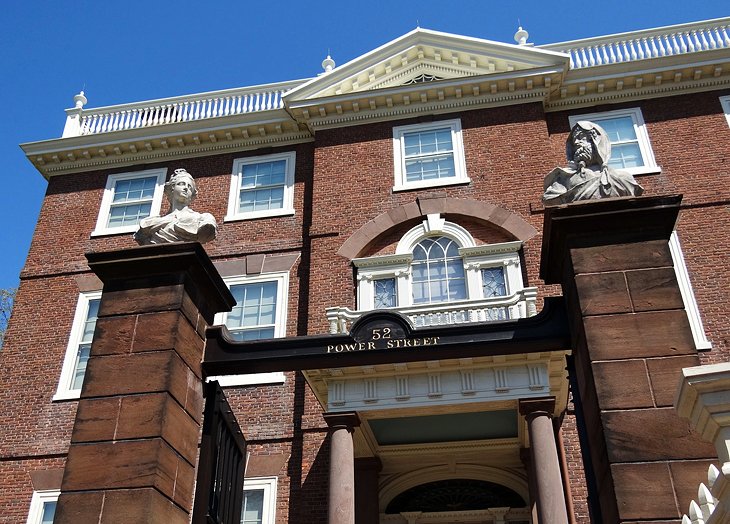 President John Quincy Adams described the 1786 home of merchant John Brown as "the most magnificent and elegant mansion that I have ever seen on this continent." From its lofty hillside setting he could keep an eye on his China Trade ships and warehouses at India Point, the source of his considerable wealth.
That he was a man of taste, as well as wealth and prominence is clear from the house, with its French wallpapers, finely worked decorative detail and moldings, and original Brown family furniture. For an unparalleled view of 18th-century life for the Providence aristocracy, as well as a look at some of the best pieces by Rhode Island cabinetmakers that you'll find anywhere, don't miss this magnificent home.
Address: 52 Power Street, Providence
Official site: www.rihs.org
11. Governor Henry Lippitt House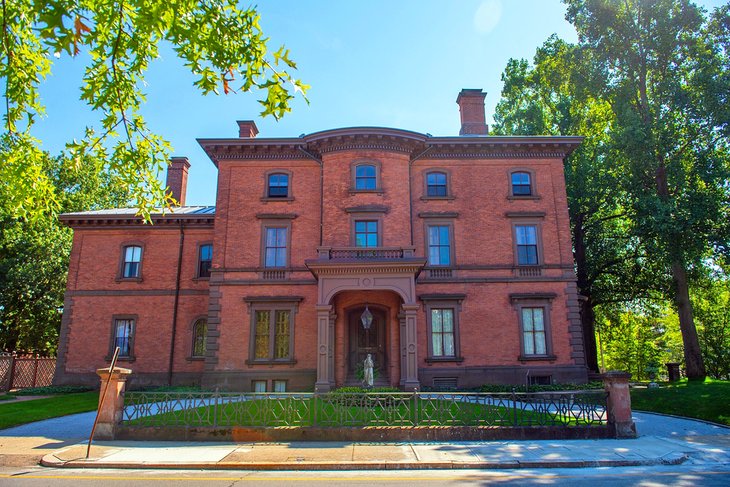 Even in this posh neighborhood of grand old homes, the 1865 mansion of Governor Henry Lippitt stands out. The 30-room Renaissance Revival villa/Italian palazzo is even more impressive inside, where the stenciling, stained, and etched glass and faux wood and marble finishes make it one of New England's finest interiors - arguably the best in terms of Victorian decoration.
The ornate woodwork, original family furnishings, and mechanical systems that were revolutionary for the mid-19th-century combine to make it a museum of Victorian interior decoration and a window into the life of a prosperous Victorian family.
Generations of the Lippitt family — they were heirs to a RI textile manufacturing fortune - lived in the house for 114 years, and their story comes alive in the excellent guided tours, the only way you can see the exuberant interior. Changing year-long exhibits delve more deeply into some aspect of life in the Victorian era, going behind the scenes to explore the role of household staff, etiquette, and social customs of the times.
Address: 199 Hope Street, Providence, Rhode Island
Official site: http://www.preserveri.org/visit-lippitt-house-museum
Where to Stay in Providence for Sightseeing
Apart from those in Roger Williams Park, the top tourist attractions in Providence are within walking distance of Downcity, where many of the hotels are located. If you're planning a trip to Providence in the spring, be aware that lodging is very tight in May, when several colleges hold their commencements. You will need to reserve well in advance and be prepared for higher rates then. We recommend these convenient, centrally located hotels and guesthouses in Providence, Rhode Island:
Luxury Hotels: The 4-star Renaissance Providence Downtown

Hotel

is just as elegant on the inside as you'd expect from its grand façade of marble pillars. While the building is nearing its 100th birthday, the hotel inside is 21st century and sports a chic décor and all the mod-cons. Pillow-top mattresses and plush linens, all-day room service, and valet parking are luxury perks, and the hotel is right in the center of the city.
The resort-like atmosphere of the Providence Marriott

Downtown

and its connecting indoor and outdoor pools make it a favorite for families. Conveniently located between the Downcity attractions and those on "The Hill," the hotel provides free parking and free use of bicycles. A full-service spa, restaurant, and impeccable service make this a getaway destination with the city as its backyard.
Mid-Range Hotels: A city landmark, Graduate

Providence

is an Art Deco hotel with a stunning lobby and grand staircase. Rooms are unusually large, with king-sized beds and sweeping city views; more than half of them are suites. The location doesn't get any better, five minutes from shopping and Downcity restaurants.
In another historic building with a soaring two-story lobby, convenient to Brown University and the attractions on Benefit Street, Hampton Inn & Suites Providence

Downtown

offers guests complimentary hot breakfast and free shuttle service.
Budget Hotels: In a historic three-story mansion, Christopher Dodge

House

is a hospitable B&B with cozy guest rooms with fireplaces and handcrafted furniture. A hot breakfast is included in the budget rates.
Only a 15-minute walk from the center, Providence Hostel &

Guesthouse

has comfortable private rooms and dorms. There is a kitchenette for guests' use, and Wi-Fi is free.
More Related Articles on PlanetWare.com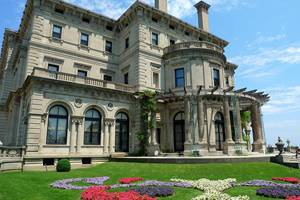 Places to Visit near Providence: Its central location means that you can easily use Providence as a base for visiting all the many tourist attractions in Rhode Island. These include the marvelous Gilded Age mansions and other highlights of Newport, or you might want to swim at one of Rhode Island's beautiful beaches. For more ideas on planning a beach getaway, refer to our page on Rhode Island's top-rated resorts.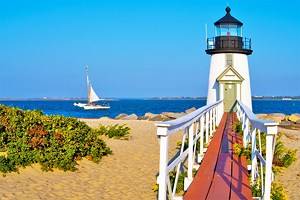 Where to Go from Providence: With only a short train ride, you can visit the historic attractions of Boston and Cambridge, or you can head to nearby Cape Cod. Our page on where to stay in Cape Cod will help you select a hotel or inn there. Only a short ferry ride from the Cape, you'll find plenty of things to do on the island of Nantucket.