17 Top-Rated Attractions & Things to Do in Newport, RI
We may earn a commission from affiliate links ()
From its origins as a shipbuilding port to its place today as America's yachting capital, Newport has been tied to the sea. Even New York society mansions that made Newport a legend of conspicuous displays of wealth were built to maximize the sweeping sea views.
If you listen to some locals, they may tell you that the enigmatic stone tower that stands on a hill above the harbor was built by those great seafarers, the Vikings. More likely, it was built as a mill in the 1600s, but it has joined the often outrageous tales of the Vanderbilts, Astors, and their contemporaries in Newport's centuries of folklore.
Sailing is not Newport's only claim to sports fame: it is home to the International Tennis Hall of Fame Museum, in a historic building that was the site of the first US National Championships in 1881. Along with tourist attractions such as the famous Gilded Age mansions, Newport is equally rich in buildings from the colonial era, including nine that were built before 1700 and entire neighborhoods of pre-Revolution buildings.
With something for everyone, Newport offers history, art, culture, sailing, beaches, tennis, and fabulous shopping in its many boutiques. Discover the best things to see and do with our list of the top tourist attractions in Newport.
See also: Where to Stay in Newport
1. The Breakers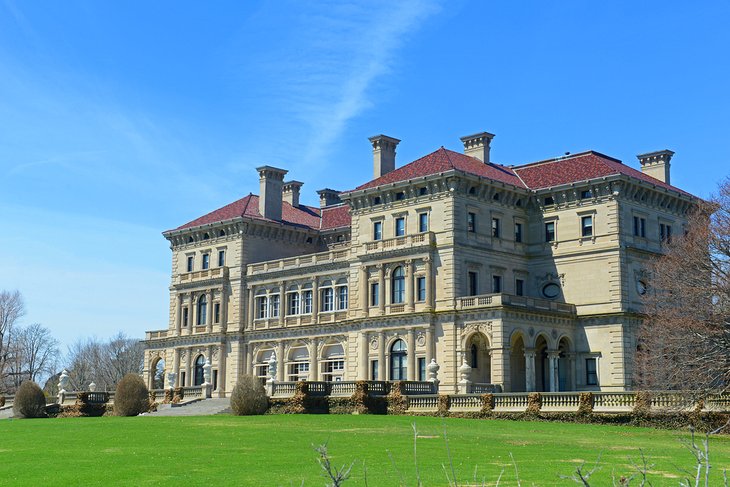 Cornelius Vanderbilt and his wife spared no expense in building what would become - just as they intended - the definitive showpiece of Newport Gilded Age mansions. Architect Richard Morris Hunt designed the 70-room "cottage" for the commanding cliff-top setting to which the Vanderbilts and their staff (33 of the rooms were built to house them) decamped from their New York mansion each summer.
The mansion is so overwhelming in its grandeur that it's easy to miss the fine details of its decoration: the carved wood and stucco flourishes, and the details lavished on almost every available surface. As interesting as the house is, the kitchens and pantries, which you can tour, shed more light on the grandeur of their lifestyle. The gardens and stables are also open to tour.
Address: 44 Ochre Point Avenue, Newport, Rhode Island
Official site: www.newportmansions.org
Accommodation: Where to Stay in Newport
2. Stroll along Cliff Walk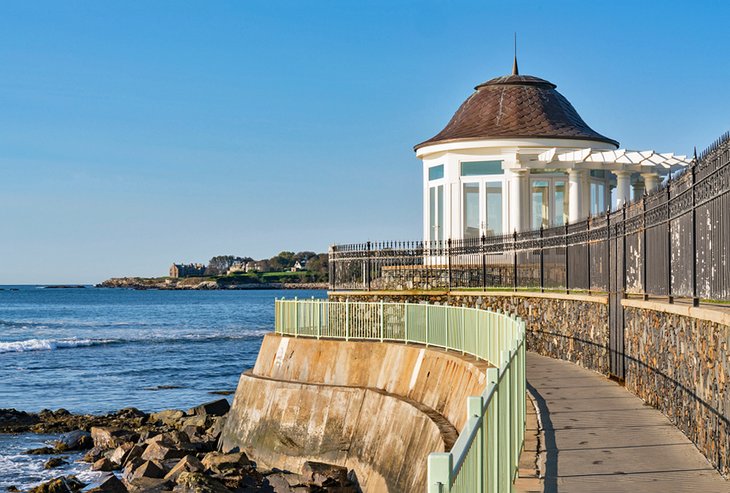 Some of the best views of the Newport mansions are from Cliff Walk. Here, you see the side that provided the backdrops for elegant lawn and garden parties in the Gilded Age. Marble House, The Breakers, Rosecliff, Beechwood, Rough Point, and several others share the preferred location between Bellevue Avenue and the sea.
The shore side overlooking Rhode Island Sound varies between shingle beach and rough cliffs that are sometimes so steep that Cliff Walk has to tunnel through them. Access the path - which is paved part of the way - from the bottom of Forty Steps (at the end of Narragansett Avenue), or begin at Easton's Beach on Memorial Boulevard.
Official site: www.cliffwalk.com
3. The Elms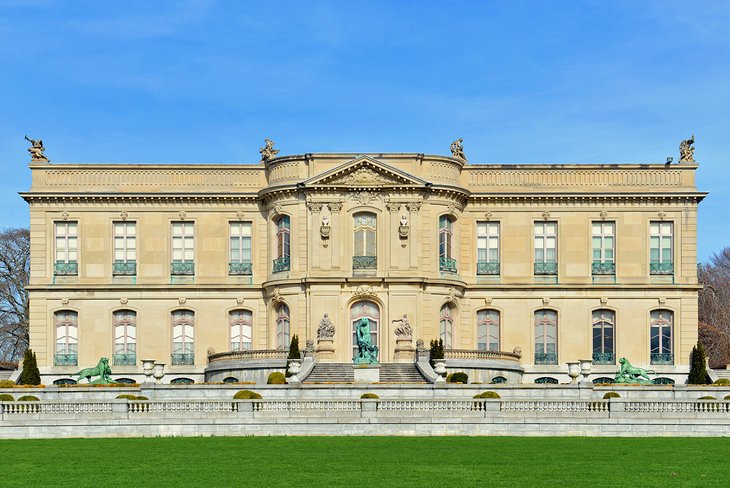 Although not quite as ostentatious as The Breakers, The Elms is opulent in a more restrained way, with clean lines and a bright, airy feel. The stairway in the foyer is supported on marble columns and rimmed by a scrolled iron railing.
Built to house the collections of a Philadelphia coal magnate and his wife, The Elms incorporated every modern convenience of its day. Especially interesting are the tours that disclose fascinating glimpses of the inner workings of the building and the household. The magnificent gardens have been restored to their original beauty.
Address: 367 Bellevue Avenue, Newport, Rhode Island
4. Marble House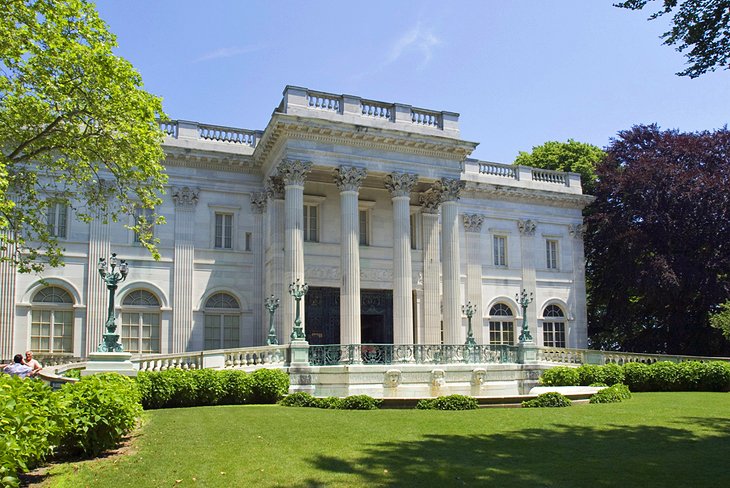 Designed by Richard Morris Hunt shortly before he did The Breakers, Marble House was built in 1892. It was given as a birthday gift by William K. Vanderbilt to his wife Alva, who kept it after divorcing him and moving to a mansion across Bellevue Avenue.
Modeled on the Petit Trianon at Versailles, the house is filled with opulent details - ceiling murals, chandeliers, carved and gilded woodwork, and a grand staircase - but none so extravagant as the ballroom, inspired by the hall of Mirrors at Versailles and almost completely encrusted in gold. In 1913, Alva added a Chinese teahouse to the grounds, visible from Cliff Walk.
Address: 596 Bellevue Avenue, Newport, Rhode Island
5. Rosecliff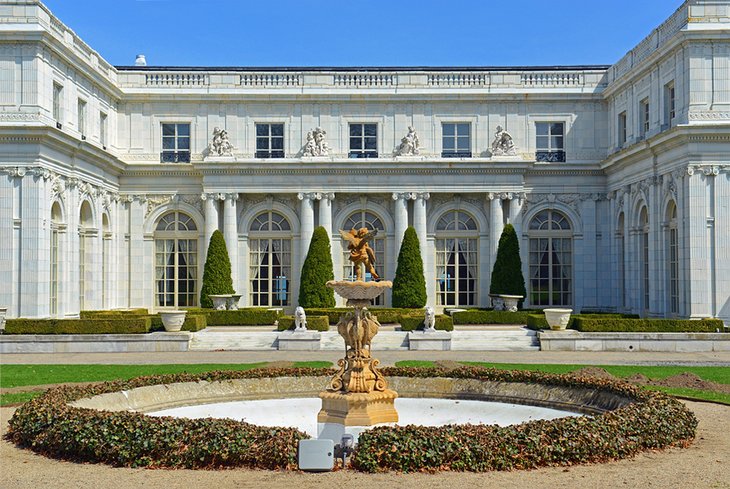 Designed by Stanford White, the "architect to the stars," at the turn of the 20th century, and based on Louis XIV's Grand Trianon at Versailles, Rosecliff belonged to one of Newport's most flamboyant characters, Tessie Oelrichs.
Although designed for entertaining - Tessie was a legendary Newport hostess - Rosecliff strikes most visitors as the most livable of all the mansions. It has Newport's largest ballroom, the setting for some of Newport's most lavish parties, including one where famed magician Harry Houdini provided the guests' entertainment.
Rosecliff was the setting for the films The Great Gatsby and True Lies.
Address: 548 Bellevue Avenue, Newport, Rhode Island
6. Go to the Beach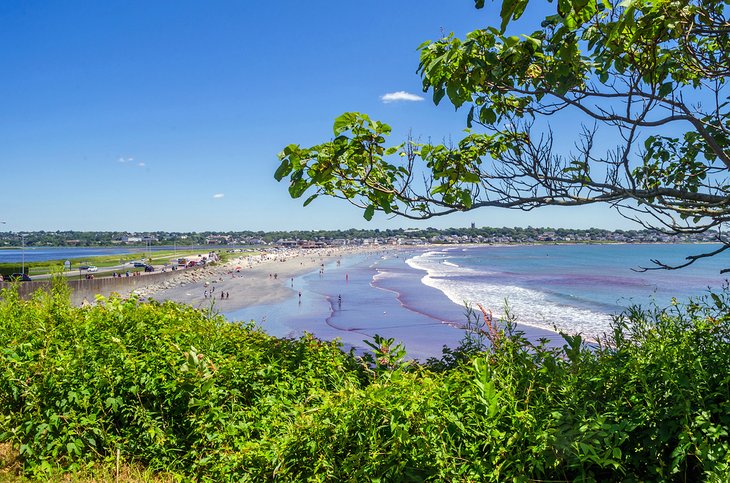 Newport is surrounded by water, and happily for tourists, much of that coastline is fringed in sandy beaches. Right in town, at the beginning of the Cliff Walk, is Easton Beach, a three-quarter-mile stretch of sand with rolling waves that invite body surfers and boogie-boarders.
Follow along the shore to find Second Beach, the longest in Rhode Island, with 1.5 miles of soft white sand with calm waves and warm, clear water. Continue on, crossing the narrow neck to Third Beach, in a cove with very little wave action. Between the two, at the end of the point, the Sachuest Point National Wildlife Refuge, has miles of nature trails and more than 200 species of birds at various times of year.
At the other end of Bellevue Avenue, Ocean Drive continues on around the coast, passing a cove with Gooseberry Beach. Like Third Beach, it has calm water protected by offshore boulders and a point of land. Although it's a private club, the beach itself is open to the public.
A small beach at Fort Adams State Park, at the other end of Ocean Drive, overlooks Newport Harbor. It's an especially good place for children to swim, as it has calm water and a roped-off area. All of these beaches have lifeguards in season.
7. Rough Point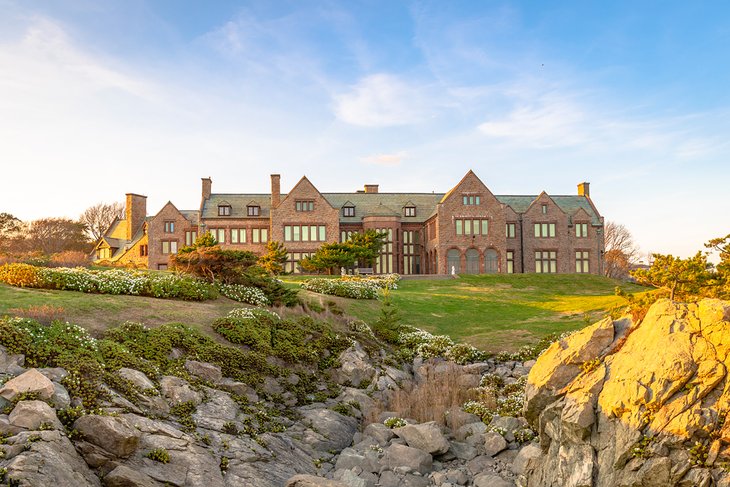 Rough Point is the most recent of the mansions to be opened to the public, and also the last to be inhabited. Heiress Doris Duke lived here in the summers until her death in 1993, when she bequeathed it to Newport Restoration Foundation, a group she had founded to preserve heritage properties.
The house, her personal art and antiques collections, and the grounds designed by Frederick Law Olmstead show a different era and style in Newport's past, and are seen today much as they were when Doris Duke lived there.
Address: 680 Bellevue Avenue, Newport, Rhode Island
Official site: www.newportrestoration.org/roughpoint
8. National Museum of American Illustration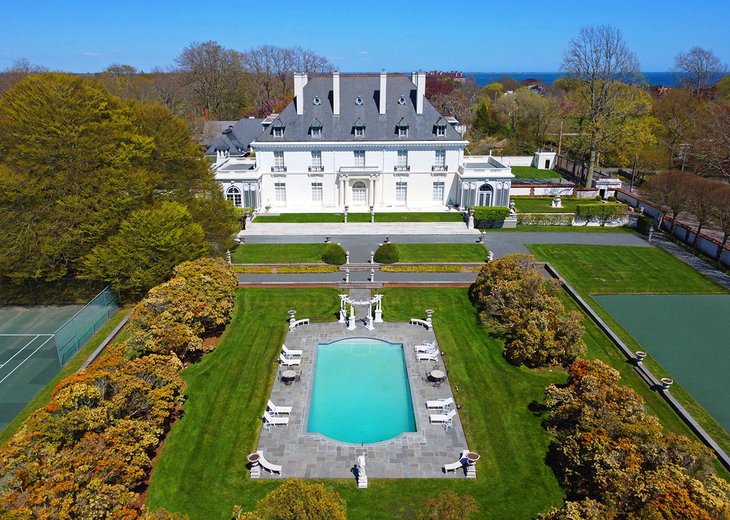 The National Museum of American Illustration is located in the Vernon Court Mansion on Bellevue Avenue in Newport's historic district. This museum celebrates what it refers to as the "Golden Age" of American illustration, spanning between the 1870s and the 1950s. During this time, illustrated books and publications like the Saturday Evening Post featured some of the most important pieces of illustration art by artists like Norman Rockwell, Maxfield Parrish, Violet Oakley, Howard Pyle, and many others.
The museum is home to the world's largest collection of Maxfield Parrish originals, and the second-largest Norman Rockwell collection. Exhibits also include artifacts like paintbrushes and supplies once used by Rockwell and Parrish, as well as memorabilia. In keeping with the historic setting, exhibits at Vernon Court are accompanied by period furniture and decorative art, including several notable pieces of sculpture.
Address: 492 Bellevue Avenue, Newport, Rhode Island
Official site: www.americanillustration.org
9. Cruise with Newport Sailing Tours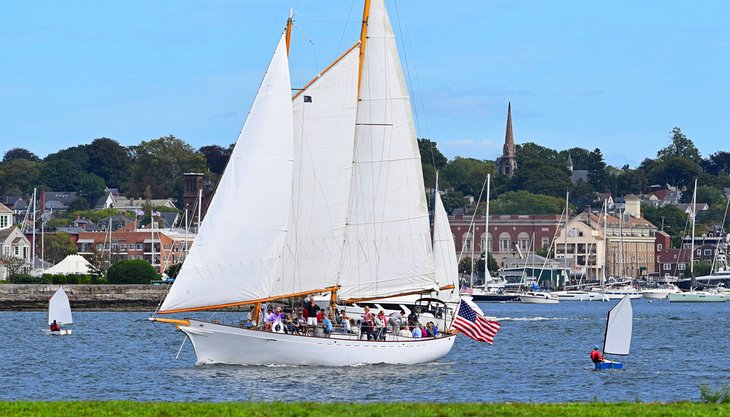 What better way to see – and experience – the Sailing Capital of the World than by taking a cruise of Newport Harbor and Narragansett Bay with expert sailors? On a 75-minute narrated sailing tour, you'll see Newport's famous mansions, the world's largest fleet of the America's Cup 12-meter yachts, and some private yachts of today's wealthy summer residents.
During your cruise, you'll hear some inside stories of the Newport Folk and Jazz Festivals, regattas, and escapades at sea and on land. You can learn to sail yourself or brush up on your skills with basic, intermediate, or advanced sailing courses taught by experts.
Address: 5 Marina Plaza, Goat Island Marina, Dock A5, Newport, Rhode Island
Official site: www.newportsailing.com
10. Touro Synagogue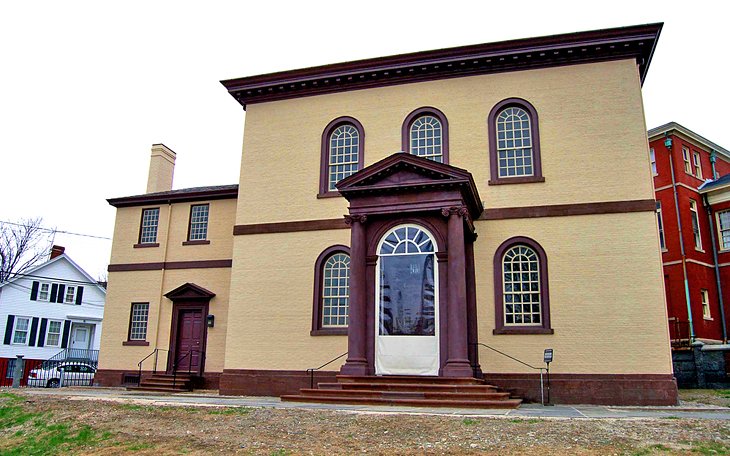 Dedicated in 1763, Touro Synagogue is the oldest synagogue in the United States and the only one to survive from the colonial era. The simple brick façade conceals a dramatic two-story interior, designed by Peter Harrison, America's first professional architect. It skillfully combines classical architecture with the practice of the Sephardic Jewish ritual.
In addition to its architectural and Jewish history, the synagogue stands as a national symbol of civil liberty, having received George Washington's assurance in 1790 that the new nation would protect religious freedom for all faiths. This National Historic Site also includes a historic Jewish cemetery dating to 1677.
Address: 85 Touro Street, Newport, Rhode Island
Official site: www.tourosynagogue.org
11. Ocean Drive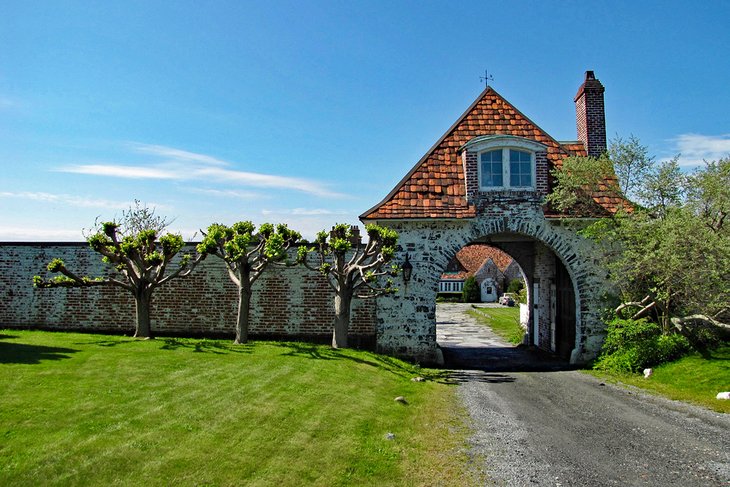 Newport's fabulous mansions don't end with Bellevue Avenue. At the end of this fabled street, marked by an abrupt turn and the whimsical turreted gatehouse of Rough Point, begins Ocean Drive.
Here, a few newer mansions mix with those from the Gilded Age, the grandest of them on the seaside of Ocean Drive, some semi-hidden behind walls and gatehouses. You'll pass Bailey's and Gooseberry Beach before reaching the scenic highlight at Brenton Point. Here, Ocean Drive curves right to follow the southern shore of Aquidneck Island.
Stop at Brenton Point State Park, on the grounds of a former estate, where nearly 100 acres are a public park for picnicking, walking, fishing, watching the birdlife, or admiring the ocean views. The Portuguese Discovery Monument remembers the navigators of the first trans-ocean routes.
Beyond the turn at Brenton Point is the U.S. Coast Guard Station, then on a hillside overlooking the sea, you'll see Hammersmith Farm, Jackie Kennedy's childhood summer home and scene of her wedding reception.
Fort Adams State Park is popular for its beach, with lifeguards, showers, and free parking. Among the things to do here are guided tours of the historic fort, including its complex defenses, officers' quarters, and underground tunnels beneath the walls. On some days, you can also tour President Eisenhower's summer White House.
12. Chateau-sur-Mer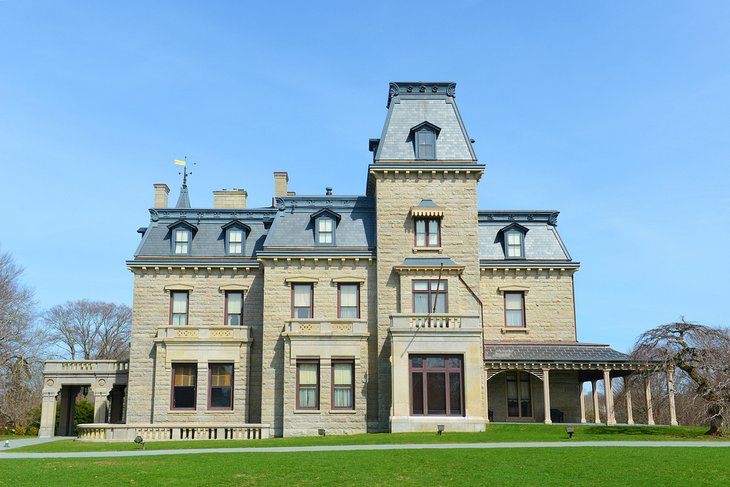 Since it was built in 1852 for William S. Wetmore, Chateau-Sur-Mer has gone through so many reconstructions that today, it is a catalog of nearly all the major Victorian architectural and decorative styles. The Wetmores, whose fortune stemmed from the China Trade, came early to Newport, when it was the retreat of wealthy families of culture and intellect.
Their well-traveled son, who was enthusiastic about the Arts & Crafts movement, hired Richard Morris Hunt to renovate and enlarge the house, and Hunt made it into a showcase for the geometric Eastlake style. The library and dining room bear the stamp of their later Italian designer, and an upstairs sitting room was inspired by Turkish motifs. Perhaps the most remarkable architectural feature is the soaring 45-foot central hall with stained-glass skylights.
Address: 474 Bellevue Avenue, Newport, Rhode Island
13. Museum of Newport History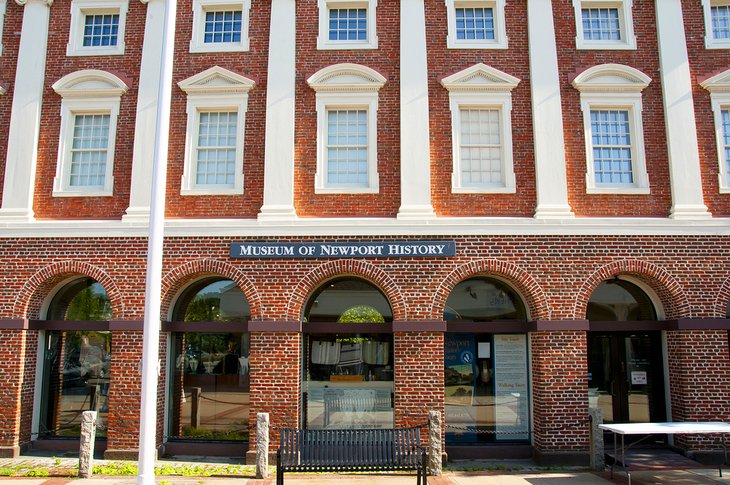 For a good overview of the city's past, visit the 1762 Brick Market (another design by Peter Harrison) where exhibits of the Museum of Newport History cover topics as diverse as the city itself.
The displays include information on the 17th-century English settlers whose community was based on religious tolerance, and the African Americans, Jews, Quakers, Irish, Italians, Greeks, and Portuguese who followed them. Look back at the Gilded Age by boarding a reproduction 1890 omnibus for a video tour of Bellevue Avenue, and learn the back stories that put into perspective many of the attractions and their contents.
Address: 127 Thames Street, Newport, Rhode Island
Official site: www.newporthistory.org
14. Trinity Church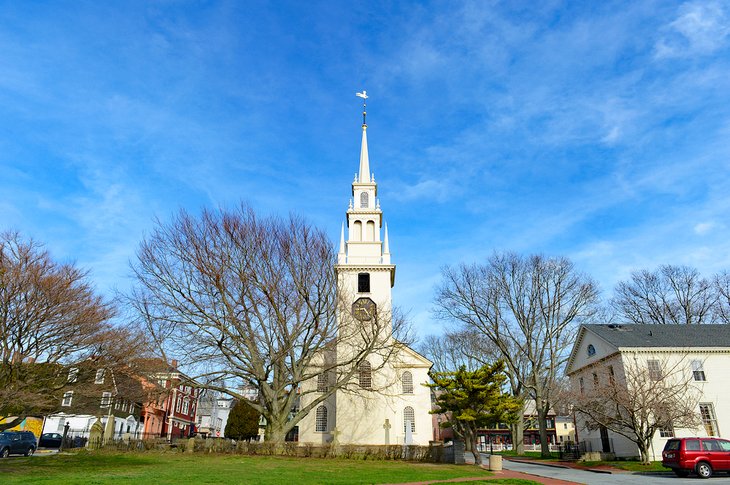 Standing at the edge of a wide lawn, Trinity Church looks the perfect model for the traditional New England village church. Its gracefully tiered spire is a Newport landmark, and its interior is as fine as its exterior. You'll find box pews, a vaulted ceiling, and the gallery where slaves (Newport was a port in the infamous Triangle trade) worshipped beside the organ loft.
The 1733 organ was once played by George Frideric Handel. Look for signs that it was originally Church of England, the established church of the Crown and its colonies. Most were torn out by patriots during the Revolution, but you can still spot a crown above the organ, and paneling in the shape of the Union Jack above the back pews. The bell, given by Queen Anne, is thought to be the first church bell rung in New England.
Address: Queen Anne Square, Newport, Rhode Island
Official site: www.trinitynewport.org
15. Samuel Whitehorne House
The gracious 18th-century home of a prosperous merchant is perhaps Newport's best-preserved example of a Federal-style residence. Although it had become a tenement, and its interior changed greatly, enough remained of its structure and detail - even fragments of original hand-painted silk wall coverings - that restorers were able to return it to the original appearance.
Samuel Whitehorne House holds an astonishing collection of period furniture and decorative pieces - enough to make it one of New England's premier museums of the era - including many pieces by the most prominent Rhode Island cabinet makers, the renowned Townsend and Goddard workshops. The period garden has been restored and is well worth a stroll.
Address: 416 Thames Street, Newport, Rhode Island
Official site: www.newportrestoration.org/whitehornehouse
16. Kingscote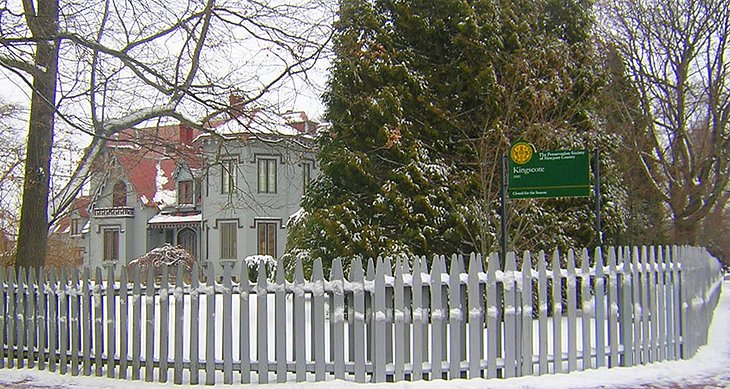 Before the Civil War, Newport was popular with wealthy southerners, who summered here to escape the heat. Kingscote - one of the earliest of the "cottages" - was commissioned by Southern planter George Noble Jones. Architect Richard Upjohn created a highly fanciful Gothic Revival style cottage, a confection of turrets, pointed roofs, gables, and Gothic arches that is a landmark example of American Gothic Revival style.
When the Jones family left in 1864, Kingscote was sold to China Trade merchant William Henry King, whose nephew subsequently hired the noted firm of McKim, Mead, and White to enlarge it. Notable in their addition was the new dining room, where Colonial American details mix with Asian motifs and modern materials, such as cork tiles and glass bricks by Louis Comfort Tiffany. The house is furnished with original family pieces: Victorian furniture, oriental paintings, rugs, and porcelain.
Address: 253 Bellevue Avenue, Newport, Rhode Island
17. Hunter House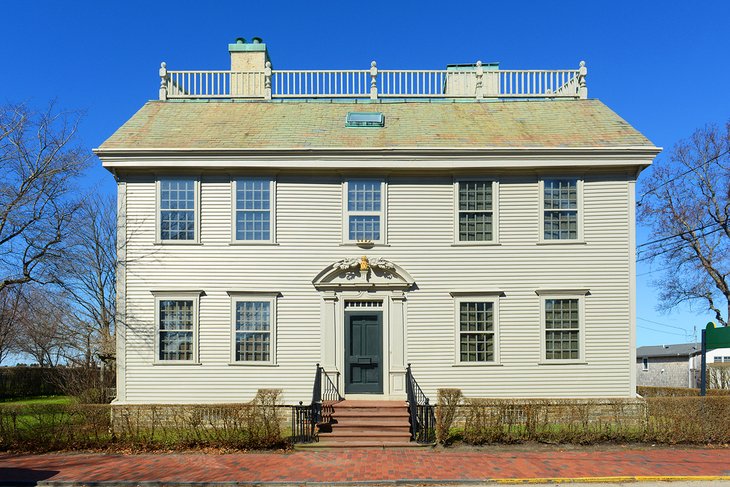 Considered one of the dozen finest colonial houses in America, the Georgian-style Hunter House was built in 1748 for ship-owner Jonathan Nichols. Beautifully restored, the house has exceptional interior features, including five rooms completely paneled. Among the period furnishings and art are several works of the cabinetmakers Townsend and Goddard and Gilbert Stuart's first commissioned oil painting.
The ornate front entrance originally faced the water, a common setting for merchants and shipowners' homes, where they could see their trading ships. Between the house and the water are gardens, which have also been restored.
Address: 54 Washington Street, Newport, Rhode Island
Where to Stay in Newport for Sightseeing
We recommend these wonderful hotels and guesthouses in Newport, near top attractions like the harbor and Cliff Walk:
Tips and Tours: How to Make the Most of Your Visit to Newport
Gilded Age Newport:
An excellent way to see Newport's historic mansions is on the Newport Viking Trolley Tour with

Mansion

, which includes admission to your choice of The Breakers, Marble House, or Rosecliff. This guided tour explores Ocean Drive and Bellevue Avenue, a great way to get an overview of the city's exclusive neighborhoods and beautiful coastal scenery. And whichever mansion you choose to visit, you'll get a real taste of the lavish Gilded Age lifestyle.
Newport by Boat:
For a different perspective on Newport, tourists can take a fully narrated 90-minute Light House Harbor Cruise of Narragansett

Bay

. From the comfort of the Coastal Queen, you'll see the lighthouses of Goat Island, Rose Island, Castle Hill, and Lime Rock, as well as historic Fort Adams and the mansions of Ocean Drive, including the Kennedy "Summer White House" at Hammersmith Farm.
More Related Articles on PlanetWare.com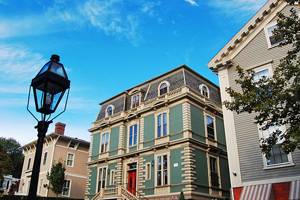 Other Places to Visit in Rhode Island: Newport and Providence are home to the majority of Rhode Island's top attractions, and thanks to the state's small size, it is easy to explore both during your visit. While it is also home to several historic neighborhoods, Providence has a wide range of things to see and do, from a vibrant art scene thanks to the Rhode Island School of Design (RISD) to numerous summer events, including the must-see Waterfires.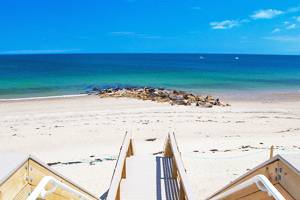 Visiting Massachusetts: Whether you are exploring the area for its rich history or simply enjoying New England's coastline, there are plenty of equally attractive places to visit in neighboring Massachusetts. A little over an hour by car from Newport, Plymouth is a top destination for history buffs, home to the well-known living history museum, Plymouth Patuxet. Cape Cod and the Islands are popular tourist areas, loved for their charming towns and beautiful beaches.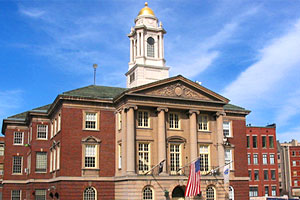 Boston City Sights: A day trip to Boston, just an hour and a half from Newport, gives tourists the opportunity to explore some of the best attractions in Massachusetts while enjoying the nation's most charismatic city. Boston and neighboring Cambridge are full of places to visit and things to do, from walking the historic Freedom Trail to riding the famous Swan Boats in the Public Garden.