15 Top-Rated Beaches in Rhode Island
Despite Rhode Island's ranking as the smallest state in the U.S., its combined coastline along the Atlantic Ocean and Narragansett Bay is an astounding 384 miles. This abundance of shoreline with numerous beaches has earned it the nickname of the Ocean State, and no matter where you go in Rhode Island, you are always close to the water.
If you are going to be visiting state-run beaches more than a few times in the season, you will want to consider a season parking pass, available online for residents and non-residents. This pass is good for any of the seven state beaches, including top picks like Misquamicut State Beach in Westerly, East Matunuck State Beach in South Kingstown, and Roger W. Wheeler State Beach on Narragansett's Point Judith.
Research your options for a day by the sea with our list of the best beaches in Rhode Island.
1. Misquamicut State Beach, Westerly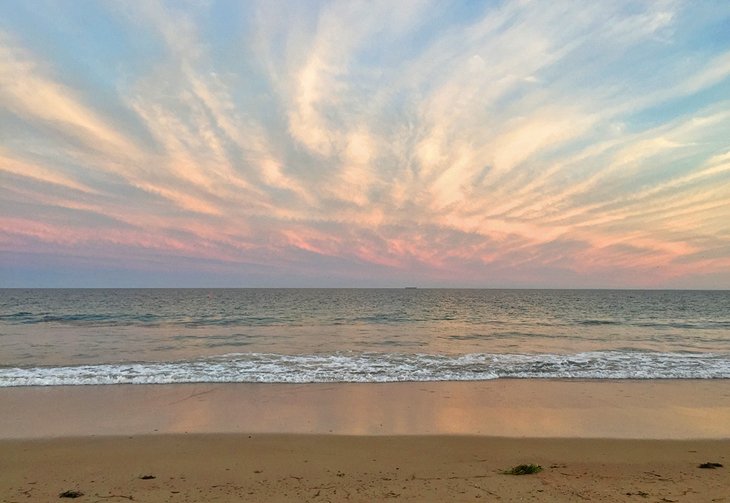 Misquamicut State Beach occupies a half-mile of soft sand on the Atlantic side of a narrow stretch of land that separates Winnapaug Pond from the ocean. It is a family favorite thanks to the gradual drop-off and relatively calm surf combined with the plentiful nearby activities, so be sure to arrive early to get a parking space.
If you will be visiting this or other Rhode Island State Park beaches more than a few days in the season, you can buy a season pass ahead of time.
Lifeguards are on duty during the summer months, and beach amenities include changing areas, toilets, concessions, a large pavilion, and shaded picnic areas. Visitors will also find a variety of things to do right on the beach, especially in the evenings, when there are often concerts, fireworks, and other entertainment.
There are several popular family attractions at Misquamicut State Beach, all located at the easternmost end of the beach. Atlantic Beach Park sits facing the ocean between the state beach and the Westerly Town Beach, and is home to a historic carousel and other family-friendly rides, as well as ice-cream and other treats.
Bayview Fun Park is just across the street, offering diversions like go-karts and mini-golf, and Water Wiz of Westerly is a great water park that sits next door, providing a sand-free option for enjoying the summer weather. During September of each year, the beach hosts a fair and fall festival.
If you're looking to stay at one of Rhode Island's top resorts, consider the pet-friendly Weekapaug Inn in Westerly. It has a two-mile-long private beach, a pond, and a plethora of on-site activities including naturalist-led guided walks.
2. Easton's Beach/First Beach, Newport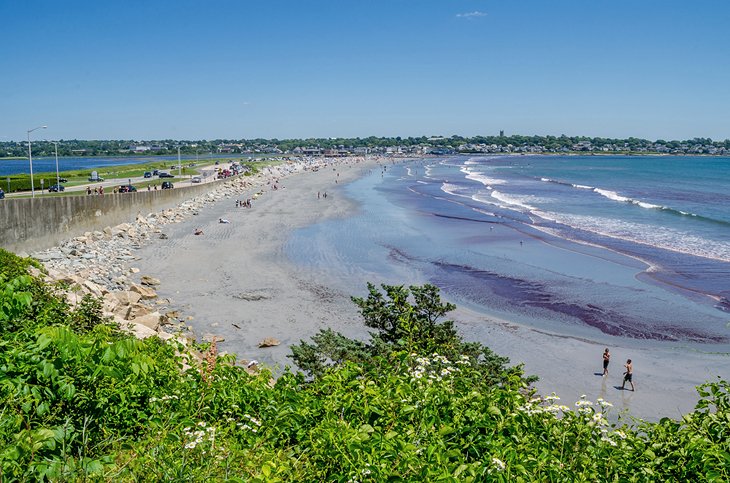 Located at the beginning of Newport's Cliff Walk, one of the top places to visit in Rhode Island, Easton's Beach (also known as First Beach) is alive with activity and things to do. This is a favorite for families with kids of all ages, with a playground, a vintage carousel, and kids' activities for the younger ones and a skateboard park and live music for the teens.
Visitors can also learn about local ocean life and ecology at the Save the Bay Exploration Center and Aquarium, which is located at the Rotunda. The aquarium has three touch tanks that allow curious visitors to see turtles, urchins, crabs, seahorses, and more small marine life up close, with a total of 40 species in residence. The center also hosts events and presentations for guests, from science-based lessons to scavenger hunts and storytelling.
Facilities: First Beach has a full range of facilities, including showers and restrooms, grills and picnic tables, and a snack bar. Beach wheelchairs are available for those with mobility limitations, allowing anyone to enjoy the sandy shore. Rentals are also available for beach chairs, umbrellas, and boogie boards, and the beach shop is well-stocked with sunscreen and extra towels.
Read More: Top-Rated Attractions & Things to Do in Newport, RI
3. Narragansett Town Beach, Narragansett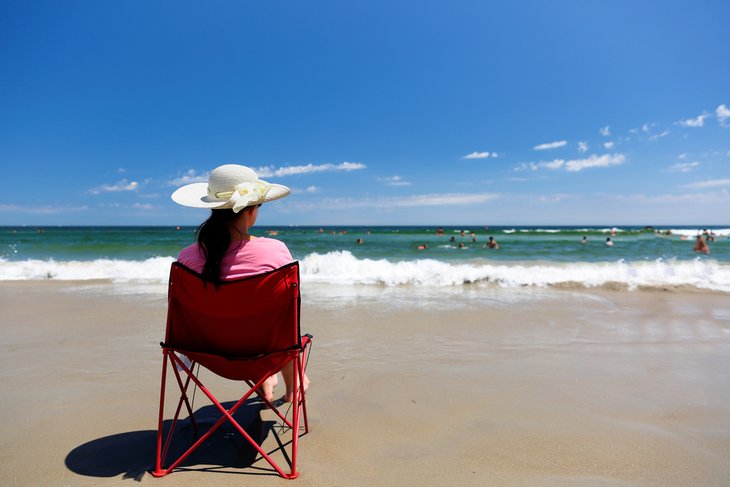 Narragansett Town Beach is best known for its surfing, although you will find plenty of sunbathers and swimmers here as well. The shoreline extends for one mile and covers nearly 20 acres, attracting crowds of up to 10,000 people on a hot weekend day.
The beach is located right at the edge of town, making it easy to grab lunch or refreshments mid-day, and there are also food vendors and picnic facilities along the beach itself. The pavilion has restrooms, changing rooms, and a first aid station as well.
Experienced surfers tend to arrive early in the day to enjoy the less crowded conditions; however, there is a surfing-only designated area to ensure that everyone can enjoy the beach in safety.
Waves here can reach as high as four feet, and it's an excellent place to learn how to surf. Rentals and equipment are available at the local surf shop (about two blocks from the shore), and newbies or those looking for pointers from the experts can book lessons, too.
There aren't any large resort hotels near this beach, but there are a few small hotel options.
4. Goosewing Beach, Little Compton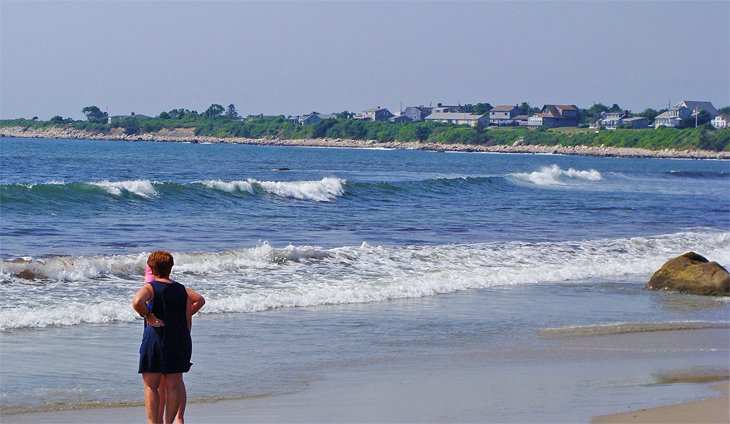 Goosewing Beach is the perfect spot for those who want to enjoy nature and get away from the crowds. Unlike most of the beaches in Little Compton, Goosewing is open to the public, but you won't find droves of sunbathers from inland. Instead, you will find an idyllic beach lined with grassy dunes and flocks of shorebirds.
The area is part of Goosewing Beach Preserve, a 75-acre conservation area that is home to numerous species of birds, including the endangered Piping Plover and the rare Least Tern.
Visitors who want to learn more about the local wildlife and ecosystem can visit the Benjamin Family Environmental Center, which is located adjacent to the beach. In addition to hosting exhibits and special events, the center offers guided nature walks.
Although you can't find any hotels at this beach, the beautiful Stone House Inn is less than 10 minutes away by car, or about 25 minutes by bicycle. As its name promises, this lovely 4-star property has a grey stone exterior, originally built in 1854. It sits on Sakonnet Point, offering excellent views of the water from its well-maintained property. There is also beach access on-site, as well as a restaurant and plenty of outdoor furniture for relaxing in the sun.
5. East Matunuck State Beach, South Kingstown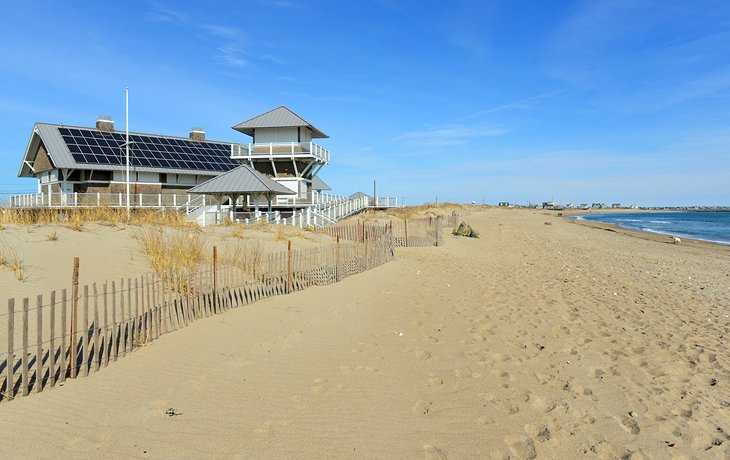 This expansive beach park is located along the Atlantic-facing shore of Hazard Island in South Kingstown. The beach pavilion offers showers, restrooms, and changing facilities, and concessions are provided by Salty's Burgers, with a menu that includes everything from breakfast food to ice cream.
Although the beach itself has plenty of room to spread out, parking can fill up rapidly, so it's best to arrive early in the day on a hot summer weekend.
East Matunuck Beach is particularly popular with surfers thanks to its sizable waves, and this is also a great place for boogie boarding and bodysurfing.
Although there are lifeguards on duty during summer months, families should be aware that the surf here can be strong, so this may not be the best choice for those with young children or inexperienced swimmers.
6. Crescent Beach, Block Island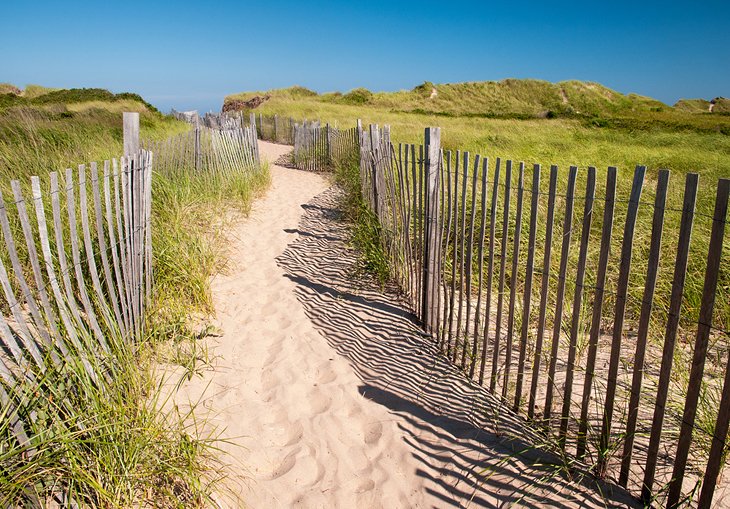 Located on the east side of Block Island, Crescent Beach stretches two and a half miles from the ferry port at Old Harbor to Clay Head. Only accessible via ferry, this stretch of white sand is well worth the time spent getting here.
If you left your supplies on the mainland, a full range of beach needs can be found at the Frederick J. Benson Pavilion, also known simply as the "Town Beach," which is located about halfway up the beach.
In addition to food and treats, visitors can find rentals for cabanas, boogie boards, chairs, and sun umbrellas. The pavilion also has full convenience facilities, including showers and restrooms, and there are lifeguards posted along the beach during the summer months.
For those who want to explore the island, bicycles and mopeds can be rented near the ferry landing. There are nearly 17 miles of beaches on Block Island, including Baby Beach, Surf Beach, and Mansion Beach; tourists will also find numerous picturesque lighthouses.
7. Roger W. Wheeler State Beach, Narragansett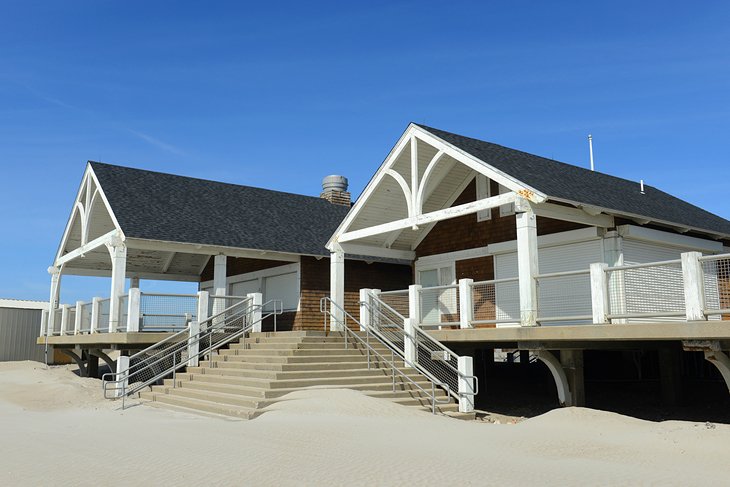 Located on the southern shore of Narragansett's Point Judith, within a protective three-mile seawall, Roger W. Wheeler State Beach covers 27 acres of soft white sand and has calm surf that is ideal for families.
There is ample parking and a pavilion with restrooms, showers, and concessions. There is also a good playground on-site, and the beach is staffed with lifeguards seasonally.
At the far western end of this same stretch of shore, Salty Brine State Beach is a much smaller space but popular for its proximity to the route for the Block Island Ferry and local fishing boats-it's a great place to relax and watch as they make their way in and out of the harbor.
The beach is also convenient to several restaurants and is within walking distance of both the ferry terminal and the Galilee Bird Sanctuary.
8. Watch Hill Beach, Westerly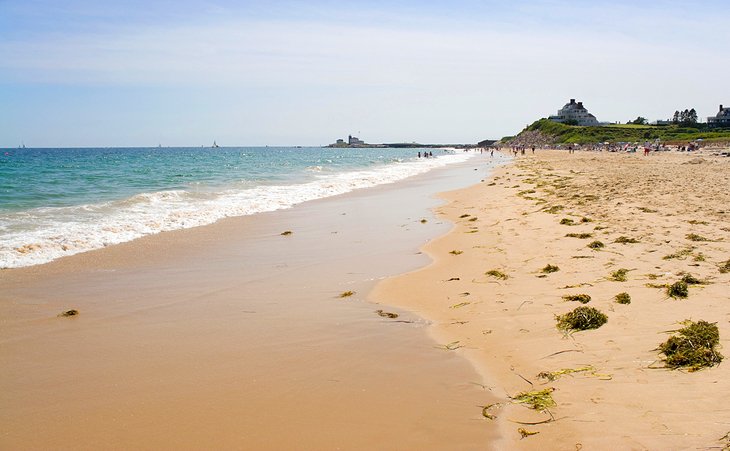 Located in Watch Hill, an upscale neighborhood of Westerly, Watch Hill Beach is known for its antique 1867 Flying Horse Carousel and beautiful sunsets. The beach has miles of soft sand and hosts numerous events all summer long, with public facilities including restrooms and showers.
Watch Hill Point extends south into the Atlantic at one end of the beach, and tourists can easily reach Watch Hill Lighthouse via a short walk. The coastline stretches on for miles along this peninsula, with plenty of trails for exploring. In the town of Watch Hill, tourists will find several good options for both food and shopping.
On the other side of the point, East Beach is another alternative for those who don't mind finding parking in town and making the short trek to the shore. Both beaches are convenient to the shops and eateries in the lovely small town of Watch Hill.
9. Ballard's Beach, Block Island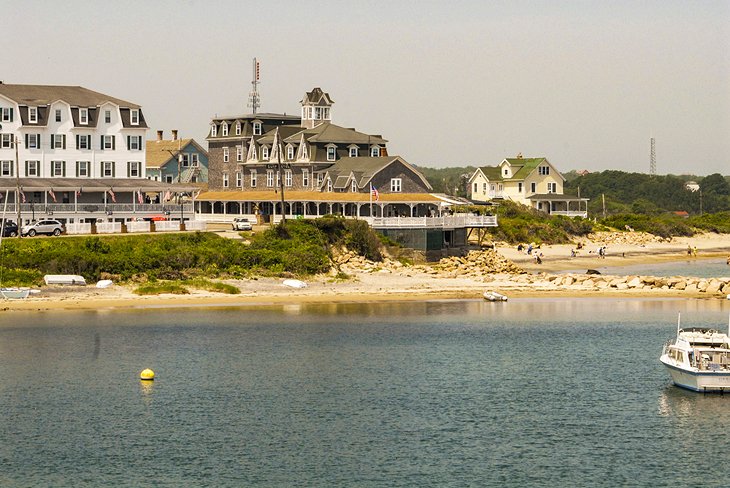 One of Block Island's most popular beaches, Ballard's Beach is conveniently located just a few steps from the ferry port.
All facilities are provided by Ballard's, the oceanfront hotel of the same name, and day visitors are welcome to take advantage of chair and umbrella rentals, as well as luxurious cabanas with private table service for the hotel restaurant. Summer evenings are always celebrated with live music and beach bonfires that go late into the night.
Another good alternative nearby is Fred Benson Town Beach, a long stretch of sandy beach just north of the docks. There are lifeguards on duty during the summer months, and you can also find chair and umbrella rentals here, as well as food vendors and beach supply shops.
10. Reject's Beach, Newport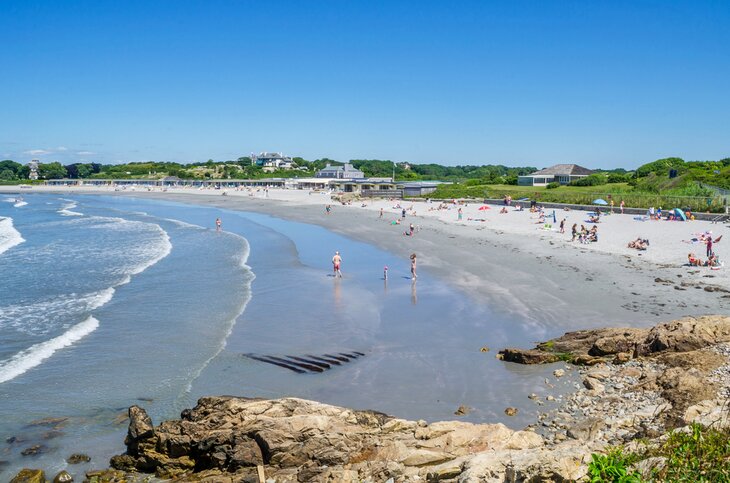 Located right next to the exclusive Baileys Beach Club, the small but uncrowded Reject's Beach sits at the eastern end of Newport's Cliff Walk. Visitors will need to park in town and walk or bike to the shore, but this just means that there will be fewer tourists crowding the sand.
There are no facilities here and no lifeguards, but it is a perfect spot for seclusion-seekers or those who want to dip their toes in the water after a stroll along the Cliff Walk.
11. East Beach, Charlestown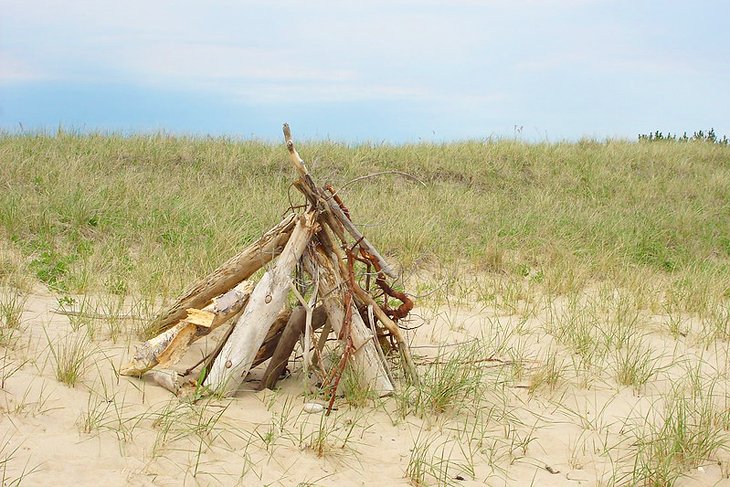 East Beach in Charlestown is located on a strip of land between the Atlantic Ocean and Ninigret Pond, a coastal salt pond. Surrounded by conservation areas and a wildlife refuge, this is one of the most pristine beaches in the state.
Access to the beach is limited to a small parking lot, so be sure to get here early in the day; additional parking can be found at Blue Shutters Town Beach, which is situated at the east end of the beach.
Despite its secluded location, sections of the three-mile stretch of sand are monitored by lifeguards during the summer months and there are toilet facilities and changing rooms.
Along with swimming and sunbathing, the area is ideal for bird-watching and fishing, as well as kayaking in Ninigret Pond. There is also a small campground here for those who want to enjoy a few nights by the ocean.
12. Napatree Point Beach, Westerly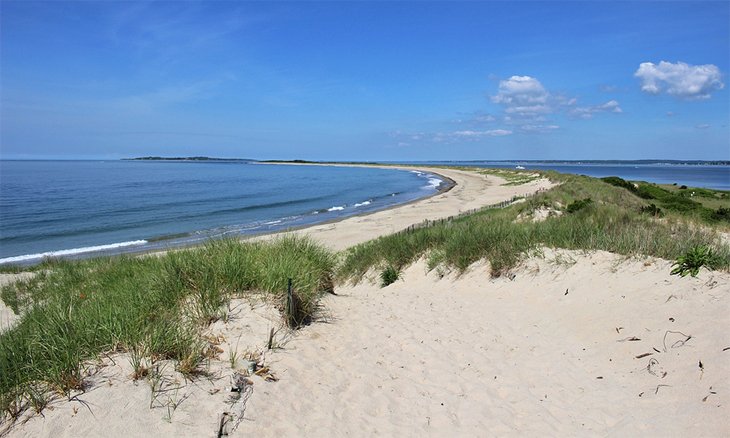 Napatree Point Beach begins at the entrance of the Napatree Point Conservation Area, a birder's paradise just east of Watch Hill in Westerly. In contrast to the nearby Watch Hill Beach, Napatree Beach is uncrowded and has no amenities or facilities.
What you get instead, however, is an abundance of wildlife, especially birds that live in the dune habitats and stop by on their migratory routes. This protected area overseen by the Watch Hill Conservancy is an ideal place to visit for a quiet day enjoying unspoiled nature.
13. Second Beach/Sachuest Beach, Middletown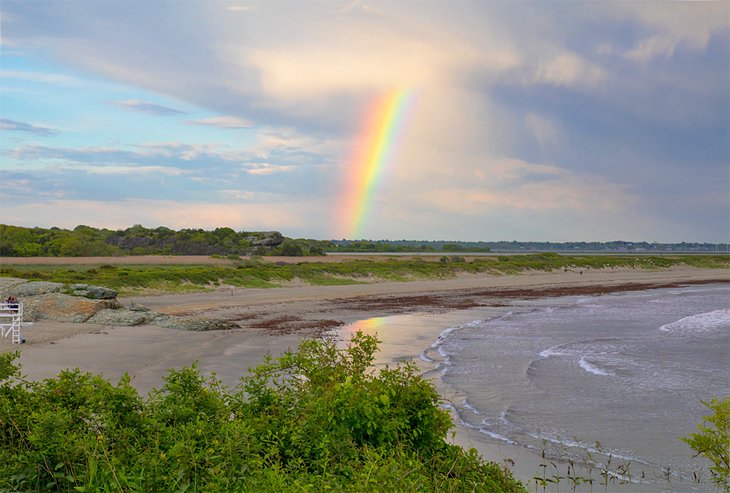 Located in Middletown, just a few minutes from Newport, Sachuest Beach (also known as Second Beach) is a great spot for families. Less crowded than many of the neighboring areas, the beach offers a full range of amenities, including restrooms, changing areas, and showers, as well as concessions and shaded picnic areas.
The west end of the beach is commonly referred to as "Surfer's End," and those who don't want to lug their own board along can easily rent a surfboard here.
14. Mohegan Bluffs, Block Island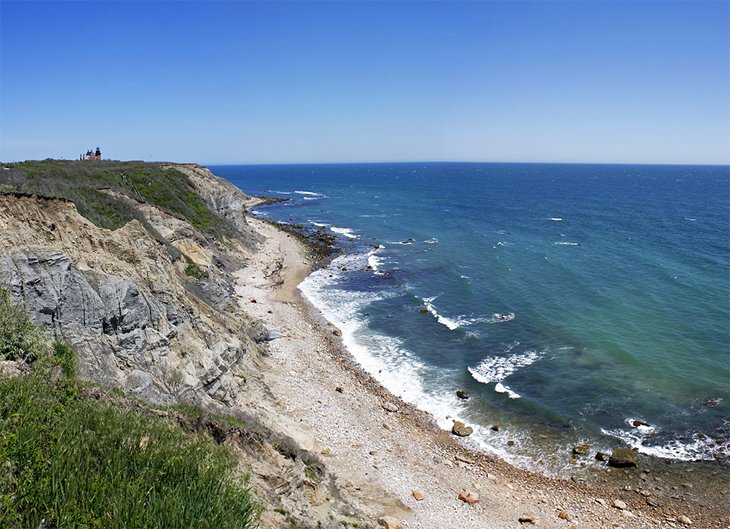 The shores of Mohegan Bluffs may not be ideal for a day of sunbathing and sandcastle-building, but this is definitely the perfect spot for those who like to explore. Accessible only by foot from the Mohegan Bluffs Trailhead, visitors can head down to the sea via the path or continue along the upper trail to enjoy spectacular views from atop the bluffs, which stand 150 feet above the water.
Trails also lead to the South East Lighthouse, an exceptionally well-maintained and stunning brick and granite structure that was built in 1875. Views from the lighthouse can stretch out for miles, and this is a particularly popular spot for both sunrise and sunset viewing.
15. Charleston Beach, Block Island
Tourists looking for a less crowded beach that's perfect for strolling will enjoy Charleston Beach, located on the western side of Block Island. You won't find throngs of kids with sand buckets since it's not an ideal swimming spot, but you will find photographers who frequent this beach for its amazing views and undisturbed shore.
The sand here isn't as soft as many of the other beaches, and the shoreline has lots of pebbles, so be sure to bring water shoes if you will be wading. There are no facilities here, but it's an ideal place to bring a picnic and watch the sunset, or go fishing off the jetty while watching boats come and go from New Harbor.
Map of Beaches in Rhode Island
More Related Articles on PlanetWare.com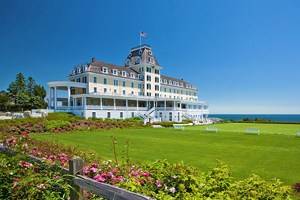 Rhode Island Vacation Ideas: If you want to enjoy your beach time in comfort, have a read through our list of Top Resorts in Rhode Island and find a property that suits your needs. There is more to Rhode Island than just beautiful beaches. For ideas on things to see and do in the state, see our guide to the Top Attractions in Rhode Island. Popular destinations for tourist include Providence and New Port.